Written by Terry Smith
Our site is reader supported so when you click a link to Amazon we may earn an affiliate commission.
UK's best rat poison: professional rat and mouse poison compared for strength in the garden
This article was last updated on January 31st, 2023 at 7:20 am
The wheat at the back of our fields have just been cut and it's no exaggeration to say I've seen a dozen mice wandering over the road to the nearest farm, and no doubt scoped out my house too just to add to the recent problem I've been having with rats around my chicken coops. I initially used humane mouse traps as well as some mouse repellents and even tried to setup some humane rat traps too which inspired me to write an article about getting rats and mice out of your garden. In the end, I got fed up with being overrun and found myself back at the most effective solution: a quality mouse and rat poison combo. The reason I mention rats as well, so any of these products are basically rodent solutions and so work for rats and mice equally well. So to help you guys out I decided to split test the two different types of best rat poison you'll encounter: Brodifacoum vs bromadiolone. The results were very interesting indeed. While I have absolutely no reason to doubt the claims Brodifacoum based rat poison is 4-6 times stronger in terms of amount needed to be consumed, the Bromadiolone was far quicker acting on our mouse test which feels more humane to me. I will continue that testing and update you accordingly.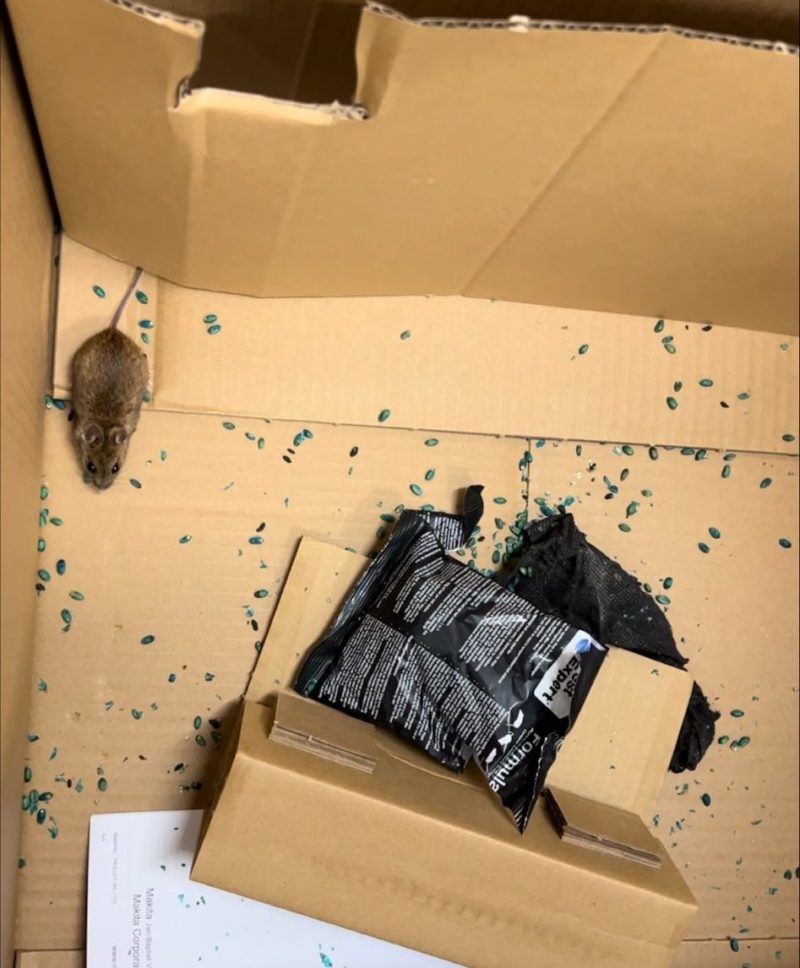 Now the manufacturers say Brodifacoum based rat poison is far more potent. Maybe it is, but that's not what my testing proved when to me – I tested the Pest Expert Formula 'B+' vs the Roshield 600g Rat & Mouse Killer Poison Control Bait Blocks.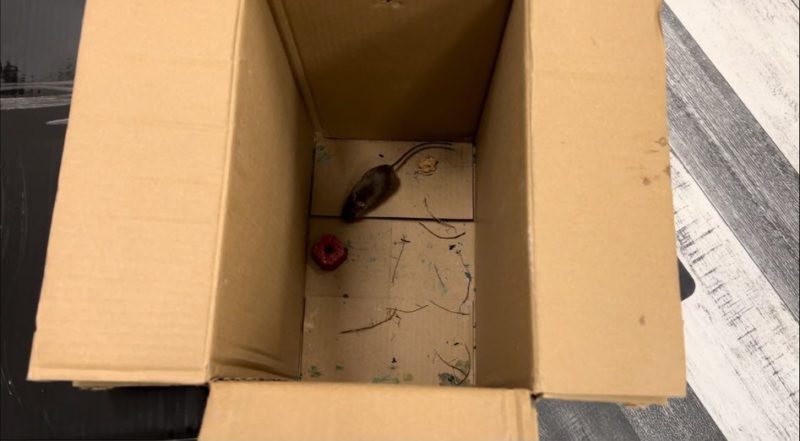 I'm sorry for the video. But it is the reality of what we are doing when we use rat poison. If you don't like it then I'd refer you back to some humane rat trap options.
PROTIP FROM TESTING: If you buy rat poison bait blocks absolutely make sure they are tied down so rodents have to consume them there and then rather than carry them away. They'll often bury the blocks for later if they can carry them.
Make sure you understand the danger of rat poison
Now you need to realise poison is much better suited to ridding yourself of rodents outside. Indoors, you still need to stick with good old trapping. The reason is super simple. If a rat or mouse feels unwell, they will head back to their nest and most likely die there if you've fed them bait. That is not healthy for you or your family at all! Mouse traps or rat traps indoors, bait outside!
So with that said, I did wonder why the rat and mouse traps didn't really make a difference outside. And it's frustrating as hell if you have chickens and want to keep the chicken coops clear or rats! As I learned the hard way without researching first (luckily for you guys I know what does and doesn't work), they can have 6-8 babies, every 8 weeks 😀 So, basically, you just can't suppress them if the food is available and with that abundance of food over the road for a short while each year a population booms around my area. If you live in an urban, or built area if you prefer and the rats get at the bins then it's going to be the same problem but much worse since food is available all year around!
So before I go into how to pick the best rat poison (or mouse poison) for you here's my list to professionally rid myself of these rodents, but DIY style:
My top picks for the best rat and mouse poison options in the UK:
Roshield 600g Rat & Mouse Killer Poison Control Bait Blocks – Professional grade rat poison and must have for mice too. British manufactured.[personally tested and proven to kill rodents quickest – it took just two days for mice and rat test on it's way]
Pest Expert Formula 'B+' Advanced Rat & Mouse Killer Poison 900g – [highest Brodifacoum content in the UK – heavy duty option personally tested] Best value for money too!
Ratkil Rat Poison (6 x25g) Rat Bait & Mouse Poison Grain – Strongest Maximum Strength Rodent Killer: Top alternative rat poison – neck and neck with Roshield
The Big Cheese STV213 All-Weather Block Bait – Great alternative rat and mouse poison if Roshield is unavailable
Opkill Rat Poison & Mouse killer – Strongest Available Weatherproof Bat for Professional and Domestic use
Contego Home Shield Rat and Mouse Killer Poison
How to pick the best rat poison for you and your family
So in this article I've picked the best rat poison based on price, strength, speed it fixes your rat or mouse problem, how safe it is to use, and ease of use. Much of which will be best for you boils down to personal circumstances. For example, block poison is very effective and also super easy application with minimal mess and fuss. Grain is pretty easy to use but requires a bait station. However, since the recent change in laws all poison used for rats and mice by non professional operators must be housed in a bait station so blocks may not be the advantage they once were over grain and pellet options since they also need a bait station to follow regulation. However, if you have kids, with a block being locked in a station you have far more confidence that the poison will not get out of the area you set.
Brodifacoum vs bromadiolone
So after a long email conversation with Pest Expert – I found out that Brodifacoum is 4-6 times stronger than bromadiolone. Now the interesting thing is I have no doubts about this claim, but in terms of efficiency and quick kill, I found the weaker bromadiolone to be three days faster acting! So from my perspective a humane way is quicker, so I'd actually naturally prefer the bromadiolone. I would recommend a look at the pest expert bromadiolone as there is no doubt this is a good honest guy, but I am glad I have helped bring transparency to the confusion surrounding these two different types of rat poison.
Block poison
Universally the most popular for a whole host of reasons and also my favourite method of using rat poison too. Most professionals advocate this method or one with a method of making a rat or mouse nibble at the food there and then inside a bait box under control, rather than a grain or pellet that will allow them to wander off with a chunk far more easily. The Roshield rat poison demonstrates this best on this review without question. Interestingly, the larger the bait, the more likely a rat is to wander off and cache it. The beauty of a bait box and blocks though is the ability to tie the blocks in, ensuring they have to eat little bits rather than drag it away. Here's a picture of rat poison blocks with holes running through it: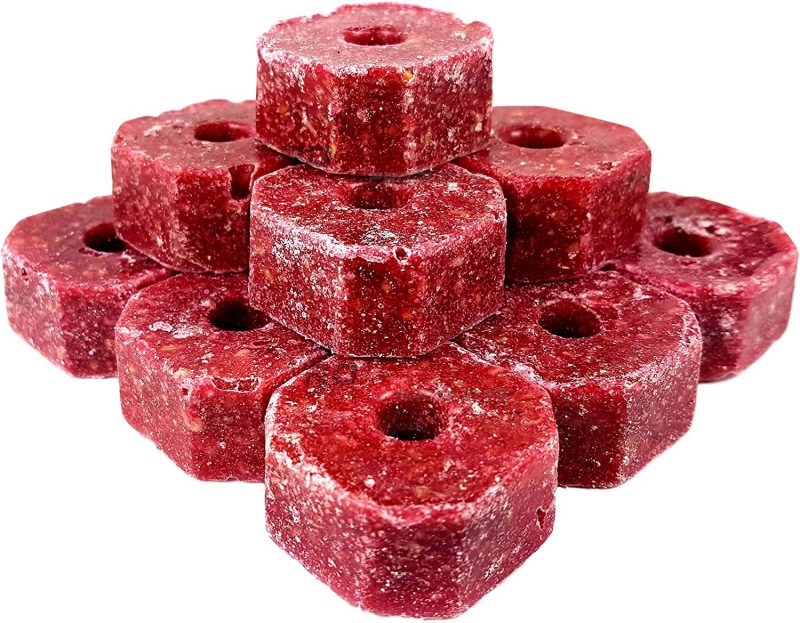 Grain poison
Grain poison works exactly the same way as block poison, it's just broken into grains. Actually, I made a bit of a fuss about how blocks are easier. Some scientific studies show the larger the food, the more likely a rodent is to store it. A typical example of a quality grain poison is the Ratkill rat poison. It mimics the taste of grain and wheat with added flavour that makes it highly appealing to both rats and mice. They devour said poison and normally that will be enough. How long it takes grains to work largely depends on the size of the problem. Some not the bait is gone but they still have rats. My expectation in this case is the rat has stored the food, or there are more than anticipated. Continue with your dosing and try to eliminate any other food sources that may cause them to store this one.
Why use a bait box?
Well for a start it's the law now. But aside from that if you have pets or children and a rat or mouse manages to pull bait to an area they'll come into contact with, much worse younger children or pets that put anything in their mouths. Obviously this is a recipe for disaster and one of the very few sensible rules to come out of the EU. Why do I say that? You're thinking we are sensible and know not to let this get in harms way and that's fine. But what about what the rat does? Did you know they'll store food in hidden places at any opportunity. It stands to reason they would want to keep their food safe for a rainy day so a bait box takes away a decent degree of chance and what would otherwise be left to luck.
Talking of rain, what you really don't want is these rodenticides running into the water as it's harmful to aquatic life too. A bait box keeps rat poison dry and better yet, if it is raining rats and mice will stick around and eat in there too!
With a fuller understanding of what rat poison is please find our picks for the best professional rat poison that you can use in your home:
Why buy rat and mouse poison?
When I tried with mouse and rat traps, humane ones actually loaded with goodies it was a complete failure of a plan, here's a look at that nice rat trap: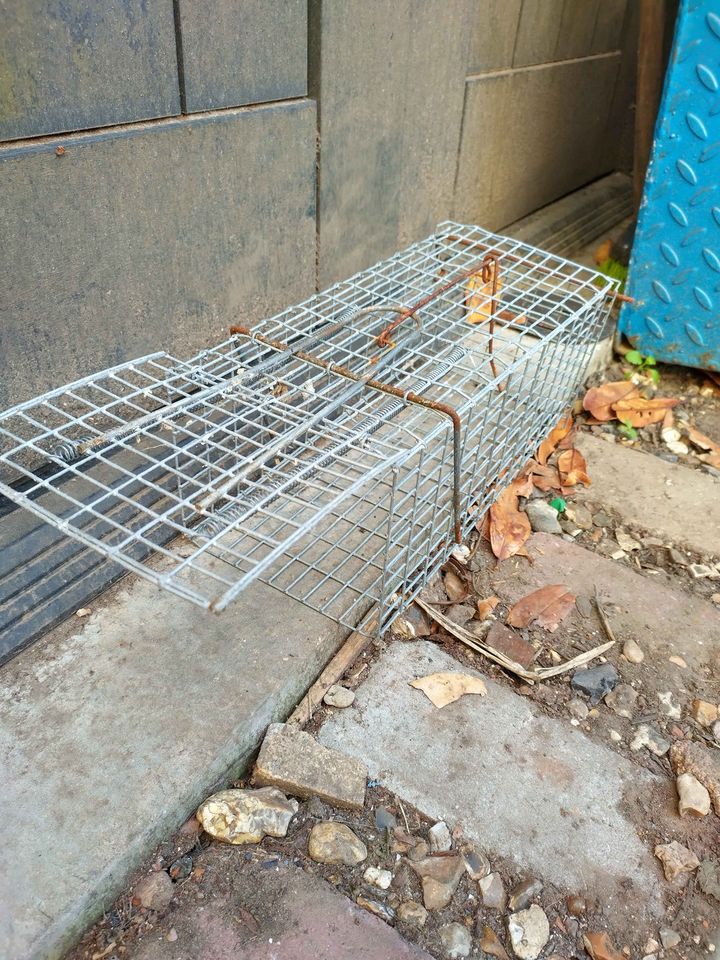 Now I used this because I just thought it was nicer but releasing them a couple of fields down made absolutely no difference at all. What made the difference was Roshield rat poison.
Have you seen some pesky mice at your home? If yes, then it must be the right time to get something which will help you to battle these pests. They not only infest your home but they also destroy things by biting things and having babies at your home. Rats and mice are also known to carry different diseases. It is best to try to eradicate them as soon as you catch them in a space where you will never want them. Here we will provide some of the reviews of products which are great for getting rid of mice and rats. Do try to use them so that it doesn't turn out to be a greater problem.
---