Written by Terry Smith
Our site is reader supported so when you click a link to Amazon we may earn an affiliate commission.
Best petrol log splitter [UK]:Top heavy duty petrol log splitters with towable options reviewed.
This article was last updated on April 23rd, 2022 at 2:53 am
After recently updating my best log splitter article I noticed the petrol log splitter options had changed and there were some extra powerful and heavy duty options recently introduced to the UK market, and certainly worthy of an update in this article!
Have you ever decided enough is enough with the axe in the freezing cold, barely keeping up with the wood prep duties? Perhaps you just haven't got the same swing you used to have or are tired of it and the shoulders had enough? Either way a petrol log splitter is absolutely ideal if you heat a home on wood. Petrol log splitters have a distinct advantage over electric log splitters given you take the splitter to the wood. It goes without saying they are way more powerful than a manual log splitter too. So in this article we reviewed the best petrol log splitters to make life easy at home and work.
My picks for the best petrol log splitters:
Heavy duty petrol log splitter: Petrol Log Splitter | 9 Ton Vertical petrol log splitter from Titan Pro
Alternative pick for the best petrol log splitter in the UK: Mitox LS700BS 7t petrol vertical log splitter
Towable petrol log splitter: HZC Power 40T Petrol wood log splitter with Stem Jack and Turntable HS40335
Best petrol log splitter
1. Petrol Log Splitter | 9 Ton Vertical Logsplitter from Titan Pro
My favourite Petrol Log Splitter for 2021 is going to be the Titan Pro Petrol Log Splitter 9 Ton Vertical. If you've got knotty wood then this is a lovely bit of kit. It's surprising how many 6 tonne models can struggle a bit on knotty wood. Not this thing, it's got all the power you could want. The axe head is huge so it can handle logs as big as any normal man can lift. The table can be set at variable heights and the ram travel is pretty much full so all the more power to cut logs and this has no problem with the kind of logs manual and electric log splitters would really struggle on. Before I get going take a look at the demo video from Titan for cut power:
What I really like though the the ram retract speed. This thing will go back in a few seconds so you're not standing there mindlessly waiting for the next cut. The cut speed I would say on even the tallest 50cm logs is about ten seconds for knotty timber. This is one of the best things about this petrol log splitter without question, it's a real beast of a cutter. That and the reliability, I have a landscaper mate with one of these things for years (hence I mention the switch issue)
The ignition switch has been known to go on this model. Most with electrical skill or an electrician would bypass it, but it's still a an issue that's surfaced and worth a mention. Also be prepared for some noise. Under load Titan claim 93 dB and while I haven't put a measure on that, its certainly loud and would certainly be one of my complaints but well inline with other petrol models – it's part and parcel! A pair of ear protectors for prolonged use wouldn't go amiss. Unlike the type of log splitter that will attach to a car (horizontal log splitter) on big wheels, this thing should remain stationary. It has wheels but it's not meant for moving frequently.
Overall if this is for the home and to take some pressure off the shoulders then you're really going to like this model. The upright is much nicer on the back in my opinion as you stand upright more. All in all, a great bit of kit and to summarise:
Cuts knotty logs easily
Heavy machine not ideal for moving
Very nice build quality
Well priced for what it is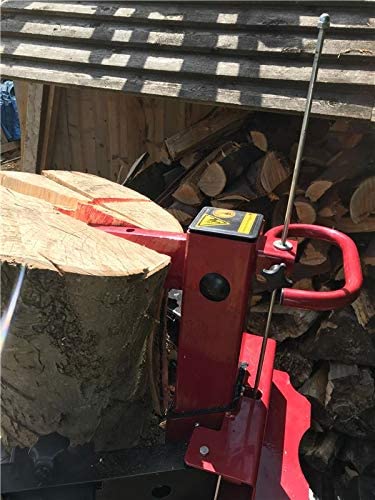 2. Mitox LS700BS 7t petrol vertical log splitter
The Mitox LS700BS 7t petrol vertical log splitter is one of the most powerful petrol log splitters available in the UK. Powered by a highly rated (and very good quality) Briggs & Stratton four stroke petrol engine, this logsplitter generates as much power as its electrical counterparts. The Mitox LS700BS 7t petrol log splitter is a vertical type and the petrol engine has a displacement of 169 cc, generating a maximum splitting force of 7 tons with a splitting length of a good metre. So a very capable machine and more than enough for the average home with a wood burner and open fires.
This is one among the few petrol driven log splitters for sale that offers this much power and quite frankly it's a real close second in my mind.
This log splitter has no trouble at all dealing with knotty wood and what I really like is the 4 way head splitter. In many ways this machine is better than the TItan Pro in my mind, it's just hard to pick this when the Titan offers more horse power for the same money. It's worth factoring the Briggs & Stratton four stroke petrol engine which will last literally a lifetime if maintained well.
It'l split 32cm logs which is a bit less than the Titan. That said, it's normally plenty for home use. There are wheels that help moving about, not that I would recommend doing so too much. It's a heavy bit of kit. If you're buying this for work though and theres a couple of you lifting/pulling then you'll certainly appreciate the wheels.
A final word of advice, try to have logs cut with a similar height. This means you can adjust the table to one position which will speed up the cutting process no end!
3. HZC Power 40T Wood Splitter with Stem Jack and Turntable HS40335
HZC Power 40T Wood Splitter with Stem Jack and Turntable HS40335 is the only horizontal wood splitter in this review. It's ideal if you want to move this around as its setup for a tow hitch. That said, theres over 300kg to this thing, you'll want a hand to get setup and into position.
This is a far more commercial piece of kit than the first two reviews. It has huge cut power and you can load a log up to 50cm long. It's handy that it has a ramp to load your logs from floor height and it'll automatically then swing up and send the log into the table. This is a nice touch to stop you continually bending over causing the back more work than necessary.
Once you load the wood into the table you keep your hands well away. The supports hold logs in place whist the axe gets to grip with splitting the timber. As with all hydraulics it feels slow but the process is entirely effortless and the 40T pressure comes from the reliable Briggs and Stratton 13.5HP petrol engine.
You'll like the control levers too. Very simple in design, back and forward. In short, this is a very nice bit of kit.
---