Garden Tool Box » Best chainsaw safety boots: Top chainsaw boots for comfort and climbing
Best chainsaw safety boots: Top chainsaw boots for comfort and climbing
This article was last updated on July 31st, 2021 at 9:11 am
You'd have to be a few sandwiches short of a picnic to not realise that using a chainsaw for any task is not something that should be taken lightly, nor something that should be done without proper planning and preparation.
A big part of that prep should be making sure that you have the right protective clothing to keep you safe in the event of an accident. Ideally, you should always use a protective visor or helmet with a face screen, chainsaw trousers that have been tested to the appropriate safety class, chainsaw gloves, and of course, chainsaw boots. It doesn't matter if you're using a quality Stihl petrol chainsaw, or a cheap electric version, you need to keep yourself safe.
With chainsaw safety boots, there are a lot of factors to consider before making a purchase and we have highlighted the main ones in our user's guide at the bottom of this page.
We have also, given some of the most popular brands and models of chainsaw boots a real world test run to see how they stack up against each other and wrote up our findings in the following reviews.
Comparison table: Best chainsaw safety boots: Top chainsaw boots for comfort and climbing

Product
What We Think
Price

KWF Standard certified: Class 1 safety rated chainsaw boots recommended by professional loggers...
Protective boots: Suitable for heavy duty outdoor work
Comfortable safety boots: Lightweight leather and PU construction with padding inside
Water repellent: Water resistant upper to help keep your feet dry on the job...
Safety wear: Metal toe cap

Fully waterproof chainsaw boot conforms to level 3 chainsaw protection at 28m/s...
Features a steel toe cap

Rock Fall Chatsworth Class 3 Chainsaw Kevlar Safety Boots with Midsole

S3 SRC WRU HI HRO + EN381-3 + EN ISO 17249:2013 CLASS 3.
Chainsaw safety Cut Level 3 certified.
Shock and crush resistant steel toe cap.
Composite, penetration resistant, protective midsole.
Lined with multiple layers of Kevlar.
1. Oregon Yukon Class 1 Leather Chainsaw Protective Boot
Probably the best value for money chainsaw safety boots we came across are these Oregon Yukon class 1 leather boots when I compare what's available elsewhere. Class 1 means that they can be worn with confidence if you are using a chainsaw with speeds up to 20 m/s. If your chainsaw runs faster than that you will probably need to buy class 2 or even class 3 chainsaw boots.
One of the most important things when it comes to choosing a good pair of chainsaw safety boots is comfort. It's all good having impenetrable armour on your feet but if they are so heavy and uncomfortable that you can't wait to take them off, well, that's not exactly money well spent in my book.
Luckily these Oregon Yukon boots come up trumps in the comfort department with a leather/PU construction that manages to be thick and strong yet flexible at the same time and I especially liked the padded shaft where you insert your foot.
The sizes are a little larger than what you would expect. I usually take a size 11 so that's what I originally tried only to find them a little bit too big. Next I slipped on the 10 and a halves and they were perfect, so I'd suggest going down a step from your shoe size.
Some chainsaw safety boots can be quite heavy and over the space of a long day, can add to your fatigue, especially if you are a forest with heavy vegetation on the floor. Again, Oregon has done well to keep these fairly lightweight at 2 kilograms and unlikely to cause you any problems.
Oregon has done a good job at marrying effective safety, very high build quality, and attractive aesthetics, all the while keeping the price down so that these chainsaw boots are affordable by most people. For around 80 pounds you get nice looking boots that are water resistant, anti-static, have great outsoles that not only provide outstanding grip, but are also anti-perforation and resistant to hydrocarbons so you won't damage the material should you step in a puddle of oil or petrol. There are also steel toe caps and heels that have been designed to absorb a lot of energy and shock.
With safety equipment in general, durability usually comes down to the weakest links on a product and is usually some small component that the makers overlooked. With chainsaw boots is sometimes the lacing hardware (the loops where the laces go through on the instep and front of the shin). If these are not made up to standard, they wear down and break faster than the rest of the boot leaving you with footwear that can't be laced up properly which makes them ineffective. Oregon has given these Yukon chainsaw safety boots non-corrosive metal lace loops to prolong the durability and working life and also made them resistant to pulls up to 65kg, meaning they won't break off easily at all.
These Yukon class 1 chainsaw boots are a bargain at their current price and match much more expensive brands for quality. They are relatively light weight but still manage to be large and substantial enough to offer good all round protection for your feet, and are worth every penny of their very reasonable price tag.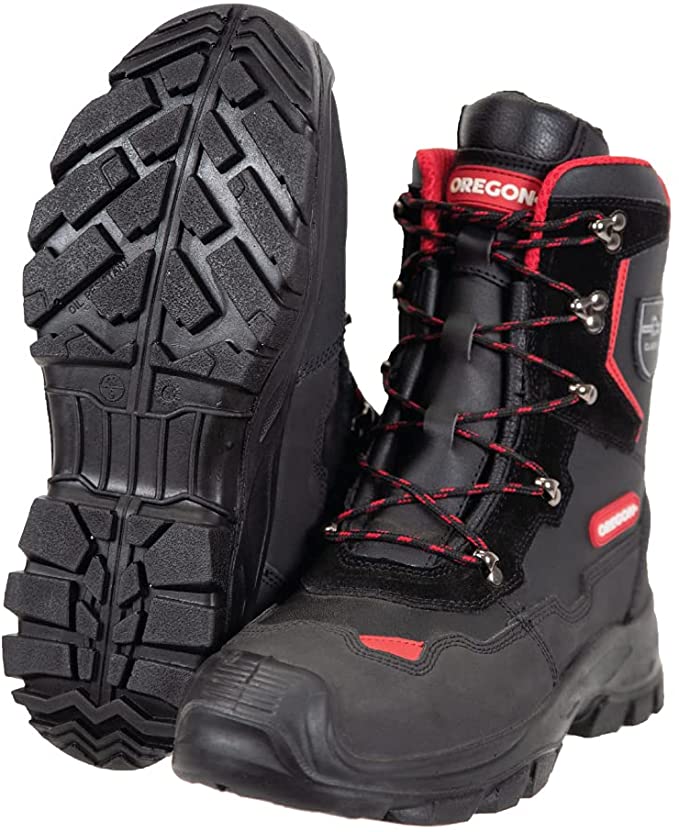 2. Skellerup Euro Forester Chainsaw Safety Boots
If you are on a tighter budget but still want outstanding protection, you'd be wise to give these Skellerup Chainsaw safety boots a go.
While the Oregon Yukon boots are made from leather and resemble normal work boots, these Skellerup ones are more in the Wellington style and are made from rubber. This has advantages and drawbacks.
On the plus side, they are completely waterproof as long as your chainsaw trousers go over the top of them) because there are not many separate sections stitches together. This is also the reason that they tend to be very hard wearing and durable.
On the other hand, rubber wellington style chainsaw safety boots tend not to be as comfortable as leather ones. That doesn't mean they are uncomfortable, because these certainly are, just not quite up to the same standard of comfort as leather boots. Although I have to say that the fact that these Skellerup boots lace up in the back does add to their comfort for someone with thicker calves like myself.
Safety wise, these boots are top drawer. Being class 3 means that you can use them with chainsaws with spinning speeds of 28 m/s. They have solid steel toe caps, which are a must have in any decent chainsaw safety boots, and also a steel midsole that is penetration resistant. On top of this, they have a ballistic nylon shin guard and a suregrip 360 nitrile outsole.
As for the size, I chose the same as my shoe size and the length was just about right. They were slightly narrower than some other boots that I've worn in the past, but unless you have unusually wide feet, it shouldn't be a problem, especially after they have been worn in.
All in all, I can't really fault these chainsaw safety boots, especially not at such a low price. They are comfortable, have top class safety standards, offer a good grip on the soles, and are easy to put on and take off. What more could you want?
3. Cofra Power Chainsaw Safety Leather Boots
Cofra power chainsaw safety boots are another product worthy of your consideration, offering up excellent quality and great protection an when compared to the first two picks stand up pretty well.
At just shy of 90 quid, they are slightly more expensive than the Oregon Yukon boots but hardly enough to be a deal breaker, and these chainsaw safety boots are class 2 so you can rely on them to protect you from chainsaws running at 24 m/s which is better than the Oregon pair.
These boots are made from high quality Italian leather with equally high standard stitching holding them together and making them water repellant. The leather is thick and strong but also affords a decent amount of flexibility and movement, particularly after you've been wearing them for a while.
The makers say that these are wide fit but I wouldn't say they are any wider than normal and would even go as far as to say that I found the toe area a little tighter at first, although this area did loosen up after the first day. I think I would suggest buying a size one up from your usually shoes just to be sure you have 'wiggle' room for your little piggies.
To ensure shock absorption and comfort, Cofra have constructed the footbed out of a full piece of soft PU. This also makes these chainsaw safety boots antistatic which is an important feature on these kinds of products that some people overlook.
The outsole is completely made of nitrile rubber, much like the Skellerup Chainsaw safety boots we just reviewed. This material is often used in nuclear power plants and the aeronautical industry due to its high level resistance to chemicals, oils, and heat, and even acids. The only real drawback of nitrile is that it is less flexible than standard rubber, but for an outsole on chainsaw safety boots, it's a worthy trade off.
Again, apart from needing to order a size larger than usual, I can't find much to fault this product. They are extremely well made of high quality materials and offer a very high standard of safety and protection for your feet.
4. Rock Fall Chatsworth Class 3 Chainsaw Kevlar Safety Boots with Midsole
When we choose products to test and review, we usually pick the most popular products within a price rang that the average person would deem reasonable and affordable.
Priced at £199 on Amazon, these Chainsaw safety boots from Rock Fall might cost a little more than most people are willing to pay, but if you have deeper pockets and don't mind shelling out the extra, these are some of the best boots I've ever tried.
Certified to the highest cut resistance-class 3, the Rock Fall Chatsworth boots are very heavy duty and have been constructed out of only the best materials.
First of all, the full grain leather outer layer is incredibly durable while not restricting movement. This makes them a joy to wear for even long periods of time.
Then there are several layers of Kevlar, a material that is used is bulletproof vests, and ant-stab clothing due to its strength and effectiveness, to protect you from being cut.
Inside these premium chainsaw safety boots is the Sympatex inner membrane making them both abrasion proof, breathable and waterproof, and the footbed is made of moisture absorbing material.
Finally, solid, HRO, HI, and SRC nitrile rubber has been used for the outsole to protect against extreme heat and chemicals, and Crush and shock resistant steel toe caps, and a composite protective midsole are just more excellent safety features that these boots are armed with.
The soles have been designed to grip both ladders and loose ground, and under our tests they did both exceptionally well, so if you're going to be working up at heights, these boots could be just the thing for you.
To sum up, I would have to say that although these boots are a little on the pricey side, what you get for those extra pounds is a superior pair of chainsaw safety boots, made to the highest standards with the best materials available. That, to me anyway, is worth shelling out for.
Chainsaw Safety Boots Buyer's Guide
If you're new to using a chainsaw and wearing the essential protective clothing, you might be a little confused by some of the language used in the advertisements or reviews. Likewise, you might not know what qualifies as a good pair of chainsaw safety boots or what features they should have, so we have put this handy buyer's guide together for you.
Cut resistance class
Chainsaw safety boots are separated into classes, either class 1, 2, or 3. These classes let you know that they are certified to resist cuts from chainsaws running at certain speeds. Class 1 boots can be used with chainsaws up to speeds of 20 m/s, class 2 can resist speeds of 24 m/s, and class 3 are the toughest and are resistant against chainsaws capable of speeds up to 28 m/s. Please check your chainsaw's speed before investing in your boots and chainsaw trousers.
Toe cap materials
You need protection for your toes and steel toe caps offer the best level of protection so that is what I personally always go for. However, some people find them too uncomfortable and prefer alloy caps instead, which reduce the weight of the boots while still offering a good level of protection. Alloy toe caps can't protect you from compression in the same way as steel toe caps though.
Comfort
As with any footwear, the comfier the better. The problem with chainsaw safety boots is, that sometimes safety takes precedence especially in cheaper models. As a rule of thumb, leather boots tend to be more comfortable than rubber ones, and are also lighter.
If you are going to be working in a wet environment or outside in rainy weather, you should definitely look for a pair of boots that have good waterproofing materials.
Some more expensive models feature things like absorbent materials in the insoles to soak up moisture and keep your feet felling fresh, so that's another thing to consider, particularly for working on hot summer's days.
How the boots fit
Different brands of boots all fit differently, both in length and width. Generally, your shoe size is around the correct size of chainsaw boot, but you should read online reviews to see if people are saying they should have gone up or down a size, as is sometimes the case.
Leather chainsaw boots tend to fit me better than rubber ones, and with the laces I can adjust them to suit me, even with steel toe caps which can make the ends tighter.
Build quality
If you're going to be paying 50-100 quid for a pair of boots, you'll probably be wanting them to last longer than a few months. Some boots may look very similar but the quality of the materials and also the general quality of how they are put together may vary a lot and have a big impact on how durable the boots are.
The best thing to do is read reviews online and watch youtube review videos and see what they say about the quality of the chainsaw boots that you are interested in.
Chainsaw boots legislation
Chainsaw boots need to meet safety standards and these ratings are given a code of two to three digits after the standard EN ISO 20345 that shows they have been tested to resist 200 joules of impact. Here are the codes and what they represent-
| | |
| --- | --- |
| SB | These boots have an oil resistant outer sole and this is the safety minimum |
| SBP | Are penetration resistant up to a force of  1100N  |
| S1 | Made with an energy absorbing heel and have anti-static electricity properties   |
| S2 | upper parts of the boots are water resistant (WRU) |
| S3 | Have an outsole that is water and penetration resistant |
| S4 | Made from polymer or rubber, waterproof, and have anti-static properties. Also have an energy absorbing heel  |
| S5 | All the benefits of S4 but also have a cleated outsole and tested penetration resistance |
Well, that about wraps up this page on the best chainsaw safety boots in the UK. We feel confident that the products we chose to review offer the best mix of quality, safety, and affordability.
As new models hit the UK market, we will no doubt test and review them and add them on here if we believe they are as good as or better than the ones we have featured here
.
We hope the buyer's guide is useful to you and helps you make an informed decision on your next purchase.
Till next time, happy gardening.
---