Written by Terry Smith
Our site is reader supported so when you click a link to Amazon we may earn an affiliate commission.
Best chainsaw safety boots: Top kevlar professional chainsaw boots reviewed
This article was last updated on April 23rd, 2022 at 2:49 am
You'd have to be a few sandwiches short of a picnic to not realise that using a chainsaw for any task is not something that should be taken lightly, nor something that should be done without proper planning and preparation. And the only piece of equipment more important than boots is your chainsaw trousers.
A big part of that prep should be making sure that you have the right protective clothing to keep you safe in the event of an accident. Ideally, you should always use a protective visor or helmet with a face screen, chainsaw trousers that have been tested to the appropriate safety class, chainsaw gloves, and of course, chainsaw boots. It doesn't matter if you're using a quality Stihl petrol chainsaw, or a cordless chainsaw, you need to keep yourself safe.
Pro tip: Always make sure you buy the same class rating chainsaw boots as trousers. It's no good owning a class 3 pair of trousers if your boots are lower rated. So many sure when you do buy, you are organised 🙂
Chainsaw boot safety is serious business. Products are rigorously safety tested and should you ask any arborist, are genuinely a life saver:
Top picks for the best chainsaw boots for safety in the UK:
Best chainsaw boot: Oregon Yukon 295385 Chainsaw Protective Rubber Safety Boot
Best alternative chainsaw boot: Oregon Yukon Class 1 Leather Chainsaw Protective Boot
Professional pick: Rock Fall Chatsworth Class 3 Chainsaw Kevlar Safety Boots with Midsole – must have for heavy duty work and if you need Kevlar
What to look for when buying chainsaw boots
If you're new to using a chainsaw and wearing the essential protective clothing, you might be a little confused by some of the language used in the advertisements or reviews. Likewise, you might not know what qualifies as a good pair of chainsaw safety boots or what features they should have, so we have put this handy buyer's guide together for you.
Cut resistance class
Chainsaw safety boots are separated into classes, either class 1, 2, or 3. These classes let you know that they are certified to resist cuts from chainsaws running at certain speeds. Class 1 boots can be used with chainsaws up to speeds of 20 m/s, class 2 can resist speeds of 24 m/s, and class 3 are the toughest and are resistant against chainsaws capable of speeds up to 28 m/s. Please check your chainsaw's speed before investing in your boots and chainsaw trousers. Here's an example of class 3 like the Oregon Yukon 295385: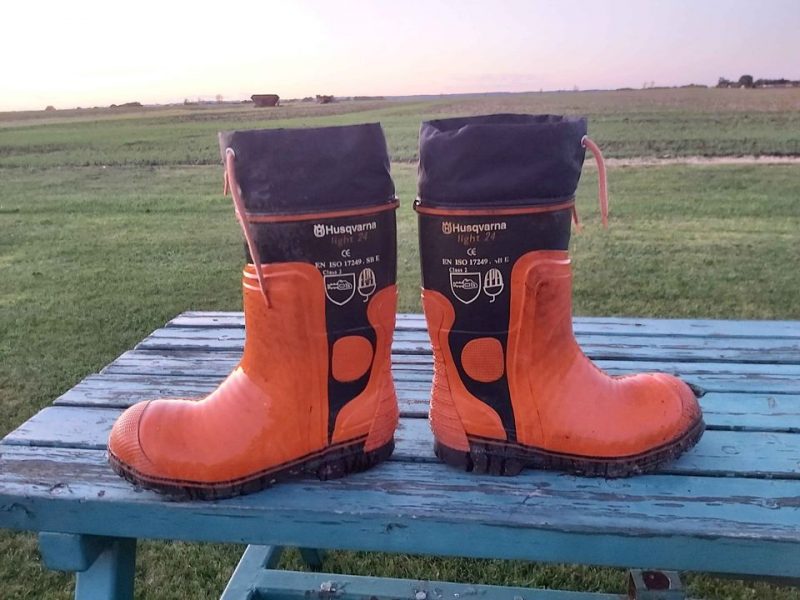 Toe cap materials
You need protection for your toes and steel toe caps offer the best level of protection so that is what I personally always go for. However, some people find them too uncomfortable and prefer alloy caps instead, which reduce the weight of the boots while still offering a good level of protection. Alloy toe caps can't protect you from compression in the same way as steel toe caps though.
Comfort
As with any footwear, the comfier the better. The problem with chainsaw safety boots is, that sometimes safety takes precedence especially in cheaper models. As a rule of thumb, leather boots tend to be more comfortable than rubber ones, and are also lighter.
If you are going to be working in a wet environment or outside in rainy weather, you should definitely look for a pair of boots that have good waterproofing materials.
Some more expensive models feature things like absorbent materials in the insoles to soak up moisture and keep your feet felling fresh, so that's another thing to consider, particularly for working on hot summer's days.
How the boots fit
Different brands of boots all fit differently, both in length and width. Generally, your shoe size is around the correct size of chainsaw boot, but you should read online reviews to see if people are saying they should have gone up or down a size, as is sometimes the case.
Leather chainsaw boots tend to fit me better than rubber ones, and with the laces I can adjust them to suit me, even with steel toe caps which can make the ends tighter.
Build quality
If you're going to be paying 50-100 quid for a pair of boots, you'll probably be wanting them to last longer than a few months. Some boots may look very similar but the quality of the materials and also the general quality of how they are put together may vary a lot and have a big impact on how durable the boots are.
The best thing to do is read reviews online and watch youtube review videos and see what they say about the quality of the chainsaw boots that you are interested in.
Chainsaw boots legislation
Chainsaw boots need to meet safety standards and these ratings are given a code of two to three digits after the standard EN ISO 20345 that shows they have been tested to resist 200 joules of impact. Here are the codes and what they represent.
| | |
| --- | --- |
| SB | These boots have an oil resistant outer sole and this is the safety minimum |
| SBP | Are penetration resistant up to a force of  1100N  |
| S1 | Made with an energy absorbing heel and have anti-static electricity properties   |
| S2 | upper parts of the boots are water resistant (WRU) |
| S3 | Have an outsole that is water and penetration resistant |
| S4 | Made from polymer or rubber, waterproof, and have anti-static properties. Also have an energy absorbing heel  |
| S5 | All the benefits of S4 but also have a cleated outsole and tested penetration resistance |
Well, that about wraps up this page on the best chainsaw safety boots in the UK. We feel confident that the products we chose to review offer the best mix of quality, safety, and affordability.
As new models hit the UK market, we will no doubt test and review them and add them on here if we believe they are as good as or better than the ones we have featured here
.
We hope the buyer's guide is useful to you and helps you make an informed decision on your next purchase.
Till next time, happy gardening.
With chainsaw safety boots, there are a lot of factors to consider before making a purchase and we have highlighted the main ones in our user's guide at the bottom of this page.
We have also, given some of the most popular brands and models of chainsaw boots a real world test run to see how they stack up against each other and wrote up our findings in the following reviews.
---