Garden Tool Box » UK's best table top heaters: gas and electric compared price, fuel economy, and safety
Written by Terry Smith
Our site is reader supported so when you click a link to Amazon we may earn an affiliate commission.
UK's best table top heaters: gas and electric compared price, fuel economy, and safety
This article was last updated on April 23rd, 2022 at 5:36 am
We've all been there. You've had a fun day in the garden with family and friends, catching whatever sun you can and filling up with barbecue. Now, the kids are worn out and tucked safely away in bed so you decide to extend the fun into the evening with a few drinks and maybe a spot of dinner, and that's where the best table top heater, or even patio heater comes in perfect. So there you are, drink in hand with a smile on your face…for a while. That's when you are rudely reminded about the temperature drops that can occur at night in the UK, even after a warm, sunny day. After grinning and baring it out for a while you decide to retreat indoors to the warmth, but feel a little sad that you couldn't enjoy the night air as you'd planned.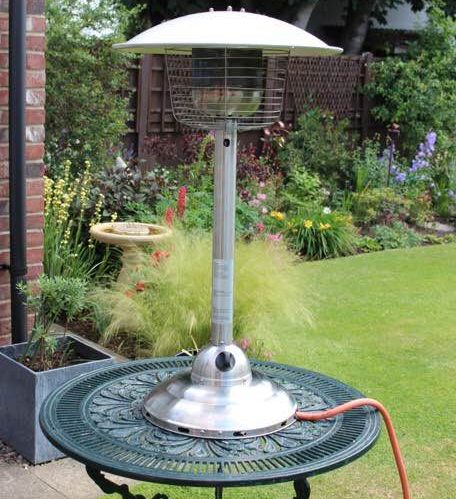 Well, it doesn't have to be that way next time and all it takes is for you to purchase a good table top heater. There are a lot of products to choose from, some better than others, but with a little help from our table top heater buyer's guide and reviews, you should be able to get the right kind of table top heater to suit your own personal setup. And if not, there are so many quality alternatives now like parasol heaters, hanging patio heaters, wall mounted heaters, and some pretty high spec infrared heaters all ideal for outdoors that won't break the bank and will keep you warm. You can even get table top fire pits if you prefer something a bit more traditional.
But let's try table top heaters first – there are some super super heaters in this category as well – in this article you'll know the pros and cons of the different types of heater such as gas (some cool options here trust me) or electric, and you'll have a good idea about which products are worth your hard earned cash. Let's dive in with our first review of the best table top heaters.
Best table top heaters: editor picks
Best table top heater overall: Firefly 2.1kW Table Top Electric Heater great combination of price and economy
Best gas table top heater: Kingfisher PH300 Garden Outdoor Table Top Patio Heater
Best bio ethanol table top heater: BRIAN & DANY Tabletop Portable Bio Ethanol Fireplace
Best electric table top heater: Firefly 2.1kW Table Top Electric Heater
Budget pick: BRIAN & DANY Tabletop Bio Ethanol Fireplace – you won't believe how well these ethanol heaters are priced
Table top heaters buyer's guide
Still feeling a little perplexed when it comes to table top heaters? 
Fear not, for we have a little buyer's guide here to help you with the pros and cons of each type. Hopefully this guide will leave you feeling better informed than when you arrived and help you to make a good decision on your purchase.
Gas vs bio ethanol vs electric
From a price perspective bio ethanol heaters are absolutely superb. For a start, you get plenty of heat out of a bio ethanol heaters but literally for a fraction of the cost – BRIAN & DANY Tabletop Portable Bio Ethanol Fireplace is so cheap! The glass panels are designed to keep you safe – if I had kids I'd probably want to think about infrared so the Firefly. On the other hand you have the gas butane table top from Kingfisher that has a balance of safety and freedom. The biggest constraint of electric is the power lead length – and rest assured many do complain. The La Hacienda is only a couple of metres – this almost guarantees the need for a longer power cable extension. The biggest constraint of bio ethanol is you need to let the unit cool down before re-filling.
Most power – gas table top heaters
Gas table top heaters are usually the type that produce the most heat, especially if you use propane instead of butane. In some cases, switching to propane can significantly improve the performance of the heater. These models often give you the greatest control over the level of heat too (Kingfisher is great for this) – a bio ethanol heater that you simply light isn't controllable – an electric infrared often has controls but you'll find yourself on the top setting and still chilly with the colder evenings.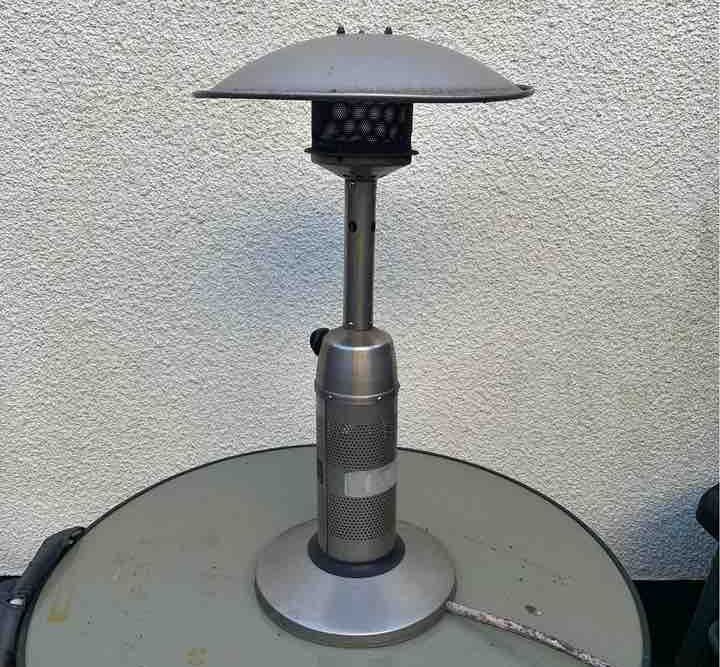 If you are going to buy a gas table top heater, check to see if there is a hose and regulator included or you will have to purchase them separately as well as a gas tank. Gas heaters are usually cheaper to buy than electric models but there is the extra cost of the gas tank to consider.
Most stylish – electric
These models are usually more stylish and compact in design than gas models, and some of them can look amazing. There is also no fear of running out of a fuel source (unless there is a power cut) so you can use them for as long as you wish. Good brands will have electric table top heaters that can be used for in excess of 5000 hours – both La Hacienda and Firefly.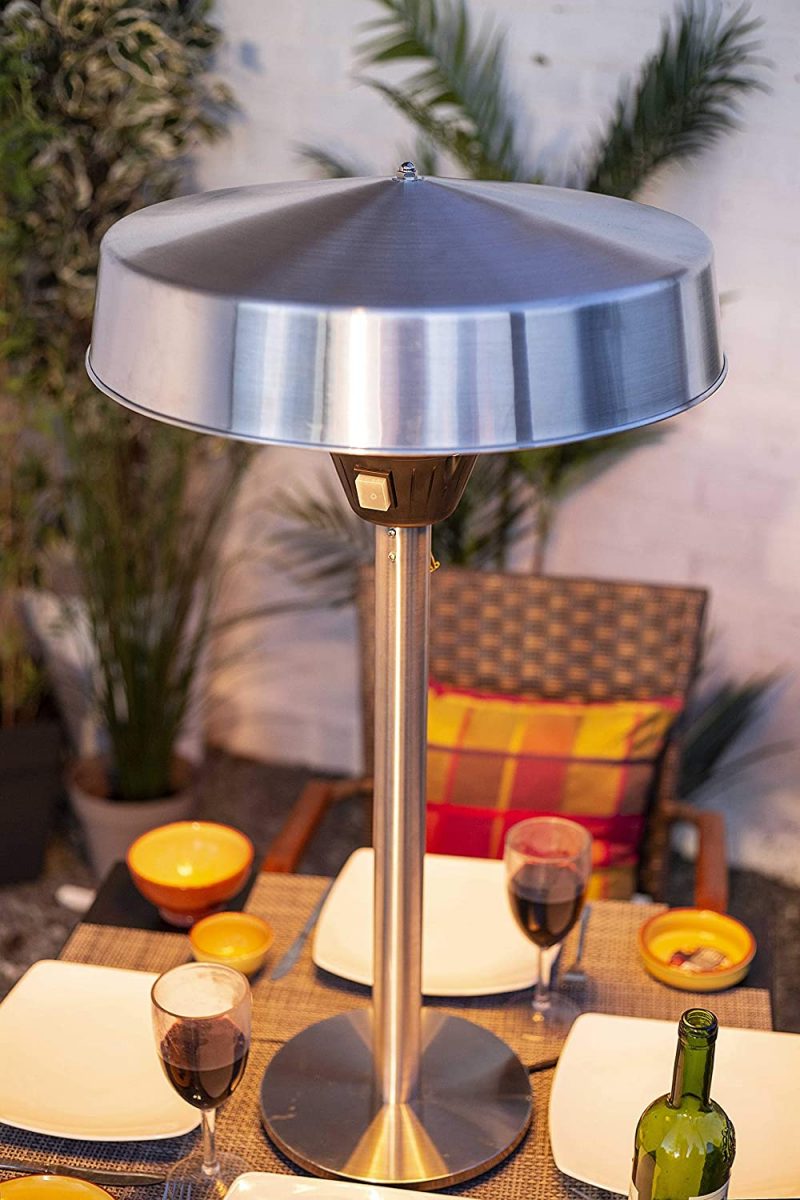 Although the running costs are much lower for electric heaters when compared to gas and bio ethanol types, the initial cost can be much higher and the heat produced isn't on par with gas powered heaters.
Bio ethanol cleaner than gas
These are the environmentally friendly choice as they run on a bio fuel that does not produce harmful emissions – the BRIAN & DANY Tabletop Portable Bio Ethanol Fireplace can be used as a result of not having toxic smoke or fumes that can harm your friends and family. They produce a flame that looks great encased between the panes of glass and this is something that you don't get with any other type of table top heater. The heat produced is quite good considering their compact size but they only run for around 45 minutes once fully filled with fuel.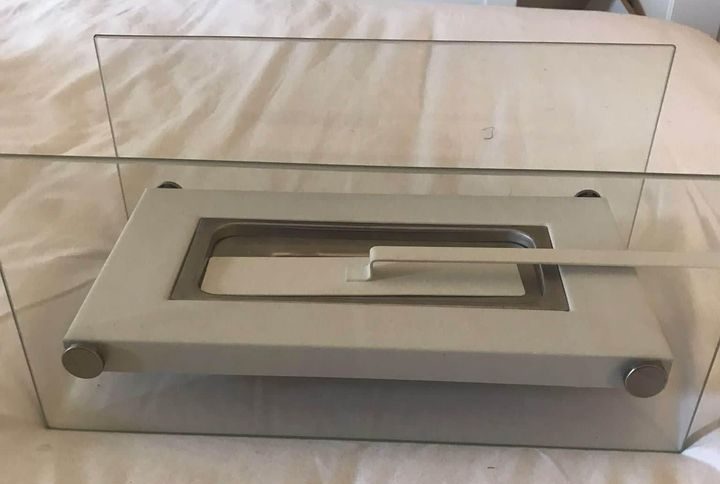 Bio ethanol heaters usually have the lowest initial cost but they do need to be constantly refilled every time you use them. You also have to wait for the unit's to cool down before you can actually refuel and ignite them again which might annoy some people. Having two or three of them at hand would be a way around this issue though. There are also some safety issues with these bio ethanol models and you need to be especially careful with them, particularly when reigniting them or making sure the fire is completely out.
Where to get bio ethanol?
You can get bio ethanol online quite easily. Amazon sell it in a decent sized pack. Go for the bigger pack and it's only 2 quid a litre – don't do to B and Q – they are charging a hefty four quid a litre. Overall Amazon has the best deal on this and added advantage it gets brought directly to your door.
If you need it fast though, your options are limited so be sure to be organised with this one and keep it in stock – it's not like propane where you can head to almost any petrol station and find a supply..
So with that all said, let's look at the best table top heaters:
---