Best petrol water pump (November 2020 Updated Review)
This article was last updated on August 7th, 2021 at 8:31 am
Best petrol water pump
Water pumps are versatile devices that can aid you in accomplishing a multitude of garden tasks. 
Anyone with a garden pond will tell you about the importance of having a water pump to oxygenate the water and prevent stagnation and the buildup of unwanted algae.
Likewise, if you intend to give your garden a new lease of life with a nice water feature such as a fountain, you'll need a submersible pump to help lift the water up through the internals of it.

 The main two types of water pumps are submersible pumps which can be placed under the water, and non-submersible, which can't. 
There are also water pumps that run off the mains electric, battery powered pumps, and petrol powered.
Petrol water pumps are the most powerful you can buy, easily out performing electric models, so it's not surprising that they are so popular.
 If you have a swimming pool or you intend to pump water out of a waterlogged or flooded area, a petrol water pump is the way to go. If you want a nice pond then you'll need a submersible pump for water features.
This page is a short guide to the best petrol water pumps where will briefly look at what models are currently top of the charts and why they are in that position.
Below you will find a handy table of contents to navigate you to the information you desire and also a comparison table.
Best petrol water pump buyers guide table of contents
Comparison table: Best petrol water pump (November 2020 Updated Review)

Product
What We Think
Price

Flow rate of 1000 Litres per minute
Pump lift of 28 m
Lightweight aluminium casing
Requires Evolution Evo-System Engine to function
2-year warranty (only valid if purchased in the UK)

☀ DURABLE & POWERFUL: The 4-stroke OHV Peggas engine provides the needed power...
☀ LIGHT & PORTABLE: No electric cables
☀ EXCEPTIONAL POWER-TO-SIZE RATIO: Delivers the highest level of performance while stands out in small dimensions...
☀ THE ESSENTIAL MOVER: Our water pump can easily move large volumes of water from one place to another....
☀ COOL ACCESSORIES: We've included an extensive accessory pack for free

Maximum water flow rate of 435 Litres per minute
Anti vibration system
Up to 8 m of vertical suction
High quality Briggs and Stratton engine with Lo-Tone muffler for reduced noise...
Reduced noise due to the Lo-Tone technology
So what is the best petrol water pump in the UK? Well, all things considered I would probably go with the Briggs & Stratton ELITE WP2-35 
Of course, we understand that price can play a big part in what we deem the most suitable for ourselves, so we have included reviews of a couple of cheaper models for you to compare and make up your own mind.
1. Briggs & Stratton ELITE WP2-35
 Petrol Water Pump
As we just mentioned, this is our choice for best petrol powered water pump priced at £217.51. I won't go into too much detail here as we have covered the Briggs & Stratton ELITE WP2-35
 Petrol Water Pump in considerable detail at the link provided.
 What I will say is that when it comes to water pressure and water flow rate, the two main features you should be concerned with when it comes water pumps, the Briggs & Stratton ELITE WP2-35
 Petrol Water Pump delivers.
Briggs & Stratton ELITE WP2-35
 Petrol Water Pump: Huge petrol pump power, great quality, anti-vibration, and runs quieter than competitors
The 435 litres per minute flow rate is produced by the surprisingly quiet engine thanks to Briggs & Stratton's 'Lo-tone' technology.
 As you can see, it's in a different league to the submersible pumps that can only produce a fraction of that.
The durability of the Elite WP2-35 is also a thing to be celebrated, and the iron sleeved 127cc OHV engine will keep ticking well into the future if properly maintained.
Even if you forget to top up the oil, you will still find it hard to accidentally damage this petrol water pump, as the automatic shutdown feature will kick-in when oil levels become too low. A very nice feature, so easy to forget sometimes or turn it on its side and allow the oil to drain by accident and not something that comes standard with all water pumps.
All in all, the Briggs & Stratton is probably the best petrol water pump out there unless you want to part ways with a fair bit more cash on a top level Honda pump.
Briggs & Stratton ELITE WP2-35
 Petrol Water Pump Review

Best Briggs & Stratton ELITE WP2-35
 Petrol Water Pump Features

What needs work on the Briggs & Stratton ELITE WP2-35
 Petrol Water Pump

435 litres per minute water flow rate
Would be better if it was a little lighter
Automatic low oil shutdown feature prevents damage
Runs quieter than a lot of its competitors
Double bearings, steel frame, and iron sleeved engine make this a durable machine
8 metre vertical suction lift
Anti-vibration
One year guarantee
Could they improve the Briggs & Stratton ELITE WP2-35
 Petrol Water Pump?
What this petrol water pump gives in performance and quietness, it takes back a bit in weight. I'd instantly recommend this pump if you are either strong enough to get it lifted and moved or have a hand. I suppose it's a small price to pay for quality and really there are no considerable faults with this petrol water pump, it's just a case of do you want to save money with the Evo petrol water pump.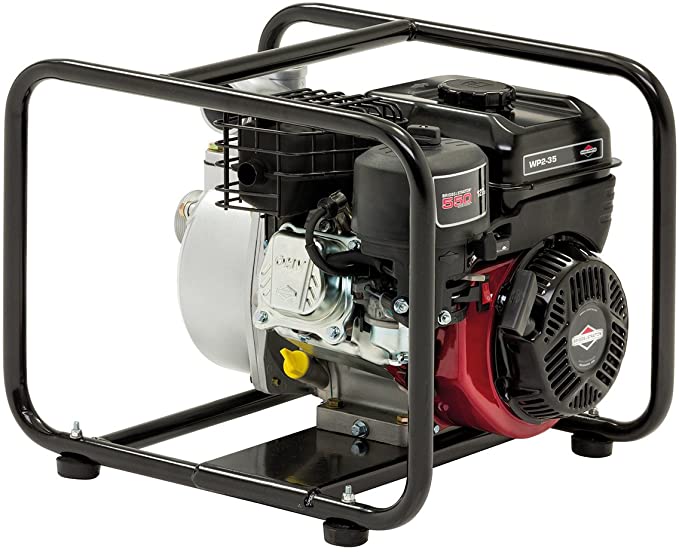 The Waspper PC107 is a little cheaper than the Briggs & Stratton Elite WP2-35 and might be a viable alternative for people who are looking for something that is easy to move around.
WASPPER PC107 Petrol Water Pump: super light weight petrol water pump, high revving for extra power, four stroke, with anti rush and corrosion features.
The aluminium pump that Waspper have given the PC107 makes it much lighter than the Elite WP2-35. In fact, it is less than a third of the weight of its rival, and has a large handle that makes it very portable.
A 4 stroke, 9000 rpm, OHV engine provides the power needed to produce a maximum water flow of 7500 litres per hour and an 8.5 metre vertical water suction.
Like a lot of petrol water pumps these days, this model has been fitted with rubber feet to reduce vibration when it's on the go. I just wish that the makers of this model had thought about reducing the decibels a little too as it does run louder than the Briggs & Statton WP2-35.
WASPPER PC107 Petrol Water Pump Review

Best WASPPER PC107 Petrol Water Pump Features

What needs work on the WASPPER PC107 Petrol Water Pump

Lightweight and portable
Could do with being a little quieter
Aluminium construction
Rust and corrosion resistant
4 stroke 9000 rpm motor
Anti-vibration rubber feet
1 inch inlet and outlet
One year guarantee
Could they improve the WASPPER PC107 Petrol Water Pump?
The only common complaint I get with the WASPPER PC107 Petrol Water Pump is the noise. There's not really a lot that can be done about this though. You want light weight so that means making a smaller, higher revving engine to get the power output. Invariably there are sacrifices to be made. As an overall package though, and certainly for someone looking for serious power to weight ratio, this is a great pick.
3. Evolution Power Tools Evo-System Water Pump
This is one of the cheapest, therefore most popular petrol water pumps available in the UK. It is in direct competition with the EBERTH 1″ Petrol Water Pump that we reviewed in our more encompassing article on pumps that you can find here.
However you have to bear in mind that this is sold as the pump only and if you factor the price of the engine into it, it actually works out as one of the more pricey petrol water pumps.
For the extra cash though, you get a high water flow rate of 1000 litres per minute, a vertical suction lift that matches both of our other reviewed products, and a design that makes it expandable with other components from the same manufacturer.
Like the Waspper PC107, it has been given an aluminium engine casing to reduce the overall weight to around 10kg, and also to prevent corrosion and rusting.
The inlet and outlet ports are 75mm in diameter and the Evo-system water pump comes with an inlet filter to keep debris from entering it.
 If you purchase this model in the UK, you get a 2 year guarantee.
Best Evolution Power Tools Evo-System Water Pump Review

Best Evolution Power Tools Evo-System Water Pump Features

What needs work on the Evolution Power Tools Evo-System Water Pump

High water flow rate of 1000 litres per minute
Engine must be bought separately, increasing the price
Lightweight
Rust and corrosion resistant
Comes with inlet feature
Good vertical suction lift
Extendable system
One year guarantee
Petrol Water Pumps for Sale
There's a good selection of petrol water pumps for sale in the UK, each with their own pros and cons, so it's a good idea to do your research on petrol water pumps in order to be able to make the most informed decision. We have a detailed and informative page dedicated to all types of water pumps that you can visit and broaden your knowledge on this subject.
Petrol Water Pumps UK
The UK market is awash with water pumps of all types and sizes. There are electric water pumps, solar powered water pumps, and of course petrol powered water pumps. 
These come with various design features, such as being lightweight, rust resistant, and having high powered engines.
There are petrol water pumps to suit most people's budgets, from cheap water pumps, to high end, pricier models. 
With all these options it can be hard to know what's best for you. We have tried to offer some assistance with this on this site with our articles on all kinds of water pumps.
Petrol Driven Water Pumps
As we have already mentioned, petrol powered water pumps are the most powerful, but are they the right type for you?
 If you only require a less powered pump, say for a small garden pond, then an electric water pump will probably do the trick and will almost certainly be cheaper than a petrol driven water pump.
However, for bigger ponds, larger water features, or for things like flood relief, the performance that a petrol model gives you can't be beat.
---