Written by Terry Smith
Our site is reader supported so when you click a link to Amazon we may earn an affiliate commission.
UK's best petrol water pumps – quality 4 stroke engines only
This article was last updated on April 23rd, 2022 at 5:36 am
Anyone with a large pond or body of water will tell you about the importance of having a petrol water pump to drain and clean (especially when hire prices are going stupid these days), but as we know some can draw water deeper than others, and then you've got flow rates, self priming, and so on – that's what we are going to look at today. The main two types of water pumps; submersible pumps which can be placed under the water, and surface water pumps, which can't. 
These pumps all have variations of power use and can run off the mains electric, battery, and petrol and that's what we are concerned with here today – the best petrol water pumps: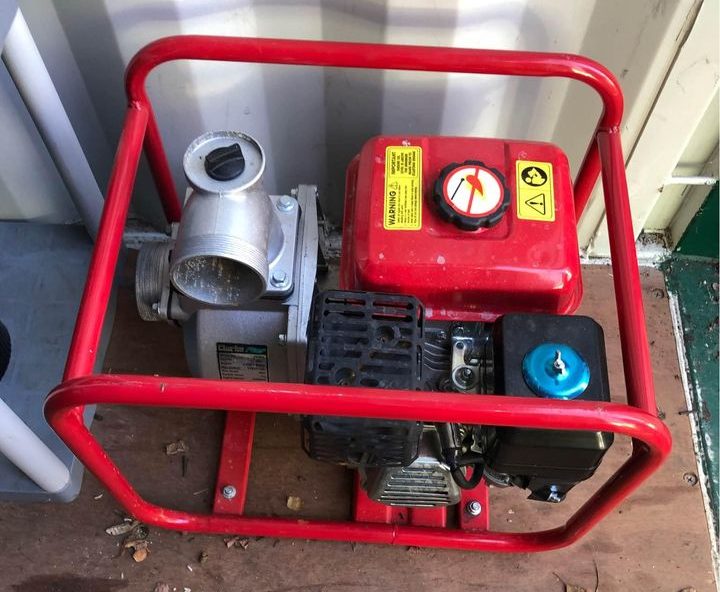 Petrol water pumps are the most powerful you can buy, easily out performing electric models, so it's not surprising that they are so popular.
 If you have a large swimming pool or you intend to pump water out of a waterlogged or flooded area, a petrol water pump or submersible pump is the way to go. If you have a nice little pond and want to drain it for cleaning then you'll need a smaller submersible pump and a pond vacuum.
This page is a guide to the best petrol water pumps and if you need more information please check my petrol water pump buyers guide.
Best petrol water pumps – editor picks
Best petrol pump: 2 inch Petrol Water Pump – 5.5HP 4 Stroke Engine 
Alternative pick: Briggs & Stratton Elite WP2-35
Most powerful: Evo-System Water Pump – has the most powerful flow rate so arguably a real bargain and worthy choice
Budget pick: Parker Brand 2 inch Petrol Water Pump – 5.5HP 4 Stroke Engine
Petrol water pump buyers guide
On the surface a water pump looks pretty simple – a small engine connected to a water pump that simply spins and pulls water. However if you're new to this and don't know exactly what you need it can be tricky – don't worry though I'll have you understanding what you need in no time with this short buyers guide: there are different size bores, engine powers, some can lift as little as 7m from the head while others 100ft! Then there's vertical suction! Some need priming and some don't. Let's take a look at what all that means:
Max lift from head
Essentially this is how deep the water can be drawn from and then deposited. In the case of the Briggs & Stratton for example, their unit can lift vertically 8m and then deposit the water a further 25m above the height of the unit. Their diagram clears this up a little: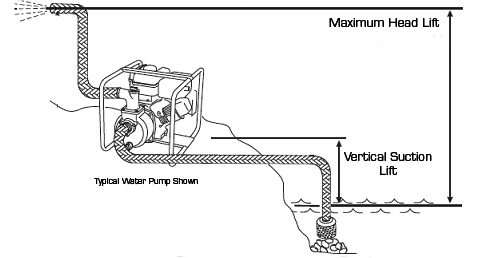 Vertical suction
Aptly the image above also shows you vertical lift. This is how deep the engine can pull from. In this case 8m which is going to be ideal for anyone with a large pond. This is the unit I've used to drain an 80m long and 20m wide body of water that was 4m deep. The walls were slanted so all in all it took at 6 days to drain that huge mass of water – realistically I should have picked bigger but proof in the pudding it was up to the challenge.
Self Priming
Some pumps are self priming. This means you drop in your pipe with a filter on the end and it'll do the rest, others, are an added pain and need the pipe filling up with water first, so it will pull through. This is ok I guess, but for frequent use it can become tiresome. If you're plan is daily work I would be looking for self priming, no question about that. I got soaked with my Briggs and Stratton.
Bore size
Petrol water pumps that can be lifted by hand generally range 1 to 3 inches. The bigger the bore doesn't always mean the higher the flow rate, but it is overall a pretty good indication. The Evo-System Water Pump does 1k litres with a 3 inch bore, you can normally expect over 400litres a minute with a 2 inch bore like the ParkerBrand 2 inch Petrol Water Pump or the Briggs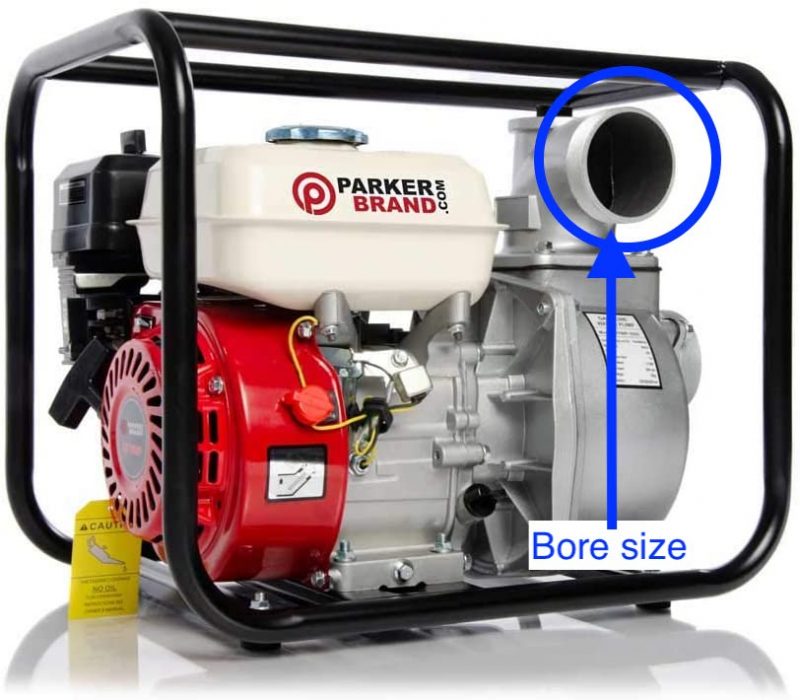 So what is the best petrol water pump in the UK? Well, all things considered I would probably go with the Briggs & Stratton ELITE WP2-35 before but since Parker Brand have essentially made the same spec (2 inch Petrol Water Pump – 5.5HP 4 Stroke Engine) I would favour them and they are now my top pick. 
Of course, we understand that price can play a big part in what we deem the most suitable for ourselves, so we have included reviews of a couple of cheaper models for you to compare and make up your own mind.
Petrol Water Pumps for Sale
There's a good selection of petrol water pumps for sale in the UK, each with their own pros and cons, so it's a good idea to do your research on petrol water pumps in order to be able to make the most informed decision. We have a detailed and informative page dedicated to all types of water pumps that you can visit and broaden your knowledge on this subject.
Petrol Water Pumps UK
The UK market is awash with water pumps of all types and sizes. There are electric water pumps, solar powered water pumps, and of course petrol powered water pumps. 
These come with various design features, such as being lightweight, rust resistant, and having high powered engines.
There are petrol water pumps to suit most people's budgets, from cheap water pumps, to high end, pricier models. 
With all these options it can be hard to know what's best for you. We have tried to offer some assistance with this on this site with our articles on all kinds of water pumps.
Petrol Driven Water Pumps
As we have already mentioned, petrol powered water pumps are the most powerful, but are they the right type for you?
 If you only require a less powered pump, say for a small garden pond, then an electric water pump will probably do the trick and will almost certainly be cheaper than a petrol driven water pump.
However, for bigger ponds, larger water features, or for things like flood relief, the performance that a petrol model gives you can't be beat.
---