Garden Tool Box » Best LED torches [UK]: most powerful LED rechargeable flashlights, camping torch lanterns and brightest lights reviewed
Written by Terry Smith
Our site is reader supported so when you click a link to Amazon we may earn an affiliate commission.
Best LED torches [UK]: most powerful LED rechargeable flashlights, camping torch lanterns and brightest lights reviewed
This article was last updated on April 23rd, 2022 at 1:27 am
The best led torch can mean most powerful or it can even be tactical with a long narrow range. Some amazingly are bright for hundreds of metres. It can also mean you're looking for value for money as well as a decent battery life and quick charge time if rechargeable. I've got you covered on all points from camping LED torch lanterns to tactical LED torches with some alternative options too.
Best LED Torches Reviewed UK
We all remember those 80s and 90s horror movies where the next victim is walking in a dark forest or creaky, old, house armed with just a torch. We would watch, knowing what was coming next: – the inevitable failure of the torch. A few shakes and bangs with the hand and it would start working again, only to fail again a few moments later.
Back in those days, torches were quite cumbersome and could be very unreliable, especially if left out for the weather to do its damage.
They also used to eat through batteries like Pacman on power pills, and so weren't really all that useful unless you shelled out for a pricey top of the range torch or carried around a load of spare batteries.
These days, we are spoiled for choice when it comes to the best torches. Improvements in technology have made it possible to get your hands on a waterproof, shockproof, high beam, LED torch for under a tenner!
They are no longer big, bulky, things either, and many of them can easily slip into your pocket without being a hindrance to movement.
Top picks for the best led torches in the UK ( and most powerful )
Klarus XT11X 3200 Lumens Rechargeable Torch, 283M Beam Distance Tactical Torch most powerful LED torch for tactical use
Anker LC90 LED Flashlight best alternative led torch
LE Rechargeable Camping Lantern best torch for close range stuff – good alternative to a flashlight
What you should consider when buying the best LED torch
The best LED torches can be used for a wide range of activities, from working in the garden or greenhouse at night, to hiking and camping trips. They produce outstandingly bright light that can have an impressive range and spread. They can even replace work lights in some situations! So, which models are considered the best?
This is truly a difficult thing to say with there being so many excellent torches available, but to make things a bit easier for you, we spent some time with the top rated torches, at the time of writing this article, and wrote up what we thought about them in our reviews.
And don't forget to check out our in depth buyer's guide on this page if you feel you need more helpful info.
What you should consider when buying the best LED torch
What are features and factors are important when it comes to the best LED torches?
Well, there are a few, and some of them will be more important than others depending on your intended use of the torch, and how much you want to pay for one.
Below we have highlighted a few of these aspects so you can better make up your own mind about which model suits you.
Lumen measurement
You may have seen a number followed by the word 'lumen'. This is a basic measurement of how bright a torch's light is and usually a higher lumen level means a better and brighter light with a longer range.
However, there are other things to consider. As we mentioned in our reviews, some LEDs are higher quality than others and will give off more light. Not only this, but things like the type of lenses and other technological features can also affect the performance of the torch, so it is quite possible to see a model with a lower lumen rating actually emit a brighter and more intense light. These products are usually higher up on the price range though.
Rechargeable or standard batteries
There are LED torches that run off AAA batteries, some that take D-type batteries, and plenty with rechargeable lithium ion batteries.
So which one is best? To be honest, that is a personal preference. Rechargeable li-ion batteries save you the hassle of always having to have spares lying around but you also have to make sure you remember to charge them after each time you use the torch. These days though these can be charged using a wall socket, power bank or car cigarette lighter so it isn't the end of the world.
There are also eco LED torches that can be charged using built in solar panels or crank handles that activate the dynamo. These can be great for emergencies but not the most convenient for everyday use.
Keep an eye out for the run time and charging times with any rechargeable model and be aware that what is often featured in advertising is the battery life on the lowest settings.
Size and weight
Led torches come in a very wide range of sizes and weights, from mini pocket sized models that you wouldn't even notice were on your person, to larger and heavier torches that could be used in tactical situations as a weapon or tool. Here's an example of one that fits nicely in the hand: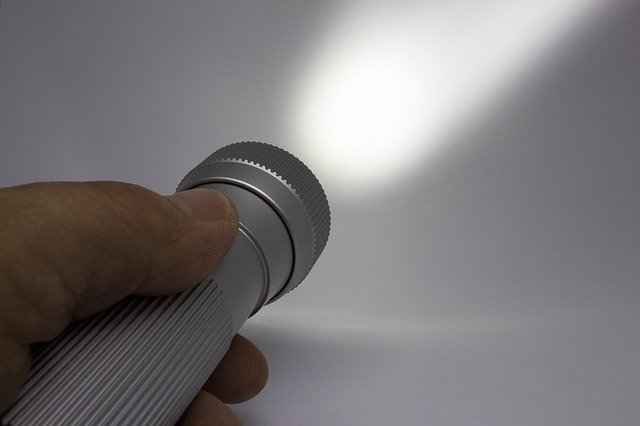 The type you need will depend on your intended purposes. If you are going to be taking it with you while travelling or hiking, you'll probably want a compact pen size torch. On the other hand, security guards might like the feel of something a bit more substantial.
Durability
Make sure you get an LED torch that has a decent IP rating as this indicates it has been tested to be resistant to water splashes. Not all IP ratings are the same though, but you can check them easily by doing a google search.
The material used for the torch's casing is another important factor but these days, most of the best models are made of aluminium alloy which keeps them lightweight while still being very robust.
Other things to look out for
Other things to look out for are different light modes and how it easy it is to cycle through or select them, the range of the beam on spotlight mode, how good the grip is on the torch, the focus controls, warranty length, and what accessories come with the product.
---