Written by Terry Smith
Our site is reader supported so when you click a link to Amazon we may earn an affiliate commission.
Best pergolas for a beautiful summer in the UK [Summer 2021 review]
This article was last updated on August 7th, 2021 at 6:51 am
The best pergolas are a simple way to make a big difference to your garden. Not only are they decorative and pleasing to the eye, they can act as a relaxing place of shade that will be very popular in the middle of summer.
Pergolas can be used as archways, porches, or just striking garden features in their own right. However, if you really want to get that classic roman feel and look, you should let some ivy, roses, or other vined plants grow over the structure, especially if you are using it as a walkway cover or archway.
Pergolas are often confused with similar structures such as arbors and pagodas, but there are slight differences that we cover in our buyer's guide, right here on this page.
Basically though, a pergola has vertical posts or pillars and a beamed roof that is sometimes decorated with a lattice design. And while it might not be deemed a classic feature of the best pergolas by some, many of them these days are also covered for practical reasons such as protection from the rain. If you are in the market for a new or very first pergola, we are here to help. Our in depth, best pergola reviews will hopefully guide you towards the right model for you and your home.
So without further delay, let's get stuck in, shall we?
Comparison table: Best pergolas for a beautiful summer in the UK [Summer 2021 review]

Product
What We Think
Price

Take your backyard from ordinary to amazing using the Arbor Garden Solutions Pergola...
Its four, 4'' x 4" (finish 90mm x 90mm) legs support the top and stays rigid using of six...
The redwood posts are supplied at 2.7m long to give the customer the option to concrete them into the...
Each of the heavy duty corner posts feature a central notch design...
Please note that advertised size is a length of top rafters

Virtually unbreakable 8mm multiwall polycarbonate roof panels
100% UV protected panels maintain their integrity; they do not turn yellow or...
Rust resistant, powder coated frame made of heavy duty aluminium and laser...
Requires a solid level surface and solid wall support
Maintenance free - no corrosion

Lattice panels are perfect for climbing plants on this chunky garden arch....
Supplied with extra leg length for sinking into the ground.
Manufactured from pressure treated timber to protect against rot.
Width between the posts is 128cm.
Some of our items are bulky and you will need to clear space in your garden ready for delivery....

Wooden Garden Corner Pergola Bespoke Corner Garden Pergola
Easy to put together about 1 hour
Hand made to order in Swindon Wiltshire
Made from Pressure Treated Timber.
smileswoodcraft.co.uk
We start our vest pergola product reviews with the excellent sculpted wooden garden pergola kit from Arbor Garden Solutions. No matter how big or small your garden is, you are sure to find this pergola in a size to suit, from the smallest 1.8m x1.8m four post, to the 4.8m x 4.8m model with six posts, and a choice of two colours, both of which look natural and would go with any garden furniture.
No matter what size you decide to go with, you will be the proud owner of a garden pergola that is not only top quality, but also quick to assemble. The corner posts and beams have been pre-cut with a notch in them so that the pieces fit together like a jigsaw puzzle, and thanks to some precise engineering from Arbor Garden Solutions, we had absolutely no problem with anything being misaligned.
The main posts are made from red timber that has been pressure treated to make it highly resistant to rot, and the makers say that you will get up to 15 years out of it. As the most stable way to put up a pergola is to dig holes for the posts to be inserted into, the posts themselves come 2.3 metres long to allow for a good length of wood to be concreted in.
If you decide to have this wonderful pergola freestanding, or screwed into some decking, that is also a viable option, but you will probably want to cut the posts down a little.
As a test, we assembled this model freestanding, and while it was trickier to get up and needed more people, once it was all slotted and screwed into place, it was extremely stable.
Shaped at the ends in a nice curved design, the rafters not only look great but have been made to last as long as the posts. Being made of pressure treated CLS C24 timber, which is often used in construction projects, these beams will stand the test of time just as well as the posts supporting them.
As we already said, assembly and construction of this Pergola is relatively simple, and to make things even easier, the instructions are sent in PDF form via email so you can have them on your phone for a quick glance while putting the structure together.
If you're still struggling, you can always call customer service which we found to be more than helpful.
Five stars for the Arbor Garden Solutions sculpted wooden garden pergola. A great buy at a reasonable price.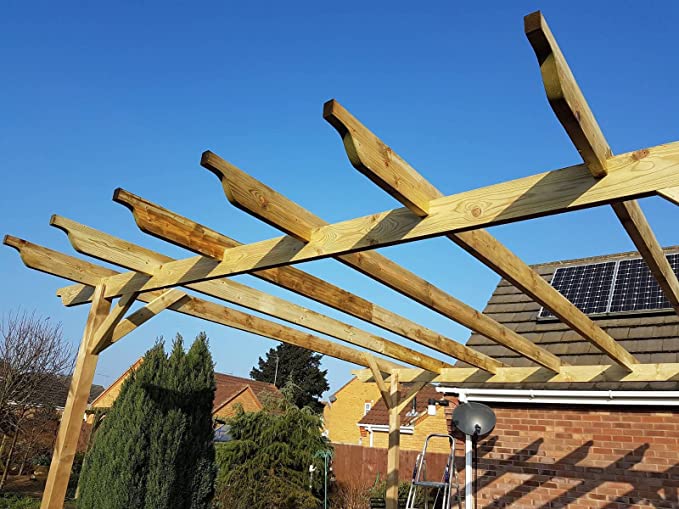 2. Forest UPARTHD Ultima Pergola Arch
If you want your garden to be a true wonderland, you should have a jaw dropping pergola arch like this leading to it, or maybe for connecting different parts of the garden in a unique way.
Standing 245cm high, 182cmwide, 136cm deep, and having a design that marries both the contemporary and the classic in a very interesting way, this pergola archway is certainly what I would call eye catching, and I would challenge you to disagree.
Four timber posts support two long rafters that then have another five smaller rafters inserted into it along its length, in classic pergola style. There are four curved corner braces of wood which are joined from the posts to the larger rafters, creating the arch effect. This arch is complemented beautifully by the lattice trellises found on either side of the Pergola, and running almost the entire height of it.
All this together creates a garden feature that really stands out without having to be astronomical in size. Like all the best pergola kits, this one from the Forest brand comes in the minimum amount of parts possible (17 main pieces to be exact), and is meant to be as easy to construct as possible.
For the most part, this is definitely true of this product, but there are a few holes that you need to drill and make sure that they are done to the right measurements otherwise you might have problems with alignment. Anyone with a tiny bit of DIY skill should be able to do this without too much hassle though.
I will say that you definitely need some help putting this together, if only to hold things in pace while you line others up, but that can be said for all of these kinds of products.
All the screws and fittings needed to put this pergola together are included, but if you ask me, I would suggest swapping them for better ones, especially the screw which could do with being 10-20mm longer. This can be done very easily and inexpensively, and is something I do with all kits and flat pack products just to be on the safe side.
All of the timber pieces have been pressure treated with an anti-fungal preservative to ensure that it can fight rot. These types of treatments are very popular with wooden garden furniture because they can keep the timber in good condition for up to 15 years. If you want to add another layer of protection to your garden pergola, feel free to use wood stain or paint it any colour you like, as this one arrives unpainted.
This could be a superb addition to your garden, but I would say one thing, and that is to dig holes in the ground and use concrete to set the posts in, or find another way to secure it, as I don't know how stable this would be free standing. Other than that, I have nothing really bad to say about the Forest Pergola arch and found it to be a great product from a UK based company.
3. Palram Pergola Patio Cover Feria
Here's a more modern take on the pergola concept that comes to us courtesy of Palram, a company that has been in the business for nearly 60 years and has subsidiaries all over the world.
This is actually a pergola patio cover rather than what you would call a traditional pergola, but it is still an outstanding product that I thought was worthy or a closer look and review.
The design is similar to a lean to conservatory, minus the walls. Three large, heavy duty aluminium posts are joined to a rafter running perpendicular by galvanized steel connecting pieces that have been laser cut for precision. Leading from this rafter to the wall of the house are multiple smaller rafters.
These rafters help to support the multiwall polycarbonate roof panels that are completely UV resistant and won't discolour or turn yellow over time. Nor will they break without someone really trying purposely to do so. These 8mm thick panels are extremely hardy.
The overall effect of these components coming together in the way they do, is a really simple, yet elegant contemporary design, which would look incredible on any kind of house, new or old.
It is available in two different colours, a brilliant white, or a much darker grey. I can't speak to the grey, but the white one that we looked at had a really well done paint job, and looked absolutely cracking when the sun was shining on it. And when the sun stops shining and we get that inevitable British rain storm, there's no need to worry because the quality roof and guttering direct all that water away from you and your garden furniture.
The model we reviewed was the 3×4.25 metre version, but there are smaller and larger ones to choose from and should be enough to suit most people's needs. A great feature of this pergola patio cover are the flexible position poles. These allow you to adjust the height at the wall connection, the distance between the poles at the front of the pergola, and even the distance from the house.
It is much easier to assemble than it looks, thanks to design features like the click and lock system on the roof panels, and full set up can be done with as little as two people.
This beautiful pergola would suit people looking for something a little more modern and different, or those of you who would like a much cheaper alternative to a conservatory.
It is high quality, well designed, and looks great.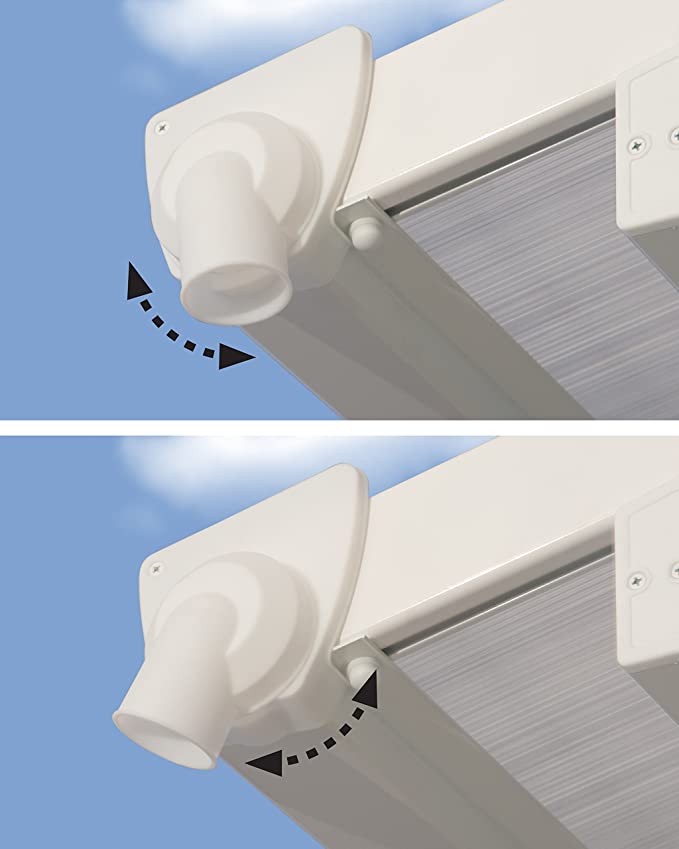 4. Smiles woodcraft Wooden Garden Corner Pergola
Turn that boring old garden corner into your own personal oasis with the Smiles Woodcraft corner pergola. There are three different sizes available to choose from on Amazon, but the company also makes them to order, so you could contact them if you have enquiries about the size you think you'll need.
Handmade in Swindon, right here in the UK, these corner pergolas are nonetheless very affordable. The 240 x 240 x 240cm variety can be bought for under a hundred and forty pounds, and for a pergola of this quality, that's nothing to be sniffed at. To ensure long life without rot, the timber has been pressure treated, but arrives without being painted so you can always add another layer of protection to it by doing that yourself.
The main posts are made 40cm longer than the actual standing height is supposed to be for sticking them into the ground, or you can use bolt downs if you wish, but I wouldn't suggest leaving this freestanding without any extra support.
It takes about a couple of hours with two people to get this thing up and in place. It's not particularly heavy and the pieces all fit together as they should. As always, I advise getting your own screws and fittings, and not using the ones provided as they could be better, or in this case, should be longer to really keep the structure strong and stable.
Anyway, we had this pergola up and setting in the corner without too much trouble and I was pleased by the end result. I really like the way the top beams spread out at angles from the corner point, it reminds me of rays of sunlight at dawn, shooting out to start the new day.
Overall, I have to say that this will be a great little addition to any garden, especially smaller properties who just don't have the space for a full pergola. It takes a boring corner, and turns it into an area of interest, relaxation, and beauty, and all for an affordable price.
5. Outsunny 3 X 3 Meter Aluminium Pergola Canopy
While we don't exactly have the longest, sunniest, summers in the world, I still always manage to get sunburnt once the weather changes for the better. The thing is, I'm a social animal and would rather sit out in the sun with people who have much less pasty skin than I do, than go sit in the shade on my own. The end result is always the same: lovely lobster red skin, glowing like the people in those old Ready-Brek adverts.
This 3 metre by 3 metre pergola might just be the answer to my prayers though. You see, it features a thick polyester canopy that can be extended or retracted in seconds using a simple pulley system.
This means that when I feel I've had my fill of the sun, I can pull the canopy out a little and sit in the shaded part while the wife and others can stay in the sun. Best of all, we would all be still close together so I could join in the conversation and not feel so much like a social leper. Everyone's a winner! The canopy is made from a good quality polyester material that not only does a great job of providing shade when you need it, but is water repellent too, thanks to the PA coating which also gives the canopy a nice 'crisp' finish.
Made from sturdy, rust proof aluminium, the pergola frame is built to last, and you don't have to worry about rot and insects eating it like you might with a wooden pergola. The aluminium gives the pergola a more modern look, and would maybe be a better fit for people with contemporary garden furniture and ornaments than a wooden framed pergola. Assembly took about the same length of time as putting up a good wooden pergola of the same size: about a couple hours with two to three people working on it at a steady pace.
All the parts arrived in excellent condition, with no damage during transit, and everything lined up correctly. I thought the runner mechanism that the canopy uses to slide on would be a pain to set up, but I was pleasantly surprised on that part. We screwed this pergola into some wooden decking, and it stood really solid. I wouldn't have any worries about removing the canopy and leaving the frame out in the winter wind and rain at all.
This is another great alternative to the more traditional wooden pergolas. The contrast in colour between the frame and the canopy works great, the quality of all the components is excellent, and the price is competitive. A good choice for us 'summertime lobsters' that's for sure.
Best Pergolas Buyer's Guide
Before making any large purchase, particularly one that will be such a Centre point for your garden, it is wise to go into it armed with as much knowledge on the subject as possible, and that is where this buyer's guide comes in.
We are confident that after reading through this, you will have a better idea about what pergolas are, what they aren't, and what the best ones should feature.
Pergolas, are they the same as gazebos? What about arbors?
While all of these garden features share some similarities, some more than others, there are some differences that 'technically' separate them from one another, at least in the traditional forms of each one. In modern times, it is quite common to see combinations of these different structures such as pergola/gazebo, but I'll quickly highlight the differences between them for you here.
Pergolas are structures with flat, beamed and raftered roofs that are supported by posts or pillars and they serve the same purpose as a shade sail but look more natural. They are generally quite large structures, and it is not uncommon to see them attached to buildings and acting as a sort of extension. Traditionally made from masonry, they are available today with wood or metal frames.
Arbors are smaller, freestanding structures. Their most common form is that of an archway, or gateway. Arbors can be made of wood, metal, vinyl, and many other materials and are not usually meant to be used as a sheltered area to sit under for extended periods like a pergola. Gazebos are also quite similar to pergolas, but they have full, closed roofs and can be round in shape, you can even get pop up gazebos. They too, can be quite large in scale but can be often distinguished from pergolas by having a raised floor. They look cool to see this pic: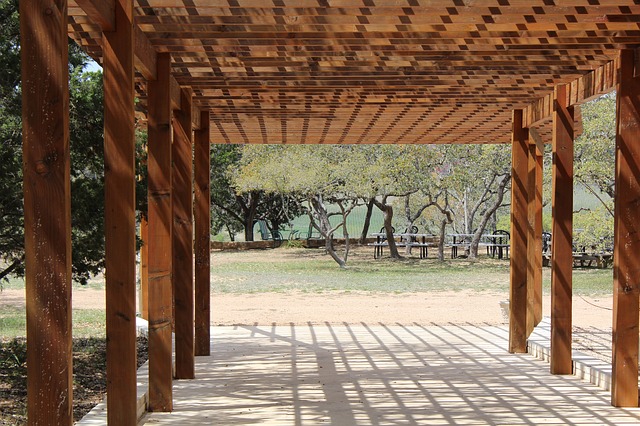 Do you want your pergola to be its own independent structure? Or to act as an extension of your house?
There are two main types of pergola. Ones that are freestanding (but will need securing to the ground in some way), and pergolas that are attached to the wall of your home. Attached pergolas can provide cover for a patio area and can be a good alternative to conservatories. They can also give the impression of connecting the inside to the outside of the home in a seamless way too.
Freestanding models are a great way to create a separate area away from the main building, a space of its own for relaxing in. They can really stand out in your garden and be an eye catching centerpiece.
Wood, or metal pergola?
Classic pergolas had beautifully decorated stone pillars, but it is far more common to see wooden or metal framed versions these days. You can still get stone pergolas but they won't come cheap, and you'll have to find specialist companies to supply them.
Wooden framed pergolas are probably the most popular. They give that relaxed, natural feeling and still feel more traditional than metal ones. If you are going to buy a wooden pergola, make sure that the wood has been pressure treated to fight off rot, and also keep up with the maintenance on it, or you might not see it lasting too long. You can always fix that yourself with wood treatment and stain though so no problem.
You could make one yourself, they look stunning as below: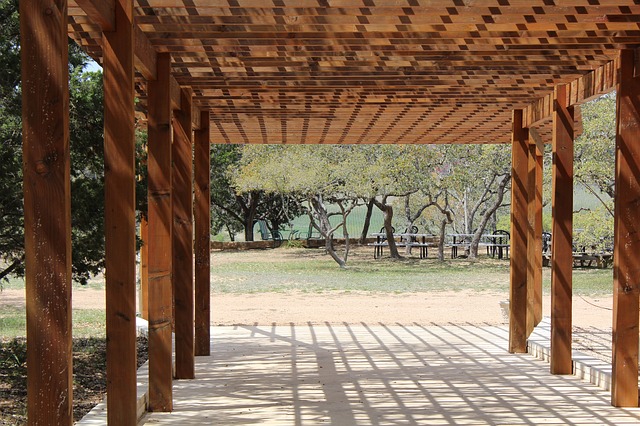 On the other hand, if you want a more modern looking pergola, a metal framed one might be better. Aluminium is the best metal material to have for outdoor garden furniture and features, due to it being highly resistant to rust and corrosion.
Pergola Size
Most pergola styles will come in a number of sizes, and while it might be tempting to guess the size you'll need, it is far more sensible to get the tape measure out and go out into your garden to get an idea of how much space it will take up. Just because a large pergola will fit in your garden, it doesn't mean that it will look very good if there's no other space for anything else!
If you have a small garden, it doesn't mean you can't have a pergola, but I would suggest you look at a corner pergola rather than a full one, like the Smiles woodcraft one we reviewed. You could also look at cantilever parasols as they offer similar protection but aren't quite as natural looking.
---