Garden Tool Box » Best weather stations that really work [UK] Reviewed Summer 2021
Best weather stations that really work [UK] Reviewed Summer 2021
This article was last updated on August 7th, 2021 at 4:47 am
If you live in the UK, you've probably lost count of the number of times you have had to cancel or change your plans due to the weather. The unpredictability of British weather is something none of us can change, so we get used to having four different seasons in one day and grin and bear it.
Best Weather Stations
While we can't really predict the weather in the long run, there is something we can do that can let us know what is likely to happen short term, and that is investing in one of the best weather stations.
Modern weather stations don't take up much space and are growing increasingly accurate when it comes to predicting how the weather will be in the upcoming hours. Armed with sensors of various types, these new weather stations gather and analyse all the data and let you know, via large LCD screens, what you can expect the weather to do. Even if you use this information only to know when to bring the washing in off the line, or to take an umbrella out with you just in case, it makes them well worth owning.
You would be surprised how cheap you can get your hands on a good digital weather station for these days, but it is always good to know a few things about these devices before you part with your cash.
That's why we have put this page of reviews together and included a buyer's guide for you too. Hopefully, it will help you navigate through the hundreds of products out there to find the treasures amongst them.
Comparison table: Best weather stations that really work [UK] Reviewed Summer 2021

Product
What We Think
Price

Latest 2020 , Updated and enhanced UK Version
Weather forecast (Sunny, Partially Cloudy
3 Colour Changing Modes (no: 1) 256 different colors LOOP
5-IN-1 WEATHER SENSOR : Wind speed
Complete Weather station comes with : 1 x professional 5-in-1 Sensor / 1 x Console ( Display unit with...

【High-Tech Wireless Remote Sensor】Kalawen weather station kit includes an LCD color display (built-in sensor) and a wireless remote sensor....
【9 in 1 Weather Station with Scientific Outdoor Sensor】 Outdoor temperature and humidity
【Private Weather Forecast for You】Our weather station is not like the weather forecast you see on TV or online....
【Multi-Functional】The weather instrument also including a digital calendar
【Two Power Modes】It can be powered by a 100-240v AC adapter (included) or AA battery (not included)...

▲Multifunctional Weather Station - Weather forecast
▲Large Touch Screen - The outdoor / indoor temperature thermometer gauge has large touch screen...
▲Wireless Digital Thermo-hygrometer - The humidity monitor has a outdoor sensor that you can put outside or other place...
▲Time Calendar Temperature and Humidity
▲Lifetime After-Sales Service - Yuanguo team has a perfect after sale service...

ClimeMET CM9088 New & Improved Digital Wireless Weather Station

NEW AND UPGRADED FEATURES
The ideal choice for gardeners
Measures indoor & outdoor temperature and humidity
Store your very own historical minimum and maximum records
12-month warranty period, with customer support on hand

ELEGIANT Wireless Weather Station, Digital Thermometer Hygrometer Indoor Outdoor Temperature Humidity with Large LCD Screen, Outdoor Sensor, Weather Forecast, Alarm Clock for Home Office

[Muti-Function Weather Monitor]ELEGIANT Wireless Weather Station comes with 5.75 inches large colourful LCD screen...
[Support up to 3 External Senors]It supports three different channels display
[More Than a Weather Station]The indoor and outdoor thermometer and hygrometer also can be used as an alarm clock...
[Touch Control]Instead of physical button
[Warrant Policy]No worries of the after-sale service

Digital Wireless Weather Station:Baldr model refined weather station with outdoor sensor...
Forecasting the next 12 Hours of Weather: Adopt Weather Forecast 2.0 technology
10 seconds Fast Response and High Accuracy: Weather stations update temperature and humidity data every 10 seconds...
16 In 1 Multifunctional: indoor temperature hygrometer
Maximum and Minimum records: Weather station and outdoor sensors determine indoor / outdoor temperature readings...
1. Yuanguo (2019 New Version) Wireless Weather Station
The 2019 version of Yuanguo's (don't ask me to pronounce that) wireless weather station is not only a best-selling product here in the UK, but also one of the highest rated weather stations by customers on Amazon. Combining low cost with multiple functions and high accuracy, it is easy to see why that is.
The Yuanguo weather station is comprised of a 14.2 x 9.6 x 2.2 cm touch screen and a small wireless outdoor sensor. Both units run off AAA batteries which are not included in the packaging so if you're thinking of buying this weather station you'll need to go out and buy some. You'll need five batteries altogether, 3 for the screen and two for the sensor.
Although you only get one sensor with the screen, you can actually use three of them at once and have dedicated channels for each, but you'll have to hunt them down separately online if you want to buy them and that might be easier said than done.
The screen is very clear and uses large images to portray the data to you. On the left side of the screen you will find the temperature and humidity for indoors and on the opposite side the same information is shown for outdoors. In the centre of the screen you will see the date and time, and above that, an image representing the current weather condition, be it cloudy, partly cloudy, sunny, or rainy. All the information is presented in a very easy to understand way and you can know what is going on with just a quick glance.
The touch screen is nice and responsive and you can find on scene controls to select from Celsius to Fahrenheit, or to change the channel if you have more sensors.
There is also a small LCD display on the outdoor sensor itself that shows the temperature and humidity which is a good idea as it allows you to check the disparity between the sensor and the information on the screen and will let you know if there are any problems with the device.
For use at night there is a backlight that can be switched on by a button on top of the screen and to save your eyes, it has been designed to be a soft kind of light.
The outdoor temperature range of this digital weather station is -40°C to +60°C but with it being a low cost model, there are sometimes problems with accuracy when getting towards the lower end of the range. The one we tested did fine though even when it was in minus temperatures outside.
This wireless weather station from Elegiant has pretty much every feature that the Yuanguo model does and also brings a few other things to the table.
You still get the option to use up to 3 different sensors (you'll have to buy the extra two separately) and set them up on different channels, you still get a report on the temperature and humidity for both indoors and out, and the weather forecast is displayed in a similar fashion- with an image of a cloud, sun, rain, etc. except there is also an image for snowy weather on this weather station.
The main difference between Elegiant's weather station and Yuanguo's, is that the LCD screen on this model is in colour, and so is easier to see no matter where in the room you are stood, even at off angles. You might experience screen fade if it is placed a much higher angle from you though.
The screen also displays some extra information. For example, you can see what phase the moon is in, when the temperature hits freezing point, or you can see and set the days of the week in different languages. The clock can be changed from 12 to 24 hour format, and you can also change the temperature format from Celsius to Fahrenheit.
Another handy feature is that this weather station can be popped on your bedside cabinet and used as an alarm clock so you can see all the weather information as soon as you wake up. There is even a snooze button that will delay the alarm for 5 more minutes, just in case you aren't quite ready to face the day yet.
The Elegiant weather station can be powered by AAA batteries, or you can plug in the USB power cable and run it off a different source, saving your batteries for back up. Even if you leave the batteries in the device, as long as you have the USB power lead plugged in, they won't be used. You can also save on power by altering the brightness of the screen.
Setting up this device was a piece of cake and only took me to switch on the sensor and leave it next to the screen for an hour to calibrate. After that, I put the sensor outside and that was that. Child's play.
The accuracy of this weather station isn't always 100% but any model for such a low price will have the same issue. Saying that, the difference was only a few degrees out at the times when it wasn't spot on, and that I can live with.
The problem with a lot of the cheaper weather stations is that they aren't always the most accurate, especially at lower temperatures and also as the unit gets older.
So what can you do to get a more accurate idea of the weather? You'll need to spend a bit more money, like shelling out for this incredible bit of kit from Youshiko.
For the extra pounds you pay, you get a professional weather sensor that combines technology that allows it to read not only temperature and humidity at a higher degree of accuracy, but also other factors such as the wind direction and speed, and the amount of rainfall.
These extra features can come in very useful for all manner of situations. Let's take the wind speed and direction information for example. If you're planning a bike ride or a jog, these things could come in very handy.
The screen displays a lot more information than what you would normally see on a budget weather station, and at first glance it can seem like there's a little too much going on, but after spending 5 minutes with it, you come to appreciate the extra readings. I particularly liked the fact that it showed you the wind chill, as I live in a place where that can seriously affect how comfortable or uncomfortable it is to spend time outside.
There is also a heat index display which can help you to understand the true heat stress temperature by combining humidity with temperature data. It only takes a few minutes online to learn how to read one of these indexes and they can be very useful.
This weather station comes with other features such as an alarm clock and an ice pre-alert, and you can set alerts for high and low temperatures and humidity levels.
The screen has three different colour modes that you can play around with to find something that you like, but they are all good and don't alter the information on the screen in a way that makes it harder to read. There are also high and low brightness modes.
There are honestly too many features to list here without it seeming like I'm droning on, but that isn't the only reason to consider this incredible weather station. The build quality is superb on both the screen and the sensor too.
Downsides with this model is that there is no option to use another power source other than AAA batteries so you have to stay on top of that to keep it working optimally, and also after following the instruction with my initial set up, there were a few issues. However, one call to the helpline and I was talked through it by excellent customer service staff. After that it worked perfectly.
This is an excellent product if you don't mind paying the extra for it.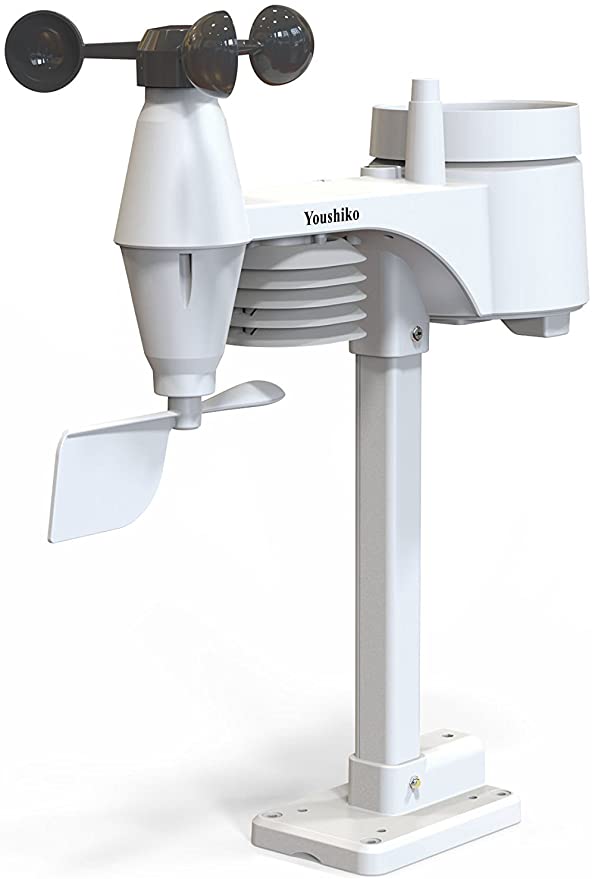 4. ClimeMET CM9088 New & Improved Digital Wireless Weather Station
For such a small, compact device, the Climenet CM9088 digital wireless weather station packs a lot of info onto its screen while still managing to not seem cluttered.
Of course, it has both indoor and outdoor readings for humidty and temperature, but in addition to those there are also a few other sections of the screen dedicated to various data displays.
For instance, the bottom of the screen shows the DFS radio controlled date and current time, and just above that is a similarly sized section dedicated to showing you pressure readings in a graph format.
You can also see the sunrise and sunset times, and at the very top of the screen are two images with directional arrows between them to show you the current, and expected, overall weather condition.
Want to be alerted when certain types of weather arise? No problem, you can set up alarms that do just that, and also store your maximum and minimum records for temperature, humidity, etc. There is also an alarm clock with snooze function if you'd like to replace your alarm clock.
There was a bit more to setting up this weather station than some of the other models we tested, but the instructions do a good job of guiding you through the process and even advise where to look online for some of the information required to get this product up and running properly.
The biggest drawback of this weather station for me is the outdoor sensor. To be more clear, it's the fact that the sensor isn't completely weatherproof and can actually be damaged by excessive rain and direct sunlight, so finding the right spot to set it up in, where I could leave it without worry, was a bit of a hassle.
Also, resetting the external maximum and minimum records can be a bit fiddly and more complicated than it needs to be.
Apart from those two faults, this is a great little weather station at a price point where you expect a few niggles. The features of reading the pressure and showing the weather changes are also nice extras.
Our next review is the cheapest of all our featured weather stations but is certainly not lacking in the function and features department. Nor is it put together in a flimsy way, in fact the construction is of the same quality as a lot of more expensive weather stations.
This Baldr device compiles and analyses the information sent by the outdoor sensor to forecast the weather for the following 12 hours, and has been designed to update that information every 10 seconds so as to give you the most up to date and accurate weather data it can.
In an attempt to make things really accurate, Baldr have fitted the outdoor sensor with improved venting strips and also a stable thermistor. You can use up to three sensors at a time if you purchase two extras and program them to separate channels if you wish.
There are 16 functions that this weather station is capable of, and on top of the standard temperature, humidity, and general forecast, these include a temperature trend that lets you know if it's generally get warmer or colder, a slumber function that illuminates with a soft backlight for just 20 seconds before switching off and allowing you to return to sleep, and an alarm clock.
This is an easy device to set up and configure, and also to operate. Navigating the menus and different functions is straightforward and there are just enough buttons to keep things simple without having to make too many button taps.
Working range is one place where this weather station shines, with a claimed transmitting distance of over 260 feet. We haven't tested this but we did try it from a friend's garden down the street and the station still picked up the data from the outdoor sensor, so props to Baldr there.
I'll admit, when I saw that this was available to buy for under 20 pounds I wasn't hopeful, but after our tests it left me pleasantly surprised.
If you follow the link we have provided to the product page, you will see that Amazon has picked this weather station as one of its 'choice' models, meaning that they think it offers outstanding quality at a very fair price point. I don't always agree with these Amazon choice products but this time I think they got it right.
The Kalawen weather station sports probably the best screen out of all our reviews today. It is multi coloured and every number, Symbol, and image is very clearly seen even from a distance away. I particularly liked the colour images for the moon phases and general weather forecasts- sunny, slightly cloudy, cloudy, rainy, heavy rain, and snowy.
There is also a section of the screen, in the bottom right, that is there for displaying the air pressure both in number and graph format.
In addition to this there is an alarm clock with snooze feature, backlight, temperature and humidity levels, date and time, and temperature alarm features. You can also change the ringtone used by the alarm.
All of these things are easy to program as there are clearly marked buttons on the side of the screen dedicated to specific functions, including a MEM button for displaying your max/min temperature.
Included in the box is a 100-240V power adapter that you can use with a USB cable to power the weather station, or you can choose to use batteries instead. Like the vast majority of these digital weather stations, you will need to invest in some AAAs anyway for the outdoor sensor.
There are three channels available to use with the Kalawen so you have the option of purchasing some more outdoor sensors. Having three sensors set up in different parts of your garden would certainly let you know if there were any problems with the accuracy of the readings as you would have the others to compare.
The instructions that came with model are far from great, but thankfully, set up was not too difficult and there are tutorials available online, though you shouldn't really need them anyway.
The only other thing I didn't like about the Karawen weather station were certain parts of the screen display were flashing all the time and it personally got on my nerves after a while. Don't know whose decision it was to have it that way but it was a bad one.
Those two gripes are the only ones I have tough to be honest, and this is a good value product.
What you need to know about buying a weather station
Weather stations can either be incredibly handy little devices to have (if they are good ones) or constant sources of frustration (if they are bad models and don't work properly).
With this in mind, it is important to be able to tell a good weather station from a lousy one, and also know what kinds of things you should consider when choosing your desired model.
Here we have provided some things for to think about when it comes to buying a weather station-
Screen type and size
Wireless weather station screens come in a variety of sizes, from the small and compact, to larger tablet sized models. Smaller screens are going to be lighter and easier to find a place for but unless the screen is particularly clear, you might feel like it's hard to see the information displayed.
You also need to decide whether you want a colour screen or not. I personally like colour screens but they're not to everyone's taste, and more colours means there's more chance of something going wrong in the long run.
Then there are touch screen models or ones that have buttons on the sides and top. Again this is all personal preference, but still something you should think about.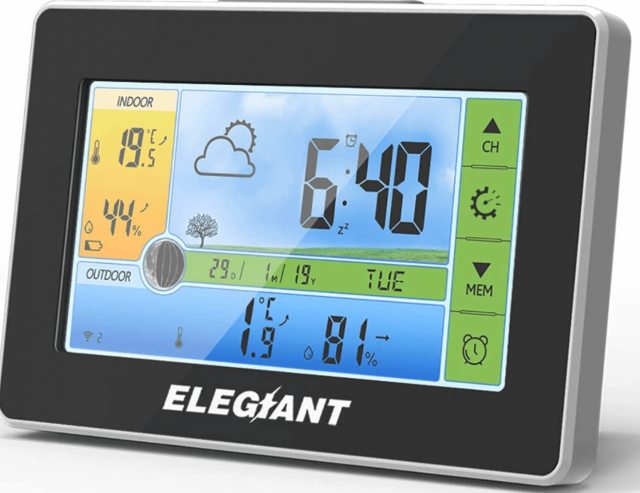 Power supply
Some weather stations are only powered by batteries while others will have the option of batteries or a power adaptor. USB powering features are always welcome of course as they offer versatility.
If you are going to go with a wireless weather station, you will need batteries for the outdoor sensor anyway.
How easy is it to set up and operate?
A lot of people just want something that is 'plug-in and play' when they are buying their first weather station which is completely understandable, but some of the more accurate models might need some extra calibration and setting up to get them working properly.
Clearly marked buttons and easy to navigate menus should also be high on the list of desirable features.
Functions and features
All weather stations will tell you the temperature and humidity, but after that there seems to be some difference in what information certain models display.
Possible features are air pressure, moon phases, temperature trend, heat index, wind speed, direction, and chill, and others.
Alarm clocks with snooze functions are very common extras on weather stations nowadays, as are backlights and time and date displays.
Price
It is not difficult to find a weather station that you can be happy with for as little as 20 pounds these days, and you will be swamped with choices in the 20-40 pound price range.
That being said, paying a little (or a lot) more for your device will usually guarantee that it will be better built and give more accurate readings.
---