Garden Tool Box » UK's best garden carts and trolleys tested: heavy duty and small professional garden carts compared and tested
Written by Terry Smith
Our site is reader supported so when you click a link to Amazon we may earn an affiliate commission.
UK's best garden carts and trolleys tested: heavy duty and small professional garden carts compared and tested
This article was last updated on March 7th, 2023 at 11:15 am
Update since testing this year: I now really quite like the Vevor that I have tested. I really put that garden cart through it's paces and can confirm that it is well built and I absolutely loved that it only needed pulling open to setup the main body as you can see in the test video – no fitting wheels etc. If I needed to drag anything over uneven ground or dirt it would be worth a look and I'm bumping that up the ranks. You can see how I tested this garden cart on the link provided or if you prefer a very comparable model, the DURHAND Folding Trolley Cart which is almost identical if you're looking for an option or the item goes out of stock. Here's me lugging the thing about over uneven dirt with just under 100kg loaded 😀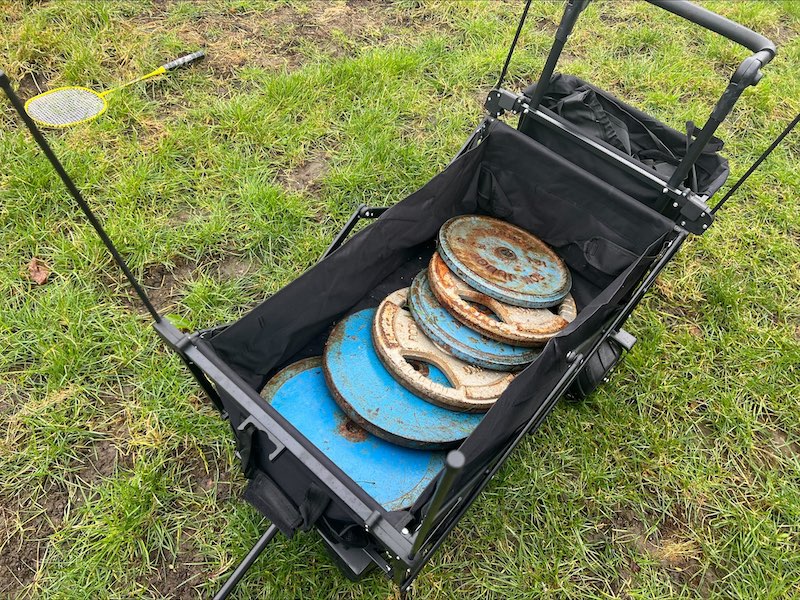 Whenever you are gardening, there is stuff to lug around. It could be things that you are planting or adding to your garden, or it could simply be organic material that you want to dispose of. In any situation, a good garden cart is indispensable and will really help to lighten the load, both figuratively and literally. When compared to a wheelbarrow, you have to say, they are a real leg up because four wheels is always easier to handle and manoeuvre than two!
Garden carts were traditionally made from wood and metal, but in recent times there have been some very good products hitting the market that are made from other materials such as plastic and even strengthened fabrics that allow for the carts to be folded up after use for easy storage.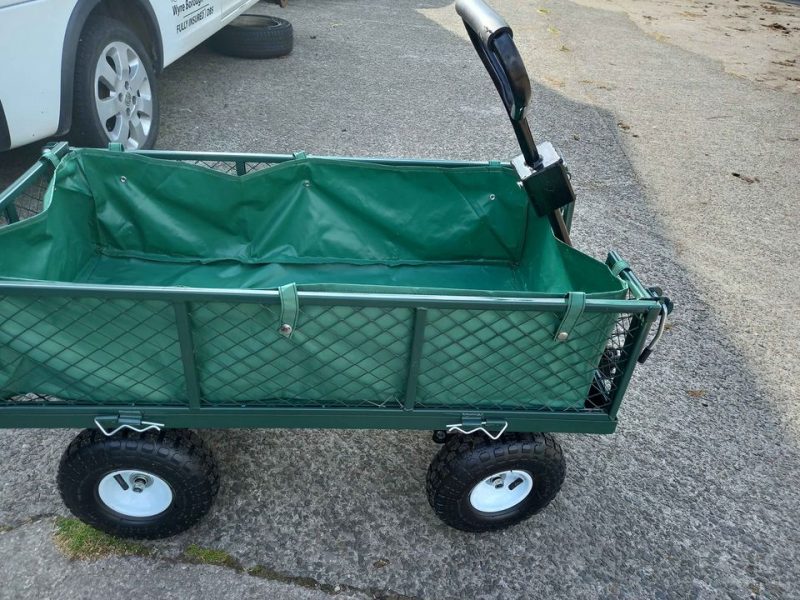 Garden carts are vehicles that have handles and at least one wheel that can be used to transport tools and materials around your garden. The most well-known variant is the single wheeled wheelbarrow but there are carts with 2, 3, and 4 wheels available. With that said, the most common are four wheels and this is our focus for the review. Before I get into some of the detail and what to look for when buying a garden cart, here's a look at my top picks:
My pick for the best garden cart in the UK:
LIFE CARVER Garden Cart Foldable Pull Wagon Hand Cart – best garden cart [personally tested and proven] but I really like the VonHaus too whilst it's cheaper.
Vevor or DURHAND Folding Trolley Cart Best for uneven or soft ground due to the sheer size of the wheels. [personally tested and proven]
Deuba Wagon Cart Up To 550 kg Loadable Garden Cart – Must have if you want the best heavy duty garden cart
VonHaus 75L Garden Tipping Cart – best garden cart for green waste and top alternative pick [this will be my next test]
Draper Garden Tipper Cart – top small garden cart for a budget
VonHaus Garden Trolley/Cart – 350kg Load Capacity
BEAU JARDIN Folding Wagon Garden Cart
The size, material, and style of the garden cart you go for will all depend on what purpose you intend to use it for, and also personal preference, but we have put together a shortlist of the garden carts that we consider the best value out there in the UK.
Testing garden carts
I have been giving the Vevor garden cart a real working over (it's the same as the DURHAND Folding Trolley Cart) . It claims to have a 100kg load capacity and therefore I loaded it to the hilt with 100kg 🙂 And to be fair it held up really well. I even prefer it to my top pick on grass and uneven ground. Here I loaded it to it's max with weight and gave it a good dragging about: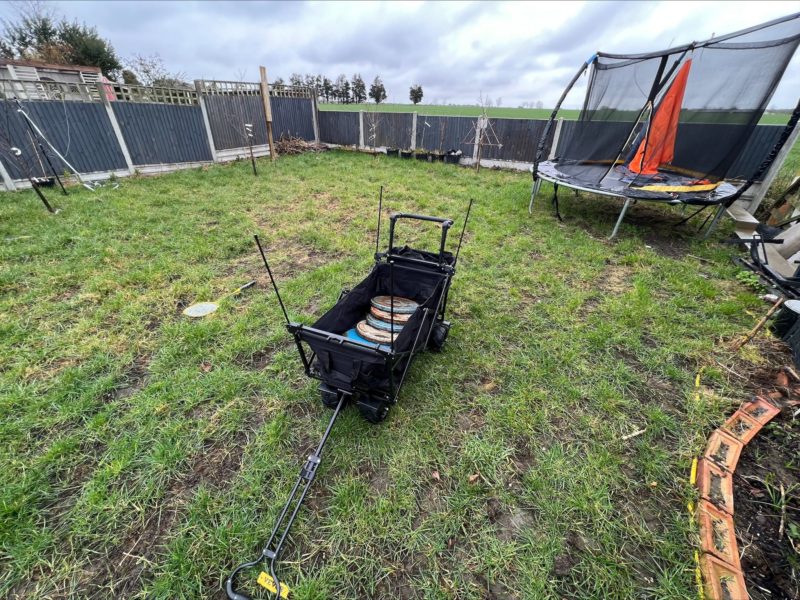 What I really liked though was the ease of setup – for the main body (roof aside) it literally folds open from the packet. A very pleasant and fresh surprise compared to some models that require the wheels attaching and therefore over time the nuts and bolts work their way loose 😀 Anyway. A video is far more helpful for this so let me put it all together for you here and then we can come back and talk about it:
As you can see it remarkably held up well when being pulled over soft ground with a full limit load. In fact, you can just about make out the tracks – if this was a thinner wheel it would have dug right in: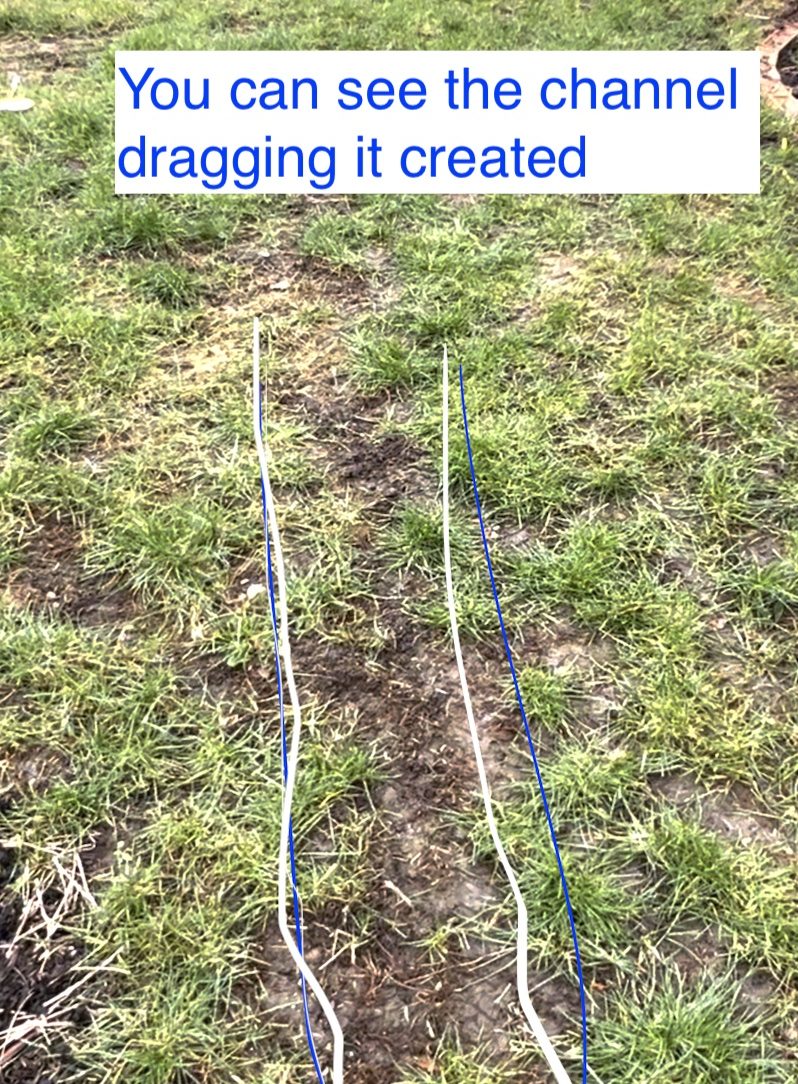 I wasn't fussed by the roof. Let's be honest at that height any kind of sideways rain offers no protection at all. I think it's part of the garden cart that'll get slung in the shed and forgotten 😀 But I suppose you may find a use for it in the garden?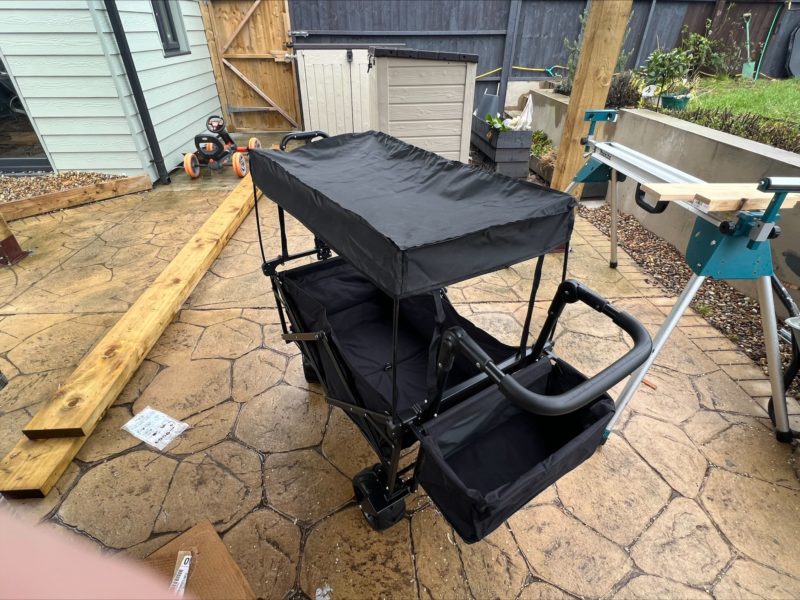 So what we looked for was ease of movement over uneven ground, ability to carry the weight claimed, and build quality. To be fair so far it's stood up to all these tests and I will update back when I fidn out how well the metal holds up (rust etc) but here's a fuller list below:
What to look for when buying a garden cart?
Knowing what to look out for when buying a good garden cart is very helpful, so we decided to put together these few tips to lend you a hand. Rushing in and picking one with tiny wheels on a gravelled area (or uneven for that matter) would leave you high and dry. So before making a decision please consider these handy tips:
Maximum load
Make sure you know the maximum load of the garden cart before you buy it. Some carts, such as the foldable type can only take about 60kg, whereas other, heavier duty carts can be in excess of 550kg. It may be that you only need a cart for lighter lifting and can therefore probably save money or get something that is easier to store, or you might need to shift a lot of material at once. Whichever it is, make sure you get the tool that fits the job.
Features
Common features to look pout for are garden carts that can be folded up to make them compact and easy to carry and store, or wheel bases that adjust when tipping the cart to help lift the load. Again, if you have an idea of what you are going to be suing the cart for, you will be in a better position to decide on which features your garden cart will need to have.
Wheels
Some carts have solid rubber wheels, others have plastic like the LIFE CARVER, and then there are models with pneumatic wheels such as the Deuba Wagon. Each type have their pros and cons, such as pneumatic tyres which provide good stability but can be prone to puncturing if rolling over something sharp.
You also want tyres that have a good tread and are not too thin if you are going to pull the cart over soft terrain.
Steering
Personally, I prefer carts that have the front axle connected to the handle as it makes me feel more in control of the wheels, but some people like the free turning wheels that can spin 360 degrees and handle a bit like a shopping trolley (only better – again like the LIFE CARVER). This is all down to personal preference but you might want to go to a garden centre and try both types out to see which you like better.
Material
Once again your intended purpose for your cart will determine which material you go for. If you are going to be putting sharper, heavier objects in your garden cart, polypropylene plastic or metal is probably better for the inner tub, whereas materials like oxford cloth are good for keeping the weight down and being foldable and easy to clean.
---