Garden Tool Box » 5 Best Garden Carts [UK]: Top garden trolleys compared and reviewed
5 Best Garden Carts [UK]: Top garden trolleys compared and reviewed
This article was last updated on July 31st, 2021 at 9:02 am
What are garden carts?
Whenever you are gardening, there is stuff to haul around. It could be things that you are planting or adding to your garden, or it could simply be organic material that you want to dispose of. In any situation, a good garden cart is indispensable and will really help to lighten the load, both figuratively and literally. When compared to a wheelbarrow, you have to say, they are a real leg up because four wheels is always easier to handle and manoeuvre than two!
Garden carts were traditionally made from wood and metal, but in recent times there have been some very good products hitting the market that are made from other materials such as plastic and even strengthened fabrics that allow for the carts to be folded up after use for easy storage.
Garden carts are vehicles that have handles and at least one wheel that can be used to transport tools and materials around your garden. The most well-known variant is the single wheeled wheelbarrow but there are carts with 2, 3, and 4 wheels available. For the sake of this article, we will exclude all but the 4 wheeled versions in our definition of a 'garden cart'.
The size, material, and style of the garden cart you go for will all depend on what purpose you intend to use it for, and also personal preference, but we have put together a shortlist of the garden carts that we consider the best value out there in the UK.
Please read and enjoy our reviews and user's Garden Cart Buyer's Guide, We hope to help you decide which model is worth your money and leave you a very happy customer.
Comparison table: 5 Best Garden Carts [UK]: Top garden trolleys compared and reviewed

Product
What We Think
Price

Ideal for transporting and unloading plants
75L capacity, 250kg static load capacity and 180kg dump capacity
Features strong plastic tub
Directional front steering - manoeuvrable using the long 78cm push/ pull handle bar or integrated towing hitch...
Manufacturer 2 Year Warranty Included

LARGE CAPACITY – Sets up in Seconds
CONVENIENT COMPACT STORAGE - Wagon folds to only 8" Thick
LIGHTEN THE LOAD! The heavy duty frame allows loads up to 150 KG...
FUNCTIONAL FEATURES include an Adjustable Handle for effortless transport and 2 Mesh Cup Holders keep your beverages secure...
EASY TRANSPORT - Perfect for hauling gear to Outdoor Sporting Events

Effortlessly carries loads up to 200kg
This cart makes light work of moving heavy gardening material
Perfect for use by domestic and professional gardeners
1. LIFE CARVER Garden Cart Foldable Pull Wagon Hand Cart
Life Carver's foldable garden cart has turned into a best seller, pleasing a host of customers who are using it for very varied purposes, so it just goes to show the quality and versatility of this product.
One of the main pros that customers have been pointing out is that it is so convenient to use, with absolutely no assembly required, and very little effort to get it set up. All you have to do is unfold it, concertina style, pull up the handle, and you're ready to go.
When folded up, the Life carver garden cart is only 8 inches thick and weighs around 10kg so it's not hard to carry it around if you are of average strength and fitness.
Despite only weighing 10kg, this hardy little trolley can handle loads of up to 150kg. This thanks to the heavy duty metal frame and the strong Oxford cloth fabric. One thing to consider though when loading up this cart with 100kg+ is that you are still the one who has to pull it! Over uneven ground it could be a hell of a workout.
Once unfolded this garden cart measures 90cm(L) x 50cm(W) x 25cm9H), and is perfect for carrying stuff from the car to the garden or camp sites. I've even seen photos of people using these carts to take their elderly dogs for a walk in the park, and teachers carrying large stacks of books in their cart.
There's nothing stopping you from transporting soil and other 'messy' materials either. One of the benefits of Oxford cloth, apart from its strength, is that it is easy to clean.
The Life Carver garden cart features an adjustable handle but getting it to stay fully extended was a bit of a challenge as the mechanism to keep it in place didn't always want to play ball. This was only a minor annoyance though and didn't happen all the time. On either side of the handle, on the front of the cart, you will find two handy mesh holders were you can store your drinks, which I thought was a nice touch even if I don't really use it.
Getting around on this carts plastic wheels was easy enough on slightly uneven ground and the solid rubber wheels did a decent job of keeping the cart stable. The wheels aren't the widest though at only 4.5cm, so I wouldn't attempt to drag this through any less than solid ground while loaded up, but that can be said for most garden carts. If you intend on transporting loads across soft, muddy areas, you might be better off with a wheelbarrow instead.
The front wheels can rotate 360 degrees and this makes it easier to manoeuvre while pulling it behind you, however the back wheels do not rotate and are fixed in place, so reversing takes a little more thought but it's not too difficult.
All things being said, this is an excellent product. The Life Carver garden cart is well priced, versatile, convenient, and durable.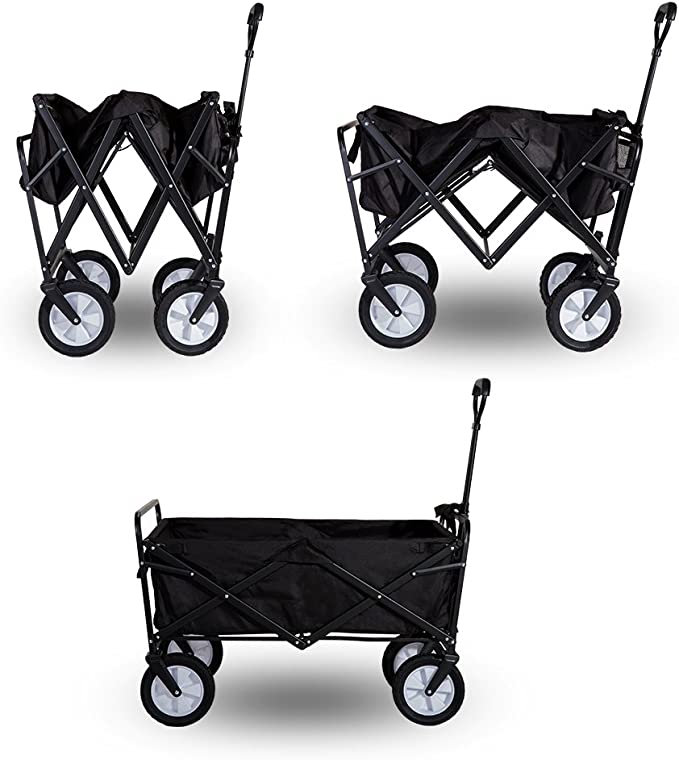 2. VonHaus 75L Garden Tipping Cart
If you're in the market for a garden cart that is more suited to dealing with garden waste, or transporting sand, soil, and other such materials, then this VonHaus 75L garden tipping cart might be the thing for you.
Featuring a powder coated steel frame that houses a heavy duty plastic tub, the VonHaus garden cart can handle static loads of 250kg and tip loads of 180kg. Both the frame and tub are made of sturdy materials and are well put together, like the rest of the cart.
Tipping the cart is a simple process, you simply pull out the handle on the front of the cart to release the locking mechanism, then lift the handle and tub as one, tipping out the contents. One small niggle about the tipping is that the edge of the tub makes contact with the ground leaving a little bit of material inside, so you can't completely empty it without lifting and tilting the whole cart or scooping it out with a shovel.
I was impressed by how good the steering worked on this model, with the large handle acting as the controls and operating the rotating of the front wheels. The whole system feels nicely connected and never feels like the cart has a mind of its own.
The wheels themselves are large enough (10 inches) with wide and thick Pneumatic tyres that have a good grip. The fact that the wheels are pneumatic is a big plus for me as I've always found them better for getting over bumpy ground than solid rubber or plastic ones. I also think they spread the weight more evenly allowing for more stability in the cart. Agin, though the back wheels do not move so you always have to pull the cart around if you want it to manoeuvre properly.
VonHaus have also cleverly fitted a towing hitch to the cart so you can use other methods to pull it to your desired destination. Again, I'd probably not use it, but it's always nice to have the option and little touches like this are why Vonhaus are a very popular brand.
This garden cart arrives flat pack so you will have to follow the instructions to assemble it. The instructions aren't the best, and there are also no tools included to actually complete the assembly, but it only requires a spanner and screwdriver and a bit of common sense to get set up and ready to shift and tip.
The VonHaus 75L garden tipping cart is a great all round product available at a very reasonable price, and one that I feel very comfortable recommending despite a few very minor flaws.
3. Draper Garden Tipper Cart
The name Draper is almost synonymous with hard wearing quality when it comes to gardening tools. The UK brand have been around for close to a century and they don't look like they are in any danger of slowing down or becoming obsolete with products like this garden cart.
When compared to the VonHaus model we just reviewed, this is a tipping cart comprised of an extremely solid steel frame and a heavy duty plastic tipping tub. At first glance they appear very similar, and in some ways they are, but there are a couple of differences.
The first difference is the price, with this Draper being more expensive by around 30 pounds or so. What do you get for the extra money?
For one the overall build quality is just a step up from the already excellent Vonhaus, so that should really tell you something about how durable this garden cart really is. Draper tools are made here in the UK and so go through strict quality control processes, which isn't something you can say about a lot of products these days with many brands getting their tools made in China to cut costs.
Another feature of the Draper garden tipper cart are the moving wheels. I don't mean that they turn, as all wheels do that, nor am I talking about the steering mechanism which works in much the same way as the VonHaus garden cart.
What I'm talking about is the way the wheel base (the distance between the front and rear wheels) gets shorter as you tip the tub. It's such a smooth action and it really helps to make tipping the tub out of all its contents so much easier. When you tilt the tub back down, the wheels return to their original distance, worth the paying the extra for in my opinion.
Able to carry a volume of 75 litres and loads up to 200kg, this 93cm x 50cm garden cart should be enough for most everyday gardening tasks such as moving bags of soil or material to your compost bin, loading up with trimmings and weeds, and moving heavy garden ornaments around.
The pneumatic wheels, while not being the largest or widest, still do a good job of providing mobility and stability and will get you over bumps and small steps should you need them to.
Another nice little touch on this particular garden cart is the soft rubber foam grip on top of the handle whose grip assistance I was thankful for when trying to pull a particularly heavy load of large plant pots up an inclined lawn.
To sum up the Draper Garden Tipper cart, I would have to say that it is an incredibly well made and durable product with features such as the self-adjusting wheels that really justify the little bit extra you have to pay.
4. VonHaus Garden Trolley/Cart - 350kg Load Capacity
If tipping isn't your biggest priority but shifting very heavy loads around is, look no further than this VonHaus garden trolley/cart.
Measuring 91cm long, 44cm wide, and having a basket height of 20cm, this steel cage like construction can be loaded up with anything you like up to a maximum weight of 350kg!
The 'cage' comes with a waterproof lining that is also removable to make it easier to keep clean. This lining does have a strong odour when it first arrives so I washed it down and left it hanging to dry for a while before I used it.
Loading and unloading is made easier thanks to this garden cart fold down sides which are easier to operate via handles situated at the front and rear of the cart.
The long handle of the VonHaus garden trolley is very sturdy and acts as the steering controls just like its sibling, the 75L model we reviewed earlier. Manoeuvrability is on point as long as you are pulling it and not pushing for the same reasons as nearly all over garden carts of this type- the rear wheels don't turn. It doesn't take long to get used to this though and is just the way garden carts steer.
This model has been given the same pneumatic wheels as the VonHaus tipping cart so they are more than up to getting around a garden with a few bumps and lumps here and there or moving over gravel. Just be careful moving downhill with a heavy load though as it might try to run over you!
As we already mentioned earlier though, if you plan on moving things through thick freshly dug up mud, sand, or other very soft surfaces, a garden trolley might not be suitable, but it all depends on how heavy the load is and the surface itself.
One thing I will say about these wheels though is actually a bit of advice I saw someone give online, and that is replacing the supplied nuts with any lock nuts to make the wheels more secure. I didn't do this as I was only testing for a few days, but it certainly makes sense. Often the weakest link on products like these are the fittings, and it's an easy and inexpensive thing to fix.
Assembly is required with this garden trolley and you will need something to pump up the tyres as well as a socket set and some spanners. Instructions were ok, but not great but that's the par for the course these days unfortunately. Still, it doesn't take much to figure out how to put it together.
Except for a few little faults, the VonHaus garden trolley/cart is yet another well-made product worthy of serious consideration.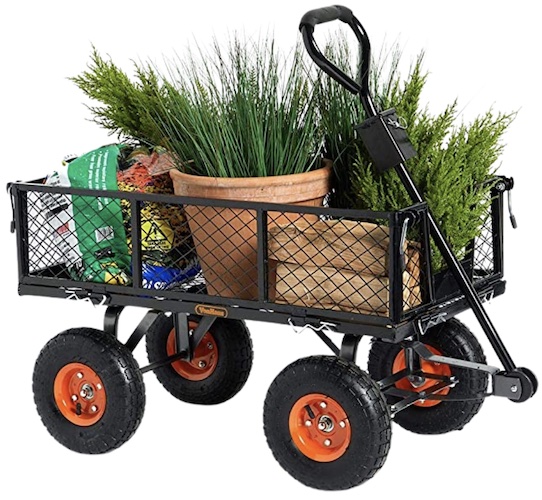 5. Trail outdoor leisure Collapsible Portable Camping Wagon
Trail outdoor leisure have brought us this amazing little garden trolley for just under 70 pounds.
If I was looking for a garden cart that I could take to the beach with me to help transport my cool box from the car, I would choose this one. The reason being when compared to all other garden cart models, is the wheels. These PU (a type of synthetic leather) wheels are not the largest, but they are much wider than average and have deep treads like mini tractor wheels that make them perfect for negotiating sand, mud, and other terrains that most average garden carts would struggle with.
However, I have to note that if you are pulling it across sand, the wheels might lock from time to time up due to not having bearings. A quick clean out sorts this issue though.
Unlike some of our other reviewed products, the wheels on this model are not connected to the handle for steering purposes and are free to rotate 360 degrees. Although I prefer to have control through the handle directly to the wheels, I can't fault this garden cart for its manoeuvrability.
This garden cart has an aesthetic that is pleasing to the eye and I'm sure that's one of the reasons that this has become such a popular product and getting awarded the 'Amazon choice' moniker.
The steel frame is of good quality and folds/unfolds smoothly and neatly. Hard wearing rip-stop 600D polyester has been used for the inner lining and it provides both strength and UV protection and has the important factor of being easy to clean. There are mesh drink holders in the front of the cart either side of the handle base and also another mesh pocket in the inner wall of the interior, perfect for storing smaller objects like mobile phones.
This cart can handle loads of 60-70kg but I would probably err on the side of caution and stick to around 60kg so as to not damage the wheels through excessive weight.
Stylish, practical, and easy to fold away once you're done with it, this garden cart is another one to add to your list of possibilities as long as you only intend to use it for lighter loads.
Garden Cart Buyer's Guide
Knowing what to look out for when buying a good garden cart is very helpful, so we decided to put together these few tips to lend you a hand.
Maximum load
Make sure you know the maximum load of the garden cart before you buy it. Some carts, such as the foldable type can only take about 60kg, whereas other, heavier duty carts can be in excess of 350kg. It may be that you only need a cart for lighter lifting and can therefore probably save money or get something that is easier to store, or you might need to shift a lot of material at once. Whichever it is, make sure you get the tool that fits the job.
Features
Common features to look pout for are garden carts that can be folded up to make them compact and easy to carry and store, or wheel bases that adjust when tipping the cart to help lift the load. Again, if you have an idea of what you are going to be suing the cart for, you will be in a better position to decide on which features your garden cart will need to have.
Wheels
Some carts have solid rubber wheels, others have plastic, and then there are models with pneumatic wheels. Each type have their pros and cons, such as pneumatic tyres which provide good stability but can be prone to puncturing if rolling over something sharp.
You also want tyres that have a good tread and are not too thin if you are going to pull the cart over soft terrain.
Steering
Personally, I prefer carts that have the front axle connected to the handle as it makes me feel more in control of the wheels, but some people like the free turning wheels that can spin 360 degrees and handle a bit like a shopping trolley (only better haha). This is all down to personal preference but you might want to go to a garden centre and try both types out to see which you like better.
Material
Once again your intended purpose for your cart will determine which material you go for. If you are going to be putting sharper, heavier objects in your garden cart, polypropylene plastic or metal is probably better for the inner tub, whereas materials like oxford cloth are good for keeping the weight down and being foldable and easy to clean.
---