The best shovels rated on strength and quality (November 2020 Updated Review)
This article was last updated on August 7th, 2021 at 10:13 am
Best Shovels Reviewed
People sometimes confuse spades for shovels. While they are indeed very similar, there are differences. Spades are designed to be used only for digging, whereas shovels can be used for digging, lifting and moving material or even as an edging tool if needs be. 
Most shovels comprise of a handle, usually medium length and commonly made from wood, hard plastic or metal, and a strong, wide blade of sheet steel or reinforced plastic(plastic being for snow shovels).
 There are a lot of different types shovel such as grain shovels, snow shovels, square shovels and coal shovels, just to name a few, but the basic idea and design is the same as previously mentioned.
Comparison table: The best shovels rated on strength and quality (November 2020 Updated Review)

Product
What We Think
Price

Spear & Jackson 2000AC Taper Mouth No.2 Tubular Steel Shovel with MYD-Handle, Blue

Streamlined shaft contoured to fit comfortably in the hand
Fully forged head made from high strength carbon/manganese steel
Heat tempered for long life
Epoxy coated for reduced soil adhesion and rust resistance
MYD Handle

Silverline GT30 No. 2 Shovel with PD Handle

Pressed steel head with corrosion-resistant finish
Polished wooden shaft and PYD handle
For shovelling, mixing and backfilling trenches
Blade L x W: 310 x 235 mm
Raised shoulders to prevent spilling material

Draper 31391 Hardwood Shafted Square Mouth Builders Shovel

Hardwood shaft with Y-dee handle
Overall length: 940mm
Pressed blade size: 240 x 310mm

Ideal for restricted areas
Fits easy in car boot or van
Steel construction
Durable
Lightweight

Faithfull All Steel Shovel Taper 2Myd, Maroon

Manganese steel head
Blade size: 300 x 240-215 mm
Shaft size: 0.7 m

Square head shovel
Pressed-steel head
Polypropylene shaft and PD handle
Ideal for lightweight digging and shovelling
Blade L x W: 310 x 240 mm
Read on to see the shovels we have chosen to review as the best available in the UK at the present time.
1. Draper 31391 Hardwood Shafted Square Mouth Builders Shovel
Draper are tool brand known for offering excellent products at easily affordable prices. On sale on Amazon at the moment for only
£69.99
, the Draper 31391 offers you strong, long lasting quality for a bargain price. 
This 940mm square mouth builders shovel is made up of a Y-Dee handled hardwood shaft, and a pressed steel blade measuring 240mm x 310mm.
It weighs 1.77 kilograms so it's hardly heavy, and the Y-Dee shaped handle allows you to get your fingers all the way around it for a really nice grip.
Excellent quality for such a low price
Y-Dee handle is comfortable and allows you a good grip
Weighs 1.77 kilograms
Hardwood shaft is durable
pressed steel blade measuring 240mm x 310mm
2. Spear & Jackson 2000AC MYD Steel Taper Shovel
Spear & Jackson's 2000AC MYD shovel is both square mouthed and tapered. The square shape means you it can hold a decent amount of material, while the tapered end improves the shovel's digging ability.
 The materials used are all good quality, with a heat tempered, carbonised steel head, and a solid shaft and handle. The shaft has been shaped with contours and streamlined to make it more comfortable to use and the Y-Dee shaped handle helps with that too.
To keep the shovel rust free it has been epoxy coated and this also helps to prevent soil from sticking to it.
 While, at nearly 3kilograms in weight, it might feel a little heavy after a long day's use, you can be sure that this shovel will last a long time even with heavy duty use.
Square mouthed and tapered means it digs and shifts materials well
High strength carbon steel head
Heat tempered for longevity
Epoxy coated for rust resistance
Streamlined and contoured handle is extremely comfortable in the hand
Y-Dee handle gives you a nice grip
3. Silverline GT30 No. 2 Shovel
Priced at £69.99 and receiving a lot of praise from customers, is the GT30 No.2 shovel from Silverline.
The 310 x 235 mm blade head is made from sturdy, pressed steel and is more than strong enough to handle heavy loads whether you are using it for trenching, mixing or other jobs. Risk of spillage is reduced thanks to the blade's raised shoulders.
A corrosion resistant finish has been applied to the metal to increase the working life of the tool.
 The head, together with the polished wooden shaft and PYD handle add up to a total length of 96cm. The shovel weighs 1.8 kilograms and can be used by any able bodied adult.
Low price
Pressed steel blade
Blade has raised shoulders to prevent spillage
Corrosion resistant finish
Polished wooden shaft and comfortable PYD handle
Weighs 1.8 kilograms
4. Faithfull All Steel Shovel
This all steel shovel from Faithful costs just
£69.99
with free UK delivery.
Its all steel design means it has a little extra weight but also that it is extra durable. 
The 300mm x 240mm tapered head is constructed from hard wearing manganese steel, and for extra strength, a tubular shaft has been welded into the socket. The tapered head makes digging tasks easier, while the reinforced head and shaft won't be bending under heavy loads.
The shaft has a MYD hilt and has been fitted with a wooden cross dowel for extra comfort. The whole tool has a fully painted finish that looks professionally done and should last a long time with a bit of TLC.
Tapered for better digging
Very strong all steel construction
300mm x 240mm manganese steel head
Reinforced with a welded tubular shaft
MYD hilt and wooden cross dowel make it comfortable to use
Fully painted finish
5. Silverline 868763 Square Mouth Shovel
This shovel has been designed for lightweight digging and shovelling. 
The polypropylene shaft keeps the shovel's weight down while still providing strength. Also, because it isn't metal or wood it doesn't have the same drawbacks, namely rust and rot.
The PD handle feels good in the hand and shouldn't give you any problems. 
The blade head is made of pressed steel and measures 310mm x 240mm. The sides of the head are raised to keep material where it's supposed to be and not all over your driveway.
Low price
Lightweight with a polypropylene shaft
Comfortable PD handle
310mm x 240mm pressed steel head
Blade has raised sides to stop spillage
Shaft won't rust or rot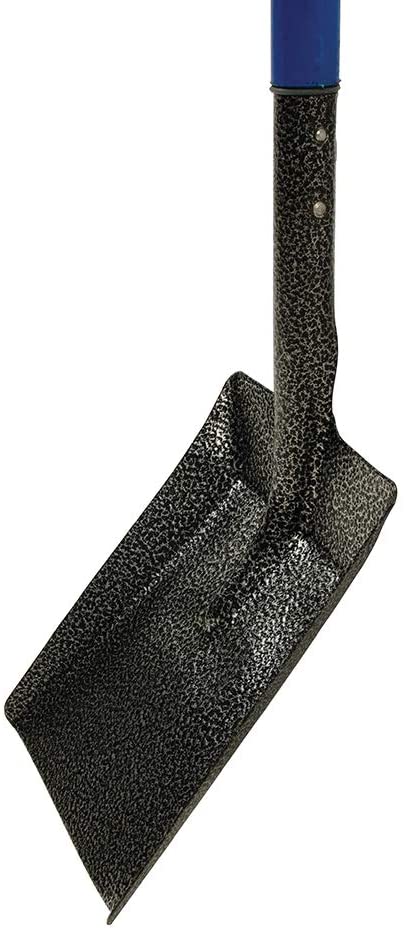 6. Roughneck ROU68006 Micro Shovel
Sometimes you have to shift snow out of a tight corner, or walk a load of sand down a narrow alley to the intended spot, and a large shafted shovel can be a hinderance.
 This micro shovel from makers Roughneck is perfect for those types of jobs or for camping trips as it will easily fit in the boot of your car.
 Despite its reduced size and weight (70 x 15 x 7.6 cm and 1.03KG) it is remarkably strong and well made. The pressed steel blade has been heat treated and can withstand more than you would think. This also goes for the lightweight shaft that has been constructed out of durable fibreglass.
 Even though this is a micro shovel, it still sports a full size handle so you can keep a good grip while you work.
Very strong and durable despite its size
Perfect for working in tight spaces
Can be transported easily in the boot of a car
Heat treated pressed steel blade
Strong fibreglass shaft
Lightweight at just over 1kg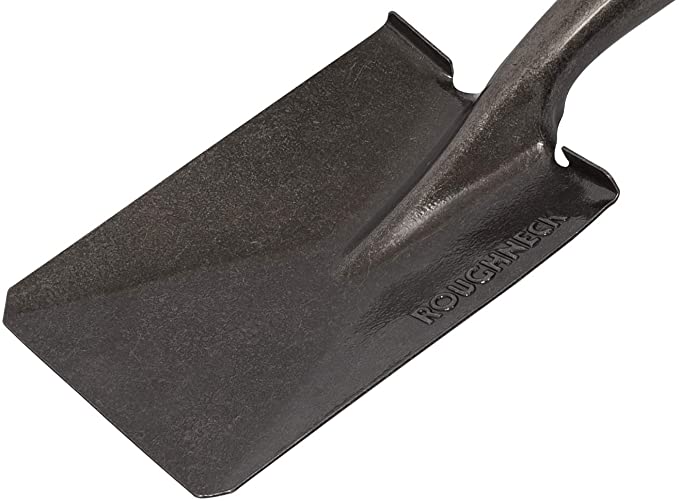 ---