Written by Terry Smith
Our site is reader supported so when you click a link to Amazon we may earn an affiliate commission.
The best shovels rated on strength and quality for digging, moving material, and clearing
This article was last updated on April 23rd, 2022 at 5:47 am
People sometimes confuse spades for shovels but they couldn't be further apart in terms of how to use them effectively. Spades are designed to be used only for digging only, whereas shovels can be used for a dig (if the tapered kind), after the dig, generally for lifting, and moving material (I'm always using mine to move pea shingle). 
Some shovels in this review consist of a handle, shaft, and scoop – others just a continuous single piece of steel. I've mixed opinions on the shafts made from wood (as you'll see when reading the article).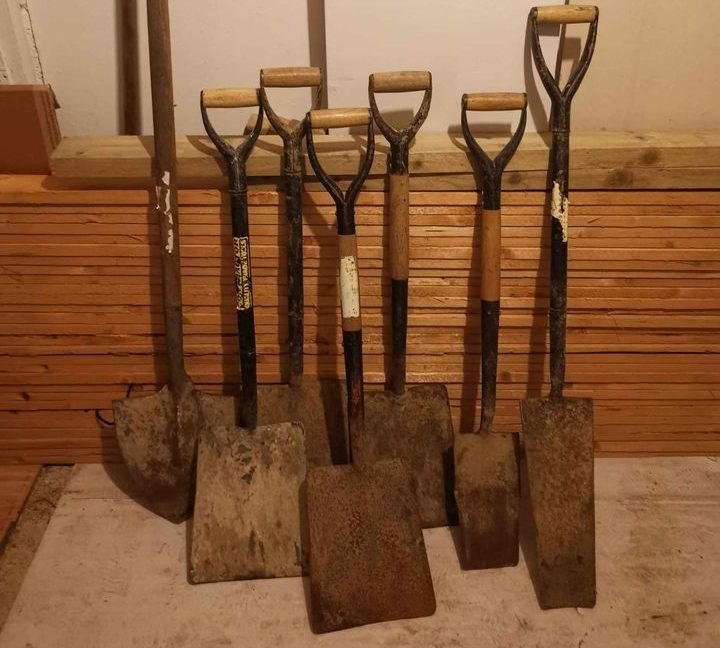 I'm warming to fibreglass shafts and handles but I'm conscious of what material you may lift, and what leverage is required (is it a lifter or a digger you need?)- there are a lot of different shovel sizes so you'll definitely want to read my shovel buying guide before taking the plunge. A good measure of whether you need to read my buyers guide would be do you know what a No2 is? If not, you will learn something new for sure. Square builder shovels which is the focus of this review. Both totally square for moving sand, gravel, or dirt and the tapered type for a dig. As well as the different shapes we will look at the materials used too. So before we get going on the reviews, here's a roundup of the best shovels:
Best shovels: editor picks for the best square shovels:
Best shovel overall: Spear & Jackson 2000AC MYD Steel Taper Shovel Good at a dig and moving material
Heavy duty commercial pick – what I take to work with me: Bulldog Steel Square Shovel or JCB both better than Spear & Jackson but more costly
Best shovel for sand and gravel (loose material): Silverline GT30 No. 2 Shovel – you can get away with a cheap option for moving loose material
Best digging shovel: Faithfull All Steel Shovel
Best for clearing: Spear & Jackson 2000AC MYD Steel Taper Shovel
Best small shovel for confined spaces: Roughneck ROU68006 Micro Shovel
Budget pick: Silverline GT30 No. 2 Shovel
Best shovel buying guide
What are you trying to achieve? That's the first question. Are you digging a bit of moderately compacted soil? Shifting loose material perhaps? There's loads of tools and each one better at it's own job, as well as a few all rounders that can do all of those reasonably well. You've got tapered shovels, open shoulder shovels, shovels for clearing ground, digging trenches and so on. Let's take a closer look:
Blade size
In the reviews No2 is going to pop up almost always unless it's a micro shovel designed for compact work like the Roughneck. The reason for this is the most common size shovel in the UK is 12 inches by 9 inches and it's been that way for as long as I can remember. This is called a number 2. And there's other variables, you can get much bigger but this is normally for snow shovels which carry light weight material, the weight on your back becomes too much beyond this size in my opinion.
Shaft length
You've really got two main shaft lengths. The most common is the 68cm and then you've got one around 98cm too. There's benefits and negatives to both. The shorter shaft which is more common means you lean over further, simultaneously the longer shaft means you lean over less but on the lift put far more pressure on the lower back if swinging material about which is why practically none are sold for building and gardening. I'm 5ft 9 and and I find the shorter standard shaft absolutely ideal for digging, moving material, and clearing after making a mess. The JCB is probably the top pick for anyone around 6ft or up as the extra three inches they put on the standard shaft helps bridge the gap a bit.
Shaft material
There's four main shaft materials:
Tubular steel
Hardwood
Plastic
Fibreglass

It doesn't take a rocket scientist to workout the steel shaft, like the ones you find on the Spear & Jackson, JCB, and the Bulldog are far higher quality than the hardwood or plastic. The Fibreglass is a bit of a grey area though, in my mind it's not quite as strong as the steel but much stronger than hardwood or plastic – I know because I've broke one before and as yet not managed to do so with the steel version. The great thing about the Fibreglass though is the weight. A quality tool like the Roughneck(appreciated it's a micro) only weighs a bag of sugar. So if you're trying to take weight off your back a fibreglass handle is a real bonus.
Pretty obviously hardwood and plastic are cheaper – they serve their purpose and they also reduce weight but it would be pretty unreasonable to consider these a lifetime tool
Digging or moving material – big difference
Huge difference. If you want something to move soil or sand then you want something with wide open shoulders. You can use something like the Silverline GT30 No. 2 Shovel for generally moving materials without much digging. On the other hand, if you really need to dig you want a tapered shovel. In this case without question you'll want to take a look at the Faithfull All Steel Shovel. Yeah you can move material with it and knock up cement too but it's definitely a digger.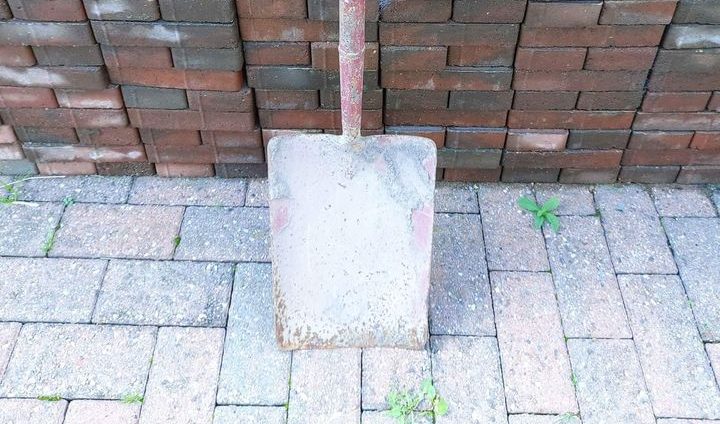 There are some all rounders though. The Bulldog and JCB can be used for digging, lifting material, and clearing. You can also use the Spear & Jackson for most of those but I do worry about the joint between the shaft and the blade on it.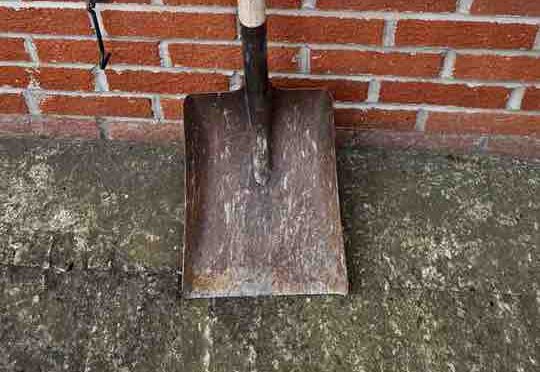 Difference between a shovel and spade
As we've alluded to above, a spade is a much better digger. If you've got compacted ground then this is by far more favourable, that or a garden fork if it's stony too. Here's a picture that clear as day shows you the difference, the spade is far more streamline for digging than the shovel designed for moving the material: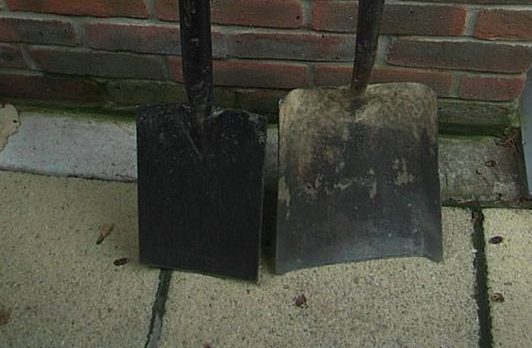 The shoulders and sides are not so rounded normally either. The straighter design allows for an easier dig.
---