Written by Terry Smith
Our site is reader supported so when you click a link to Amazon we may earn an affiliate commission.
UK's best litter picker and grabber tools: heavy duty and rotating reviewed and compared
This article was last updated on April 23rd, 2022 at 6:01 am
Having people over for a barbecue always sounds like a fun idea and, with the help of some quality patio heaters, is something that can be enjoyed at pretty much any time of the year these days. The not-so-fun part is the next day, when you peel yourself off your pillow feeling a little worse for wear, open the curtains, and then see that your beautiful garden, the one you've spent endless hours on to make it the envy of your neighbours, has basically been turned into a dump 😀 I'll be the first to admit it, and if you haven't experienced that then fair play.

Nobody really wants to be bending over or down on their knees, picking up all those paper plates, napkins, etc, etc. Especially if you suffer from a stiff back or other problems.This is why it's always good to have one or two of the best litter pickers around to make things a lot easier. I say one or two because it's always better to drag your partner or the kids into help 😀 After all, the king of grill shouldn't have to do it all themselves right 🙂 ? And there are even models made specifically for kids to use – it's worth taking a look at what you should know before buying a litter picker too. It'll clear up some issues.
Below you can see our shortlist of the top litter pickers and grabber tools in the UK, and you can see our reviews of each product, simply by clicking on the name:
Best litter pickers – editor top picks:
Best overall litter picker: ZAYAD grabber tool – this has great balance and quality.
Best rotating litter picker: NRS Combi-Reacher – 360 degree rotation ideal to stop you leaning over so much
Best heavy duty litter picker: Helping Hand Ranger thanks to a simple and robust design this is what I would use myself
Best budget: EZPICK litter picker – foldable litter picker
Decent alternative option: Helping Hand Litter Picker Pro
If you'd like to know more about what a little picker is, and what to look out for when choosing the best of them, then carry on reading as we flow into our buyer's guide.
What is a litter picker?
I'm sure you've all seen one of these tools before, probably being used by some council worker at the local park, or maybe someone clearing up after a concert.
Basically, litter pickers resemble a mechanical arm, with a long shaft that has a grip/handle at one end, and a claw at the other. When you squeeze the trigger, the claw closes to pick up whatever is between its talons, and when you release the trigger, the caws open again. It's simple, effective, and can be used by pretty much anyone. Plus, it allows you to live out your childhood robot fantasies while getting the job done, whether that be Daleks, Jonny 5, or whatever.
My grandfather was wheelchair bound and he had an identical tool that he used for reaching things off the kitchen sides, and things like that. I don't mind admitting that I was obsessed with it as a young kid, and would constantly be getting told off by my dad for attacking my brother with it.
After a while, I think he got bored of telling me to stop messing around with it, and instead would send me out into the garden to pick up stuff that'd blown in. You know what? I was completely happy to be out there for ages, and saw it as more of a game than a chore.
Years later, and now I get my kids doing the same, with me helping and supervising of course. It's a great activity to do together, incorporating a bit of light exercise, fresh air and time away from screens, and I like to think it instills a sense of responsibility, as it did with me.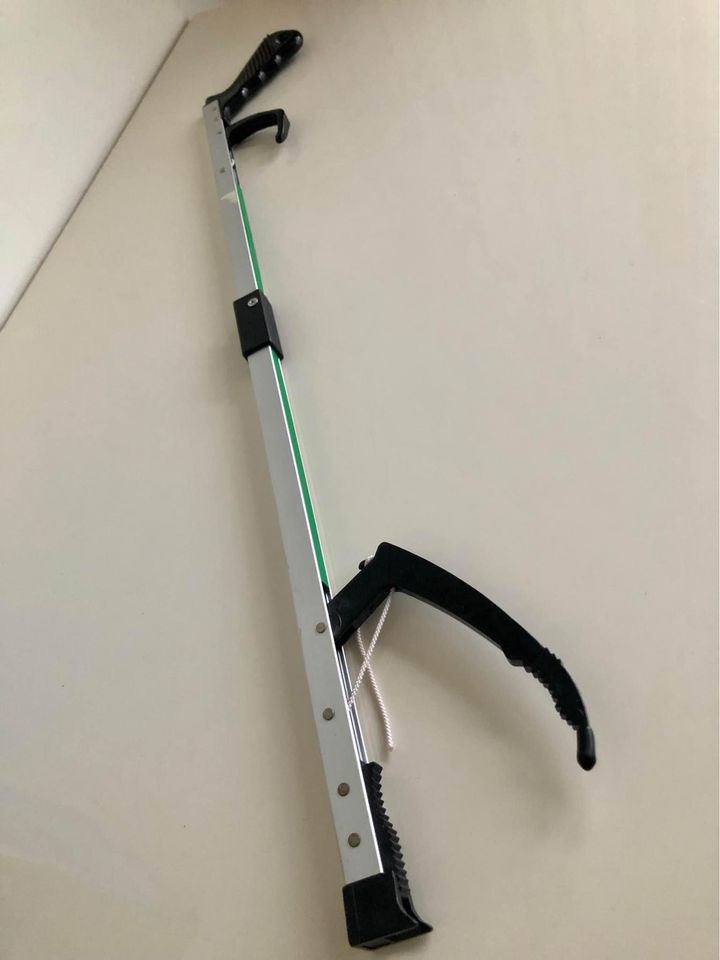 What you should know before buying a litter picker too
Selecting the best litter picker isn't that easy. Most models look almost identical as they follow the most practical design, and are quick to copy any innovations that other brands might come up with. What ever happened to originality?
So, why not just buy any of them? Well, they might all look the same at first glance, but they are certainly not all equal in terms of quality, materials, size, etc. So, to help you understand the main things to look out for, we've given some handy tips below.
I am generalising when I say the design is basically the same, but actually there are three main types- the double moving claws, single moving claws, and the tongs. All of them are great for picking up litter, but I'd say for lighting larger amounts, the tong type, like the robust Helping Hand Ranger are better, while the others are better for medium to very small objects.
Size and weight are very important
The very first things that you need to be aware of before clicking buy, is how long and heavy a particular litter grabber is, and how that compares to your own body.
Buying a model that is too long or too short will force you into an unnatural and uncomfortable posture, and this is going to be causing you some discomfort and possible aches and pains after using it for a while. I'm average height, but some of the smaller litter pickers cause me to stoop too much, so you don't have to be a giant or a pigmy to be affected by this.
The same goes for the weight of a litter picker. You might want to buy something that is made from solid steel for the extra durability, but you have to consider how long you'll be holding the tool for, and even an extra few hundred grams can make a difference over the space of a couple of hours.
The size of a litter picker will also affect how easy it is to store, and if you're planning on using it away from the home, you need to think about transporting it. More compact, or folding models, such as our best overall pick the ZAYAD, or our budget choice from EZPICK will easily go in the boot of your car, but longer (90cm) litter pickers might be more difficult.
If you get the right weight and size for you just right, who knows? You might be able to wield it like these guys in the following clip:
Picking the right materials
When choosing the material for your litter picker, you need to consider three things. The first one is strength, the second is durability, and the third is heaviness.
The cheapest models will probably be made completely of plastic in order to keep the costs down. If the plastic used is thick ABS or polypropylene, then there might not be a problem with the strength and durability, but I would still say that it won't last as long as good quality aluminium.
Aluminium is stronger than plastic, but only if it is high-quality such as aluminium alloy. As well as being strong and lightweight, it has anti-rust properties that make it an ideal material for outdoor tools, and the reason it is used in so many top products like the NRS Combi-Reacher, which only weighs 195 grams.
Often, to keep the price tag affordable, brands will combine aluminium with premium quality plastics on the handle and other parts to give you a good balance of affordability and longevity.
Can you 'handle' it?
We already explained that the claw on a litter pick is activated by squeezing the trigger that is located on the handle, but we didn't explain that some triggers will be harder to squeeze than others, depending on the spring action inside.
Another thing that can affect how hard a trigger is to squeeze is the shape and size of the handle itself, and the size of your hands, of course. Ergonomically shaped handles like the ones found on EZPICK, are the thing to look for, and also check the comments and reviews for any info on how the trigger feels. It might not make much difference at first, but after an hour of use, your hands and forearms will certainly feel it.
The other side too this, is that some triggers might be very easy to use but at the expense of durability and longevity. This is not always the case, but it can happen that the spring used is lower quality, as is the plastic parts used for the trigger mechanism, and this leads to your litter picker turning into a litter pusher after not too long.
Then again, these tools aren't; the most hi-tech or complicated and it is often easy to fix them yourself, as this video shows:
'Claw' your way to the top
The 'business' end of your litter picker is referred to as the claw, and is probably the part of the tool that will have the most features. Trust me, a well-designed litter picker claw is the difference between a leisurely stroll and clean up around the garden, and a frustrating, swear-word laced, rant as the '******* thing' refuses to pick up the things you're pointing it at!
Some of the better claw features to keep an eye out for are as follows-
Magnetic claws- Nothing makes picking up metal objects easier than the help of magnets. Often you don't even have to 'grab' them as they'll simply stick to the claws when you hover over the objects. I don't have to tell you that there are often more than a few empty cans left on the ground after a large gathering in the garden, and having one of these makes clearing up so much easier.
Rotatable claws- Most modern litter pickers will feature a rotatable claw that will twist through 360 degrees, and a few of our top picks have this feature that allows you to get just the right angle for picking up whatever is on the floor. This might not sound like much of a time saver, but in real life usage, it really does make things much easier and quicker.
Larger opening- Some claws will open wider than others, and this is obviously a good thing if you often have larger debris and garbage to pick up. You might find that models with larger openings are a little bit harder on the hands via the trigger, but this isn't always the case, and will depend on the model.
Claw shape and grip material- If you look around on places like Amazon, you'll see that there are some slight differences in the shape of the claws on some litter pickers. Often, this is just a cosmetic thing to distinguish the product from others, but sometimes it can be a practical design to help pick up smaller/ larger objects and things like that.
One thing that can make a difference is the material that is used for the grip on the claws. Hard plastic materials might be good for robustness but they aren't ideal for gripping litter. This is why the best litter pickers often have some kind of coating like silicone, as well as textured surfaces to help keep a hold on the thing you're trying to pick up. The thick rubber grip found on the Helping Hand Litter Picker Pro is a great example of this: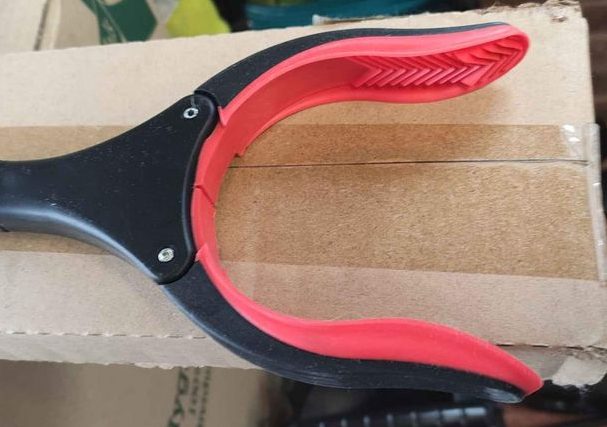 Well, it's time to see what we thought of our tip 'picks' (see what we did there?). We've spent a bit of hands-on time with each one, and we feel confident that we have chosen the best products your 'claws' on (ok, I'll stop the puns now), so take a look for yourself.
---