Written by Terry Smith
Our site is reader supported so when you click a link to Amazon we may earn an affiliate commission.
UK's best tillers that are heavy duty TESTED: petrol, electric, and cordless
This article was last updated on April 23rd, 2022 at 6:49 am
It doesn't matter what you're trying to grow in your garden or on your allotment, your chances of success will be greatly increased with correct use of a tiller. But which is the best tiller for you? These fantastic tools work in much the same way as a plough, turning over and breaking up soil as they move along, and this has a ton of benefits for your plants, flowers, and crops. I took it upon myself to test a budget model for you – I appreciate unless a commercial op this will sit in the shed for a while. It was part of a wider project – whilst I made a decision on what to do with the garden I wanted to get some grass seed down for the kids – this of course mean't I needed to turn the soil. So I decided to test the Vonhaus Tiller – it is the cheapest budget unit available at the moment, and given we only use it at home for a vegetable patch or two, it isn't worth huge investment. I have to say the results were very impressive from my testing and as a result of the cost to performance, is my new top pick – rarely do we save money and get power.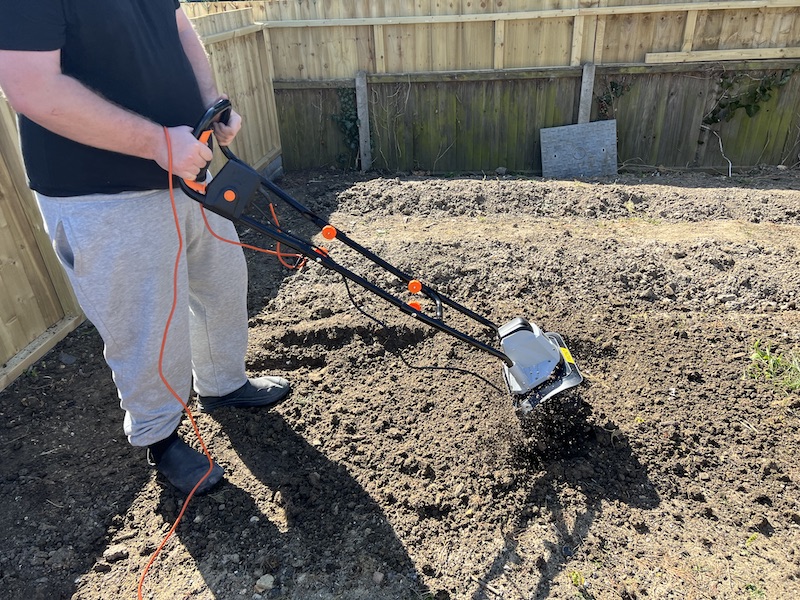 Ok, so, we'll take a look at why you should be using one in a moment in my tiller buyers guide in more detail, but if you don't have time for that and just want to know what products we recommend as the best tillers currently on sale, here's a shortlist-
Best tillers: my picks after testing and using them for years:
Best Garden tiller overall- Vonhaus tiller 1050 Watt or the Garden gear 1400W tiller. Both are great all rounders – you need to decide if you need guide wheels or not.
Best electric garden tiller- Vonhaus 1400W tiller. Almost as good as the Garden Gear model, but just not quite there when it comes too thick clay soil. Better handling though.
Best cordless garden tiller- Einhell GE-CR 30. Simply the best performing cordless we tested.
Best petrol garden tiller- Mantis 4 stroke tiller. Excellent build quality for the money and a reliable Honda engine.
Best budget garden tiller- Vonhaus tiller 1050 Watt – Surprisingly good tiller for the money. or the The Handy THET compact tiller if this unit becomes unavailable.
Best heavy-duty garden tiller for hard / clay soil- Switzer heavy duty tiller. Has the build quality, power, and performance to deal with the larger, tougher jobs.
Tiller Buyer's guide
To help guide you through the confusing 'jungle' of products out there, and towards the right kind of tiller for you specific needs, we have provided this little buyer's guide that points out a few things that you might want to take on board before making a decision.
Types of garden tiller
There are three main types if garden tiller: Front tine tillers, Rear tine tillers, and Vertical line tillers. But what do they do and what are their benefits and negatives. Let's discuss them in a bit of detail as this info will definitely impact which you select and well worth the read:
Front tine tillers
Front tine tillers like the VonHaus 1400W product, have two tines located in front of its wheels that rotate in a forward direction. You can tilt the handles backward lifting the front of the tiller when moving it around and tilt it back forward when you want to use it. Front tine tillers are usually the least powerful type but also the cheapest and are easy to find online. Here's a look at this: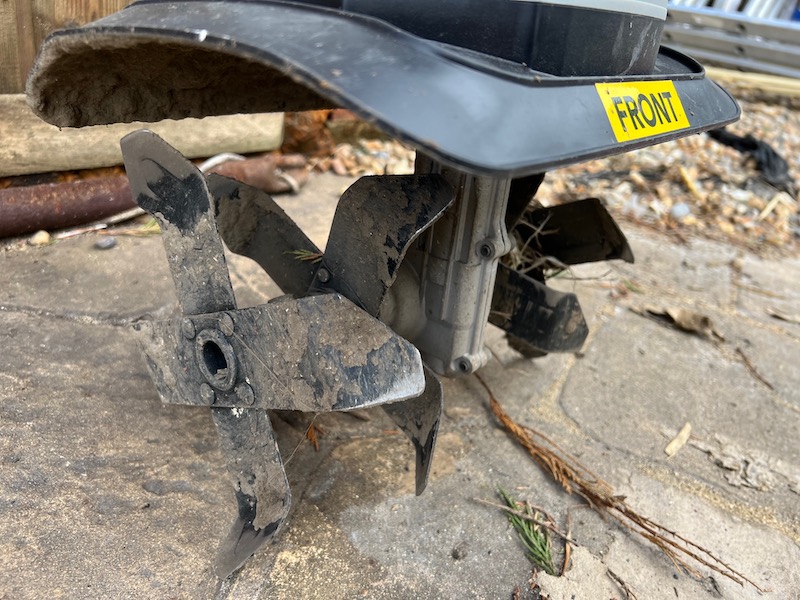 Rear tine tillers
Rear tine tillers have their blades behind the wheels and the Switzer tiller is a good example of this. They are more powerful and dig deeper than front tine tillers. Different models of these tillers have blades that rotate in various directions. Some rotate forward like the front tine tiller, some in opposite directions. Rear tine tillers are better for tackling tough soil and breaking new ground.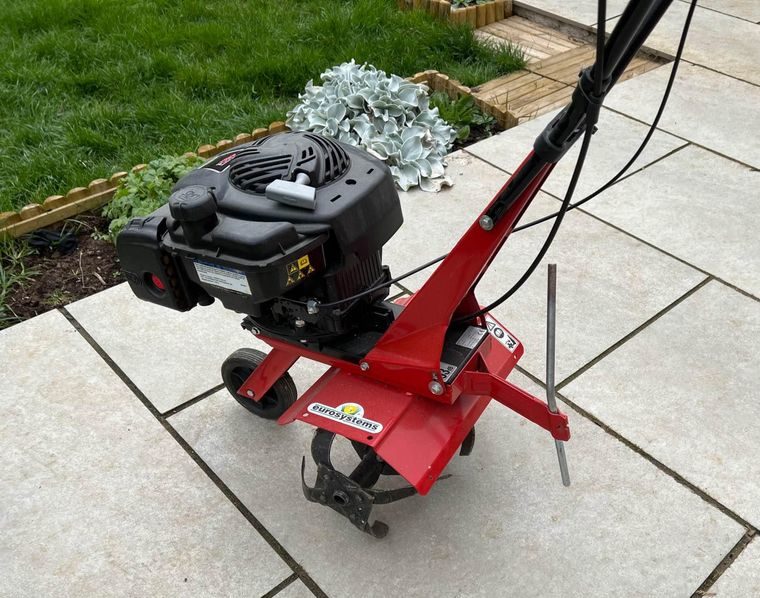 Vertical line tillers
Vertical line tillers are the most recent and least common type of tiller out there. They differ from the others in that the tines cut forward instead of downward making them more efficient, but they aren't as common as the other two types of tillers.
The type of tiller you will need is dependent on a host of factors such as garden size, soil type, how deep you want to dig, and of course your budget as the price range is quite wide. You should also consider things like maintenance costs, what special features would be helpful for you, and your available storage space.
Here's a video you might be interested in that goes into more detail about the different types of tillers available. It's an American video, but the information is still useful to UK gardeners:
Electric, cordless, or petrol tiller?
As well as these three different types to choose from, you also have to decide upon either an electric, cordless, or petrol tiller. Each of these has its pros and cons, but I'll just do a quick summary here for you-
Electric tillers
The most common type of tiller and generally the least expensive. These machines are easy to set up and operate, and require very little maintenance, making them great for casual gardeners with small to medium sized gardens.
The biggest flaw of their design is that your range will be dictated by the length of the power cable unless you use an extension lead, so this is something to check before buying and you want at least 10 metres such as the cables found on my Vonhaus tiller 1050 Watt and Garder Gear tillers. On the plus side though, you'll never run out of fuel unless there is a power cut in your area.
Cordless tillers
The main advantage of cordless models over corded electric is that they give you more freedom of movement and range, and you don't have to worry about accidentally treading on, or cutting through, a trailing power cable.
On the other side of the coin, is the fact that the batteries fuelling these machines will probably only get you about 30-45 minutes of use before they need charging again, and buying replacement or spare batteries can be expensive. So, it's important to know the charging time to working time ratio when purchasing a cordless tiller, and I wouldn't recommend them for larger gardens. There are some new products that can go for longer than 45 minutes at a time, but you'll have to buy the largest batteries to get that out of them. The Einhell cordless tiller is just such a product.
Petrol tillers
Easily the most powerful type you can buy, especially ones with large engines like the Switzer, petrol tillers will break hard ground much easier than both electric and cordless models. A full tank of petrol will certainly last longer than a full lithium-ion battery too, but obviously can't compare to being connected to the mains by a power cable. Not all petrol tillers have the same size tanks though, so this is something to check.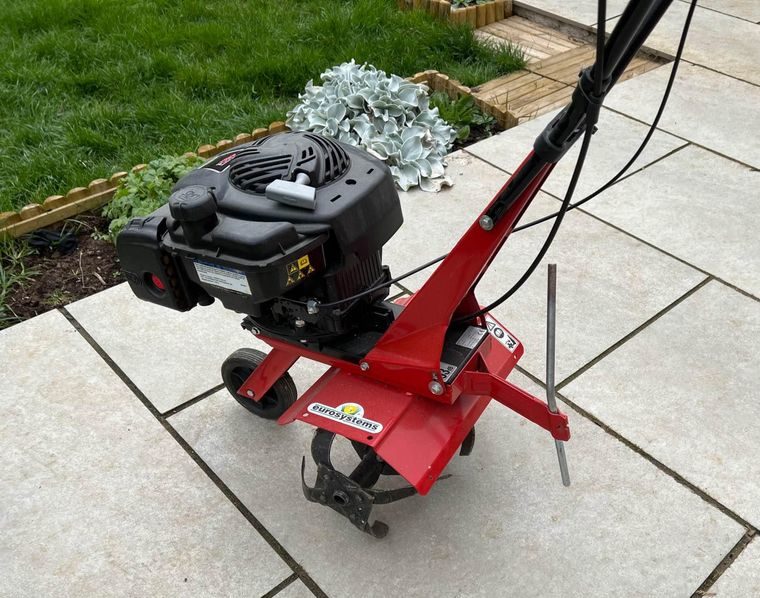 Petrol tillers have the highest running costs, and are usually the most expensive to buy too. You have to factor in the price of petrol, as well as changing things like spark plugs, engine oil, etc. and the time taken to maintain these machines. Unless you really feel you need the extra power, or have a large property to cover, you might be better off with an electric tiller, although the Mantis petrol tiller is a good option too due to its smaller dimensions.
Hand powered tillers
These traditional tools aren't really used that much anymore as the price of electric tillers has come down so much and its hard to justify paying not much less for a hand tiller and then having to do all the work too!
Where these tools can come in handy tough, is to turn over soil in your beds and other small areas where it is difficult to use a larger tiller, so it might pay to have one lying around. Tillers like the one in the photo can be found for fairly cheap prices, so why not invest in one?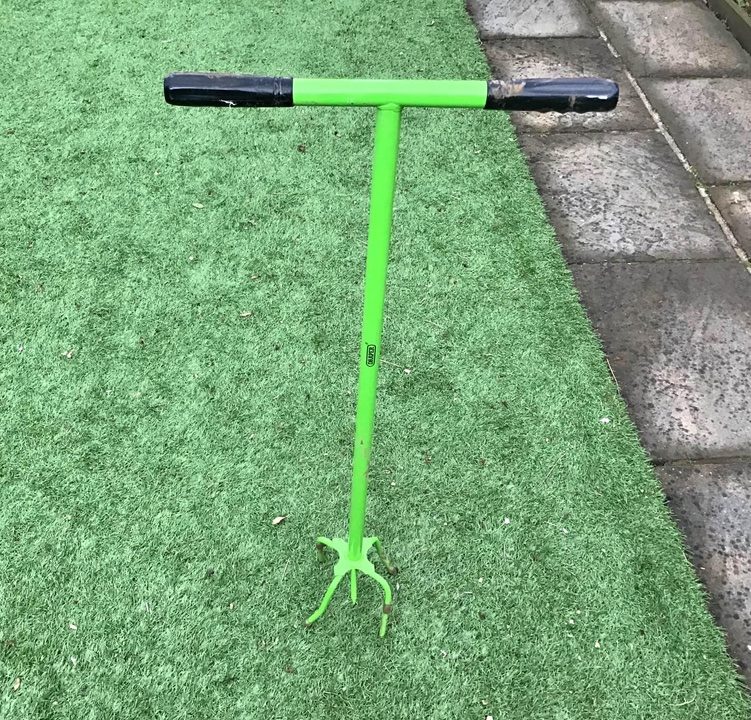 Engine power
We already compared electric, cordless, and petrol tillers for power in the previous section, but a quick look on Amazon will show you that there are differences in power between various models in the same sub-category.
If you're shopping for a corded electric tiller, then I would suggest you find one that is at least 750 watts, even for a small garden. Medium sized properties, or for dealing with thicker or harder soil will probably require you go up from there in the power stakes and buy something between 1000w and 2000w.
The power of a cordless tiller will be affected by how many batteries it runs off and how large those batteries are. There are other factors too, such as the design of a particular product, but battery size is a good indication to go by. Also, please bear in mind that the more powerful cordless tillers are likely to use up batteries faster than lesser powered models.
Petrol powered tillers run off small engines, usually starting around 25cc but larger models can have much more powerful engines than that. To be honest, a 25cc petrol tiller should provide easily enough power for most people and only a small percentage will need something bigger.
Sometimes a product is advertised with the horsepower output or even kilowatts. 1-3 HP is more than adequate for home gardening, as is anything over 1kw. The Switzer heavy duty tiller has a whopping 6.5HP and the tiller in the image below is around 5HP, which is overkill for most people.
Heavy duty petrol rotovator tiller
Size
One thing that people tend to overlook when buying a garden tiller is the actual dimensions of the machine, and then they end up struggling to find space in the garage or shed in which to store it.
These days, most tillers will come with foldable handles, which is a big help, and some have even more parts that can be removed or folded to make the tiller smaller. Of course, this means you have to spend more time setting the machine up and packing it down after each use, but as long as the design has been done well, it shouldn't take more than a few seconds.
The Handy electric tiller is a great choice for people looking for a practical but compact tiller. It's lightweight and won't take up much space in the shed, but has a build quality and performance that outshines the vast majority of cordless versions.
Weight
Yet another very important factor is weight. Some of these machines can be quite heavy, especially petrol tillers, and you will have to move that weight over soft ground, so choose carefully. The Mantis tiller is lighter than many petrol models, but still much heavier than electric and cordless models such as the VonHaus tiller and the Einhell cordless tiller.
Some models will have some kind of 'auto-drive' where the machine will pull itself forward via powered wheels, but this feature usually means a higher price tag and if that pull is a bit too powerful, and you're of smaller stature, it might end up running away from you.
On the other hand, a tiller that is too light will not dig sown into the soil well, and will require a lot of work from you to push it down, especially in thick soil. This can get very tiring after only a short time, so choose carefully. The plus side to lighter tillers, is that they are more manoeuvrable, which might suit people with small or uniquely shaped gardens.
The Gardenline tiller in this photo is a good idea of a compact and lightweight garden tiller, and has dimensions similar to The Handy tiller from our reviews-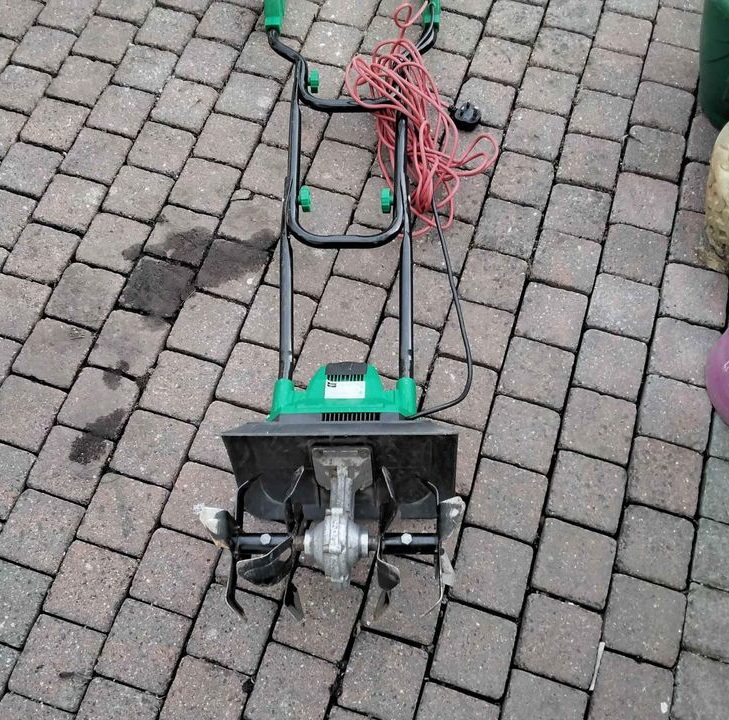 Tines: length and width
The length of the tines on a tiller will tell you how deep it can possibly dig into the soil. Depending on whether a machine is a front or rear tine tiller, practical tiller length should be between 6 and 12 inches, but there are models out there that allow you to adjust the depth at which the tiller will dig.
How wide an area a tiller can cover at once is not a universal thing, and can actually vary significantly from one product to another. The main thing to know is that narrower tillers with tine coverage of between 10 and 14 inches will be easier to move and turn around, while wider tillers will allow you to get the job done much faster but might be quite a bit harder to manoeuvre.
Wheels and Tyres
As a stationary tiller is fairly useless, the wheels and tyres on these tools are very important and should not be overlooked as part of your buying decision. There are some tillers that don't have wheels at all, The Handy tiller for example, but these are usually compact and lightweight models with less power.
It's not just the size of the wheels that's important either, although that is certainly something to look at. Just as important are what kind of wheels they are and whether or not they have tyres.
Plastic wheels are very durable, but they can sometimes struggle to move over soft and damp soil unless they have a good tread on them for grip and are an adequate size for the machine, which they often aren't as you can see here: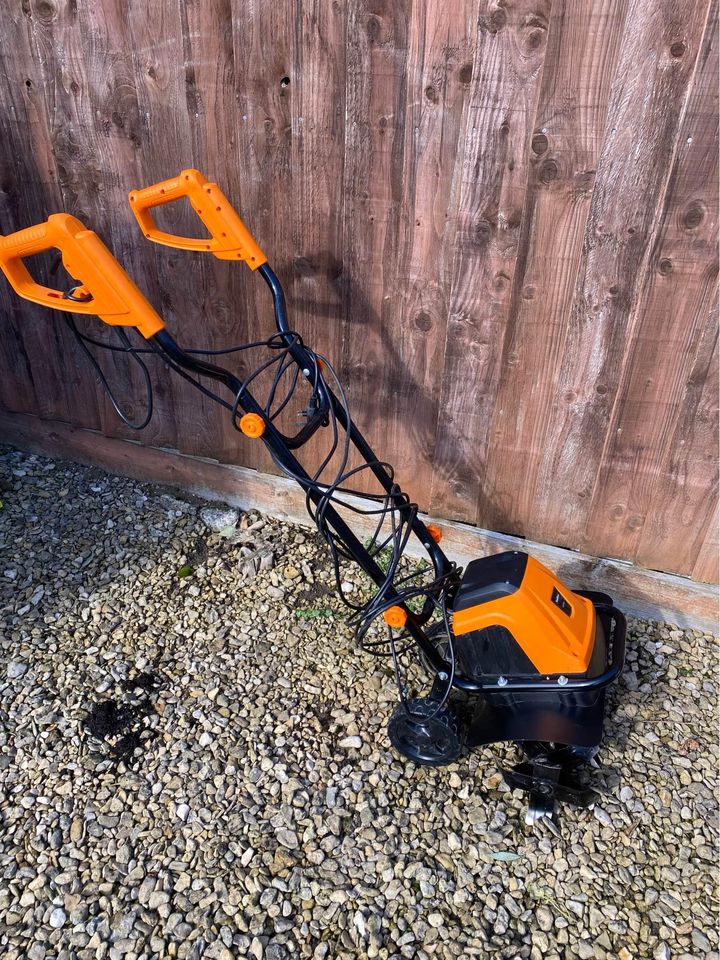 Pneumatic tyres, like the ones found on our featured petrol tillers, are filled with air and offer much better grip on the soil than plastic wheels and offer more resistance to shock. The downside to pneumatic tyres, as anyone who's ever owned a bicycle or car will tell you, is that you will inevitably get a puncture at some point.
What are tillers good for?
For a start, if your soil is densely packed together, you're going to have problems growing anything at all as water and oxygen won't seep through to the roots properly. Obviously, if the water isn't penetrating the surface, it is likely pooling up and this can lead to a whole list of problems on its own and is best avoided.
Not only will there be problems with nutrients flowing down from the surface when your soil is too dense, the plants themselves will seriously struggle to move up through it or to spread their roots, giving them little chance to get established. Thick clay soil is the worst culprit for this, and not all tilers will deal with clay that well, so go for a petrol model like the Mantis tiler, or a proven electric tiller like the Garden Gear product.
Turning over your soil occasionally is something that is recommended by the majority of experienced gardeners. You see, the top soil in your garden will become less nutrient rich and fertile over time just through being exposed to UV and other natural phenomena, but the deeper soil will be in much better condition. So, using a tiller is a great way of bringing that up to the surface where it is needed.
Another excellent advantage of using a tiller to turn over your soil is that you can get at the roots of weeds. When you just pull weeds out from the surface, you are usually just delaying the inevitable as they will grow back. But if you get rid of the roots, you will no longer be fighting a losing battle. Having said that, if you have very stringy and tough weeds infesting your soil, there's a chance that lower powered tillers, like the cordless Einhell product we feature, or the type featured in this photo might have problems with the weeds getting stuck in the blades.-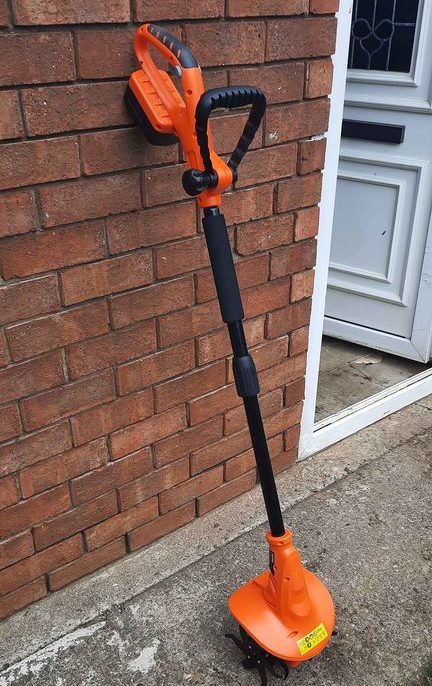 Tilling is a fantastic way of adding nutrients to your soil through the use of compost, manure, etc. Simply till the soil first, add whatever you need to add, and then turn over the soil a second time, and you're golden.
When is the best time for tilling my garden?
I think most people would agree that Autumn and Spring are both good times for tilling, but if I had to choose just one of those, I would go with Autumn. This is because you can take advantage of the natural life cycle of plants, trees, and even weeds by turning their dead remnants over with the soil and allowing them to break down into helpful nutrients.
Spring tilling is also very helpful, but you have to get the timing right. If the weather is still too cold, as it often is in very early spring, you shouldn't be tilling your soil. A minimum of 16 degrees Celsius is required for effective tilling. Even if you have a powerful tiller like the Switzer 6.5 horsepower model that can easily break up the soil, it is still better to wait for the right conditions for a number of reasons.
If you do intend on tilling in spring, you should do it a few weeks ahead of your planting schedule as the microorganisms will need that long to recover and settle after the process.
Another thing to keep in mind, for any time of the year, is to avoid tilling when the soil is wet. Moist is good, wet is not. Tilling wet soil will likely cause the soil to clump together and this will just cause problems when it eventually dries out. It's fine to sprinkle a little water from the hose to make dry soil easier to deal with, but if it's been raining heavily in the past 48 hours, you should leave it a bit longer.
The following clip talks about how to test your soil before tilling, so if you've never done it before, you should give it a watch:
There you have it, a nice short selection of garden tillers. There are larger industrial sized tillers that are more like farming ploughs for sale, but I chose to review these products as I thought this is what the majority of people would be looking for.
Please check out our other articles on a wide range of gardening products.
---