Garden Tool Box » Best shed bases [UK]: Top shed grid bases compared and reviewed
Best shed bases [UK]: Top shed grid bases compared and reviewed
This article was last updated on July 31st, 2021 at 9:06 am
What is a shed base and do I need one?
From my years and years of shed ownership and experience, you don't just buy a shed without planning, a shed base is a vital part and really enhances the usability and not to mention a shed alarm will sort your security aspect as well as a decent wood preservative for sheds to keep you rot free once the install is completed.
A shed base is just what it sounds- a base for you to put your shed on top of. There are various types of shed bases but the 3 main ones are wooden shed bases, concrete, paving stones, or plastic grids, with plastic being the most popular in modern times due to the low cost, simplicity, and the fact that they are reusable as well as being pretty durable.
So, now we know what a shed base is, it's time to answer the second question- do you need one?
The answer to this is almost definitely YES, when you compare it to laying directly on soil it is a no brainer, this can become mouldy and not offer much extra protection to your timber almost certainly resulting in rot even if you use a wood preserver and shed paint.
Placing your shed straight on top of your garden soil is just a recipe for disaster. Soil doesn't stay still and when it moves it will cause your shed to become misshapen in many ways and could even lead to it becoming unstable and collapsing.
Also, putting your shed directly onto soil means that there is no air circulation possible under the shed and this also leads to various problems.
Shed bases eliminate all these problems by providing a flat surface that can bear the weight of your shed and also provide the air circulation and water drainage needed.
This article is solely focused on the plastic type of shed base and below we have reviewed the products that we think are the best value for money here in the UK.
Best shed bases
The best shed bases cover a variety of common sized sheds, have excellent longevity against rot when placed directly on grass or soil, priced well, durable plastic material, and easy to fit, so with those criteria in mind I have picked my choice of best shed bases:
Comparison table: Best shed bases [UK]: Top shed grid bases compared and reviewed

Product
What We Think
Rating
Price

16 x CrazyGadget® GRASS GRID Black Plastic Paving Driveway Grid

Quantity: 16pc, Made In UK
Demension per Grid: 500mm (W) x 500mm (L) x 40mm (H)
4 Grids Make Up 1 Square Meter (10.76 Square Feet)
The cell structure will retain the gravel and prevent loss or gravel displacements....
They are easy to install and connect to each other interlocking into a strong paving grid....

Black Plastic Paving Driveway Grid Turf Grass Lawn Path Gravel Protector Drainage

Quantity: 20pc, Made In UK
Demension per Grid: 500mm (W) x 500mm (L) x 40mm (H)
4 Grids Make Up 1 Square Meter (10.76 Square Feet)
The cell structure will retain the gravel and prevent loss or gravel displacements....
They are easy to install and connect to each other interlocking into a strong paving grid....

ECODECK 8x6 feet garden shed base grids & membrane sheet
Eco base grids, for ground stability paths
Grass or gravel driveways & car parks
Pathway stability for wheel chairs
MADE IN THE UK AND RECYCLED BRITISH MATERIALS

GARDEN SHED BASE GRID 2M X 1.5M SUITS 6X5-6X4 SHEDS & 7X5 FEET SHEDS

SHED & GREENHOUSE BASES TO SUIT 6x4 OR 6x5
Eco base grids, for bases
shed bases or grass or gravel bases driveways & car parks
Pathway stability for wheel chairs
MADE IN THE UK AND RECYCLED BRITISH MATERIALS

Not enough reviews to accurately rate this product.
1. GARDEN SHED BASE GRID 2M X 1.5M SUITS 6X5-6X4 SHEDS & 7X5 FEET SHEDS
My top pick for best shed base is the GARDEN SHED BASE GRID 2M X 1.5M because the new price updates and comparable quality to my previous top pick makes this a real score. The design it's lends itself to the most common shed sizes which although not innovative, does mean you are more than likely covered. They also cover the 7 by 5 foot shed which is handy – I used to have one this size from memory!
When I compare the quality of plastic to the the FULL ECO KIT shed base I would say they are on par so then it just really comes down to the better value for money!
On testing the grid lock system seemed to bind well. I didn't have any issues with the locking mechanism and I have to say when compared to a traditional heavy slab arrangement this was an absolute result. This is easily one of the best improvement for shed owners over the last ten years.
One super hack I learned as I was messing around with these gravel bases – If your shed isn't square or slightly large than the standards, you can simply detach the gris and fill in between the gaps with gravel or your preferred substrate. The only issue I have with pea gravel inside the shed is cleaning. If you're thinking more use than storage then I would be inclined to go with a slab still as this shed base style has it limits.
1. 8x6 GARDEN SHED BASE GRID = FULL ECO KIT 2.5m x 1.85m
This product from Eco Deck is very similar in design to all our other reviews on here today, and there's a reason for that when I compare the other models online, this type is the best!
The plastic grid sections provide the easiest way to set up a good solid base for your shed, driveway, garden path, and just about anything else you can think of, without all the messing around and hard graft that comes with laying a concrete or wooden shed base.
Installation of this eco kit is very straightforward and there shouldn't really be much need for using the instructions (except for how to use the provided clips, but we'll come to that soon). However, should you feel the need to use the instructions, the ones that are included by the manufacturers are actually quite good, with clear images and text.
Setting up starts with clearing any turf out of the way and making sure the ground is reasonably flat. I put a bit of builders sand down on top of the soil just to get that extra level of flatness but it wasn't really necessary. Next I laid down the underlay membrane, which is as easy as laying a bed sheet, then I set out the grid sections. The sections are all uniform and fit together perfectly to give a nice symmetrical shape.
After this, it was time to clip the sections together, and this is where I ran into a little trouble as I just found the clips that were supposed to do the job a bit too fiddly. Anyway, after a quick call to customer service I was told that if I was really struggling with the clips it was because I was trying to use them with the plastic membrane and so they wouldn't work, and that I could use strong cable ties instead, so that's what I did and they worked perfectly well.
All that was left to do was fill the grid with pea gravel and this was absolutely no trouble whatsoever due to the design of the grids. It was as simple as emptying a bag full over a section, pushing it into the hole with my foot, then using a rake to even it out a bit more. The whole thing only took 12x25kg bags of pea gravel, and once done it was incredibly sturdy.
I have to say, this product really impressed me. The initial cost, plus the cost of sand and gravel is well worth it, not only because of all the time and effort saved, but because you actually end up with an excellent, reusable shed base.
2. 16 x CrazyGadget® GRASS GRID Black Plastic Paving Driveway Grid
These plastic shed base grids are made right here in the UK to exacting standards so you know that you can rely on the quality of them.
The design is quite similar to the eco kit we just reviewed and set up is handled in much the same way- flatten the ground, place the grid, fill it with gravel, and you're good to go.
This model doesn't come with a membrane to lay down under the grid when you compare it to the 8×6 GARDEN SHED BASE GRID, but you can pick them up easily at any garden centre and using one is entirely optional, so it isn't a big flaw by any means.
What these grid sections do have over the eco-kit is that you don't need to use separate clips or cable ties to fix them together. These sections have their own interlocking connectors on the sides and are extremely easy to fit.
Each grid section measures 500mm (L) x 500mm (W) x 40mm (H), and there are 16 sections in the box, so if you use them all you end up with a decent sized shed base.
The plastic material feels like the high quality product that the makers claim and once laid down and filled with gravel it was on par for sturdiness with the Eco Deck model we just reviewed.
All in all, this is another excellent, time saving product that does what the makers say it will, and on top of that it is reasonably priced too.
3. Black Plastic Paving Driveway Grid Turf Grass Lawn Path Gravel Protector Drainage
Where you can really get value is using a driveway grid but converting the use to a shed grid. This alternate use will save you big bucks. They are essentially the same just priced better.
Srendi Store manufacture these grids out of recycled material that would otherwise end up in landfills, slowly polluting the earth, so you can feel that you're helping to save the planet by purchasing one.
Srendi Store grids are made in the UK and are of the high quality you would expect and I would have no qualms about using them as a base for any shed, greenhouse, garden path, or decking, and I would have complete confidence in them.
One thing that struck me instantly is that the grid sections of this model are smaller than the others and measure just 500mm x 500mm x 40mm, however there are 20 grids included so you still end up with an 8ft x 6ft shed base and won't be struggling to find room for your lawnmower, chainsaw, or other garden tools in the shed you place on it.
Like the Crazygadget grids, these ones also come with connectors on three sides and fitting them together is as straight forward too, no need for any clips or ties. However, another thing that Black Plastic Paving Driveway Grid has in common with its competitor is that there is no membrane sheet provided.
One thing I will advise is to make sure that you set up the base of what will be the front of your shed so that there aren't any of the connecting brackets showing and give your base and she a better final look. This is just a matter of rotating the sections so the flat side is facing out before you connect them together, but it is worth mentioning.
4. Hawklok 6 x 4 ft. Plastic Base Kit for a Garden Shed with Membrane and Clips
Hawklok's entry into this market is another great plastic shed base that is very hard to fault.
The pack contains 6 sections or 'tiles' as hawklok call them, and each tile measures 600mm x 600mm, so they are a good size if you want to get a large area covered quickly.
The main thing I like about this particular shed base, is the fact that there are no connecting brackets on the outer edges of the sections, so you don't have to plan ahead in order to hide them once the base is finished.
Instead, Hawklok's sections are connected by their rounded corners coming together to form a circle into which you then insert a round connector to hold the pieces together. It's an elegant solution which I really thought was nicely innovative and really does keep the base looking more professionally finished.
Strength wise, this is up there with the best of them, with top quality, hard wearing plastic that inspires confidence. I was a little worried about how thro und corner connectors would perform once the grid was filled and a load put on top of it, but I'm happy to say my worries were misplaced.
Included in the box are a membrane sheet for you to put down to help prevent weeds growing through your shed base and floor, and the green circular clips we mentioned for connecting the sections. There are also clear instructions, although they certainly weren't needed as everything is just straight forward and logical.
With a very fair price tag, excellent quality, a free membrane, and an innovative design feature with the circle connector clips, this is a plastic shed base you should be taking a closer look at.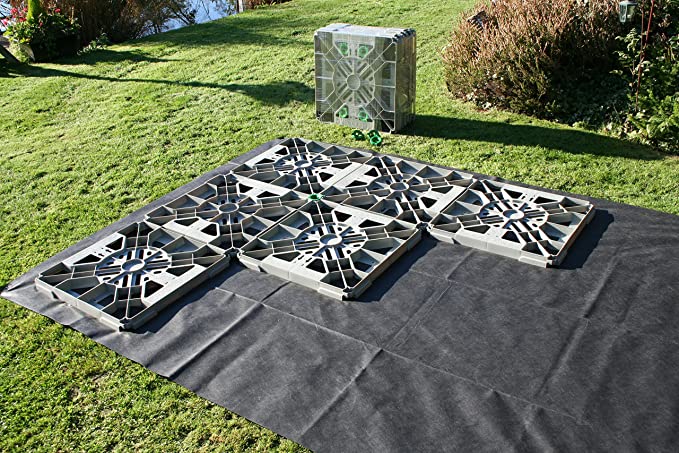 All the plastic shed bases we reviewed and compared here today are very worthy products and it was hard to pick the absolute best out of them. I would just simply say that each product will do exactly what it is intended to do, and that it provides stability and support for your new garden shed.
We will update this and other pages on this site from time to time with new products, so please pop back and visit us again. If you are interested in reading more reviews like this for a wide range of products, simply click on the links provided, use our menu, or search bar and don't forget your shed stain too!
Until next time,
Happy gardening.
---