Written by Terry Smith
Our site is reader supported so when you click a link to Amazon we may earn an affiliate commission.
UK's best shed base grid kits: Plastic gravel grid bases
This article was last updated on April 23rd, 2022 at 5:51 am
From my years and years of shed ownership and experience, you don't just buy a shed without planning the base (hence you smart folk being here), even a small shed needs a base – it is a vital part and really enhances the longevity – smaller still, watch how quickly a storage bench dirties on mud too (it's embarrassing I even showed that picture) 😀 – the same thing will happen to your plastic shed! Luckily they've got a new plastic base grid kit system. This best plastic shed base grid simply slots together – you should check my installation link to give yourself a bit of confidence on that and a better understanding. With the boards slotted together you will with gravel and there you have it, a base in a couple of hours and a fraction of the cost when compared to pavers and even more so concrete.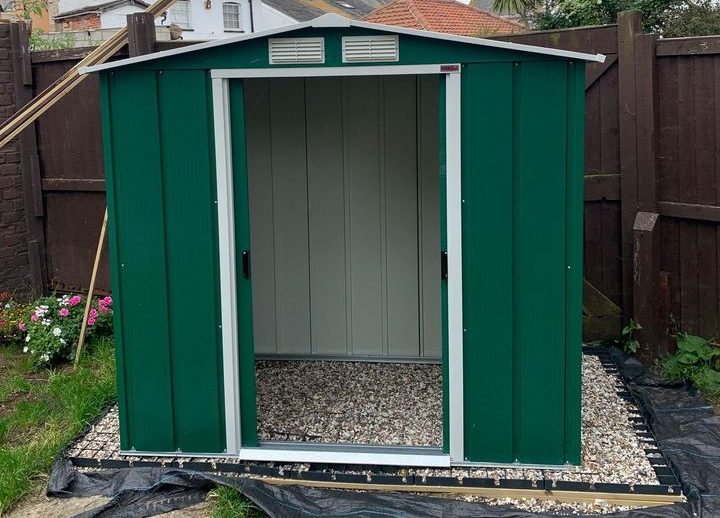 Best shed base kits – editor top picks:
Best shade base overall: 8×6 GARDEN SHED BASE GRID = FULL ECO KIT 2.5m x 1.85m What I like to personally use.
Best alternative: GARDEN SHED BASE GRID 2M X 1.5M SUITS 6X5-6X4 SHEDS & 7X5 FEET SHEDS – this is your pick if you prefer to click together rather than use the clip of my top pick.
Heavy duty pick: Hawklok 6 x 4 ft. Plastic Base Kit for a Garden Shed with Membrane and Clips – doesn't need pea shingle!
Best pick for large shed: Full Shed Base Eco-Friendly Heavy Duty Log Cabin Building Floor ECO500 Gravel Bases – please check the GARDEN SHED BASE GRID as it's the same product.
Budget pick: Black Plastic Paving Driveway Grid
British made: 16 x CrazyGadget® GRASS GRID Black Plastic Paving Driveway Grid – let's not forget 🙂
What you need to know about a gravel shed base
You probably may not realise but shed base gravel systems are extremely easy to use and have multiple applications from car parking and driving to making path and driveways. The reason for their boom in popularity is quite simple – they are much more economical than concrete and paving slabs. If used correctly, as I'll show you in the installation section for sheds, they are a real asset and save huge amounts of time!
Sizes
Something to really think about is the sizes – if you plan well you may not need so much m2 as per the example below. The grids come in 85 by 61 (FULL ECO KIT ) as well as 600 squared(Hawklok), and 500 squared – the remaining options in this article. Have a close look at the sizes, having a bit of a perimeter is not a problem, but don't waste material as below.
Installation
Installation is really simple. You have three main ways in which these boards work. Before we get to that though, you want some very high quality thick garden membrane. The material type or woven plastic both work well but I prefer the material type as it normally holds weeds and grass at bay long enough for everything to die without sunlight.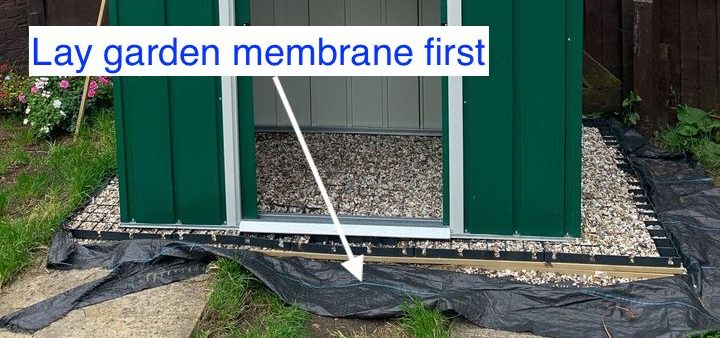 With the membrane down, throw on your grids and tie them together, however, there are a few different types of grid and how they are bound so let's look at those. The most common simply slot together with a click and lock. These are probably the easiest: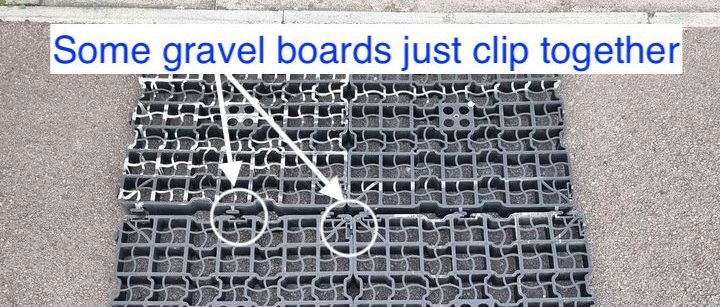 The seconds most common type of gravel board simply lay together and are then clipped – these are just as easy and effective: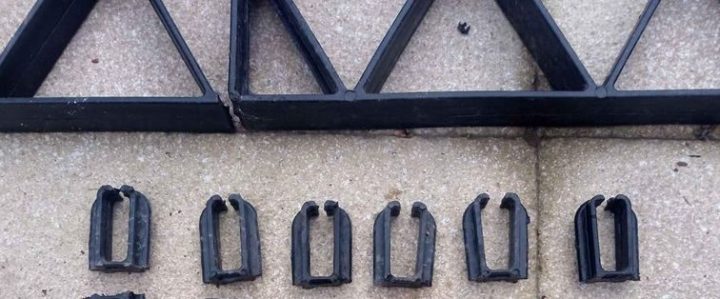 I actually really like this system more because I can lay my grids out tightly and see what I think before clipping together – much easier to move about in my mind and its the system I would use every time in fairness – they last really well – here's one pulled out that's a good few years old now: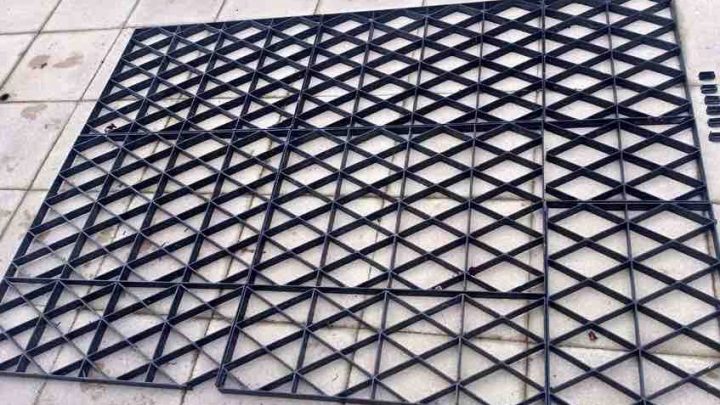 Less common now but very secure is the type of board that slots together then is stacked in the ground or simply tied with a heavy duty zip tie. I have to say, if I was working on uneven ground and the main principal was holding gravel then I still quite like this system: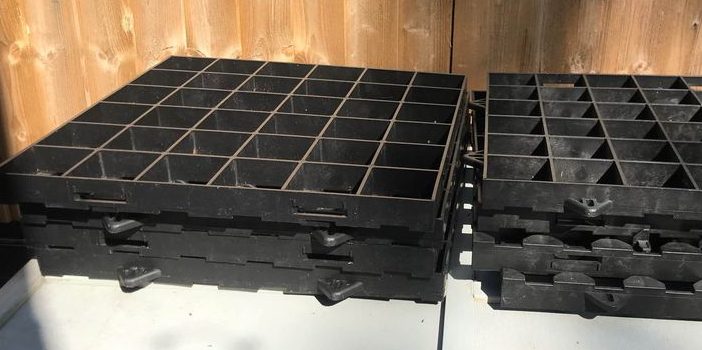 Depth of gravel board
It's worth considering how far off the floor you want to be. Most of these gravel boards are about 35mm deep. If you need considerable depth it might not be the solution. The largest depth I'm aware of are the Hawklok which are 45mm or so – remember the deeper you go, the more drainage, but also the more gravel you'll need.
How much gravel?
On a typical 8 foot by 6 foot shed base like the FULL ECO KIT, I'll probably use about 10-12 bags of gravel. The deeper bases like the Hawklok that are more heavy duty will want an extra three bags or so, 15 would be overkill and you'll probably end up with a couple left.
What size gravel or pea shingle should I use?
Given the size of the boards I would almost certainly go with 10mm pea shingle – you can go 20mm and that works fine too, it's just in my mind, the tighter and more compact it is in there, the better it'll stay put. The smaller gravel also makes levelling off all that much easier too and far more comfortable to walk on. I imagine you can use all kinds of decorative ships though if you prefer, I haven't done so because I want comfort under foot – I recently laid some beautiful slate but walking those large chunks in my flip flops was painful – a wise cautionary word from experience that!
What if I don't use a shed base
Placing your shed straight on top of your garden soil is just a recipe for disaster. When your shed is directly on soil, it means that there is no air circulation possible under the shed and this leads to various mould and moisture problems. Shed bases eliminate these issues by providing a flat surface that can bear the weight of your shed and also provide the air circulation and water drainage needed. This article is solely focused on the plastic type of gravel shed base and below we have reviewed the products that we think are the best value for money here in the UK.
If you've got a metal shed the base will rust more quickly – aside from the fact some don't base a base covering making it an uncomfortable muddy floor! A wooden shed pretty obviously will rot more quickly, and plastic sheds will become dirty and trap moisture – this assumes they have a base which will start to leak as it's not completely sealed.
So, now we know what a shed base is, it's time to answer the second question- do you need one?
The answer to this is almost definitely YES, when you compare it to laying directly on soil it is a no brainer, this can become mouldy and not offer much extra protection to your timber almost certainly resulting in rot even if you use a wood preserver and shed stain.
What types of shed base
There are various types of shed bases but the 3 main ones are wooden shed bases, concrete, paving stones, or plastic grids, with plastic being the most popular in modern times due to the low cost, simplicity, and the fact that they are reusable as well as being pretty durable. This is the focus of the review but I wouldn't say it's the best – it just solves a problem of paying a fortune for a concrete base or the time consuming process of laying paving slabs properly.
Building or buying a new shed – don't forget these
Some of the easiest things to forget in the excitement after spending a fortune on your new Keter, and everything that's going in them is the security factor. Since I've been reviewing sheds I've become even more conscious as the news sticks out in my ear all the more. The first thing you want is a quality shed lock. From there, consider a security cctv system – I have one for my shed. Then you may even want a shed alarm – this is a bit out there but if you're carrying valuable goods just be careful, times are getting worse, not better, whatever your told.
Best shed base grids
The best shed base grids cover a variety of common sized sheds, have excellent longevity against rot when placed directly on grass or soil, priced well, durable plastic material, and easy to fit, so with those criteria in mind I have picked my choice of best shed bases:
All the plastic shed bases we reviewed and compared here today are very worthy products and it was hard to pick the absolute best out of them. I would just simply say that each product will do exactly what it is intended to do, and that it provides stability and support for your new garden shed.
We will update this and other pages on this site from time to time with new products, so please pop back and visit us again. If you are interested in reading more reviews like this for a wide range of products, simply click on the links provided, use our menu, or search bar and don't forget your shed stain too!
Until next time,
Happy gardening.
---