Garden Tool Box » Top best shed locks in the UK – heavy duty options reviewed
Top best shed locks in the UK – heavy duty options reviewed
This article was last updated on August 7th, 2021 at 2:38 am
Sheds are an invaluable part of any gardener's arsenal, giving you a dedicated space to store all your tools and equipment in which keeps the garden tidy, and slows down the negative effect nature has on them by protecting them from weather damage. Unfortunately, it's not just the weather that your tools and possessions need protecting from. Sheds are a prime target for thieves looking to make an easy bit of money by relieving you of your hard-earned tools and after recently converting my shed into an office it got me thinking about security, and not just shed alarms, shed locks need to be up to scratch too.
And its not just the shed lock, consider that you'll need security screws when fitting your shed bolts. This also applies to the tee hinges too (you can learn more about that on how to fit a shed door). Either way we have you covered on shed security from start to finish. Here's an example that can be unscrewed and removed easily.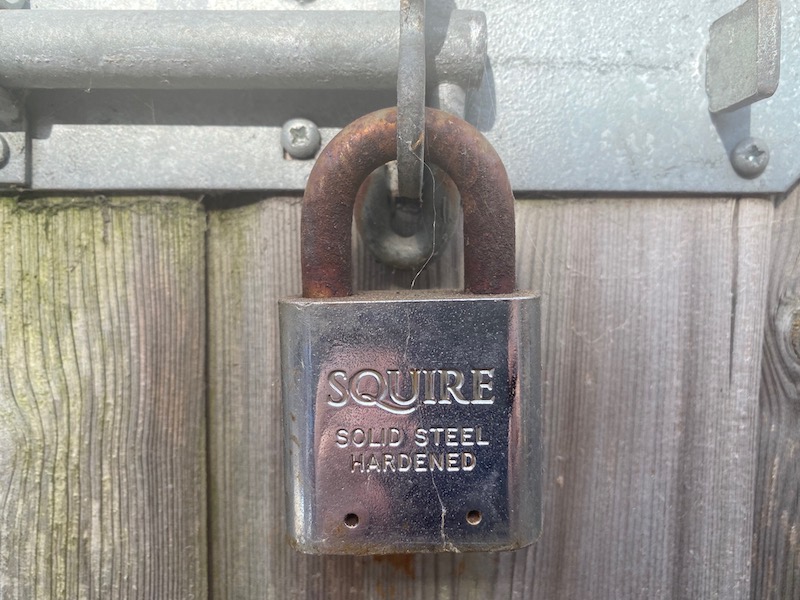 Surveys have shown that there are around 22500 shed burglaries in the UK every year according to police stats, with Greater Manchester, Lincolnshire, and Humberside ranking as the most at-risk areas despite clear advice on shed protection from the police. Although more prevalent in these areas, shed burglary is a common problem throughout the UK, with high numbers of incidents in Devon, Dorset, Nottinghamshire, Hertfordshire, and many more counties across the land.
Buy the best shed lock to deter thieves
Thieves are always looking for an easy target, so the best way to protect your shed is to make things difficult by buying the best shed lock, or at least the best shed lock you can afford, as top-level security locks can cost hundreds of pounds!
In this article, we will review and compare the best shed locks that are affordable to the vast majority of people and easy to come by online. We will also provide you with the knowledge of what to look for when you are shed lock shopping in our detailed buyer's guide.
Shed Locks Buyer's Guide
If you've spent longer than five minutes searching online, you've probably realised that there are hundreds upon hundreds of possible shed locks to choose from. Even with our in-depth reviews, you might still be feeling a little confused about the best option for you, so we've put this short, but hopefully handy, guide together for you.
Shackle material
The main materials that you see for padlock shackles are hardened steel, alloys, and carbides. Usually, the shackle itself is marked with the material used to make it, but if not, it should be stated in the product descriptions. Hardened steel is strong and is fine for the main body of padlocks, and it is ok for shackles too if you aren't looking for the highest level of security. However, if you want to make things very difficult for bolt cropper wielding thieves, you should go with an alloy or carbide shackle. Materials like boron or molybdenum are incredibly strong and resistant to cutting.
Think – not just the shed lock
Remember you'll want security screws on your shed bolts and tee hinges otherwise thieves can bring a cordless drill along and simply unscrew the door from the hinges rather than go through the lock. Then beef up and amplify these with a shed alarm.
Shrouded or open shackle
Shrouded shed locks are designed so that it is very difficult to use bolt croppers on them, but they aren't ideal for all applications due to their shape. Open shackle locks are just the opposite, and can be used on pretty much anything, but don't offer the same level of protection as shrouded models when it comes to being cut.
Anti-picking features
Lockpicking used to be quite rare, but with the advent of the internet, it is quite easy to learn how to do it these days. With this in mind, having a lock that has features to prevent it being picked is more important than it was.  Things like having 4-6 pins, or special types of pins can help slow down lockpickers, as can the type of key that is used to lock and unlock that particular model. Not all pins are the same in these locks, with some being made from hardened steel, some from stainless steel, and others being a special 'mushroom' pin, like what is found in the ABUS lock we reviewed above.
Ball bearings

f you've seen a shed lock advertised as having ball bearings and you've wondered what that means, don't worry, it is actually quite simple. All it means is that inside the lock there are two ball bearings that sit next to the shackle, and this helps to prevent the lock being pried open. So, obviously, this is a good feature to have.
Anti-drill features
Some of the more expensive shed locks will have features that will stop people from drilling into the lock from the bottom, and if you have valuable things to protect, I would suggest shelling out the extra for this. Anti-drill plates work by deflecting the drill bit away from the inner workings and keep the lock secure. Cheaper models usually offer very little protection against this type of attack.
Comparison table: Top best shed locks in the UK – heavy duty options reviewed

Product
What We Think
Price

Padlock ideal for school
The lock offers 10
Numbers are easy to read
We allow you to select your color
Your Padlock is protected by desired tools Top Quality Guarantee & 1 Year Warranty....

Padlock application: For indoor and outdoor use; covered laminated steel padlock is ideal used for storage units...
Dual-armour protection: Small padlock has a laminated steel core with a weather resistant cover that protects against snow...
High security application: Lock has a four-pin cylinder for increased pick resistance and a Tough-Cut octagonal boron-carbide shackle that...
Durable design: Covered laminated steel padlock has dual ball bearing locking for maximum pry resistance and a covered keyway...
Specifications: (H x W x D) 5.8 x 4.9 x 2.7 cm ; shackle (H x W x D)...

Stanley Hardware S828-160 CD8820 Shrouded Hardened Steel Padlock

ASTM security grade 5
Full shrouded, hardened steel body
Dual stainless steel ball-bearings resist pry attacks
Commercial 6 pin cylinder with anti pick pins
Patented Keyway Cover Protects Against Drilling

Ergonomic design
Easy to use

H&S 5 Keys 60mm Heavy Duty Warehouse Container Garage Shutter Padlock

Hardened boron alloy steel closed shackle
Body: 60mm x 40mm
Inner mechanism for maximum corrosion protection
For gates, warehouses and very high risk exposed areas
Comes with 5 latest technology keys

Resettable combination means you can reset the 4 digit code whenever you like with 10...
Ideal for gates, sheds
Great for shared access
Corrosion resistant zinc die-cast body
Suitable for horizontal and vertical fixing
1. H&S 5 Keys 60mm Heavy Duty Warehouse Container Garage Shutter Padlock
The H&S heavy duty padlock is a best-selling product for a number of reasons. At under nine pounds it is very affordable, and when compared to many products in the same price range, it is vastly superior. One of the main reasons for this, is the quality of the shackle. A large percentage of shed burglaries occur after the culprits use bolt croppers to cut the shackle off the lock. Therefore, having a shackle that is highly resistant to being broken this way is extremely important for a padlock. H&S have taken this into account, and used the extremely strong boron alloy material for this part of their heavy-duty padlock, which, in our tests proved much stronger than hardened steel. When force was applied to the shackle with bolt croppers, the boron alloy only had light surface damage, whereas a lot of the hardened steel locks showed much deeper cuts.
Another reason this is high on our list for best shed locks is that the design protects the inner mechanisms from corrosion, a very valued feature for something that will spend its lifetime outside. In addition, the special type of key that this lock uses makes it extremely hard for people to pick it, even with a set of proper lockpicks due to the unusual curved shape of the keyhole.
At 60mm x 40mm, it is a good sized lock and also reassuringly heavy. The shackle itself is 10mm thick and, as already mentioned above, extremely strong.
The H&S heavy duty lock is without doubt a shed lock that offers excellent value for money, a high level of security, and actually looks pretty good while doing so. A top product.
2. Stanley Hardware S828-160 CD8820 Shrouded Hardened Steel Padlock
If you store things in your shed or garage that hold a lot of value, whether it be monetary or just sentimental, you need something special to keep those stick-fingered intruders away from them. This product from famous brand Stanley is as good as they come, and while the price tag may seem high when compared to most shed locks on this list, they really shouldn't be looked at in the same way. In fact, to get a lock that is better than his, you would have to pay hundreds of pounds.
Why is it so good? Well, for starters the shrouded design makes it extremely difficult for people to even attempt to cut the shackle with bolt croppers, and even if they do manage to try, the molybdenum material will just make it impossible for them to cut through. Let's say the thieves try to pry the lock open. Again, no fear, the two stainless steel ball bearings inside the lock will protect it. Even if the would-be burglars are a little more sophisticated in their methods and know how to drill padlocks out, they will struggle with this Stanley shed lock thanks to a spinning keyway cover that will help to deflect the drill bit.
Another excellent feature of this lock, is that the keyway can be removed and upgraded with a high security one, or one to match the locks on your house so you can use the same keys. To do the latter would be very inexpensive at your local locksmith, however upgrading the already high quality 6 pin keyway for a high security one, would probably cost you quite a bit more to say the least. When people say this is a 'heavy' duty padlock they aren't joking, at close to a kilogram in weight, this is no cheap, flimsy lock. It feels what it is: a solid, extremely strong product, made to the highest standards.
With a level 5 ATSM security rating, you know this shed lock has been put through its paces in a number of tests and come up trumps. There are also a number of videos on Youtube from people in the lock/pick locking community praising the quality of it, and testing it for themselves.
The only downside to this Stanley lock is that for some unknown reason they chose not to give it a protective coating and so the outer layer gets scratched up. It doesn't affect the quality of the lock, but it does make it look a bit tatty after a while. What can I say? If you are really serious about your shed's security, you won't find anything better under a hundred pounds than this, but it might be a bit too expensive for people just looking for something to keep the door closed in windy weather. It boils down to your needs.
The laminated steel body of this Master lock makes it a great choice for protecting your shed, as it offers a high level of resistance to all kinds of weather, grime, and other wear and tear from being outdoors. To protect the inner workings from the same, there is a covered keyway and shackle seals, all ensuring this shed lock lasts you and stays working as it should.
When it comes to protection against burglars, it's no slouch either. The 8mm thick, octagonal shaped shackle has been made from an incredibly tough boron carbide, and will make it very tough for anyone to cut. Then, like the H&S and Stanley products we just reviewed, there are the twin ball bearings to increase resistance to prying.
This Master brand shed lock features a four-pin cylinder that makes things a bit more difficult for people trying to pick the lock. It isn't as secure as a 6-pin lock like the Stanley, but as most of our sheds are more likely to be assaulted with a sledgehammer or bolt croppers, rather than a master thief armed with lockpicks, I don't see this as anything to lose sleep over.
With a 49mm hardened steel body, it isn't the largest lock out there, but it is very solid and weighs 270 grams, so it is hardly what you'd call flimsy.
At the time of writing, this shed lock, plus four keys, was on sale for only 12.60 on Amazon, and at that price it is a bargain. Especially when you consider that there is a limited lifetime warranty on this product.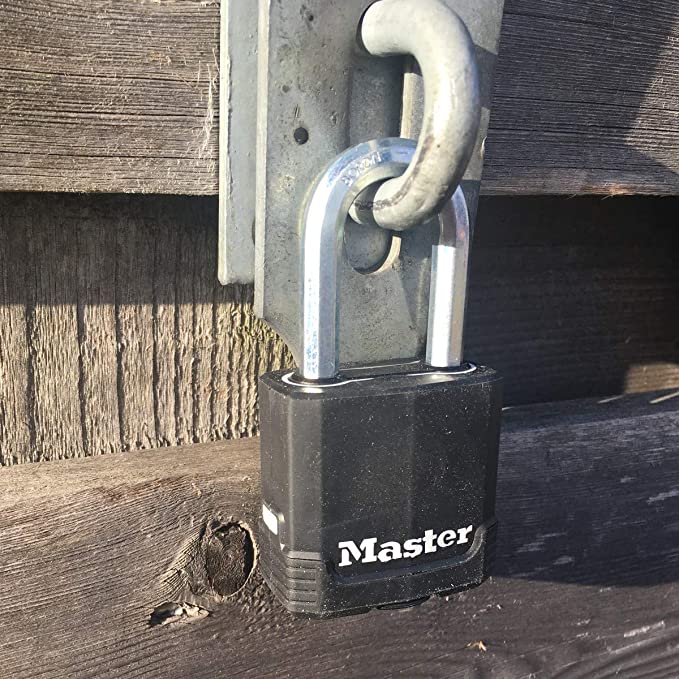 4. Sterling CLB110BK 110mm 4 Unique Combination Locking Bolt
Time for a different type of lock now. This Sterling product is a combination of a traditional bolt, and a combination lock, so you don't require a padlock in order to secure your shed door. Some people don't like to use bolts for their shed security as most are surface mounted, and that means that the screws that hold the plat in place are easy to get to and remove. However, the Sterling combination bolt lock comes with free anti-tampering screws which make it incredibly difficult to remove them once they are screwed into place.
There are no keys to lose or misplace with combination locks, you just have to remember the four-digit number that you set as the combination, and with this shed lock having four reels, it gives you 10,000 different codes to choose from.
Another complaint I hear from customers when it comes to combination locks is that it can be really hard to see what you are doing in the dark. This lock gets around that by stopping each reel at zero, so you can just count up from there as you turn each one. Simple but effective. To help fight off the elements and the oxidation that comes with it, the body of the Sterling combination bolt lock has been made of die cast zinc, and for the most part it does a good job, but the weak point of this lock, at least when it comes to rust, are the dials themselves, so make sure you spray a bit of lubricant on them.
This is an attractive looking lock, that offers good security, and is a good choice if you are the type that is always losing keys. For under 15 quid, it is very well priced too.

5. ABUS 8353CSC Extreme Weatherproof Closed Shackle Padlock
With all the rain we get here in the UK, having a padlock that can handle a bit of H2O is very important. There are a lot of products out there that do a good job of fighting off weather damage, but not many do it quite as well as the ABUS extreme weather closed shackle padlock. ABUS's nanoparticle technology seals off even the smallest gaps in the lock and prevents water from entering the inner parts of it. It has been tested over 1000 hours with bath salts, which is the equivalent of being outdoors for over 4 decades!
In addition to its excellent waterproofing, this ABUS shed lock is a step above the lower priced models, and offers outstanding security. Featuring a hardened steel alloy closed shackle, there's no way people are cutting this with croppers any time soon, nor are they likely to be able to pick the 6-cylinder tumbler with anti-pick mushroom pins. And, if that's not enough, you have the option to swap the cylinder for an upgrade just like with the Stanley padlock we reviewed earlier.
Priced at around 40 pounds, this isn't a budget choice, but it is much cheaper than the 100 pounds+, high security products out there, making it a good compromise between the two. You can certainly feel the quality of this padlock once you get your hands on it too, it is solid, sturdy, and heavy and you just know that care has been taken in the design to make it a very secure lock.
Other features include the ability to adjust the lock to be key retaining or non-retaining, which may seem like nothing, but I know from speaking to my customers that key retaining padlocks are a bit like marmite; you either love it or hate it, so having the option is always a good thing. The 40 pound price tag might seem a bit steep if all you've got in the shed are some broken garden chairs or kid's toys, but anyone with power tools would do well to consider this shed lock.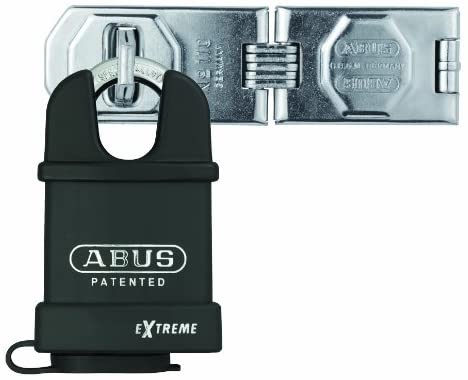 Not everyone is looking to lock up their shed like Fort Knox, and if you've only got some old kids toys or similarly low valued things in there, there's no point splashing out on a larger heavy-duty padlock. For those of you looking for a low-cost, compact shed lock with a decent combination mechanism, there is this best-selling product by Desired Tools (DT).
As with the Sterling combination bolt, the DT padlock features four dials of numbers and so it has the same 10,000 possible combinations to choose from. I'm sure you can come up with a code that you won't forget too easily. Unlike a lot of combination locks, the dials on this product are rotated horizontally instead of vertically, which the company infers will make it easier for both left and right people. I had no way of verifying this, but I can say the dials themselves had a nice, smooth action, regardless.
There are five different colours to choose from: black, red, blue, green, and silver. Personally, I don't like bright colours for things like shed locks, but I know there are lots of people out there who do, and if you're looking for a brightly coloured key for your kid's Wendy, play, or tree house, these will suit just fine. Security-wise, these locks aren't terrible, not by a long shot, but they can't compare with most of the other products we have featured today, and I don't think it would take long to cut through the shackle with a good pair of croppers and a bit of muscle. They will be enough to deter any casual, opportunist thief though, and for a lot of people that's more than enough.
---