Written by Terry Smith
Our site is reader supported so when you click a link to Amazon we may earn an affiliate commission.
Best petrol leaf blower [UK]: for large gardens, professional and powerful leaf blowers compared
This article was last updated on April 23rd, 2022 at 2:52 am
Autumn. Lots and lots of dead leaves and only the best petrol leaf blower will do. The word alone conjures up images of grey skies, Halloween, and of course dead leaves. A petrol leaf blower has the distinct advantage of being powerful like a corded electric leaf blower and at the same time provides the freedom of a cordless leaf blower.
The only real way of getting work done, in a time frame that is anywhere near practical, is to use one of the best petrol leaf blowers out there.
There are quite a lot of excellent petrol leaf blowers available for UK gardeners and home owners, and although the covid-19 outbreak has limited supply routes at the present time, you can still find good deals on a quality product.
To save you the time and effort of searching for them, we have already done the hard work for you. We tested them on a number of different gardens in different conditions to see how they performed, and wrote up our honest thoughts on them in our product reviews section.
If you really feel lost when it comes to these garden tools, take a look at our short, but informative buyer's guide that we are sure will leave you feeling less out of your depth.
If you have a large garden with a lot of trees, or if you have a very large tree that sheds a lot of leaves, you'll know all too well that it can be a long and tiring work raking up mountains of leaves. The worst thing is, you wake up the next day and another sea of brown leaves has taken its place, seemingly out of nowhere!
Petrol powered leaf blowers can deliver a level power that you just cant get from a cordless leaf blower, but still offer the same freedom of movement and range. In fact, when you consider how long you can run a petrol leaf blower for when compared to a battery powered, cordless model, they become an even more attractive option.
To help deal with this is in the most time and labour (and sanity) saving manner, we suggest that you spend a little money on a decent leaf blower so here's a comparison table to find the best petrol leaf blower at the best possible price.
Comparison table: Best petrol leaf blower [UK]: for large gardens, professional and powerful leaf blowers compared

Product
What We Think
Price

4-stroke engine for fewer emissions and more efficient fuel consumption
Mechanical decompression system for consistently easy starting
2 part blower tube for easy storage in cramped sheds and garages
Compact and lightweight

Engine: 2-stroke, air-cooled
Power: 1.25 kW
Speed: 6800 rpm
Fuel tank capacity: 1.2 L
Displacement: 42.7 cc

Stihl BG86CE Ergo Start Petrol Blower

Powerful 27.2cc Petrol Engine
Anti-Vibration System
2-Stroke Air Cooled Engine

Parker PBV-2600 26cc 3 in 1 Petrol Leaf Blower, Vacuum, Mulcher & Shredder

Pros:

Super value petrol powerful leaf vacuum
Integrated leaf shredder
26 cc two-stroke engine

Cons:

Few poor quality units made it past QC

Professional appliance: Backpack leaf blower with 1500 W engine power
Maximum comfort: Thanks to the backpack function
Maximum user-friendliness: The appliance is fitted with an anti-vibration system to make work as comfortable as possible...
Flexible air speed: The air speed can be adjusted and speed control is integrated to ensure that work remains...
Scope of delivery includes: 1x McCulloch GB 355 BP backpack leaf blower (Article Number: 00096-70.887.01)...

✅【 12 MONTHS WARRANTY】Lightweight 6.5kg
✅【 GARDENER'S ANSWER】Would you rather put in more hours doing yard work or spend some cash on powerful tools...
✅【 HIGHEST PERFORMING BLOWER】Superior blowing proven by controlled laboratory testing
✅【 EASY TO CARRY
✅【 LESS VIBRATION AND NOISE LEVEL & EASY STORAGE】 Our leaf blowers are designed to reduce fatigue and strain...
Petrol leaf blower
The options you have are electric leaf blowers, cordless leaf blowers, and petrol leaf blowers.
The cheapest type are the electric leaf blowers that are connected via a power cord to the mains supply. They offer very good value for money and can be very powerful pound for pound. The only downside is the length of the power cable dictates how far you can move with the leaf blower in hand. If you have a small garden, they can be a good choice.
Cordless leaf blowers have more range and give you wider freedom of movement because they are powered by batteries and don't have a power cord. Problem is, you have to keep the battery charged when it's not in use and battery life can limit how long you can use them for. Spare batteries can help but they can cost as much as the main unit itself.
Petrol powered leaf blowers are easily the most powerful and are suited to people with medium to large sized gardens, or if you have an above average amount of leaves that fall in your garden or driveway. They are usually the most expensive kind of leaf blower and also the loudest, but they do a great job of clearing those unwanted leaves, and save you a lot of time and effort.
This article has been produced to focus on petrol leaf blower products. If you think one of the other types might suit you better, you can visit their respective pages by clicking on these links here- best electric leaf blowers, best cordless leaf blowers.
Ok, let's get started with our best petrol leaf blower reviews. We start with a great all round tool from a brand that is always associated with quality: Makita.
Best petrol leaf blower
So it's no surprise we found ourselves at the Makita for best petrol leaf blower.
1. Makita BHX2501 24.5 cc 4-Stroke Petrol Handheld Leaf Blower
Specification: Cubic Capacity: 24.5 cc, Engine: 4-Stroke, Max Airflow: 10.1 m³/min, Horsepower: 1.08 hp, Fuel Tank Capacity: 0.52 litres,
We chose the Makita BHX2501 petrol leaf blower has our number 1 for a few reasons. It is worth mentioning that Makita really are producing incredible garden kit, it was only last week we ranked a Makita best cordless lawn mower, then days later best cordless hedge trimmer, and best cordless brush cutter too. Basically, Makita are doing making notch machinery at excellent money.
Firstly, it has a 24.5cc 4 stroke engine as opposed to the more common 2 stroke type engines that a found on power tools. 4 stroke engines are quieter, produce less vibration, and are better for you and the environment because they don't produce the same amount of emissions as 2 stroke engines. Here's a look inside this quality engine:
4 stroke engines, like the one powering this petrol leaf blower are usually more fuel efficient too, although this model, with only a 0.5 litre fuel tank, still has to be refilled fairly often. On the plus side, the fuel tank is translucent so you can keep an eye on how much you have left.
The reason for the smaller fuel tank is that Makita have tried their best to keep this petrol leaf blower compact and lightweight. Intending it to be carried in one hand as you walk along.
Carrying along with this compact theme is the design of the blower tube, which can be separated into two parts and stored away easier than a single solid piece.
Some lower quality petrol leaf blowers can be a pain in the backside to start, but this Makita starts up very nicely thanks to a mechanical decompression system and electric ignition. I won't pretend I know the ins and outs of workings of that system but I can honestly say it does what it's supposed to.
Petrol power tools make noise, it's unavoidable and something you have to trade off for the extra power. Makita have fitted a large capacity muffler in this model to try to limit this, and again they have done a decent job.
I personally didn't try the vacuum attachment that can be purchased separately, but I have been told that it can be a bit fiddly to attach. Then again, it only costs an extra ten pounds so it might be worth a look.
Personally, I just used this petrol leaf blower to do just that-blow leaves, and blow them it did, with a good output of focused air coming out the flat nozzle that allowed me a lot of control over where the leaves where going.
To sum up, this is a great product that will keep on ticking for years as long as you keep up the basic maintenance tasks.
Makita BHX2501 24.5 cc 4-Stroke Petrol Handheld Leaf Blower Review

Best Makita BHX2501 24.5 cc 4-Stroke Petrol Handheld Leaf Blower Features

What needs work on the Makita BHX2501 24.5 cc 4-Stroke Petrol Handheld Leaf Blower

24.5 4 stroke engine
Vacuum attachment is said to be a bit fiddly
Less noise and vibration than a 2 stroke engine
Translucent fuel tank
Compact and lightweight
Powerful air output
Large capacity muffler keeps noise to a minimum
Easy to start
Moving on with our best petrol leaf blower reviews now with a particularly beefy model suited to heavy duty work…
Specification: Cylinder displacement: 46cc, Engine: 2-Stroke, Blow speed: 98.34m/s / 355km/h. ,Fuel Tank Capacity: 2.2 litres. , Rated Power Output: 1.5kW / 6500rpm
If power is high up on your list of requirements when it comes to your petrol leaf blower, then look no further, as the McCulloch GB355BP has it in spades. They make excellent quality equipment and probably manufacture the best robot mower at the moment that's well priced.
At 46cc, the engine is almost twice the capacity of the Makita BHX2501 and it has a fuel tank that is 4 times bigger, being able to hold 2.2 litres of petrol.
The engine in this McCulloch is a 2 stroke device, so you need to mix the oil in with the petrol before pouring it in. 2 stroke engines are usually noisier and smokier than 4 stroke units but they can produce a lot of power, and this one can blast out air at speeds of 355kph. At that speed you can not only blow leaves but other debris such as twigs and cuttings.
With the extra power and engine size comes extra weight, and the McCulloch GB355BP weighs just over 9kg. This isn't a big problem though as this is a petrol powered, backpack leaf blower and designed to be carried differently to handheld models.
The backpack that comes with this petrol leaf blower is a very good one, with nice padded shoulder straps that help to take the weight off your back.
The control system is something that resembles a fighter pilot's stick, and has a responsive trigger that changes the speed of the blower as you add or reduce pressure. If you want to keep at a constant speed, you can flick a switch and it goes into cruise control, allowing you to take your finger off the trigger and still work away.
Mcculloch GB355BP Petrol Backpack Leaf Blower Review

Best Mcculloch GB355BP Petrol Backpack Leaf Blower Features

What needs work on the Mcculloch GB355BP Petrol Backpack Leaf Blower

Large 46cc engine
Extra power comes at a fuel cost
Produces air speeds of 355kph
Large 2.2 litre fuel tank
Backpack has comfortable shoulder straps
Pressure sensitive controls to control speed
Adjustable trigger control
Good quality construction
The position of the trigger grip can be adjusted and slides along the leaf blower so you can find just the right length and feel as comfortable as possible.
If you decide to buy this powerful petrol leaf blower, make sure you have plenty of fuel hanging around as, with any powerful engine, the extra 'oomph' comes at the cost of petrol.
On the other hand, the extra power helps to get the job done in half the time, so I suppose it balances out in the end.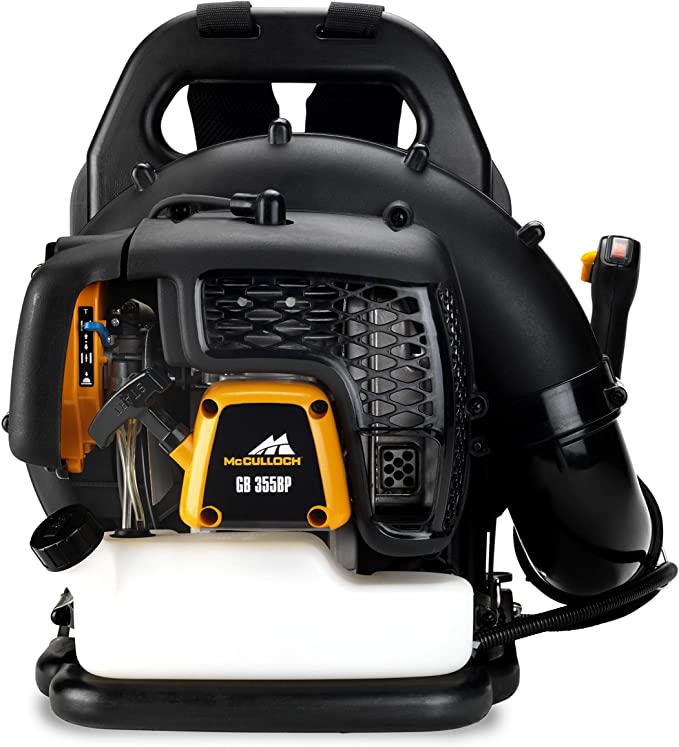 Occupying the third spot in our list of best petrol leaf blower reviews, is the Stihl BG86CE ergo start. An amazing garden tool if you don't mind paying a bit extra for it.
3. Stihl BG86CE Ergo Start Petrol Blower
Specification: Cylinder displacement: 27.2 cc , Engine: 2-Stroke, Air Velocity Flat: 85 m/sec (190 mph) ,Air Velocity Round: 69 m/sec (154 mph),Air Volume Flat: 610 m3/h (359 cfm) ,Air Volume Round: 780 m3/h (459 cfm) ,Engine Power: 0.8 kW (1.10 bhp)
Stihl garden tools are often the choice of professionals because of their reliability and long working life.
The Stihl BG86CE petrol leaf blower is a handheld tool that gets its impressive power from a 27.22cc 2 stroke engine that has built in air-cooling so you can work for longer without worrying about overheating.
Some 2 stroke engines can be stubborn starters but this Stihl has their 'ergo start' design to ensure that it starts up from cold easily and quickly every time. The engine has been designed to reduce the amount of emissions it produces and also to be good on fuel to save you a few quid while helping the environment.
Another thing people complain about with 2 strokes, is vibration. Again, Stihl have tackled this problem by fitting this petrol leaf blower with 4 springs that act as an anti-vibration system. Nice, soft padded handles also help to reduce any vibrations passing through the machine while it's on, so you won't be shaking like a 'leaf' after a long spell on this machine.
The build quality of Stihl products is always of highest level, and this petrol leaf blower joins the ranks alongside its namesakes. Everything feels strong, solid and heavy duty.
At 5kg it is light enough to be carried in one hand, but if you intend on using it for long periods, or if you lack upper body strength, you might want to consider buying a shoulder strap of some kind.
The tool arrives pre-assembled, you only have to twist on the black blower pipe onto the main unit and you're ready to mix your fuel, top up, and blow away that garden debris with the Stihl BG68CE's high air speed.
Stihl BG86CE Ergo Start Petrol Blower Review

Best Stihl BG86CE Ergo Start Petrol Blower Features

What needs work on the Stihl BG86CE Ergo Start Petrol Blower

Powerful 27cc 2 stroke engine
More expensive than its competitors
Ergo start feature
Semi-automatic choke lever
Low emissions
Anti-vibration system
Lightweight at 5kg
Incredibly reliable and well built
Flooding the engine on a petrol powered garden tool is something a lot of us have done at some point, especially with our first purchases, but Stihl have given this model a semi-automatic choke lever to reduce the chance of that happening.
Other good features are the purge pump primer that also helps the engine to start up easier, and a built in stop switch where the throttle lock returns to the start position automatically after the machine is switched off.
Next in line is another product from McCulloch. This time it is a hand held leaf blower with a very competitive price tag.
4. McCulloch GBV345 Petrol Leaf Blower/Vacuum
Specification: Cylinder displacement: 25 cm³, Air speed: 95.83 m/s, Fuel tank volume: 0.54 l, Vac bag capacity: 45 l, Air speed: 95.83 m/s, Air flow in housing: 13.03 m³/min,
Our second McCulloch petrol leaf blower is the GBV345 leaf blower/Vacuum.
As you have probably already guessed from the name, this machine can be used to either blow the leaves where you want them to go, or suck them up into the integrated shredder to be used as mulch on your garden.
The 345kph blowing power that the 25cc engine produces is more than enough to clear leaves and debris from your lawn and path and the flare nozzle does a good job of concentrating the air into a tighter area when you need to shift some stubborn wet leaves.
As we already mentioned this petrol leaf blower can also act as a vacuum, and to store all the leaves that it picks up there is a 45 litre vacuum bag. Unfortunately, the bag can't be released and emptied separately so you have to carry the whole tool over to the bin, which is annoying. Also the zip on the bag doesn't open the whole length of the bag making it harder than it should be to get all the leaves out.
Like the Makita BHX2501, McCulloch have chosen to make the fuel tank on this model translucent to help you know when it's getting close to the time to refuel. The tank can hold a maximum of just under a litre, which is more than our top rated petrol leaf blower.
Vibration has been taken into account by McCulloch and the measures they have taken to reduce it in this model seem to work well. I think the solid overall construction of the tool and the soft grip handles also play a part here too.
McCulloch GBV345 Petrol Leaf Blower/Vacuum Review

Best McCulloch GBV345 Petrol Leaf Blower/Vacuum Features

What needs work on the McCulloch GBV345 Petrol Leaf Blower/Vacuum

3 in one- Blower, Vacuum, and mulcher
Vacuum bag could have been better designed
16/1 mulching ratio
Powerful and blows air at 345kph
Flare nozzle focuses air well
45 litre vacuum bag
Translucent fuel tank
Soft start feature
Other notable features are the cruise control that is adjustable so you can save yourself some hand strain if you have to pull a long shift in the garden, and the soft start technology which means you don't have to yank hard on the pulley to get the machine going.
The McCulloch GBV345 petrol leaf blower weighs 4.4 kilograms which is just under average for a petrol handheld leaf blower. The weight is well distributed and the blower feels well balanced when you are holding it.
Our final review is the cheapest of our best petrol leaf blowers, and comes to us from the parker brand.
Hyundai have blown straight up the list with the Powerful Petrol Backpack Leaf Blower. In case you're wondering, 52cc 2 stroke is massive. To put this into context it's more powerful than my first moped! This thing is actually over powered for a 16 year olds moped if we want to get technical 😀
Obviously with this much power it's back pack but don't worry, all in it's less than 10kg so not much heavier than the biggest most powerful rivals like some of the McCulloch's or Husqavarna's. This truly is a massive bit of professional kit and miles above what a homeowner needs unless you've got a serious garden:
This thing isn't blowing leaves, it's blowing hay about in a field knotted up with ease. So add to that a cracking 36 month warranty and a trigger you can set to the power you want to blow consistently (without holding it) you can get hours of work done with this thing. They claim it's good on juice, and perhaps it is for the amount of work done but you'll use way more than the Makita top pick in this review. It's best run on unleaded with a simple 40 to 1 2 stroke mix – worth a mention. However speed is a factor too right? That's why you want a commercial backpack leaf blower…and fuel economy isn't everything!
In terms of start up, it goes first time most times. There's really not a lot to dislike about this kit but I'll try:
When I said it starts first time, there's no bulb primer so if it doesn't go, you'll be giving it a good few cranks – rare but can happen. If you want mental power you still need to look to the Stihl, don't think you can trade this up at less than half the money and get the same power, a BG56 blows this away – no pun intended 😀
Beyond that I'm pretty much picking wings off flies because I wan't to sound reasonable and unbiased. Overall it's a great buy and if you've a huge garden, there's no way this disappoints and you get the 3 year warranty which they honour…
6. Parker PBV-2600 26cc 3 in 1 Petrol Leaf Blower, Vacuum, Mulcher & Shredder
Specification: Cubic Capacity: 26 cc, Engine: 2 Stroke, Max Airflow: 170 mph, Horsepower: 1HP / 0.70kW,
Priced at just over 90 pounds, the Parker PBV-2600 might be just the thing if you're on a tighter budget.
It is a 3-in-1 petrol leaf blower, vacuum, mulcher and shredder. As a blower, it is very competent, and the 26cc engine does a soiled job of blasting enough air to shift both dry and wet leaves, even if it is a bit 'thirsty' when it comes to fuel consumption.
The vacuum setting doesn't work quite as well as the blower but it isn't bad. I just wish that Parker hadn't designed it so that the exhaust points up when vacuuming as you get a face full of fumes in some positions.
The mulcher/shredder also works ok, but is nothing special. It'll give you a good enough mulch to add to your compost heap.
I was happy that the 26cc engine started up very easily, even without using the choke but I did prime the carburettor first by pressing the slightly hard to get to primer pump.
The only set up I had to do was attach the pipe, but that was trickier than expected as the two sections were very close in size and diameter. This meant a bit of bending and squeezing of one of them was needed to get them to fit together.
At around 4kg this parker petrol leaf blower is light enough to carry around in one hand and wield without too much effort.
As expected with low cost tools, the quality of the casing material is ok, but not up to the same standard as the other, more expensive products we've reviewed here.
And that pretty much sums the Parker PBV-2600 up- it's a decent little petrol leaf blower that won't break the bank, but just isn't 'polished' enough to compete with the likes of the Makita BHX2501 and the McCulloch Petrol Backpack Leafblower.
Parker PBV-2600 26cc 3 in 1 Petrol Leaf Blower, Vacuum, Mulcher & Shredder Review

Best Parker PBV-2600 26cc 3 in 1 Petrol Leaf Blower, Vacuum, Mulcher & Shredder Features

What needs work on the Parker PBV-2600 26cc 3 in 1 Petrol Leaf Blower, Vacuum, Mulcher & Shredder

Low cost at just over 90 pounds
Fuel consumption could be better
26cc 2 stroke engine
Build quality can't compare with more expensive brands
Powerful blowing action
3-in-1 blower, vacuum, and mulcher
Easy to start
Lightweight
Soft start feature
At around 4kg this parker petrol leaf blower is light enough to carry around in one hand and wield without too much effort.
As expected with low cost tools, the quality of the casing material is ok, but not up to the same standard as the other, more expensive products we've reviewed here.
And that pretty much sums the Parker PBV-2600 up- it's a decent little petrol leaf blower that won't break the bank, but just isn't 'polished' enough to compete with the likes of the Makita BHX2501 and the McCulloch Petrol Backpack Leafblower.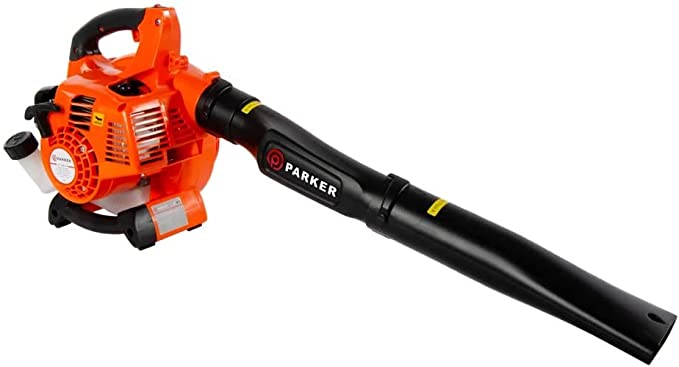 7. VidaXL 42.7 cc 900m³/Hour Petrol Power Backpack Leaf Blower
Specification: Displacement: 42.7 cc, Engine: 2-stroke, air-cooled, Power: 1.25 kW, Speed: 6800 rpm, Air velocity: 47 m/s, Air volume: 900 m3/h, Fuel Tank Capacity: 1.2 litres,
VidaXL's petrol leaf blower is priced at the lower end of the scale for this kind of product, but it gives far more expensive models a good run for their money.
At 6.5kg it is one of the lighter petrol leaf blowers, and when you've got the padded shoulder straps of the free carry-backpack on, what weight there is quickly becomes nothing more than a second thought.
Far more comfortable than I would have expected for the lower price tag, the backpack is
The 42.7cc two stroke engine delivers an impressive 6800rpm, air volume of 900 m3/h and a velocity of 47 m/s that will shift the most stubborn wet leaves from the longest grass.
And it does this while being relatively quiet. With a noise level of 108 dBA it competes with some of the more powerful electric leaf blowers in that department. Now, it's a leaf blower, and it makes noise, but it isn't terribly distracting.
Refuelling is kept to minimum thanks to 1.2 litre fuel tank, so you won't have any problem spending as long as you need at the bottom of the driveway getting those piles of leaves just how you want them.
Like most petrol models, getting set up takes a little more time than with an electric ones, but it's not anything out of the ordinary. Once you've connected the few pieces you need to, and mixed the oil and fuel, this blowr starts up really easily and smoothly each and every time.
The only thing I didn't like about this extremely solid and well built machine is that the main blower tube is not detachable, and this makes storage a little bit more difficult than it needs to be. However, if that's the only real flaw I have to put up with to get a cracking petrol leaf blower at such a low price, I'm more than happy to do so.
Specification: Cubic Capacity: 76CC, Engine: 2 Stroke, Power Output: 2 hp/ 7500rpm, Air Volume: 980 m³/hr, Fuel Tank Volume: 1300 cm³,
Another option for those seeking a powerful petrol leaf blower but on a tighter budget is the BU-KO backpack model, available for around a hundred and thirty pounds.
It is, in many ways, similar to the VidaXL backpack leaf blower but this one sports a 65cc 2 stroke engine that gives you nearly 25cc more to play with over its closest competitor.
The engine produces 2.8 horsepower and sends the fan spinning to a maximum of 7500rpm, and this is turn gives you a mighty wind velocity of 210mph. At that speed, you'll be hard pressed to find any common garden debris that can't be blown away by the BU-KO.
To keep the temperature of this powerful 65cc block down, BU-KO have ensured that it is air cooled and that the system they've installed works the way it should. I played with this petrol leaf blower for quite a while and never felt like it was overheating. They've also done a good job with the starting mechanism, and it didn't take more than 2-3 pulls on the starter cord to bring this little beast to life.
The advertising I saw for this petrol leaf blower stated that it weighed 6.5kg. Now, I didn't weigh this accurately myself, but once filled with a 30:1 ratio fuel and oil mix, it felt a bit heavier than that. Thankfully though, this machine comes with a backpack to help 'shoulder' that extra weight (sorry, I jut can't resist puns). The backpack is decent enough, with padded shoulder straps that are pretty comfortable, but it isn't up to the same quality as the one you get with the Vida XL.
And that's pretty much the whole story with this petrol leaf blower: It's good for the price, but it just isn't quite as polished as the VidaXL which costs around the same.
Yes, you are getting a bigger engine and a bit more power, but you also get a little more vibration from it too. It isn't anything health threatening, or even that bad really, but after a while you do notice it coming through the backpack.
The overall build quality isn't quite as on point as the VidaXL either. When it comes to the larger things like the engine housing, blower tube, and main control, this BU-KO petrol leaf blower is very solid and as good as its rivals. However, when you get to the smaller details like the thinner plastic parts, it doesn't shine as much.
Then again, this is a low cost model, so these things are to be expected to some degree, and it does have some good features such as the adjustable hose length and the fact you can detach it for easy storage.
This model also comes with a full set of protective gear thrown in, including gloves, safety glasses, and of course ear protectors.
B081JT9XRT
Stihl petrol leaf blower
You just can't go wrong with a Stihl petrol leaf blower. Stihl rely on their high quality without compromise ethos to deliver extremely well built tools. The Stihl petrol leaf blower is no exception. The Stihl BG86CE Ergo Start Petrol Blower is a serious piece of kit, solving leaf problems with ease and I would probably suggest it's more commercial and for large gardens with plenty of trees as opposed to small or medium sized home gardens. Irrespective of the reason you believe you need this incredible bit of kit, you will not be disappointed in performance. The only issue is the upfront cost, it provides all the Stihl quality you would expect.
Stihl petrol leaf blowers come with all the goodies you expect from a high end machine; choke, pump primer, and anti vibration systems. In a nutshell, Stihl means you get what you pay for. Now would I say it's the best value for money? That's another story. I think there is far better value for money to be had from the Makita range in general, not just their petrol leaf blowers.
Petrol leaf blower reviews
If you want a petrol leaf blower review, I'll talk to you about the Makita BHX2501 24.5 cc 4-Stroke Petrol Handheld Leaf Blower. From my perspective(and opinion), I would rate the Makita every bit as good as the Stihl but for a fraction of the price and that's why we do our petrol leaf blower reviews to ensure best value for money is sought and found at every step.
With all petrol leaf blower reviews, personal opinion and preference takes a seat, but we do our best to keep an unbiased and open opinion. Makita scores extremely highly on our site, but then so it does all around the internet, for that reason I easily vote the Makita petrol leaf blower the best petrol leaf blower. It's unusual that a product is so unanimously voted and reviewed positively, well done to Makita for making a petrol leaf blower that all can benefit from and so well priced too.
Petrol backpack leaf blower
If you say to me, I need a petrol backpack leaf blower to solve my garden problems, I would apologise for the rudeness and ask a question with a question; do you have a big or little budget for a petrol backpack leaf blower? If you don't mind spending big for the return in performance and quality, without question you go for the Mcculloch GB355BP Petrol Backpack Leaf Blower. What a fantastic bit of kit. You are searching for a petrol backpack leaf blower because you need serious power. This blower delivers huge power, with excellent power to weight ratio too.
This isn't some big lump of a machine to compensate for a lack of engine power per cc. Far from, this is a high tuned piece of engineering designed to blow extremely hard, extremely fast, without fatigue to the user. It's really as simple as that. If you want quality from a back pack blower, you speak to Mcculloch for sure.
Makita leaf blower petrol
You want a Makita leaf blower, petrol version? Good choice, by far and away it's the best value for money. They are producing the kind of quality at low prices that will make them the envy of all other manufacturers. Makita is far better known for it's building trade equipment, but in recent times have done a brilliant job of muscling in on the garden scene too. Now they make all manor of amazing kit, from the best brush cutters, to the best lawn mowers. The Makita petrol leaf blower is no exception, delivery massive value for money that simply can't be touched by its rivals.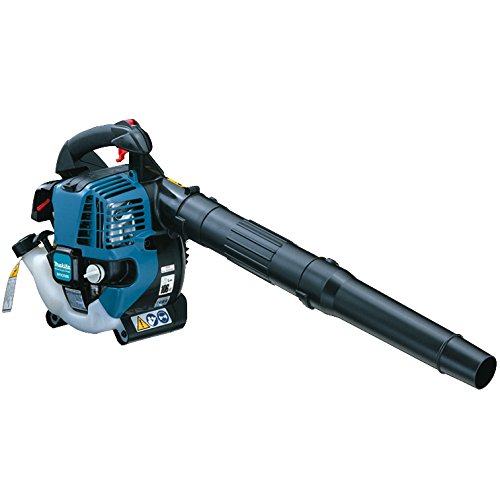 So there we have it, the 5 products that we think are the best petrol leaf blowers reviewed for you. The models featured here are the ones we think are the best value for money at the time of writing this article, and as newer petrol leaf blowers come onto the UK market we will check them out and add them to our list, with full reviews, if we feel they are worth it and if you didn't find the best petrol leaf blower you are looking for then it's worth taking a look at our best leaf blower and vacuum post.
What you need to know about buying a petrol leaf blower
Let's take a look at the features we believe are paramount when deciding on which petrol leaf blower to buy. Of course, power is important, and we'll start with that aspect, but it is not the be all and end all of the best petrol leaf blowers, as you will soon see.
Power
The reason you are buying a petrol leaf blower as opposed to an electric one, is probably because you want more power. So how do you know if a model has got the 'grunt' that you want?
Well, the size of the engine, measured as 'cc' is a good start. Petrol leaf blower engines don't have to be huge, but I'd say you shouldn't go with anything that is less than 25cc.
Anything to look out for is the wind velocity which is usually written up in advertising in miles per hour but some products might use a different way of expressing this. Air flow volume is another aspect that can affect the overall performance of your petrol leaf blower, so that is something else to keep an eye out for.
Type of engine
Many of these products will be fitted with a two stroke engine and so will need you to mix the petrol with oil at a specific ratio before you top up the fuel.
Some of the more modern petrol leaf blowers have started featuring four stroke engines and these are much easier to use as the petrol and oil are topped up separately, and this is far less time consuming.
Weight of the leaf blower
As you're going to be carrying this tool around with you for extended periods, this is quite an important factor. Ideally, you want a model that is a light as possible but heavier models can be used without getting too fatigued if they come with a good quality backpack with padded shoulders. If you're going to go for a model with no backpack, I'd say buy nothing heavier than 6.5kg or you'll feel it after a while.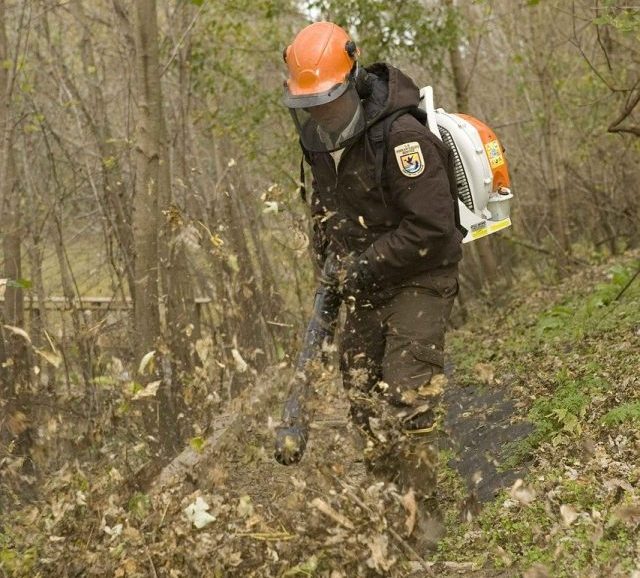 Noise and vibration
There will always be some level of noise and vibration with petrol leaf blowers, it's just the nature of the beast. However, some products will be nosier and produce more vibration that others, and it is usually the cheaper models. Most leaf blowers' makers will tell you the decibel level on their product pages, and anything up to 120db will be fine as long as you have ear protectors. Obviously, anything less is preferable, and under 100db is really good.
Vibration is another important factor. Some engines will be fitted with anti-vibration technology and features, but they will probably cost more. The best thing to do is watch YouTube videos reviews or look at the customer feedback on sites like Amazon to see what people are saying about the vibration levels.
---