Written by Terry Smith
Our site is reader supported so when you click a link to Amazon we may earn an affiliate commission.
UK's best garden kneelers and mats for seniors and heavy people with handles and seats: heavy duty commercial options
This article was last updated on March 8th, 2023 at 5:22 pm
I don't know about you but I need a garden kneeler these days. There's several good reasons but the handles either side help me get back up again – something that otherwise may not happen with much grace :). Recently I was reviewing and wearing gardening knee pads (you've got to see some of those demos I've included, they'll blow you away!) – I wanted to be able to move around the garden quickly but I soon realised they didn't have a thing on a decent garden kneeler in practical terms.
Since writing this I have decided I now prefer a mat over handles (so some of the review may contradict itself but I want you to understand how my opinion of garden kneelers has evolved with time testing and using them). This is mainly because the handled versions dig into me and aren't as soft ( I hadn't tested both types at the time). So side by side it's no contest on comfort at ground level. Let's not forget the handled version turn over to make a GREAT seat (and so why the Garden Foldaway Seat and Kneeler is staying top pick again this year). Though at ground level for me personally it is these new heavy duty plumbing/sparky/tradesman mats (Redbacks Cushioning's Double Comfort Kneeling Mat) that win (they are so much more padded and I guess designed for all year round, everyday use and therefore much more engineered than garden kneelers). The downside is they are expensive, the upside is they are literally unrivalled in comfort by any garden kneeler I've used in the last 20 years, more so than knee pads too. Here's a look at the two side by side: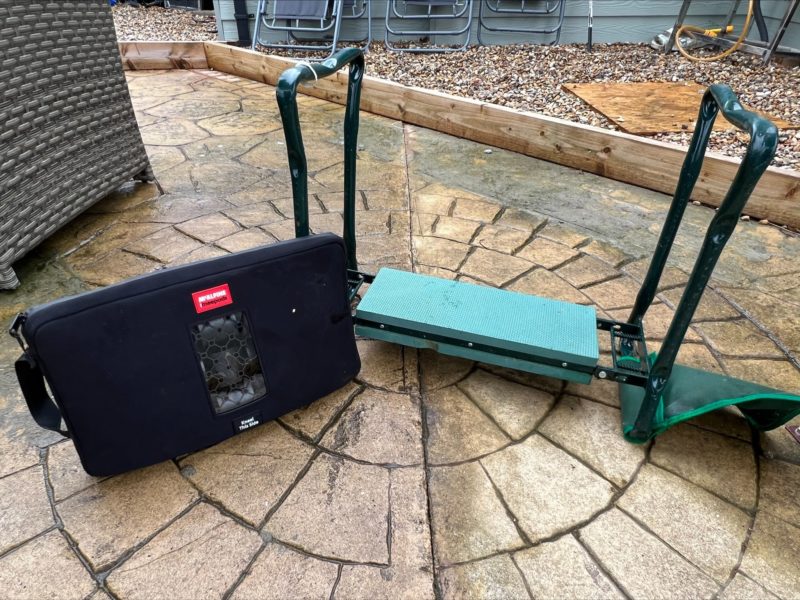 For a start, you can't just sit on your knee pads for a rest, they don't help you get up (in fact some hinder it), and they don't give you a raised or variable platform to set yourself for maximum comfort. Not just that, on the way down there's nothing to hold on either, so it's hands in mud, or down hard on ones knees. So a garden kneeler (especially the handled variety) gives you some additional support whilst working.
But did you know there are two types of garden kneeler? One with handles, and one, a foam board simply designed to make kneeling on ground more comfortable. The type with handles cover most of those issues but I'd highly recommend taking a look at my guide to buying the best garden kneeler before taking the plunge – there's a bit more to this than simply handles or no handles!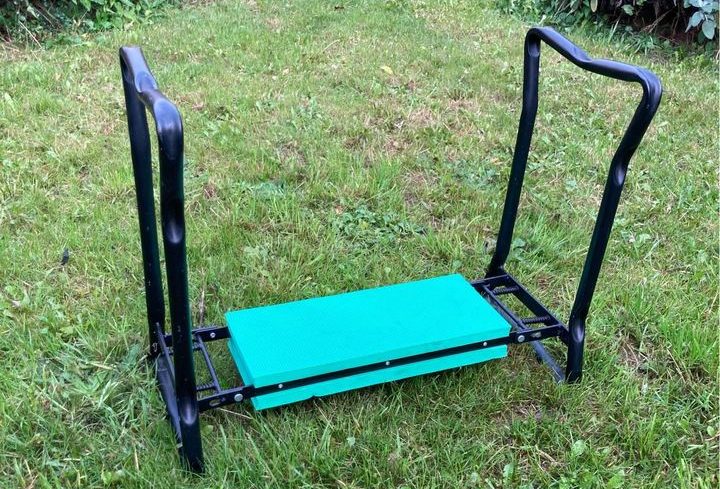 Basically, the best garden kneeler solves all those problems, so let's take a look at what we've got in the UK:
Best garden kneelers for the UK: top editor picks:
Best garden kneeler overall: Foldaway Garden Kneeler & Seat by Gardman [personally tested and proven for nearly two years now]
Heavy duty pick: Redbacks Cushioning's Double Comfort Kneeling Mat for Gardening, Work and Home [personally tested and proven – absolutely the best of the best for comfort and what the professionals use]
Best garden kneeler with handles: Crystals Folding 3In1 Garden Kneeler With Handles, Tools Bag
Best garden kneeler and seat: Foldaway Garden Kneeler & Seat by Gardman – proven so reliable over the last couple of years.
Good alternative and this combines the mat and seat best being lower: Draper gardener's kneeler seat [personally tested and proven – it finally broke after 4 hard years – great kneeler/seat]
Best garden kneeler for seniors: Burgon & Ball if you don't need a handle, otherwise look at the Foldaway Garden Kneeler.
Heavy duty garden kneeler: Garden Kneeler and Seat with Thicken & Widen Soft Kneeling Pad – must have if you need 150kg weight rating [personally tested and proven]
Most comfortable garden kneeler: Burgon & Ball GKN/MOSS Memory Foam Garden Kneelo® Kneeler – must have if you need comfort.
Budget pick: Crystals or the Foldaway – while I like the Burgon and Bosmere – it's hard to recommend them in value terms personally speaking.
What to look for when buying a garden kneeler
The thing about garden kneelers is they are definitely not the same, some come with handles, others don't. Some are rated for just 14 stone, others over 150kg (23 stone or so). You'll find some come with handy tool pouches on board, one even has a tool box built in! Some are constructed of plastic while others have a metal frame. So here's a rundown of what you can expect.
Weight rating and frame quality
This is pretty much the most important thing. Whilst comfort is high up on my agenda (and price :D), there's no point buying a tool not fit for purpose. Kneelers like the Burgon and Bosmere are basically a slab of foam and can take any weight. However, if you go with a seat / handle type garden kneeler there's big differences. The Draper is made of plastic and can only take 14 stone. By contrast the heavyweight picks like the Garden Kneeler and Seat from Ohuhu are weight rated around 300lbs. Somewhere in the middle you have the Foldaway which takes my 14 stone weight with ease – I'd hazard a guess up to 17 stone would work just fine. Hopefully I don't get to test that 🙂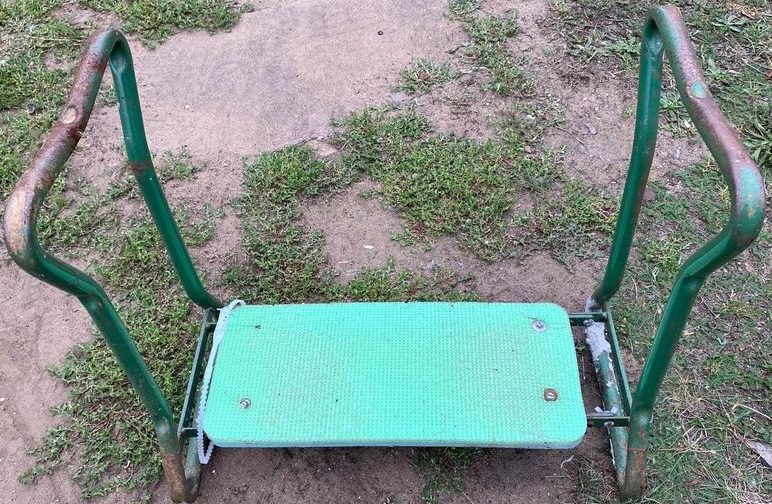 Price
Price is a difficult one for me. The Crystals or the Foldaway represent super value for money in my eyes. I just feel like for the same price as the Burgon you get a frame and seat as well. I suppose you can argue the Burgon get's you closer to the ground and is a different animal all together, that though, to me doesn't justify to the cost difference.
If you need to move up the weight ranks you won't have to pay much more either. The heavy duty Ohuhu is less than a tenner more than the mid range stuff and you get a tool bag thrown in either side.
Kneeler material?
When I mentioned price and value earlier I was really alluding to the fact the Burgon is the EVA foam and that's appreciated, but I can assure you the Foldaway foam is lovely (high density too) and lasts well. In short, both are good. I will say this though, EVA foam is waterproof and therefor given it's intended use – absolutely bang on.
All of the handle varieties are constructed with a steel frame – this is more than adequate for stability and generally wears well. The Draper is made of plastic which I have to say handles itself very well over time – if you look at my listing you'll be surprised to see one still going strong years later!
Handles or no handles
This is pretty much the most important choice you'll have. Do you essentially want a foam mat to sit on the floor, or a raised platform to work from with handles to assist on your way up. Without question I would take a look at the Foldaway if I needed handles and the Bosmere or Burgon if you don't. The handled versions are almost always better for senior citizens and certainly strong enough to assist you when getting up and down.
Does it convert into a seat?
Basically, if it's got handles, you have a garden seat. They basically reverse by flipping it over. Here's a look at that. First used as a kneeler: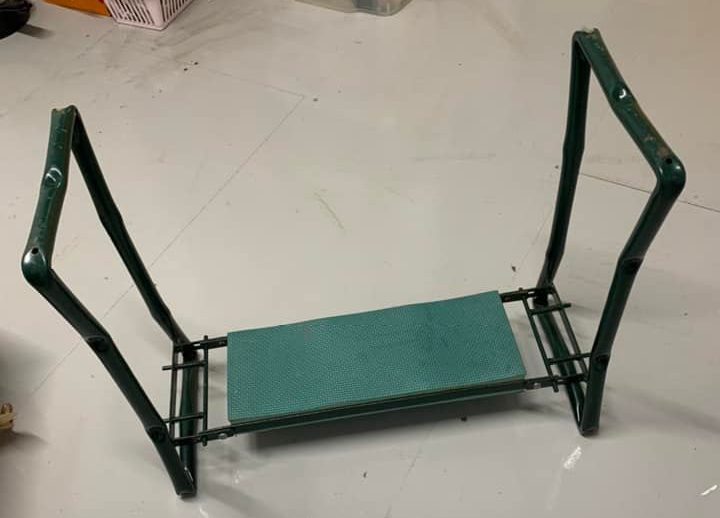 And then it just flips up the other way to double up as a comfortable seat: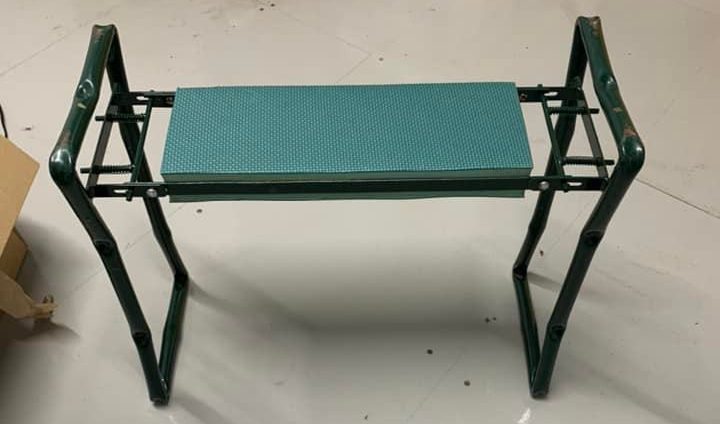 On board garden tool bag
If you're looking for an on board tool bag I would highly recommend taking a look at the Crystals or the Ohuhu in particular. This one is loaded with two massive pouches and absolutely ample for storing your usual garden hand tools. A slight curveball is the Draper as that comes with a fixed tool box. I actually prefer this as it doesn't have the obvious problem of needing the tools removed when you reverse your garden kneeler and use it as a seat.
So these are 8 of the best garden kneelers you can choose from. With these products, gardening becomes a lot for fun and enjoyable. After going through the details of each of the products you can select any of them you want.
Why buy a garden kneeler – final thoughts
When it comes to gardening, you need the right equipment to get your work done. Each of them has its own particular purpose. One of the must-have gardening tools is the best garden kneeler. This is a very important tool as it helps you protect your knees from the wet grass and dirty soil, they really come into their own when you're doing the garden weeding or using a fork and trowel in amongst the flower beds. Most importantly, it protects you from the hard or uneven surface while gardening. You can place your knees on the kneeler and make gardening a completely different experience. The other option is a set of knee pads but many find them restrictive and a garden kneeler better for comfort.
---