Best garden slides for children this Summer 2021
Best slides for kids in the garden reviewed
At the present time, I think we'd all forgive parents for avoiding the local parks or swimming pools due to the risks of the covid-19 outbreak.
The pandemic doesn't have to mean that your kids can't enjoy playing on a slide, or even sliding into a nice cool swimming pool on a hot summer's day. You could even turn your garden into a lockdown playtime paradise with a swimming pool, playhouse, climbing frame, or trampoline, to go with the slide.
The number of garden slides for kids on sale these days is staggering, and this competition has driven prices down, and quality up, and now it is possible to get your hands on the best slides for kids at a very affordable price.
Sifting through the hundreds of products to find the best slides for kids might be a daunting task for some, so to simplify the process, we already took a closer look at the top selling models for you.
The best children's garden slide with have the right balance of sturdiness, affordability, user friendliness, ease of setup, and durability. These are the criteria we used to rate and review in this article.
We've even added a short buyer's guide to help you make the right buying decisions and you can skip to that before reading the reviews if you wish.
Comparison table: Best garden slides for children this Summer 2021

Product
What We Think
Rating
Price

Overall dimensions of the children's slide in the built-up state approx.: 175 x 40 x 80 cm (LxWxH)...
Tested according to EN 71-3
Simple and fast assembly by fitting and screwing
Made of high quality and durable polyethylene
Recommended age: from 2 years

Overall dimensions of the children's slide in the built-up state approx.: 220 x 50 x 106 cm (LxWxH)...
Very stable, slide is screwed tightly to frame
Simple and fast assembly by fitting and screwing
Made of high quality and durable polyethylene
Age recommendation: from 2 to 6 years

Solid slide
Water supply
Can be assembled without tools
High quality plastic
Weatherproof

You will experience hours of fun for years to come with this innovative slide that grows with your child....
Easy to assemble and easy to change from a 1.5m slide for younger children or indoor use to a...
Built to last and with anti-UV treatment to reduce colour face
Your child can enjoy hours of fun while you can enjoy peace of mind...
This high-quality, well-established German toy brand is manufactured in France and comes with a 1-year guarantee....

First Slide
Designed for great stability for young children
Easy assembly, handrails snap into place
Suitable for indoor and outdoor use
Folds for easy storage
1. Baby Vivo Children's Play Area Garden Slide
Your kids will be over the moon with this space rocket themed garden slide from baby Vivo.
If your child is between two and six years old, they will surely find something to keep them occupied on this wonderful, multi-function, slide for kids.
Not only does it feature a 220cm long chute to slide down, complete with wide anti-slip steps and a proper standing platform at the top, this kid's slide also doubles up as a rocket ship playhouse, complete with a swinging front door, and even circular porthole windows that your little astronauts and look out of and make believe they are seeing the stars around them.
This space could also be used to store toys and keep help keep the garden a little tidier, even if it's only until the little 'angels' inevitably drag everything out again.
And if that wasn't enough, Baby Vivo have included a basketball hoop that connects to the outside of the top of the slide so your budding sports stars can practice their jump shots when they tire of sliding.
This product is incredible stable despite being so straightforward to assemble. The slide screws directly into the frame, as do many other parts, and the overall result is a high-level sturdiness that can take weights of up to 70 kilograms. That's really strong for a kid's slide priced at just over a hundred and thirty quid.
Baby Vivo have not scrimped on the materials either, using top notch polyethylene to ensure that the product is durable and that you'll definitely get your money's worth when it comes to longevity.
for the price, this garden slide for kid's is going to be hard to beat. It just offers those extra little things that you know your children will love, and you don't have to pay much extra for the privilege either. A great product.
2. Smoby 310260 2-in-1 Large Kids Garden Slide
This particular garden slide for kids impressed me for a number of reasons, but the one that struck me the most is its modular design, and the reason it struck me is because it makes an attempt, and a pretty good attempt at that, at tackling a common problem with younger kids toys.
It doesn't matter if we are talking about buying a scooter, a garden swing, or in this case a kid's slide, we always know that our son or daughter will inevitably grow too big to use it, and that usually happen faster than we thought!
This Smoby 2-in-1 kid's garden slide offers us a solution to this problem by having a design that let's the slide grow as your kid does, or makes it possible for children of different ages to play with the same slide.
How it works is actually really simple. There are two slides: one that is 1.5 metres, and another larger one that is 3.75 metres. Both have their own individual ladders with anti-slip steps.
The smaller slide can be used independently as an excellent first side for toddlers, while the larger part acts as an extension, making the slide taller and longer. They fit together quickly and easily, and are very sturdy and stable once connected.
Connect a hose to this bad boy, pop the end in a swimming pool, and you've got yourself a wave chute, water slide that is bound to keep older children, up to eight years old, happy for hours. The only hard thing will be keeping yourself off it.
One thing I will advise, is that you should always make your kids be fully clothed when playing on slides such as this to avoid any possible friction injuries, and the flat part of this slide, where the two pieces connect, make it even more important with this model.
The Smoby 2-in-1 kid's garden slide can hold a maximum weight of 50 kilograms, and comes with a ground fixing kit, so you can know that this thing is as solid and stable as a rock. The plastic used for the components is really high quality, thick, and strong, as you would expect from a long-established German toy company like Smoby.
Like most Smoby products, this one goes together without any hassle and can be done by just about anyone with a lick of common sense, and won't require any special tools.
Yes, it costs more than a lot of other kid's slides, but you will also get a lot more use out of it because your child will not grow out of it for years to come, and that will save you having to buy newer toys in the near future.
3. Baby Vivo Kids Slide
Baby Vivo's dolphin themed kid's slide has a wonderful child pleasing aesthetic, no matter which of the two colours you choose to go with.
Both the pink and turquoise slides are very vibrant and are sure to entice your toddlers onto the toy to play. As soon as we had assembled ours, which didn't take long at all, the neighbour's little girl was completely obsessed with it, even talking to the dolphin's face as she played.
made from top quality polyethylene, this garden slide is as durable as they come, and also extremely sturdy, without any wobbling to be seen no matter how the child throws him or herself around on it.
This model has a lot of nice little touches that make the slide safer, such as hand rails that go all the way up to the top sliding point, high sides on the slide itself, and large, non-slip steps that get closer together as the child climbs higher. The whole product just gives a sense of being well-made and well thought out.
I also really liked the dimensions of this kid's slide. With some models out there, the slide can be a little too short and so the actual sliding experience for the child is also very short. The baby Vivo stands 80cm high, but has an extra long chute at 155cm, making this product more fun for your toddler than a lot of other slides in the same price and age bracket.
At just over a hundred pounds, I think the Baby Vivo kid's slide is really fairly priced. The quality of the materials used is excellent and the plastic moulding has been done to a very high standard. There are no sharp edges that sometimes comes from cheaper manufacturing, everything has been designed well, and all parts fit together as they should.
All in all, this is a great buy for parents with toddlers. It looks fantastic, is really well built, and I think it's very reasonably priced for the quality.
4. Little Tikes First Slide
( 1977 customer reviews )
The Little Tikes first slide is probably the best model you will find for under fifty pounds, yet despite its low price, it is constructed of pretty heavy-duty plastic that look and feels like it is built to last.
It is perfect for really young children to get used to playing on kid's slides on, and can used in the garden or indoors due to it's compact dimensions of 58.4 x 45.7 x 99.1 cm and the slide's 'folding' design.
Weighing just over 4 kilograms, it is a very lightweight slide, and there were times when the front of it lifted slightly off the ground when my friend's 3 year old was on the bottom step and pulling backwards hard on the handrails.
After a few times, we realised it wasn't anything to worry about and the slide remained stable all the time it was being played on, but I wouldn't recommend buying this slide for anyone over the age of four.
Toolless assembly makes setting this product up a simple affair. You just click the components together for the most part, just make sure you get the handles on the right way around or you could break them, and once it's been assembled there's no real reason to take it apart again thanks to its small size. But, if you need more space, just detach the stairs from the slide and lean it against a wall or store it under a table. Quick and simple.
This is a budget option, so don't expect the sun, moon, and stars, and it isn't without a minor flaw or two, but for the money you would have to search hard to find a slide for kids that has the same material and build quality. I'd even say that I've seen some products going for twice the price that were actually inferior to this one.
The little Tikes first slide is good for exactly that, a first slide for toddlers. It won't cost you the earth and you'll get a few years' worth of fun out of it.
5. Feber Slide Plus
It's always amused and amazed me how much damage a young child can do to their toys, and for this reason I always look at the type of materials used, and also the durability of, a product when I'm considering buying things like slides for young kids.
This Feber slide plus is definitely what I would call durable. The plastic components, including the specially made plastic screws, are all made of thick, high quality stuff that isn't just able to take a few knocks, but also resistant to UV.
It has been engineered and manufactured well, and all the parts line up and click into place without any trouble, and feel sturdy once connected. The balance of weight between the steps and chute is on point too, and there's no rocking or swaying even with your child going for the world record for number of successful rides in a minute.
The name of this kid's slide is the faber slide plus. I'm guessing the plus part comes from this model's twin function of being able to act as a dry slide or as a water slide.
As a normal dry slide, it does a great job of keeping the kids safe while playing thanks to extra-large handle on the top and high sides on the chute that run all the way to the bottom.
If you really want to get the most fun out of this great slide for kids, you need to attach a hose to specified place at the rear of the top of the slide and the water will be funnelled through a vent and onto the slide. It gives a nice even and wide flow of water for your children to slide on, and they absolutely love it, especially if the slide ends in a paddling pool with a few pool toys thrown in.
Children from 1.5 to 4 years would probably get the most out of this 105cm x 160cm x 75cm dual purpose slide, and it has a maximum recommended weight of 30 kilograms, so mum and dad will have to stay off it.
Priced at a little over eighty pounds, it is certainly giving a lot of the competition a run for their money, and is well worth some consideration.
Garden Slides for Kid's Buyer's Guide
To make sure that you get your hands on the best slides for kids, we have taken the time to put together this brief, but in-depth buyer's guide that covers all of the main factors you should be considering before making a purchase.
Maximum weight
This is one of the most important things to know before you buy. Slides all have different maximum weight capacities and they can vary quite a lot.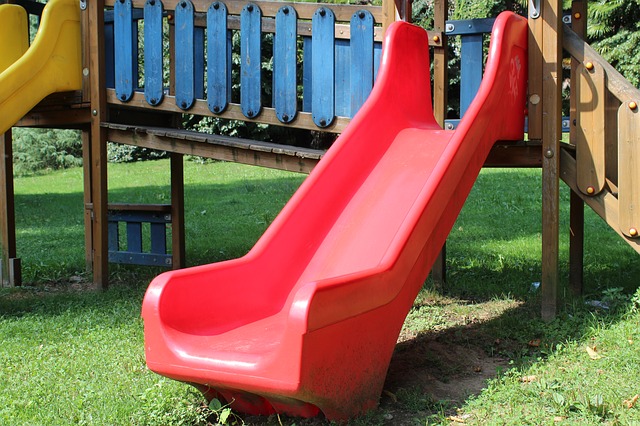 If your child is not a toddler anymore, then anything that has a maximum of under 40 kilograms should probably be scrubbed off your list. Slides that can take 60kg or more are better suited for older children, or if you will have two kids playing on the slide at the same time.
Quality of materials and build
Garden slides for kids are not small purchases, so you'll want one that's going to last a while.
Not all plastic materials are the same, with some being far ore durable than others. Slides made of high-density polyethylene is a great material for kid's slides due to it's lightweight yet highly durable properties.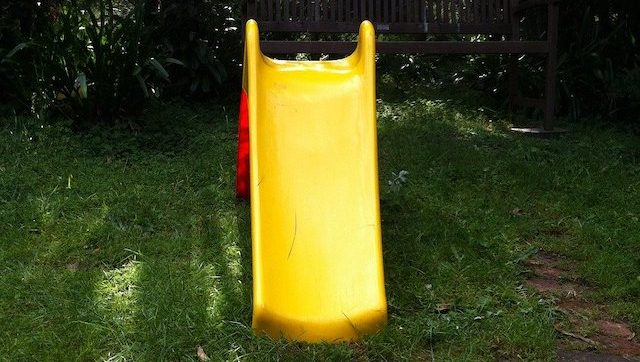 Build quality is another huge factor when considering a kid's slide. If care hasn't been taken in the design and manufacturing of the product, many problems can arise such as parts not lining up, or the balance and weight distribution being completely off.
Check out reviews and customer feedback on the slide you are interested in to get abetter idea of what to expect.
Ease of assembly
You don't want to spend half a lifetime setting up your child's new toy and thankfully most of the best kids slides these days have been designed to click together tool free.
However, some of the most stable and sturdy models may require a few plastic screws to be inserted, but again, these don't take much time or effort to set up and the extra safety they offer is worth it.
What features do you desire?
Are you after a long chute or a wavy style one? A dry slide or water slide?
There are a lot of things to consider, especially when it comes to the right balance of fun and safety for your little ones.
Wide steps with anti-slip grips should be something to look for, as are hand rails, and tall sides for the chute.
For the fun factor, slides that can be fitted with a hose and turned into water slides are always popular, and some of the best garden slides for kids have extra features like a play area under the slide.
Then there are slides that can be folded away for storage, but these are usually only the smaller models for younger kids.
---