Garden Tool Box » UK's best garden slides for toddlers to bigger kids that are 7ft to 12ft and large
Written by Terry Smith
Our site is reader supported so when you click a link to Amazon we may earn an affiliate commission.
UK's best garden slides for toddlers to bigger kids that are 7ft to 12ft and large
This article was last updated on July 7th, 2022 at 12:25 pm
It's Spring and Summer before you know it, and the good weather means that you can finally get your kids out of the house and running around in the garden. And, what better way to keep them entertained out there than with their very own garden slide to play on? Slides have been putting smiles on kids faces for untold years, and children of all ages just can't get enough of them. So, you know that if you buy one of the best garden slides, it will get plenty of use.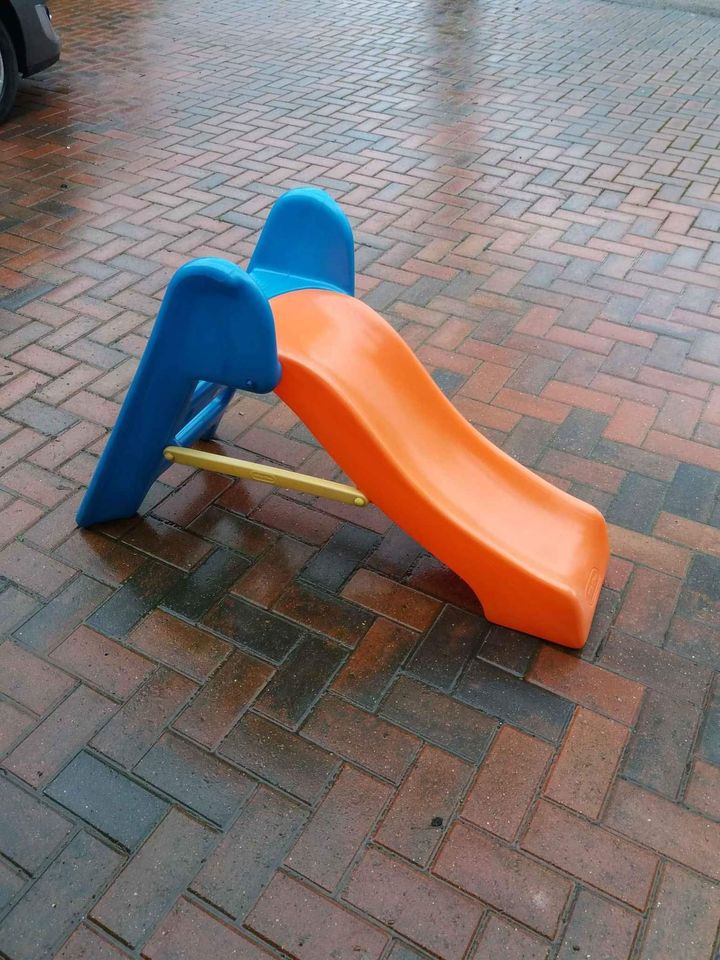 The number of garden slides for kids on sale these days is staggering, and this competition has driven prices down, and quality up, and now it is possible to get your hands on the best slides for kids at a very affordable price. Sifting through the hundreds of products to find the best slides for kids might be a daunting task for some, so to simplify the process, we already took a closer look at the top selling models for you.
The best children's garden slide will have the right balance of sturdiness, affordability, user friendliness, ease of setup, and durability. These are the criteria we used to rate and review in this article.
We've even added a short buyer's guide to help you make the right buying decisions and you can skip to that before reading the reviews if you wish. If you'd like to know what products we picked out as the cream of the crop, here they are-
Best garden slides for kids – editor picks:
Best garden slide for children overall: Baby Vivo Kids Slide – with an excellent array of features
Best large garden slide: Smoby 310260 2-in-1 Large Kids Garden Slide – this modular design is perfect for families with more than one child
Best garden slide for toddlers Baby Vivo Kids Slide – they will just love the cute design
Best Heavy-duty Garden slide: Garden Games Wavey slide – made from thick and strong HDPE material.
Budget pick: Little Tikes First Slide It's hard to find anything in this price range that's as good.
Water slide pick: Feber Slide Plus – best garden water slide with a nice even and wide flow.
Garden Slides for Kid's Buyer's Guide
To make sure that you get your hands on the best slides for kids, we have taken the time to put together this brief, but in-depth buyer's guide that covers all of the main factors you should be considering before making a purchase. The most important factors to consider are the age and weight rating, the quality of material used to construct your slide, ease of assembly (don't underestimate this one it'll leave you pulling your hair out if you pick badly!), and the specific features like safety hand rails. Let's take a look at those more closely:
Maximum weight
This is one of the most important things to know before you buy. Slides all have different maximum weight capacities and they can vary quite a lot.
If your child is not a toddler anymore, then anything that has a maximum of under 40 kilograms should probably be scrubbed off your list. Slides that can take 60kg or more, like our choice of best overall slide- the Baby Vivo kids slide, are better suited for older children. If you will have two kids playing on the slide at the same time, a larger product such as the Smoby Megagliss would be better.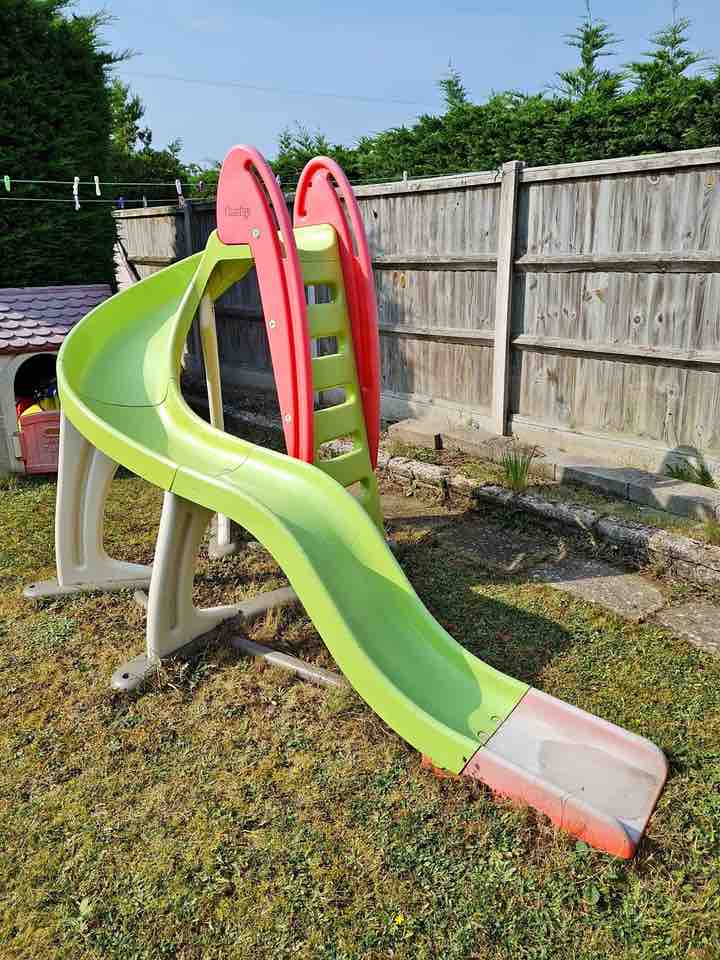 Quality of materials and build
Garden slides for kids are not small purchases, so you'll want one that's going to last a while.
Not all plastic materials are the same, with some being far more durable than others. High-density polyethylene (HDPE) is a great material for kid's slides due to its lightweight yet highly durable properties, and is just what the Garden Games wavey slide is made out of.
Build quality is another huge factor when considering a kid's slide. If care hasn't been taken in the design and manufacturing of the product, many problems can arise such as parts not lining up, or the balance and weight distribution being completely off.
Check out reviews and customer feedback on the slide you are interested in to get a better idea of what to expect.
Ease of assembly
You don't want to spend half a lifetime setting up your child's new toy and thankfully most of the best kids slides these days have been designed to click together tool free.
However, some of the most stable and sturdy models may require a few plastic screws to be inserted, but again, these don't take much time or effort to set up and the extra safety they offer is worth it.
What features?
Are you after a long chute such as the one on the Smoby Megagliss? or a wavy style one like the Garden Games slide ? A dry slide or water slide like the Feber?
There are a lot of things to consider, especially when it comes to the right balance of fun and safety for your little ones.
Wide steps with anti-slip grips should be something to look for, as are handrails, and tall sides for the chute: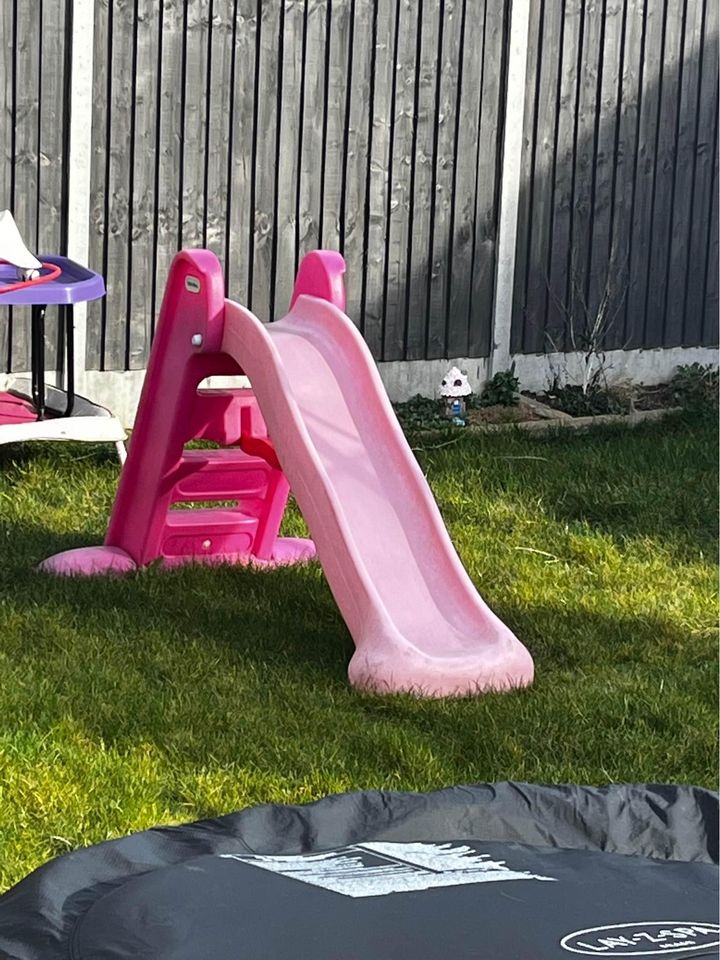 For the fun factor, slides that can be fitted with a hose and turned into water slides are always popular, and some of the best garden slides for kids have extra features like a play area under the slide.
Then there are slides that can be folded away for storage, but these are usually only the smaller models for younger kids.
Ok, it's time to find out what we thought of our picks for best garden slides for children. We realise that telling you about the cons is just as important as pointing out the bets features of these products, and we haven't tried to sugarcoat anything. To be honest though, there wasn't much to pick holes in with any of them and are all worthy of their place in our 'best of' list.
---