Garden Tool Box » UK's Best retractable washing line that are heavy duty and automatic for practical clothes drying.
Written by Terry Smith
Our site is reader supported so when you click a link to Amazon we may earn an affiliate commission.
UK's Best retractable washing line that are heavy duty and automatic for practical clothes drying.
This article was last updated on August 9th, 2022 at 6:39 am
I bought and tested a new retractable washing line for Summer and I have to say I absolutely love what I saw for the money. For me the key was ease of install, strength in how much wet washing it can carry, length, and of course, how quickly/easily it'll retract – as well as the space it'll save over a conventional lines and are probably more convenient still than wall mounted washing lines – in fact talking about space saving, I wrote an article about collapsible laundry baskets too if you're interested. Anyway, the test was prompted by me moving home and needing a new setup so I thought I'd hopefully help you benefit from my experience! I went with the Amazon Vileda retractable washing line first: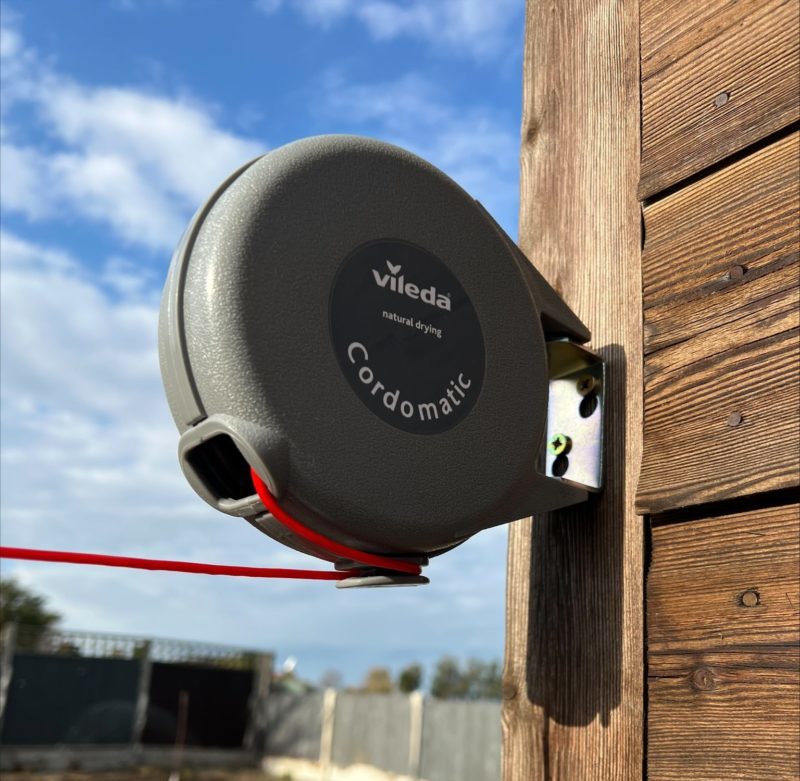 And I was particularly happy with the Vinsani and especially the budget Metaltex if the Vileda single washing line isn't enough. We found that to be a very good alternative to the top heavy duty Minky: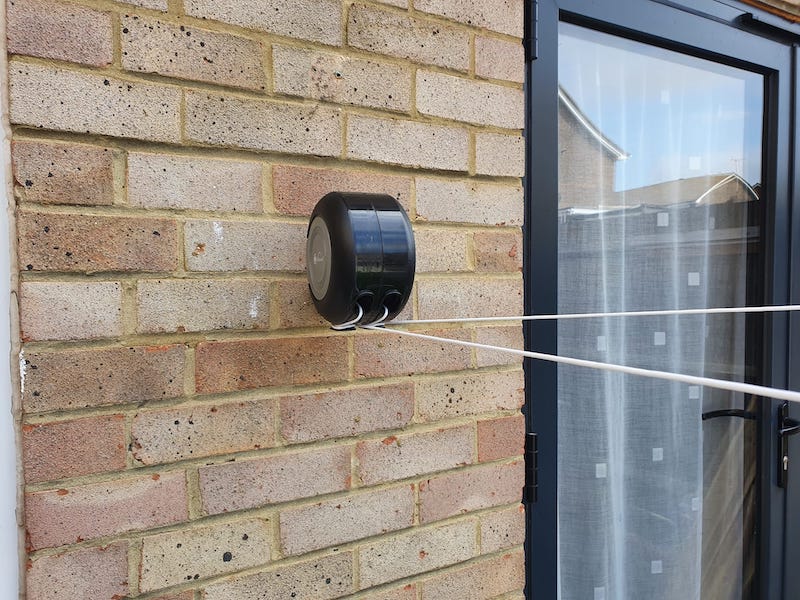 What impressed me the most since I first wrote this article – the quality really has moved forward. You would be shocked just how much breeze these retractable washing lines in conjunction with weight can put up with. In fact, my security camera caught a 25-30mph gusts with a loaded line getting a full work over for nearly an hour and it stood up absolutely great – here's a look:
TOP TIP FROM EXPERIENCE: Bin the screws and wall plugs that come with these units and use decent brown 7mm standard wall plugs and a decent 4.5 size (gauge) screw that is at least 40mm long. Almost all the kits I tested were adequate but didn't fill me with confidence, not with a 10-15kg of wet washing getting thrown about in heavy wind!
As you can see, even a budget automatic retractable washing line can do the job no problem, and it's so much less fuss than having a fixed washing line that just gets in the way. But before we go any further let's take a look at the best retractable washing lines available
Best retractable washing lines – my picks after testing:
Best retractable washing line overall: Vileda Cordomatic 15 Metre Automatic Retractable Clothes Line [personally tested and proven] Lovely kit – my short video shows you the blow this can take with a full line of wet washing
ALTERNATIVE: Best wall mounted retractable washing line: Brabantia WallFix Retractable Washing Line with Fabric Cover – best of the best but it's wall mounted retractable rather than a straight washing line.
Heavy duty pick of the bargains: Minky Retractable Reel Washing Line with 30m of Drying Space [personally tested and proven] – not budget but definitely the strongest option in the UK and proven to be superb since I first used and wrote about this in
Best alternative heavy duty retractable washing line: Vinsani 30 metre Retractable Reel Clothes Lines Washing Line with Twin Cable – Wall Mounted Heavy Duty Clothes Dryer 2 x 15m Lines of Drying Space – this is easily as robust as the Minky [personally tested and proven]
Budget pick: Garden Mile® 12M Retractable Automatic Clothes Washing Line – ideal for smaller washing loads
Larger budget pick: Metaltex 30 m Retractable Clothes Line, White, 30m
Worth a look: Soreli Retractable Washing line 12M
What you should know before buying a retractable washing line
Believe it or not there's a few important things to consider when buying a retractable washing line. Firstly there's size, then do you need a pivot or straight install is ok? Next is the build quality and does the automatic wind actually last! it doesn't stop there though, in my testing I quickly realised you can even get tripped up on the fixing kits! So here's a rundown of everything you should know that will allow you to be up and running with retractable washing line ten minutes after it arrives!
Install
Don't get tripped up on install – there's every chance you won't be happy with the fixings provided. Whilst I appreciate many have done just fine, I really don't think the fixings they give you work well at all for wooden structures. As I allude to in my Vileda Automatic Retractable Clothes Line review, you will want to get some decent wood screws – anything over 40mm will do you just fine. For concrete I think the fixing kits are just about OK – you'll need a 6 or 7mm SDS bit from all of the kits that I tested in this review. Worth knowing as you'll be pulling your hair out if you don't have one!
Build quality
Bear in mind these will be sat in the sun all day, and rained on frequently, the plastic needs to be pretty decent. Wherever possible I've selected good quality ABS plastic – if it's not, you'll certainly know about it in my impartial review section! The other thing to consider is the spring re-wind mechanism – this needs to be decent and last, as soon as the coil brakes it is only a washing line – much like a quality tape measure, you need a quality coil on your line. The pivot construction material is about the only other stumbling block, ideally galvanised material so it doesn't rust!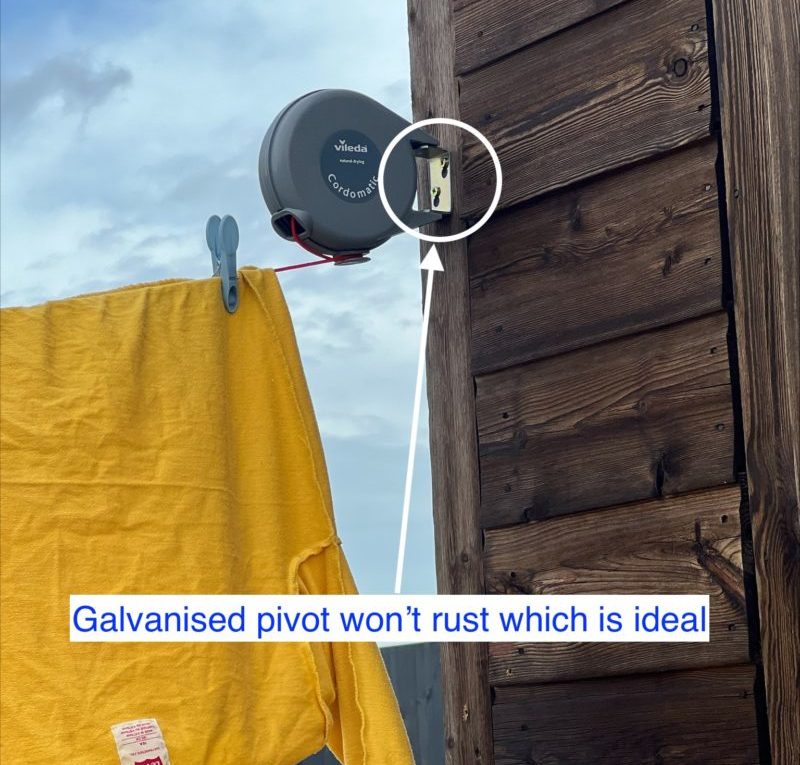 How much weight can a retractable washing line carry?
This has to be a key question – the better ones will normally carry 15kg or so which is enough for the average family wash but if you had a whole line of jeans then I think you might be in trouble with big gusts of wind! As you saw from the video I showed you above, these can put up with a really good hit. If you go with the Minsky you can actually expect to carry 25kg! However it would be prudent to point out this unit does have the odd failure and I am convinced it occurs mainly on over weight use. Here's a typical amount of washing my automatic retractable clothes line takes: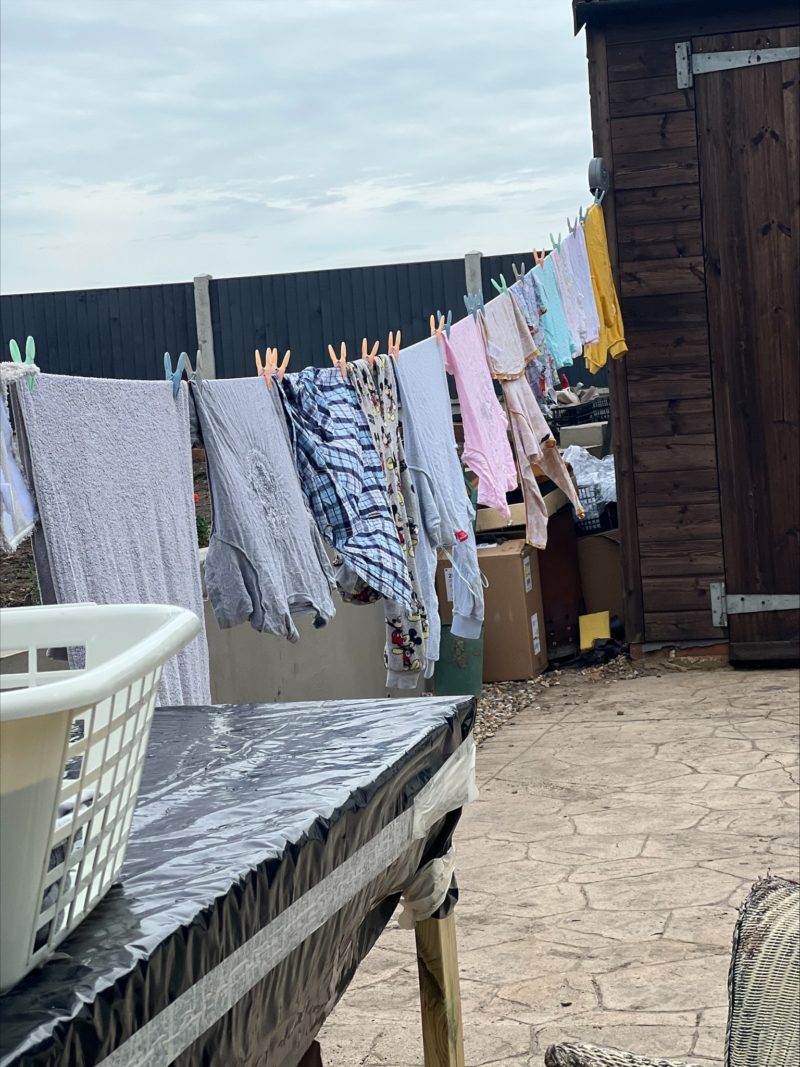 FAQ for retractable washing lines
Unless you want yourself feeling left high and dry, and not your clothes, we suggest having a quick read through of this buyer's guide. Below, you'll see that we've highlighted a few of the factors you should be considering when buying a retractable washing line, so you can approach your buying decision from a more informed viewpoint.
Are they indoor, outdoor, or truly outdoors?
The first question that you need to ask yourself is- where do I intend to use my retractable washing line? Is it for setting up in the bathroom to pop towels over? To set up in the garden like a traditional washing line? Or maybe you want something that you can take camping with you?
Actually, a lot of the most modern retractable washing lines can be used in the house as well as in the garden, but some might have casing/housing that is a little on the large side and might not look great in the house, especially if is a bright colour that doesn't fit into your home décor. For these reasons, we went with the sleek Tensor washing line for our best indoor pick.
If you're an outdoorsy type, you're probably here for something to take camping with you, and if that's so, we recommend the toctax retractable washing line. The reason being that you don't need to fix it in place with screws or glue like with most indoor and outdoor models.
What are the size and lengths available?
Before you start giggling like school kids, I'm referring to the size of the casing, and the length of the line. Both of these factors correlate to what we said above about whether you are in the market for an indoor retractable washing line or one for the garden, such as the Minky retractable duo model.
The size of your family is something else to think about here, and how much washing you need to hang up at a time. A heavy-duty retractable washing line with multiple lines like the Brabantia wallfix, or the Better 35m washing line, is more likely to suit your needs here than our best overall- Vileda's cordomatic, as it only has a single, 15 metre, line.
The retractable clothesline you can see in the following image is about the most common size, so take a look and decide if you'd have that in your house or out in the garden:
How long do they last?
We all want the things we buy to last more than just a month or two, and so, the durability of any product is always important.
When it comes to retractable washing lines, there are a few things to be aware of that will no doubt affect how long your chosen model will keep on working at its best, and those things are- the housing, the internals, the line, and the fixings.
The majority of retractable washing lines will be housed in a plastic casing like what you can see in the following photo- , although some have metal too, like the Wallfix model. Obviously, metal is more resistant to impact damage and temperature variations, but rust is always a threat to any metal object left outdoors. Plastic housing, on the other hand, won't rust but it can be affected and degraded by UV and frost, depending on the quality of the materials used.
Of course, manufacturers and designers have found ways to limit the weaknesses in these materials, and you can get weather resistant plastics, and metals like aluminium that won't rust and steel with corrosion resistant coating. Toctax's camping washing line comes with an aluminium alloy hook for just this reason.
The best lines to look out for are a combination of metal and plastic, with the latter coating the former to give you the benefits of both materials. As for fixings, it's always better to go with metal, in my opinion, and I often go out and buy better quality screws and brackets if I think the provided ones aren't going to last.
What should I pay?
Always one of the most important factors is price, and the amount you are willing to pay for your retractable washing line will probably affect the overall quality of the product. For example, if you want a near indestructible washing line like the Brabantia Wallfix, you're going to have to shell out a lot more than you would for the Beldray washing line.
With retractable washing lines though, it is possible to get your hand on something that will do the job, do it well, and give you plenty of use out of it, without breaking the bank; the Vileda Cordomatic and Minky retractable duo washing lines are both great examples of this, as well as our best budget pick from Beldray.
How many lines is too many?
You can now buy retractable washing lines with more than one line. In fact, our choice for the best budget washing line for large families, the Better 35m heavy duty model, has four separate lines.
Multiple lines can be very handy if you're short on space. Let's say you have a small garden, or maybe even just a balcony or small spare room to utilise- multiple, parallel, washing lines can help you make the most of your available space.
However, there is one flaw to this design that stands out, and that is when you have a lot of clothes on each line, the inner lines won't get as much air flowing through to them and might dry at a slower rate.
For people with larger families, or those who just get through a lot of clothes, a single line isn't always practical, and it would just take too much time to get all the washing done. So, in the end, it comes down to your specific circumstances and needs, and you have to weigh up the pros and cons of each type of retractable washing line.
Personally, I think dual lines like the Minky are a good size for small to medium families.
Conclusion for best retractable washing lines
There's are loads of retractable washing lines and that's great for us as the buyer. It's kept the prices extremely competitive so there's some cracking bargains to be had. The most important aspects of finding the best retractable washing line are the ease of use, how far the lines retract, easily cleanable, and how much weight the the retractable washing line may carry without failure. The other important consideration is the construction of the product and how long it can last in good condition.
Often, washing lines take up space and ruin the décor of your garden / balcony. The Minky Retractable Washing Line provides you 30m of drying space and is ideal for small gardens, patios, and balconies.
---