Written by Terry Smith
Our site is reader supported so when you click a link to Amazon we may earn an affiliate commission.
Best retractable washing line for ease of removal and use
This article was last updated on August 7th, 2021 at 7:43 am
There's are loads of retractable washing lines and that's great for us as the buyer. It's kept the prices extremely competitive so there's some cracking bargains to be had. The most important aspects of finding the best retractable washing line are the ease of use, how far the lines retract, easily cleanable, and how much weight the the retractable washing line may carry without failure. The other important consideration is the construction of the product and how long it can last in good condition.
So heres the best retractable washing lines for your back garden
1. Minky Retractable Reel Washing Line with 30m of Drying Space, Gray, 30 m
Often, washing lines take up space and ruin the décor of your garden / balcony. The Minky Retractable Washing Line provides you 30m of drying space and is ideal for small gardens, patios, and balconies. When you buy it, the product packaging will include:
Minky Retractable Washing Line, Wall Fixing Kit, Instructions Manual.
The Minky Retractable Washing Line comes with the following features:
It has two lines of 15m each, giving a total drying area of 30 m between them.
It is fully retractable and can be easily laid aside when not in use.
It can be handily attached to a wall with a bracket (provided). When you do not need it anymore, you can detach it to store inside.
It is low maintenance and can be cleaned simply by wiping it with a cloth.
The washing line is PVC coated, making it impervious to damage by the sun. It is protected from UV ray damage.
It is recommended that no more than 25 kg of weight be allowed on to this product.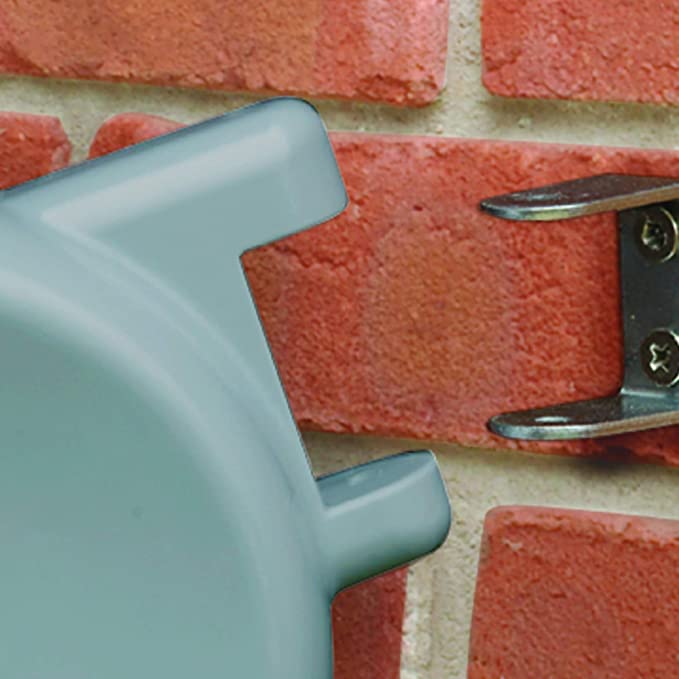 2. Vileda Cordomatic 15 Metre Automatic Retractable Clothes Line - Retractable washing line Indoor washing line outdoor washing line
When you need a strong and sturdy washing line, you should look no further than the Vileda Retractable Washing Line. It is known for its durability and strength, and is well loved by customers for the ease in which it can be used anywhere.
Notable features of the Vileda Retractable Washing Line are:
The line can be stopped at any length up to a maximum of 15m. This means you even if you need to dry just one piece of clothing, you can extend the length of the line you require and lock it in place.
This means that this fully retractable washing line is great for both indoor and outdoor use.
It is especially fitting for situations where space is quite limited.
Once used, you can put away the line for future use without any hassle.
The Vileda Retractable Washing Line is very strong and can easily hold the weight of your wet clothes be it towels or bed covers or daily wear. Its container is made out of ABS plastic with galvanised fittings, giving it maximum sturdiness.
You can simply extend as much of the washing line you need and set your clothes to dry – without any worry of the line falling down due to wind or weight.
3. Garden Mile® 12M Retractable Automatic Clothes Washing Line Reel Indoor Outdoor Space Saving Wall Mounted Laundry Clothes Airer
When you have a small garden or don't have any sort of balcony or garden, it becomes hard to dry your laundry. You have to do it inside the house which can cause water to drip all over the floors and ruin your furniture. In these situations, the Garden Mile Retractable Washing Line becomes a life savior. With such a fully retractable washing line, you will not have to worry about laundry problems again.
Some of the features of this washing line are:
This laundry line is fully retractable, meaning you can simply attach one end to one point and draw out as much of the line as you need. Then you attach it to the other point, and finish the setup quickly.
It saves a lot of space and is superb for homes with little or no outdoor space. You can simply fix a designated area in the house for drying clothes, and put up your washing line there.
This laundry line can be attached to any flat surface (with the fixing screws provided) inside or outside the house. You can use it in gardens / balconies / patios / flats etc
It is very easy to use and clean. Once your clothes have dried off, you can simply unclip and draw back the line into the housing unit.
The Garden Mile Retractable Washing Line can not only be used at home, but can also be taken along while camping or on holiday. With dimensions of 18cm x 15.5cm x 5.5cm, it can be easily stored and carried around.
It is also very strong as it is made of plastic coated nylon. It can hold your laundry's weight effortlessly and solve all your problems.
The product includes 12 metre retractable washing line, wall bracket and fixing screws.
4. Brabantia WallFix Retractable Washing Line with Fabric Cover
If you are tired of stretching out a washing line from one point to another, every time you have to dry your clothes, then you are looking at the right product. The Brabantia WallFix Retractable Washing Line is a unique wall – mounted design that can be folded shut when not in use. It solves the problem of stretching a washing line out over and over again and saves your time.
Some of its features are:
This washing line can be set up on a wall anywhere in patios / gardens / balconies / small rooms. It is easy to install with the uncomplicated instructions provided.
Once you have installed the line at your ideal height, you can select any of its three positions that fulfils your needs.
Thanks to its ergonomic grip, the Wallfix washing line can be unfolded in one quick motion – providing you with 24m of drying space.
It is very strong and sturdy, and can handle all kinds of laundry – bed covers / towels / daily clothes etc. It is manufactured out of high quality materials that prevent rusting and damage.
In fact, you receive the product with a 5 year guarantee of excellent performance.
This convenient retractable laundry line can fit into small spaces and fold shut when not being used. It saves space and time and removes the hassle of being carried around and stored.
The product package will include 1 Brabantia wallfix wall-mounted retractable washing line with fabric cover – 24 m
5. Irich Retractable Clothes Line, Washing Line Clothes Airer Wall Mounted 12M for Shower Room Bathroom Garden Balcony Outdoor
If you wish to have a washing line that you can use daily, but remove when not in use, you can solve your dilemma by opting to buy the Irich Retractable Clothes Line. If you have any doubts, then just look at some of its unique features that make it worth a buy:
This retractable washing line is of 12m length and can handle the weight of 15kg. It is just perfect for daily use around the house.
It can be easily be fixed at the required point in a wall, and then extended for use as needed. When not in use, the washing line can be pulled back into its unit. This makes it both easy to use and easy to carry around.
The Irich Retractable Clothes Line is made of strong PVC material. It is very sturdy and can be used in the long term. It is a permanent solution to your drying worries.
It can be used anywhere in your home / garden / patio/ in hotel rooms etc
---