Written by Terry Smith
Our site is reader supported so when you click a link to Amazon we may earn an affiliate commission.
UK's best chiminea you can cook on too: cast iron, steel, clay
This article was last updated on April 23rd, 2022 at 6:42 am
Chiminea may sound like some kind of small animal or pet, but it is actually the name for a certain type of traditional oven that became popular in Mexico in the 1600s and is a quality alternative to a gas patio heater or electric patio heater for that matter. The name chiminea comes from the Spanish word for chimney and it is easy to see why the Mexicans chose that moniker as regardless of the overall style or material the Chiminea is made from, they all sport a chimney of some sort on top of a fire pit. And that's how they differ from a fire pit primarily – a chimney extension.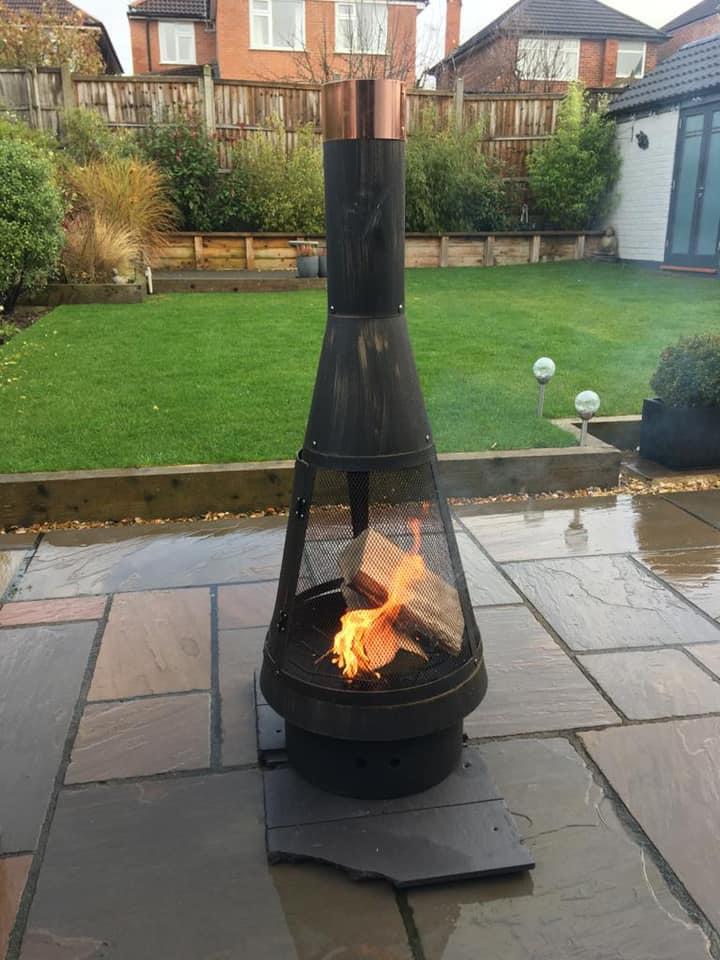 Originally, chiminea were used inside Mexican homes, not only for cooking purposes similar to our charcoal bbq culture, but also to provide a warm place for the family to sit around. Fast forward to the present day and these once kitchen staples of the Mexicans are now popular garden features, being used mostly as a type of garden ornament/ heater but also with an optional barbecue feature in many models – you can learn more about that in the chiminea buyers guide.
One advantage of using a chiminea over a barbecue is that the design of these traditional ovens contains the flames inside the fire pit chamber much better and also the smoke is channeled through the long chimney and can often be directed away from people sitting nearby. This is much more difficult to do with a standard barbecue and your guests end up going home with clothes smelling like they themselves have been burned at the stake, unless you opt for a food smoker.
As these products become increasingly popular features in people's gardens, we thought it was time we reviewed the best ones available to us in the United Kingdom. We have also added a buyer's guide to chimineas after the reviews with some helpful tips.
UK's best chiminea – editor picks
Best chiminea overall: Deuba Chiminea Patio Heater Cast Iron Garden Fire Pit – this is the best cast iron chiminea I can find at the moment.
Best steel chiminea: La Hacienda Extra Large Colorado 160cm Chiminea Outside Fireplace or the LIVIVO Chiminea
Heavy duty: Charles Bentley Open Bowl Mesh Cast Iron Chimney Patio Heater
Best clay chiminea: Floral Swirl Clay Chiminea
Budget pick: Deuba Pyramid Patio Heater
Best for cooking: Deuba Chiminea or the Charles Bentley but you'll need additions if picking the latter. More in article on that.
Chiminea Buyer's Guide UK
Before you spend all your hard earned cash, it's always a good idea to be armed with a little bit of knowledge regarding your intended purchase.
Here are a few things to consider when choosing a decent chiminea.
What material?
If you've read our reviews above you will already know that chimineas come in many different materials. Cast iron is a very popular material as it is strong and durable and is good for handling intense heat. Steel is also very strong but has to be treated so it doesn't rust. Clay and terracotta chimineas are the most traditional but might not have some features that metal ones have. Here's a look at the popular ones in the UK:
Cast Iron chiminea
Cast iron chiminea styles retain most of the original feel – they look great, and they will last forever. the downside is all in the upfront effort getting it into your garden – they weigh a ton! If you're not familiar with cast Iron, these chiminea's can easily weigh 50kg. If you are familiar with cast iron, think half an old heavy bath tub! Here's a look at the design – I love them if I am honest: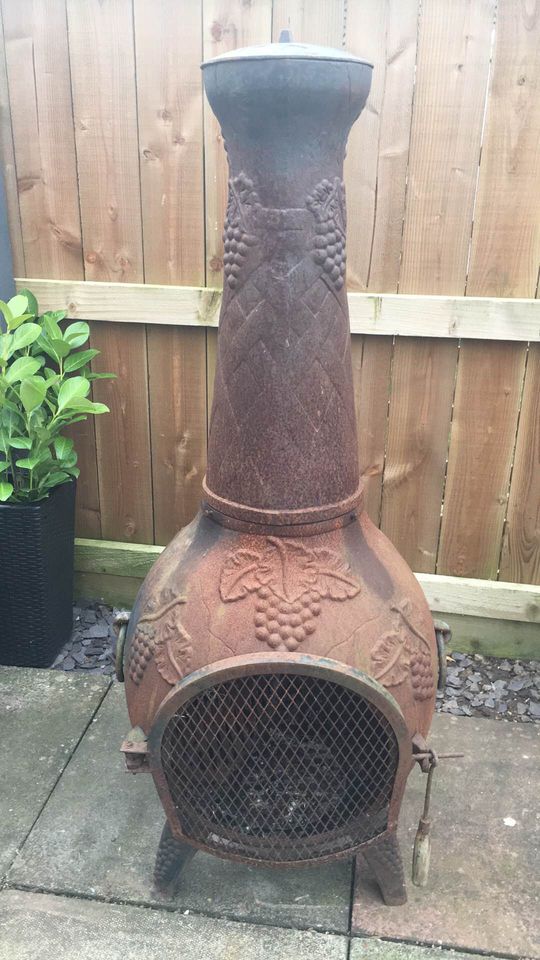 They can run extremely hot with absolutely no structural issues at all. Here's a look at mine blaring on a cool evening. What I found was the it's very nice to sit around all sides as the heat radiates outward: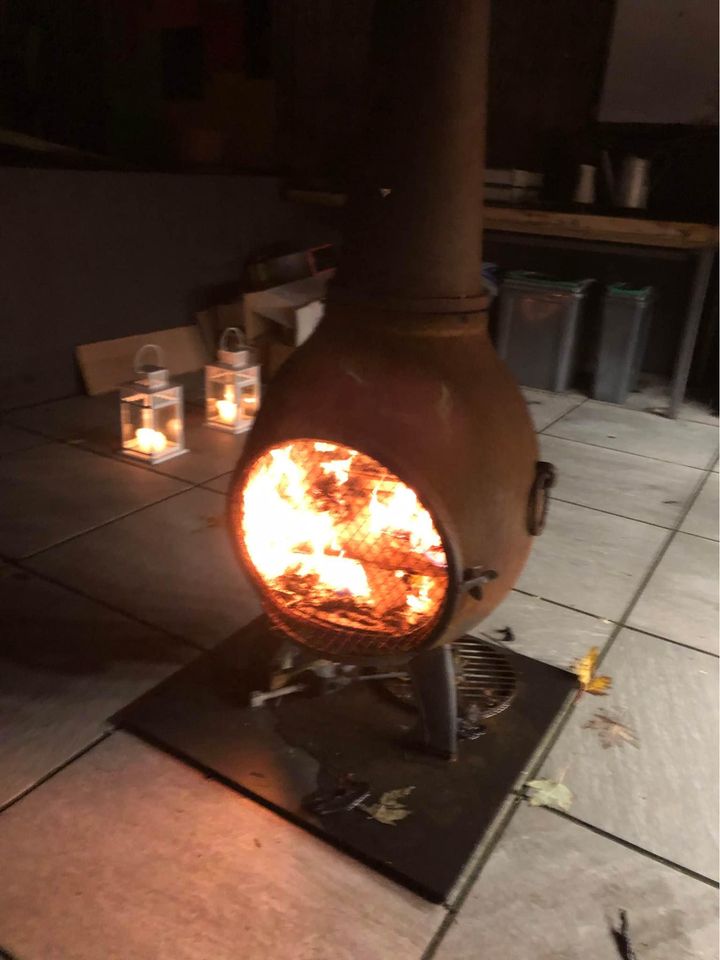 On the downside they do rust – this is totally unavoidable and should be expected.
Steel chiminea
These are easily the most aesthetically contemporary of all the chiminea options available. And they really do suit a modern looking garden – particularly good on a sandstone patio for example: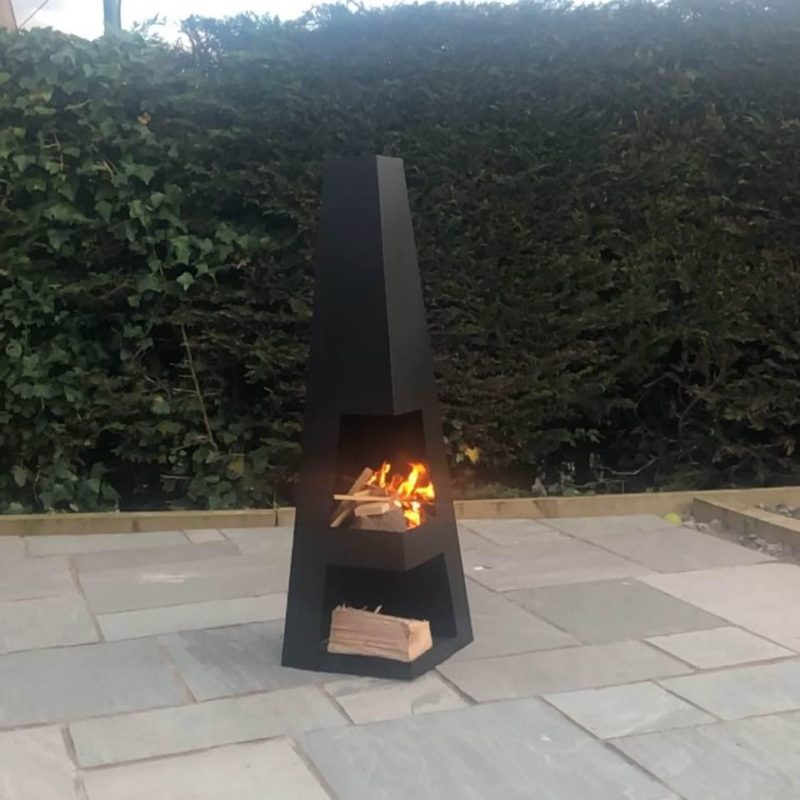 The downside is the cheaper ones will twist a bit with the heat stress – you'll notice not many with steel with a hatch or door – obviously doesn't work well with the movement of steel under heat! Don't be put off too much though, they still look fine after a few dozens uses: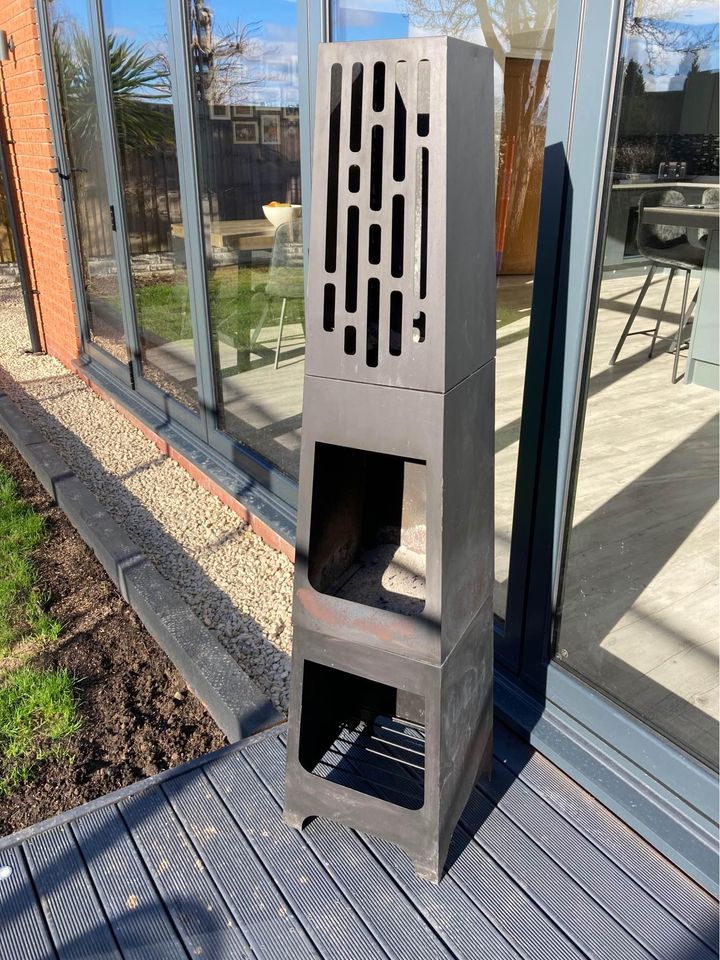 Clay chiminea
One of my favourites is the classic and original design. As I mentioned these are essentially mud clay ovens that have developed from Mexico and now made to look aesthetically pleasing for the average UK garden. And in my mind some are a bit rustis but there's also a some that are a balance of rugged nice looking: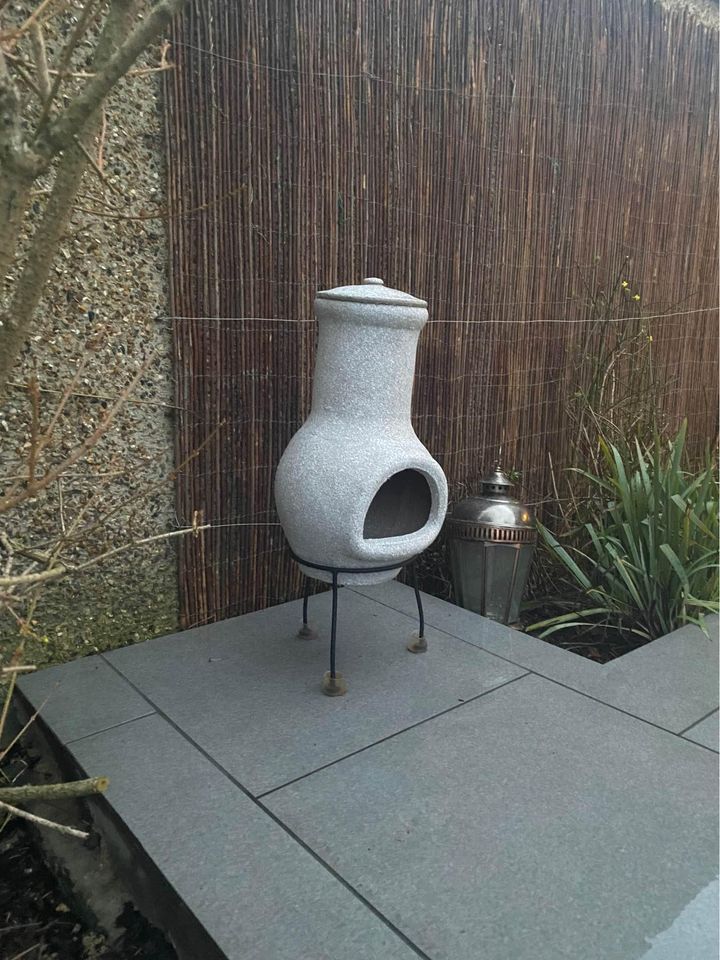 You can of course pick more traditional and what you'll find is these clay versions are often smaller as a result of not being so strong – the larger the clay chiminea, the easier it will break – that simple, so ideal for anyone looking for a little fire in the back garden.
Size
These patio heaters come in a variety of sizes and it is important that you get one that suits the purposes you intend it for and also your garden environment. If you only have a small space in your garden it is not a great idea to buy the biggest chiminea you can find as the intense heat such a model would kick out would make it quite uncomfortable and might damage things nearby.
On the other hand, buying a small compact chiminea and placing it in a big garden to heat a large group of people is always going to fail as you won't be able to get enough wood in them to create enough heat.
Heater or barbecue?
Traditionally chimineas were used to cook and some models come with an optional grill to cook on. However, often the grill is placed too low down and close to the flames so it can be hard to cook things without burning them. Either look for a model with an adjustable grill, or one that allows you to control the air flow from the bottom.
Extra features
Some handy extra features to look out for are- a removable ash tray or an easy access to sweep out the ash, lockable or mesh doors to prevent sparks and ash flying out, removable chimney caps, adjustable air flow vents, and free fire hooks or pokers.
---