Written by Terry Smith
Our site is reader supported so when you click a link to Amazon we may earn an affiliate commission.
Top 6 best kids football nets in the UK
This article was last updated on April 23rd, 2022 at 2:46 am
I was football mad when I was a kid. I'd walk to school and back kicking a football, play with my mates every break time and lunchtime, and then kick a tennis ball at my chalked out 'goalposts' on the wall for extra practice while my mum cooked my dinner.
Back in those days, kid's football nets for your garden were not all that widely available, and the ones that were, well, they weren't up to much. A single hard shot would usually send them toppling over or see the ball go straight through the low quality net.
Football fanatics have got it made these days. There are so many quality football nets to choose from, many at very affordable prices.
You can choose to go with larger football nets that will be a permanent fixture at the bottom of your garden, or spend your money on some smaller, portable football nets so you can take them down to the local park for a bit more space to run around in.
Then there are football nets that are designed to help you practice and develop your skills such as rebound nets, and football nets with target sheets. After all, practice makes perfect.
Having your very own quality football net in the garden is a lot of British kids' dreams come true, so why not make that dream a reality for them? You can achieve it for much less money than you may think too.
Here are reviews of the top selling kid's football nets that are available in the UK at the time of writing.
Comparison table: Top 6 best kids football nets in the UK

Product
What We Think
Price

THE ORIGINAL PORTABLE FOOTBALL GOAL POSTS
USED BY PRO CLUBS
ESSENTIAL SAMBA LOCKING SYSTEM – To keep the parts in place during play Samba Goals have locking parts...
COMPLETE GOAL SET - Includes Goal Frame
GOAL SIZE 8ft Wide x 6ft High (2.4m x 1.8m)

【WHAT'S INCLUDED】2 x Goals + 1 x Carrying Bag x 8 Pegs
【EASY TO ASSEMBLE】Our pop-up design allows you to set up the net in seconds...
【TAKE IT ANYWHERE】2 goals can be folded and packed into just 1 carrying bag...
【DURABLE】Our goal is lined with strong fiberglass rods that will not rust nor break when folding...
【100% SATISFACTION GUARANTEED】If you have any questions before ordering

Ultra-portable
90 second set up
Poles pre-attached with elastic
Patented FLEXI POST design
Ideal for the garden park or training

MULTIFUNCTIONAL SOCCER GOAL - There are 6 target areas for practicing more precise shots...
HIGH QUALITY MATERIAL - The soccer goal is made of high quality steel and polyester...
PORTABLE FOLDING DESIGN - The soccer goal is with portable folding design...
EASY INSTALLATION - Easy to install
NO RISK PURCHASE - 100% high quality and money back guarantee

QUICKPLAY Q-FOLD – The fastest set-up 'all-weather' home football goal on the market...
ALL-WEATHER FOOTBALL GOAL – Made from durable 68mm diameter high-grade uPVC
SUPER FAST 30 SECOND SET-UP FROM FOLDED – The Q-Fold frame folds flat for easy storage against a wall...
NEW DURABLE FLEXI-JOINT SYSTEM (Patent Pending) – Gives the Q-Fold goal frame greater durability than other poly frame goals...
1. SAMBA Locking Football Goal
Samba football goals/nets have been used by clubs and schools for years, and after checking out their products it's easy to see why. These football nets are made in the UK to exacting standards so you can be sure that you will get plenty of use out of them without them falling apart.
For instance, the PVC plastic frame is nice and thick, especially in the most important area, the corners, which have been designed to be 38mm thick, substantially more than most kid's football goals. This means that you don't have to worry about hitting the post or crossbar with a powerful shot as this Samba football net's frame can take the punishment.
This product arrives in several sections but thanks to a clever design, they lock into place in seconds and you can be up and playing before your kids even think about saying 'is it ready yet?'
Unlocking the components is as equally straightforward, and only needs you to push down on the locking buttons to separate them. This means you can take the whole thing apart and store it away in the garage or shed during the harshest parts of winter if need be.
The net is often a weak point in kid's football goals and either tears in no time or gets damaged by the weather and starts disintegrating. Samba's football net is different. The material is stronger and heavier than a lot of other products, and it is also rot proof.
Included in the packaging are net clips and anchors to secure the goal down to the ground for extra support and reliability. These, like the rest of this Samba football net, are good quality and made to last.
There are four sizes of goal to choose from- 6x4ft, 8x4ft, 8x6ft, and 12x6ft, and they range in price from 50-80 pounds. For something of this high quality that is very good value for money indeed.
Giving the outstanding Samba kid's football net a very good run for its money is this equally impressive product from Forza. It is available in a variety of sizes from their smallest 'mini' net which would be a great starter goal for very young kids, to the largest football nets measuring 12x6ft.
We tested the 8x6ft as we thought that is something which would fit in most people's gardens without taking up too much space while still being big enough for kids of all ages to have fun with.
The interlocking PVC tubing is very similar to that of the Samba football goal, making it easy to set up yet very solid when fully assembled and anchored down. The PVC frame is strong, shatterproof and, of course, completely weatherproof as is the 2mm HPDE net which has been treated to make it both UV and rot proof, so you should be able to leave it out all year round without worry.
When buying this kid's football net, you have a choice. You can either purchase the goal only (including the net and anchors), or you can opt for the goal plus carry bag, or the full set which gives you a ball, carry bag, and target sheet for an extra 20 pounds. We chose the full set to give everything a run for its money and this is what we thought.
The free ball is ok, and probably better for younger kids up to the age of 8 as it's a size 3 and lighter than a proper mitre ball, but kids older than that might need something better. I did like the carry bag. Having somewhere to keep all the pieces together neatly and being able to transport down to the beach or a nearby field is something I always welcome.
The target sheet is a great accessory if you have kids who are serious about their football and really want to work on their accuracy. It has five big holes that act as targets, one in each corner and another in the centre, and it fits over the front of the frame to be tied on by cords. If you live in an isolated area and your kid has to practice alone a lot, this is a great way to make sure they don't get bored.
The Forza kid's football net is a quality product that will last you a long time and is something that I would have no problems recommending to people.
If you want a football net that is truly portable while still having the type of build quality that will make the product last more than 5 minutes, look no further than the Kickstarter Academy Ultra-Portable Football Goal.
It's always nice to see when a company really takes pride in their product and has tried their absolute best to deliver something that is innovative, and that is exactly what the makers of this kid's football net have done here.
The kickster academy goal is made up Quickplay's patented flexi-post, combined with some metal and fiberglass poles. At first I was dubious about the Flexi-posts as I just couldn't see them withstanding a powerful shot into the back of the net, let alone a direct hit, but how wrong I was. They are very well designed, and once you get used to the slight dipping of the crossbar when the ball hits the net, you realise that they are actually very stable.
Another excellent design feature of the kickster academy football net are the poles that make up the rest of the frame. They come pre-attached by lengths of elastic and this makes setting up so simple that after showing your kids how to do it just once or twice they can quite easily do it on their own. It also prevents pieces of the frame from becoming lost.
The net is pre-attached to the flexi-posts and only requires you to fix it to the frame by its Velcro fasteners. These fasteners are probably the weakest point of this product, they aren't bad, but after a few hard shots, you will need to quickly go around and refasten them. It only takes seconds to do, and if you really want the net to stay in place, you could always use some plastic clips.
This model comes with four metal ground stakes to fix it into the ground and also a free carry bag with shoulder strap. When the whole thing is packed away, it only weighs 3.5 kilograms so even your youngest kids won't have any problems carrying it.
This portable kid's football net from Quickplay really is a triumph in design, and I have to say I was very pleasantly surprised by just how good it is. It takes minutes to set up and put away, is stronger than you would imagine, and looks great too.
Having one goal is all well and good for a bit of fun or practice, but to have a proper good old footy match, you need two and this is why I think the Podiumax pop-up goals are a great value product.
There are three different types of pop-up kid's football net available from Podiumax, a small half-moon shaped goal, a medium sized normal shaped one measuring 3ft x 2.5ft, and the large one which stands 4ft by 3ft.
We checked out the large goals which we paid 59.99 for from Amazon. For that price we received two pop-up goals, 8 anchoring pegs, 10 disc cones, and a carry bag with adjustable strap. That's a bargain in my book, especially when the product is of the quality of these kid's football goals.
To make the nets able to take some punishment without tearing, Podiumax have chosen to make them out of a polyester fibre called tetoron and also give it a knotless design. The result is a net that you can rely on to do what it is supposed to- catch footballs.
The flexible goalposts are reinforced with fiberglass rods inside that help to keep the shape even after being struck by a ball. In addition to this, they make these portable football goals some of the easiest to set up I've encountered. They simply pop into shape as soon as you get them out of the bag.
Packing away is no bother either. Sometimes with pop-up style products they can be a pain to get flat again, but I was happy with these football goals, and they even had some Velcro straps attached to them to help keep things in place while I got them in the carry bag.
This double set of kid's football nets is the perfect product to throw in the boot of the car and take down to the park with your kids and their friends. The carry bag doesn't take up too much space, and you can actually set up a proper game of football with the two goals. You can even use the disc cones to mark out the pitch boundaries and corners.
This is well worth considering if you have kids between the ages of five and eleven years old, and you need something portable and easy to store away.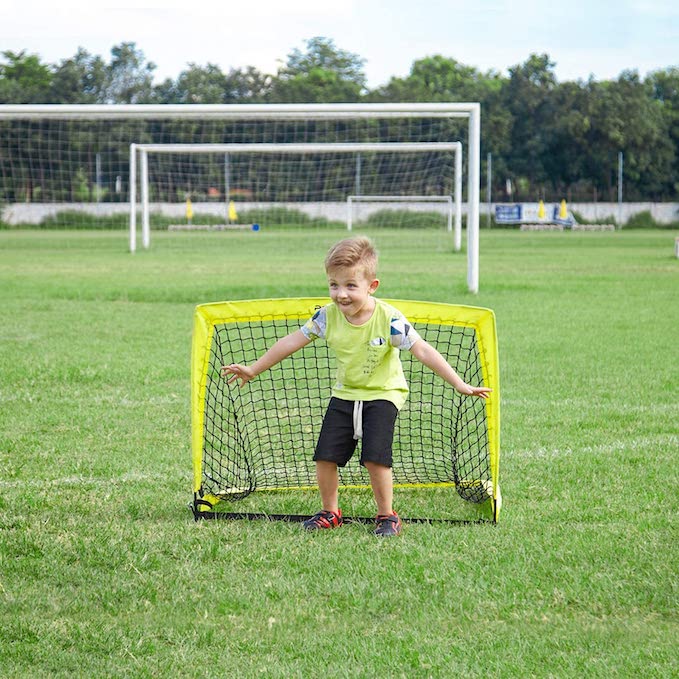 After being impressed with Quickplay's Kickster portable goal, I had high hopes for their Q-fold kid's football net and I'm happy to say I wasn't disappointed.
Just like with their other best-selling product, the people at Quickplay have put their heads together to try to come up with solutions for the common problems associated with these kinds of products.
For example, they have targeted the known weak points, the diagonal support poles, which come under a great deal of stress from the rest of the structure and are prone to bending. To counteract this, Quickplay have designed what they call the flexi-joint which has two specific purposes. The first is to relieve some of the stress on the support bars, and the second is to allow the posts to fold flat.
This folding feature works really well. Simply remove the back support bar and then fold the side parts in. You can then store this football goal flush against any wall or even the floor. It's a great space saving idea.
Another thing Quickplay have thought about with their Q-fold kid's football net, is how to keep the crossbar from sagging in the middle. To tackle this, they have set the crossbar connectors at offset angles, thereby correcting the natural drooping of the bar.
They have even made the net easier to attach to the frame by including special plastic clips that hold the different parts of the net together, so there's no tying of knots or anything fiddly like that.
On top of this innovation, the makers of this kid's football net have kept up the overall quality of the product, with the 68mm diameter uPVC pipes being sold and UV resistant, the connectors designed to be incredibly strong, and the net being made of 2mm thick UV treated HDPE material.
It is available in 4 different sizes and although not the cheapest product out there, it is hardly what I would call expensive for a high quality football goal like this one.
The Kidodo football net for kids is a good pick for children 3-5 years old, but won't really be enough for any older than that. That doesn't mean that this is a bad football net, it's just that it has definitely been designed for younger kids to use.
This product actually has some good features though, and is very inexpensive. For example, it has been made double sided with one side being a normal open football goal and the other being a six hole target sheet for shooting accuracy practice. It only takes a few
moments to pull out the anchors and flip the goal over to swap from one side to another.
It has a pop-up design like the Podiumax goals we reviewed earlier and therefore is very lightweight and portable. When fully opened it measures 120cm by 80cm but can fold down small enough to fit in the carry bag that is only 34cm by 34cm.
This kid's football net is made of oxford fabric and a strong polyester material wrapped on a high quality and robust steel frame, and is definitely hard wearing enough to withstand plenty of use from children in the 3-5 year old age bracket. I don't know how it would fare with older kids using it.
The makers have given this football net a lifelong warranty and also a money back guarantee so they must be quite confident in the durability of it. For under 20 pounds, I wouldn't expect it to be bulletproof though.
Still, it is a great football goal for little kids and I'm sure they would love the fact that there are two different sides to play with.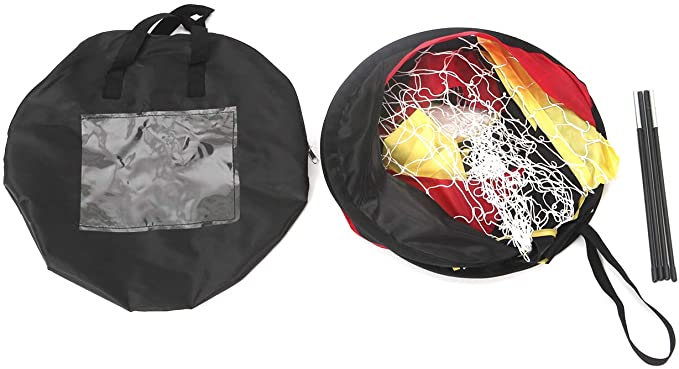 Kid's Football Nets Buyer's Guide
Still unsure about what football new would be the best pick for your family?
Can't decide between two or three similar products? Not to worry, we are here with this buyer's guide to provide some assistance and point out a few things that might be worth thinking about before you buy.
How old are your kids?
The size of the football goal you'll need is largely dependent on the age of your children and the other kids who will be using it. The smallest pop-up style football nets are more than sufficient for really young kids up to about the age of six or seven, but when they get older and start being able to kick the ball a lot harder, not to mention just the usual wear and tear that comes from older kids using things (how do they manage to do so much damage?) you are going to need something larger and sturdier.
How big is your garden?
Most people are buying kid's football nets to keep them in the garden so it is a very good idea to get out the tape measure and figure out how much space you have. There's very little point in buying a large sized model if it takes up most of the available space and you'll need to leave some room either side and behind the goal for when the ball goes there.
How easy is the product to set up, transport, and store away?
Pop-up kid's football nets are easily the fastest and easiest to set up. You just take them out of the carry bag and they pop open themselves. Getting them back in the bag is more of a struggle but is still relatively straightforward once you get the hang of it.
The stronger, sturdier kid's football nets are usually made out of PVC tubing and will allow you to spend some time connecting the parts and attaching the nets. How long this takes will depend on the individual product but good models like the ones we reviewed here on this page shouldn't be too difficult to get fully assembled. Generally, these types of football goals are not the most portable and are designed to stay set up in your garden although there are some that have a folding design to help them be stored easily against a wall.
Then there are other designs of football nets like the Quickplay kickster model which actually sits in the middle when it comes to portability and sturdiness. It is able to withstand more punishment than your average pop-up goal, but nowhere near as much as a PVC model. However, it is very easy to assemble and pack away, so you can take it to the park or beach with you fairly hassle free.
How much are you willing to spend?
We all want the best things for our kids, but sometimes you have to be a bit more practical in your thinking. These kid's football nets can vary in price by quite large margins and if you are thinking of going for one at the top end of the price range there's one thing you should really think about. How much use will it get?
If your kid is a football fanatic and will be out there every day sharpening their skills, then by all means get them the best, most hard wearing one money can buy, but if your child is younger, or just not that into football, shelling out for a top product probably isn't worth it, and you should maybe start with a cheap one to start with and upgrade later if necessary.
---