Written by Terry Smith
Our site is reader supported so when you click a link to Amazon we may earn an affiliate commission.
UK's best lawn spreaders tested: Evergreen, Scotts, and Gardena
This article was last updated on April 21st, 2022 at 8:29 am
Creating the perfect lawn takes time and effort. It's not just a case of planting grass seed and waiting for the sun and rain to do their jobs. In an earlier article I showed you how to make and level a lawn from scratch. This time I just need some grass seed down for the kids to play on as we are going to do a major landscape project and I got lazy. I'll admit it. I sent the kids around with a bag and handfuls of grass seed. It was a washout 😀 (the UK almost always is!). The lawn is completely patchy – and in fairness, the birds got their share of my seed but it would have still been a problem. So this time, armed with more seed, and the best lawn spreader I am testing and showing you how much more accurate a lawn spreader really is as opposed to hand seeding. In fact that's a bit misleading – my daughter is going to demonstrate for you 🙂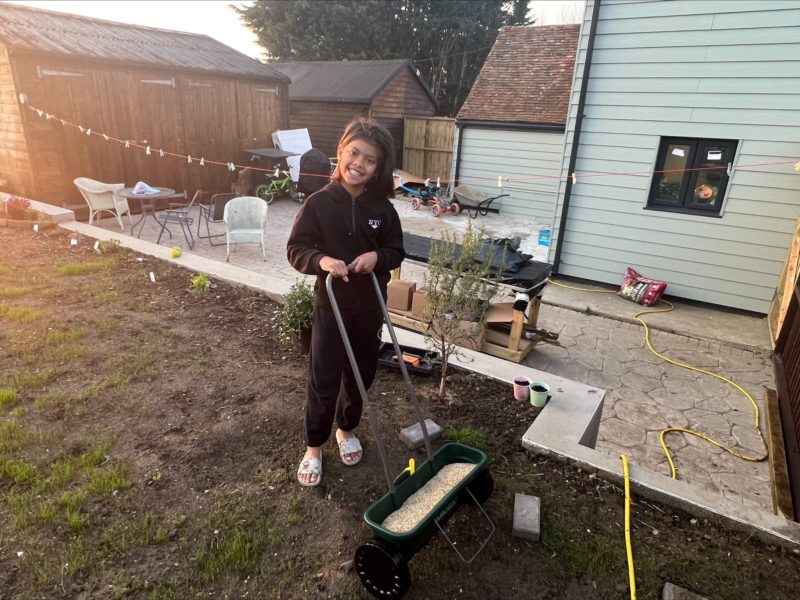 Enter the EverGreen 18920 Easy Spreader Plus – it was the best value and quality in testing by far for my money – even my 9 year old daughter used it with ease! She covered about 160m2 of garden in 15 minutes, tested, and proven! And as a result of my testing, there's a new top pick:
Best lawn spreader in the UK: top picks from my personal testing:
Lawn spreader testing
So to ensure we really are bringing you the best products I am testing a new lawn spreader this time. You may recall when I levelled my first garden a couple of years ago I used the Scotts EasyGreen Rotary spreader. This time I am bringing you the EverGreen 18920 Easy Spreader Plus. Fundamentally the performance was very similar, but you just can't ignore the overall cost difference with the latter being not far off just half the price – it's easy to see why it's the best seller online by a long way! Anyway, let's have a look at the testing process.
How to setup a lawn spreader
First things first, your lawn spreader rocks up in an intimidating box that clearly needs setup but don't panic, it's a very minimalistic process and I'd say you'll be up and running in a matter of minutes – very minimal DIY skills are required. Here's a look at that box, it is cumbersome but weighs just a few kilos: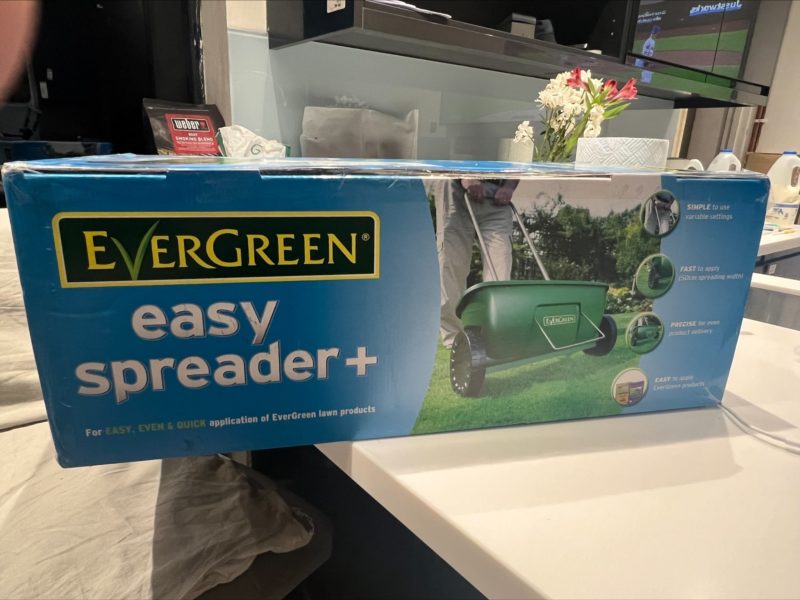 After removing your packaging you are left with just a few obvious bits to assemble – here's a look at the contents laid out a bit better – only a few pieces that need to be slotted together: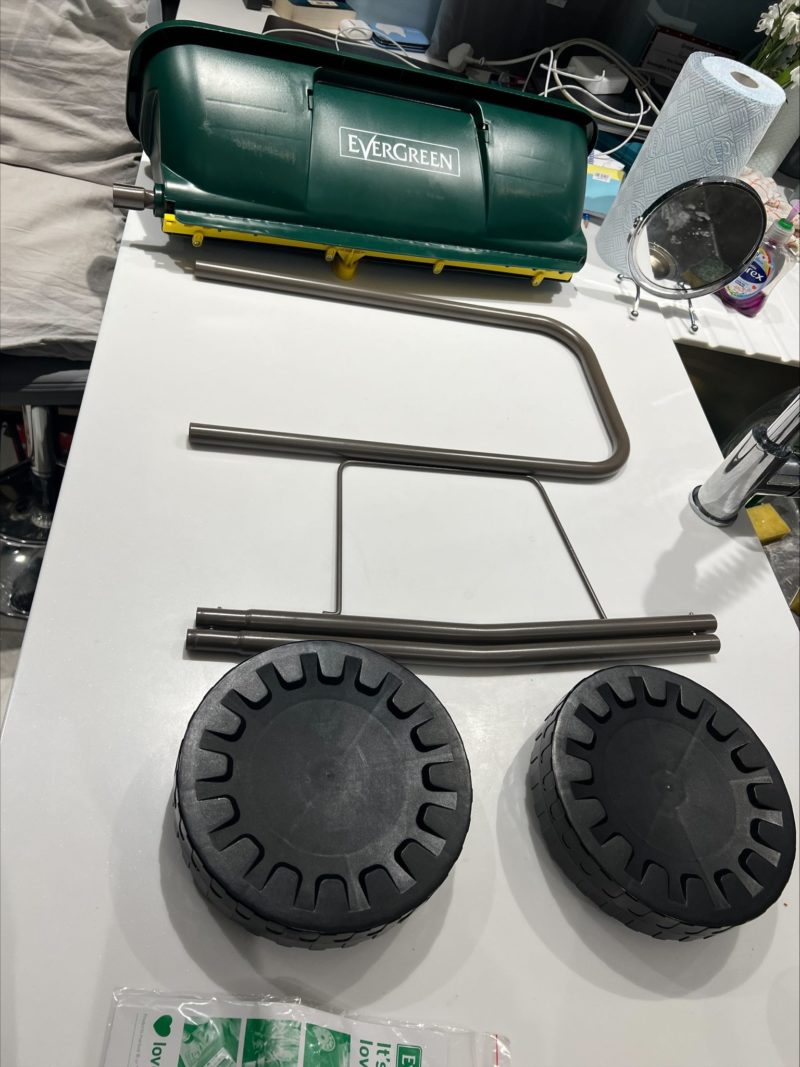 All the parts just push fit together the wheels push on easily, the handle and extensions are all riveted together and slot in. I would say pushing those bits all together took me less than two minutes quite honestly. Here's a look at that: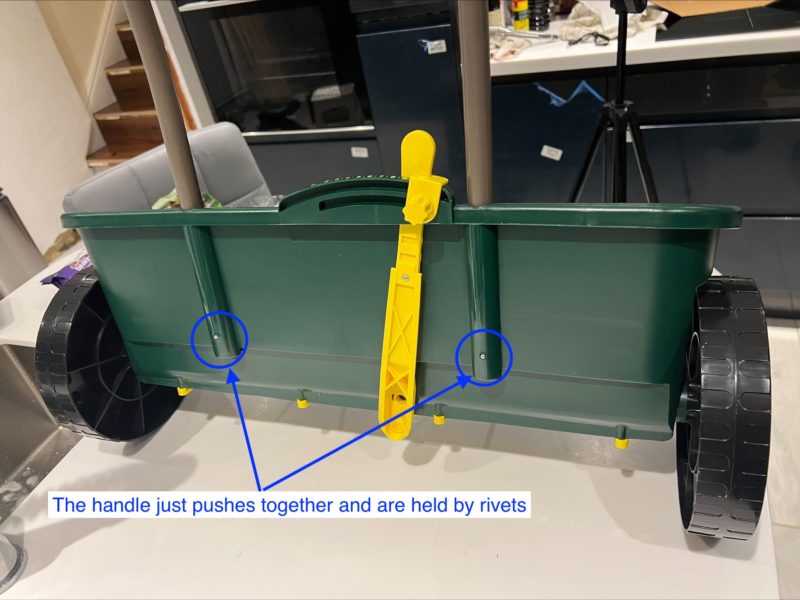 If you want to see a quick video of that process please look here – I have set the timer to the assembly section for you:
But that's it really – fully assembled in minutes and ready to start spreading lawn feed or grass seed!
Testing lawn spreaders
So test test I have taken into consideration a few important elements. How much material can be held, how well the spreader distributes seed and fertiliser, price, durability, and hopper capacity. I start with grass seed on a lawn that was hand seeded and ended up patchy – without question, when factoring the method I have used to test these lawn spreaders, for a little garden like mine, EverGreen Easy Spreader Plus came out on top – even a child could successfully spread seed with this spreader it was that easy. And setup was a doddle too. Here's a couple of pictures of the spreader in use: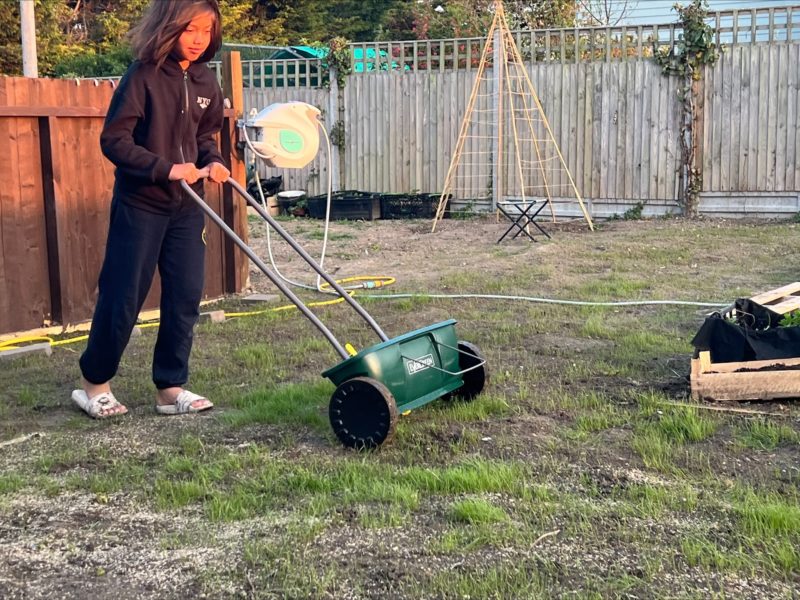 Let's take a look at all the spreaders in this article now:
What is a lawn feed spreader?
To keep a lawn tip top you need the right lawn spreader. You've got to prep the soil, keep on top of lawn aeration for which we can use a decent scarifier or raker these days, you need to get rid of any unwanted weeds with a weed killer if you prefer (preferably a weed killer that is tested on pets), before they become a problem, and many more tasks just to have a chance at that dream patch of grass.
One of the most important factors is to make sure you are feeding your lawn all the necessary things it needs to grow into something comparable to a bowling green. And to do this right, you should really be using one of the best lawn feed spreaders to ensure that your lawn weed and feed are getting evenly distributed and giving your grass the best chance to flourish.
You could think of a lawn feed spreader as a wheelbarrow with holes but much more sophisticated at evenly spreading. A lawn feed spreader is a tool used to help you spread lawn feed faster, and more evenly than you could, just using your hands. Whether it is a small, handheld lawn feed spreader, or a larger version that is mounted on wheels, they basically made up of some kind of container that you fill with seeds or feed and a section that is used for dispersing the contents around your garden. It is important to note that these products are only meant to be used with granular lawn feed, so if you are planning on using a liquid-based fertiliser, you'd be better off shopping for a good garden sprayer or watering can instead.
How to use a lawn feed spreader
No matter which type of lawn feed spreader you're using, they are all very easy to operate. All you need to do is adjust the spread rate to suit your needs, then fill the container section up with your lawn feed and disperse it on the area that needs it. However, not all models use the same dispersing technique, and if you go to our Best lawn Feed Spreaders Buyer's Guide, you'll see how we compare rotary lawn feed spreaders with drop lawn feed spreaders.
Types of lawn feed spreader
The type of garden feeder you will need will depend a lot on the size of your garden and what you intend to do within it. People with smaller lawns can easily get away with one of the best handheld lawn feed spreaders as there isn't too much ground to cover, but those of you who are lucky enough to have much larger properties will probably need a rotary spreader or even one that you pull behind a tractor or ATV.
We took a selection of the best lawn feed spreaders and put them to work to test out for ourselves if they are really worth the money. You can find out what we thought by reading our selection of in-depth reviews below. For those seeking more information and guidance, please check out our Best lawn Feed Spreaders Buyer's Guide to get a better idea about what to look out for in a top lawn feed spreader product.
Best lawn Feed Spreaders Buyer's Guide
Should you go with a rotary/broadcast spreader or a drop spreader?
Maybe you could just do with a small handheld model?
What are the best features to look out for when choosing a lawn feed spreader?
Read on below and our buyer's guide will try to provide the answers to these questions and more.
Comparing the types of lawn feed spreader
There are a few different types of spreaders but they can usually be broken down into two specific groups- rotary spreaders and drop spreaders.
Rotary like the Scotts EasyGreen Rotary spreader, or broadcast spreaders as they are also known, use a rotating table that is located under the hopper to distribute the feed in a wide arc, thus covering a large area at once, and this makes them a good pick for larger lawns. Here's a look at a typical garden rotary lawn feed spreader, the Scotts EasyGreen Rotary spreader (our overall winner).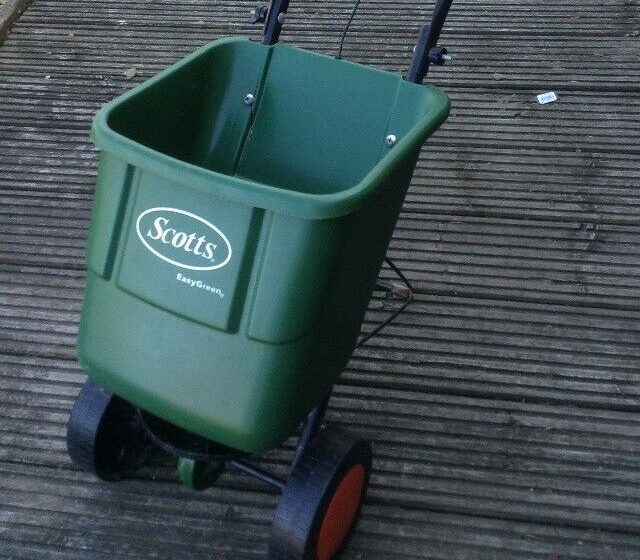 If you have a larger than usual lawn, you might want to consider a tow-behind spreader that you can pull with a quad or small tractor.
Drop spreaders, as you can guess, 'drop' the fertiliser straight down and not out to the sides. While this makes them a little slower to cover the same area when compared to a rotary model, it also makes controlling where the feed goes much easier. This is particularly useful for smaller gardens, and for working on parts of the lawn that are next to vulnerable areas such as flower beds and ponds.
Another variation of the rotary type is the handheld spreader. These are lightweight, low cost, and very easy to use, and if you only have a small space to cover, they can be a great tool to use. recently, there have been battery-operated handheld lawn feed spreaders coming onto the market, like the Einhell GE-US Power X-Change Lawn Feed Spreader, and when compared to the standard handheld spreaders, they take much less physical effort to use. You will have to pay extra for that privilege though.
Variable controls
Many feed spreaders these days have controls, usually on the handle, to select how much fertiliser, granules, etc. is allowed to flow through the hole in the bottom of the hopper when the trigger is pressed. Here's a look at a handheld lawn feed spreader with variable controls.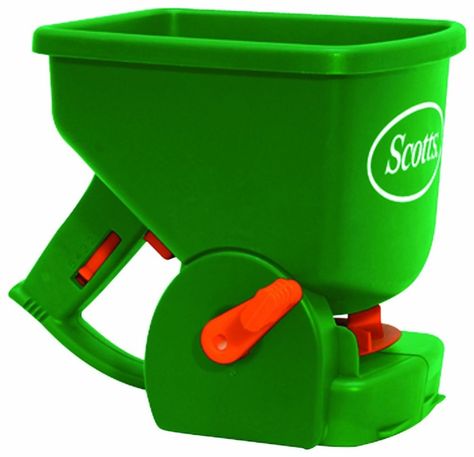 These selector switched are often varied in design, and will also perform differently from model to model, so I would suggest reading customer feedback and reviews on the products you're interested in to see if anyone mentions any problems with this.
Ergonomic design, weight, and wheels.
If something is ergonomic, it means that it has been designed to fit with the human body's shape in the most efficient and comfortable way. Some products have better designs when it comes to this, and it will make a difference to you if you are using the tool for long stretches of time, so look for a good one.
Generally speaking, if something like a handle is too straight, and without any curvature, it tends to be a bad sign. Of course, handlebars are an exception to this, but for handheld spreaders, this is something to look out for.
Weight is another factor to consider, especially if you're thinking about a handheld spreader. You don't want something that weighs a ton in your hands all day.
Even walk-behind spreaders can be a bit of a struggle to push uphill when their hoppers are full if they don't have a good set of wheels. Plastic wheels can be just fine but for me, pneumatic wheels are the best choice as they negotiate slopes and uneven ground better.
---