Written by Terry Smith
Our site is reader supported so when you click a link to Amazon we may earn an affiliate commission.
Best pruning saw [UK]:Top garden saws and electric pruning saws reviewed
This article was last updated on November 3rd, 2021 at 9:09 pm
It's been a while since I gave you a professional opinion on the best pruning saws, over a year in fact. Probably too long actually given technology has moved on so far we now need to include the best electric pruning saws in this review too 🙂 There are still some old firm favourites though including the good old Wilkinson Sword pruning saw which I'm now rating best pruning saw in the UK (previously I gave it to a competitor and like to be unbiased – Wilkinson was pipped on price last time – certainly not quality). I personally use this pruning saw for branches up to about 3 to 4 inches thick. After that I'll look to my trust cordless chainsaw or a garden multi tool as I don't have an electric pruning saw but we will worry about that later. When Wilkinson becomes unavailable, and it does, frequently you need a backup plan. So the article is loaded with use cases and great alternative pruning saws and let's face it, what suits me may not suit you. So the best place to start would probably be how to pick the best pruning saw for you and what to look for…
Picking the best pruning saw
First you need to decide how much work you're going to do. Above I mention I don't like much more than a four inch chop by hand, and there better only be a couple of cuts at that! 😀 And needless to say my Wilkinson has a seriously coarse blade. If however you don't have much hand strength and you're pruning something smaller, say around 1.5-2 inches, a shorter blade and finer cut is absolutely ideal. For a weaker arm and large cut you might fancy a go with the electric pruning saw from BLACK+DECKER or the standard Draper 44997 Expert Soft Grip Curved Blade Garden Saw. Bother are good if you want the tool to do the work.
Next consider the handle, ideally your knife will have a ridge to stop your hands sliding forward into the blade if it is wet or backward off the knife entirely. That wouldn't be much fun up a tripod ladder losing your balance 😀 (something I've done a couple of times too many ) 🙂 In any even to avoid that you want some top quality gardening gloves. I just updated that review – there are some perfect gloves that'll be well fitting enough to hold a pruning saw nicely. The other reason you're likely to wear gloves is the pruning saw in this review will be able to help with thick bramble too if you don't like using garden loppers. The other thing about the handle to consider is the handle having a D cup, a bit like a saw. This will make holding on all the easier but veers away from a pruning saw slightly and becomes a garden saw.
You'll want to decide if you want a pruning saw that folds away like a pen knife, or fits in a holster. This will be led by the size branches you want to cut (longer blades don't fold away pretty much). If it's occasional use you definitely want one or the other, having a blade without a sheath is an unnecessary risk for light use.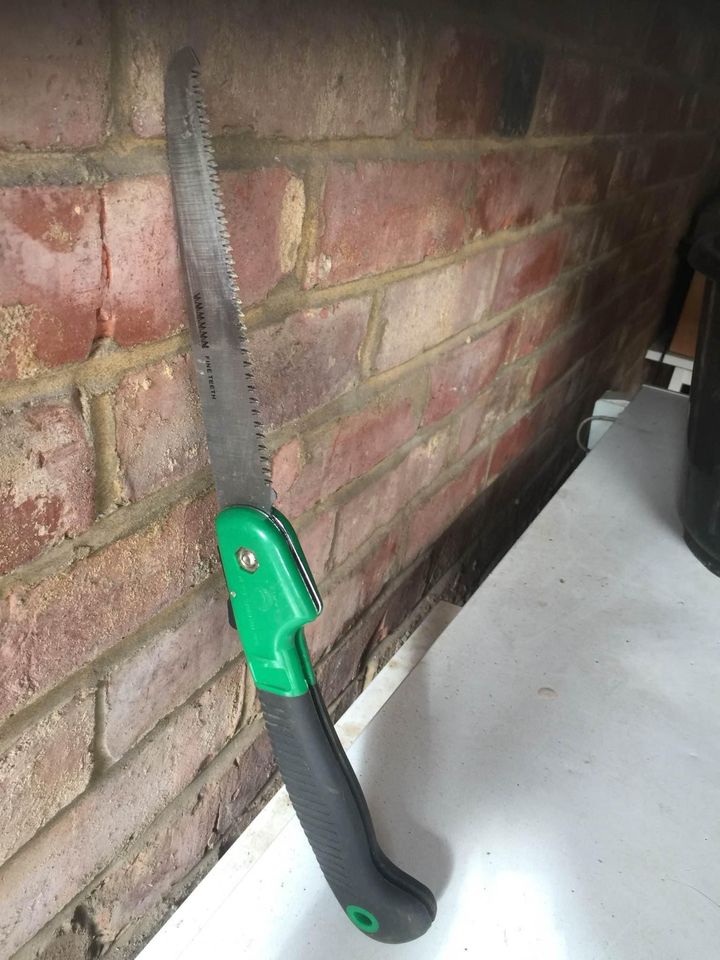 I won't waste your time with the obvious things too much here: price, rust proof, robustness, easy to clean, how safe to use, and blade retention are all important factors and are considered in my choices for the best pruning saws. With the electric pruning saws I also look at weight, balance, and battery quality/cost.
Looking after a pruning saw
So the best thing to keep in the shed is WD40 and that's not just for this blade. Almost every single blade in your shed wants a squirt once in a while. With pruning saws that are not stainless however, a wipe down and squirt after every use is best, especially if you don't intend pulling the saw out again for a good while. It will rust!
So with that in mind here are my picks for the best pruning saws in the UK:
---