Written by Terry Smith
Our site is reader supported so when you click a link to Amazon we may earn an affiliate commission.
UK's best petrol chainsaws: heavy duty cutting ranked on power, price, and performance
This article was last updated on January 25th, 2023 at 5:03 am
If you read my articles you'll all know just how much I love to test cordless chainsaws and with the improvement of batteries, they will in my opinion eventually phase out petrol. But for now, when I need to get serious heavy duty work done, there isn't much in the way of competition if you're working remotely as I often find myself doing. If you want unbelievable value and similar power then you go for the Hyundai petrol chainsaw – this is such a good petrol chainsaw in terms of power and still backed up by a three year warranty but being out of stock at the moment the Parker Brand 62CC 20 is the place to look for value and I've personally been using this for years now. It won my overall best chainsaw category too. And my mind still hasn't changed, if you can afford the money for a tool that'll last a lifetime you go with the Husqvarna 20 Inch 455 but it is getting expensive.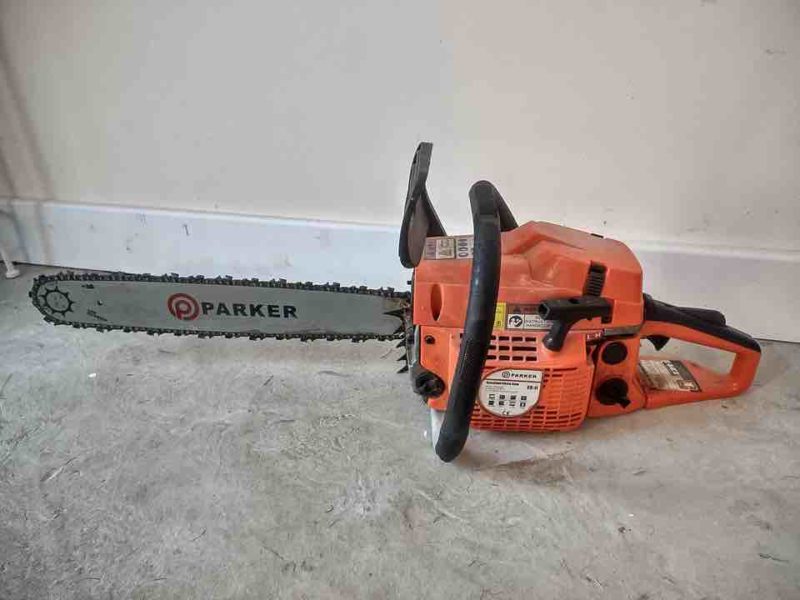 A petrol chainsaw should be smooth to operate and feel comfy in the hand. It should be reasonably quiet and pack plenty of power, most of all, ideally uses a chain that can be sharpened, and it should be safe to use in conjunction with safety chainsaw trousers and safety chainsaw boots as well as reliable and easy to start. Based on these core principals I've reviewed and tested the best petrol chainsaws for you and I hope it'll help you in choosing well. If you need more info and help understanding then please take a look at our petrol chainsaw buyers guide.
After revisiting the best chainsaw overall, I realised there were some cracking additions missing from the best petrol chainsaw with a standout BU-KO over a twenty quid cheaper than the rest of the competition! Enjoy the reviews:
Best petrol chainsaw for power, cutting ability, price, and safety features:
Best all round petrol chainsaw: Hyundai petrol chainsaw – [currently out of stock – hopefully back soon] Absolute bargain, tons of cut power and super performance with great anti kick back for safety [currently out of stock so I'd go for the Parker Brand 62CC 20][personally tested and proven]
Best chainsaw on a budget: BU-KO 65cc Petrol Chainsaw 3.89HP 20″ or the Parker Brand 62CC 20 [proven to be time served and reliable since my first review][personally tested and proven]
HEAVY DUTY OPTION: Most powerful petrol chainsaw: Husqvarna 20 Inch 455 Rancher Gas Chainsaw – and the best bit is it's back in stock – the professionals choice is this or Stihl.
Best petrol chainsaw for smaller work: Husqvarna HUSQ120-14 120 II 14 inch. 38.2cc Petrol Chainsaw – lovely little petrol chainsaw – well built, well priced, and packs a punch.
Alternative budget petrol chainsaw: – won the overall best chainsaw but Parker edges it here – ideal for domestic and home use.
Alternative picks if favourites unavailable: Parker Brand 45cc 16 inch. Petrol Chainsaw + 2 x and the BOUDECH Compact Petrol Chainsaw 25cc 2-stroke engine 1.2HP 20'' guide bar
Petrol Chainsaw's Buyer's Guide
There's a lot to take on board when you're thinking about buying your first petrol chainsaw, and the best model for your needs might not be abundantly clear to you. So, if this sounds a little bit like your situation, you should find this little buyer's guide of some help.
Picking the right size of petrol chainsaw
If you've looked through our reviews, or even spent any amount of time on shopping sites, you've probably come to realise that chainsaws come in a range of sizes. Most are advertised as something like 20", 16", or 14″ and what this refers to is the length of the bar, and not the overall length of the tool including the handle. Here's a picture of measuring bar length: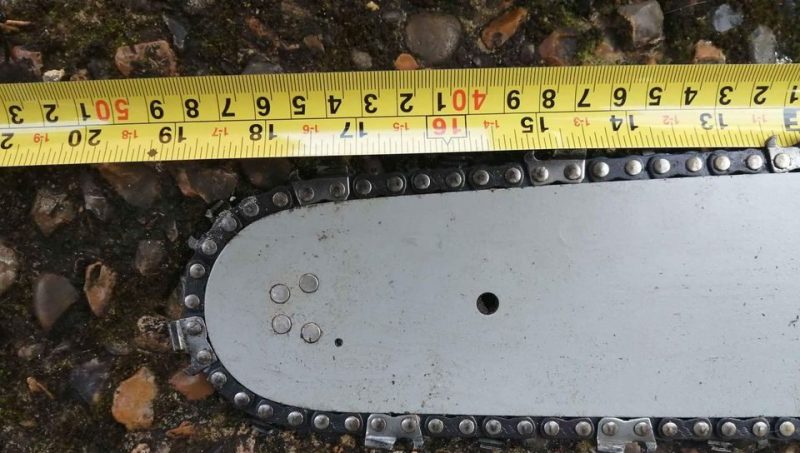 So the Husqvarna HUSQ120-14 120 II 14 inch is the bar length. Generally speaking, the longer the bar, the more powerful the engine will be, and also the higher the price will be, because these chainsaws are meant for cutting thicker pieces of wood.  Most people don't need a chainsaw this size for general garden duties though, and a 14/16 inch, or even smaller chainsaw will do the job just fine, and save you money in the process. I still prefer the 20″ Hyundai though 🙂
Power
As mentioned above, larger petrol chainsaws usually have more powerful engines to deal with the more intense work that they are designed for. Anything over 50cc is quite powerful for a chainsaw, and is perfect for cutting thicker logs, however, it might be overkill for pruning a few branches.  If you need absolute power you'll go to the Husqvarna 20 Inch 455 Rancher Gas Chainsaw but you'll need to wait for it to come back in stock. Engines over 30cc are usually the perfect size for the majority of homeowners to use. These engines give enough power to get most jobs done, but are cheaper and lighter. Then there are compact petrol chainsaws that might have an engine that is 25cc or less. These tools are great for pruning, especially if you're working on a ladder, as they are usually lightweight and easy to wield. However, the range of jobs they can be used for is limited.
Safety features
While most, if not all petrol chainsaws will have some safety features such as a kickback brake, not all are designed and implemented equally. Some products go the extra mile with safety features and have multiple brakes for various possible malfunctions, and these are probably the products to go for as a first time user.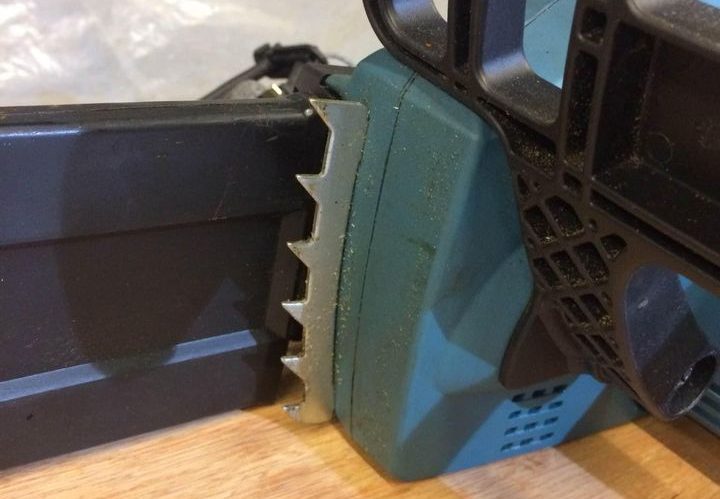 Fuel measurement bottle
Another aspect of safety, that is often overlooked by people new to these tools, is getting the fuel to oil ratio right for that specific 2 stroke engine. Getting the ratio wrong can cause the engine to seize and that can be extremely dangerous if it happens while you're halfway through cutting a thick piece of wood. Most products will come with a free fuel measurement bottle, but if they don't, make sure you know the correct ratio before you buy or use that petrol chainsaw.
Chain and tensioner quality
The quality of the chains that come with these tools varies quite a lot – you get two main types though – tool less which is less common with petrol chainsaws, and the more common screwdriver tensioning, and usually you get what you pay for in terms of chain holding it's tension: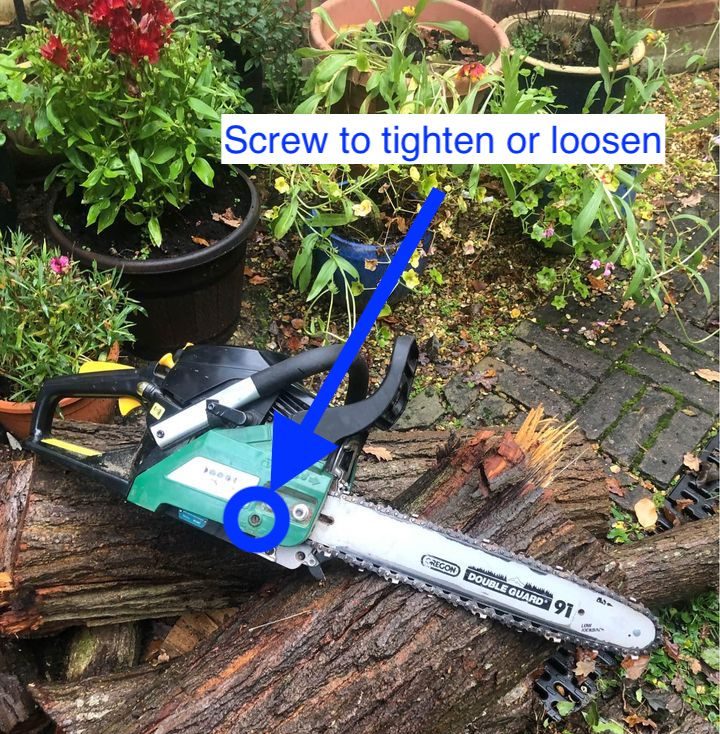 As you can see the above chain is loose and needs a little tightening. Another thing that affects the performance of your chain is the tension in it. Not too tight though or you restrict performance.
All chainsaws have chain tensioners, and you use them to adjust how tort the chain is to keep it working optimally. Some chainsaws keep this tension longer than others, and this is what you want in your tool. A chainsaw that requires you to stop and adjust the tension every five minutes can be quite frustrating. 
However, buying better chains doesn't work out too expensive, just check that the chain you buy is compatible with the chainsaw of your choice.
Ease of assembly, use, maintain, and quality of instructions
As a first-time user, it is important that you spend your money on something that you can actually set up and operate comfortably. Some cheaper products (and even some more expensive ones) can be lacking when it comes to quality instructions, so check customer feedback to see what people say about this. Having poor instructions isn't the end of the world as long as there is another resource online that you can turn too. A product that is easy to operate, and more importantly; easy to maintain, should be something people new to power tools should be looking for if they don't have any technical knowledge.
How does a petrol chainsaw work?
Petrol chainsaws are nothing more than a motor connected to a couple of geared cogs, that are in turn forwarded to a sharp blade on a chain, connected by links. Now, try chopping a tree down without one! It doesn't matter if it's an electric chainsaw, or cordless chainsaw version. The amount of work saved by using a chainsaw is almost immeasurable if you've ever had the misfortune of attempting to fell a tree with an axe and a pair of gardening gloves, as I have many an occasion :D.
Remember
If you are going to use any chainsaw, it is imperative that you wear the correct safety equipment. I'm not just talking about ear protectors and goggles either. A good pair of chainsaw trousers, gloves and chainsaw safety boots can be a lifesaver, literally, so please don't overlook this aspect of chainsaw use. These tools are highly dangerous if you are not careful and should not be something to be used without wearing the right gear.
---