Best Petrol Chainsaws: ranked on power, price, and performance (February 2021 Updated Review)
This article was last updated on August 7th, 2021 at 3:00 am
Petrol chainsaws are nothing more than a motor connected to a couple of geared cogs, that are in turn forwarded to a sharp blade on a chain, connected by links. Now, try chopping a tree down without one! It doesn't matter if it's an electric chainsaw, or cordless chainsaw version. The amount of work saved by using a chainsaw is almost immeasurable if you've ever had the misfortune of attempting to fell a tree with an axe and a pair of gardening gloves, as I have many an occasion. A petrol chainsaw should be smooth to operate and feel comfy in the hand. It should be reasonably quiet and pack plenty of power, most of all, it should be safe to use and reliable. Based on these core principals I've reviewed the best petrol chainsaws for you and I hope it'll help you in choosing well.
Petrol Chainsaw's Buyer's Guide
There's a lot to take on board when you're thinking about buying your first petrol chainsaw, and the best model for your needs might not be abundantly clear to you. So, if this sounds a little bit like your situation, you should find this little buyer's guide of some help.
Picking the right size of petrol chainsaw
If you've looked through our reviews, or even spent any amount of time on shopping sites, you've probably come to realise that chainsaws come in a range of sizes. Most are advertised as something like 20" or 16", and what this refers to is the length of the bar, and not the overall length of the tool including the handle.Generally speaking, the longer the bar, the more powerful the engine will be, and also the higher the price will be, because these chainsaws are meant for cutting thicker pieces of wood.  Most people don't need a chainsaw this size for general garden duties though, and a 16 inch, or even smaller chainsaw will do the job just fine, and save you money in the process.
Power
As mentioned above, larger petrol chainsaws usually have more powerful engines to deal with the more intense work that they are designed for. Anything over 50cc is quite powerful for a chainsaw, and is perfect for cutting thicker logs, however, it might be overkill for pruning a few branches. Engines over 30cc are usually the perfect size for the majority of homeowners to use. These engines give enough power to get most jobs done, but are cheaper and lighter. Then there are compact petrol chainsaws that might have an engine that is 25cc or less. These tools are great for pruning, especially if you're working on a ladder, as they are usually lightweight and easy to wield. However, the range of jobs they can be used for is limited.
Safety features
While most, if not all petrol chainsaws will have some safety features such as a kickback brake, not all are designed and implemented equally. Some products go the extra mile with safety features and have multiple brakes for various possible malfunctions, and these are probably the products to go for as a first time user.
Fuel measurement bottle
Another aspect of safety, that is often overlooked by people new to these tools, is getting the fuel to oil ratio right for that specific 2 stroke engine. Getting the ratio wrong can cause the engine to seize and that can be extremely dangerous if it happens while you're halfway through cutting a thick piece of wood. Most products will come with a free fuel measurement bottle, but if they don't, make sure you know the correct ratio before you buy or use that petrol chainsaw.
Chain and tensioner quality
The quality of the chains that come with these tools varies quite a lot, and usually you get what you pay for. However, buying better chains doesn't work out too expensive, just check that the chain you buy is compatible with the chainsaw of your choice. Another thing that affects the performance of your chain is the tension in it. All chainsaws have chain tensioners, and you use them to adjust how tort the chain is to keep it working optimally. Some chainsaws keep this tension longer than others, and this is what you want in your tool. A chainsaw that requires you to stop and adjust the tension every five minutes can be quite frustrating.
Ease of assembly, use, maintain, and quality of instructions
As a first-time user, it is important that you spend your money on something that you can actually set up and operate comfortably. Some cheaper products (and even some more expensive ones) can be lacking when it comes to quality instructions, so check customer feedback to see what people say about this. Having poor instructions isn't the end of the world as long as there is another resource online that you can turn too. A product that is easy to operate, and more importantly; easy to maintain, should be something people new to power tools should be looking for if they don't have any technical knowledge.
Comparison table: Best Petrol Chainsaws: ranked on power, price, and performance (February 2021 Updated Review)

Product
What We Think
Price

38.2cc petrol engine, 14" Bar

Strong & Reliable 45cc Engine
16" Bar Complete with 2 x Chains
Includes Carry Bag, Bar Cover
CE / GS AND EU-II Approval
Incredible performance & Value for Money

455 Rancher chainsaw is an ideal saw for landowners or homeowners who require a high powered and heavy duty...
55. 5cc 20 inch gas chainsaw with guide bar and chain
2 cycle engine with Intertie activated chain brake for safety while operating
Comes with Husqvarna chainsaw Bar cover and 2
Automatic chain oiler delivers a steady supply of bar and chain oil for safe and effective use...

Hyundai HYC6220 62 cc Petrol Chainsaw Bar with 2 Chains and Carry Bag, Blue

20" (50cm) Bar Capable of Cutting up to 40" Diameter Trees
Powerful Hyundai 62cc 2 Stroke Engine with Easy Start
Anti Kick Back and Heavy Duty Manual Chain Brake for Safety
Automatic Chain Lubrication System to Help Extend the Life of the Saw Chain...
Easily Accessible Side Mounted Chain Tensioner for Quick and Easy Chain Adjustment...

Award Winning 62cc Engine
20" Bar Complete with Chains
Free Carry Bag, Bar Cover
2.6KW / 3.5HP Engine Output
CE / GS & EU-II Certification

P1PE P6220C 2-Stroke Petrol Chainsaw Easy Start 20-inch Hyundai Powered 62cc Engine

Easy start hyundai 62cc air cooled 2 stroke petrol engine
20" (50cm) bar for tackling large trees or smaller Clearance jobs
Anti kick back safety brake for increased safety when in use
Automatic chain lubrication for long chain & bar life
Easily accessible side mounted chain tensioner for quick adjustment
Whenever I choose a product to go at the top of one of our lists, I always go for the item that offers the right balance between price, durability, and performance; and it's for these reasons that the Parker brand 62cc petrol chainsaw and accessories set tops our bill today. For around a hundred- and fifty-pounds price tag, I seriously doubt you will find something that performs as well as this petrol chainsaw does. Now, I'm not saying there aren't other good choices out there at that price, there certainly are as this list shows, but none of them can handle larger logs in the same way this chainsaw can. It's as simple as that. We had the perfect job to test this product out; some thick railway sleepers we were going to use to create some raised beds around the edge of a friend's garden. After mixing up the fuel using the included measurement bottle, and a few pulls of the recoil cord, the Parker 62cc petrol chainsaw kicked into life and sliced through them without any bother. It was a nice display of what the air cooled engine's 3.5HP output can do.
After seeing this impressive display, we decided to really put it to the challenge and tried to cut up a large, old, Scot's pine tree that my friend had just had professionally cut down, but hadn't gotten around to cutting up into firewood. This tree was much thicker than the 20" bar on this chainsaw and so, I wasn't surprised when it struggled to cut through, but then it dawned on me; we hadn't sharpened the chain since using it a few days before. So, after swapping the chain for one of the free spares, we set back about it, and sure enough; it did a very good job at cutting through the pine. Of course, we had to be careful and take it steady, and I wouldn't try to use it like this on a regular basis, but it did complete the task in the end, so props to Parker brand.
This is an excellent petrol chainsaw for the price, but it isn't perfect and there are a few things to be aware of before you decide to buy. Firstly, the recoil chord that's used for starting the chainsaw could be better quality and I think that would probably be the first thing that needs replacing on this model, especially as it takes quite a few pulls to get it cold started. Secondly, it runs pretty loud, even when ticking over, so it might not be the best choice for people with neighbours who like to complain. And lastly, I did find that the chain lost its sharpness quite quickly and needed to be changed often. Thankfully, none of these are big problems and are quick, easy, and cheap to fix should any issues arrive, so I can't mark this otherwise excellent, low-cost, petrol chainsaw down too much. Definitely my pick of the bunch, and one our customers have been most happy with since we started selling them.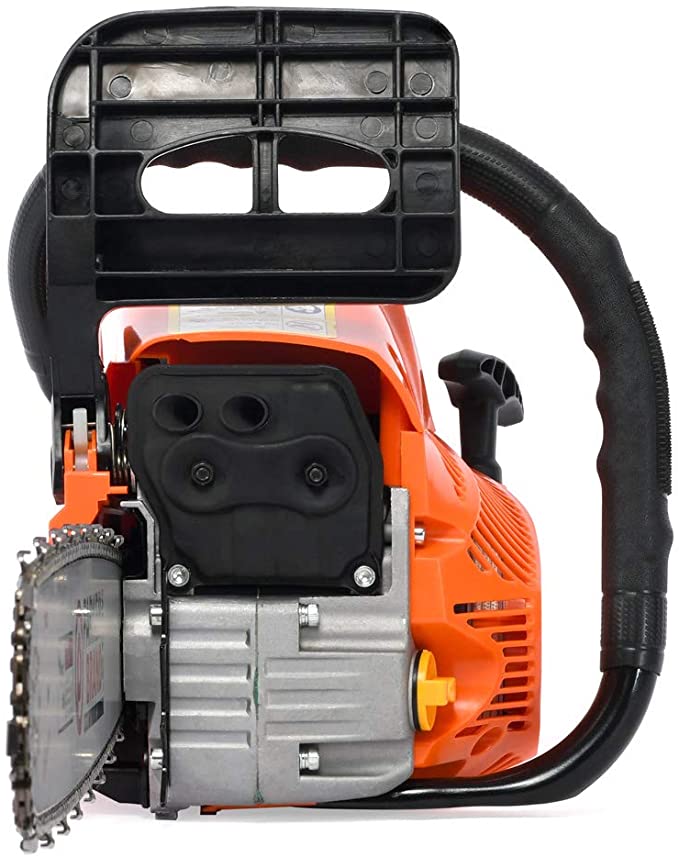 2. Husqvarna 20 Inch 455 Rancher Gas Chainsaw
For those of you who have large properties and need a heavy-duty petrol chainsaw to use on a regular basis, the Husqvarna 20-inch 455 rancher model is hard to beat. With a price tag of over 600 pounds, you'd expect this chainsaw to be powerful, reliable, and easy to use; and that's exactly what you get.
First, let's talk about power and performance. Despite having a smaller engine (55.5cc) than the 62cc Parker brand chainsaw, the quality of the Husqvarna motor is far superior and thus produces the same kind of horsepower at around 3.5HP.
Not only is this engine very powerful for its size, Husqvarna's X-Torque technology makes it extremely economical too, keeping fuel consumption low and helping the environment, and your bank account, at the same time. The chains that come with Husqvarna chainsaws are always good quality, and this model is no exception. They are very sharp and durable, and thanks to a great tensioning system, combined with the auto chain lubrication feature, your chains stay sharp and work at their best for longer.
This was one of the easiest chainsaws to start that I've ever worked with and started first or second pull pretty much every time. The pull cord itself feels nice and strong too, as does the recoil action, making you feel confident in the overall build quality of the machine. Also easy to use are both the chain tensioner, and the air filter. The filter has a quick release mechanism for quick cleaning and changing, but because of the air injection system, a lot of larger and more problematic pieces of debris are kept out of the filter.
Like with other Husqvarna chainsaws, the chain tensioner is found on the side of the tool, and this makes it so much easier to operate while on the go. The tensioner is top notch too, and so adjustments are not required as often as with cheaper products.
For such a large and powerful petrol chainsaw, this one is actually very lightweight and easy to handle. Usually this means that corners have been cut with the quality of the materials to keep the weight down, but with this model this isn't so, and the build quality is excellent. Everything from the casing, right down to the chain itself is of the highest quality, and I would say that if you have the need of a larger, powerful chainsaw, and you have the money to spare, this is a product that you will be happy with. In fact, the only reason that this isn't number one on this list, is that for a lot of people, the price might be out of reach, and the power might be overkill for light garden tasks.
3. Hyundai HYC6220 62 cc Petrol Chainsaw Bar with 2 Chains and Carry Bag, Blue
While most of you will be familiar with Hyundai cars, it might be news to you that they also produce and sell a wide range of power tools, like this petrol chainsaw that comes with an assortment of extras, such as a tool kit, spare chain, carry bag, and more.
Powered by an excellent, air-cooled, 62cc engine, this Hyundai 20-inch chainsaw has enough power to tackle all your medium sized gardening tasks, and also a few of the more heavy-duty ones too; within reason. In addition to the power, this engine is one of the most economical in its class, and has been designed so as to keep the overall weight of the chainsaw down to a minimum, and this Hyundai have done a good job with.
At just 6.8kg, this is lightweight for such a large and powerful petrol chainsaw, and it is something you notice instantly when using it straight after heavier models. It just has a better feel to it, and is much more manoeuvrable in general. Like with the Husqvarna products, this Hyundai features a self-lubricating system for the chain, and this particular system can be adjusted to suit the job at hand; got a lighter job too do? Use less oil. Larger logs to cut through? Turn it on up. It's easy to use and works really well.
This petrol chainsaw was designed to be used for long periods of time, and has had anti-vibration technology integrated into the machine. Again, it was noticeable when using the tool back-to-back with some other models, but not so much as to be a game changer. This is one of the safest chainsaws on our list, with both an anti-kickback brake, and a chain safety brake system to help avoid any injuries. The anti-kickback brake is especially sensitive and works on inertia, immediately stopping the tool if an upward force is suddenly detected.
A side mounted chain tensioner makes adjustments quick and easy once you work out how to use it, but you'll have to visit the Hyundai power tools website to get the right instructions as the ones that came with the product didn't do a good job of explaining it. The same goes for getting the thing started. There is a certain process of priming to go through to get the best results, and I had to find this out through trial and error, not the manufacturer's instructions!
With a price tag of around 250 pounds, this sits it firmly in the middle of the Parker brand 20-inch chainsaw and the Husqvarna model of the same size, and I would say quality-wise, it also sits in between those two. It is a very good petrol chainsaw with some nice features, but not without its flaws, and the extra 100 pounds that you have to pay for it over the Parker brand product might put some people off. If I had the extra cash though, and I didn't mind spending time on how to use the machine properly, I would probably opt for the Hyundai.
4. Husqvarna HUSQ120-14 120 II 14 inch. 38.2cc Petrol Chainsaw
There aren't many better-known names in the chainsaw world than Husqvarna, who have been bringing us quality products for longer than can remember. Their brand is one that inspires confidence in people who are experienced in using chainsaws, and for good reason. Its blade is made from Japanese technology and is very sharp and sleek, they are also making other fantastic garden equipment such as the Hyundai Petrol Pressure Washer in case you're interested.
This 14-inch petrol chainsaw of theirs is yet another excellent model to add to their long list, and the very reasonable price tag makes it affordable to most, and puts it in direct competition with many others featured on our list today. So, how does it match up? I'd have to say very well indeed. It has a whole host of features that make it a very good buy for people who just need to tackle some light to medium grade tasks.
For a start, at 4.7kg it is comparatively lightweight and this allows you to wield it for longer without feeling fatigued. What weight there is, is also well distributed and this adds up to a petrol chainsaw that is easier to handle than most. When compared to the Parker brand 62cc model, this Husqvarna has less vibration, and runs quieter. I also noticed that it was a little better when it came to fuel consumption too, but that is to be expected with a smaller sized engine. The 38cc air injected engine on this petrol chainsaw produces 2HP, which is a decent amount of power for a smaller model, and is more than enough for most light gardening cutting. I wouldn't even attempt to use it for larger logs and more heavy-duty work, but that's fine as this product's isn't designed for that, unlike its big brother which is also featured further down this list.
The Husqvarna 14" petrol chainsaw has been made primarily for home use, and so it has some essential safety features built in, such as the inertia chain brake and a low kickback system. It is also very user friendly, and will start up reliably on the first or second pull if primed sufficiently beforehand, even from a cold start. As with all Husqvarna chainsaws, this one features a very sharp chain that doesn't blunt too quickly. The tensioning mechanism is easy to use too, and is operated by using the free multitool that comes with the chainsaw. This tool is also used for accessing the fuel and oil, although both of those caps can be removed just with your hands.
It is this collection of features that makes me recommend this as our number one pick for best petrol chainsaw for beginners. It is very easy to assemble and use, needs less maintenance than a lot of other chainsaws in the same price range, and has some handy safety features. It won't handle larger jobs, but for the vast majority of home tasks, it is a great choice.
5. P1PE P6220C 2-Stroke Petrol Chainsaw Easy Start 20-inch Hyundai Powered 62cc Engine
Powered by a beefy, air cooled, 62cc engine; courtesy of famous car brand Hyundai, P1PE's petrol chainsaw has plenty of power and sliced through our test conifers like a knife through butter. For 149.99 (at the time of writing) you get this powerful petrol chainsaw, a bar cover, carry bag, small tool kit, and additional spark plug and chains. As I expected, the carry bag and tools aren't of the highest quality; they never are when they're free, but they aren't terrible or useless either.
At just shy of 7kg in weight once the chain and bar have been fitted, this is fairly lightweight for a 20-inch chainsaw, and is easy to handle for most able-bodied adults. The vibration levels aren't too bad either, and I felt quite comfortable using this for an extended period on our first try out. P1PE's 20-inch petrol chainsaw features a self-lubricating system to keep that chain working at its optimum, and chain tension is very simple to adjust thanks to the tensioner's position on the side of the main body.
As safety features, this chainsaw incorporates a double pivot, anti-kickback, safety brake and also a chain catcher. The latter is designed to stop the chain being thrown toward you in the event that it derails or breaks. Thankfully, I've never had to test that out so I can't give any word to its effectiveness, but it is always nice to have more safety features on a chainsaw.
A powerful, reliable engine, easy to manoeuvre despite its larger size, and some nice safety features. So, why isn't P1PE's product top of our list? Well, there are few things that I had to score it down for. The main one being that the plastic used for the handle and main body of the chainsaw just didn't seem thick, or strong enough to make me feel confident about its durability. This is a shame, because the engine and mechanical parts are all good quality in comparison.
There are other things too, such as the exhaust getting really hot, very quickly, and I also found it a little hard to start at times.
These aren't deal breakers, and it is still a good low-cost petrol chainsaw. I just think that there are better options for the same price. If this was priced lower though I think it would be well worth the money.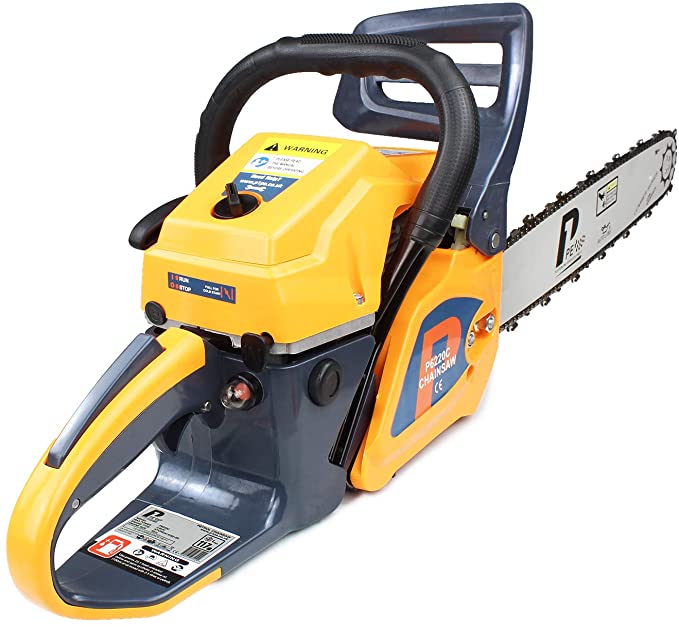 6. Parker Brand 45cc 16 inch. Petrol Chainsaw + 2 x
You don't need a powerful, 2-inch petrol chainsaw to handle most garden cutting jobs. In fact, the extra weight of these larger chainsaws can be a bit of a hindrance if you're just trying to cut down some thick branches, or work in a confined area. Having said that, some of the smaller chainsaws can be lacking in the power department, and are really only good for the lightest work.
This particular model sits somewhere in between. It has a 16-inch bar, making it easier to handle than larger chainsaws, like its big brother; the Parker brand 62cc model. However, it still packs a punch, thanks to a 45cc, 2-stroke engine. Like other Parker brand chainsaws, this one is solidly built, with good quality plastic for the body and handle. This robustness comes at a cost though, with the weight being a bit on the higher side. Also like with other chainsaws from the same company, this one comes with a bar cover, free carry bag, spare chains, basic tool kit, and a fuel mix bottle; all for 120 quid.
The cutting performance of this chainsaw is excellent when the machine is working optimally, but here's the thing; to keep it working that way takes more work than I would have liked. The problem lies in the chain tension; it just doesn't stay tight enough for long enough, and so you have to be quite aware of that and stop to adjust it quite often, and of course, this makes any cutting job take a bit longer than it should. Apart from this, it does perform very well and will cut through medium sized logs with relative ease.
Noise levels are about what you'd expect with a low-cost petrol chainsaw- loud, but certainly no louder than most of its competitors, and you should always be wearing ear protectors when using these tools anyway. Vibration isn't bothersome either and I think the heavy-duty plastics used on the body have something to do with this.
All in all, this is a good starter petrol chainsaw for home use if you have light garden work, or medium sized things to cut. As long as you keep an eye on the chain tension, this will perform excellently all day. However, due to the chain tensioner being questionable, I had to give it a place lower down on our list of best petrol chainsaws.
7. BOUDECH Compact Petrol Chainsaw 25cc 2-stroke engine 1.2HP 20 inch. guide bar.
After getting numerous customers coming into the shop and asking for something that was more powerful than an electric pruner, but still small and lightweight, we decided to start selling this product from Boudech and the feedback we got from people was mostly very positive.
With a 25cm bar, and a 24cm x 29cm body, this is one of the most compact petrol chainsaws available, and in addition, it is quite lightweight; weighing a little over 5kg. This smaller size and weight have made this product a very popular choice for our female customers and people smaller in stature.
While not the most powerful engine in the world, the 25cc block produces a decent 1.2HP, and 11,000RPM, and this allows this chainsaw to easily cut through thick branches that some electric pruners might struggle with.
The Boudech compact petrol chainsaw isn't just a pruner on steroids though, and can also be used for cutting firewood. This does very impressively for such a small tool, but of course, you have to be sensible when it comes to the thickness of the logs that you are trying to cut, and it will take time to do so. Still, it did surprise me at how powerful it is.
Quick to start after a proper priming, I had no issues getting the Boudech up and running, and even though the instructions we received were not in English, it was fairly easy to work out the assembly process, even though there were a few swear words spouted here and there along the way. If asked, I'd say the overall build quality of this model is good, with decent enough plastics being used for the casing and handle, and decent fittings holding everything together. I'm not sure how well it would hold up to being dropped on a hard surface, but then again, I could say the same for many of the lower budget petrol chainsaws on the market.
The only major downside that I noticed with the Boudech compact chainsaw was that the chain did seem to get loose more often than I liked, and this could be dangerous for beginners who might not realise this and continue to use the tool., so I always make sure I spend a few minutes talking to customers about this when they buy it from me. Other than that, I can't really fault this product too much. It is what it says it is: a small petrol chainsaw for light gardening tasks, and as that, it works well.
Remember
If you are going to use any chainsaw, it is imperative that you wear the correct safety equipment. I'm not just talking about ear protectors and goggles either. A good pair of chainsaw trousers, gloves and chainsaw safety boots can be a lifesaver, literally, so please don't overlook this aspect of chainsaw use. These tools are highly dangerous if you are not careful and should not be something to be used without wearing the right gear.
---