Garden Tool Box » Best fence paint [UK]: Top fence paint for spraying – Curprinol and Ronseal
Best fence paint [UK]: Top fence paint for spraying – Curprinol and Ronseal
This article was last updated on April 5th, 2021 at 12:34 am
Have you ever used rubbish fence paint? I must confess I haven't because I always use the best fence paint, in this case Cuprinol Duckbacks 5 year waterproof For sheds and fences. How didd I learn this lesson? Buying cheap rubbish emulsion from no naming names but it rhymes with 'Twix' some years ago in my youth thinking I could get a bargain. After rolling on about 5 coats and still seeing patches, losing a whole day, I finally cottoned on! In some respects that was a very good lesson to learn early on. I implore you to learn from this sound advice, but if you don't, I guarantee you'll remember this little anecdote 🙂
Best fence paint
The best fence paint will apply easily with a roller, fence sprayer, or masonry brush. It should leave a full looking paint finish with minimal coats, protect wood for many years, ideally not smell too much on application, and be sensibly priced. That's how I've picked your top best fence paint and if you want more detail the best fence paint buyer's guide will help understanding the differences in products and their qualities too.
Comparison table: Best fence paint [UK]: Top fence paint for spraying – Curprinol and Ronseal

Product
What We Think
Price

Cuprinol Duckbacks 5 Year Waterproof For Sheds And Fences, 5L

Wax enriched water repellent
Weatherproofs sheds and fences for up to 5 years
Quick drying and low odour
Non-drip formulation
Showerproof in 1 hour

Protects and rejuvenates metal
Contains anti corrosive pigment giving additional barrier protection by reacting with atmospheric moisture...
Paintable, sprayable and rollable
Designed to be applied directly onto finished metal or rust
Performs as a primer

Johnstone's 309290 Garden Colours

Provides up to four years protection on most types of garden furniture including sheds...
Easy application - the smooth
Quick drying - with a two hour drying time
Harmless to plants and animals when dry
Available in a range of colours

Johnstones Woodcare One Coat Shed & Fence Paint

Quick Drying
Wax Enriched
Long Lasting Colour and Protection

Areas of use: Sheds and Fences
Coverage: 6.0 m2 covered per litre
Finish: Opaque Matt
Drying time: Rainproof in 1-2 hours
Number of coats: 1

Ronseal RSLFLPPCF5L 5 Litre Fence Life Plus Paint

5 Year protection for both rough sawn and smooth planed sheds and fences....
Provides all weather protection and UV protection for long lasting colour.
Can be applied by spray or brush.
Model number: RSLFLPPCF5L
1. Cuprinol Duckbacks 5 Year Waterproof For Sheds And Fences, 5L
the best fence paint without question; Cuprinol Ducksback, is more than worthy of the top on our best fence paints list, and another I have personally used today with good results and it covers superb in a couple of goes. it doesn't matter what Curprinol are making, they just want to be the best. They've been the best literally for so many years I cannot remember. The Cuprinol 5 Star rot treatment and wood preservative was nothing short of incredible in it's time.
This is a great fence paint to use for waterproofing purposes as it has been enriched with wax, and this just brings it to the next level of rain resistance. What's more, just like with Ronseal's best products, this one is showerproof after an hour or so.
Available in four different colours, and each one looking fantastic, a 5-litre can should give you enough paint for about five 6x5ft fence panels if you're giving them a double coating, and I recommend that you do, especially if you want the paint to last for years to come. I know the advertising claims you can do 10 panels of that size, but that would be with a single coat and I do think bare timber (or timber previously a different colour) needs two, take a look at a couple of examples here from earlier today covering new timber (in the video) and an old gate: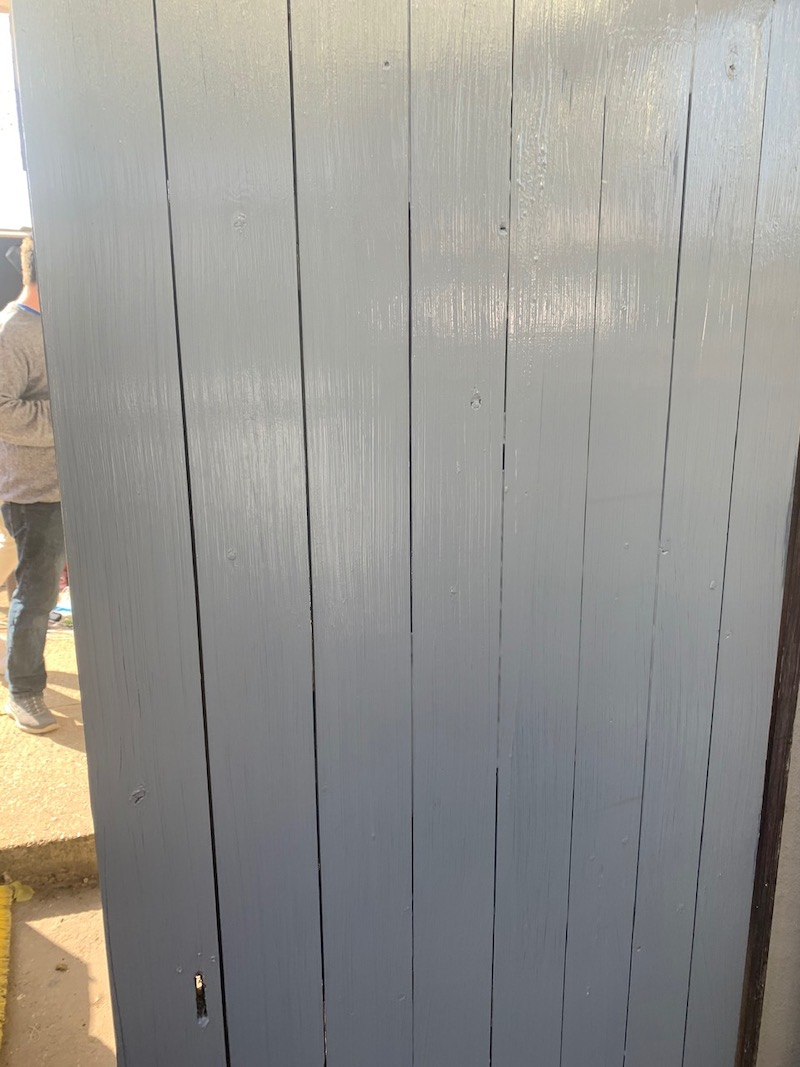 This stuff is a dream to put on with a brush, and it really does live up to the 'non-drip' claims of Cuprinol, and my best 'painting wellies' didn't look too worse for wear after the job was done. Here's a quick example video if you're on mobile using the Cuprinol Duckbacks 5 Year Waterproof For Sheds And Fences, forgive my sister she does take her time and doesn't like to lay it on thick 😀
It's not too thick making it the best fence paint for spraying. You know, I try to find fault with Cuprinol to bring balance but they are miles ahead. Feel free to buy my Ronseal second pick which is ahead of the rest and it is still miles behind Cuprinol 🙂 then you'll see for yourself, sadly the rest of my Ronseal is going in the bottom of the shed until I can find some obscure project for it or I run out of Cuprinol.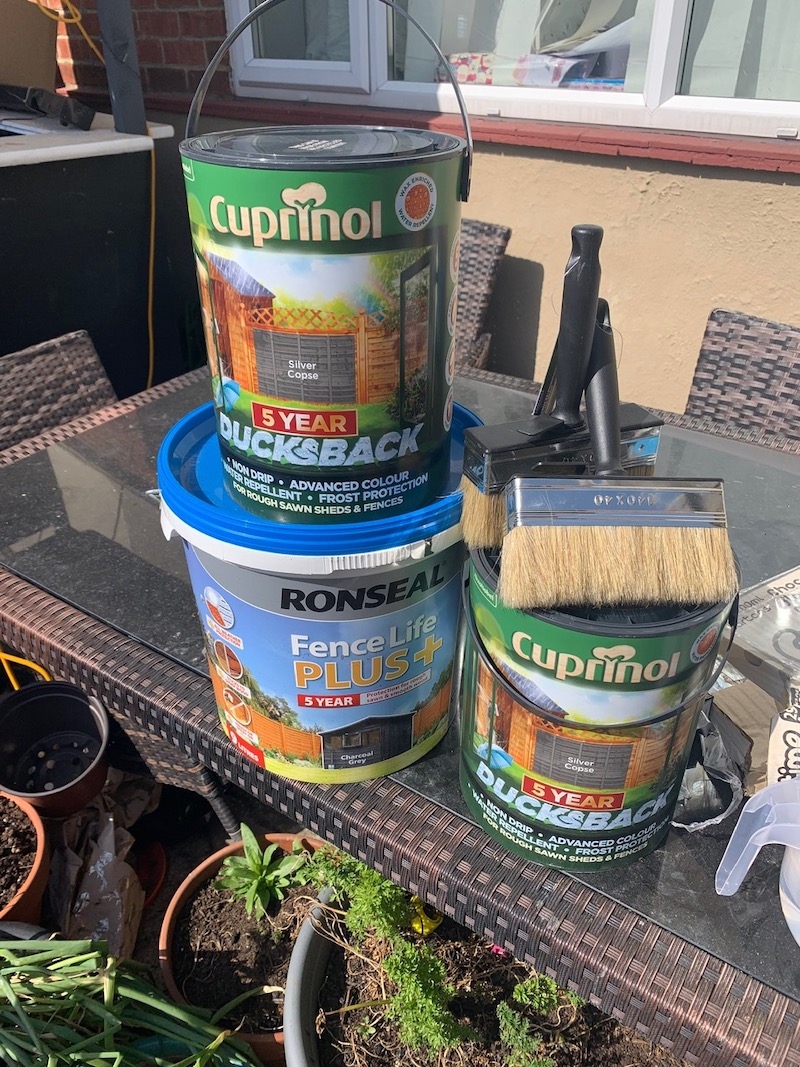 Many out there swear by Ronseal, as I do about the Ronseal two part filler which is without doubt the best wood filler in the UK. It's just on this occasion they are completely outgunned.
Some fence paints have a very strong odour and this can leave to headaches and nausea after using them for a while, but with Cuprinol Ducksback fence paint, there was none of that, and that is just another reason why this product is worth the money
2. Ronseal RSLFLPPCF5L 5 Litre Fence Life Plus Paint
Ronseal have made a very good name for themselves over the years by continually producing innovative new paint products and stains onto the market. I was already a big fan of their fence life one coat paint after using it for my very own garden fence, so I was excited to try out their latest stuff: Ronseal fence Life Plus.
Touted as their most advanced paint to date, it has been formulated to give protection against all the usual winter threats like rain, snow, frost, and also to fight off the negative effects of UV when the weather gets better. This makes it perfect for places that have an unpredictable climate, and so it is a sure winner in the UK.
It's quite versatile in the way it can be diluted and then applied to any fence or wooden shed using a paint sprayer, or used as-is with a brush for doing the finer final touches round the edges.
The speed at which this fence paint dries is impressive, and it is said to be showerproof after just an hour. The weather was good on the day we were testing the product, but we gave it a light sprinkling with the garden hose to see if the claims were true, and I'm very happy to report that they were.
Priced at around 20 pounds for 5 litres (Covid price raises I'm afraid), it is slightly more expensive than their 'One Coat' product and I will say it's not quite as good when I put them head to head today as the Cuprinol.
3. Johnstone's 309290 Garden Colours
Johnstone's Garden Colours fence paint really lives up to its name, offering you a wide range of shades to choose from. In fact, there are a total of 18 different colours, so it shouldn't be too hard to find something that tickles your fancy. While not quite as quick drying as Ronseal and Cuprinol's products, this is still no slouch and only takes a couple of hours or so for it to be showerproof.
We tested Johnstone's paradise petals colour as we were painting a wendy house for a friend's daughter. After two coats the paint looked amazing, thick, and the colour was so vibrant, so this would be a product I'd recommend if you're into brighter colours.
This is a plant and animal friendly paint once dried, which is good to know for a keen gardener such as myself who likes to do all he can to keep his botanical babies looking their best.
Johnstone's claim that this paint will last for four years, and I've no reason to doubt that based on our time working with it. As already stated, the finished product was thick and even had a waxy quality to it on the wood when it had dried completely. I think, to get the full four years' worth out of this paint though, you would need at least two, maybe even three coats, so make sure you buy enough to cover that.
My original, favourite, fence paint, Ronseal's One Coat product is still right up there with the best of them in my opinion. The reason I like it so much is, to quote the famous advert: it does exactly what it says on the tin. Yes, it really only does require a single coat of this stuff to transform your tired looking fence into something to be proud of.
It is very easy to apply by sprayer, brush, or roller, and due to its thickness, there is very little dripping or splattering, unless you paint like an enraged toddler, that is.
In just over two hours, this fence paint will be dry and able to withstand the rain, but it hasn't got the same formula as the newer Ronseal fence life plus to protect it from frost and UV. Haven't said that, it does protect your wood from greying.
While a lot of new products are claiming to last for 4-5 years, Ronseal are a bit more conservative when it comes to this stuff, and say it will keep its colour for 2 years. When you consider that that is with only a single coat, it is still very impressive.
Available in a good selection of natural looking colours, and giving an opaque. Matt finish, that looks the business, this is perfect for fences and sheds that need sprucing up, and for people who might be a bit short on time to do the job. With only one coat needed, it certainly speeds up the process.
5. Hammerite 5158235 Metal Paint
Not all fences are made of wood, and while you can certainly use any of the products featured here today on your metal fence, my advice would be to go for a fence paint that is specifically made for that purpose.
Hammerite is a well-known and trusted name (in fact I can still hear the song 'any old iron…' from their advertisements back in the early 90s!), so it should come as no surprise that their product is the one we picked for best metal fence paint.
Easy to apply via sprayer, roller, or brush, Hammerite's metal paint can even be applied onto rust, and has an anti-corrosive pigment in the formula, designed to react with moisture in the atmosphere and create a protective barrier for your fence.
There is no need to have multiple products to make your metal fence look as good as new, as this one does it all, and can act as a primer, undercoat, and topcoat, and the results are outstanding, leaving you with a wonderful shiny, gloss finish.
Now, I do have to tell you that this stuff is thick, and quite sticky, so invest in a pair of gloves that will give you good protection and dexterity, or you'll end up spending longer trying to scrub this off your skin than you did painting the fence.
With a decent pair of gloves though, you will soon have that rusty old chink of metal outside your house looking like Buckingham Palace gates, minus the guards in funny hats, of course.
6. Johnstones Woodcare One Coat Shed & Fence Paint
Another fantastic product from Johnstone's, this one coat shed & fence paint is definitely up there with the best on offer, but does it live up to it's 'one coat' name like Ronseal's offering?
After our time testing it, I have to say that it does. We painted on a single coat of their Golden Chestnut paint onto a new, rough, wood fence and the results were excellent. The paint is very thick and has a nice matt finish.
However, there were moments at first when I was a bit worried, as Johnstone's paints look quite a different shade when you first apply them to when they are fully dried. This is true for most fence paints, but I've noticed that this is particularly true with Johnstone's products, so please don't be alarmed at first and give it time to dry. You'll be happy in the end, trust me.
The paint dried in about 2 hours, which isn't bad considering the thickness of it, and although way too early to tell, I would put good money on it lasting the three years that are claimed by the company.
Wax enriched, it provides a really good level of water resistance, making it ideal for not just fences but sheds, wendy houses, tree houses, and wooden garden furniture too. We gave it our hosepipe test, and was happy to see the water simply bead up and run off the surface.
Even though Covid-19 and supply problems have increased the price of most products these days, I still don't think that the current price for a 9 lite can is that bad at all, and it should easily cover a single coat on an entire fence of average proportions.
Best fence Paints Buyers' Guide
All fence paints are not created equally, so it pays to know what to look for in these products. Here is a short little guide to help you make the right choice.
'One coat' paints pros and cons
A few of the top brands now have products that are labelled as 'one coat' or similar, and it is very tempting, if only for the time saving aspect of it. From my experience, these paints really do only require a single coat and look great, at least the more well-known brands do. On the other side of the coin, they don't last as long as the new products like Ronsea'ls fence life plus, before needing another coat, but since you only applied one to start with, it sort of balances itself out.
Covid-19 prices
Supply shortages caused by covid-19 have resulted in price hikes in most fence paint products, but you can still get a good deal if you look hard enough. With even little known brands increasing their prices at the moment, my best advice is to go with the trusted names, at least you know you're getting something decent for the money.
Non-drip
Non-drip fence paints are just what they sound like, and of course, that is a good thing. You'd be surprised how much paint can be wasted through drip page, so if you're thinking of buying a cheaper paint that isn't non-drip to save money, you might end up actually paying more, as half of it will end up on the floor, your shoes, and everywhere else you can think of.
Buy a quick drying paint
The weather can change so quickly in the UK, and most often it is not for the better, so having a fence paint that can be both dry and rainproof in the shortest time possible, is a must. Single coat paints tend to be thicker and dry a little slower, but the best ones are still showerproof within a couple of hours. Paints like Ronseal's Fence life extra are even faster, and will be good to fight off the rain in about an hour.
So, there you have it, a few things to look for in the best fence paints, and a selection of or honest reviews on the best of the bunch, Hopefully we have helped you make the right decision for your own fence painting needs, and would like to invite you to check out some of our other related pages such as best paint sprayers, best paint brushes, and best paint rollers.
---