Written by Terry Smith
Our site is reader supported so when you click a link to Amazon we may earn an affiliate commission.
Garden Leaf Blowers & Vacuums [UK]: top garden leaf blowers compared
This article was last updated on October 3rd, 2021 at 10:15 am
As summer approaches and we get ready to enjoy that perfectly mowed lawn, new garden furniture, and BBQ, the cold winds of Autumn may seem a lifetime away.
In reality though it is only a few more months before we start seeing those bright greens start to change colour into wonderful shades of orange and brown, and while that is a beauty all of its own it also means that those leaves will soon begin to fall.
If you have a lot of trees in our near to your garden, you're probably going to spending a lot of time with a good rake in hand gathering all those dead leaves off your grass.
Another option is to purchase a leaf blower, leaf vacuum, or a 2-in-1 leaf blower and vacuum tool to help get the job done in a fraction of the time and with far less effort, and let's face it, the less time we spend out in those oh so cold winds, the better.
I've been gardening for years, as have many of my closest friends and we all agree that investing in a leaf blower and vacuum was one of the best ideas we've ever had, and I highly recommend investing in one of the top models, probably a petrol leaf blower if you have a large amount of work to get through.
To make that decision a little easier, we have lent you a hand by testing and reviewing a host of the best leaf blower and vacuum tools. We've tried to choose a wide range of models from a section of brands and with varying price tags, so you should find something to suit your needs. The selections are based on the ability to suck up leaves (wet leaves stuck to the ground can cause a bit of a problem), ease of use, weight, quality, and power.
A garden leaf blower vacuum was singularly one of the best things I've bought. When I moved to a new home last year that came with a host of lovely trees, come Autumn, I realised I needed a solution to the falling leaves! It doesn't matter if you only go with a garden leaf blower, a garden vacuum, of the leaf blower vac as I did, you'll save yourself a huge amount of work! A garden leaf blower vacuum should be powerful enough to suck wet stuck on leaves effortlessly, it should be light weight enough to carry comfortably.
Comparison table: Garden Leaf Blowers & Vacuums [UK]: top garden leaf blowers compared

Product
What We Think
Price

4-stroke engine for fewer emissions and more efficient fuel consumption
Mechanical decompression system for consistently easy starting
2 part blower tube for easy storage in cramped sheds and garages
Compact and lightweight

Il potente Husqvarna 570BTS è un soffiatore a spalla di livello professionale progettato per compiti impegnativi....
Ampio flusso ed alta velocità  dell'aria sono forniti da uno speciale design della ventola unitamente al potente motore X-TorqÂ...
Il filtro aria professionale consente grande produttività e un utilizzo senza problemi....
Un soffiatore a spalla con lo zaino dagli ampi spallacci per una grande ergonomia....
Cilindrata 65.6 cm³ Velocità aria 105.6 m/s Flusso aria al beccuccio 22 m³/min Peso 11.2 kg...

Maximum air pressure 5.4 kPa
Maximum air volume 2.3 cubic m/minutes
Ergonomically designed handle with rubberised soft grip fits your hand perfectly to provide maximum control and comfort...
Anti-static electricity for comfortable operation
Three air volume settings: Low

Powered by two 18 V Li-Ion batteries in series to supply energy to the powerful 36 V DC motor...
Battery capacity warning lamp
Push button for high/low volume settings
XPT (Extreme Protection Technology)
Low noise emissions

210 MPH Wind Output
65cc Two Stroke Engine
2.8KW / 3.8HP Engine Output
Improved Design & Appearance
CE / GS Approval & EU-II Compliance

Professional appliance: Backpack leaf blower with 1500 W engine power
Maximum comfort: Thanks to the backpack function
Maximum user-friendliness: The appliance is fitted with an anti-vibration system to make work as comfortable as possible...
Flexible air speed: The air speed can be adjusted and speed control is integrated to ensure that work remains...
Scope of delivery includes: 1x McCulloch GB 355 BP backpack leaf blower (Article Number: 00096-70.887.01)...

VonHaus 3 in 1 Leaf Blower - 3000W Garden Vacuum, Blower, Mulcher

Pros:

Unrivalled value for money in the UK
3000 Watt motor delivers the power for sure
Leaf shredding ratio of 10:1
Nylon bag capacity is 35L
The debris bag comes with a strap for easy holding
Two year warranty
Now a trusted brand on Amazon
Very light for the power

Cons:

A few fail quicker than expected - QC needs work

3000 watt motor with variable speed
45 litre collection bag
Nozzle Support Wheel for easy of use on hard surfaces
Blows, Vacuums and Shreds at a ratio of 10:1
Weight - 4.9kg

Flymo PowerVac 3000 3-in-1 Electric Garden Blower Vac, 3000 W

Powerful, easy to use garden blower and vacuum with 16:1 shredding ratio
Innovative conversion system and 10 m cable
Ideal for easy clearing or leaves and garden debris
The distinct tool-less quick-change feature easily converts from blower to Vacuum

Better for dusting drying and cleaning
Input Power: 500W
Suction dust bag is included
Suitable for office, home

☀ ADJUSTABLE LENGTH ☀ Adjustable machine length for users of different heights (1.6-1.9m)...
☀ EASY TO DISASSEMBLE DESIGN ☀ Metal blade
☀ EASY TO CLEAN ☀ Increase the blowing and suction air outlet
☀ MORE CONVENIENT ☀ Adjustable auxiliary handles
☀ PROFESSIONAL CLEANING ☀ Blowing suction switch
Last year late autumn I found myself getting really interested in leaf blowers. It was one of the worst years as my trees are growing up and it was just so messy that it was just really wasn't a job to do with a rake and hard broom. I was really starting to regret having to clean the patio and sweep up every single day it was becoming way beyond a chore.
Don't get me wrong I absolutely love my garden but there's some things where repetitive jobs are involved that can just be streamlined. And the leaf blower vacuum is exactly that. Without doubt it was one of the best investments of my life. I bought particularly expensive one but then I have quite a lot of surface area to cover. I don't really think that everyone would need one quite as expensive as I shelled out for. So in this article I'm going to go through a few of the most common types and models. I also go through the pricing of them and then round up which ones I believe are best for what scenarios and is up to date until Autumn 2020.
For those of you that don't really want to go through all of the reviews and are just looking for the best prices and bang for your buck so to speak please see the table below:
As you can see the prices vary considerably but then so does the performance. Now in detail I intend to go through the best leaf blower, with the best reviews, and any leaf blowers are currently on sale.
To establish to he best leaf blower for each individual I'm going to go through a series of scenarios.
Best leaf blower
For my money the best leaf blower is an ambiguous question because there's so many different variables and it is possible to just label every single one the same. For example you might be looking for the very best in performance out there as far as best leaf blowers go. This doesn't actually make for the best leaf blower for someone with a small house and a very small front garden or patio to look after. There is no two best leaf blower scenarios that are exactly the same. Within these examples there might be variables too. For example if you've got a small garden and it's close to a power source and electric blower might be good for you because of the cost. However if you've got a long walk will you have to run a power lead a long-distance then of course you might want to be looking at the cordless leaf blower
Best leaf blower for large home or estate
1. Makita BHX2501 24.5 cc 4-Stroke Petrol Handheld Leaf Blower
Specification: Displacement: 24.5 cc, Engine: 4-Stroke, Max Airflow: 10.1 m³/min, Suction capacity: 606 m³/h, Power: 1.08 hp / 0.8 kW, Fuel Tank Capacity: 0.52 litres,
The best leaf blower for a large Estate or home is almost certainly going to be a petrol powered heavy-duty one. You don't really want to mess around with power leads and a cordless one simply won't have enough battery power time. So I think it's pretty fair to rule out cordless or electric leaf blowers and concentrate our efforts on trying to find a good value petrol leaf blower.
If you're looking for a high quality industrial grade leaf blower then you probably don't need to look any further than the Makita 4 stroke petrol leaf blower, we reviewed it in detail on our best petrol leaf blower page too. It's an incredible piece of equipment and so unlikely to fail you. This amazing piece of equipment actually blows air 145 miles an hour and is surprisingly more quiet than many of its competitor models. If you're seriously looking to invest in tools this is the model.
If you have an extremely large garden or you're doing this on a professional level you really don't want to 2-stroke because you'll then be filling up with two stroke oil all the time. A 4-stroke engine oil will last 6 to 12 months depending on the amount of you use and even then you won't be going it'll just need servicing.
The best Makita leaf blower comes with some incredible performance stats. One of the biggest features and most useful features is decompression system that allows for easy starting. Brilliantly the blower tube comes in two sections which makes it easy storage if you've got a small shed or a specific place to put it. Absolutely ideal with a pickup truck and you need to fit your tools for landscaping in the back with a minimal amount of space.
It's power to weight ratio is excellent. It comes with a 25 cc engine that's just 4.4 kg in total weight. This lightweight piece of equipment isn't just plastic though. There are plenty of metal components giving this item plenty of durability.It runs on unleaded petrol when it has a actual electrical output power of 810 watts.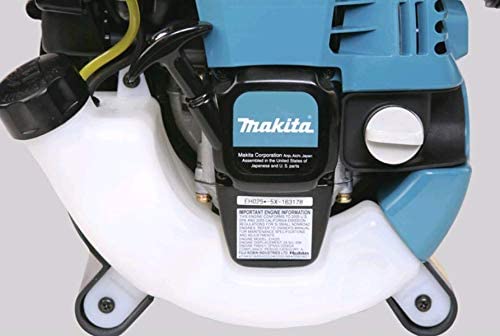 2. McCulloch GBV345 Petrol Leaf Blower/Vacuum
Specification: Cylinder displacement: 25 cm³, Air speed: 95.83 m/s, Fuel tank volume: 0.54 l, Vac bag capacity: 45 l, Air speed: 95.83 m/s, Air flow in housing: 13.03 m³/min,
If you're simply looking for the best leaf blower vacuum and cost isn't an issue then you will definitely go for a petrol version. If you have quite a large garden or this is your profession then I would probably go for the McCulloch leaf blower vacuum. It comes with heaps of power and the price is pretty sensible to. It can do almost everything you want in a medium to large garden or as a professional. It has a huge 45l capacity for leaves and has a massive of 16 to 1 mulch ratio. It weighs in a 4.4 kg and has a total output of 750 Watts. Given it's only 750w it's actually incredibly powerful. It has a blow function of over 200 miles per hour. It comes with soft grip and has cruise control as well as variable other useful attachments such as a flared out tube so that you can cover more surface area when vacuuming.
What I really like about this McCulloch leaf blower vacuum there is the ability to soft start. It's extremely versatile. It's a blower, vacuum, and mulcher all-in-one. You can literally get the job done without stopping. McCulloch and well known for their high quality technology and pound for pound this is a really good garden investment. I wouldn't go for this item if I had a medium or small garden, it's just far too much for the job. You don't need this level of investment. Instead we will have a look at the mid-range items now.
Cordless leaf blower vacuums actually require a fair bit of power and it's not really ideal for a battery-powered piece of equipment. Personally I would steer clear of the battery and go for a power corded version instead. I know that it's a bit difficult carrying the power lead around the garden even if it's a mid-size one but overall you want to be able to do the job efficiently and safely.
Specification: Cylinder displacement: 46cc, Engine: 2-Stroke, Blow speed: 98.34m/s / 355km/h. ,Fuel Tank Capacity: 2.2 litres. , Rated Power Output: 1.5kW / 6500rpm
One leaf blower that consistently scores well all around the internet is the McCulloch petrol leaf blower. One of the most common compliments of this leaf blower vacuum is the fact that it's extremely powerful when lightweight. Many commenting on how much more comfortable it is to use than their previous models.
It's also well noted as being more than powerful enough to grow to blow grass back off the pathway onto the lawn. This is quite a big deal because there's you and I both know it's really annoying trying to sweep up or remove grass from my pathway.
in the interest of being totally unbiased it was noted that it's for a right hander only. Left handers do seem to have a little bit of a problem adjusting to it. I don't really believe this to be too much of a problem because I also know that many models are right-handed only. I don't think that this is a particularly unusual disadvantage.
It seems to be noted that it works best with bigger, dryer leaves. And that being a back pack it's extremely easy to use.
For me though the biggest advantage is the fact that it can be used on an on a lower power. When you set this to a lower power the noise is quite manageable and comfortable. One of my biggest concerns and annoyances with all petrol powered items that are handheld is the noise. Not having that buzzing sound in your ear is really quite comforting. Many large garden owners have commented just how capable this I am is of dealing with all of the leaves very quickly.
Overall leaf blower reviews go, this item has incredibly good feedback all around the internet and great value for money. If I were to buy a leaf blower for a large garden, hands down it would be this one.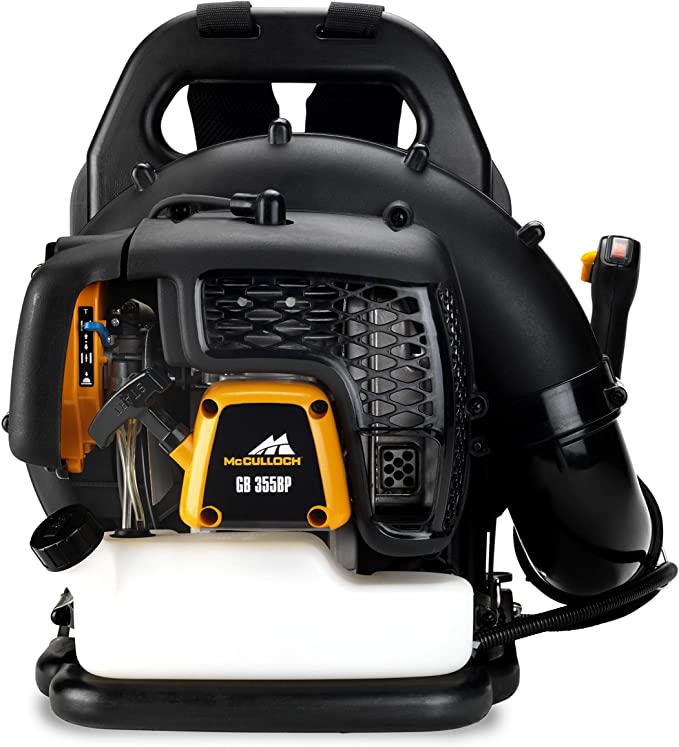 4. 65cc Petrol Backpack Leaf Blower, Extremely Powerful 210MPH
Specification: Type of engine: 2-stroke, Cylinder displacement: 65 cc, Wind output: 210 MPH, Engine Output: 2.8 KW / 3.8 HP
In the section we are going to look at the best petrol leaf blower reviews on the market today. There's so many leaf blowers that it's really hard to know what you're getting and is it good value for money. The only way that we can really ascertain the true quality is by looking at the experiences of other people all over the internet. In this section I'm going to pull all of those experiences and prices and opinions together and try to come up with the very best petrol leaf blower reviews on the internet.One wild card petrol leaf blower that keeps cropping up all over the internet is the 65cc Petrol Backpack Leaf Blower. This number rounded petrol backpack leaf blower has many good reviews on Amazon and extremely competitively priced. Obviously people are looking for a bargain and willing to give it a go as it's half the price of its competing backpack petrol leaf blowers. Some of it's key stats are a powerful 65 CC 2-stroke engine. Hope you have to be careful with two-stroke though because of course you now need to mix your oil and fuel consistently. However with that said it produces an astounding 210 miles per hour wind speed. This is incredible power for a home petrol leaf blower.
There's not a task at home that you won't get done quickly whether it be removing the grass from the patio or from the pavement. It could be that you need to clear the leaves and you've got many large trees and it's late autumn. It doesn't matter this time we'll get it done quickly. Don't let the fact that it hasn't got a brand name put you off. It's EU approved and fully safe. It's a little bit heavy at 13 kg to seeing it sits on your back you won't really notice the extra weight.
This petrol leaf blower comes with the built-in function to reduce the vibration on your back. It also has extra padded straps for more comfort. As leaf blowers go, this really looks like a worthwhile option and something to consider. Granted, it hasn't got a brand name and therefore the warranty issue and the lifespan hasn't really been tested but overall with the incredible feedback is received on Amazon so far you would be mad not to give this a try after all you could get two of these for the price of one of the branded versions.
The petrol leaf blower reviews for this item are absolutely insane If taking into consideration the price of the item. One of the drawbacks incidentally to be completely unbiased was the fact that it was quite difficult to assemble. Many people have had issues on initial assembly but after that they've said it's a brilliant product. 1 review mentions that the same item in fact should be nearly three times as price not twice as I previously said. Be careful of the fuel mix with oil section that looks like it needs a little bit of work but if you're careful there won't be a problem. Just make sure that you've definitely got two stroke oil in there and everything will be fine. As petrol leaf blower reviews go this one's top-notch. with so many people saying that this so glad that they took a punt on this non branded petrol leaf blower I think it's definitely one to consider.
5. Husqvarna petrol leaf blower
Specification: Cylinder displacement: 65.6 cm³, Power output: 2.9 kW, Air speed (flat nozzle): 91 m/s, Air speed (round nozzle): 106 m/s, Air flow in housing: 28 m³/min, Air flow in pipe: 22 m³/min, Max. power speed: 8000 rpm, Fuel tank volume: 2.2 litres
If you're a professional landscaper or have a large garden. Perhaps you're an estate owner, you don't mess around you get the Husqvarna petrol leaf blower. When were talking about a petrol leaf blowers handheld buy a human this one is absolutely unrivalled in power. The Husqvarna 580 petrol leaf blower is one of the most powerful backpack blowers available even for commercial uses. It has some incredible stats and let's go to a few of them.
It's 3100 Watts, so comparable to a corded electric version. The airflow is in an astonishing 90 m per second. With all that power it's important that you work out a comfortable way to hold this thing. Husqvarna have certainly done that it's so easy to use despite the fact that it's quite large in size and weight. They've even added comfort straps because of the power and torque of the engine. Given the size of the engine it's actually not too bad in terms of decibels and noise pollution. We still recommend that you wear ear protection because no petrol engines acquire.
So if you're working through a large garden or you've got serious amount of work to do then definitely use this leaf blower. As best petrol leaf blowers go this thing is pretty much unrivalled. It's pretty pricey but then at the same time you get what you pay for. I wouldn't use anything else if I was looking to do this commercially. When I think about the weight at 11.2 kg it's also not that heavy considering it's for your back. One that weighs 4.5k.g and hand held is actually probably more cumbersome than this one.
Best leaf blower for medium sized garden
6. Makita DUB182Z 18 volt leaf blower
Specification: Battery : 18V Lithium-Ion, No Load Speed : 18,000 RPM, Max. Air Volume : 91 CFM, Max. Air Velocity : 179 MPH, Run time: 12 min
If you've got a medium sized garden then you're almost certainly going to be looking at a cordless leaf blower. It's absolutely ideal because it's the perfect balance between having enough power to get the job done but having the flexibility to not require a power lead. It also provides the additional benefit of not having to worry about the safety requirements of storing unleaded petrol. might argue the one slight drawback is the weight of the battery actually reduces the power to weight ratio performance but given the huge benefits it's a very small drawback.
I don't want you to feel like I'm biased toward Makita but I'm pretty sure that there isn't really a lot better out there than the Makita 18 volt leaf blower. It comes with a pretty impressive spec considering it's only battery-powered. As far as the best leaf blower for a medium-sized garden goes it's pretty much untouchable. The actual body weight itself is just 1.4 kg. Granted the battery increases the weight fairly but overall still considerably lighter than a petrol version. It's worth noting though of course that this version is nowhere near as powerful as the petrol version noted above.
One of the things that I like most about this model is the soft rubber grip for the handle. It actually makes it really comfortable to hold and as a result it's really well balanced. They really thought about the battery weight used to keep full balance of this piece of equipment.
The added bonus with this piece of equipment is that it comes with a vacuum setting as well. Talking settings, it also has three intensities for the air blow. So if you want to try and make the battery last a little bit longer you can.
If we just go into spec a little bit, it requires an 18v 5 amp Makita battery. Makita also make a brilliant cordless grass trimmer that uses the same batteries as well as the Makita DUH523Z Cordless LXT Lithium-Ion Hedge Trimmer, as well as the Makita cordless lawn mower too. So if you buy into this, you can use the batteries with other tooling to get excellent value for money.
This Leaf flower also comes with the added benefit of being able to disassemble the tube. One of the standout points with this item of course is the weight. It just 1.45 kilos is one of the lightest blowers on the market but really packs a punch. If you were going to look for a cordless leaf blower for a medium-sized garden this would be the option.
The cost the batteries is quite considerable but there is an added advantage. Makita has a brilliant range of cordless tools. Invested in couple of batteries. It really opens up the naked tools. This one is normally extremely well priced.
7. KATSU leaf blower
Specification: Input Power: 500W, No Load Speed: 13000RPM, Air Flow: 3.5m³, Cable: 1.2m
The word cheapest is pretty subjective. The cheapest petrol leaf blower will actually set you back less than a decent Chinese on a Friday evening. The question is does it work and is it good value for money? Will it actually save you any time?According to 48 customers and counting the KATSU leaf blower is actually a really decent piece of kit for such a small amount of money. Unbelievably this cheap item actually has a suction set too.
I would be wary about its actual power considering it's only 500 watts though, if you're looking for something that's going to clear a whole garden I'm not really sure that this would be advantageous. If you're looking for something small and lightweight just for a little patio then I think this might be the item. Especially if you don't want to spend any serious money.
Some of the key stats are that it's light weight and compact. Be careful of the power lead though, it's only 1.2 m, you're definitely going to need an extension. we have to be realistic about what we get for a money and this thing really is cheap. I think for small light weight purposes it will do the job but if you're looking for anything that will do serious work probably best to move on.
8. Bosch 36 Volt Cordless Leaf Blower
Specification: Battery : 2 Ah / 36 V , Air speed: 170-250 km/hr, Air flow: 100-150 m³/hr, Battery charge time: 70 min, Battery run time: up to 13-35 mins
I have a couple of recommendations for the best cordless leaf blowers because actually this far more than a couple that are really good but we'll just keep it to two in this example.My first choice for best cordless leaf blowers is the Bosch cordless leaf blower. I've chosen this cordless leaf blower mainly because it has high power and low cost. It's also one of the best recognised cordless leaf blowers on the internet today. If you look at Amazon for example there's literally hundreds of positive reviews about this item. There's a few disgruntled customers but by a large this is a quality piece of equipment for the price.
Going through some of the key stats, it has a very powerful 36 volt lithium battery engine. Incredibly even though it is 36 volt it actually has over 30 minutes of run time per charge. Amazingly it also has nearly 120 miles an hour wind speed. This is highly impressive for a battery powered cordless leaf blower.
Shockingly given no stats it only weighs 4 kg. This cordless leaf blower will get the most stubborn leaves off of your patio. You're definitely not going to feel under sold.The link highlighted above is nearly twice the price of another one, that's because the other one doesn't come with battery or charger. I think it's highly unlikely that you're going to have a Bosch cordless leaf blower at home and therefore I think it's more sensible just to give you the complete package. You can also use the batteries in the Bosch Rotak Cordless Lawnmower which is a handy combo if you're looking to tool up.
The best thing about this cost this Bosch cordless leaf blower is the fact that its electric start. That means that you don't have the same problems with cranking like petrol. It's just so easy to flood a petrol engine and it's really inconvenient. As well as the fact you have to store that fuel as well which is unsafe for children. The other thing about petrol is fumes that come off the petrol as it burns which is rather tiresome and unpleasant as well, incidentally thats why we like the electric Bosch Garden Shredder AXT 25 TC if you're looking to get a set going.
There are a couple of faults with this cordless leaf blower and the main one is the fact that the battery doesn't last very long. You can't really blame the battery not lasting very long though, that's mainly because the engine so powerful. You really wanted to do a good job after all. You would soon be complaining if it wouldn't get up those wet leaves! But as a result of the mixed battery life feedback I'm actually going to include a second one for you here.
Specification: Battery technology: 18 V (Li-Ion), Suction capacity: 264 m³/h, Airspeed: 334.8 km/h, Max. Air Volume (Low-High): 92-155 CFM, Max. Air Velocity (Low-High): 128-208 MPH, No Load Speed (Low-High): 10,000-17,000 RPM, Run time: 73 min
Makita every up their game as far as cordless leaf blower as a concern. They've actually developed a leaf blower that carries 36 volts to 18 volt twin batteries place together. Here's a link to this beast of a cordless leaf blower.If you was watching this thing in action and you turn the sound off on a video of it, You would be forgiven for thinking that you were watching a petrol version. This thing has incredible power to weight ratio and it's so easy to use, versatile and the ideal piece of equipment as a cordless leaf blower.
Unlike the Bosch cordless leaf blower it actually comes with a battery warning lamp. This gives you the opportunity to know when you're going to run out of power, also if you're starting to lag in power as a result of the battery dwindling. It's a very simple thing, just head into the house and change over the batteries. Makita are well-known for their battery development technology and you can get a fast charge for these 18 volt 5 amp batteries of just 15 minutes. The amount of downtime even if you've only got 2 batteries is limited to just that 15 minutes. It's only 94 dB for operating power and this is well below the 100 plus of most petrol cordless leaf blowers.
I would just quickly remind you again though as cold this leaf blowers go, this isn't for commercial use. If you're going to go for commercial use you've got about a petrol. This is great for a medium-sized to large-sized garden at home. It will also get rid of the most stubborn stuck down leaves but it just doesn't have the power that you would expect for commercial use. Of course it doesn't come with the commercial price tag either which makes it a great balance for the homeowner.
A quick reminder of this cordless leaf blower
Please note with the link provided you'll need to purchase a battery separately. Batteries for Makita extremely expensive but don't let that put you off, they really lasts well when they're extremely genuinely powerful. 18 volt by 5 amps is a genuine 90 Watts. The same can't be said of many other manufacturers.
Best leaf blower for small garden
I have a new favourite if you're looking for a leaf blower for a small garden with lighter work. A hidden gem actually, with real performance and power with a little price tag! I'll go as far as saying you will be shocked by the power of this unknown brand. Though, if unknown brands are not your thing (and I get that, I love buying tools with full trust and service backup – two years warranty!!), I had to include the Flymo leaf blower in the review for Autumn 2020.
Specification: Type: Electric (Corded), Wattage: 3000w, Cable length: 10m, Blow speed: 93 -167mph (150 – 270 km/h), Collection bag: 45 litre
A powerful leaf blower, vacuum, and shredder, all for a bargain price? Yes please.
The Handy THEV 3000 gets its name from the hefty 3000-watt motor that it derives its power from. This power can be quickly and easily adjusted to suit the job at hand with just a roll of the thumb on the variable speed dial found on the handle, thus allowing you to change speed without switching off the blower.
This dial is one of the few controls on the Handy, making it a very user-friendly leaf blower and vacuum. In fact, in addition to the variable speed control, there is only really the trigger to start and stop the machine, and a switch to select the blowing or vacuuming function. All controls are situated in sensible positions and easy to see and reach.
Assembling the THEV 3000 is no hard task. You should be able to manage it without eve looking at the instructions, but the ones that come with the tool are just fine.
In both leaf blower and vacuum modes, the Handy THEV 3000 performs really well, being able to clear even wet leaves that have taken a bit of a soaking from the rain. By tweaking the variable speed, you can get the settings just right to vacuum up twigs and leaves from pebble gravel without disturbing it.
The Handy THEV 3000 is a 3-in-1 product and will automatically shred the leaves you vacuum up and sends them into the 45 litre collection bag that hangs down from the blower. This bag is god quality, but there are two minor issues with it. Firstly, it hangs right down to the floor once it gets nearly full and this is a bit annoying as t effects your ability to wield the leaf blower properly.
So just empty it a little sooner right? Well, that brings us to the second issue, the collection bag is a little tricky to remove, requiring you to press two quite firm plastic clips, and this takes some getting used to. These small flaws are certainly not a deal breaker though, and this leaf blower and vacuum is an otherwise excellent product, available for a very fair price.
The THEV 3000 weighs in at just shy of 5 kilograms, but a lot of this weight can be relived from you by resting the end of the leaf blower on the support wheel found under the nozzle. All you need do is tilt the tool back a little onto that wheel and push it along. It's nice and simple works really well, and is a godsend if you've got a long pathway or drive to clear of debris.
This Handy THEV 3000 leaf blower and vacuum also comes with a free shoulder strap, further alleviating the strain from your arms and making it much easier to wield the tool for extended sessions.
This is a corded leaf blower but comes with 10 metres of power cord as standard, thus giving you a decent bit of range without the need for an extension lead unless you have a really large garden, and if that's the case, I would suggest going with a petrol leaf blower anyway.
Noise levels while in operation are around 120DB which is louder than most lawnmowers, but quite normal for this kind of product. You should wear ear protection when using leaf blowers anyway, as standard.
This thing is sturdy, and made with some heavy-duty plastic that is unlikely to break too easily. The collection bag is quite thick too and should handle twigs and sharp leaves without tearing. Spare bags are available for sale separately anyway, and probably worth investing in.
For under 60 quid, this leaf blower, vacuum and shredder, is very fairly priced and well worth considering for small to medium sized gardens.
11. Flymo PowerVac 3000 3-in-1 Electric Garden Blower Vac, 3000 W
Specification: Type: Electric (Corded), Wattage: 3000w, Cable length: 10m, Blow speed: 310km/h., Collection bag: 45 litre
Where would a garden tool review be without a trust Flymo? Be it hover mower, robotic lawn mower, or even a cordless mower. They have you covered always. And while you get brands like Makita that'll outperform Flymo, you will not easily beat their overall performance and after sales service of a Flymo.
Flymo's PowerVac 3000 is quite similar in some ways to the Handy THEV 3000. The are both powered by 3000W motors, they both are 3-in-1 blower, vacuum, and shredder/mulcher tools, and they both weigh around 5 kilograms or so.
Where they differ is that while the Handy THEV 3000 has a single pipe for both the blowing and vacuum functions, the Flymo Powervac has two distinct nozzles, one for each task.
The blower connection slopes down at an angle to become narrower at the end, and this focuses the air into a smaller area, and with air speeds of up to 310 kph, that is quite a concentrated blast, right there.
To change to the vacuum setting, you need to connect the wider, round tube, but this is all done without the need of any tools and has been designed to be quick and painless. The vacuum will suck leaves at 168 l/s and they will be automatically shredded at a ratio of 16:1 before being stored in the 45 litre collection bag.
This shredding/mulching function is actually really good, much better than I expected in fact, and it really does shred those leaves down into smaller pieces, saving space in the collection bag.
The collection bag on the Flymo poses the same problem as with the handy THEV, and it too gets heavy when almost full and weighs the tool down. There is no support wheel with this model either, but thankfully, there is a decent shoulder strap to help manage the wight.
The build quality of this leaf blower and vacuum is about what you'd expect from a mainstream brand like Flymo. The plastic is thick and solid, and all parts click together well and remain stable throughout.
Unfortunately, this mode doesn't have any variable speed control and the powerful motor means that you have to be careful not to suck up pebbles into the impeller accidentally. On the other hand, this power does give this Flymo blower and vacuum a good level of performance for the price range, in both functions.
This model comes with a 10 metre power cord and is suited to smaller to medium sized gardens. You also get a 2 year warranty.
12. Q Garden QGBV2500 Leaf Blower Vacuum
Specification: Type: Electric (Corded), Wattage: 2500W, Cable length: 10m, Blowinq Air Flow (max air velocitv) : 27O kmlh ,Suction Power (max air velocitv): 72Om"lh ,Collection bag: 45 litre
When I think about the best leaf blower for a small garden it all boils down to the cost. If you have got a small garden is quite likely that you could get away with using electric corded version. They are by far the cheapest and best value for money. Of course you have to unreel the power cord every single time but then you pay less. Bear in mind in a small garden you won't have that much of a cord extension anyway, it's hardly a big deal.If I had a small garden the best leaf blower for me would be the Q garden leaf blower vacuum. Taking the price into consideration, it's pretty much ideal. It's low investment but gets the job done quickly. I know that you could probably do without a leaf blower altogether in a small garden, but if you're covered by trees from neighbouring properties, this would be the option.
In conclusion to the best leaf blower, there's no one size that fits all. It's pretty reasonable to assume that if you've got a large garden you'll go for a more industrial petrol version, and if it's in the middle corded or cordless would be pretty sensible. But for the smaller garden, it doesn't really make sense to invest in much more than a corded or at most cordless leaf blower.
Specification: Type: Electric (Corded), Wattage: 3000W, Cable length: 10m, Speed Settings: 8000-14000 RPM, Collection bag: 35 litre
The leaf blower that's really standing out at the moment is the Von Haus leaf blower. The Von Haus leaf blower is absolutely ideal for tidying lawns, patios, driveways and much much more. Given that it's got multifunction as well it's absolutely ideal for composting to. If you look at the price this thing is really worth it's money in Autumn 2020.
It has a 35 L capacity to hold leaves and also comes with a 10 to 1 mulching ratio which is right up there for a lower and leaf blower. talking about its capacity it's actually really light weight and comes with 10m power cable so pretty versatile around the garden.
As far as leaf blowers for sale go, you can't really go wrong with this one as it's got a 2 year warranty. It also weighs just 4.28 kilos which is less than it is petrol counterparts. Given that there are over a thousand happy customers online and it's absolutely the right choice for on sale leaf blowers of July 2020. I think it's pretty realistic to say that this item won't be as cheaply priced as it is in a year's time especially seeing as how tremendous the feedback received has been. Definitely try to take advantage of this new maker before it's too late!
Next up we're going to be taking a look at Leaf blower vacuums and the best one for you.
Leaf blower vacuum buyer guide
Some of the leaf blower models mentioned above are actually leaf blower vacuums or can be extended. But I thought it would be better to strictly talk about leaf blower vacuums here so the we have a separate section for them just for and dedicated to leaf blower vacuums.
A leaf blower vacuum has a significant advantages over just a leaf blower in that you can collect the leaves at the same time. But that said, it also does way the leaf blower vacuum down once full. So an item that already weighs 4 1/2 kg full of leaves can get quite heavy so you need to be pretty strong to handle an industrial one. For this reason many people actually just prefer a leaf blower with a rake and a bag. If you haven't got too much to do or you prefer to keep things tidy as you go then a leaf blower vacuum is for you.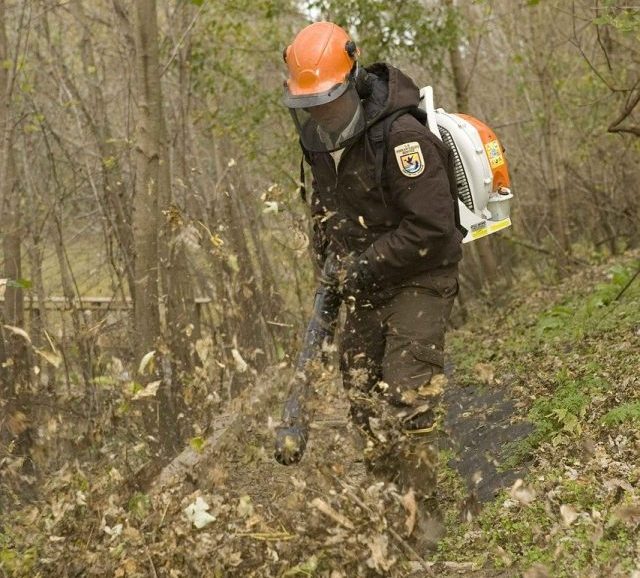 In this section I'm going to go through all of the best leaf blowers and different cases and uses for them. Much in the same way as we went through different examples above in the best leaf blower section.
With that said you just can't touch this Gear leaf blower vacuum and shredder/ mulcher. It comes with the 10m power lead which is pretty sufficient and has an incredible amount of functions for the price. It's 3000 watts in power and has a 45l carry bag. Given that it's got a mulchers as well, you get a fair amount of leaves in before it's too heavy to handle. This allows you to get far more work done, more quickly. It has a 10 to 1 mulching ratio which is nowhere near as efficient as the McCulloch listed above but of course then the prices are set apart to.There's also a huge advantage without being petrol of the safety. You don't need to store petrol around the property. This is really good if you've got little children, and of course toddlers. Petrol fumes can be quite annoying as well and of course the electric solves that issue too.
It has the added advantage of being lighter than the petrol version and far more powerful. Electric is definitely the way to go. If this Gear leaf blower vacuum had any disadvantages at all I would have to say it it's the size of the thing. It's not overly heavy but it is quite bulky to look at. If you're quite tall this won't be an issue for you and very good value for money to use, in any garden situation.
Leaf blower reviews
When I look around the internet for leaf blower reviews I find a huge range of opinions. Some items that people are considering to be brilliant are considered poor by others. So in this section I'm going to take a look at the best leaf blower reviews. We're going to closely look at the best overall average rating for leaf blowers. This is the only way I can think to get leaf blower reviews accurately for you.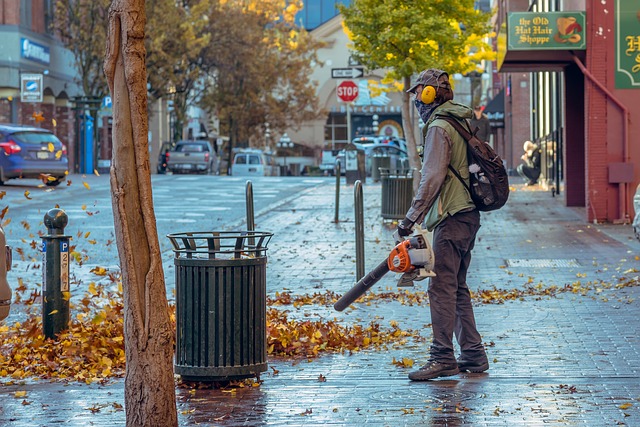 Leaf blower reviews for value for money
War on the subjective leaf blower reviews I thought it would be worthwhile just too quickly throwing value for money. The Q garden leaf blower that we mentioned above that actually is probably the best value for money as well. As we already went through in the best leaf blower section, this particular leaf blower is extremely powerful and versatile for the price. It's pretty much unrivalled as far as cost to concerned.We also worked out that it would be pretty good for a medium-sized garden too, not just a small one. Overall you've got the budget old still go for a cordless or petrol but then it all boils down to what you consider good value for money. With the options above you've definitely got more than enough to consider and make a decent decision.
Petrol leaf blowers
You buy a petrol leaf blower for a few main reasons. The first and the most obvious reason is because you've got a large garden or a lot of work to do. It's well known that a petrol leaf blower will get work done far quicker than cordless or corded versions. It allows their versatility and freedom to move around that you just can't get with the corded and cordless electric counterparts. Quite obviously the corded version requires an extension lead everywhere you go to be moved and the cordless battery version just doesn't have the power longevity. So if you're a professional or a large homeowner then of course the petrol leaf blower is the option for you. The question is do you just want to have a petrol leaf blower or one that combines itself is a vacuum as well. Many people tend to favour the blower and then rake the final leaves up, then there's the person that likes to just clear an area steadily with a vacuum as well. In this section we are going to go through both and hopefully give you a well balanced opinion of all of the available petrol leaf blowers on the market at the moment that a well priced or good value for money.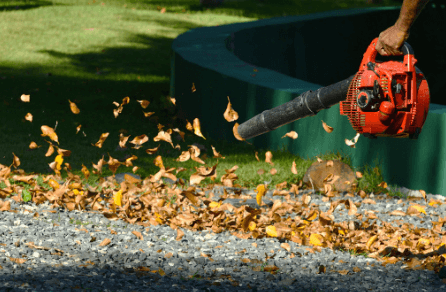 Petrol leaf blowers for sale
Petrol leaf blowers for sale ties in beautifully with the reviews above, this items on sale at the moment and for a decent price and it's been quoted at nearly triple the price elsewhere for a branded version. Most people are saying that this petrol leaf blower for sale is on par with the top brands just a fraction of the price, Stihl for example.If there's ever a floor mentioned it's simply a case of lack of communication from the manufacturer. This is typical of most Chinese manufacturers but don't let that bother you, it's a really high quality item looking at the general feedback across the internet. I'm absolutely certain as time goes on they will approve this.
As Petrol leaf blowers for sale go, through seasons, when we're at the end of Winter it couldn't be a better time to bag a bargain because they know they're not going to be able to sell them. So right now in February is practically the best time to get yourself one of these for next year. don't wait till the middle of summer when everyone wants one and the stocks are running low, that's when you won't get the bargains, definitely strike while the Iron's cold so to speak.
I really like this petrol leaf blower for sale I really couldn't recommend it anymore. If I can think of one drawback it would be the fuel consumption. People and noting that you can only actually get about 1 hour at full throttle. But one hour of full throttle is a fair amount of work done in a large garden. I really wouldn't factor the price of fuel in the equation here.If I we're doing this commercially I might have to consider the fuel consumption but in our large home garden or estate it's really not going to be a deal breaker or maker.
Cordless leaf blowers
From my perspective you really can't beat cordless leaf blowers because they're so quiet, they're really powerful, and they are really light. This makes them brilliant to use in a perfect product and asset for the garden shed. you don't have to spend hours driving to fuel stations and then storing flammable fuel. You just simply take a power charger into your home and put plug it in on the side. Just in the same way that you plug your mobile phone in. It's literally that convenient. It means that you've got your cordless leaf blower available absolutely any time to you. As long as you've got two batteries it means the One battery can be on charge while you're using the other. There's absolutely no downtime and as far as a medium-sized to large garden goes this is the real deal.
If this is an item for tinkering at home I really can't recommend the cordless leaf blower more. It's the perfect item if you've got children, and it's got the power to do the job and actually save you time. The last thing you want is to buy an underpowered leaf blower that just simply won't get the job done. If you buy one and you feel like ratings easier, you've bought the wrong cordless leaf blower. I'm going to look at the best cordless leaf blowers and value for money that can be found on the market. We also need to consider that if you're a tradesman you might actually already have some other power cordless tools which means the batteries could be reused in need. Of course this applies to Landscape specialists as well.
Cheapest cordless leaf blowers
Be very wary of cheap cordless leaf blowers, battery power is actually still in it is infancy and therefore the lack of battery power might leave you feeling disappointed with a product that you've just purchased. The cheaper electric corded leaf blowers are fine because they're backed with electric power directly from the home. This could mean that even the lowest standards corded electric leaf blower has 1200w.
A cheap cordless leaf blower might only have 80 watts. If you do the maths then you can quite quickly see how this is going to be a problem. That's why the cheapest cordless leaf blowers in my opinion is not really an ideal investment and therefore I have no product for this section, instead take a look at this corded electric leaf blower. Just to be clear about this even one of the best cordless leaf blowers as mentioned above from Bosch is actually still disappointingly not good enough as far as the batteries are concerned. The battery power on that number is just 30 minutes. If you go for a cheap one you're just setting yourself up for a problem and it will just end up in the shed being left there. In fact it'll probably be the worst investment of your garden.
If you're looking at cheap cordless leaf blowers I would far highly recommend you head towards an electric version instead as linked. It's just the wrong place for you. You're going to get caught in the middle between cheap and not good enough for the job and the end result will be you are disappointed. Let's avoid that disappointment and if we're looking for cheap let's keep with corded electric leaf blowers. The link highlighted is just the price of a decent curry on the weekend. Incredibly it also has multifunction of mulcher and vacuum. This does represent good value for money And I'm sorry that I've not been more useful than this cheapest cordless leaf blower section. There's just simply no good advice here, other than to stay clear.
Battery leaf blowers
Battery leaf blowers are essentially cordless leaf blowers but the thing is I just want to be clear about the difference between the two you do still get people thinking that petrol leaf blowers are also cordless leaf blowers. I know that sounds quite confusing so it was well worth adding the battery leaf blowers to the list.
Just to recap battery leaf blowers are a brilliant item and they should definitely be used in mid to large size gardens at most. If you're looking for substantial work then definitely head towards the petrol model range for battery for cordless leaf blowers.
If I were to pick one mainstream battery leaf blower manufacturer above all else it would be Makita. Makita battery technology is very very impressive. They also have an incredible power tools range as well. If you're looking for power tools and then you're looking for tools in the garden as well then using the Makita range is definitely not going to disappoint. I personally own dozens of their cordless tools and every single one is incredible. But the one standout is actually a router. That's for another review though because it's got no relevance to battery leaf blowers here.
Electric leaf blowers
I'm a big fan of electric leaf blowers because pound-for-pound they just can't be touched. You can get an electric leaf blower for the same price as a decent Chinese takeaway on the weekend. Remarkably , the electric leaf blower in this price range will do some serious work in your property, including vacuum and mulcher. The main reason is that electric is extremely powerful and well developed already.Even the cheaper ranges of electric leaf blower are 3000 Watt. As per the example highlighted above. We only need to do check the feedback and you'll see that it is incredibly powerful and generally people are extremely happy about/with their purchase. Of course electric corded leaf blowers do have their problems. You have to have an extension lead with you all the time which is an inconvenience and laying a power lead on a damp garden lawn is a bad idea. But overall, if you're looking to invest a small amount of money then an electric corded leaf blower is the way to go for you.
Best electric leaf blowers
As far as best electric leaf blowers go, I am absolutely spoilt for choice here but I'm going to limit to just two examples because I know the length of this article is really dragging on now. I'll go through the best electric leaf blowers in far more detail on its individual page which will be linked below. With the best electric leaf blower, I'm going to take two options, first I'm going to look at our out the most expensive and best electric leaf blower on the market. Then I'm going to take a look at the cheapest and best electric leaf blower with the most recommended reviews. Between those two were going to try and strike a balance between value for money. So let's get started looking at the best electric leaf blowers:
First up is the most expensive best electric leaf blower. Before I go into this review it goes without saying that you get what you pay for typically. It's just that this particular example seems extremely good value for money to me when I look at the reviews and its actual capabilities.
Cheapest best electric leaf blowers
In this cheapest best electric leaf blower section I haven't actually gone for the cheapest because I don't believe it to be the best. The best electric leaf blower is actually a few pounds more than the cheapest one. You can't go far wrong with Amazon a recommending a product to. My favourite just to cover it again is the Von Haus electric leaf blower. Given the power, performance, and weight to power ratio this is a really good for the kit. Of 308 Live reviews this is barely got any negative feedback at all. Most people just mentioning just how grade a product is and how grateful they are to have a great electric leaf grow such a cheap price. There is one cheaper than this but it's really not worth talking about because for a few pounds you really should buy a decent piece of kit which this is. It also comes with 10 meter cord and the cheapest one only comes to 1.8 metre cord so from that perspective alone you've already got the value back of 3 quid.
I'm not going to go into the speck again because we've already covered it. It's a great bit of kit and if you're on a budget this is a must-have item. Assuming that you really need a leaf blower that is. Because you can actually get by with just a reiki under garden It's a great bit of kit and if you're on a budget this is a must have item. Assuming that you really need a leaf blower that is. Because you can actually get by with just a reiki under garden brew. It's just not very fun to do it every day broom. It's just not very fun to do it every day.
Leaf blower conclusion
I'm going to keep the leaf blower conclusion short because there isn't really any point in going through again, I've actually covered everything there is in depth already.
But if I was just to quickly summarise I would highlight a couple of key points:For the price the Makita cordless leaf blower is a rock star. And an absolute must have in any mid to large-sized garden.
If I wanted something a little bit more serious I'd definitely go for a petrol leaf blower. By serious I mean something commercial or professional. But there's no way I'd go for this over a Makita cordless leaf blower if my only intention was the leaf blower in domestic use. It's just that having a mulcher is quite handy and the Makita doesn't have that. I would definitely give the non branded petrol leaf blower go as well just based on all of the brilliant feedback it has on Amazon.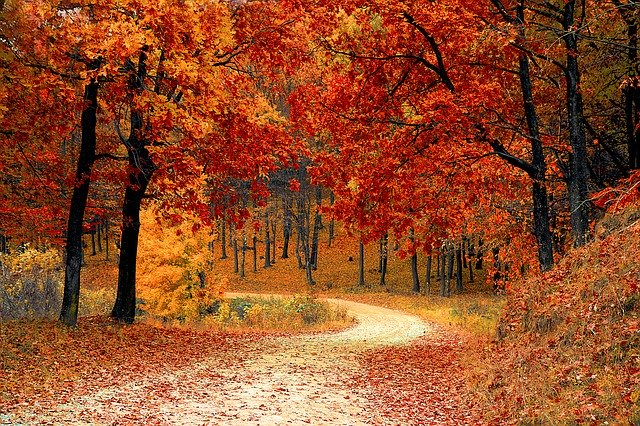 ---