Written by Terry Smith
Our site is reader supported so when you click a link to Amazon we may earn an affiliate commission.
Best wood filler UK for window frames and garden furniture
This article was last updated on August 7th, 2021 at 2:35 am
Best wood fillers from my experience in the last twenty years
It doesn't matter whether you're filling a rotten window frame or the base of your shed, using the right wood filler will invariably improve the effective length of the repair. This also relies on using the right rot wood preservatives as well as stabilisers and wood hardeners. With a whole myriad of resins, polyester based resins, well known brands, and random fillers you may never have heard of, it'll pay to read through my review, I have been using any included in this review for at least twenty years.
The way I select my wood fillers is based on durability, ease of sanding, cost, how well it over paints, the bond to timber when cured, and how quickly it'll set. So I'll make sure you fully understand the products you're using as well as how to apply it well. Feeling more confident? Let's get started then…
Comparison table: Best wood filler UK for window frames and garden furniture

Product
What We Think
Price

Ronseal High Performance Wood Filler

The Ronseal RSLHPWFN1KG is supplied in a tub with re-sealable lid....
It is a chemically bonded filler and catalyst that provides extremely tough repairs to virtually any wood damage without...
Fills to any depth and can be drilled
Can be drilled, screwed or planed
Rebuilds rotten wood

Premium grade water based wood filler
Ready mixed and easy to apply leaving a sandable surface that can be stained...
Once dry the filler is waterproof making it suitable for both internal and external use...
This filler is non-flammable and has a low odour
Available in light stainable

long lasting and can be used straight from the pack
once dry, simply sand then stain
tough and durable repairs
easy to sand
for interior and exterior use

Timbabuild EHB60 Professional Epoxy Resin Filler

400ml 1:1 Ratio Extrusion Tool Recommended
400ml (2 x 200ml Cartridges)
Very economical compared to replacement and can also be spliced
Super tough timber repairs
For repairs, refurbishment and decorating
In here, we have suggested some of the best ones in the lot that can definitely come in handy for you to fill in those dents and indents.
1. Ronseal High Performance Wood Filler
My first pick is as ancient as me 🙂 Ronseal wood filler has been around as long as I can remember and it's one of the few fillers that have actually improved. It's become easier to sand and bonds better to timber. You'll want to set yourself up quickly and work efficiently as when you mix the hardener with the filler it'll set in about 10 minutes or so in good weather. Have a board and a sturdy filling knife. This is the best wood filler to use, it's pricier than some others I review so still read on beyond this review as there's loads of tips and tricks as well as info to stop you making mistakes or paying twice 🙂
Make sure you prepare your surfaces well. Never fill directly over rot (whatever wood filler you use). You'll need to use a chisel to remove rot and decay. Then use a wood wood preservative like Cuprinol 5 star to ensure you've killed any fungi and bacteria. From here you can use the Ronseal wood hardener as the formulas work and bond well together. You'll want a throw away brush as the hardener does not clean out of brushes well – so don't use a decent brush for this.
Once it's hard (normally takes an hour or two in good warm weather) then you can begin to apply your filler. As mentioned above this doesn't take long to set at all. Once set. You can sand smooth with a 60 to 120 grit. Once painted it'll look great. Here's some examples of repairs I do with Ronseal filler. Granted I also splice timber as well if there are big gaps but you can get the gist of how great this product will leave joinery and wood if you work right: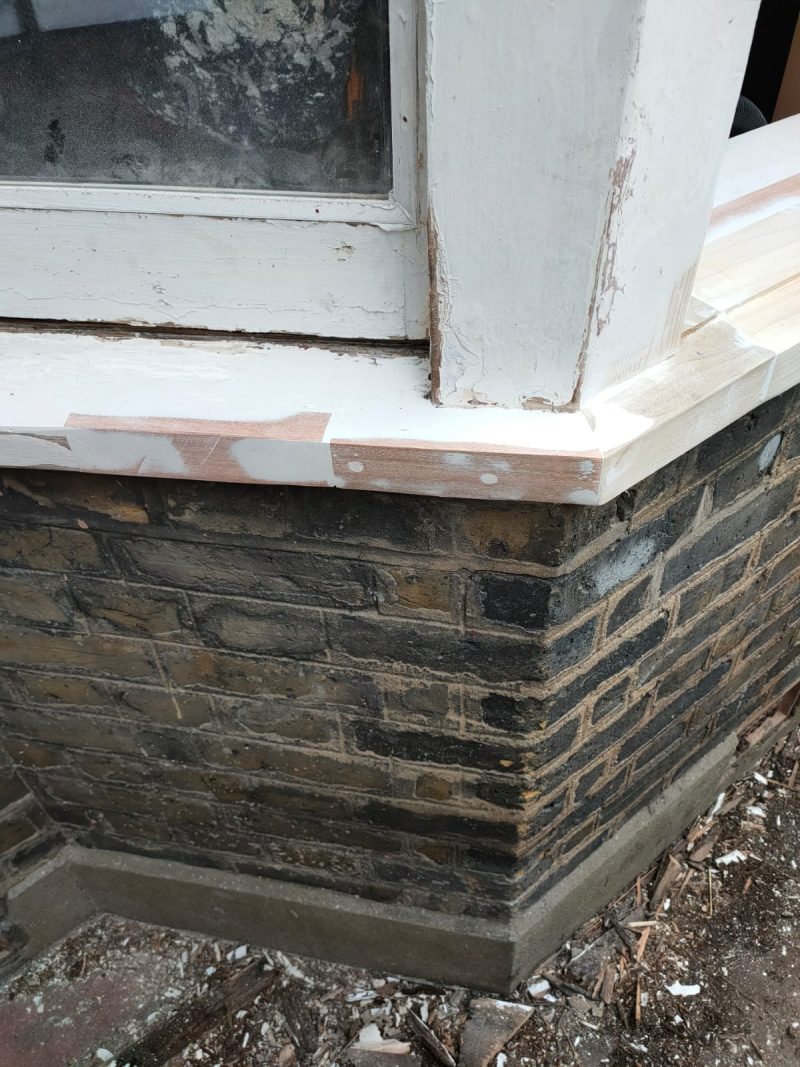 Here's the wood repairs tidied up: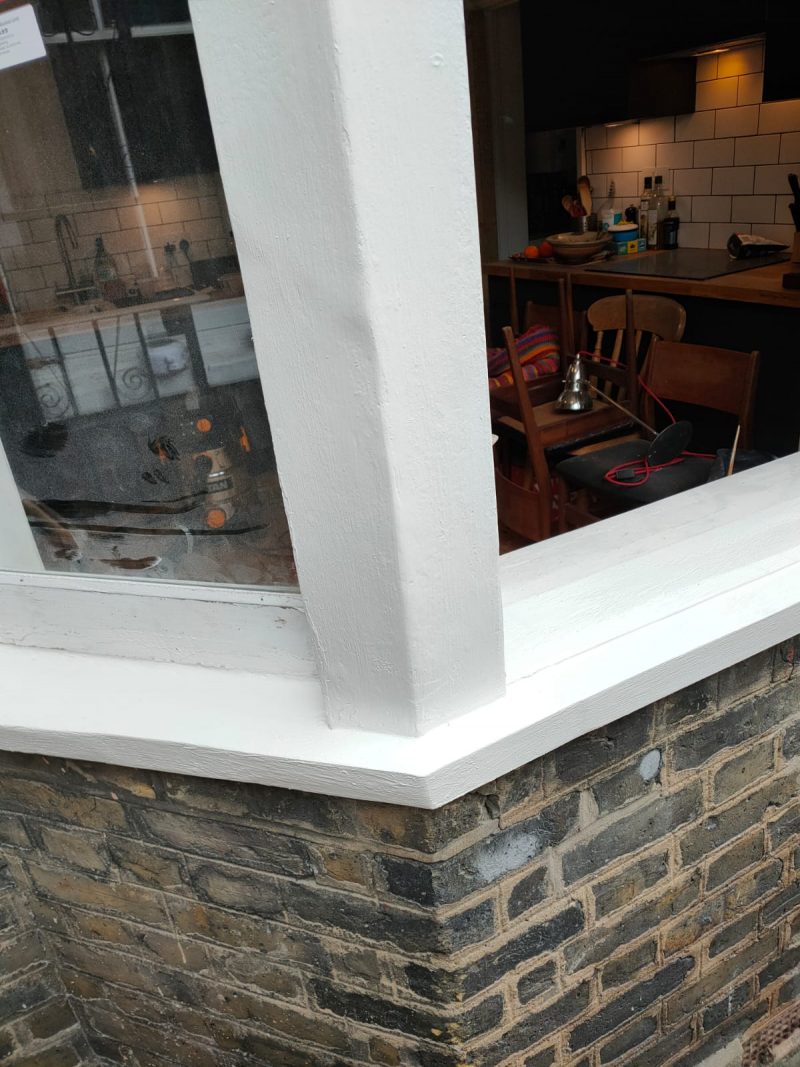 So as you can see the filler sands up lovely. This is the white Ronseal filler, we tend to use this for repairs that have white paint after. However I will say the natural wood filler seems to sand that bit easier. I don't know if it's the contrast of the natural and white paint surrounds that makes filling more accurate or there is a difference in compound, but for certain the natural seems to sand easier for me… it would be interesting to see what Ronseal have to say about that because I wouldn't mind betting I've used their filler more than any tester they've ever hired over the years and I'm talking verifiable purchases as they are all in my accounts (1000s of tins) – so feel free to call me out on that Ronseal 🙂
Once it's sanded you can use a primer to seal in the repairs. Any primer will do but make sure it's a thin coat. Once that sets you can coat the repairs heavily.
A few points in terms of safety and working environment to the above. The hardener is quite nasty and almost glue based. Wear gloves at a minimum to keep it off. It's nasty and sticky as well can / will leave a rash if you don't! The filler also wants gloves worn. The sanding – wear a mask, it's only dust and I'm still alive and kicking but why breathe in anything nasty when you don't have too…
2. Everbuild Multi Purpose Wood Filler
Everbuild Multi Purpose Wood Filler
Everbuild Multi Purpose Wood Filler is another two part filler. I'm not a huge fan of the Everbuild Multi Purpose Wood Filler for one reason alone. It's quite gritty to apply. It has tons of positive feedback online because as a wood filler it's a superb product. It does everything that Ronseal does for much less money. The draw backs are application and then subsequently sanding. This specifically applies to the Everbuild Multi Purpose Wood Filler – white, I am sure the other colours will have the same consistency though.
Much like Ronseal it's a two part filler that needs to be well mixed. It'll also take 15 minutes or so to go hard in the right weather. Of course, if you load the filler with hardener it'll set quicke but following the instructions is best of around a golf ball to pea sized amount of hardener. This way you won't run out of hardener – I don't know if you've ever been in two Wickes or B & Q – you'll notice hardeners missing. This is because invariably people use too much of it and are left with loads of filler. You really don't need that much.
All in all a great product and if you want cheap then this is a good pick, probably the best on a budget and the same safety warnings apply as the Ronseal.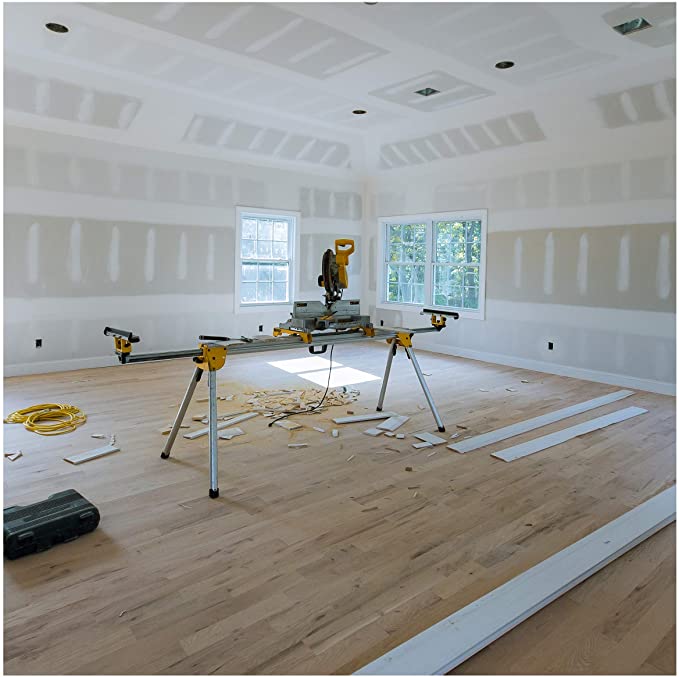 3. Ronseal Multi-Purpose Wood Filler - White 325g
The Ronseal Multi-Purpose Wood Filler is a lower grade, less durable wood filler to my top Ronseal pick. This filler requires no hardener and activates / sets itself. Normally it'll go hard in a couple of hours but if it's a thick or deep filler then it can take much longer. Personally I don't like the long set time so go with the Ronseal two part wood filler, however if you're not confident to mix up as I've gone through in detail above then this might be a good solution.
It's pretty durable and bonds well to clean solid wood. It sands very easily and you'll need no more than 120 grit to take it back fairly quickly. It paints over well and finishes nicely. This filer is pretty good for cracks and holes. I wouldn't use it on edges like the sills I repaired above.
From a price perspective it's much cheaper than two part fillers but you get what you pay for. If you have some pretty small gaps then this is a good product.
4. Timbabuild EHB60 Professional Epoxy Resin Filler
Timbabuild EHB60 Professional Epoxy Resin Filler is a commercial grade filler that shapes beautifully. It is unbelievable in durability but comes with the draw back of being super tough to sand. You can literally make structural repairs to your windows and furniture with this resin. The bond is so strong timber will break before the resin. This is the four hour system (there are other systems that take longer to cure and are therefore stronger but you really do not need stronger).
You'l need a twin gun cartridge so don't just buy the wood filler itself. It's best applied with plastic spatulas and mixers up easily. Make sure you on't get it on your hands as its nasty stuff to get off. Shape it as nicely as you can because I assure you sanding is a real challenge.
There are no drawbacks to the quality of this product, it is by miles the strongest and best but hardest too sand and not ideal if you don't get a good shape on it. That said, the cure time allows you plenty of opportunity to shape it well. All in all it's a great product and if you're repairing your windows then this is a great shout.
---