Written by Terry Smith
Our site is reader supported so when you click a link to Amazon we may earn an affiliate commission.
UK's best potting benches made of wood, plastic, and metal compared with indoor and outdoor options
This article was last updated on April 23rd, 2022 at 5:47 am
I knew straight after I was in the shed at the potting bench it turned cold and I needed something extra to keep me warm last week so I reviewed the best garage and workshop heaters! And that's where I like to do my potting, away from the elements and more often than not in the Winter or when it's raining so I have something to keep me occupied – pottering about with seedlings and cuttings, getting them ready for the propagator, or straight in the mini greenhouse if it's salads for the Winter months. That's not all I have install for you on this review though, there's some great outdoor potting bench options as well as a couple that are portable so you can use them in comfort all year round!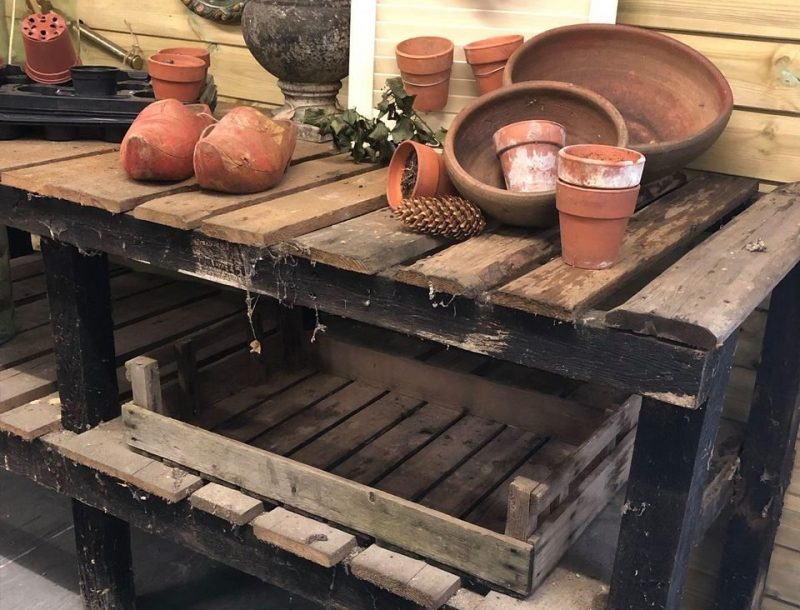 A potting bench makes that all possible in the warm and you don't even have to get cold, nor lean over and hurt your back, you don't even need to be on your feet for some of them. Firstly, unless you have some nice looking setup, I always tell people to repurpose an old table with some draws – waste not want not and it's not hard to install a smooth surface with a couple of shelves to mimic the same, but if you don't have anything kicking about or fancy something a bit specialised that doesn't need the work repurposing, then read on as I've picked the best potting benches in the UK for you:
Best potting benches: editor picks
Best potting bench overall: KCT 3 Tier Wooden Outdoor Garden Potting Bench – proven for years deserves top spot and well priced
Nicest design: CHRISTOW Garden Potting Table Wooden Work Bench
Best potting bench with tray: Woodside Wooden Potting Bench – and budget too!!
Best outdoor potting bench: Palram Greenhouse Accessory Steel Work Bench – Galvanised so rust proof!
Best portable potting bench: CHRISTOW Garden Potting Table Wooden Work Bench With Wheels or the Outsunny Garden Outdoor Metal Potting Table
Budget pick: Woodside Wooden Potting Bench or the repurposed Lifetime foldaway table
KCT 3 alternative: Wooden Potting Planting Table
Money no object pick: Pureday Potting Table with 3 drawers – currently out of stock but if you want the best of the best maybe it can be found elsewhere?
Potting bench buyers guide
Unsurprisingly there isn't much in the way of specialist info but there are a few tricks and handy things to know that'll be sure to make your purchase that bit easier (as well as hopefully getting the best value for what you want to achieve). There are a few common sense considerations though that are worth a quick re-read.
Bench working height vs overall height
One of the biggest things you need to consider when buying a potting bench is the height. In this review, and in general, they all range from 700mm to 850mm. Naturally the sorter ones are ideal for those of use shorter, but 700mm or so is far too short for a tall person, however, 700mm is also pretty ideal to be sat down. So you have the option. If you want to be standing and you're 5ft 9 or above you definitely want a taller option.
My top pick the KCT 3 is 730mm high – you ideally want to be a short person standing or use this with a stool if standing. most of the other options in the review are 800mm working height – I would site down at a table and measure the heights, work out what's comfortable and then decide are you standing or on a stool whilst potting. It's probably the most important part of buying one, that and the shelf heights for our plants and pots 🙂
Best materials for indoors and outdoors
When it comes to materials in this article for outdoors, there is one clear winner. And that is the Palram. This is built from galvanised steel but the trade off – galvanised steel is expensive and therefore this is pretty slim material so unless situated on flat ground will be prone to twisting and warping. This is exactly the same for the Outsunny but then that was the additional benefit of being on wheels – it's worth noting that the metal is no galvanised and will rust.
Then you've got good old wood – this is absolutely fine but make sure you look carefully at my reviews – some are better quality than others and more prone to the potting worktop bowing as a result of moisture. Some of the units are also much better for assembly – you'll find some units aren't predrilled well enough and therefore timber can split, fine if you're a DIY'er and can see that's going to happen. Not so good for a novice
Make your own or save money with a potting tray
Why not make your own? Seriously, unless this is a design issue you can repurpose an old table, buy a potting tray for far less money and away you go. If you don't have an old table then the next best and cheapest thing is the Lifetime foldaway table. The best thing about that is the fact you can just wipe it clean as the worktop is slippery.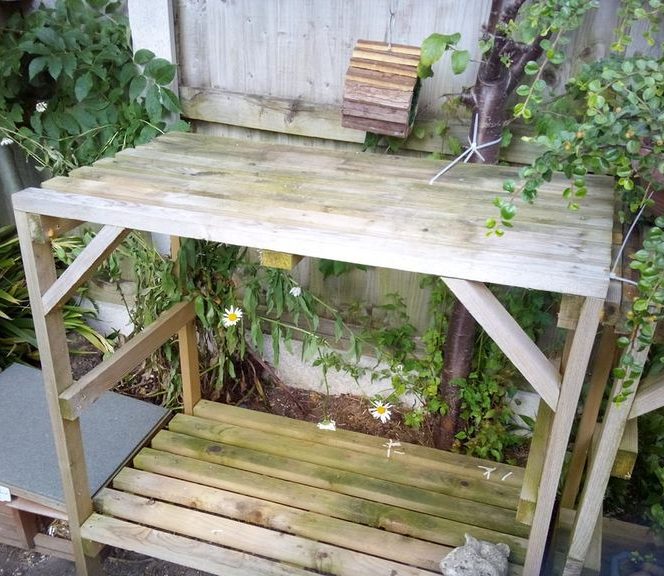 If it's a design thing then making your own isn't a bad shout anyway – you fill a space perfectly and buying to order isn't expensive but does come with the downfall of being custom so no chance to return if there are any issues. Not convinced about making your own? Then let's take a look at the best potting tables in the UK:
1. KCT 3 Tier Wooden Outdoor Garden Potting Bench
It's easy to see why the this bestselling compact potting bench sold by KCT has done so well since the first time I reviewed it a few years ago. It's well built, solid, similarly priced to the budget picks, the galvanised laminated on the wood has proven the test of time to not rust, and the design is sturdy. Add to that this goes inside or outside with a lick of exterior varnish or Danish oil (teak oil if you prefer) then you have a best seller – sounds so simple to be a manufacture when they get it right? 😀
This is pretty much the ideal workstation for all your garden potting and storage but there's one thing I'd like more – a bit more working height You are working at 730mm on this – so maybe you'll sit down on a stool if tall – but for standing up, those of use 5 foot 9 and above will have difficulty – for those shorter, this is pretty much tailor made to keep you upright and your back in tact.
The middle and lower shelf are well made – you can expect this to hold together for years to come – and that's since been proven form when I first made the review. The feet of the potting bench are insulated to protect the structure from wet ground conditions.
The assembly is pretty straight forward as they've had years of customer feedback to get this right – you're buying into an accomplished potting table here and obviously works just as well as a staging table too.
You've basically got a really sturdy potting table for not much more than a budget option – it's very hard not to like this unit. You probably only don't buy it because you prefer having wheels like the CHRISTOW with wheels or the Outsunny. Or you want to have a potting tray like the Woodside to stop things from getting messy.
Pros:
Very very well priced
Quality potting bench design and build
Easy to assemble
Cons:
2. Woodside Wooden Potting Bench
When I reviewed this a few years ago it was already one of the best budget potting trays – not much has changed in my mind. The Woodside Co. are well known for garden supplies and I have to say for the price, this is a pretty sensible potting bench. You've got a narrow top shelf that's pretty much tailor made, the main potting workstation with a galvanised potting tray, and decent storage below. The worktop has a height of 80 cm while the overall product dimensions are: 120 cm high (due to the rear stand the unit's only got an 800mm work height) by 92 cm wide and 45 cm deep.
Now the 80cm high worktop is pretty comfortable to stand. Remember your internal kitchen units are probably 900mm as this is the UK standard. So you'll be comfortable enough stood up – that is if you're 5ft 9 or under as I am. This height isn't a problem, taller people may struggle a little. The main work bench has a couple of handy drawers, which are ideal for storing your seeds, gloves, and usual bits for potting. but, get yourself some WD40 or a handle as that's a bit of a pain – easy fix though.
The removable metal potting tray which makes it easier to fill up with soil. No need to lift a hefty bag up.
With regards to assembly this is easy to put together with an impact driver. You may struggle if you're a beginner. Be prepared to re-drill the odd hole but apart from that all very straight forward. Without question this wants a bit of stain or teak oil, perhaps even varnish if you prefer. You can expect a decent bit of work from this potting bench, despite the fact it's on the cheaper end of the scale, it's pretty sturdy.
Overall it's a pretty sensible traditional potting table at the lower end of the price point – you can't expect miracles but it definitely is better than the price when compared to the other potting benches in this article.
Pros:
Well priced
Sensible quality for a budget potting table – galvanised potting tray
Instructions are reasonable for any novice DIY'er
Cons:
Noted a couple of splits in timber where screws have opened up the grain when screwed in – nothing drastic for a potting bench.
3. Palram Greenhouse Accessory Steel Work Bench
Following on from the Outsunny Metal Potting Table I mentioned about having a potting bench in a fixed position that is specifically for outdoor use and won't rust, and can be left in position. This is exactly the unit I was referring to. Being galvanised means it's rust resistant – genuinely. And just like the most of the other units in this review, the working height is 800mm so sensible.
So the only problem I have with this unit is the aesthetics – it's basically a big, bog standard metal galvanised table – not particularly exciting to look at – but if you don't mind that, you aren't going to be worried about your wood warping or splitting, not maintaining your timber, this just needs a wash down here and then – I also appreciate it's not an out and out potting bench – but in a way, that gives you the flexibility to use it as a drinks table of BBQ side table as I mentioned on the Outsunny.
Assembly is super super easy to follow – I don't often say that! The only issue is there's a fair bit of dead weight to hold, that or you lean the surface at a slight angle up against a wall as you screw the bolts in – this is the nut and bolt type fixing with a screw head so you'll want a little spanner while you screw the other side.
So for the bad bits, what you'll notice on uneven ground is a bit of flex in the frame though no issue with the lower shelf popping out as it's screwed in (something Outsunny could learn from on this unit I feel)- remember we are talking about a cheap potting bench here – easy to get mixed up with all the talk of quality and galvanised – so level is your best friend but after that, this unit can carry a fair old bit of weight, and loaded with plants looks pretty neat and tidy too so not bad for staging.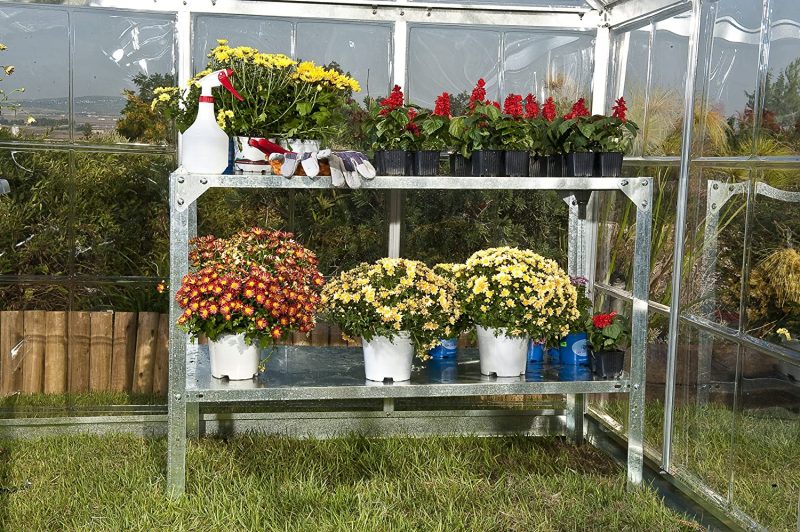 Pros:
Rust proof as it's galvanised
Easy assembly
Sensible money for this
Very sturdy
Cons:
Wants flat ground to stop the frame warping
4. CHRISTOW Garden Potting Table Wooden Work Bench With Wheels
Next up is one of my favourite – the CHRISTOW Garden Potting Table with wheels. And what a lovely design this is. This is very similar in size to the Wooden Potting Planting Table but in my opinion a much better unit overall – more similar in size to the Woodside with a nice potting tray built in (which is plastic and pretty durable – nice touch). The first thing you'll notice though is just how nice and smooth the timber is.
The draw is a nice touch, so are the wheels. The top shelf ideal for planters and seeds, overall it's a unit that has been built by someone who uses a potting bench – and even with the extra money over the budget options I prefer it.
Just the the Woodside, they've thought about a removable tray. The draw has a handle unlike the woodside too. It's a pretty solid unit and you can see where the extra money has gone. But that's where the good kinda stops for me – it's a very nice potting bench… But do you need a portable unit? Do you need the extra style? If the answer is no then I fail to see where you're money is going here, the Woodside is the same size without the thrills.
Pros:
Looks lovely
Wheels work well enough making it portable
Nice drawer
Cons:
Is it worth twice as much as the budget picks? I'm not sure
5. CHRISTOW Garden Potting Table Wooden Work Bench With 5 Hooks, 2 Shelves B01C77POY0
The CHRISTOW Garden Potting Table Wooden Work Bench is lovely little potting bench that works equally as well for staging – given the timber quality and galvanised worktop I wouldn't have any problem putting this outdoors.
Worktop height wise you've got the usual 800mm and the surface is a smaller 750mm wide – it pretty much is exactly the same dimensions as the Wooden Potting Planting Table and since they've been kind enough to provide clear sizes I'll add their picture:
And whilst we are looking at the picture – you can clearly see it's a much nicer looking unit – I just wonder if I can justify the extra money – I like the hooks too and the galvanised top is seamless 🤔
I like the equal shelf heights – and what I like most is the transparency. The assembly as you'd expect is straight forward and not many complaints of quality – unsurprising given the additional costs involved.
It looks great and the pictures really do it justice, but take all the lovely flower decoration away and don't you just have the Wooden Potting Planting Table or KCT 3 Tier Wooden Outdoor Garden Potting Bench which is tried and tested for the last few years?
Well I have to be honest I would be hard pressed to spend the money over the KCT knowing that's been reliable but it's definitely better than then Wooden Potting in my mind. So somewhere in the middle – I suppose it depends how you feel about the style…it is lovely looking.
Pros:
Looks great
Better design than the budget models
Nice transparency on sizing – a first
Cons:
6. Outsunny Garden Outdoor Metal Potting Table Bench Planting Workstation Push Cart with Wheels Side Hanger
Next up is the Outsunny Garden Outdoor Metal Potting Table Bench – you only have to take one look at this outdoor potting bench and realise – it could easily double up as a BBQ side table 😀 as well given how easy it can be cleaned without worry of damaging timber. I'd put my cordless pressure washer straight on that for a couple of minutes and it would be like new again, even if I had left it for months with dirt all over it! That's the clear advantage of a metal potting table.
But as far as potting benches go, that's not where the party ends – you've got wheels that make this moving about the garden far more easy. Given the size of the wheels you may struggle a bit on gravel and long grass, but fine on solid surfaces, and let's be honest. Wheels are wheels, even the little things on the back of fridges make a huge difference after all!
Just like the other picks this has got a pretty sensible 800mm working height – as previously mentioned a little short of your kitchen worktop heights but sensible enough if you're standing up for someone up to say 5ft 9 – I don't have any problem at all on these potting benches and keep my back straight, not hunched over. If you're tall, I dare say you could manage this easily with a good height stool too.
This is the first unit in the review that I am confident can take a good bit of weight, you could easily lay in a bag of compost on the lower tray – probably a waste of that space – but to give you some idea of the strength…
In terms of assembly you've got nuts and bolts – but the type with screws, so you want a little spanner and a screwdriver, a little cordless drill even better – not too much hassle as flat packs go.
For the bad bits – the top surface is level so water can't run away easily and will cause rust – personally I would pop a cover over this when I've finished with it anyway – treat it a bit like a BBQ and you'll get much longer use (this is the drawback to metal frames) – if you don't mind a metal looking unit it certainly has a lot of advantages over the wooden potting benches. The whole point of this in my mind is you can wheel it away when you're finished – if you intend to use it as a stationary fixed potting bench there are probably better options out there – especially the Palram which is galvanised. The metal has a bit of flex like all cheaper flat packs, but nothing that concerns me to the point I wouldn't recommend it.
Pros:
Very strong
Easily portable with the wheels
Quality build
Cons:
Will need a bit of looking after
7. Wooden Potting Planting Table Practical Working Decorative Bench
The Wooden Potting Planting Table is another one of the nice potting benches in the budget category. This one is slightly different though – the entire top is galvanised rather than having a tray. I you're on of those people that like to keep things perfectly organised when potting you might well up looking at the Woodside Wooden Potting Bench or buying a tray to add onto this unless you plan to use it for staging as well since there's more space.
However, with that noted about the potting tray, this one edges storage – you've got an extra shelf that's full depth which on this unit is 350mm. Talking of the depth, the width is 750mm so a fair bit shorter than the Woodside. You'll have to ignore the manufacturer sizes too, they are wrong. The up stand is indicated as 7.5 inches – it's actually half that which makes the table height a very comfortable 800mm just like the Woodside. I'm sure after reading my review they'll correct their specs.
As the flat pack goes it's a pretty decent – the galvanised top will keep your potting area clean – being galvanised there's no rust to worry about so I wouldn't worry about putting this unit outside if I'm honest. I see some have had a difficult time with assembly and screws breaking – to be fair that was early on and the guys seemed to have ironed these niggles out – if the manufacturer reaches out to me and lets me know what they've done to reduce QC issues I'll be sure to let you know – the top warping is because they are getting wet – it should be a reasonably easy fix. If you own a cordless or impact driver then this is a breeze to put together and you're talking an hour including a cup of tea and tidying up after yourself.
Pros:
Nicely priced for a 3 tier unit
Decent galvanised top
Nice budget potting table
Cons:
Hew issues with QC
Hooks on the weak side
8. Lifetime 4 x 2 ft (122 x 61 cm) Rectangular Light Commercial Fold-in-Half Folding Table
So it got me thinking, if you look at the Outsunny and the Palram – they are both essentially repurposed items, and I have to say if it's staging for the Palram, or portability for the Outsunny it works. So it got me thinking – what about one of these good old fashioned portable fold in half benches. They'll be super for staging at least, and they are spot on for weather – completely resistant to rust and damage – making them a very useful outdoor potting table – without the draws and thrills – if you can put up with that you've got a complete bargain.
Being fold in half you can also get your space back if you want and bring indoors to work in the Winter months – they are essentially totally portable and easy to use! The legs are really sturdy – these are way better than they used to be years ago. The one thing to consider though is the working height – this slightly over 700 so definitely suited to sitting down – but due to the design and having the legs out the way you can tuck yourself right under and keep your back straight – overall, there's a lot of sensible reasons to consider this for potting!
There is an option for matching chairs when you follow the link, if I'm honest I don't like those on the look or price – just use whatever you've got at home and fundamentally this is a bargain!
Pros:
Great for outdoors
Foldaway so can be carried indoors easily
Easily strong enough for staging
Rustproof
Cons:
Not an out and out potting bench so no useful draw out potting tray – perhaps you may buy one separately as well?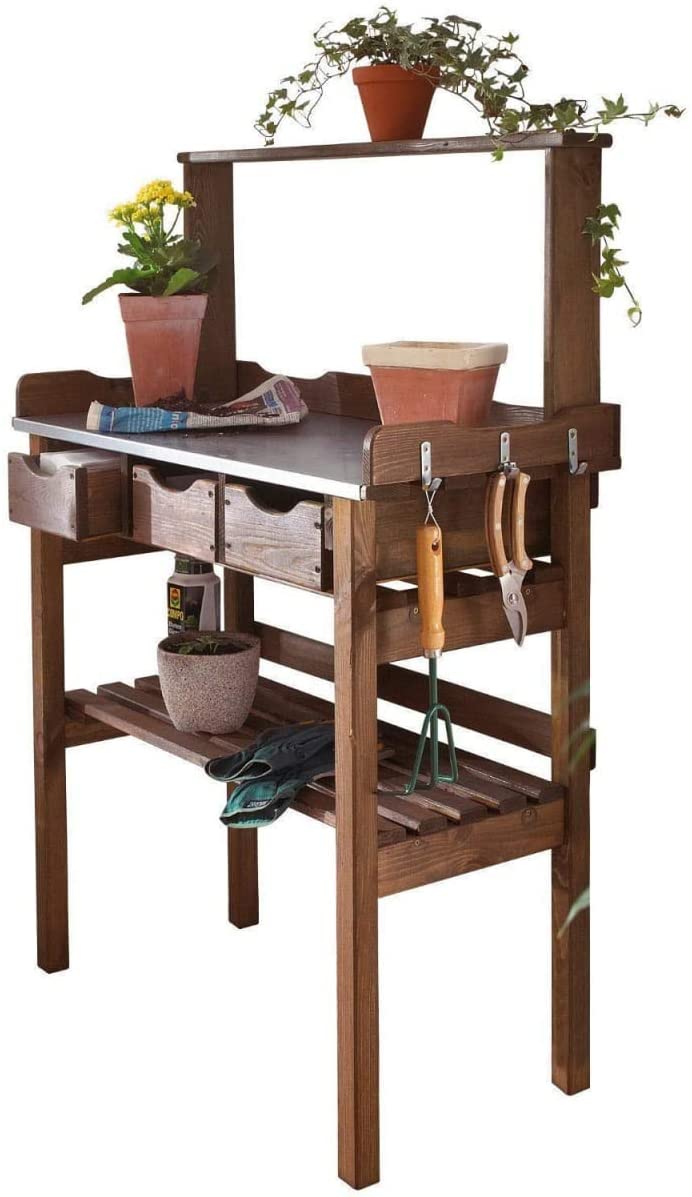 Next up is the Pureday Potting Table – I absolutely love this potting table, and that's the problem – so does everyone else 😀 As soon as the thing is back in stock, it's sold out again and it's very easy to see why – I don't have a product link for you on this sorry but it will be back at some point.
You've got a sturdy wood base shelf at the top and bottom – bottom is heavy duty the top is for pots and seeds, you've got multiple hooks on either side and 3 drawers which all add up to ample storage for storing all your trowel and fork set ect as well as all your other gardening tools – it amounts to a shed tidy as well as a potting table.
Not only on the practical use front, it's built well too. The worktop is laminated with galvanised metal and the overall structure is made from decent quality Pine – the unit works both indoors and out but it seems a shame to put such a beautiful item outdoors 🙂
The potting bench weighs approximately 10 kg so you can move it about with one person either end easily and the overall product dimensions are: 78 cm x 38 cm x 112 cm. The work top working height is located at an approximate height of 800mm, just slightly over. The shelf at the bottom is situated 380mm from the ground and each drawer has an overall dimension of 32 cm x 15 cm x 8 cm – so it's worth considering they are 'not that deep'
For the negatives it's hard to be picky but they could have put galvanised feet on it to stop moisture like some of the other units but apart from that it's properly a nice potting table for almost any garden, shed, or workshop setting.
I hope you've enjoyed our review of the best potting benches and if you think we've missed any then please feel free to let us know and we will review them for you.
Final thoughts
Potting benches are a real favourite of mine. If you don't have an old table to repurpose or you are looking for a potting bench that's highly specialised for the job then you'll save a great deal of time and effort(as well as your back). Whilst converting an old table is good, the best potting benches have moved on miles in the last few years offering all manner of helpful holders and storage points. The best potting bench will save you a huge amount of effort with your seedlings and seed trays this season.
---