Written by Terry Smith
Our site is reader supported so when you click a link to Amazon we may earn an affiliate commission.
UK's best garden hoes: Dutch, draw, scuffle, and oscillating compared
This article was last updated on April 23rd, 2022 at 5:59 am
Ask any gardener worth his salt which tools they class as important and I guarantee that a garden hoe will be high on that list – much easier than a weeder, but lighter than a spade. Hoes have been used since ancient times to clear or shape soil in preparation for planting, to remove weeds, to harvest potatoes and other root foods, as well many other uses.The design is simple enough, a blade on the end of a shaft, but a wide range of different sized and shaped blades have been used over time and across the world, for various purposes including weeding or breaking up soil like a fork or spade.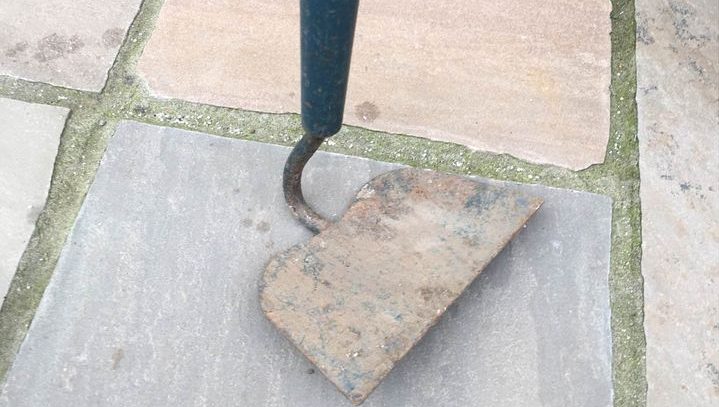 In terms of performance, the best garden hoes should be sturdy and have a comfortable handle to grip, the blade edge should help you cut through soil even if you aren't the strongest, and it should be well priced so based on these ideas I have reviewed the best garden hoes to save you time.
Best hoes: editor picks:
Best overall garden hoe – Spear & Jackson Kew Gardens 3983KEW Stainless Steel Dutch Hoe
Best dutch hoe – Spear & Jackson 2135NS Select Carbon Steel Dutch Hoe
Best draw hoe – Stanley Fatmax Fiberglass Garden Hoe
Best scuffle pick – Fiskars QuikFit Push-Pull Weeder
Oscillating hoe pick- Fiskars Xact Push-Pull Weeder
Heavy duty garden pick – Lanyota 2 in 1 Gardening Hoe and Rake
Short handled pick – Spear & Jackson 5050OH – Traditional Onion Hoe
Budget pick – Draper 14308 Carbon Steel Dutch Hoe with Ash Handle
hoe buyers guide
There are quite simply too many styles of hoes to speak about and if I'm honest and went on about all the different sub genres of hoes, I would probably fall asleep telling you. But there are three main types of hoes worth knowing about as knowing how they work then means you know how to choose the right tool for the job. It can be quite fun teasing the labourer and watching him struggle with the wrong hoe from time to time though too.
Types of hoe
Ok, so basically we have a hoe for pushing, pulling and digging. A push hoe or a dutch hoe as it is sometimes called is a very common hoe. It's likely that this is one you have used before without even knowing it. It is really comfortable to use and the blade is laid just below the surface of the soil and then moved over the weeds. The blades aren't huge so it's good for getting small weeds in the flower beds between what's growing: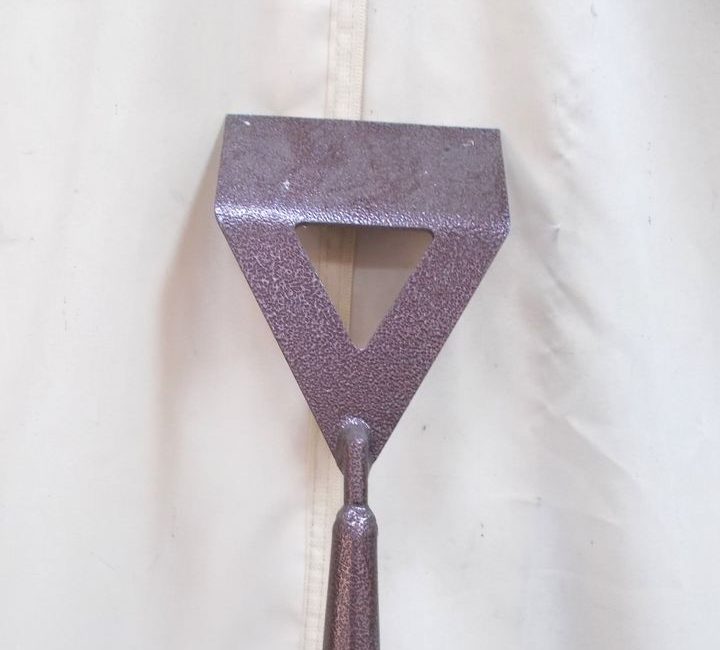 A draw hoe, literally given its name because draw means "to pull". It's used to shape the soil and it's good for either hard or soft soil. The handle meets the blade at a 90 degree angle and it is used in a chopping or digging motion and pulled towards you. There are a few different types of draw hoe. Some are more heavy duty than others and some are designed to tackle small weeds or great big tree roots: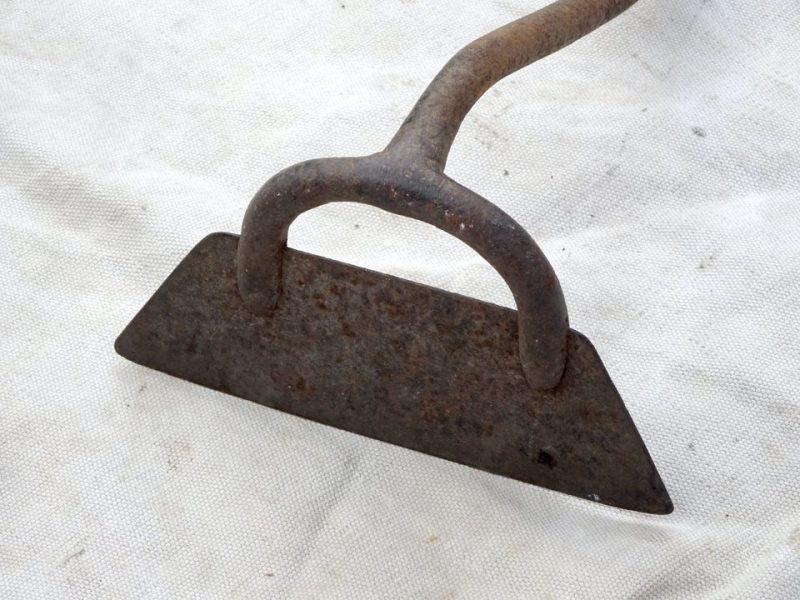 Formerly the stirrup hoe with some improvements and now called an oscillating hoe or action hoe is designed to cut on both the forward and the back strokes as the blade is attached to the end of the handle on a pivot. The pulling motion also helps with the larger weeds, when it is pulled the blades move deeper into the soil smashing through the roots. There's something quite enjoyable about using this style of hoe once you find your rhythm.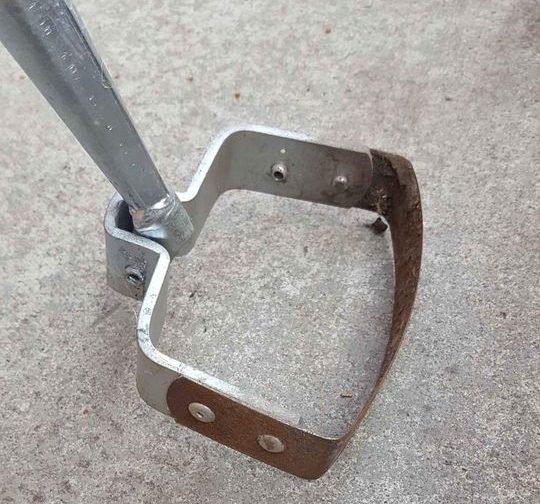 How to decide which garden hoe is best for the job?
There's no way on earth you are going to get a 100 percent definitive answer for such a question. Larger jobs require different tools however smaller trickier jobs that take forever might require something completely different all together. That being said, I always have my preferred equipment ready and sometimes use what is going to make my life a little bit easier rather than save time. I can only guide you to making a choice and finding your own preference on this one. Sometimes it just comes down to what we like and what we don't like. this old boy knows his stuff – bear with him, he's very knowledgeable:
A few basic tips though, I am not a fan of breaking my back and hunching over all day so I am going to opt for a long handled piece of equipment. Secondly if I am only going to tackle small to medium sized weeds and not tree roots then I'm not going to jump round the site with heavy duty draw hoe. It doesn't make sense to make my life harder than it needs to be. As I said before I have a preference at the end of the day and if I am weeding large or small areas I'll still opt for an oscillating hoe. I just feel the push and pull motion makes my life that little bit easier and it means I get to go home quicker too! But I don't mind putting in a little effort now and then. That being said it's no match for any decent sized root so I will need that previously mentioned heavy duty draw hoe to hand. So, of course weigh up the job before blindly walking round the tool shed, remember work smarter, not harder.
Handle material
There are a few different choices when it comes to the shaft of a garden hoe.
Firstly there is wood or ash wood and hardwood are the most common. The hardwood classic is hard wearing and heavy duty and it's decent at cushioning the blows if you have a tough annoying tree root or just a fair amount of digging. Obviously the biggest drawback of wood is it being vulnerable to weathering over time, albeit a long time unless it's not taken care of and stored correctly, you are going to find it begin to rot. That being said, the handle is replaceable, and it's not going to break the bank either.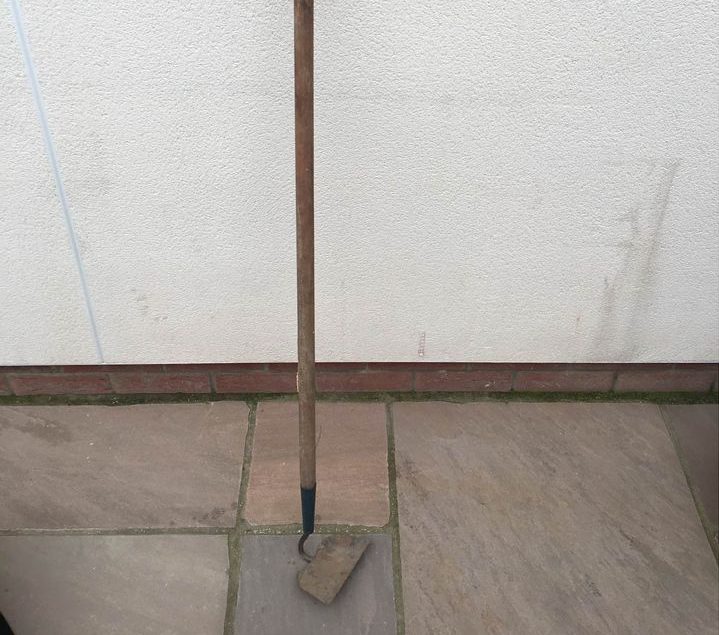 If it's durability you are after then you can go for the steel option. Although you are sacrificing one trait for another. Steel is going to last longer but it is most certainly not good at taking the brunt of the shock as it makes contact with different surfaces. Plus it's heavy, which means it will take its toll on your shoulders and arms after a full day's graft.
Ok so, Aluminium is somewhere in between. It is a lightweight option and it's also going to withstand the wear caused by British weather, it's definitely not going to start rotting on you if you've left it outside for a few weeks. Again, we are in a trade off for durability as the aluminum handles aren't great at shock absorption either.
So where do we go from here? It feels like we are having to substitute a robust handle for something that will help take the hits for our bodies, or visa versa. Fibreglass is an option that will give us that shock absorption, taking care of the labour side of things. Plus it is also lightweight, yet robust and it's definitely not going to decay like wood. Meaning it can be stored anywhere. One thing to consider is that they are a bit of a pain to replace, but do check with the manufacturers to see what sort of warranty they have, you might be pleasantly surprised.
As we are speaking about the handles do take into consideration what the job entails. Handle length is going to be important as we dont want to put constant strain on the back. Especially when it can be avoided by buying the correct length to start with. My advice here is pick the thing up and actually hold the tool in your hands and you can normally gauge if you're bent over too much, off balance and if you're going to need a longer or indeed a short style of garden hoe.
Lastly, in my eyes the light weight options are always going to be better, as long as you're not going to Fisher Price to buy your tools you should be ok. Heavyweight tools are needed of course but we assess the workload and use them accordingly.
Which material is best for the blade?
Almost all the blades used for garden hoes are going to be a type of steel of some sorts. There are different types of treated steel, the most common two types are carbon steel and stainless steel. You will find that the carbon steel will possibly rust a bit quicker if it's not taken care of but it's definitely more robust and hard wearing that stainless steel.
That being said, unless you are really putting the stainless steel through its paces it's hard to notice and stainless steel is easier to sharpen than the carbon. If you see that the steel has been heat treated then it's going to be very robust and tough. Likewise if the blade has an epoxy coating or a powder coating it's going to be more resilient to rusting.
What sort of price am I looking at?
The price range is going to vary from style to style, size and the quality of the tool too. Hand held tools are normally less expensive than the longer shaft, larger tools too. So, choosing the right tool for the right job is going to save you money. You are really looking at a huge range when it comes to garden hoes anything from under £10 to just over £30 again it's a hard one to call with so many factors to think about.
What is required to maintain a garden hoe?
It pretty much goes without saying that if you look after your tools you will get much longer use out of them. And personally it really gets my goat whenI even see people not taking care of their tools. If you pay good money for something then it's definitely worth taking a little extra care with it. Not just storing it in a dry place away from the elements (which is pretty obvious stuff) but sharpening the blade too. I have always found that when any tool is working to its full capability then I'm not going to be compensating for its inability to get the job done correctly. If I have a blunt blade I'm going to be using brute force instead of letting the tool do the work. Not only is that detrimental to my health as my form when using the tool won't be correct but it's also going to take its toll on the blades, handles and grips too.
It just makes more sense to me to regularly check all the tools and see what needs some tender loving care every now and then, just like my misses really. We want the blade to do the work and effortlessly cut through the soil, weeds or roots. Before sharpening the blade, give it a quick once over with soapy water and clean off any dirt then dry it off. You can then use a sharpening stone, (oiled works best) to get the blade up to the job again. Making your life easier in the long run is the idea, if you go for the hardwood handles, why not grab some sand paper and possibly give them a once over too.
Final take home
Just in case you missed it in the buyers guide, I would say the most important thing to consider when buying a garden hoe is buying the right hoe for the job. I hope that after reading this guide we have helped you decide which tool is best suited for your needs and you can agree that it's definitely better to work smarter and not harder.
---