Garden Tool Box » Best children's climbing frames[UK]: Top climbing frames wooden and metal with safety in mind
Written by Terry Smith
Our site is reader supported so when you click a link to Amazon we may earn an affiliate commission.
Best children's climbing frames[UK]: Top climbing frames wooden and metal with safety in mind
This article was last updated on July 31st, 2021 at 8:37 am
What is a climbing frame?
Best best children's climbing frames roll a whole package into one combining kids play houses, swings, slides, and our new top pick even has a sand pit. When you think about where climbing frames started with your dad throwing together a few bits of wood with rusty nails, a pole, and if you were super lucky a rope, things have moved on and evolved a lot since then! There's literally no comparison, kids are spoilt rotten, mine certainly are and I don't care quite frankly, anything that gets them out in the garden and off Minecraft or Fortnite is an absolute win.
Climbing frames are designed to test children's physical ability, provoke a sense of adventure and outdoors, be safe to play on with friends, well built so you only buy once, and keep the kids occupied for hours on end. With those key comparatives in mind, I selected the absolute best children's climbing frames for this Summer.
The 6 Best climbing frames for your garden reviewed
With winter finally behind us, it is time to start planning how we will keep the kids entertained through the Summer, especially with the current lockdown situation making interaction with friends a little difficult for the foreseeable future.
Best climbing frame top picks:
Niro Sportgerate "Climbing Island" Climbing Frame best climbing frame for older children
WICKEY Wooden Climbing Frame SeaFlyer – best wooden climbing frame
I know it's all too tempting to take the easy option and let them spend their days glued to their PlayStation, tablet, or other device as it's a sure way to keep them occupied and more importantly quiet, but they really should be going outdoors and getting some sunshine and exercise.The difficult thing is making and keeping them interested in playing outside and away from their favourite cartoons and video games, especially if the excitement of a garden playhouse has warn off already and there are few ways to achieve this. For example, a good trampoline, garden swimming pool, or badminton set can keep your kids busy for ours while keeping them fit, or maybe try investing in one of the football nets for your garden.
Another option, that we will explore today, is to install a climbing frame for your kids to play on. Whether it's a small climbing frame for your child to play on alone, or a large multi-sectioned climbing frame that can host both your kids and their friends, there are products out there to suit your needs.
It is often tempting to put too much thought into the price of a climbing frame and this is understandable as we all want to save a few pennies here and there, but with products like this you should think more along the lines of features and activities, build quality, and overall…safety so that is how we have reviewed our selection of the best climbing frames.
Comparison table: Best children's climbing frames[UK]: Top climbing frames wooden and metal with safety in mind

Product
What We Think
Price

WICKEY Wooden climbing frame TurboFlyer with swing set and blue slide, Garden playhouse with sandpit, climbing ladder & play-accessories

WICKEY Climbing tower incl
Pressure-treated solid wood - No painting necessary
Quality and safety tested
The expected delivery can be delayed up to 4 days for forwarded items such as this one...
Benefit from a 10-year guarantee on all wooden parts of your climbing frame by ordering "10 WICKEY angle anchors"...

Exetendable frame suitable for children as young as 18 months at low height and 3-12 years at full height...
Green den features a round viewing window and 2 entry/exit points with roll up doors...
Hours of active imaginative outdoor play
Extra safe connector cap system which keeps nuts and bolts away from children...
Compatible with TP extensions such as the Jugle Run and Crazy Wavy Slide...

WICKEY Climbing frame for children with slide
Post thickness 9x4.5cm - Swing beam 9x9cm
Quality and safety tested
The expected delivery can be delayed up to 4 days for forwarded items such as this one...
Order directly for optimum assembly

✅ For always new fun
✅ Size: about 225x 165 x 197 cm
ATTENTION: The COUPLINGS ARE DELIVERED IN TITANGRAU
✅ NOTE for color combination: we try to provide the color combination as shown...
✅ Model "Lina": A Move and Stic slide is built-in and invites you to a slide ✅ Unlimited fun...

TESTED SAFETY - You do not have to worry about the quality and safety of our climbing frames and...
HIGH QUALITY - The climbing frames from Niro Sportgeräte GmbH are also used in schools...
WARRANTY - You can count on the quality of Niro Sportgeräte GmbH...
1. WICKEY Wooden climbing frame TurboFlyer with swing set and blue slide, Garden playhouse with sandpit, climbing ladder & play-accessories
When you compare the WICKEY Wooden climbing frame TurboFlyer with swing set and blue slide to any other set the first thing you're going to realise as you research thoroughly, this is the best children's climbing frame. The next question is are you willing to pay for it? Very similarly to the WICKEY Wooden Climbing Frame SeaFlyer it is well built and has the same swing and slide essentially. Much really boils down when you compare the two – is your kid into pirates and would a traditional looking garden climbing frame site well with your current setup in terms of design. If you can make that decision then this is a top pick.
Built from decent quality timber with a good history of low maintenance and little rot, you're in safe hands as far as buying right and buying once is concerned. The timber is pressure treated and will give you plenty of years in good nick before you worry about wood preservers and oils to maintain.
However, the only thing I don't like is the ten year guarantee. Whilst this might be the case it's technically not worth the paper it's written on if not insurance backed. And while yes, I just went on about how long this will last – and it will, I think a tangible guarantee would be better – where do they draw the line? If everyone calls in with faded plastic and sends it all back no one will get their guarantee honoured…and it's no good saying yeah but we are different – go check the Everest window website still looking like Everest but trading under a different name. The only way you are really covered is with an insurance back guarantee. sorry for the rant!
Weighing in at 137 kg you don't need to worry about bolting this thing to the floor. Very steady and stable; the swing framework is made of 4 inch (just slightly smaller) pressure treated timber so plenty strong enough for the toddlers to swing away. Talking of which, this is definitely for your younger children – older kids won't get much use from this you need to keep the load sensible, this is a domestic climbing frame!
This ship-themed wooden climbing frame is a perfect way to keep your little pirates happily playing outside for hours, especially if you let them watch Pirates of the Caribbean the night before to get their imaginations going.
There are multiple ways to set up the Seaflyer climbing frame so you can choose whichever layout for the different sections and activities that you like. Want to have the climbing wall lead straight up to the slide? No problem. Prefer it to be closer to the swings? You've got it.
There are a few main design features that stick out on the Seaflyer climbing frame. The first is the 220cm plastic bumpy slide that is made from thick, durable plastic that is sure to last for years.
Then there is the 'ship's bow' area that acts as a kind of extension of the sand pit and also has blue tarp on the sides for decoration. This bow even has a simple figurehead right on the front so you kids can really make believe they are on a pirate ship.
The upper platform can be reached by either climbing the sloped ladder or, for the more adventurous, using the climbing which has plastic hand grips that can be set up in any formation you wish. Once up top, there is a steering wheel and telescope for the captain to make sure they find that treasure island, or avoid the Flying Dutchman.
Leading off the side is a 9cmx9cm wooden swing beam that supports a good sized rope swing with plastic seat, and also a swinging rope ladder with wooden steps.
The posts on the main frame measure 9cmx4.5cm thick and, along with the rest of the construction, are made of high quality, pressure treated wood. This makes the climbing frame solid and sturdy in of itself but you will need to set it into the ground using concrete or something like that really make it 100% stable.
Another thing to consider is that putting a climbing frame like this together isn't the easiest thing in the world and you will need to have at least basic DIY skills and a good set of tools to accomplish it, and even then it will take a fair old while. You could also employ someone to assemble it for you if you don't have the time or necessary skills.
This is a fantastic climbing frame for your garden and kids if you have the space to house it, and the time and patience to build it. The materials are good, and there are a good range of activities for the kids to take advantage of.
3. Backyard Discovery SKYFORT II
Let be honest here. If you're looking to buy this climbing frame for your garden you will need a few things. First and foremost you must have a large garden as this thing is huge (668 x 510.5 x 375.9 cm), secondly you need to be well off, and lastly you will need to have a fair few DIY skilled friends or family members to help you build it, or be prepared to get professionals to do it for you. If you take this on yourself, make sure you buy a cordless drill or impact driver.
If you are not put off by that short list of requirements, then you should definitely give the backyard Discovery Skyfort 2 serious consideration as it is undoubtedly one of the biggest and best garden climbing frames available in the UK.
When it comes to things to play with, this climbing frame offers your kids so many options. There is a 10ft wave design slide made of robust plastic that works really well. What I mean is, with some cheaper models the slides are just not that, well, 'slidey' (I know that's not really a word, but you know what I mean), and the kids get stuck halfway down. With the Skyfort 2 this is no issue and the kids can make it all the way down swiftly and safely thanks to the high sides of the slide.
The swing beam houses 2 normal chain swings with curved plastic seats, and also a very cool 'seesaw swing'. This solid plastic construction allows two children to sit back to back and use their own momentum to really get swinging. It's a great idea and something that your kids will love.
On the other side of the slide are the monkey bars that, again, are a step up from what you usually get on garden climbing frames. They feel much more solid and are actually high enough for even the tallest kids to swing from without their feet touching the ground.
The second floor is where you will find my favourite part of this climbing frame, the kids clubhouse, complete with balcony and slide access. The clubhouse is a good size and can easily be furnished with a play mat and some kids chairs if you wish.
There is a window for children to keep an eye on their friends out of, and if they crawl out of the opening to the side they will find themselves in the 'crows nest', another balcony area with high fenced sides for safety, and best of all, a good sized, fixed telescope to look through.
Access to the second floor is gained by either using the ladder, which has large metal hand rails running up most of its length on both sides, or the 'rock climbing' wall. This climbing wall is a little taller than the norm with a few more plastic hand and foot grips to play around with so even bigger kids won't get bored as quickly.
When it's time for lunch, it can be a nightmare trying to get the children to come in and eat, but with this garden climbing frame they can sit on the picnic bench, situated behind the slide and under the clubhouse, and still feel like they are playing. It's a nice touch that I think will go down well with parents and kids alike.
Despite its huge size, the Skyfort 2 climbing frame is not an eyesore. In fact it looks really beautiful with the reddish brown tint to the wood and an excellent overall design. One look and any child will instantly go running towards it, that I am sure of, and that is why I think it's one of the best climbing frames for your garden.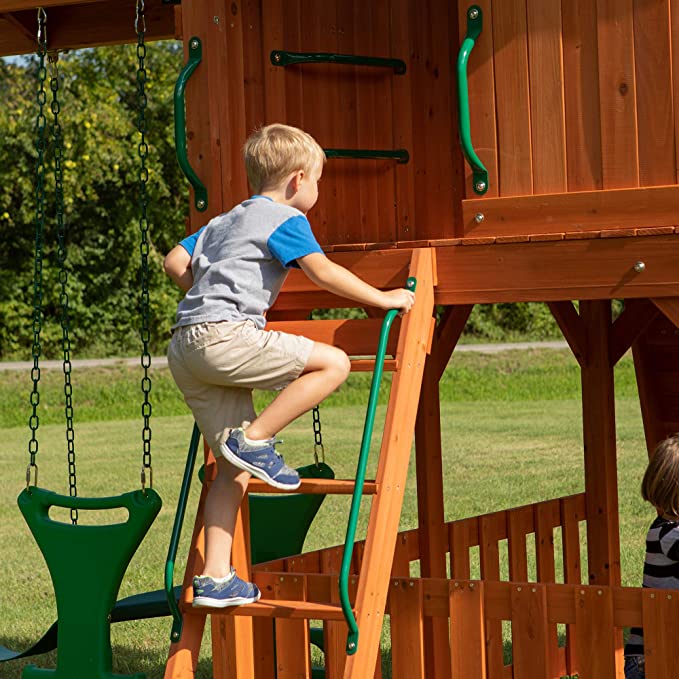 4. Explorer Frame with Platform and Den
You don't always need to have slides, swings, and a million other things to make your kids happy, and this explorer frame and den proves it with a simple yet captivating design that your children will love.
Its shape resembles a lunar module or some other kind of space shuttle with a pyramid like metal frame that leads up to a platform made of a soft, but very strong, plastic mesh material that can easily hold a couple of kids, even if they are roughhousing on it.
You can transform this platform into a full blown tent/den by installing the free canvas cover that acts as the sides and roof. There is a circular plastic 'window' for your kids to look out of and also two roll up door flaps for easy access. The flaps can be fasten in the closed position using the Velcro fasteners that are provided.
The metal frame is very strong and stable, and also height adjustable so the platform can be raised from 56cm at its lowest to the highest setting of 119cm. This is really handy because it means that younger kids can use it but won't grow out of it as you can just make it a little higher as your child gets older.
You don't have to worry about the frame lasting for years either. TP toys have cleverly made it out of galvanised steel which is extremely resistant to rust and corrosion while also giving it a nice shiny finish that is pleasing to the eye.
Another thing that makes this kid's climbing frame something that your children can play on for years is that it can be extended wit TP toys accessories so you can add that slide or climbable jungle run and attach them quickly and easily to the original frame. These add-ons are also made out of galvanised steel so you know they'll last.
Assembly of this climbing frame is pretty straightforward and it should only take you a couple of hours even if you do it on your own. With a friend helping it could be up within an hour.
With a relatively low price tag, and a solid and sturdy build quality and design, this is well worth taking the time to think about if you have kids aged 3-7 years old. Any older than that and it might seem a little small unless you add the jungle run and slide. It is a great product well worthy of mention though.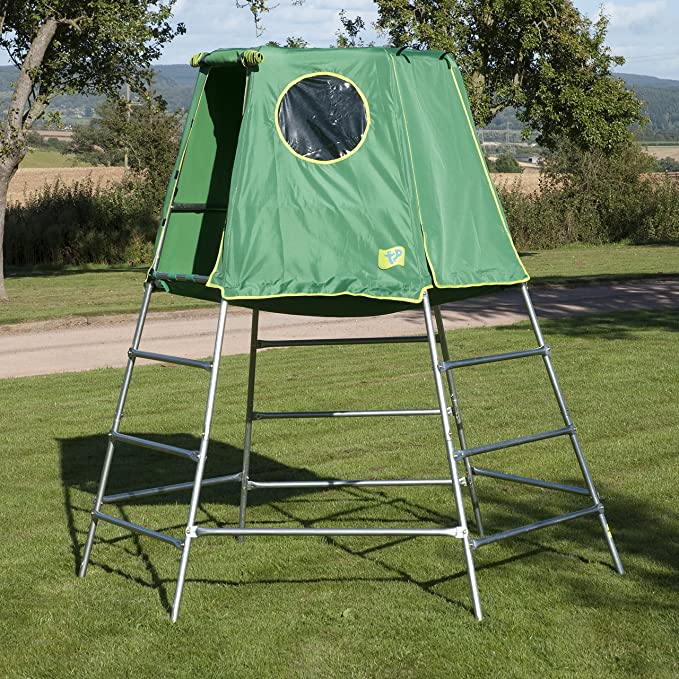 5. Move and Stic Lina Bigger Play Tower
Move and Stic's Lina bigger Play Tower is a garden climbing frame designed specifically for younger children, I'd say between the ages of two and five would be
It is available in three different colour schemes- orange and red, yellow and apple green, and the one we checked out, the seven multicolour design which I believe would be the most attractive for toddlers.
When fully assembled it measures 225x 165 x 197 cm so you don't need a huge garden to accommodate it and could even fit it in a good sized spare room with high ceilings. You also have the option of building a smaller climbing frame using the components because of Move and Stic's modular design. This also means you can connect this frame to other products from the same company.
We followed the instructions and built it as it was intended by the makers, slide and all, and it took the better part of a whole day with two of us at it. This was due to there being so many individual parts that needed screwing together.
The climbing frame is made up of thick recyclable plastic that is also UV proof so it won't get damaged by sunlight during the summer and should keep its bright colours well too. The plastic parts actually feel very strong and certainly sturdy enough for little kids to climb around on.
And climb they can, thanks to the design that has numerous smaller platforms instead of just one or two and there is no large ladder than can sometimes make it difficult for toddlers to use.
Although the vast number of individual parts was a bit of headache to put together, once in place and assembled, they do provide smaller children plenty of places to grab a hold of to support themselves while they climb, and I'm sure they will be up to the top and back down the integrated slide in no time.
6. LittleTom Playhouse
LittleTom's playhouse can double up as a handy little starter climbing frame for kids who are just starting to get confident enough to negotiate a few low obstacles and use a slide.
It is very compact and measures just 135x155x104 cm so you can set it up even in a small garden and can easily bring it indoors in winter if you like. There aren't too many parts to the whole climbing frame and what there are all interlock quickly, so it doesn't take very long at all to assemble.
Let be clear about something, although LittleTom say this is suitable for kids up to the age of eight, this is only for really small kids as it only as a maximum weight load of 30kg and will not withstand or support more than that. For most toddlers (age 1-3) though this is a good size for them to gain confidence before moving onto a bigger climbing frame.
The two main parts of this model are the 18cmx29cm swing and the 92cmx29cm slide. Both are made of thick plastic and have bright colours designed to keep little children in a good mood. The top of the swings arms are decorated with two cute puppy shaped heads for the same purpose.
Everything on this garden toy is made of plastic, except for the metal bar that the swing sits on, and all edges have been rounded to ensure safety for your children. It also does not stand too high off the ground or have any hard to reach platforms. When using the swing, you can fasten in your child using the integrated safety belts for peace of mind.
The main parts of the frame are dotted with various sized and shaped holes that can be used to climb up the sides and there are some large round holes near the bottom for your toddlers to crawl through. The sides of swing area have been given an open design too.
The only thing I really didn't like about this climbing frame was the pieces used for locking the parts together. They are made of plastic, and don't seem to be that strong or reliable and I would probably look to replace them with something a bit more substantial if I bought this product.
This is actually designed as equipment for young gymnasts to practice on but it makes a great climbing frame for older children and young teenagers to play with or exercise on.
It is made in Germany and so has a very good build quality, and made from decent materials unlike a lot of Chinese made products that fall apart after a short while.
This can also be used by parents for getting in a good bodyweight based workout when there's no time to hit the gym and has a dip station and pull up bars.
for kids who just love to climb, this frame has a climbing rope, a wide multiple route rope ladder, metal ladders leading up to the top of the frame, and also some D-shaped metal rings that can be used for scaling the frame.
Two gymnastic rings hang down on ropes and they can provide lots of fun for a 9-10 year old who has developed enough body strength to use them. Younger kids can just swing on them to their hearts content.
Across the top of the climbing island garden climbing frame are some monkey bars that are strong enough to support someone who weighs up to 80 kilograms and are high enough off the ground for anyone to use properly.
I wish the bars were spaced further apart, and that there were more of them, but I understand the company's design ideas and wanting to keep everything as compact as possible, and you only need about 4.5 square metres of available space to house this climbing frame in your garden. You will need to set the feet in concrete to keep the frame stable though.
We took a chance to test this climbing frame as there weren't that many reviews, but we are glad that we did. This is a quality product that is great for people who have children aged 8 and over and who want something that won't be grown out of within a year.
Best Climbing Frame Buyer's Guide
To make sure your kids are the king of the swingers, or to climb their way to the top of the ladder, they need to have the right equipment in place.
Choosing the right climbing frame for your garden, and your children, certainly isn't easy. In fact it can be very confusing and frustrating if you don't know what to look for.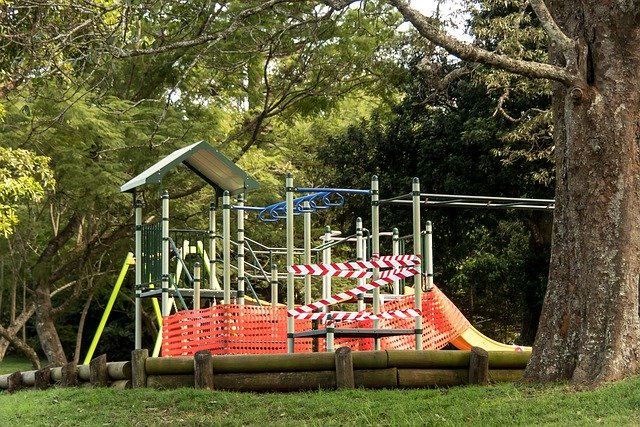 Because of this, we thought you might appreciate this little guide of ours that picks out a few of the most crucial factors when buying a climbing frame for your garden.
Who will be using the climbing frame?
A smaller climbing frame may be just fine if it's only going to be used by a young child or two but even if you just add one more young kid, that product is going to start to seem overloaded, and that is potentially very dangerous.
Most of the larger climbing frames wit monkey bars, slides, etc. are great for letting your kids play with their friends without too much worry, and should be good until your pride and joy reach around 10 or 11 years old.
How big is your garden?
Probably the most important thing to know is exactly how much space you have in your garden for your planned climbing frame. You might well have your eye on the fantastic Backyard Discovery SKYFORT II model but unless you've got the land to spare, it's just not going to be possible.
The good news is that climbing frames come in all sorts of shapes and sizes so with a little perseverance and time, you should be able to hunt down one that suits you and your garden.
How much weight can the climbing frame take?
Some smaller frames only have a max load of about 30kg and so that may mean that your kid grows too big to play on it in a very short amount of time. Others might take up to 100kg or more but when you split that between multiple children, that's not that many that can play at the same time.
The largest climbing frames can obviously take a lot more and you don't need to worry about them, it's more the small and mid-sized models that you should check on before buying.
Compare the build quality
Some children's climbing frames come with a ten year guarantee like the WICKEY Wooden climbing frame TurboFlyer which pretty obviously shows their quality intent. I can confirm the quality of the timber too, very good and will last ages before you consider maintenance. By contrast the and in direct comparison the Explorer Frame with Platform and Den is not built with the same quality and cannot be relied on to last. But then these two products are in different leagues as far as price point is concerned.
Can you build the climbing frame that you want?
Most, if not all climbing frames will require some assembly. How much can vary wildly from a couple of screws here and there, to use of power tools such as drills and skillsaws. Here's an example of a professional install, what a treat for the kids!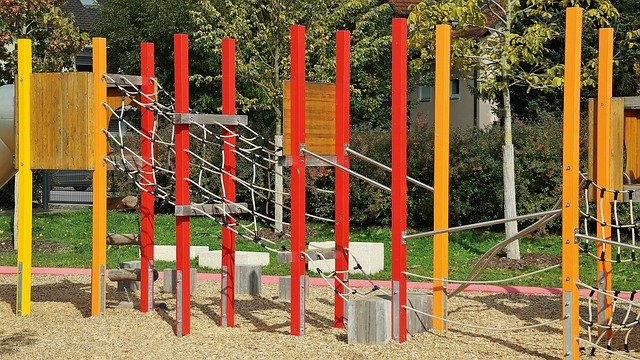 The tools required to fit this are at a minimum a drill, petrol auger for the uprights that need to go in the ground deep, a hand saw, and a spirit level. Unless you are particularly skilled and experienced in DIY, I wouldn't consider tackling the setup of any of the larger climbing frames without the help of someone who knows what they're doing, and even the smaller ones can be a headache if there are loads of individual parts that need to go together coupled with poorly detailed instructions.
---