Written by Terry Smith
Our site is reader supported so when you click a link to Amazon we may earn an affiliate commission.
UK's best compost bins both large and small tested
This article was last updated on June 13th, 2022 at 9:42 pm
Whether you're a first time gardener or an experienced 'old hand' compost is going to be a part of your life. 
If you're tackling your garden for the first time, you will probably find that the newly dug up soil needs improving upon and compost is just the material for the job. Thankfully, compost is very easy to make for yourself and all you really need is a compost bin.
 The materials you are using to make your compost need to be massed/piled together properly in order for your compost to 'cook' properly and in a shorter time. The pile of materials should be layered with 'brown' then 'green' materials in an alternating pattern. You also need to 'turn over' your compost pile with a fork to produce heat, although some compost bin models have parts that you can spin to do this instead – these are often the best compost bins.
 Of course you can always make your own compost bin, but I find it better, and less time consuming to buy one that is specially made for the purpose with the features that I find useful.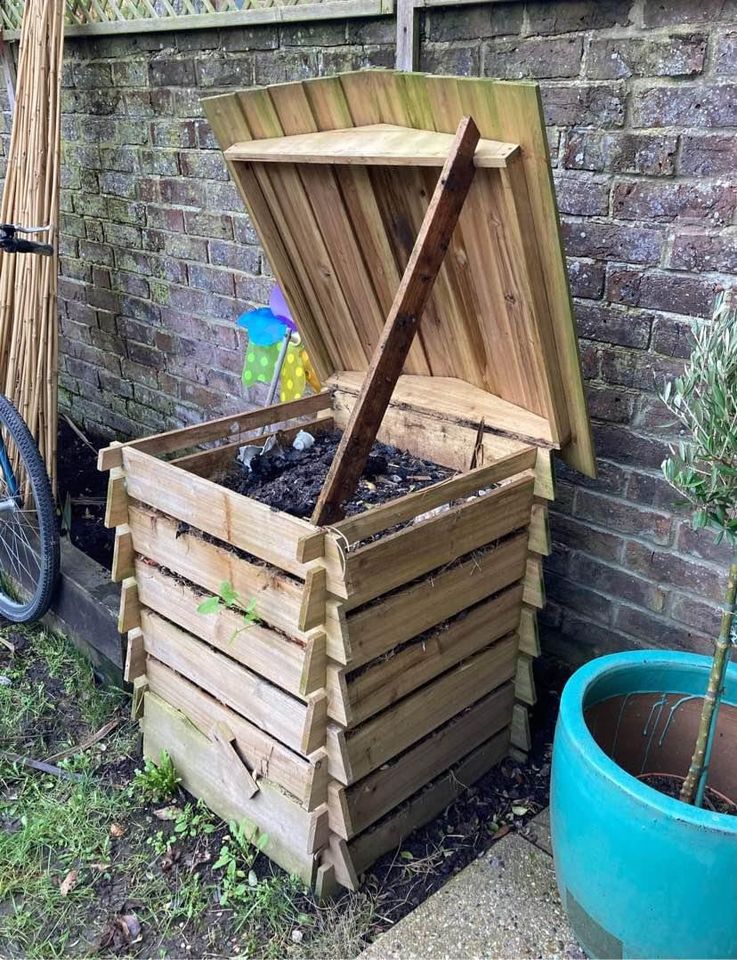 Best compost bins: my top picks from twenty years using and testing:
Buyers guide to compost bins
If you're feeling a little lost when it comes to choosing your very first compost bin, or just about the composting process in general, don't worry, we've got you covered.
In this detailed buyer's guide, we'll explain how to use a compost bin, how a compost bin works, discuss the different types of compost bin available to you and compare them, as well as providing any information we deem necessary or of interest to you.
Why should I use a compost bin?
Using a compost bin to transform your garden and kitchen waste into a nutrient rich material is one of the cheapest ways to improve the condition of your soil – it's also a great solution to your green waste problem. I don't know about you but my wheelie bin is always bursting collection day. In fact, other than the initial purchasing cost, which can be as little as ten quid or so, there isn't much else to worry about. Personally, I wouldn't go as low as a tenner for my compost bin, but you can get something like the bins in this photo for not a lot more than that: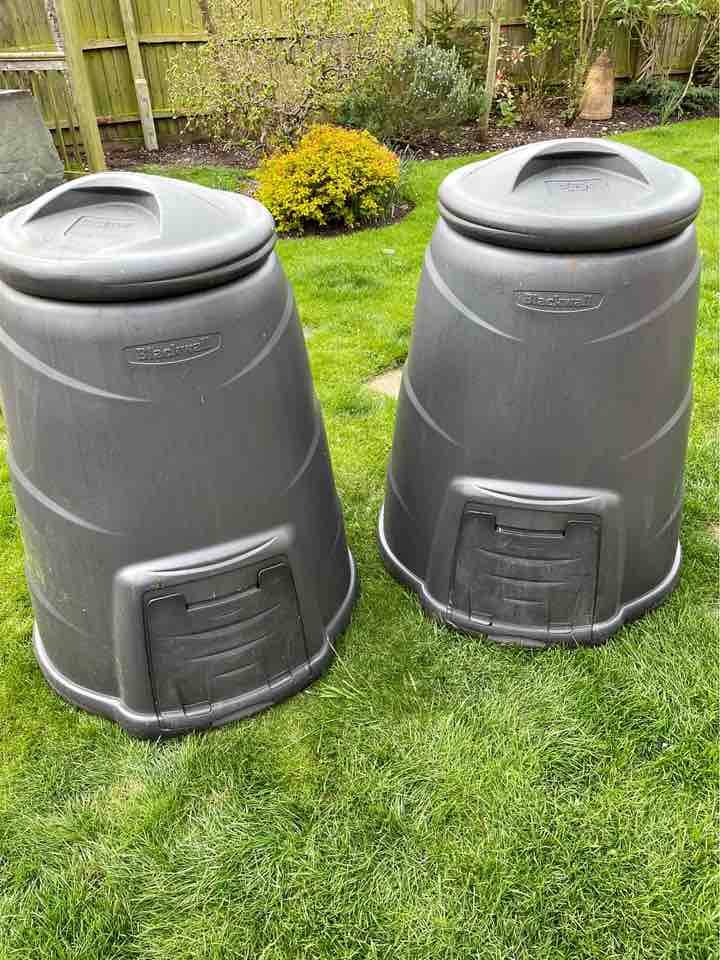 Even if you forked out for one of the high end compost bins, like the Hotbin, the money that you'd save on buying new soil and ready made compost from the garden centre, would more than make it worth it, over time.
How to use a compost bin
There aren't any special skills needed to make your own compost, especially when you are just starting out. All you really need to know is what to put in your compost bin, and in what amounts.
A good ratio to start with, that has been proven to produce good results, is 40/60 green and brown material, put down in alternating layers. Having said that, I personally go with a ratio that is higher in carbon (brown material) as bacteria use more of it than nitrogen to create good compost. Having said that, I also tend not to be so scientific and just inspect my compost regularly to see if it needs more nitrogen or carbon adding. If there's a strong smell, and it looks too wet, I add more brown material, if it looks too dry, I add more green stuff.
By green material, we are referring to any vegetable or fruit scraps, and things like grass clippings and dead leaves. Old cardboard, newspapers, and twigs and branches, can be used as brown material.
Unless you want to attract unwanted visitors like rats, you should avoid using meat or fish scraps in your compost bin, and just stick to nitrogen rich green materials, and carbon rich brown ones, like we mentioned above. Some people put perennial weeds in their compost bins, but as a beginner, I would recommend avoiding doing such as without using the correct technique, some of those weeds can survive the composting process.
Moisture is important for making good compost and it should always be damp, not wet, not dry, just damp. You also need to turn over the contents of your compost bin using a garden fork, spade, or shovel every few weeks. Alternatively, you can buy a tumbler compost bin like the Squeeze Dual compartment model that'll make this part of the process easier.
Where you place your compost bin can also play a part in how well it does its job. Big variations in temperature are not ideal for composting so I always try to set my compost bins up in a sunny or lightly shaded spot where the temperature remains fairly steady.
Lastly, worms and other certain creatures play an important part in creating compost, so setting up your bin directly on the soil is always better than on concrete. There are even special compost bins called 'wormeries' that are specially built to encourage those wiggly wonders to work their magic. One of the best examples of this is the VermiHut Plus.
For all you newcomers to the world of composting, here's an informative video on the basics for you to watch:
Different types of compost bin
As well as the wormery/vermicompost type that we just mentioned, there are a few other different versions of compost bins to choose from. Be it kitchen or apartments, to large gardens, there is a compost bin we can all take advantage of. Let's take a quick look at what's available, shall we?
Plastic compost bins
Plastic compost bins are usually inexpensive to buy and quite compact, making them a good choice if you are short on space, like the 4smile budget bin. Although some plastic bins have some ventilation, many do not, and this has its pros and cons. On the one hand, it allows the bin to retain heat better and the lack of light prevents the growth of weeds, but on the other, some cheaper plastic compost bins don't allow for well needed air circulation and flow.
Wooden compost bin
These can be bought flat pack style and assembled, or you can make one yourself fairly easily from old crates, fence panels, etc. the advantage that wooden compost bins have over most plastic ones is that they allow air to get into your compost pile, and this helps speed up the process. Some wooden compost bins don't come with any kind of lid or cover, so you'll need to check and , if necessary, sort that out for yourself to stop rain getting in there. Alternatively, you could follow our advice and buy a beehive style wooden compost bin: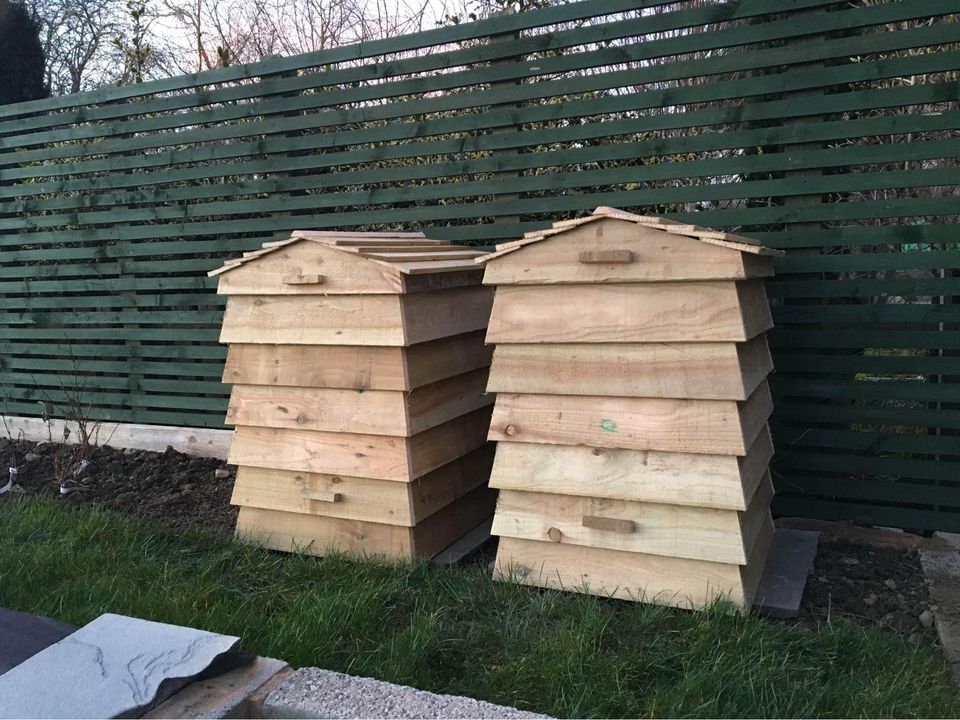 Hot compost bin
Making your own compost isn't the fastest process in the world, but if you're in a hurry, you can speed things up by using a hot compost bin. Thanks to insulated inner layers, these bins operate at higher temperatures than a plastic or wooden compost bin, and this results in your compost being ready to use in a fraction of the time. The downsides to hot composters are that they are more expensive, need to be turned over more often, and it takes time to get used to using them and produce the required results. Even with the excellent Hotbin, it took us a while to get things just as we wanted.
Wormery
Made up of multiple layers of trays, wormeries are another great choice for people who don't have a ton of space in their garden. They are very easy to use, requiring only that you fill the trays with the right material and add the worms. What is important to know about this kind of compost bin, is that it doesn't produce traditional compost, but instead gives you a nutrient rich liquid fertiliser that you can distribute with a watering can or sprayer, as you wish. What's more, most of these vermicomposters even come with a built in tap for quick access to the 'compost tea's you can see here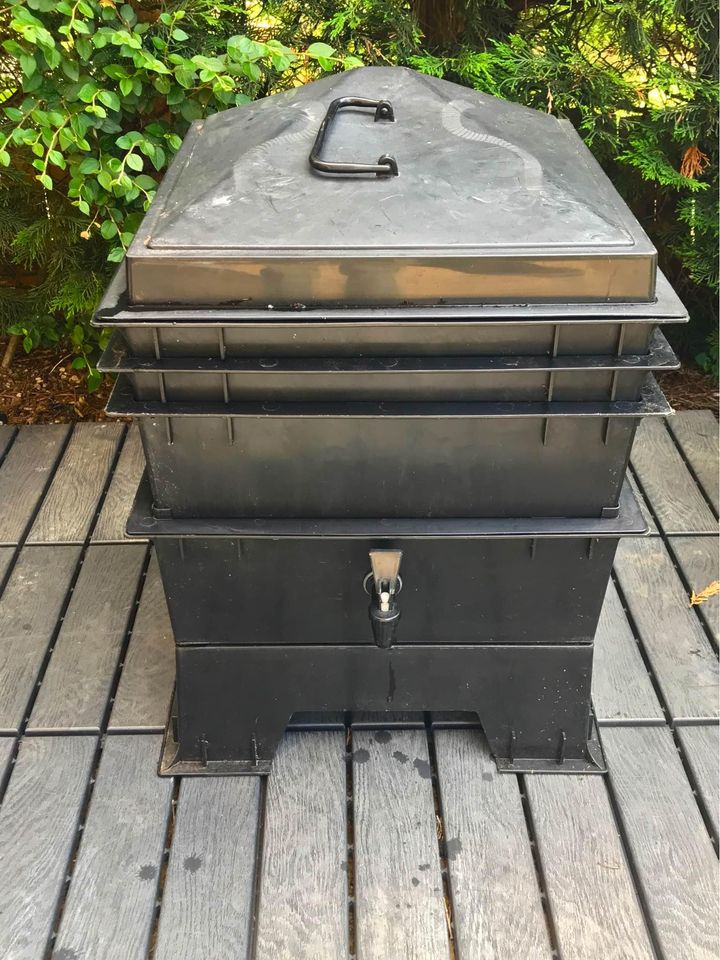 Tumbler
One of the most difficult parts of the composting process, when using a compost bin, is turning over the material every few weeks. Due to most compost bin designs, it can be hard to get in there with a garden fork and get the job done. Tumblers make this much easier as you can spin them around, but there is a limit to how much you can load in a tumbler before it gets very heavy and difficult to move.
Other things to think about before buying a compost bin-
Size and shape
The size and shape of your garden will play a part in which type of compost bin will suit you best. Square shaped bins fit into corners of the garden neatly and will blend in nicely, especially wooden ones, whereas round, plastic, compost bins will stand out more. On the plus side, round bins are less likely to have cold spots that are hard to reach with a fork, spade, or shovel.
Another thing to think about is how much time you have to dedicate to your compost, as a large compost bin, such as the 420 litre DF Omer model, will need more attention to keep it working properly, and the manual labour required will increase too.
Air flow/ventilation

Good ventilation is important for the material inside your bin to break down into compost. If there is insufficient air flow, there's a good chance that you'll end up with some stinky sludge rather than beautifully moist and fertile compost. However, if the holes, gaps, etc. in the bin are too large, you might find it more difficult to keep the temperature inside the bin high enough, so balance is key. Just compare the plastic bin in the following image with the two from the earlier photo. Can you see how this one has been designed to allow proper ventilation?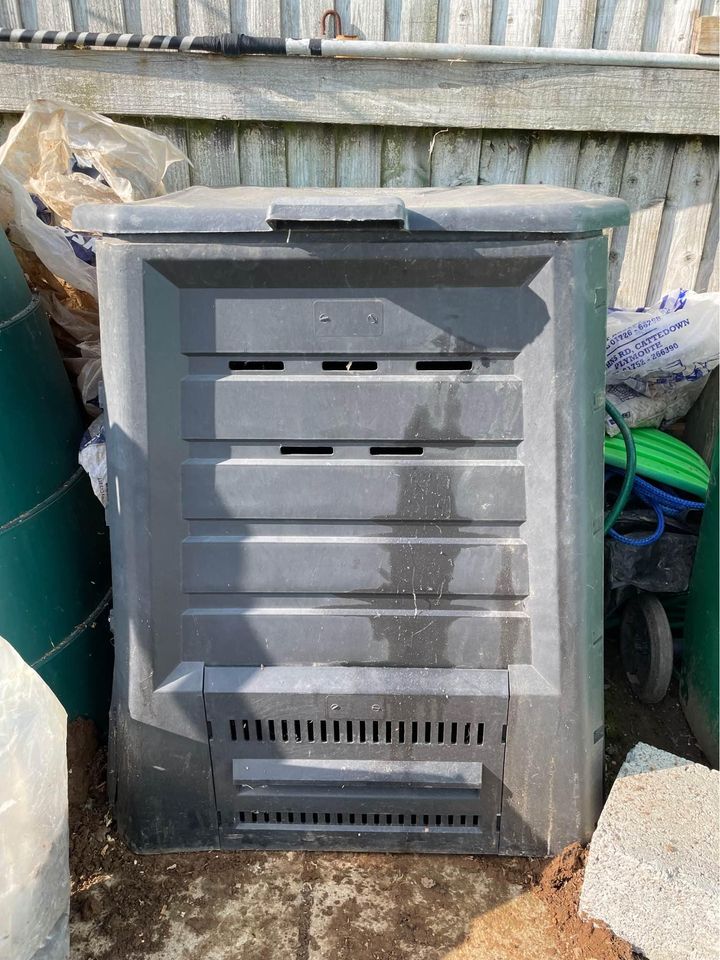 Cost
How much are you willing to spend on your compost bin? The prices of these products vary quite a lot, from cheaper, plastic bins, to more expensive insulated bins or tumblers. Just look at the difference in price between the 4smile bin and the Hotbin; quite a price gap. You can also save money by making your own, and it's not a complicated task to do so, but most people prefer the convenience of buying one ready made.
Material
The main two materials are plastic and wood, but you can also find metal bins and tumblers out there too. Obviously, wooden products like the Easipet compost bin, are better for the environment than plastic, but they don't retain heat quite as well, and you have to make sure you paint or stain them to avoid damage from rot and insects.
If you are going to opt for a plastic compost bin, please buy one made from recycled plastic for the sake of the planet. Also, you should try to find one that has some kind of ventilation and some way to easily access the lower part of the bin, as it can be hard to get a pitchfork in the smaller ones.
These days, you can also buy compost caddies, which are small, sealable bins that you keep in the kitchen and add vegetable and fruit waste to them until there's enough to add to your main compost bin. Many of these are made from metal, like this one: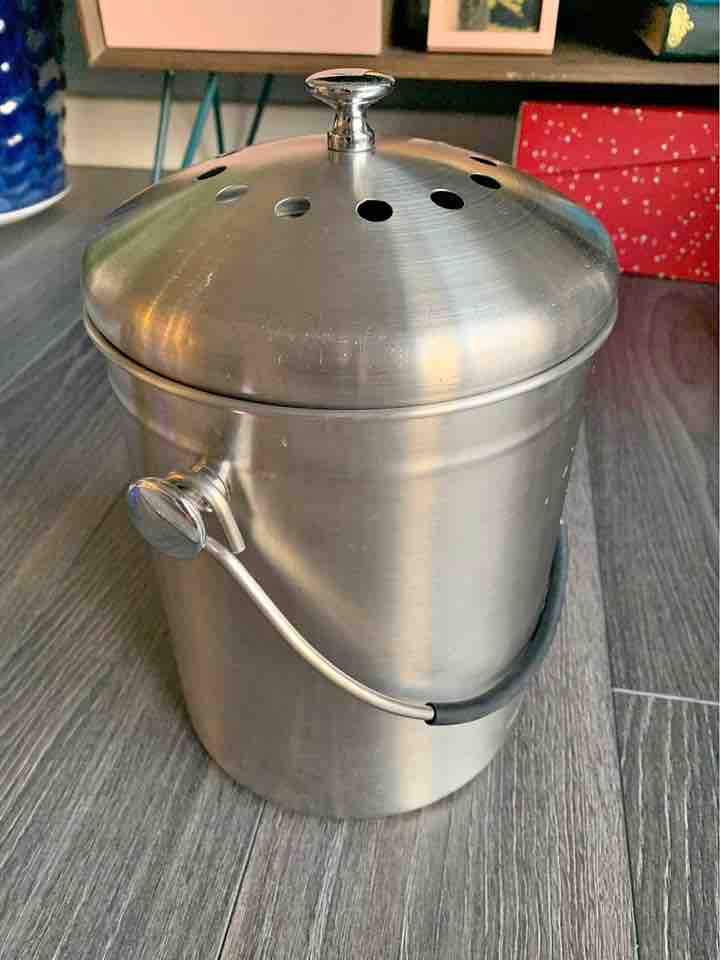 Best compost bin reviews and tests
Being the good old sorts that we are here at garden toolbox, we took it upon ourselves to test out a large selection of the most popular and best rated compost bins available in the UK, so that you can have a better idea about which ones are really worth the money. Below you'll find reviews of the products we chose as the cream of the crop.
Conclusion
Compost bins don't just make wonderfully fertile soil, they keep your garden organised and clean. You've just got the lawn mower and grass trimmer out and cut the lawn. The hedge trimmer has sorted the bushes and you've done a bit of weeding too, and what about the leaves you collected with your leaf blower vacuum? All that green waste needs to go somewhere and a compost bin is the solution absolute. A compost bin needs to be sturdy and well designed to 'cook' the waste(heat it up to speed up deterioration), soil needs to be easily removed from a compost bin, and it needs to be built to last. To save you the time and effort it takes to search through the numerous brands and models available in the UK, we have chosen the best compost bins and reviewed based on the key criteria mentioned.
---