Garden Tool Box » Best fence sprayers to paint your fence and sheds quickly (February 2021 Updated Review)
Written by Terry Smith
Our site is reader supported so when you click a link to Amazon we may earn an affiliate commission.
Best fence sprayers to paint your fence and sheds quickly (February 2021 Updated Review)
This article was last updated on August 7th, 2021 at 2:40 am
Best Fence Sprayer Reviewed
Our trusty old fences can start to look a bit weather beaten over time so its important to keep them looking their best by repainting them annually. This is a job that many loathe to think about, as spending hours or even days on the end of a wooden roller or paint brush is not at the top of their bucket list.
Giving your fence a new coat of fence stain or fence paint doesn't have to be a labour intensive task though, and by using the best fence sprayers, or electric fence sprayers, you can get the job done in a fraction of the time. What's more, these days it is so easy to get your hands on one of the best fence sprayers for relatively little money, and have it delivered right to your door! And, if that wasn't enough, we have made it even easier by testing and reviewing the top fence sprayers for you.
On this page you will find our honest opinions on the best rated fence sprayers available at the present time, and also our buyer's guide that will help you make an informed purchase.
Fence Sprayers Buyer's Guide
If all these products seem a bit too similar, and you can't work out which one you should buy, take a quick look at the following buyer's guide. We are confident this will point out a few of the main things to keep an eye out for.
Power and performance
The power of an electric fence sprayer is largely governed by the size of its motor. You can tell the power of the motor by how many watts it is. 400W motors are about the average size for most low-cost fence sprayers, but some models do offer more 'bang for your buck' so to speak. Performance is also linked to a few other things, with the maximum output being one of the main ones. This is measured in ml/sec, and the higher the number, the faster the sprayer will do the job.
Maximum viscosity
The maximum viscosity that a specific sprayer can handle is something you should be very aware of before you buy, as this will directly affect what materials you can use with that sprayer without having to water them down. Watered down materials will require more coats to look good, so this will increase the time it takes to get the job done. Obviously, being able to use paints without watering them down is preferable. The maximum viscosity of a product is usually shown as DIN/sec.
Size and weight
If you're spraying a fence or decking, it's going to take a while, even with a good sprayer, so the weight of a product is another factor to take into consideration. Luckily, most modern products have struck the right balance between reduced weight and sturdiness so you don't have to choose between them. The size of a fence sprayer might be important if you have to get into tighter spaces to work, or if you have particularly small hands. If you do have smaller hands, you might find it awkward to access all the controls on the fence sprayer if it is a larger model.
Spray options
Getting the perfect coat on your fence is all a matter of getting the spray just right, so having a lot of options when it comes to customising said spray is always a good thing. A selection of different sized nozzles, adjustable spray angles and width, and material and air flow knobs are all things to look out for.
Paint container size
Basically, the larger the paint container, the less often you have to stop to refill it, and that usually means that the job takes less time. However, some models may have a container that is oversized for that particular spray gun and this can mess with the balance of the sprayer. 
Comparison table: Best fence sprayers to paint your fence and sheds quickly (February 2021 Updated Review)

Product
What We Think
Price

Suitable for all Standard solvent or water based fence paint
Extra-fine atomisation for uniform paint coverage with a single coat
Detachable gun to quickly and easily change attachment
3 paint jet settings for horizontal
Fully adjustable paint flow for precision painting

【3 SPRAY MODES & 4 NOZZLE SIZES】 You can choose 3 different spray modes (vertical / horizontal / circular)...
【1300ML REMOVABLE PAINT CONTAINER】 The paint sprayer equipped with a removable 1300ml container...
【DOUBLE PULVERIZAR FLOWS & HVLP TECHNOLOGY】 Double adjustable spray flows
【WIDE APPLICATION】 With the best distance (10 ~ 30 CM)
【WHAT YOU WILL GET】 1x Ginour Paint Sprayer

▲WITH 3 SPRAY PATTEMS & 3 NOZZLE SIZES: can be adjusted to 3 different spraying patterns(horizontal...
▲ADJUSTABLE VALVE KNOB & REPLACEABLE AIR FILTER: with adjustable valve knob to adjust the flow rate for coating speed...
▲PORTABLE AND WIDE: handheld electric spray gun is perfect for home & work use...
▲EASY CLEANING & DETACHABLE DESIGN: all parts of the machine are detachable...
▲HIGH VOLUME LOW PRESSURE & HIGH CAPACITY & EASY FILLING: HVLP for excellent spraying efficiency and non-pollution...

[Three Spray Patterns&4 Nozzle Sizes] It can be adjusted to 3 different spray patterns :horizontal...
[Save Time&Wide Application] Quick refill lid can add paint quickly
[Long Working Distance&Better Coverage] SGP15AC Spray Gun is light
[Adjustable Valve Knob&Clean thoroughly] The adjustable valve knob can control the paint flow; Large 900ml paint bottle do not...
[Package Contents] 1 x Tacklife SGP15AC Spray Gun with a canister

Terratek Paint Sprayer, 550 DIY Electric Spray Gun With 3 Spray Patterns

TIME SAVING: The Terratek paint sprayer paints a wall 8 times faster than a brush...
3 SPRAY PATTERNS: Lightweight yet powerful
SIMPLE TO USE: Jump right in with easy setup
PRO FINISH: The Fence Sprayer features a commercial grade industrial strength motor...
2 YEAR GUARANTEE: For your peace of mind we offer a 24 month guarantee on our Fence Paint Sprayer...
There are a lot of people who want to do all their work on their own. Be it works like cooking or like painting your house, they want to do it all by themselves. So, people like them, there are a lot of products available that could actually make their lives easy. One such product is the fence sprayer.
This particular product could be used for painting the fencing of their house and for other surfaces also. Now, finding a good sprayer is actually difficult and this is the reason we have listed down a few of the best options for you.
Wagner hit the proverbial nail right on the head with their fence and decking paint sprayer, delivering an excellent product, with very practical features, at a very good price.
What are the features that I'm talking about? Well, for starters Wagner have actually thought about one of the most annoying aspects of using a product such as this, and that is the frequency in which you need to refill the paint container. The smaller the container, the more times you have to stop to refill.
With this fence sprayer, the time spent doing this refilling has been cut down significantly, thanks to a much larger than average paint container that has a 1400ml capacity. Less stops means finishing the job faster, and that's always a good thing.
Another feature that helps to keep you on the job is this fence sprayer's high viscosity maximum of 170Din/sec. What this means to you as the user is that you are able to use a wider range of paints, and we are not just talking about paints designed for spray guns either. Of course, this has many benefits, not least of which are thicker coats, a wider choice of colours, and less time spent watering paint down.
With a fully adjustable paint flow, the ability to change the angle of the spray, and extra-fine atomisation, it is easy to get an amazing finish to your fencing with the Wagner fence sprayer, no matter if you're using paint or a stain.
Powered by a small turbine which you carry around on a shoulder strap, you can blast through your decking or fence repaint in no time at all with this Wagner sprayer. I managed to finish my nephew's entire fence, in average sized UK garden, in less than two and a half hours, and that included taping up the concrete posts, and cleaning the gun afterwards.
Actually, the ease of which you can clean this fence sprayer is another thing I love about it. The gun detaches from the main unit and comes apart quickly and easily, allowing you to give it a good cleaning out.
What else can I say? This is a top-notch fence sprayer and worth every single penny of the asking price, just make sure you've got a decent extension cable handy as, like with so many products these days, the power cord isn't the longest.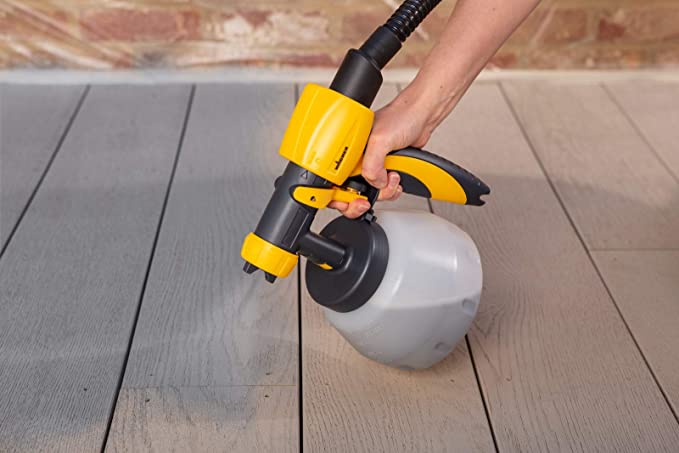 With its 550W electric motor, the Terratek fence sprayer is the second most powerful product featured in our list here today, and a good choice for people looking to buy their first fence sprayer. The reason I say this, is that it has been designed to be operated and maintained as easy as can be. It isn't overloaded with extras and features to confuse people new to these tools, it just delivers a very good fence spraying performance for a very low price, and that is what a lot of people are looking for judging by the high sales numbers of this product.
Not that this model isn't without features. You can still dial in the paint flow to suit your needs, there is a paint output regulator to reduce on waste from dripping, and of course, there are a selection of modes to choose from.
 Modern and compact is how I would describe the Terratek fence sprayer's looks, with dimensions of 26.4 x 21 x 17.4 cm, and sporting a gunmetal grey and black paint scheme with a splash of orange. It's a nice-looking product, I have to say.
At 1.46kg, it is very lightweight, which is perfect for doing large spray jobs as you won't feel the fatigue as much as with heavier models. It also gives you better mobility due to the smaller size of the spray gun. Despite its small size, lightweight, and low price tag, the Terratek fence sprayer has a surprisingly good build quality to it. The plastics are all solid, there's no signs of any leaking, and all the things that are supposed to be twisted, pressed, squeezed, etc. all work really well.
You can use a wide variety of fence paints, stains, enamels, and preservatives with this fence sprayer, and while the 800ml paint container isn't the largest, it is still a decent enough size to get a fair bit of fence sprayed before having to be refilled.
This Terratek model is the best fence sprayer in the 30-40 pounds price range. It looks great, has a powerful motor facilitating a good spraying performance, is very simple to use and maintain, and is well bult for the price. Definitely worth a try if you're buying your first paint spray gun.
3. NoCry 1200ml/min Electric Paint Sprayer - 600W
Available for a penny under 50 pounds, the NoCry paint sprayer is definitely the best in its class, and that's saying something when you consider its competition. This product just ticks so many boxes which make it a top fence sprayer, that it is almost hard to believe the low cost. The spraying performance is excellent, leaving you with a great finish and doing so in such a short time that you'll be kicking yourself for not ditching the brush and roller much sooner. With a powerful 600W motor delivering a maximum flow rate of 1200ml/min, this fence sprayer has been built with speed in mind and armed with a larger than usual, 1000ml, paint container, you won't have to stop as often either.
At 100DIN/sec the maximum viscosity the NoCry fence sprayer can handle is pretty high, and that means you have a lot of versatility and choice when it comes to the materials you can use. In addition to that, just to take the guess work out of the equation, NoCry have included a flow cup that will allow you to test the viscosity of a paint, lacquer, etc. before using it by simply pouring it in there. The time it takes to pass through will let you know if its ok to use with this sprayer.
Armed with a larger than usual, 1000ml, paint container, you won't have to stop as often to Weighing only 1.6kg, you would definitely call this product lightweight. However, don't let that fool you, this sprayer has a build quality that is much better than you would expect for something that costs under fifty pounds. Solid plastics, no shakes or rattles to be seen or heard, and just a general feeling of stability and durability make this one of my favourite low-budget paint sprayers, and one I've recommended to my customers on many occasions.
The controls on the NoCry are all well placed and easy to use, and even a beginner can adjust the air and material flow speeds without any problems at all. Likewise, the spray pattern selection is absolute child's play, and you can cycle through the three settings in seconds. Included with this fence sprayer are four different sized nozzles- 1.5, 1.8, 2.2 and 2.6mm, and some tools for cleaning it out after use, which is a synch thanks to the detachable nature of the main components.
With a four year warranty, and an excellent customer service reputation, you can't really go wrong with the NoCry fence sprayer, and the feedback I've had from customers has always been very positive.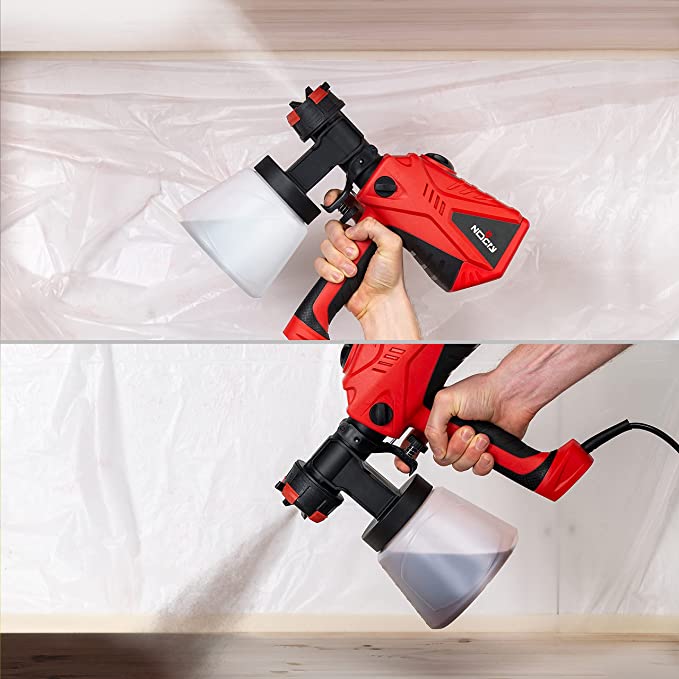 NoCry's closest competitor for the best fence sprayer in the 40-50 pound price range is this equally excellent product from tacklife. Versatility is one of the Tacklife fence sprayers greatest strengths. With the ability to adjust not only the spray pattern like you can with most models, but also having the option to adjust the width of the spray too. This really allows you get the settings just right for the job at hand, from large surface sprays, to more fine work around the edges.
The controls to adjust these settings are really simple to use and positioned very conveniently on the spray gun. To adjust the spray pattern, you simply twist the nozzle, as you would with the vast majority of fence sprayers, and to change the overall spray width, there is a switch located on the back of the gun that can slid from side to side. In addition to adjusting the spray, there is a valve knob behind the trigger and this is used to control the flow of whatever material you are using.
The Tacklife fence sprayer isn't as powerful as some of the other products we featured today, but the 400w motor is no slouch and can help the sprayer produce 800ml/min at its optimum. That's more than enough for any home applications, and will have you finishing your painting jobs very quickly indeed. Coming with a 900ml paint container, it is larger than the Terratek model's and that makes it slightly above average, but still smaller than the NoCry 1000ml container. Nonetheless, it is a decent size and won't have you changing too often.
Like with most fence sprayers, this one comes with a selection of nozzles in different sizes (2.0mm/2.5mm/3.0mm), but what I liked about the Tacklife nozzles was that they are colour coded and it makes grabbing the right one while working much easier. I have to say though that I found the NoCry nozzles just that little bit better. And I think that is the problem with the Tacklife fence sprayer at its current price- it is trying to compete with better products and coming up just slightly short. If this was still selling at around 35 pounds like it was before the covid-19 situation, it would probably have been my number one pick due to the value for money factor.
As it stands, it is still a very good fence sprayer with some great features but I would probably go with the NoCry model, which has most of the same features but offers more power and a larger paint container for the same price.

I'll be honest, I'd never heard the name Ginour before and I've been selling products such as these for years, so I wasn't expecting much from this particular fence sprayer from that brand. How wrong I was. This is an excellent paint sprayer for the sub 40-pound price tag it is currently for sale at.
With a 400w motor and a 800ml/min output, it is on par with the Tacklife sprayer when it comes to power and performance, although I did notice a tiny bit more splatter with this than its forementioned competitor unless you got the distance from the surface just right. Included in the box are the usual selection of nozzles of different sizes, so you can get the right one for the thickness of the material that you are using. They all do what they are supposed to, as long as you follow the guidelines and only use materials to the maximum viscosity.
Probably my favourite feature on this fence sprayer is the extra-large paint container. At 1300ml you will be spraying for ages between refills, and for someone like me who hates stopping while I'm in the flow of things, that is a very good thing. The Ginour sprayer features a double adjustable material flow, and by using the trigger control flow knob, and the valve knob, you can get a really precise spray. You can also choose from a vertical, horizontal, or circular spray pattern by twisting the nozzle on the gun, which is pretty much standard these days.
Another thing I liked with this model was the quick disassembly button that made taking the nozzle apart for cleaning, a much easier task. Like the other products we reviewed, this one also disconnects int too easy to clean components, and comes with cleaning equipment thrown in with the price.
Ginour have done a pretty good job with making the product feel sturdy and strong while still keeping the weight down. And, although the larger paint container does add a little extra weight, it is not anything that will bother anyone. In fact, I found it quite useful to hold onto the bottom of it to keep the sprayer stable while working. At the time of writing, this is available for around 40 pounds, and at that price it offers buyers a very good deal. It's a surprisingly good fence sprayer and comes with a lot of little extras.
Another very compact and lightweight sprayer, Meterk's product is another great deal that's worth considering. One of the best things about the Meterk is that it is a high volume, low pressure model and this reduces the risk of unwanted splatter quite substantially. It also means that it is better for the environment as it releases less chemicals into the atmosphere.
This model is a great choice if manoeuvrability is important, as the small dimensions of the sprayer make it easier to fit into tighter spaces, not to mention make it easier to hold in the hand for long periods of time.
This is also helped by the Materks excellent weight distribution. Although it is heavier than the Terratek, it somehow manages to feel lighter, especially when filled with paint. With the usual three spray patterns, and three nozzles to choose from (1.3mm, 1.8mm, and 2.6mm) there's a decent amount of versatility here, especially when you factor in the adjustable valve knob for material flow.
The power of the Meterk is supplied by a 400w electric motor, the same as the Tacklife and Ginour products, and it also has the same 800ml/min maximum output. At 800ml the paint container is average size, but this one gives you the option to refill without removing the whole container.
What lets the Meterk fence sprayer down is its relatively low maximum viscosity of 60DIN/sec, and this will limit your options when it comes to what materials you can spray with the tool. Having said that, if you only want to use low viscous materials, or you don't mind watering stuff down and applying more coats, it won't be an issue at all.
Meterk's paint sprayer may be the smallest of our featured products, but it is one of the most solidly built, and has a nice feel to it. The materials used in its construction all seem to be of a good quality, and there were no leaks, drips, or clogging going on the whole time we spent with it.
Yet another excellent fence sprayer to choose from, it has its faults when it comes down to the maximum viscosity it can handle, but its very compact design, great balance, and sturdy build more than make up for it.
---