Written by Terry Smith
Our site is reader supported so when you click a link to Amazon we may earn an affiliate commission.
UK's best BBQ gloves that are leather and heat resistant to keep you safe
This article was last updated on April 23rd, 2022 at 6:48 am
Have you ever tried to adjust a charcoal barbecue at its hottest or worse yet have to prod at your fire pit raging? Speaking from personal experience, I've burnt my hands dozens of times until I found a decent pair of BBQ gloves and the rest is history as they say. And I am not kidding, when I forget to wear them, I have literally singed the hairs on my hands trying to pour in my bbq starter full of coal into my charcoal bbq so I know from using and testing bbq gloves just how big a difference they make. Still not sure – take a look at my skin burnt and hairs singed from just a few seconds exposed to my charcoal bbq when I pour in the charcoal from the bbq starter: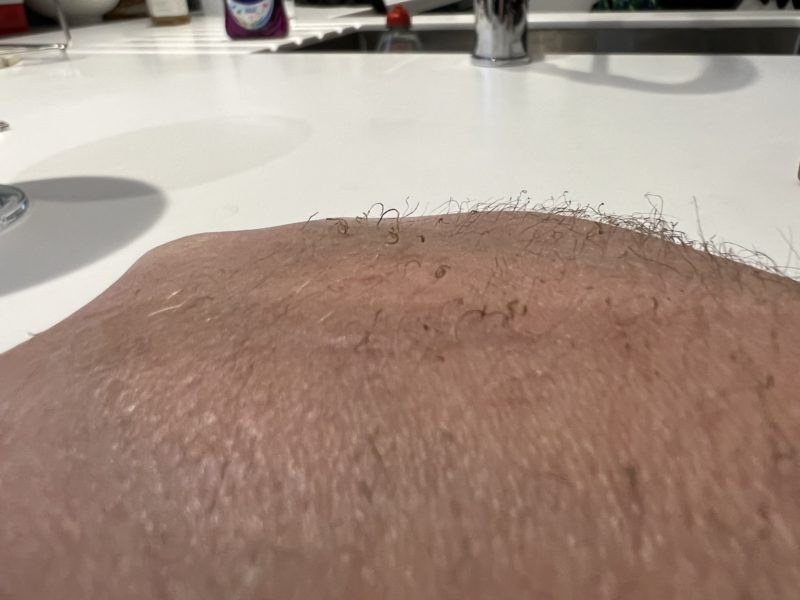 Barbecue gloves should be comfortable and fit nicely, whilst offering protection from heat and naked flames. The very best barbecue gloves will meet all those criteria whilst allowing you the flexibility to move unhindered and very much work in the same way as high quality oven mitts. They should be made from Kevlar and will contain Aramid fibres, or Nomex which combine provide qualities of over 800 degrees protection. These materials are so effective at protecting your hands the London Fire Brigade use Nomex in their uniforms. So knowing that, you know I've found you the absolute best protection possible.
And with that said, the thing to remember here is that gloves with each of the materials mentioned above have their own benefits and should not be confused with typical garden gloves. They are a mile apart as you can see from my tests showing me touching temperatures what would literally melt my hands! Here's an overview of the best bbq gloves before we get going on this:
Best bbq gloves – my top picks with personal experience using bbq gloves:
Best BBQ gloves overall – BlueFire Gloves BBQ Grill Firepit Oven Mitts
Best silicone BBQ gloves – GEEKHOM Oven Gloves Heat Resistant Silicone Oven Mitts
Best BBQ gloves for pulling pork and handling meat – Dualeco Silicone Oven Gloves
Most heat resistant BBQ gloves – MLMLANT Barbecue Gloves
Fire resistant heavy duty gloves – QeeLink Welding Gloves – Heat & Wear Resistant Lined Leather and Fireproof Stitching – For Welders/Fireplace/BBQ/Gardening – designed for welding so totally over engineered for a bbq and absolutely bullet proof.
Budget pick – Northlander Long Silicone Grill Gloves
BBQ glove buyer guide
You know theres some really important things to consider when buying bbq gloves. For a start, you might not realise but there is a huge difference between fire resistant and heat resistant gloves. If you need gloves to withstand burning it is a completely different thing to heat transfer. Then there are varying levels of heat protection, as well as what part of the hand is protected best from a particular glove.
Heat resistant and fire resistant explained
There's a big difference between heat and fire resistance. What you'll find is fire resistant gloves are almost always leather. This is because it is a completely different protection to just heat alone. Now the rider is the modern Kevlar aramid fibres provide a much higher overall protection against heat. Given you're likely to be just picking up the odd bbq starter chimney, portable fire pit, or portable charcoal bbq then it makes far more sense to pick one of the heat resistant range – I included a fire resistant pair just in case though the QeeLink.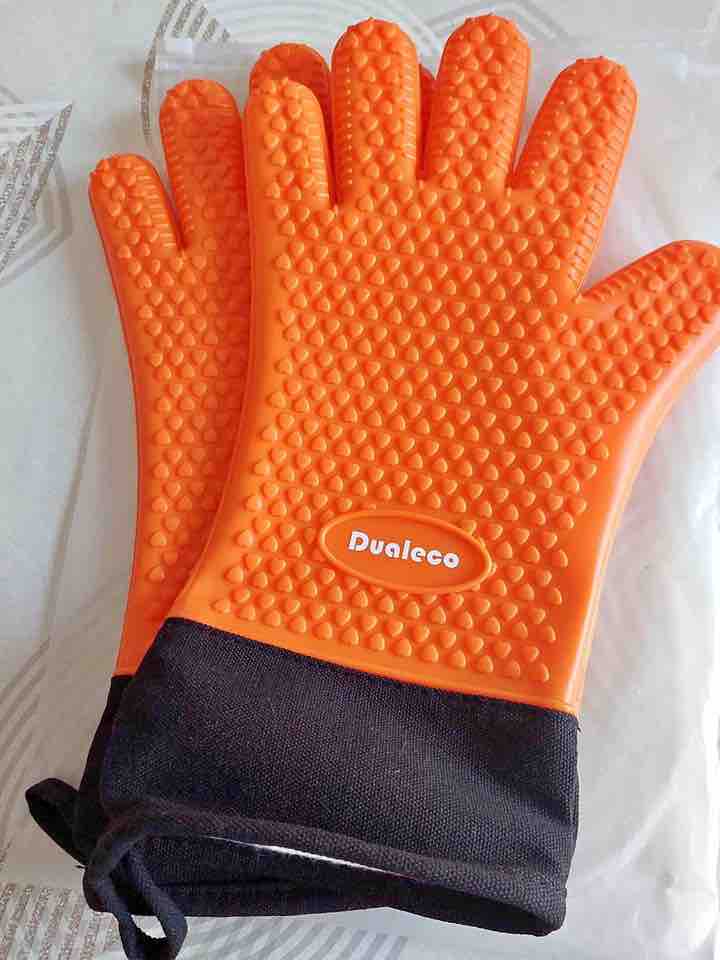 Leather vs Silicone outer material
This really leads on from fire vs heat resistance. Typically your average bbq glove with a leather outer is going to be leaning more toward protecting you from fire rather than a focus on just heat. These are obviously a much better solution if you think you'll be handling hot coals or putting your hand in flames – pretty unlikely but wirth knowing as silicone will obviously melt / burn. That said, the modern bbq gloves designed specifically for heat can take far great temperatures.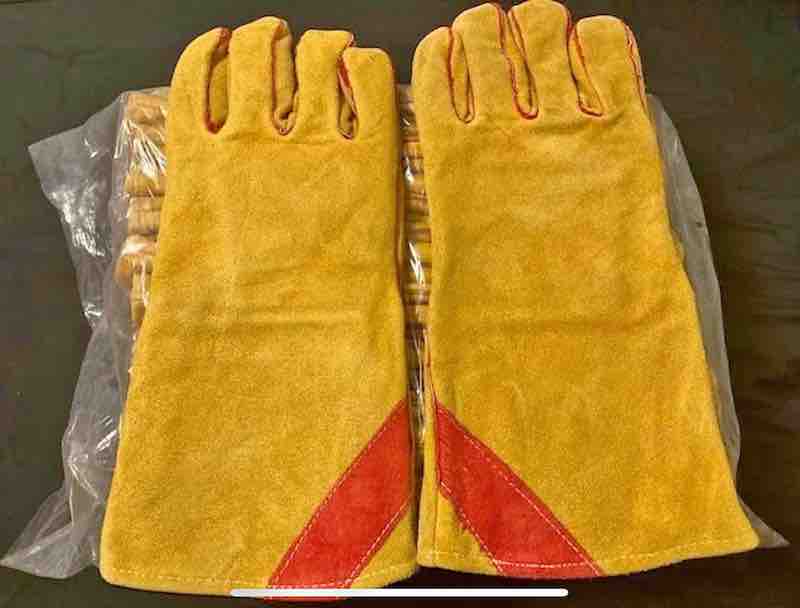 Wrapping it up:
The market for best BBQ Gloves is full of choices. With many companies producing them, each one of them throws fancy words to try and get the attention of buyers. But, you should be careful about making the right choice of BBQ Gloves as it involves your safety as well as comfort and fitting.
What are the factors to consider when shopping for barbecue gloves?
When shopping for BBQ Gloves or any barbecue accessories for that matter, you will have to consider three main factors. One is dexterity, the second is the cuff length and the final consideration is the heat resistibility of the gloves. Of course, you will have to consider the thickness of the gloves too, generally thicker gloves will take more of a beating.
Are you a cooking fanatic? Have you tried barbecuing? When you cooked on a barbecue grill and used your regular kitchen mittens or worse yet the gardening gloves to safeguard your arms from extreme heat. From the barbecue grill and food in the grill, you must of struggled with manoeuvrability or worse got burnt. To avoid these dangerous things from happening, the best thing you can do is to invest in a pair of barbecue gloves. It's also really handy cleaning the grill with a wire brush for example when the fire has helped you burn off most of the charred remains, leaving just ash, this is a great time to get stuck in and a paid of barbecue gloves will assist this.
How to identify the right pair of gloves for barbecue cooking will be your question? We have done the research on your behalf and we have listed the best barbecue gloves available on the market. But, before we get into the top picks, it would be better for you to understand the types of barbecue gloves available in the market based on material.
What are the materials used in making barbecue gloves?
In general, it is recommended that you should consider the material with which the gloves have been made. Here, you will come across four different options when it comes to materials used in the making of barbecue gloves:
Synthetic
Fabric
Leather
Silicone
---