Written by Terry Smith
Our site is reader supported so when you click a link to Amazon we may earn an affiliate commission.
The best gardeners edging irons rated for price and quality
This article was last updated on August 7th, 2021 at 10:22 am
7 Best Gardeners Lawn Edging Tool
I can't recommend a lawn edging tool enough if you want to give your garden that professional look with nice clean lines between your lawn, path, and flower beds; a lawn edging tool is a must.
 They work similar to a spade or hoe, in that you place it in the desired location (between the two parts of the garden you want to separate), before stepping onto it and then rocking it side to side. When you are done rocking the lawn edging tool, simply pull it out and it will leave a small gap. Then you just move on a few more inches and do it again until you're satisfied. 
Like most useful gardening tools, the genius lies in the simplicity. The best lawn edging tools are sharp and cut neat straight lines, have a nice ridge for you to place your foot that won't hurt when excessive force is applied. A lawn edging tool should be well built and ideally one piece construction of steel to last a lifetime and based on those characteristics I have reviewed the best lawn edging tools.
Comparison table: The best gardeners edging irons rated for price and quality

Product
What We Think
Price

Root Slayer Edger saves a ton of time when you want to make a perfectly smooth yard or garden...
Digs through sod and small to medium roots like they're not there...
Super strong 13 gauge mid-carbon steel blade will never bend
Patented ergonomic Natural Radius O-Handle Grip with 4 times the gripping surface of traditional D-Handle tools provides additional leverage...
Lifetime Guarantee.

Half moon design
Solid forged design
FSC ash T handle
Ideal for tidying up lawn edges

Ambassador Stainless Steel Edging Iron Ash Handle Solid Ash Shaft Length: 87cm

High quality
Ambassador ash handle stainless steel edging iron length: 87cm

Fabricated carbon steel head and socket heat treated for strength
Epoxy coated head for improved resistance to rust
Treaded for more comfortable edging
Tubular steel shaft
Grow your own great British growing 2018 award winners

Mirror polished stainless steel head for rust resistance and minimal soil adhesion...
Long weatherproofed hardwood shaft for greater durability
Ideal grip handle - forward tilt gives the ideal angle for use...
Grow your own great British growing 2018 award winners
Extra long socket for strength

Burgon & Ball Half Moon Lawn Edger with Serrated Head, Stainless Steel | RHS Endorsed | Garden Tool

HALF MOON LAWN EDGER
SERRATED HEAD - The head of this half moon edger features unique serrations which have been designed to effortlessly...
RHS ENDORSED - Made from superior rust resistant stainless steel and FSC-certified hardwood...
SIZE - Handle width 28cm

Fiskars Solid Lawn Edger, Length: 109 cm, Width: 23 cm, Boron Steel, Black, 1011617

Lawn edge trimmer for trimming straight edges on beds and lawns
Spade in trapezoidal shape for very straight edges during parting
Great comfort during operation for a back-friendly posture to protect the muscles thanks to long wooden handle...
High durability thanks to robust Boron Steel
Contents: 1x Fiskars Solid Lawn Edger
The UK market is flooded with gardener's edging irons at the moment, so we thought we would make things easier for you by choosing the best models and giving them a closer look.
 We hope you find these reviews helpful.
1. Spear & Jackson Select Stainless Lawn Edging Tool
Coming with a 10 year guarantee and available at the moment at a reduced price, this Spear and Jackson edging knife is worth considering.
It is an almost fully metal construction, with the shaft being made of aluminium so that it doesn't weigh a lot and also to protect it from the elements.
The blade is also metal, only this time Spear and Jackson opted to use mirror polished stainless steel for its anti-stick and anti-rusting properties, as well as its strength. The polished head also makes this edging tool stand out.
The only non-metal part is the T-shaped handle which is made of plastic and has a soft grip covering to keep it secure in your hand.
This tool measures 93 x 21.5 x 3.5 cm and weighs just 662 g.
Aluminium shaft won't suffer from corrosion
Mirror polished stainless steel blade
Lightweight at 662 grams
Rust resistant and strong
Soft grip handle
10 year guarantee
2. Bulldog Premier Lawn Edging Tool
If you're looking for a robust, heavy duty edging knife to last you a lifetime, you can't go far wrong with this one from Bulldog.
 At 74cm long, it is shorter than the Spear and Jackson model reviewed above, and it also weighs a lot more (1.36 kilograms), but just holding this tool in your hand makes you realise that the extra weight is a byproduct of its solid construction.
 The blade has been solid forged from a single piece of steel so you won't be accidentally bending it anytime soon.
The top edge of the blade has been folded over so as to make it easier to press down with your foot without damaging your footwear and to prevent slipping.
 The metal construction continues half way up the shaft, again to give extra strength, then it gives way to solid FSC approved ash that turns into a T-shaped handle at the top.
Extremely strong and robust
Short length means it can be used in tight spaces
Blade is forged from a single piece of steel
Top edge of the blade has been folded to protect your feet
FSC approved solid ash shaft and handle
3. Spear & Jackson 2164NS Select Carbon Steel Edging Knife
Our third review is another product from Spear & Jackson and priced at £16.99.
 As you've probably guessed from the name, the blade of this model has been made from heat treated, and powder coated, carbon steel. They've chosen this for the same reason knife makers like this material- it stays sharp. That being said, this tool arrived without much of a sharp edge on it and had to be sharpened before I used it.
 The top edge of the blade is treated for comfort and helps prevent your boot slipping off when pressing the tool into the ground. 
At 921 grams this model is a little heavier than the stainless steel edging knife by the same makers and this is probably due to the shaft being made from tubular steel rather than aluminium, for more durability.
Heat treated carbon steel will sharpen easily and stay that way
Top edge of blade is treated
Tubular steel shaft is stronger than aluminium
Epoxy coated for resisting rust and corrosion and to stop dirt sticking
Non-slip handle
4. Fiskars Solid Lawn Edger
Straight edges are what we are looking for when assessing how good an edging tool does its job, and Fiskars solid lawn edger gives you lines that look like they've been cut by lasers.
 This is thanks to the shape of the boron steel blade. The most common shape for these kinds of tools is a crescent or a variation of this, but Fiskars have given this model a trapezoidal shape instead, and it works wonderfully. The upper edge is curved over so you have a bigger surface to push down on with your foot. 
Another nice feature is the long wooden shaft with a large T-shaped handle to keep you upright during your edging session and saving your back from aches.
 Weighing 1.85 kilograms, this edging knife isn't exactly heavy and the overall length of 109cm is just about right for most average height adults.
Trapezoidal shaped head ensures straight edges for your lawn
Curved upper edge gives you a larger surface to step on
Coated boron steel head is strong and durable
Wooden shaft is a good length and T-shaped handle is large
High quality, robust tool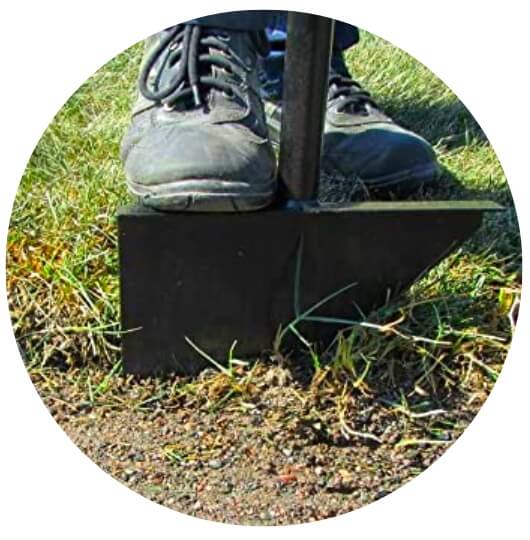 5. Burgon & Ball GTB/SHMRHS RHS Stainless Half Moon Lawn Edger
This lawn edger from Burgon & Ball has been endorsed by the Royal Horticultural Society and the shaft has also been made with FSC certified hardwood.
 To keep the head rust free and still retaining strength, stainless steel was the material of choice for this model. The blade slices through the ground like a hot knife through butter thanks to the special serrated design, unique to this product and foot pain will be reduced because of the folded treaded edge.
 The solid ash shaft makes the overall length if this tool 95cm with a 33cm wide T-shaped handle, and a 20cm head width.
Endorsed by the Royal Horticultural Society
Rust resistant stain less steel head
Unique serrated blade slices through earth well
Folded treaded edge
FSC approved hardwood shaft and handle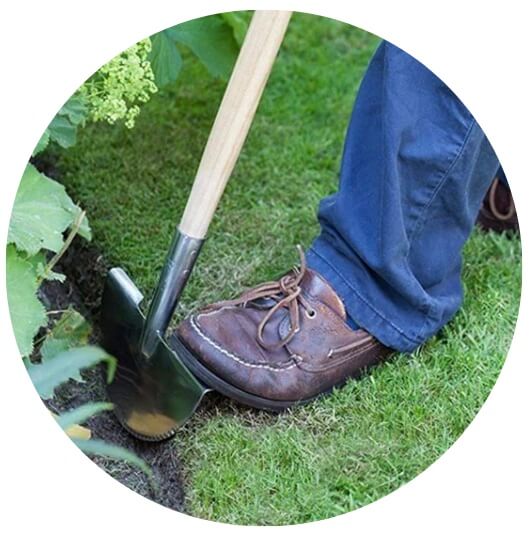 6. Ambassador Stainless Steel Edging Iron
For only £31.96, you'd be hard pressed to find a more robust lawn edging tool than this one from Ambassador.
The build quality is excellent and the tool feels extremely sturdy when you are using it.
 Even though the solidity and strength is obvious as soon as you hold it, the surprising thing is the weight as it weighs less than you would think at only 848 grams. 
Durability isn't an issue with the high quality, polished stainless steel head and equally high quality hardwood shaft. Overall length of the tool is 87cm so you shouldn't have to bend over too much to use it. 
I have to say though, that the blade wasn't sharp when the tool arrived, but it was easy to put a decent edge on it and it cut through the dirt very nicely.
Excellent quality product
Solid and durable and will last a long time
Surprisingly lightweight
High quality polished stainless steel head
Solid ash shaft and handle
7. Radius Garden Root Slayer
If you're a professional gardener or have a problem edging because of roots in the soil, and you don't mind spending £139.90 on a hand tool, then you should definitely consider the radius garden root slayer.
 As the name suggests, it is designed to cut through roots that would damage or bend most half-moon edging tools. Instead of a standard half-moon, this model has an inverted 'V' in the bottom of the blade, effectively making two cutting tips. The sides of the head are serrated with rip saw like teeth to help cut through anything you encounter.
 Radius have ensured that the blade will never bend by using 13 gauge mid-carbon steel in its construction, which is incredibly strong and also holds sharpness for a very long time.
 The large 'O' shaped polypropylene handle allows the user to find the right type of gripping angle for themselves and it is covered in a non-latex thermoplastic elastomer to make handling it extremely comfortable.
 The dimensions of this excellent edging tool are 99.7 x 3.5 x 25.4 cm and it weighs 2.18 Kg
Designed to make dealing with roots a piece of cake
Excellent build quality
Inverted 'V" in the blade creates two cutting tips
Rip saw like serrated sides
13 gauge carbon steel head is strong and sharp
Large "O" shaped polypropylene handle is ergonomically designed for easy gripping
Handle is covered in a non-latex thermoplastic elastomer for comfort
That last review brings to a close this page of reviews for the best edging tools. It is our intention to provide you with the best information so that you can make a better informed decision about which tools to buy. We aspire to bring you the most up to date information on the latest products available on the UK market, and will update these pages from time to time.
On this site, you will find other pages, just like this one, with information and reviews of specific garden tools. If you have a spare moment please take the time to browse through them.
---