8 best garden loppers that'll make cutting thick branches easy this Summer 2021
This article was last updated on October 13th, 2021 at 7:04 am
With the lockdown in full flow, we have had plenty of time to trim up the hedges and shrubs, that led me to pull my set of garden loppers out and reminded me that I should update this post for Summer 2020 as well.
Garden loppers make short work of even the heaviest branches, they are used when secateurs are not powerful enough or you need extra reach. Whenever possible, I use my hedge trimmer, though often revert to the garden loppers to get through the thickest branches, or a garden saw. The best garden loppers have an excellent ratchet system that provides ample power to cut thicker branches. Garden loppers should be sharp and hold an edge, light weight but strong, and have a quality handle that allows you to leverage power. Based on those ideas, I have reviewed the best garden loppers to save you time.
Comparison table: 8 best garden loppers that'll make cutting thick branches easy this Summer 2021

Product
What We Think
Price

Davaon Pro Ratchet Telescopic Anvil Loppers – More Power Less Effort Thick Cut – Quick Click Extendable 680mm to 1000mm Garden Pruner - Best on Pruning Tree Hedge Branch – Quality Gardening Tool

✔ UP TO 5 TIMES CUTTING POWER – Great for Pruning Thick and Thin Tree Branches...
✔ EXTREMELY SHARP FOR EASIER CUTTING – Sharp Heated Treated & Hardened SK5 Carbon Steel Top Blade Is Larger...
✔ QUICK CLICK COMFY EXTENDABLE HANDLES – Soft Grip Handles For Extra Comfort...
✔ QUALITY ALL ROUND
>100% CUSTOMER SATISFACTION Full Money Back Guarantee

Spear & Jackson W213 Razor-sharp Telescopic Ratchet Anvil Lopper

Ratchet action for powerful
C50 carbon steel blades
PTFE coated blade for rust resistance and smooth cutting
Non-slip comfort grips. Handle extends 46 cm (18 Inches)
Lightweight aluminium handles

Spear & Jackson Razorsharp Advance Heavy Duty Telescopic Ratchet Anvil Lopper

Ratchet action gives easy cutting in short steps
PTFE coated blade for rust resistance and smooth cutting
Genuine Spear and Jackson product
Grow your own British growing 2018 award winners
Grow your own British growing 2018 award winners

TELESCOPIC Loppers for cutting fresh green wood up to 49 mm diameter and dry wood up to 43 mm...
The sharp Loppers Pruner XT from GRÜNTEK is especially suitable for light and clean cuts: up to 2.5 x...
SMART-CUT drive SYSTEM: thanks to the lever ratio and the gear
SHARP upper blade made of high quality TOOLSTEEL
MONEY-BACK-GUARANTEE - 30 DAYS

Branch cutter blades for Fresh Wood
Work effortlessly with the extremely lightweight and strong handles made of with reinforced fiberglass plastic...
Clean and powerful cut: Non-stick coating on the blade for a smooth and clean cut...
Long life product, Stainless steel
Contents: 1x Fiskars PowerGear Lopper Bypass
Gardening is one of life's little pleasures for most people. Others feel like it can be a chore at times. Some are professionals and do it on a daily basis. That doesn't mean that gardening has to be hard work. Whether you are up against thick tree branches or simply pruning smaller more manageable shrubs and hedges you are definitely going to need the right tool for the job. Have the right tool can change what could be seen as heavy-duty labour into light work. You also need to make sure you use the right equipment to ensure your garden stays healthy and looks professional. I'm not sure where I would be without a quality set of loppers sometimes and a compost bin to keep the garden clear.
There are two types of loppers and we are going to review both. Firstly, we have bypass loppers. These have been designed to produce an extremely clean cut. These work similarly to a pair of scissors as the jaws of the device cross when closed. This type of lopper should mainly be used on shrubs, hedges, bushes and plants. They should not be used on dry branches or deadwood as this will sometimes damage the cutting blade.
Anvil loppers employ an upper single straight blade coupled with a lower jaw which acts as an anvil for the blade to cut against in multiple places crushing the branches. Anvil loppers leave a less clean cut, rough finish that is used for the more heavy-duty thicker dead wood branches.
Let's take a look at the 7 best garden loppers reviewed in May 2020
1. Spear & Jackson Razorsharp Advance Heavy Duty Telescopic Ratchet Anvil Lopper
Specification: Handle span normal Closed/Open: 24/86 cm, Handle span extended Closed/Open: 34/132 cm, Maximum cut: 5cm diameter, Weight: 1.88Kg
I've updated this post to include the Spear & Jackson Razorsharp Advance Heavy Duty range of garden lopper because I feel that is missing. If there's a job too tough for hedge trimmers or  difficult to reach for a pruning saw then these loppers are the ideal mix. They have plenty of length but but with the power to cut thick shrubbery. The makers Spear & Jackson , who by the way also make the best edging shears in my opinion, claim these will cut 50mm branches. That's a whopping two inches. I can confirm this to be absolutely true. Sure, you need a little elbow grease power but even an inch branch would be doable for someone on the weaker side. That is still very considerable.
The best bit is the still yet to come, the handles will extend out about 30cm more and of course, this give you further leverage to cut larger branches. The handles are nice and comfortable, but with tubular aluminium, and a soft foam like rubber grip which helps give plenty of assistance when you need to hold tight for the bigger cuts.
If I were to pick fault with these garden loppers, it would simply be that they are too good at larger branches and therefore suffer on the smaller stuff. This is absolutely fine for me. If you want to cut the thinner branches in general, I would say don't go for these. They are overkill, go for a lighter weight set. If you're strong and you have heavy work to do, these are the best garden loppers in my mind.
Make sure you give them a spray of oil every so often to keep the mechanism from rusting and if you have the time, a wipe down after use and I am certain from personal experience that you will have absolutely no problem using these garden loppers.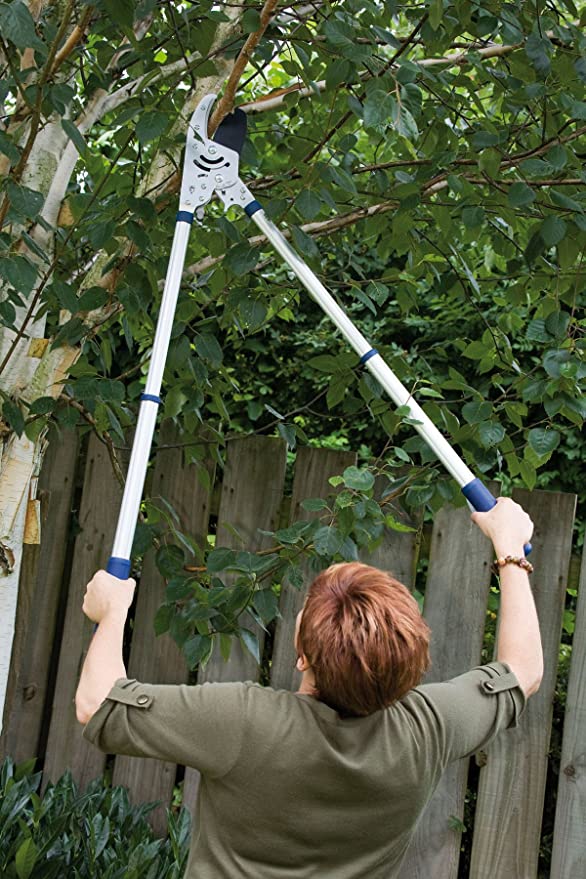 Specification: Maximum cut: 3.8cm diameter, Handle length: 54.5cm, Weight: 550g
The first thing we noticed about the Fiskars Power Gear 2 bypass loppers was the extremely comfortable ergonomic handles they have particular 'soft points' to grip for extra comfort and control when cutting. We didn't feel a noticeable difference in weight when holding the garden lopper, but it was pretty average for the 32-inch size we tested. However, the 32-inch handles did feel quite long. Fiskars also do an 18-inch and 25-inch models too.
Fiskars use patented gear technology to increase leverage and in turn give a more powerful cut. The new gear technology optimises the cutting power through the middle of the branch which is the toughest part of the cut. The garden lopper has a maximum cutting diameter of 2-inches. The Fiskars bypass lopper does a decent job of thick branches with ease and comfort. The blade itself has a low friction coating that helps the blade cut and avoid rust over time. These garden loppers are currently selling on Amazon for £55.82 and come with a lifetime warranty making them well worth a look.
Pros
Comfortable handles and grip
New gear technology that optimises cutting
Low friction coating to help the blade avoid rust
Lifetime warranty
Cons
Handles are longer than most
3. Spear & Jackson 8071KEW Kew Gardens Duel Compound Telescopic Bypass Loppers
Specification: Blade size: 9.5cm, Overall length: 67-100cm , Maximum cut: 4.2cm diameter
Spear and Jackson's Kew Gardens range is something dedicated gardeners seem to love and so do we. These garden loppers are built with telescopic handles which give the user the extra length and reach without the need of ladders. They are comfortable to hold even when fully extended. The durable handles are made from aluminium and are surprisingly lightweight.
The upper blade has a special PTFE coating which helps provide a smoother cut. Both blades are made of carbon, but they were not quite as sharp as we expected. Although, it wasn't noticeable as the Spear and Jackson bypass loppers utilise a duel compound system for cutting with added force but with much less effort. This helped a great deal when trying to tackle thicker branches or indeed branches in higher, harder to reach places.
We find most Spear & Jackson products to work extremely well and these specialist Kew Gardens series to be the same. They have been designed and developed by the experts at Kew Gardens for the experts. The Spear and Jackson Kew Gardens range garden loppers can be picked up on Amazon for only .
Pros
Telescopic handles
Lightweight and comfortable
The upper blade has a special PTFE coating that provides a smooth cut
Even cuts thicker branches well
Designed and developed by the experts at Kew Gardens London.
Cons
The carbon blades were not as sharp as to be expected from Spear and Jackson
4. Tabor Tools GG11 Professional Compound Action Bypass Lopper
Specification: Total Length: 76cm, Maximum cut: 4.5cm diameter
The Tabor Tools bypass garden lopper has a decent 4.5 cm cutting diameter. Dubbed 'the king of loppers' This outstanding Tabor Tools bypass lopper does extremely well with regards to pruning and cutting tree branches. Utilising the professional compound action system, the loppers multiple pivot points increases the amount of force applied to the blades. The carbon steel blade has been hardened, sharpened and with a low friction, non-stick coat to make cutting a pleasure and not a chore. This smooth clean-cut will leave your plants and trees healthy and looking professionally trimmed. The blades stay relatively sharp after heavy -duty work but if you do find yourself in need of replacements the cutting blades are also available on Amazon as well.
The 76 cm length handles were the ideal length and provide the right amount leverage for most cuts in reach. The handles are soft grip and provide comfort when working. Overall Tabor Tools have crafted a very well-rounded product, it may not have the widest cutting diameter, but it certainly does the job. This garden lopper is currently selling on Amazon for .
Pros
Compound action system makes cutting easy
Replaceable carbon steel blades
Optimum length handles with soft grips
Cons
Not the largest cutting diameter
Blades don't stay sharp as long as expected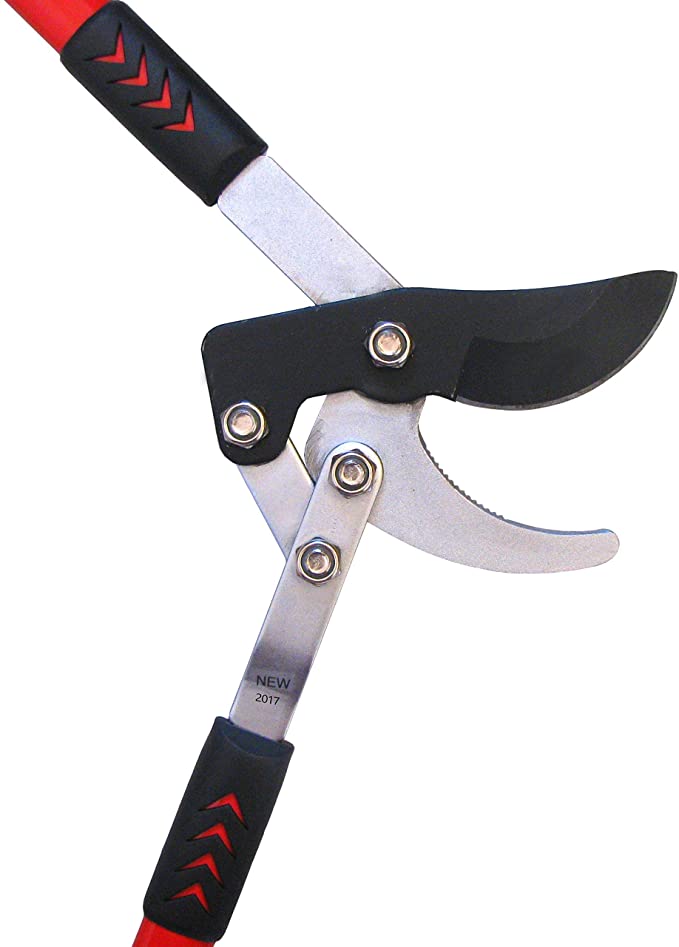 5. Gartol 29 Inch Heavy-Duty Anvil Lopping Shears
Specification: Total Length : 29 inch ,Maximum cut: 1-1/2inch diameter, Weight: 1.1 kg
These Gartol anvil loppers are built to last, these durable lopper's handles are made from a thickened triangular iron tubing. Solid and robust they can withstand powerful forces and the rigours of heavy-duty gardening work. They have an anti-rust and anti-bacterial teflon coating ensuring years of use. The hand grips are soft and comfortable. The design is well balanced but could feel a little heavy if some users were looking to use them all day long. As they are only 29 inches in length, we feel that is a bit unusual but nothing to be too worried about.
These anvil loppers have a 5 cm cutting diameter and also employ extra leverage though compound action power. With the multiple parts and the multiple leaver system cutting is made with ease and the forces are not exerted on the body making pruning bushes, hedges and small branches a pleasure without the blades bending or breaking. The Blade material it made from a high-quality SK5 carbon steel from Japan which stays sharp even from prolonged use.
The 29-inch anvil loppers from Gartol may only be short in size but they make up for it in quality of cutting and are being sold on Amazon right now for just .
Pros
Durable handles built to last
Anti-rust and anti-bacterial Ilaflon coating
High quality SK5 carbon steel blade from Japan
Cons
Some users may find them heavy for shorter loppers
Specification: Total Length: 63-950 cm, Dimensions: 63 x 24.5 x 2.3 cm, Weight :1.24 kg
The first observable thing about the Davaon pro ratchet telescopic anvil loppers is that this product comes with a 100% customer satisfaction money back guarantee, also stating that Davaon are available 24/7 to help ensure you are completely satisfied with your purchase. Davaon pro ratchet telescopic anvil garden loppers are being sold with that very guarantee on Amazon right now for only £29.50. That will certainly give some potential buyers some peace of mind and something to think about too. The guys at Davaon definitely believe in their product but, is it exactly what you are looking for? Let's find out.
The effective advanced ratchet design ensures up to 5 times more cutting power and delivers this by allowing cuts in multiple places making cutting easier, while the user conserves energy. The garden loppers make light work of pruning and cutting thick branches. We would have preferred if the jaws opened slightly wider just to make it easier to get to each branch, but it wasn't a big problem. The Davaon loppers uses a strong metal anvil which grips the branches and meets with a large premium hardened and sharpened SK5 carbon blade that provide precision cutting.
The telescopic handles are made of aluminium and feel strong and can be extended from 680 mm to 1000 mm. However, they do feel a little flimsy when fully extended. The soft grips furnish the handles and supply safety against blisters, we found the handles to be particularly soft which was very comfortable. At the very end of the handles there is a secure but quick twist lock system where the handles can be extended from.
Pros
100% customer satisfaction or your money back guarantee
Strong mental anvil and ratchet system
Premium SK5 carbon steel cutting system
Extra comfortable hand grips
Cons
Jaws don't open as wide as you would think
When fully extended the handles feel a little loose
7. Gruntek XT 685-1050 mm Telescopic Anvil Loppers
Specification: Total Length: 68.5 – 101.5 cm, Blade length: 7.8 cm, Maximum cut: 4.8-5.1 cm diameter, Weight 1.37 kg
Gruntek are a well-known gardening brand for professionals and keen gardeners alike. They have designed and crafted some excellent telescopic anvil loppers at a reasonable cost too. The Gruntek XT anvil loppers can be found online on Amazon right now for £34.98. They are so confident with their gardening products that they offer a money back guarantee of 30 days if you're not happy with your purchase.
The Gruntek garden loppers are extendable and have 7 pre-set lengths of which they can be extended to. The leaver arms are made from strong rounded aluminium and are coupled with non-sliding handle grips to ensure safety and comfort during extended use when cutting. That being said some users may feel that they are a little heavy when fully extended, if the shrub is slender I often revert to garden shears.
These anvil loppers harness a smart-cut drive system which makes it easier for the user to cut fresh or dry wood. The blade itself is made from a premium quality hardened steel with a Teflon non-stick coating which gives the user precision, effortless cutting capabilities and makes life easier for sharpening too. The blade is sharp, even after long term usage.
Pros
30-day money back guarantee
Smart cut drive system increasing cutting performance
Teflon non-stick coated blade
Cons
Only extends to pre-set lengths
A little heavy when fully extended
8. Spear & Jackson W213 Razor-sharp Telescopic Ratchet Anvil Lopper
Specification: Total Length: 46-72 cm, Maximum cut: 42 cm diameter
This is the Spear and Jackson's anvil lopper entry. Firstly, this anvil garden lopper has won gold in the 'Grown Your Own' Great British Growing Awards 2018. The Spear & Jackson Lopper features quality precision cutting from the powerful ratchet action and is better suited to the heavy-duty works. This garden lopper will cut through thick steams of dead wood material with very little effort at all. We found that even with 2-inch-thick branches the lopper had no trouble at all. The Steel blades utilised by the Spear & Jackson are crafted from a C50 carbon steel which has been hardened and tempered to ensure long lasting robustness. For extra protection against rust and to add a flush cut the blades have a PTFE coating.
The garden lopper leaver handles are made with a lightweight aluminium and can be extended from 18 inches a maximum of 28 inches allowing the users to get to the higher, harder to reach branches. The handles use a twist and lock system to allow the user to even adjust in mid use. Adjusting mid cut is not really that common and we did try it, but it just felt awkward, but we suppose some users might find it useful. The Non-slip grip handles work well and are comfortable to hold and we didn't feel like the lopper was going to slip at anytime either. All in all, the Spear and Jackson anvil lopper is a well-balanced, well rounded garden hand tool. The Spear and Jackson is currently on sale now for only £44.00 on Amazon.
Pros
'Grown Your Own' Great British Growing Awards 2018 winner
Powerful ratchet action mechanism
C50 carbon steel blades with a PTFE coating
Non-slip handles
Cons
Twist and lock telescopic system for mid use adjustment was slightly awkward
There you have it the 7 best garden loppers reviewed. I hope this review has helped you in your quest to buy a new set of garden loppers. If you struggle with any of the items in the review, please let us know so that we can add other people's personal experiences into the mix too.
---