Written by Terry Smith
Our site is reader supported so when you click a link to Amazon we may earn an affiliate commission.
Best garden loppers [UK]: Long and extendable telescopic garden loppers reviewed
This article was last updated on April 23rd, 2022 at 4:56 am
Garden loppers make short work of even the heaviest branches, they are used when secateurs are not powerful enough or you need extra reach. Whenever possible, I use my cordless chainsaw or cordless garden saw, though often revert to the garden loppers when just out of reach, or my trusty garden saw if the space is too tight. And with all those options, I honestly do genuinely love a good pair of telescopic garden loppers because the gearing makes cutting pretty easy even up to a couple of inches! And that's especially if you buy the right pair, which is where I come in to help 🙂
Pro tip: Did you know you can get telescopic garden loppers with adjustable length arms and still not compromise on the size of branch you cut 🙂
Our pick for the best garden loppers in the UK:
Best anvil garden loppers: Spear & Jackson Razorsharp
Best bypass loppers: GARDENA EasyCut 680 B Pruning Lopper: Bypass pruning lopper for cutting green wood
Best garden loppers overall: Spear & Jackson Razorsharp
Best extendable garden loppers: Davaon Pro Ratchet Telescopic Anvil Loppers
Longest garden loppers: Davaon Pro Ratchet Telescopic Anvil Loppers
Best alternative garden loppers if Spear & Jackson Razorsharp unavailable: Davaon Pro Ratchet Telescopic Anvil Loppers
Budget pick: Tabor Tools GG11 Professional Compound Action Bypass Lopper
What to look for when buying the best garden loppers
Gardening is one of life's little pleasures for most people. Others feel like it can be a chore at times. Some are professionals and do it on a daily basis. That doesn't mean that gardening has to be hard work. Whether you are up against thick tree branches or simply pruning smaller more manageable shrubs and hedges you are definitely going to need the right tool for the job. Have the right tool can change what could be seen as heavy-duty labour into light work. You also need to make sure you use the right equipment to ensure your garden stays healthy and looks professional. I'm not sure where I would be without a quality set of loppers sometimes and a compost bin to keep the garden clear.
It probably wouldn't surprise you to learn spending twenty quid on a set of loppers randomly could result in a blade that literally snaps on the first cut from a poor heat treat, or simply doesn't cut at all because you need to be a Russian weight lifter to operate them with no leverage on gearing. So here's a few really handy pointers to get you started and make you aware of what features and benefits you can get with a set of garden loppers:
Ratchet style gearing to reduce effort
The best garden loppers have an excellent ratchet system that provides ample power to cut thicker branches – the gearing mechanism works the same way as a quality set of secateurs, leveraging on a gear and ratchet. The gear to reduce the cut pressure, and the ratchet to hold the cut at the point you've made. A bit of ancient technology that we really can't beat (unless going for something cheeky like a garden multi tool which brings in its own set of problems).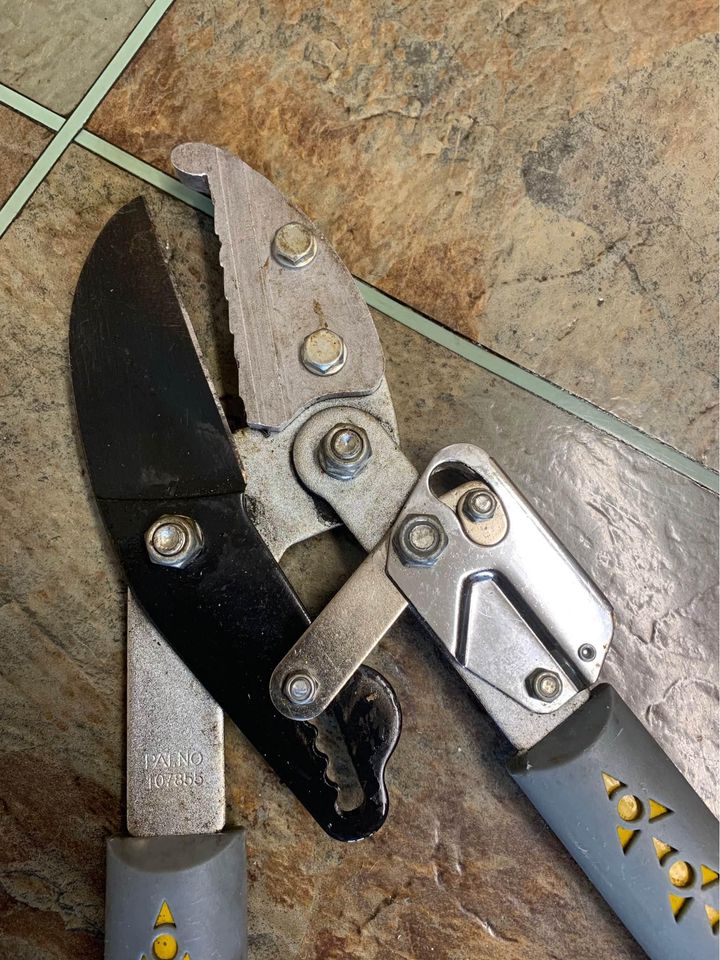 Blade quality
Garden loppers should be sharp and hold an edge, light weight but strong, and have a quality handle that allows you to leverage power without fear of snapping your blade edge from a poor heat treat. If you're wondering what heat treatment to your blade is, this is much like a knife that has the blade heated and quickly cooled to harden the edge. Don't worry if you're not following though, based on those idea, I have reviewed the best garden loppers to save you time and will be sure of a quality sharp edge that holds well.
Anvil or bypass loppers?
There are two types of loppers and we are going to review both. Firstly, we have bypass loppers (Gardena well worth a look in this review). These have been designed to produce an extremely clean cut. These work similarly to a pair of scissors as the jaws of the device cross when closed. This type of lopper should mainly be used on shrubs, hedges, bushes and plants that are still alive. They should not be used on dry branches or deadwood as this will sometimes damage the cutting blade.
Anvil loppers employ an upper single straight blade coupled with a lower jaw which acts as an anvil for the blade to cut against in multiple places crushing the branches. Anvil loppers leave a less clean cut, rough finish that is used for the more heavy-duty thicker dead wood branches and I'd recommend taking a look at the Spear & Jackson Razorsharp if you want the best of the Anvils. Here's a look at Anvil cutters which crush more than slice:
Extendable arms
Yes! You can actually buy a decent pair of garden loppers that won't compromise on size of cut with extendable arms, and probably the best at this is the Spear & Jackson Razorsharp or the Davaon Pro Ratchet garden loppers if the Spears aren't in stock. The extension is effortless, it's either a simple twist lock or a pin, but more often a twist lock that takes seconds to engage.
So based on those criteria let's take a look at the best garden loppers available:
There you have it the 7 best garden loppers reviewed. I hope this review has helped you in your quest to buy a new set of garden loppers. If you struggle with any of the items in the review, please let us know so that we can add other people's personal experiences into the mix too.
---