Written by Terry Smith
Our site is reader supported so when you click a link to Amazon we may earn an affiliate commission.
Best window cleaning pole [UK] for windows and conservatories [Summer 2021]
This article was last updated on August 7th, 2021 at 4:49 am
Hats off to professional window cleaners everywhere. Cleaning windows the 'old fashioned way' is a risky business. Luckily for them the best window cleaning poles now extend literally four storeys up to get them well grounded.
The combination of a metal ladder, soap suds, water, and height, is a potential recipe for disaster if you're not careful, and falling from even a few feet can cause serious injury, let alone a slip of a ladder from a second-floor window! When I head up the tripod ladder it's more than enough for me to get the jitters!
So, it's good to know that there are products out there that eliminate the need to scale up to those high up spots, seriously lowering the risk of an accident and injury.
Armed with one of the best window cleaning poles, you'll be able to have both feet on solid ground, just the way nature intended, and still be able to reach and shine up those top windows.
Best window cleaning pole
With a lot of these window cleaning poles now being water fed, you don't even need a bucket of water, simply attach the pole to the mains via a normal garden hose and a decent hose connector, or if you're fortunate enough to have an automatic hose reel, you have a ready supply of H20 right where you need it. The best window cleaning pole will have a strong and sturdy pole, be comfortable enough that you can apply pressure with a quality rubber blade that'll leave a streak free finish on your glass.
These tools really do take the effort out of cleaning windows. Well, maybe not quite as much as my cordless pressure washer for the downstairs windows anyway, but the cheapest models can be yours for under twenty pounds, and that's a bargain if you ask me.
On this page you will find our product reviews of the best window cleaning poles out there at the preset time. Our no-holds-barred approach will not only int out the best features of these window cleaning poles, but also any flaws that they might have, allowing you to be better informed so that you can make an educated decision when it comes to buying.
Comparison table: Best window cleaning pole [UK] for windows and conservatories [Summer 2021]

Product
What We Think
Price

DocaPole 5-12 Foot (1.5-3.5m) Extension Pole + Squeegee & Window Washer

EXTENSION POLE + WINDOW SQUEEGEE AND SCRUBBER – 5 to 12 foot (1.5-3.5m) extension pole and window squeegee and...
WINDOW SQUEEGEE + WINDOW WASHER ATTACHMENT – the dual window washer + squeegee is the perfect window washing tool...
CHENILLE MICROFIBER WINDOW SCRUBBER – the removeable and machine-washable chenille microfiber window washer scrubs away dirt...
AGILE ROTATE-LOCK MECHANISM FOR WINDOW ANGLES – allows the squeegee or scrubber to be rotated and locked into place...
MULTI-USE DOCAPOLE EXTENSION POLE – the 5-12 foot (1.5-3.5m) high-quality

Cleans the difficult to reach outisde areas.
The lance extends from 1.2-4m fully extended
Convenient shoulder strap for stability
Other accessories can be attached
Compatible with Kärcher pressure washers with bayonet fitting

Als Ellan Professional 3 in 1 Window Squeegee with Microfiber Scrubber

✅【All IN ONE】Made of ABS quality plastic materials for 100% safe
✅【SAVE TIME】Simplify window cleaning
✅【MULTI FUNCTION】1. The Squeegee with a spray head
✅【EASY TO CLEAN AND STORE】Professional Microfiber pad can be washed over and over...
✅【KEEP SAFE】Extension pole allows you to safely reach high window without the need for stools or step ladders...

Hi-TECH 16 FT WATER FED EXTENDABLE TELESCOPIC WINDOW CLEANING POLE

17 FOOT WATER FED WINDOW CLEANING POLE
5-SECTION, CONSTRUCTED FROM ALUMINIUM
BARE POLE WEIGHT 2KG
LOOK IN OUR AMAZON STORE FRONT

MASCARELLO® NEW 3M 9FT ALUMINIUM TELESCOPIC WATER FED WINDOW CAR VAN WASH BRUSH

Makes cleaning faster and easier
Strong, lightweight aluminium handle extends 3m (93¾ft)
Soft cushioned grip add extra comfort and also insulate the cold water running through the handle...
Convenient water on/off switch.
Soft feathered bristle tips ensure safe cleaning on all surfaces.
1. DocaPole 5-12 Foot (1.5-3.5m) Extension Pole + Squeegee & Window Washer
For strength, stability, sturdiness, and every other good word starting with 's' you can think of, look no further than the DocaPole.
This window cleaning pole has been made out of the highest quality aluminium to keep the pole's weight down to a minimum while at the same time ensuring that this is a product that lasts. I know that a lot of people's first thoughts when they hear the word 'aluminium' is that flimsy tin foil we use for cooking. Contrary to that thinking, it is actually a very strong material with excellent anti-rusting properties, and that's why it is used in so many products these days.
This telescopic window cleaning pole can be extended from 5 to 12 feet and it never feels wrongly weighted or off balance, allowing you to keep complete control of it even at the full length.
At the end of the pole we find both a metal tip and a secondary plastic tip. The function of the latter is to give you a choice of angle for the actual cleaning head attachment through 180 degrees. Your chosen angle can then be locked in place, making this a great choice for cleaning non-standard windows, or getting into hard to reach spots.
The cleaning head attachment that comes with this window cleaning pole is dual purpose, offering you the choice of scrubber or squeegee at the twist of main pole. It's quick and easy, and just goes to show you that good ideas and features don't always have to be 'out there' or high tech.
The Chenille microfibre scrubber can be detached from the head when it needs a wash of its own, and reattaching it takes seconds as it is connected by Velcro. So, no need for any clips or screws. Now, will this Velcro wear down with time? I would say that's inevitable, but replacing it wouldn't cost much.
Three different sized squeegee blades come in the box: 10, 12, and 14 inches and they, again, can be changed quickly on the go by just siding them into place. The plastic clasp that holds them in place does a great job of keeping everything where it should without any annoying slipping out of position.
There are two rubberised sections on the pole, and this ensures that you can always have a good grip, even when water drips down. This rubber coating feels very good quality and I don't think it will wear away anytime soon.
The only downside to this excellent window cleaning pole that I can see, is that it isn't water fed, but that isn't exactly a flaw, and more of a design choice by the makers Docazoo. It does mean that you'll have to pull the scrubber off the Velcro and dip it in the bucket manually though, but that's hardly a hard task now is it?
At the time of writing this review, the Docapole was on sale on Amazon for decent money and is well worth investing in.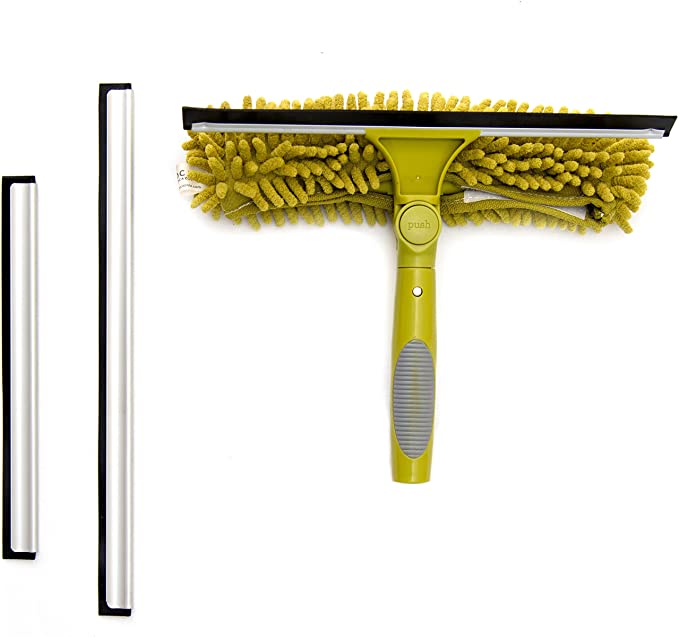 2. Kärcher Telescopic Jet Pipe
If you really want to take the effort out of cleaning your windows, and you don't mind paying a little extra, the Karcher Telescopic Jet Pipe could be right up your street.
Now, before we start this review proper, it is important that you know this product must be used with a pressure washer, preferably a Karcher brand one to get the best results.
If you already own a pressure washer, or you don't mind buying one, you can't really beat this product as far as window cleaning poles go, as nothing will give you the cleaning performance this telescopic jet pipe can offer.
It is also hard to beat when it comes to how much range this little beauty gives you. Fully extended the telescopic pole will reach a very impressive 4 metres, and this allows you to use this tool for more than just first and second floor windows.
Even at that full extension, the Karcher window cleaning pole feels strong and sturdy, and because you don't need to exert any physical pressure on the end, controlling the movement is really easy and also a lot less tiring. The fact that this tool only weighs 2.3kg also helps wit this, as does the free shoulder strap.
Saying that, the power that this tool produces does mean that you need a solid grip, but thankfully the ergonomic handle and trigger gives you just that, as does the rubber grip section on the lower part of the pole.
Like a lot of Karcher products, this window cleaning pole has been designed to work with other Karcher attachments, so you could use their wide range of cleaning accessories such as their rotating brush. This combination would make cleaning skylights and sloping conservatory roofs a piece of cake. Karcher actually offer large pressure washer kits with multiple attachments thrown in. Check out their K2 and K4 pressure washer machine bundles for example.
For less than a hundred pounds, you can be the proud owner of this extremely handy window cleaning pole. And when you consider how much it costs to get someone to come and clean your windows each year, that actually works out at quite a bargain, especially when you realise that this tool can be used for a whole host of other jobs such as clearing out gutters, or cleaning moss of walls.
In my opinion, this is one of the best window cleaning poles out there. It is longer, offers you a more powerful cleaning performance, and with the ability to use other attachments, it is the most versatile too.
3. Hi-TECH 16 FT WATER FED EXTENDABLE TELESCOPIC WINDOW CLEANING POLE
Hi-tech's 16ft water fed window cleaning pole is a good tool that can be made a great one with a few adjustments. What I'm talking about are a few flaws that I found, but was able to find a work around, without too much hassle.
For example, when I first set up the pole and turned on the water, I noticed leaking from the bottom and also a little from the top. After a quick inspection I realised nothing was broken and just needed tightening up properly. After a few twists with a spanner, no more leaks, but I don't see why this couldn't have been done at the factory.
Apart from a couple of silly things like this, the Hi-tech window cleaning pool is a decent bit of kit. The five-section pole is well constructed from good quality aluminium and feels nice and sturdy. There is some flex there when it is fully extended to 16ft, especially with the hose attached and the weight of the water, but that is to be expected, and again, there are easy work-arounds if it bothers you.
The brush head that comes with the pole is good quality, but a little on the soft side and this has its pros and cons. One hand it won't scratch your windows, but it does mean you need to use a bit more elbow grease to shift more stubborn dirt and grime.
The squeegee isn't quite as good, and if you try to use it with the extra weight of the water, it can actually be quite difficult to use. If you drain the pipe of water though, it does become much easier.
When I first saw that this was a five-section window cleaning pole, my first instincts is that that is where leaking would occur, but actually those connections are excellent and not even a sign of a drip in sight. They also feel very solid and hold the sections tightly.
Overall this is a very good tool with just a few minor flaws. It takes a little time to get used to its quirks, but once you do, you'll see the benefit of using this over paying a professional to clean your windows all the time.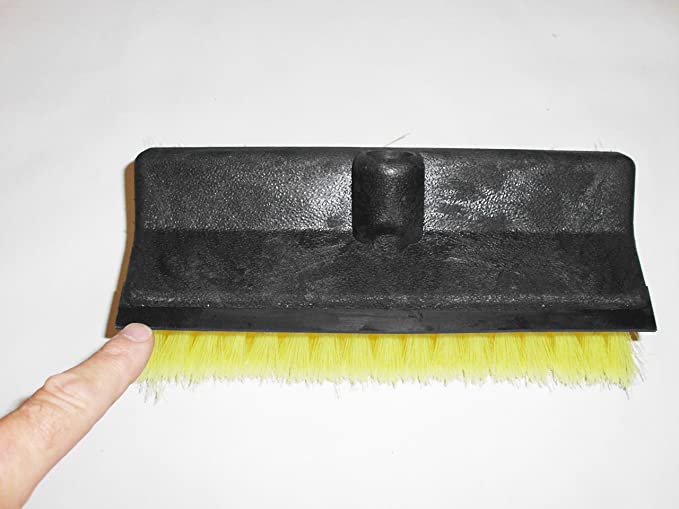 4. Als Ellan Professional 3 in 1 Window Squeegee with Microfiber Scrubber
You don't need a huge telescopic window cleaning pole if you live in a bungalow or cottage, but a good quality, shorter pole can still save you stretching up and across your downstairs window and save you a lot of time and energy.
The Als Ellan 1.5m window cleaning pole is just such a product, giving you that extra bit of range for a very competitive price. You can't grumble at that. What's more, the company also have a 265cm version that you can buy for only an extra five pounds or so.
When you buy lower budget products you have to expect a few differences between them and the higher end models. With this window cleaning pole, it is most obvious in the main material used for the pole which is ABS plastic instead of aluminium.
But don't let that trick into thinking this thing isn't solid and durable, because it certainly is. The pole comes in multiple parts that can be screwed together to get the length that you want and no matter what that length is, it always feels sturdy.
The cleaning head is a combination of a micro-fibre pad and a silicon blade squeegee. The cleaning pad is adjustable allowing you to change the angle as you see fit, making those awkward corners all that much easier.
Beneath the squeegee is a removable spray head that you can fill with water, detergent or other cleaning products, but this obviously is only really practical when you're using it as a hand squeegee and not when the pole is fully extended to its max. Still, it does come in handy.
If the micro-fibre pad starts to look a bit worse for wear, you can simply throw it in the washing machine and it'll come out looking (almost) like new. Simply hanging it up on the washing line is enough to get it dried out.
There are no rubber coated section for extra grip on this window cleaning pole, again a cost saving thing I would say, but the plastic handle and small plastic sections along the pole are quite adequate and at the base of the handle there is a handy hanging hole for easy storage.
This is an all-round decent little tool that surprised me with its quality and design ideas. For under 20 pounds, I have to say I'm quite impressed and would recommend this as a budget window cleaning pole.
5. MASCARELLO® NEW 3M 9FT ALUMINIUM TELESCOPIC WATER FED WINDOW CAR VAN WASH BRUSH
A water fed aluminium window cleaning pole for around the 20 quid mark? Yes, please!
Mascarello have brought us this great little product that is easily affordable for anyone, but still has features more commonly fund on window cleaning poles that are twice the price!
For example, the pole is made of rust resistant aluminium and not plastic, it can be attached to a mains source to provide a constant flow of water, and comes with multiple attachments.
You can connect the Mascarello to a mains tap via any standard garden hose that simply clicks into the base of the pole. Just above this connector you will find a helpful on/off valve that will save you running back and forth to the tap every time you want to take a break.
Once the water is flowing, it will travel up the pole and exit through the attachment at the end. The water doesn't shoot out with much force like a the Karcher jet pipe, but there is enough water flowing out to be very helpful when it comes to scrubbing off dried on dirt and bird droppings.
The bristles on the brush are quite soft and won't damage the windows but you will have to apply a bit more force and do a few pass-overs to get the hardest stuck on grime off.
The squeegee attachment can be flipped over and has a long sponge on the rear side, but the squeegee itself isn't the best and bends quite a lot, making it quite difficult to use at long lengths.
These are the kinds of little flaws you have to expect when you want to save money though, and it's not the end of the world. You could quite simply buy another basic squeegee on a pole for a few quid and use it separately, and you'd still be saving money compared to many other similar products.
Another sign of the lost cost design is the hose connector at the base of the pole which could be better and does leak a bit. Again, the simple solution is to buy a better brand Hozelock or Draper hose connector and this problem is solved.
Apart from a few little niggles, I still think this is a very good option for customers who don't want to spend a lot on a water fed window cleaning hose. The connectors for the separate sections are solid, as are the aluminium sections themselves, and the 3 metre range is very practical.
What you need to know about buying the best window cleaning pole
If you're on this page, then you're probably thinking about purchasing a window cleaning pole. Take a quick look at this brief but informative buyer's guide that'll point out a few of the main points you should think about before buying. But, remember to be safe. DO NOT use a window cleaning pole like the guy in the picture below. This is utterly crazy 😀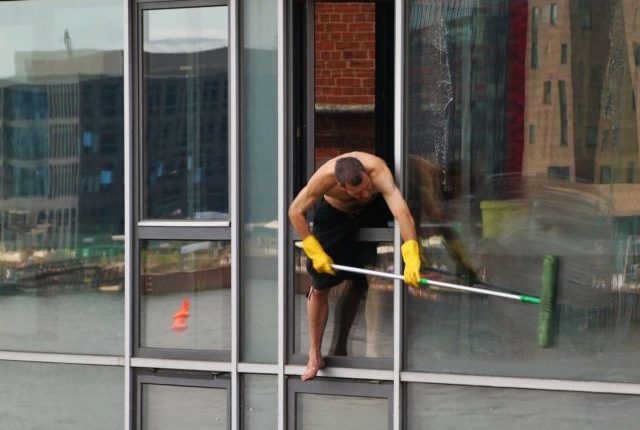 Maximum length
These products come in a wide range of lengths, so be sure to double check not only the length of the product when fully extended, but also the height of the windows that you intend to clean. If you only need something to clean windows on the ground floor, you can probably save yourself money by buying a shorter window cleaning pole like the 1.5m one we reviewed above.
Material
Most higher end window cleaning poles will be made out of metal, usually aluminium. This material is chosen because it s very lightweight, yet still strong, and has very good corrosion resistance.
Cheaper modes will probably be made out of plastic, and if you decide to go with one of these, make sure it is a strong type of plastic like polypropylene or ABS.
Stability and sturdiness
When these poles are fully extended, especially the really long ones, there will be some flexing. This is normal. However, too much flexing can make it very hard to use the brush and squeegee. Read reviews like ours and also customer feedback to see what people are saying about this before you buy. If you look at this picture, you can see how surprisingly sturdy the poles can be: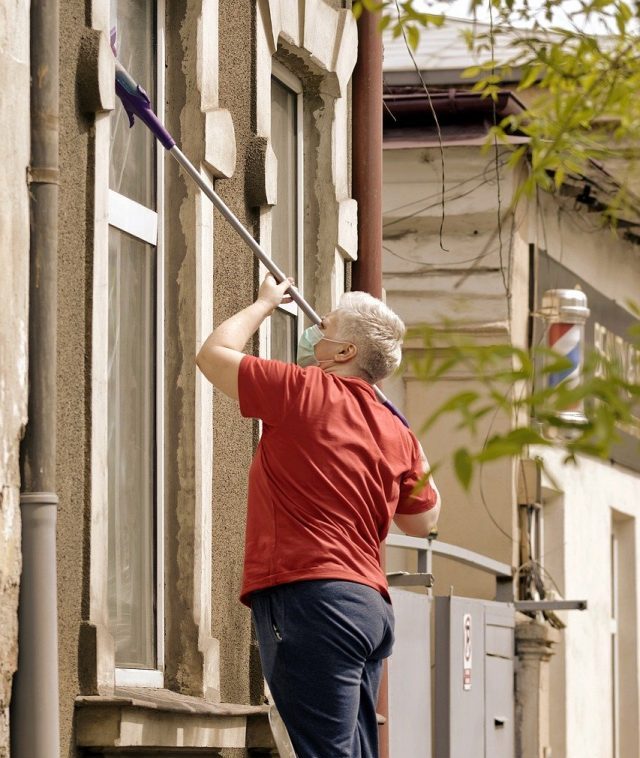 Water fed window cleaning poles
Water fed window cleaning poles can be attached to a garden hose and have a constant flow of water travelling through them.
While this can make cleaning a lot easier in some respects, it also adds extra weight to the pole and can make them less stable when fully extended. If you're going to go for one of these poles, I would recommend spending a bit more on one that is proven to remain steady even with the water on.
Price
Another thing to keep in mind, is of course, price. As a rule of thumb, you tend to get what you pay for with products like this, but there are exceptions to that, and you can find some very reasonably priced deals.
On the other hand, there are some low budget models out there that look the part but will give you nonstop headaches, with parts breaking easily and water leaking everywhere.
I personally wouldn't pay more than a eighty pounds unless it was a top brand like the Karcher jet pipe or Docapole, but I would also be quite suspicious of deals that seem too good to be true because they usually are.
---