Garden Tool Box » Garden Planting » UK's best propagators for seeds: electric/non-electric and thermostat plant and cutting propagators for the greenhouse
Written by Terry Smith
Our site is reader supported so when you click a link to Amazon we may earn an affiliate commission.
UK's best propagators for seeds: electric/non-electric and thermostat plant and cutting propagators for the greenhouse
This article was last updated on April 23rd, 2022 at 5:28 am
With the totally inconsistent and variable weather the UK keeps throwing at us (and I don't just mean the cold – these current mild temperatures have me worried Spring will come late and the inevitable delayed cold). That means my seedlings (and potentially your cuttings) will be miles behind. Falling short of a mini greenhouse or grow tent and a greenhouse heater (you know one of those energy thirsty 2kW types). I have some handy tricks up my sleeve in this article with regards to fending off that costs and keeping the propagation in the conservatory (or in fact the greenhouse for a fraction of the cost if you prefer, and what is more, you'll be able to enjoy watching them come on 🙂 with the assistance of the best propagator your money can buy in the UK – and they are not all that expensive either, not compared to the enjoyment factor of being a leg up on the competition 😀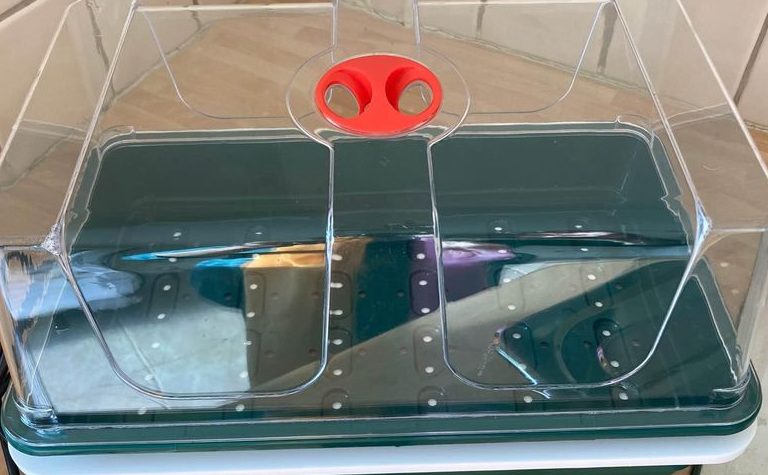 This is why so many of us Brit many gardeners choose to sow, and start off growing our seeds in a propagator, where we can manage the variables better and ultimately end up with healthy seedlings that can be moved into the garden, greenhouse, polytunnel (or wherever it may be) and transplant when the time is just right. Seeing something you planted as simple seeds grow into a marvellous looking plant, or even something you can pick and eat, is just so satisfying and using one of the best propagators is a great way to get started – it also keeps us well in touch with the garden through a dull Winter and something to occupy the cold.
In this article, we will look at the different types of propagators, their benefits, how to use them correctly, and also review the best propagator products that you can buy at this very moment. If that wasn't enough, we've even added a best propagators buyer's guide for good measure.
Best propagators for seeds and plants – Editors picks:
Best propagator overall: EarlyGrow 24″ x 15″ x 16.75″ Domed Propagator with 3 Height Extenders and Locking Clip Set
Best electric (heated) propagator: GARLAND BRITISH MADE BIG 3 ELECTRIC PROPAGATOR or the Stewart Essentials Electric Propagator on price
Best propagator with thermostat: GARLAND BRITISH MADE BIG 3 ELECTRIC PROPAGATOR
Best propagator for cuttings: Stewart Essentials Electric Propagator – lovely size with vents and thermostat so ideal to control humidity and not being too big means easier to control fungal outbreak. Ideal.
Best propagator for seeds: Garland GAL44LSW 24 Cell Self-Watering Propagator – must have for vulnerable seedlings that can't dry out
Best propagator for indoors: Plant Theatre 3 Funky Propagator Pods must have for a conservatory setting. Just lovely – currently out of stock but i hope back soon as work in all homes with such a lovely design.
Best value: Nutley's 40-Cell No Holes Seed Propagator Set (Pack of 3)
Professional pick: GARLAND BRITISH MADE BIG 3 ELECTRIC PROPAGATOR
Best Propagators Buyer's Guide
To help you with your purchasing decision, here are a few things to roll over in your mind before buying your propagator. From size (some seedlings and cuttings need more depth), to style, multi level trays for space saving, large an small. Then you've got non electric and electric varieties with thermostats to consider as well. And then what about the vents? Don't worry – let's run through the options:
Size and depth
Think about what size of propagator would suit you best. They come in a wide range of sizes, but the vast majority of them are designed to sit snugly on your windowsill where they can catch the sunlight. Some models are larger though, and will need a good place to sit, especially if they are non-electric models and still need the warmth of the sun. As well as the general size of the propagator, the depth of the seed tray and the height of the lid are also very important – if you need depth it's worth looking at the EarlyGrow . Some seedlings need more space in order for their roots to get properly established, and a shallow tray might stunt their growth. The same thing goes for plants that grow tall very quickly, and these will need a lid that gives enough room for proper growth.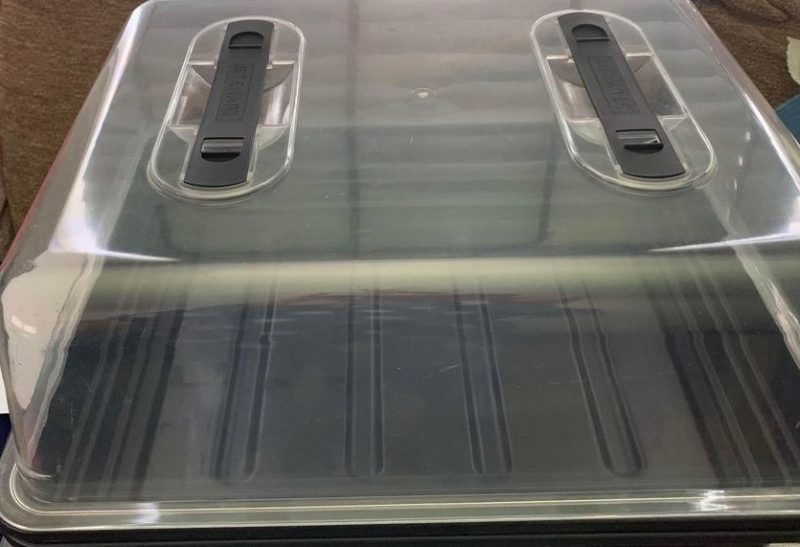 Ventilation
Not all propagators have air vents in them, and this is generally seen in the lower cost products – the higher prices ones like the EarlyGrow are vented beautifully, but obviously comes as cost. While it is not the end of the world to lift the lid to let some air circulate, having air vents certainly makes things easier, and if you're a bit forgetful, they can be a life-saver (for your seedlings anyway) and is an important part of germinating your seeds as well as will help reduce rot and fungus – more about that in the how to ventilation section.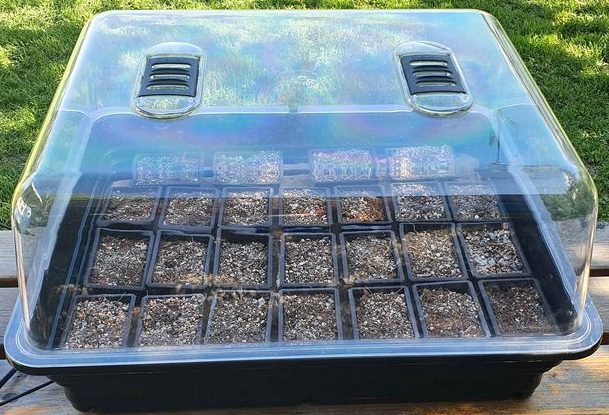 Thermostats
If you're going to buy an electric propagator, I would suggest paying more for one with a thermostat like the Stewart or the GARLAND (best in my mind) that'll make it easy for you to monitor the temperature inside the containers. If you're on a tighter budget, one without a thermostat will do (Stewart Essentials Electric Propagator is super well priced just in case), but be sure to check with a thermometer every now and again. A good low-cost electric propagator will still help your seeds to grow quickly, even without a thermostat.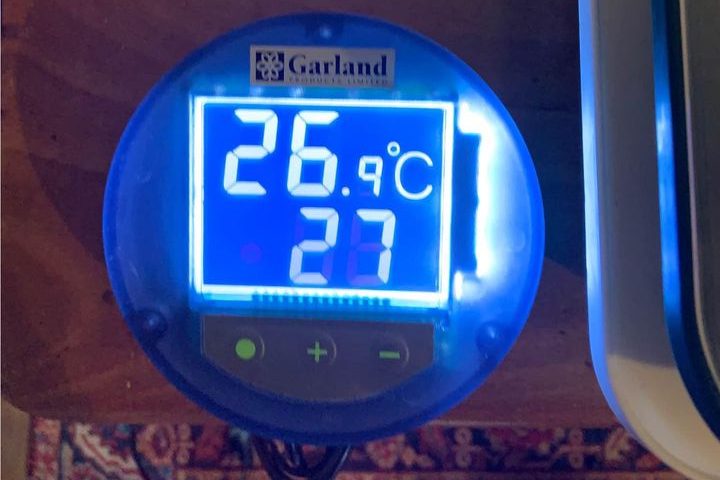 Electric vs non-electric propagators
The two main types of propagator that you will come across are electric and non-electric, also known as heated and non-heated. So, which should you go for? To be honest, they both do a good job of getting your seedlings going but I'd have to say that in my experience, a heated propagator does show results faster:

Of course, electric models tend to be more expensive than their non-powered counterparts both in the initial layout and the cost of running them. They can also dry the growing medium out faster, so you have to keep a closer eye on moisture levels. There are some types of seed that really need a constant temperature in order to thrive, and for these, an electric propagator is the right choice. For most though, a standard, non-electric model will work just fine.
Seedlings or cuttings
Following on from size – a somewhat cautionary note that seedlings and cuttings will thrive in different types of propagator. A seed propagator is normally much more shallow as it just doesn't need the height pretty obviously so worth considering the top pick Garland GAL44LSW 24 Cell Self-Watering Propagator or the Nutley's: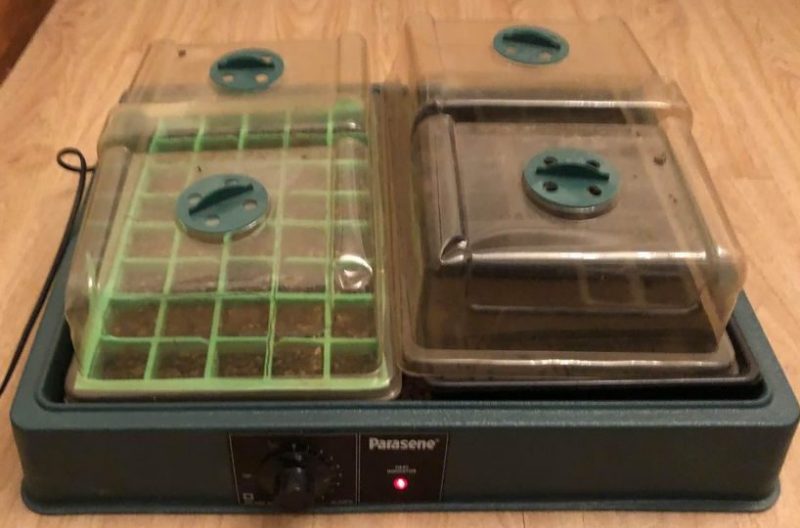 For cuttings I would definitely recommend the Stewart or the GARLAND and if you have a tall cutting the EarlyGrow isn't a bad shout though not heated.
How to sow seeds in a propagator
One of the oldest tricks in the book is the good old fashioned bit of advice – read the bloody instructions 😀 No two seedlings want it exactly the same – depth, distance you sow apart and so on. So here's a very generic look at sowing seeds – from here fine tune it with the few, but very important words on the back of that seed packet 🙂 and here's a rundown from a nice chap on Youtube too – I've fast forwarded past the intro:
What soil to use?
First you need to prepare your seed tray, and that means using the right type of compost/soil. I generally make my own with a garden sieve and a mix of three to one compost to soil. There are plenty of products out there that are designed specifically to be used with seeds and cuttings, so get yourself the desired mix fill the tray with it. If going with cuttings I would want to make sure the soil is pretty clean – even if that means sterilising it – the number of times I've seen fungal growth in a humid propagator designed to bring on cuttings is to say the least, frequent!
Keep your soil fluffy
Once the tray is filled, you want to make it nice and level, but be careful not to compress the soil; it needs to remain light and fluffy for best results. Seedlings will break through and grow far less hindered – pretty obviously.
Check the depth of sowing and any other variables
With your seed tray ready, grab your seed packet and read the instructions. I know it sounds obvious, but so many people just sow seeds in their propagators without reading first and this can result in seeds being overcrowded, or not planted at the right depth and this just results in sub-par results.
Water gently
Time to add some moisture. You can either place your seed tray in a tray of water (water trough) (a little water, don't overdo it), or water them very lightly from above with a watering can that has a fine spraying/mist rose .
Placement is important
Now all you need to do is to find a nice spot to sit your propagator on so that your seeds get some sunlight. Most people opt for a windowsill, or they place a small table near the window if the propagator is too large. Make sure you keep an eye on the moisture levels, and don't just leave the propagator with the same side facing the window all the time, it needs to be rotated every now and again so that all the seeds get a fair share of the light.
Ventilation is important too
Don't forget about ventilation. For the first couple of days, keep the air vents of your propagator closed, but when you see the first signs of them sprouting, you should open the vents to their half-way point to let some air flow through there. Too much humidity can cause them to rot (and in the case of cuttings, not enough and they won't take). Later you can adjust the ventilation to suit your seedlings needs.
Best propagator reviews:
After reading this far, you should now be feeling a little more 'in the know' when it comes to propagators, and ready to buy your own. Now, you could just click on the first product you see online and hope for the best, or you could do the smart thing and read the section below. Here we have gotten our hands on some of the best rated propagators available and tried them out, to see if they are worth investing your time and money into.
Is it worth buying a propagator?
A propagator might sound like some low-budget, knock off, sci-fi movie, but in actual fact, these simple devices are incredibly helpful if you're trying to grow plants and vegetables from seeds or cuttings. You see, planting seeds directly into your garden soil can be problematic at times, as they are easily affected by changes in moisture, temperature, and also by other things such as being planted at the incorrect depth for that type of seed.
The main reason that people use propagators is to protect the seeds and seedlings when they are at their most vulnerable. With the UK's climate being what it is, you never know what the temperature will be like from one moment to the next, and the same goes for the amount of rainfall too.
Another benefit of using one of these devices, is that they allow you to start growing earlier than what would be possible in your garden, giving you a head start on the growing season. In other words, no more twiddling your thumbs until spring arrives.
---