Written by Terry Smith
Our site is reader supported so when you click a link to Amazon we may earn an affiliate commission.
UK's best garden sprayers TESTED that are heavy duty for high pressure
This article was last updated on September 9th, 2022 at 3:41 am
You probably would be surprised to know, but in my personal testing, I actually favoured a garden sprayer over a fence sprayer for some fence paints. And that goes for shed paint too. No power requirement, a reasonably even spray, and miles quicker than a brush makes this an unlikely favourite – it was just a bonus that my Spear & Jackson Pump Action Pressure Sprayer cleans up nicely and had no problems spraying the weed killer in that test too. After using my garden sprayers for so long and effectively as I have. I'd like to share a few thoughts from my experiences.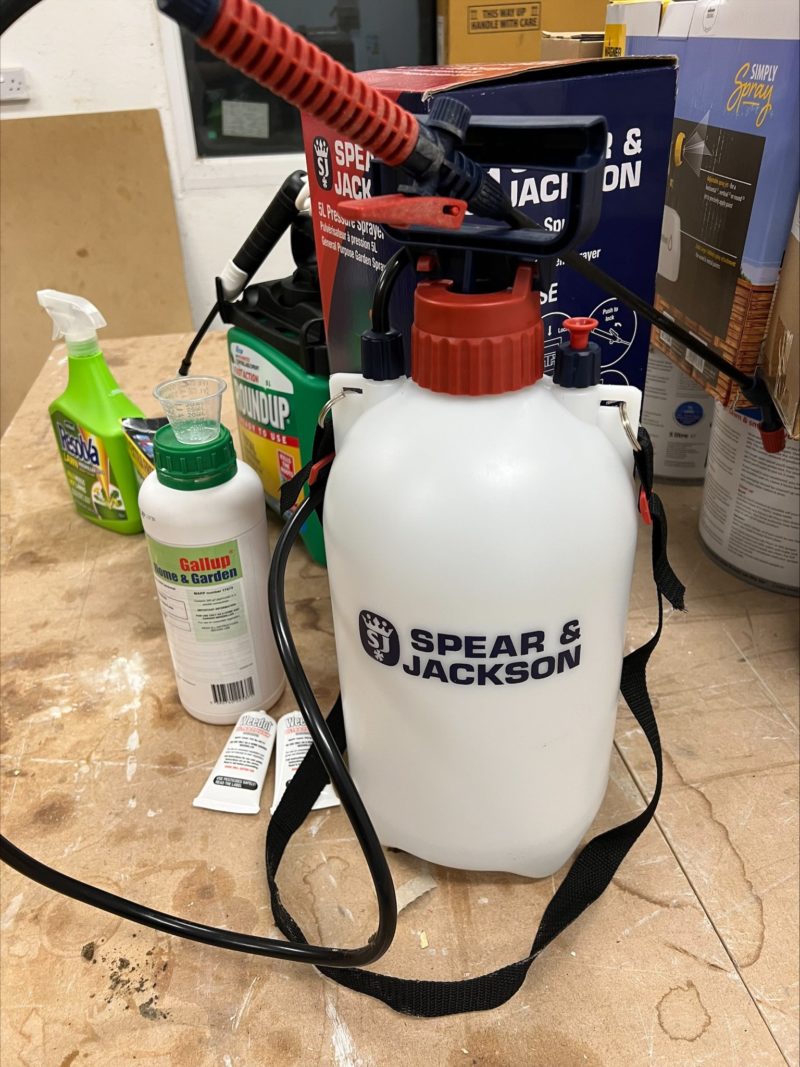 But, as with all good products it would be unfair not to test and compare others. So this time round I decided on a similar sized 5 Litre garden sprayer by Ansio. However, I am absolutely justified in still naming the Spear & Jackson top dog as it proved out yet again for best garden sprayer. And seeing as the Ansio set me back a few quid more than the Spear & Jackson I won't be changing the order of my reviews anytime soon but I'll definitely be putting it as an alternative as apart from one super annoying total enraging flaw it was a super bit of kit too. More on that in the full tested review of the 5 Litre garden sprayer by Ansio!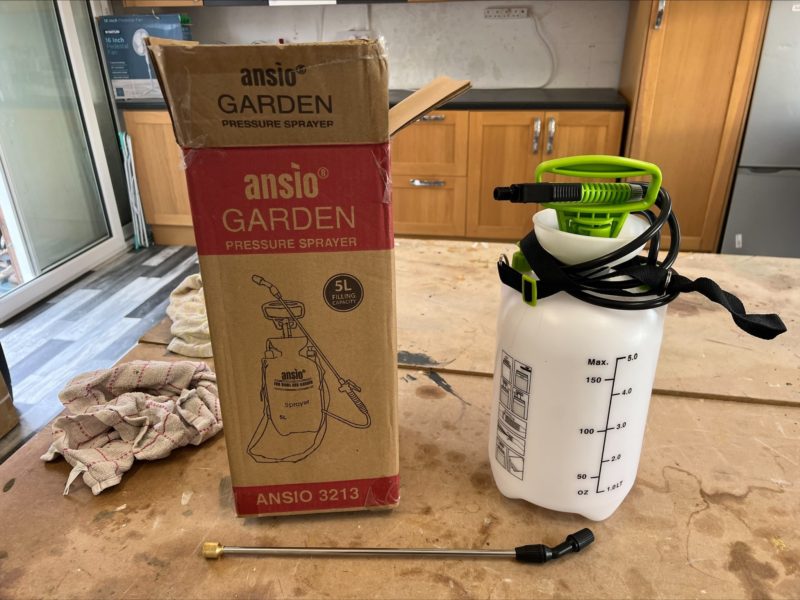 So with that in mind, here are my top picks for the best garden sprayer:
Best garden sprayer: my top picks from 15 years experience and personal use:
Best garden sprayer: Spear & Jackson Pump Action Pressure Sprayer – best of the best garden sprayer and my go to for weed killers, fence paints and stains, as well as sheds. This is personally tested and proven to hold pressure for ages when spraying weed killer
Sensible alternative: Ansio 5 Litre Garden Sprayer – decent choice if the Spear and Jackson isn't big enough (8L and 11L options) or available [personally tested and proven]
Best back-pack garden sprayer: Faithfull Pressure Sprayer Knapsack 16L – best if you need a large garden sprayer [personally tested and proven]
Commercial heavy duty pick: Faithfull Pressure Sprayer Knapsack 16L [personally tested and proven]
Budget: Garden gear pressure sprayer
What you should be considering when buying a garden sprayer
There's a few really important things to think about when buying a garden sprayer. They are definitely not all equal. The crucial thing for me is even pressure and compression so you get an even spray. Then there's size, container thickness, shoulder straps, pressure release valves, and all important variable nozzle settings to change your flow from a squirt right through to a full on mist. So with that in mind let's look a little close at some of those issues.
Size
Size is an important factor – are you looking for a small medium or large sprayer? If it's large there's no question you go for the the Faithfull Pressure Sprayer Knapsack 16L. If you're after mid size for weed killer for example, then the Spear & Jackson or the Hozelock sprayer is ideal.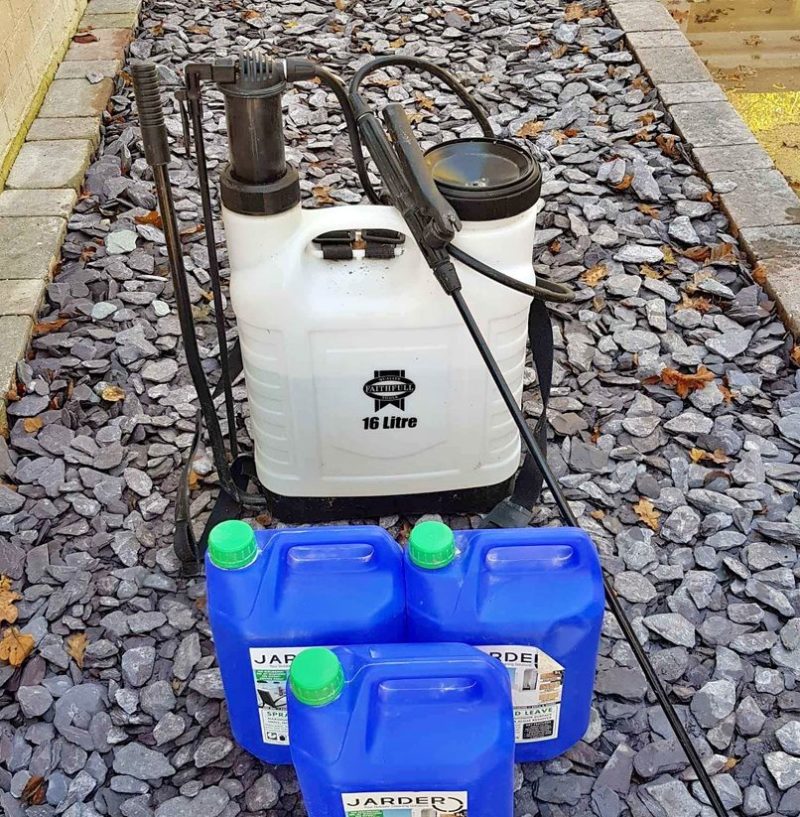 The Faithfull is definitely for commercial work and it really packs a punch too!
Pressure translates into spray
It's important to remember not all pressure pots are equal. The more pressure your garden sprayer can hold, the better it'll be equipped to provide an even spray. My Spear and Jackson is considerably more powerful than the average. And on that note, you have to watch for over pressurising your sprayer – in the past I've broken cheap ones pumping them too much. Just wait for resistance to build as you pump – you'll feel it and you'll feel what pressure is sensible. Then you can adjust the nozzle to workout how you want to spray. Let's look at the adjustable nozzle and I'll include a video of the pressure and the nozzle adjustment below.
Adjustable nozzle for a variable spray setting
One of the biggest things on the spray nozzles is the adjustment. My Spear and Jackson really works for that. In fact it is extremely sensitive and therefore takes a bit of getting used to. Even though I've used mine for years this still happens:
As you can see it doesn't take much getting used to and very easy to use – but remember not to spray weeds with a mist too fine in windy conditions as a herbicide in the lungs is not good! So always aim on the cautious side, and with Creocote I don't care how rough it looks, I let it spurt out – there's no way I am ingesting those fumes again. I felt really rough even though I wore a mask. So now I let it squirt out and run. No problem with that. I do not set the nozzle fine:
Here are, what we consider, the seven best garden sprayers reviewed for you. We've chosen products that we think give you the best value for money, and that are affordable for everyone.
Pressure release valve
The next thing to consider is the pressure release valve. You want to release the pressure gradually as the main pump section can be very difficult to open if there's too much pressure. Whereas the smaller valve is relatively easier to open and control. Here's a close up look at that valve: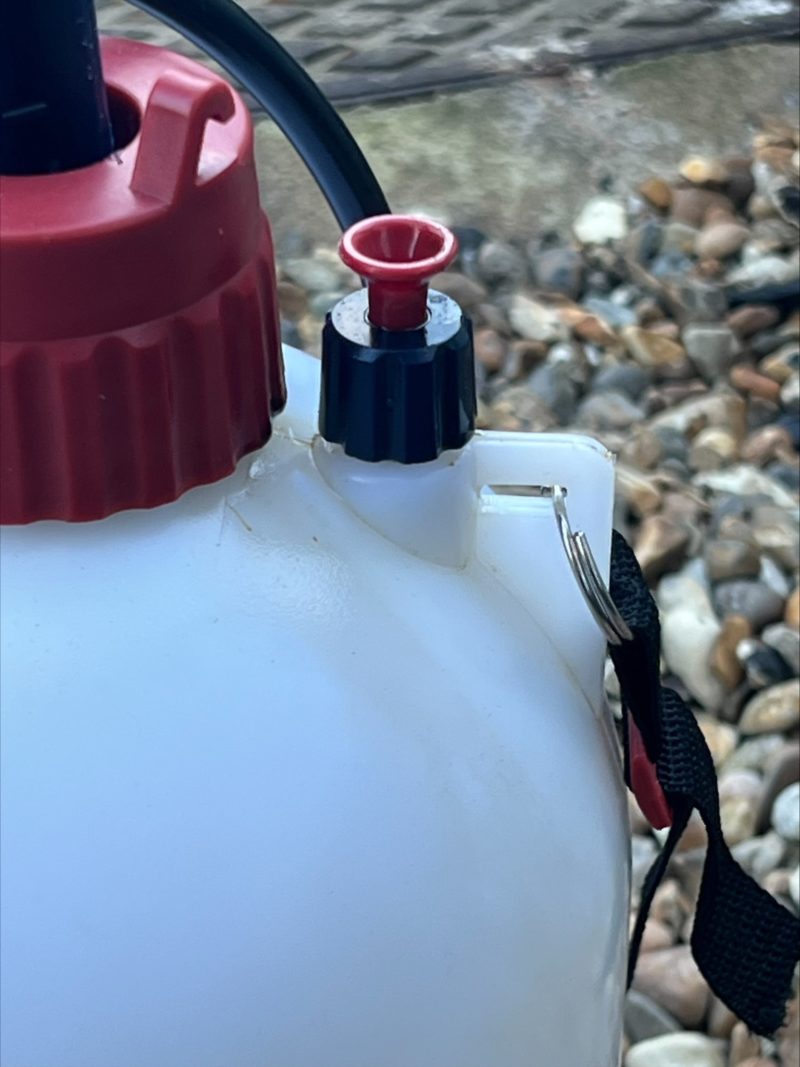 Shoulder strap
Most come with a shoulder strap but some are too short. The cheap garden sprayer I have doesn't comfortably loop over my other shoulder, whereas the Spear and Jackson has a longer strap and is far more comfortable to wear – it's only when you test many of these sprayers that you realise just how useful they can be! Here is me demonstrating just how long this strap really is – it'll comfortably go over any shoulder: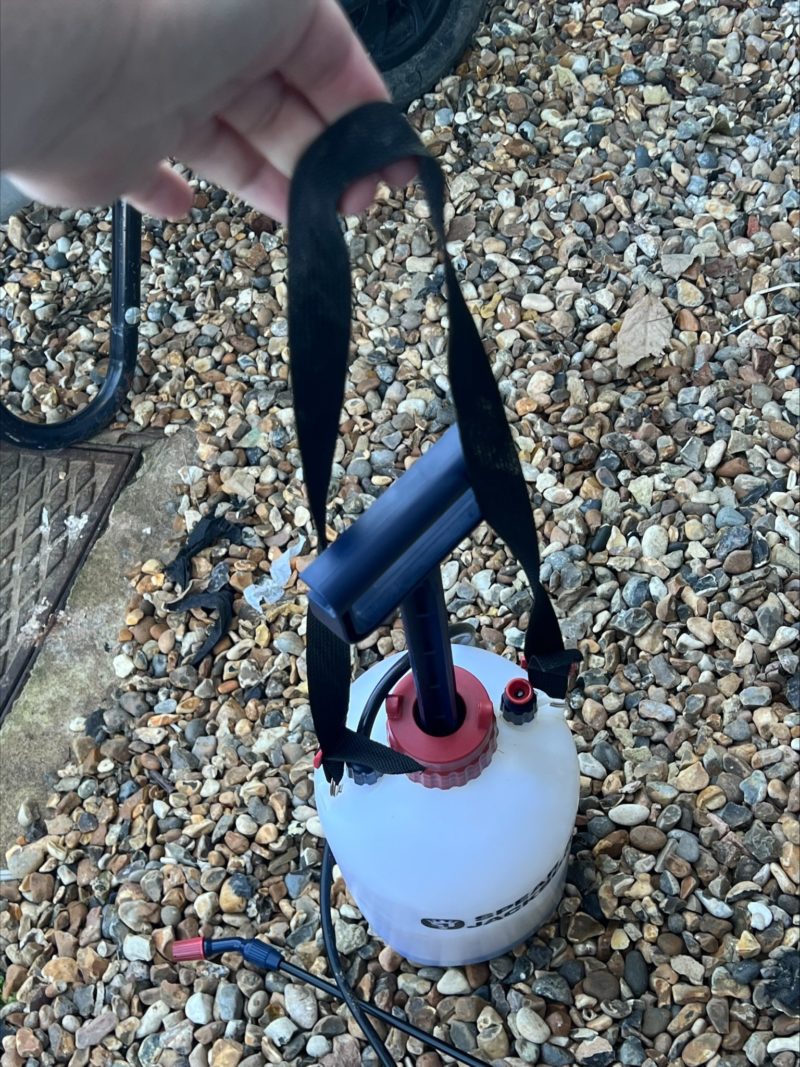 It's got variable straps too so if you're shorter or prefer it up higher then no problem at all.
With those points looked over – here's a rundown of the best garden sprayers:
So, there you have it. Our best garden sprayers reviewed for you. We hope you have enjoyed reading our reviews and have somehow aided your decision. If you want to know more about any of the products, simply click on the links we have helpfully provided for you.
If you have time, please feel free to view our other pages and see our reviews of other gardening products.
Why a garden sprayer over an electric sprayer?
Versatility and mobility are two words that come to mind when I think of garden sprayers – you heard me mention in the intro how I prefer a garden sprayer over an electric sprayer:
 they are versatile because they are able to help you distribute water, fertiliser, fungicides, pesticides, wood preservers, stains, teak oil, and paint, onto the parts of the garden that need them most with minimal waste. I even used my garden sprayer to seal in the tiles in my bathroom I just renovated – you could easily do the same with a patio sealer and brush for ease too.
Most quality garden sprayers make things easy with a shoulder strap, decent pump compression for even high pressure, and have measurement markings on them to make sure that you use the correct amount of the chemicals and a variable nozzle from a squirt to fine spray also helps prevent you using too much – though I caution against a mist with fungicides without proper PPE for pesticides. I think of mobility when I think of garden sprayers as you don't need to connect them to a mains water supply like a tap when you are using them. You simply fill the tank to the desired level and then either carry them in your hand, or on your back with the help of a harness, or pull them around on wheels. The most common design is the compression garden sprayer, where you activate the pump handle on top of the sprayer to build pressure and then use the hose and spray nozzle until the pressure needs to be topped up again.
---