Written by Terry Smith
Our site is reader supported so when you click a link to Amazon we may earn an affiliate commission.
Best BBQ Accessories you need this summer
This article was last updated on April 23rd, 2022 at 6:41 am
Being a legend at the grill takes more than the latest gas BBQ, or a top notch food smoker, a secret recipe or two, and a kiss the cook apron. To really have friends, family, and neighbours, looking on in awe you need a good set of BBQ accessories. There's a ton of good stuff out there that can help you perfect the art of outdoor cooking, from thermometers and kebab skewers, to stylish BBQ spatulas and tongs, and they each have a part to play in the best BBQ cookouts – I couldn't recommend the full bbq toolset I bought last summer enough, it held up beautifully.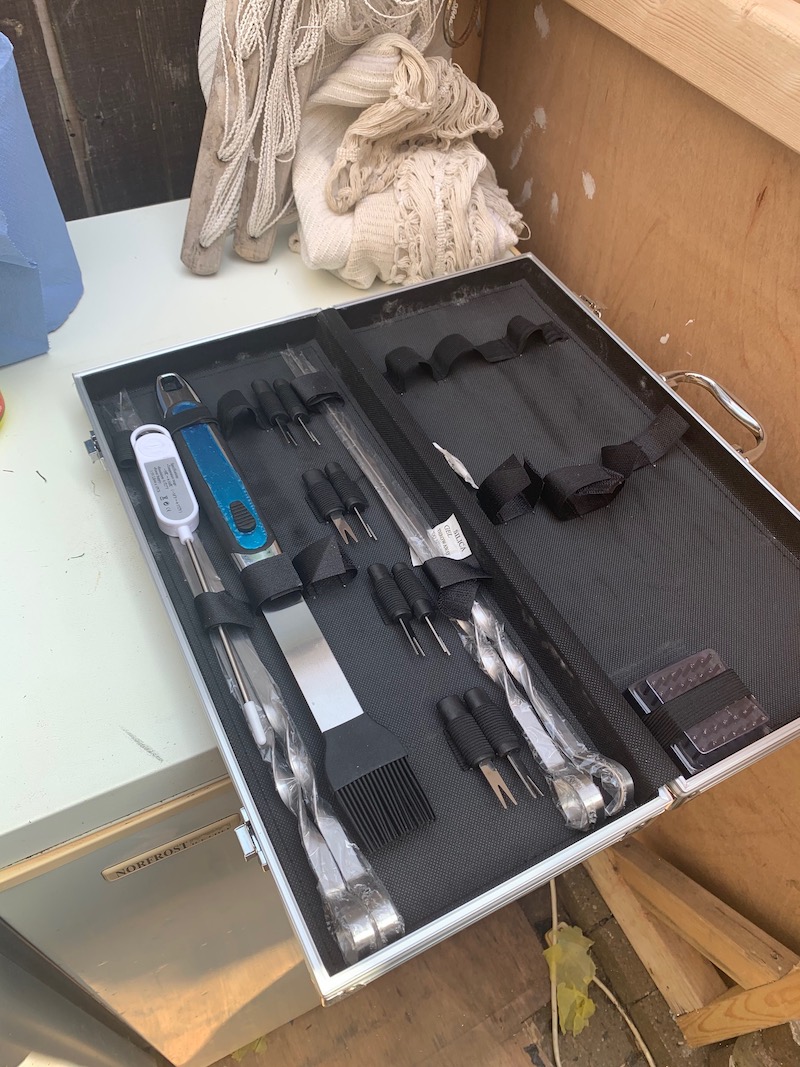 This guide will not only review some of the best BBQ accessories out there, but will also point out a few things to be aware of that could save you from wasting money. On top of that, we'll briefly explain what the most common BBQ accessories are and what they do, giving you a comprehensive overview and helping you become king of the grill. Well, at least in your own home anyway.
Popular BBQ accessories – checklist
Below we have highlighted some of the most popular BBQ accessories and given a brief description of them, so you can decide for yourself which ones you can't do without. Here's a sensible list of what you might want:
That's a pretty decent list to get most bbq's up to scratch – you shouldn't be left thinking you've missed anything with the checklist above.
I know we all like to think that we are so highly skilled that we can guess whether or not a piece of meat is cooked properly just by looking at it, but if you just swallow your pride and invest in a good thermometer, you will not be sorry.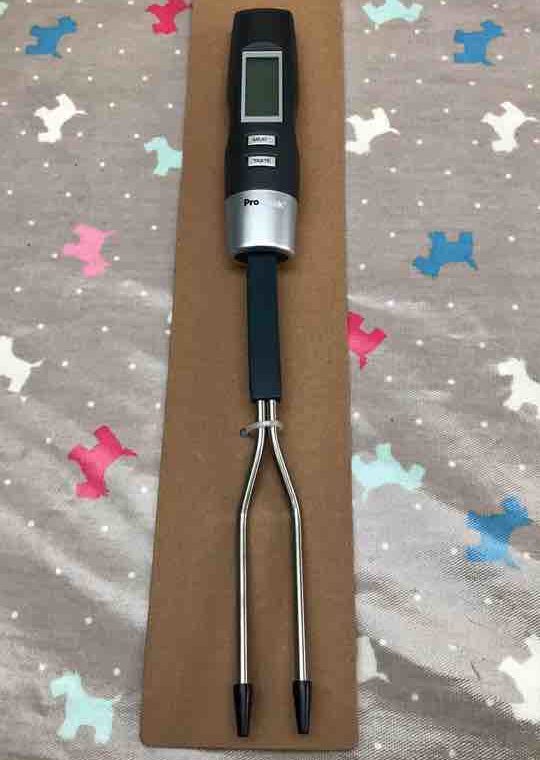 Some meats, such as pork and chicken, need to be cooked thoroughly to ensure that they don't give the person eating them food poisoning. However, what often happens is that this leads to the meat being overcooked and drying out more than it needs to. With a good thermometer, you can be sure that your pork chops are safe to eat while still keeping them juicy and tender.
Unless you want hands and forearms that resemble Freddy Kruger, you really should invest in a decent pair of gloves that are designed to be used while operating a BBQ. Don't just pop on a pair of marigolds or your gardening gloves and think you'll be ok.
You'll want a pair of gloves that are heat resistant, obviously, but also a pair that are comfortable to wear for long periods of time. Another important feature to look for in your barbecue gloves is good grip. You'll be handling all kinds of tools, as well as picking up plates and food, so having a sure grip is essential.
In an ideal world, your BBQ would remain spotlessly clean no matter how many times you used it and no matter what you cooked on it. Unfortunately, reality slaps you out of your daydream after every good cooking session and you find stuck-on pieces of food all over the grates.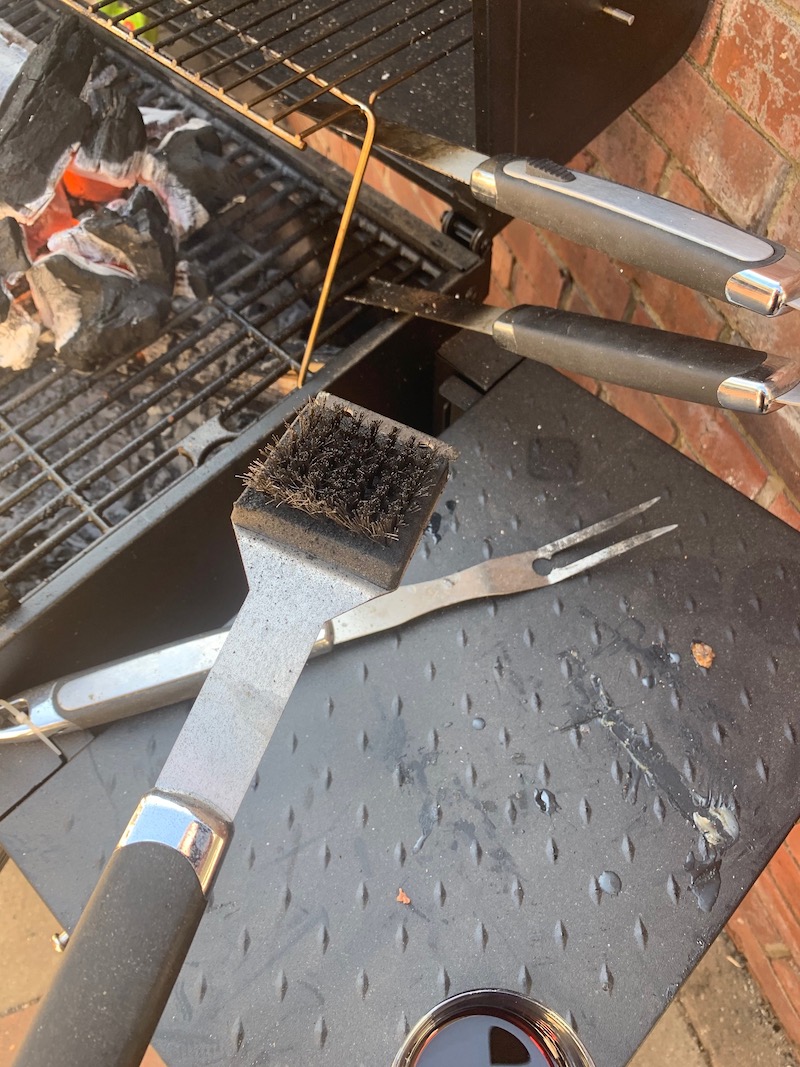 As you probably guessed, because BBQ brushes have to be used for scrubbing off hard to shift food remnants, a good one will be very tough and durable. What might surprise you, is the need for it to also be flexible enough to reach down into the nooks and crannies of your BBQ to give it a proper cleaning.
Flare ups happen when fats from your meats drip down onto the flames below and this can cause problems with your cooking times and also the condition of the food on the grill. Flare ups are more common on charcoal BBQs than gas BBQs, but they are preventable.
One of the best ways to prevent flare ups is to use BBQ mats. These simple, but incredibly useful BBQ accessories sit on top of your grilling grates and allow you to cook food on top them, thus lowering the chance of fat dripping down. They can also stop food like prawns, fish, and vegetables from getting burned, so you can see why they are a popular product.
Cooking utensils
These are the things that you'll be using the most so it makes sense to invest in some really good ones. There are some excellent BBQ tool sets available online that contain everything you need, but for the really, really, top stuff you might want to think about buying your tongs, spatula, etc. separately. It'll cost you more, but you'll get to pick and choose from different brands.
Okay, if you are determined to create the best smoked meats, then you need to invest in a BBQ smoker or at least a charcoal BBQ with a smoker feature. Having said that, there are ways to get that smokey flavour with gas BBQs and even electric BBQs to, to some extent.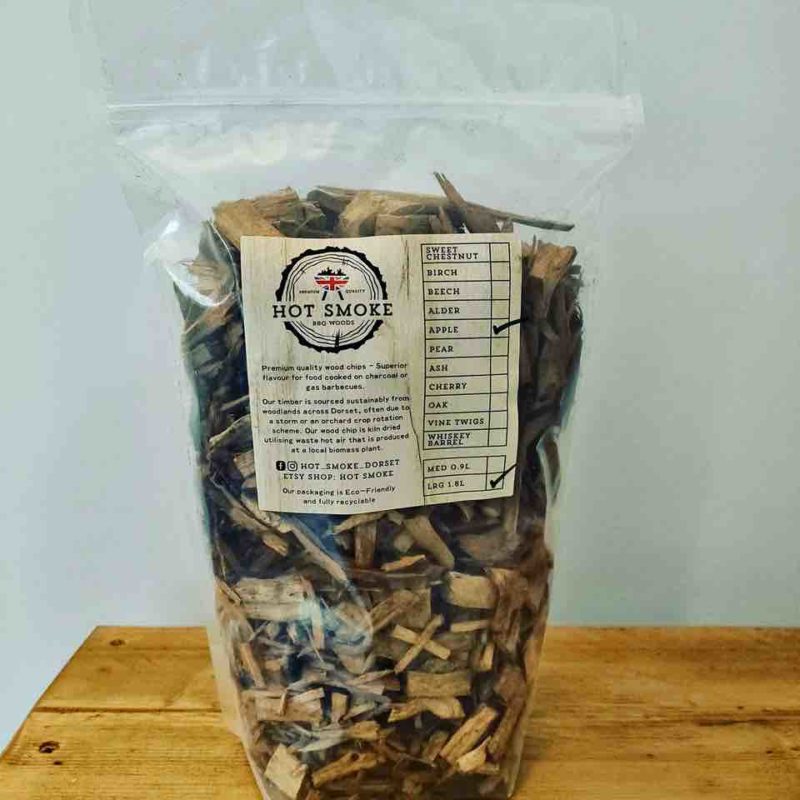 Wood chips and smoker pellets are what we are talking about, and they work exceptionally well if you get the right brand and product. Out of the two, I would say pellets last longer than wood chips, and can handle higher temperatures, but you have to be careful not to buy pellets that are full of unwanted chemicals, so do your homework before reaching for your wallet.
A well-cooked rack of BBQ ribs is very hard to beat, but they aren't the smallest things you can pop onto your grill, and can even stop you from cooking other things at the same time if your cooking area isn't that large, such as on a portable BBQ.
A rib rack gives you a dedicated area in which to cook those racks of ribs, leaving space for your burgers, sausages and other delights on the grates too. What's more, they promote good all-round cooking of the ribs they hold and there are plenty of articles and videos on how to use them effectively.
Fish has a nasty habit of getting stuck on the grill, and I think this puts a lot of people off cooking things like salmon on their BBQs. BBQ fish baskets stop this sticking from happening, and in addition to that, they make it much easier to flip the fish over without causing it to break apart or lose shape.
Dragging your large BBQ out of the shed every time you want to use it can be a bit of pain, and this is why many people leave theirs outside during summer. Unfortunately, this can lead to weather-based damage and problems with rust and corrosion, not to mention dust and dirt getting blown in.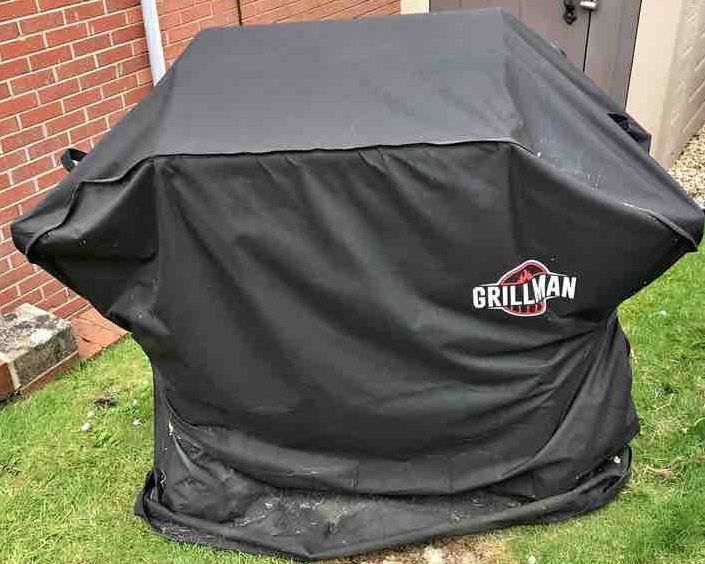 You can prevent a lot of this unnecessary wear and tear by getting yourself a good BBQ cover that'll help to keep your BBQ looking and working good for a lot longer. Even when stored away in the garage over winter, keeping your BBQ covered is a good idea.
What are BBQ accessories?
BBQ accessories is an umbrella term for a wide range of tools and other products that are designed to be used to help you cook on your BBQ, as well as clean it, and keep it protected from weather damage.
Obviously, there are some BBQ accessories that are more essential than others, such as good set of BBQ gloves or that rust-proof BBQ tool set, but that doesn't mean the other products shouldn't get a share of the limelight or not be considered worthy of a place in your BBQ arsenal.
Problems with BBQ accessories
Getting a product that you are happy with for a long time to come is largely down to knowing what problems you can possibly expect, and then making your purchasing decisions based on that information in order to avoid said issues.
The main problems you will encounter with most of the accessories we've spoken about in the previous section, are damage from rust and heat. Now, rust only affects metal BBQ accessories, so you could opt for wooden utensils cooking tools instead, but they can be more easily discoloured, can suffer from mold and rot, and damaged by heat. The same goes for plastic ones as they will end up melting if the temperatures get too high.
To prevent metal BBQ tools rusting, many companies have given their tool sets a galvanised coating, and this does help keep corrosion at bay, but the quality of this coating differs from set to set and brand to brand, and if the galvanised coating is easy to chip off, then these tools will start to rust just like any other metal. The bbq will too so here's how to clean and restore a bbq.
Tongs, burger flippers, etc. that have wooden or plastic handles but stainless or galvanised steel heads are a good choice because the handles shouldn't conduct heat and burn your hands. Better quality metal handles should also not conduct heat too much, but you need to be careful with budget BBQ tool sets, and whatever type you decide to spend money on, you should always be wearing gloves when using a BBQ.
Another common problem with cooking utensils is the length of them. A lot of people just buy the cheapest sets they can find that 'look ok'. This is a terrible idea and you should avoid doing the same. BBQ cooking tools that are too short will just result in your arms getting burned, and maybe even your face if you have to lean over a large grill and you'll be saying goodbye to your eyebrows and fringe.
By using a little common sense, and looking at the specifications and details of your BBQ accessories before clicking to add them to your basket, you can save yourself a lot of bother in the near future. Consider the materials they are made from, the size of them, and read some customer feedback to see what people are saying about that particular product.
Best BBQ accessories reviewed
In this section we review the best offerings the BBQ world has to offer when it comes to those must have accessories. We kick things off with the top BBQ tool sets you can get your hands on for the money and we are sure you would not be disappointed with either of them.
After that we review the best of the rest, and that includes cleaning brushes, firelighters, and more. So, let's get cracking…
Best BBQ accessories FAQ
What are the best grilling accessories for a beginner?
If you're just starting out on your long journey to becoming a master griller, you don't really need all that many accessories, and should probably leave things like smoking meat on the back burner (we mean that figuratively not literally haha) until you have more experience.
A good BBQ tool set, like those featured above, that includes a decent spatula, tongs, etc. is essential, and you might want to invest in some BBQ grilling matts for keeping your veggies from getting burned. Of course, if your BBQ tool set doesn't have a thermometer, you'll need one of those too.
Are there any must-have grilling gadgets I should know about?
Although there are all sorts of devices and tools out there these days, most people will not need anything more than a decent digital food thermometer, and if you have a charcoal BBQ, a good grill lighter is a must.
I recently saw that there are now mini robots that can clean your grill for you. I personally haven't tried these yet, but they do look like a lot of fun, and anything that stops me from having to scrub my BBQ clean is more than welcome.
Do I need a BBQ cover?
I my honest opinion, yes. To keep your BBQ looking its best, I suggest doing three things. The first is cleaning your BBQ properly, and that includes using a good hose and spray gun or pressure washer, as well as a good BBQ brush. Second, you should oil up your metal parts after cleaning, and before storage, to prevent rusting, and check to see if you need to repair or repaint every now and again. The third piece of advice is to use a good BBQ cover to stop the weather from damaging it, and not just if you're leaving your BBQ outside either. It's a good idea to buy a proper cover for your BBQ while it sits in your garage over winter.
That's all we have time for today guys, however, I feel we have covered what we needed to and to try to cover all the BBQ accessories available would be an exercise in futility, as there just so many of them.
Until next time. Happy gardening, and barbecuing of course.
---