Written by Terry Smith
Our site is reader supported so when you click a link to Amazon we may earn an affiliate commission.
BBQ Accessories you need this summer (July 2021 Updated Review)
This article was last updated on July 31st, 2021 at 1:30 am
Being a legend at the grill takes more than the latest gas BBQ, a secret recipe or two, and a kiss the cook apron. To really have friends, family, and neighbours, looking on in awe you need a good set of BBQ accessories.
There's a ton of good stuff out there that can help you perfect the art of outdoor cooking, from thermometers and kebab skewers, to stylish BBQ spatulas and tongs, and they each have a part to play in the best BBQ cookouts.
This guide will not only review some of the best BBQ accessories out there, but will also point out a few things to be aware of that could save you from wasting money.
On top of that, we'll briefly explain what the most common BBQ accessories are and what they do, giving you a comprehensive overview and helping you become king of the grill. Well, at least in your own home anyway.
What are BBQ accessories?
BBQ accessories is an umbrella term for a wide range of tools and other products that are designed to be used to help you cook on your BBQ, as well as clean it, and keep it protected from weather damage.
Obviously, there are some BBQ accessories that are more essential than others, such as good set of BBQ gloves or that rust-proof BBQ tool set, but that doesn't mean the other products shouldn't get a share of the limelight or not be considered worthy of a place in your BBQ arsenal.
Popular BBQ accessories
Below we have highlighted some of the most popular BBQ accessories and given a brief description of them, so you can decide for yourself which ones you can't do without.
I know we all like to think that we are so highly skilled that we can guess whether or not a piece of meat is cooked properly just by looking at it, but if you just swallow your pride and invest in a good thermometer, you will not be sorry.
Some meats, such as pork and chicken, need to be cooked thoroughly to ensure that they don't give the person eating them food poisoning. However, what often happens is that this leads to the meat being overcooked and drying out more than it needs to. With a good thermometer, you can be sure that your pork chops are safe to eat while still keeping them juicy and tender.
Unless you want hands and forearms that resemble Freddy Kruger, you really should invest in a decent pair of gloves that are designed to be used while operating a BBQ. Don't just pop on a pair of marigolds or your gardening gloves and think you'll be ok.
You'll want a pair of gloves that are heat resistant, obviously, but also a pair that are comfortable to wear for long periods of time. Another important feature to look for in your barbecue gloves is good grip. You'll be handling all kinds of tools, as well as picking up plates and food, so having a sure grip is essential.
In an ideal world, your BBQ would remain spotlessly clean no matter how many times you used it and no matter what you cooked on it. Unfortunately, reality slaps you out of your daydream after every good cooking session and you find stuck-on pieces of food all over the grates.
As you probably guessed, because BBQ brushes have to be used for scrubbing off hard to shift food remnants, a good one will be very tough and durable. What might surprise you, is the need for it to also be flexible enough to reach down into the nooks and crannies of your BBQ to give it a proper cleaning.
Flare ups happen when fats from your meats drip down onto the flames below and this can cause problems with your cooking times and also the condition of the food on the grill. Flare ups are more common on charcoal BBQs than gas BBQs, but they are preventable.
One of the best ways to prevent flare ups is to use BBQ mats. These simple, but incredibly useful BBQ accessories sit on top of your grilling grates and allow you to cook food on top them, thus lowering the chance of fat dripping down. They can also stop food like prawns, fish, and vegetables from getting burned, so you can see why they are a popular product.
Cooking utensils
These are the things that you'll be using the most so it makes sense to invest in some really good ones. There are some excellent BBQ tool sets available online that contain everything you need, but for the really, really, top stuff you might want to think about buying your tongs, spatula, etc. separately. It'll cost you more, but you'll get to pick and choose from different brands.
Okay, if you are determined to create the best smoked meats, then you need to invest in a BBQ smoker or at least a charcoal BBQ with a smoker feature. Having said that, there are ways to get that smokey flavour with gas BBQs and even electric BBQs to, to some extent.
Wood chips and smoker pellets are what we are talking about, and they work exceptionally well if you get the right brand and product. Out of the two, I would say pellets last longer than wood chips, and can handle higher temperatures, but you have to be careful not to buy pellets that are full of unwanted chemicals, so do your homework before reaching for your wallet.
A well-cooked rack of BBQ ribs is very hard to beat, but they aren't the smallest things you can pop onto your grill, and can even stop you from cooking other things at the same time if your cooking area isn't that large, such as on a portable BBQ.
A rib rack gives you a dedicated area in which to cook those racks of ribs, leaving space for your burgers, sausages and other delights on the grates too. What's more, they promote good all-round cooking of the ribs they hold and there are plenty of articles and videos on how to use them effectively.
Fish has a nasty habit of getting stuck on the grill, and I think this puts a lot of people off cooking things like salmon on their BBQs. BBQ fish baskets stop this sticking from happening, and in addition to that, they make it much easier to flip the fish over without causing it to break apart or lose shape.
Dragging your large BBQ out of the shed every time you want to use it can be a bit of pain, and this is why many people leave theirs outside during summer. Unfortunately, this can lead to weather-based damage and problems with rust and corrosion, not to mention dust and dirt getting blown in.
You can prevent a lot of this unnecessary wear and tear by getting yourself a good BBQ cover that'll help to keep your BBQ looking and working good for a lot longer. Even when stored away in the garage over winter, keeping your BBQ covered is a good idea.
Problems with BBQ accessories
Getting a product that you are happy with for a long time to come is largely down to knowing what problems you can possibly expect, and then making your purchasing decisions based on that information in order to avoid said issues.
The main problems you will encounter with most of the accessories we've spoken about in the previous section, are damage from rust and heat. Now, rust only affects metal BBQ accessories, so you could opt for wooden utensils cooking tools instead, but they can be more easily discoloured, can suffer from mold and rot, and damaged by heat. The same goes for plastic ones as they will end up melting if the temperatures get too high.
To prevent metal BBQ tools rusting, many companies have given their tool sets a galvanised coating, and this does help keep corrosion at bay, but the quality of this coating differs from set to set and brand to brand, and if the galvanised coating is easy to chip off, then these tools will start to rust just like any other metal.
Tongs, burger flippers, etc. that have wooden or plastic handles but stainless or galvanised steel heads are a good choice because the handles shouldn't conduct heat and burn your hands. Better quality metal handles should also not conduct heat too much, but you need to be careful with budget BBQ tool sets, and whatever type you decide to spend money on, you should always be wearing gloves when using a BBQ.
Another common problem with cooking utensils is the length of them. A lot of people just buy the cheapest sets they can find that 'look ok'. This is a terrible idea and you should avoid doing the same. BBQ cooking tools that are too short will just result in your arms getting burned, and maybe even your face if you have to lean over a large grill and you'll be saying goodbye to your eyebrows and fringe.
By using a little common sense, and looking at the specifications and details of your BBQ accessories before clicking to add them to your basket, you can save yourself a lot of bother in the near future. Consider the materials they are made from, the size of them, and read some customer feedback to see what people are saying about that particular product.
Best BBQ accessories reviewed
In this section we review the best offerings the BBQ world has to offer when it comes to those must have accessories. We kick things off with the top BBQ tool sets you can get your hands on for the money and we are sure you would not be disappointed with either of them.
Comparison table: BBQ Accessories you need this summer (July 2021 Updated Review)

Product
What We Think
Price
Pros:

Easy to ignite
Burn for around 10 minutes
No bad odour or fumes
Environmentally friendly

Cons:

Packaging could be better
Not quite as powerful as chemical firelighters

Pros:

All the main tools that you need
Multi-purpose spatula
Great looking tool set
Free BBQ grill mats

Cons:

Thermometer could be better quality
Case could be easily damaged
Sae problem with the tongs as with the cuisinart set

Pros:

Good selection of tools
Made from high quality stainless steel
Digital temperature fork has some good features
The set looks fantastic

Cons:

Tongs don't have any way to lock them for storage
Case looks great but is made from aluminium so might be easily damaged in transit

Pros:

Hexagonal shape stops it rolling around
Creates smoke for around 5 hours
A good spread of smoke in all directions
Wood pellets stay inside and don't spill out
Well built from quality steel

Cons:

Needs to be filled almost full for best results
People who want to smoke for longer than 5 hours may need to buy 2 of them

Pros:

Safe for porcelain and ceramic grill plates
Best cleaning brush
Sensibly priced
Triple head makes cleaning hard to reach areas possible
Sturdy shaft to get decent grip without bending

Cons:

Price has increased much over the last couple of years like all grill brushes.

Pros:

Made from 100% hardwood
No binders or chemicals
Produce a really nice smoke for adding flavour
Good value for money

Cons:

Produce ash that will need to be cleaned out
Not available in smaller bags
After that we review the best of the rest, and that includes cleaning brushes, firelighters, and more. So, let's get cracking…
1. Cuisinart CGS-5020 Deluxe Grill Set, Silver (20-Piece)
If you're looking to buy a new BBQ tool set, you are almost spoilt for choice as there are some great products out there that are available for reasonable prices. For us though, king amongst them is this set from Cuisinart.
After browsing online for a while, you've probably noticed that although most BBQ tool sets look identical at first glance, under closer inspection they each have a few differences when it comes to tool selection. To our minds, this Cuisinart set offers the best selection of tools for the money, and that's why it is in our number one spot.
This 20-piece set includes a multi-purpose spatula, a good set of tongs, 5 kebab skewers, a metal handled, silicone basting brush, a cleaning brush with replacement head, 8 corn holders, and my favourite piece: the digital temperature fork.
All of the tools are made from premium stainless steel and look fantastic. Not only that, but they also feel substantial and I have no doubt they'll be durable. The spatula has a bit of play to it, and this has upset a few customers, but personally, I like to have my spatula with a little bit of flex and it certainly isn't weak or flimsy.
The digital temperature fork is a great addition to this set, and the small display shows not only the current temperature of the food, but also the desired temperature too, and I thought this, plus the light that allows you to use the tool at night, were excellent features.
The only thing that I would like the manufacturers to improve upon would be to add some kind of lock or clip on the tongs that would keep them closed when not in use. As they are, they remain spread open when not pressed together and this makes them take up more space on the table or shelf than is necessary. It's an easy fix with a strong elastic band, piece of wire, etc. but some kind of locking mechanism would be welcome in future.
Apart from that little gripe, I have no other complaints about this BBQ tool set. The tools are good quality and a good length so you won't burn your hands, and the carry case it all comes in looks fantastic too. It's definitely a product worth the current price tag, so check it out.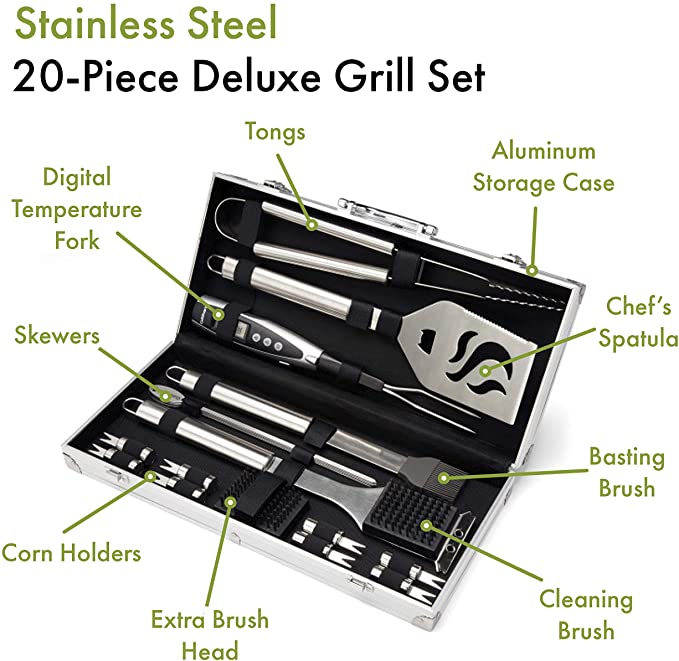 When compared side by side, there is very little separating these two sets, and both offer excellent value for money, with a great selection of practical tools and eye-catching aesthetic. They even have the same spatula design that has a serrated edge on one side for cutting meat, and a built-in bottle opener for when you need a cold beer or soft drink while whipping up a feast.
As well as the spatula, the Romaticist set includes tongs, meat fork, four kebab skewers, a basting brush, cleaning brush with spare heads, and eight small corn holders. Unlike the Cuisinart set, the fork included in this one doesn't double up as a thermometer, but there is a separate thermometer included in the aluminium case.
However, I have to say that the thermometer you get here doesn't feel as durable as the digital fork found in the cuisinart set, and I felt as though I would have to be careful with it or it would end up bending or breaking. This is a shame, as the rest of the BBQ tools feel decent quality for the low price.
There is also the same issue with the tongs that we found in the previously reviewed BBQ tool set, and that is that there's no way to lock them together to make them easy to store away. As mentioned above though, it's an easy thing to fix yourself, but I still thought it was worth mentioning.
These aluminium carry/storage cases that are all the rage these days do look fantastic, but they aren't the most solidly built things in the world and I have seen some customers complain of damage to them on delivery. This has more to do with the logistics company and how they're handled than how they are made, but it is still a possibility that the case will get dented, and I'd have preferred it to be made of a harder metal.
Having said that, aluminium will not rust or suffer from corrosion, so as long as you don't bang it around, it should last you for years. Aluminium is also a very lightweight material and this makes taking the tool set camping with you much easier.

3. Kona 360° Clean Grill Brush - 18 inch.
Keeping your BBQ clean is essential if you want it to last, and even after blasting it down with a pressure washer, there is still work to be done. Stuck on pieces of meat and other food debris can get into places that are hard to reach and become a permanent feature of your BBQ if you don't have the proper cleaning tools.
A good cleaning brush is worth its weight in gold and although multi-tool sets usually contain one, they really can't compare with products that you buy individually like this one from Kona.
Everything about this BBQ brush screams quality, from the rigidness of the brushes, right down to the bristles themselves, and it gives you confidence that this is a product that has been built to last.
The plastic used to make the handle is extremely strong and the same thing can be said about the three brush parts. This means that you can really give it some elbow grease, safe in the knowledge that the tool won't fall apart on you if you do.
Another great thing about this brush's design is that it allows you to clean your BBQ while it is still hot and if you add a bit of water, you can pretty much steam clean your grill. The long length of the brush helps with this, keeping your hands away from the heat as you scrub away.
With some of the flat design BBQ brushes it sometimes ends up with the top of the grill bars being nice and clean but the underneath still being covered in grease and food scraps. With this Kona brush, the bars get cleaned all the way around, hence the 360 degrees that features in the name of the product.
Kona are so sure of the durability of their BBQ that they are offering a 5 year warranty with it, and having used the product personally, I would have to say that they are right to have such pride and confidence in their creation.
4. Natural Eco Wood Firelighters - Wood Wool Flame Fire Starters
there are a lot of people out there, myself included, that just love that smokey flavour that you get from cooking on a charcoal BBQ. Sure, you can buy things like smoke pellets such as the product reviewed below, but to be honest, they can't really match a real charcoal-based smoked taste.
What puts some off using charcoal BBQs is that you can't just press a button and get instant heat like with a gas BBQ or electric BBQ, and instead have to get those coals up to temperature before you can cook.
Usually, chemical firelighters are used and they work really well, but there are some drawbacks to these products. For one, they usually produce a strong petrol-like smell and fumes, and they aren't the best for the environment either, even after you've used them and thrown them in the garbage.
These natural wood eco-lighters from the Wood Barn change all that, giving you the option to get your charcoal BBQ, fire pit, or chiminea, blazing without hurting the planet. Made from wood wool and wax, these eco fire lighters are easy to ignite and then will burn for around ten minutes. Depending on the size of your BBQ, I would say 2-4 of them should be enough to get the party started.
As they are made from natural sources, there is none of that bad odour that comes with chemical firelighters, so it won't affect the taste of your food, and they are completely biodegradable too.
The only complaint I have about them is that they are just loose inside the box. The outer box is nice and sturdy but there is no inner packaging and I think it is something that needs to be addressed by the company. Luckily, these lighters don't really get damaged but when you're paying up to 20 quid for a box of 200, you expect a little better.

5. CookinPellets CPPM18kg Perfect Mix Pellets
Looking for that smokey taste but own a gas or electric BBQ? Don't worry, all is not lost. You can still have a steak or burger that has similar flavours to one cooked on charcoal by using wood pellets like these from Cookinpellets.
They're so easy to use. All you have to do is to either make a smoke ball from tin foil and fill it with the pellets, or spend a little and get yourself a proper pellet smoker like the one from Skoo that we review below.
Once you've got your pellet smoker or smoke ball ready, you simply pop it on the grill on medium heat and watch the magic happen. I've used a pellet smoker on a portable electric BBQ before during a caravanning holiday in France, and I was pleasantly surprised by the results.
Some BBQ pellets contain chemicals and binders, and these aren't what you want to be using and, unfortunately, they are becoming more and more common. So, I was happy to try out these particular pellets as they contain none of that unwanted stuff and are 100% hardwood.
What's more, is that they contain a mix of the most popular woods used for smoking meat, such as cherry, hard maple, apple, and hickory, and produce a really nice smoke to infuse your food with.
At the time of writing, an 18kg bag of Cookinpellets will cost you under 35 pounds, and should be enough to last you for a very long time. I would have liked to see an option for buying a smaller bag for folks who don't smoke meat that often, but I guess that you can always store the pellets well for later.
This is a must have product for those who love the smokey flavour you get from cooking on charcoal, but just don't like the mess those grills can make., but please be aware that using these pellets will create ash that you will need to sweep out later.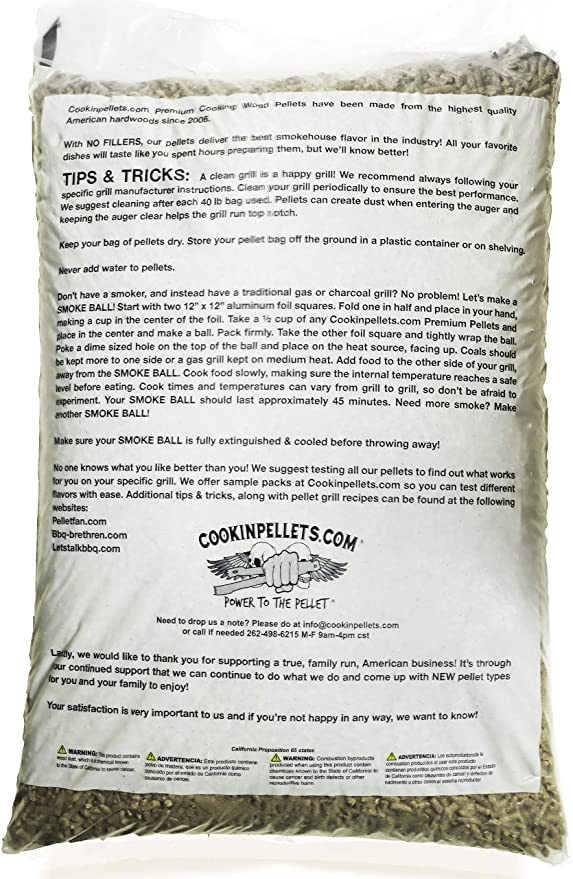 6. Skoo Pellet Smoker - BBQ Hexagonal Smoking Tube + Brush
In my opinion, the best way to make use of wood pellets is to use them in a dedicated pellet smoker, and this one from Skoo is one of the best you can get your hands on right now.
The Skoo pellet smoker has a modern hexagonal design that not only makes it look very cool on your grill, but also has very practical applications such as allowing the smoke to flow out in multiple directions while remaining steady on the grill, and won't roll  around if nudged with your spatula.
There's no chance of your wood pellets slipping out and dropping into the bowels of your BBQ with the Skoo, as it seals up on both ends, and once filled with apple, hickory, etc. will keep those pellets inside until they turn to ash.
Another advantage to this design is that the ash is kept inside the hexagonal shell, and this makes cleaning up much easier. Skoo has even included a cleaning brush that has been made to the right measurements, allowing you to keep your pellet smoker spotless with very little effort.
Skoo's pellet smoker is a sturdy little thing, and feels nice and solid. I've bought cheaper ones in the past and always regret it after it gets squashed or dented by even the lightest things, but I didn't feel that would be an issue here. Made from high quality 303 stainless steel, not only is it tough, but this smoker is highly resistant to rust and heat too.
You get around 5 hours' worth of smoke from a full load of wood pellets when using this smoker, and if you need more, you can always refill or simply have another one ready to go. I did find that the tube had to be filled in order to get it to operate properly though. Using a blowtorch or similar, it only takes a couple of minutes to get the wood chips burning, and then they will be smoking away within another 5-6 minutes or so.
If you've never used one of these products before, fear not, as Skoo have included detailed instructions on how to get the most out of their product, including temperatures and timings, so anyone can create their own smoked delights.
Best BBQ accessories FAQ
What are the best grilling accessories for a beginner?
If you're just starting out on your long journey to becoming a master griller, you don't really need all that many accessories, and should probably leave things like smoking meat on the back burner (we mean that figuratively not literally haha) until you have more experience.
A good BBQ tool set, like those featured above, that includes a decent spatula, tongs, etc. is essential, and you might want to invest in some BBQ grilling matts for keeping your veggies from getting burned. Of course, if your BBQ tool set doesn't have a thermometer, you'll need one of those too.
Are there any must-have grilling gadgets I should know about?
Although there are all sorts of devices and tools out there these days, most people will not need anything more than a decent digital food thermometer, and if you have a charcoal BBQ, a good grill lighter is a must.
I recently saw that there are now mini robots that can clean your grill for you. I personally haven't tried these yet, but they do look like a lot of fun, and anything that stops me from having to scrub my BBQ clean is more than welcome.
Do I need a BBQ cover?
I my honest opinion, yes. To keep your BBQ looking its best, I suggest doing three things. The first is cleaning your BBQ properly, and that includes using a good hose and spray gun or pressure washer, as well as a good BBQ brush. Second, you should oil up your metal parts after cleaning, and before storage, to prevent rusting, and check to see if you need to repair or repaint every now and again. The third piece of advice is to use a good BBQ cover to stop the weather from damaging it, and not just if you're leaving your BBQ outside either. It's a good idea to buy a proper cover for your BBQ while it sits in your garage over winter.
That's all we have time for today guys, however, I feel we have covered what we needed to and to try to cover all the BBQ accessories available would be an exercise in futility, as there just so many of them.
Until next time. Happy gardening, and barbecuing of course.
---