Garden Tool Box » Best bbq grill mat [UK] for smokers: Top bbq mats compared and reviewed
Best bbq grill mat [UK] for smokers: Top bbq mats compared and reviewed
This article was last updated on July 31st, 2021 at 5:36 am
Barbecue season is upon us! And I don't know about you, but I'm really planning on putting mine through its paces this year. Because if there's ever a time for a BBQ and drinks with friends, it's now (appropriately distanced, of course).
I'm a lover of the BBQ and there's definitely a right way to BBQ and a wrong way to BBQ. The biggest game changer to becoming a BBQ'ing connoisseur? Especially with fish and meat that easily burns: a bbq grill mat 🙂
What are BBQ grill mats?
A bbq grill mat is a protective layer to prevent your meat from burning when having a bbq especially when used on a food smoker, charcoal bbq or portable charcoal bbq. The reason being is fat from your meat cannot fall directly below resulting in flare ups that then burn meat. BBQ grill mats are generally made from teflon or fibreglass. They really come into their own for bbq fish and are a super alternative when compared to fish baskets for grilling seafood on the bbq. Whilst they work on a gas bbq, they offer the least benefit on grilling machines.
They honestly make grilling so much easier. Firstly, there's the cleaning aspect because it saves you all that mess. You know when the meat juices starts dripping down into the grates and spilling everywhere…messy. These save you from that as all you have to do is wipe them clean. Kind of loving them already.
Also, they are much safer for anyone who's nervous about cooking on the BBQ or is starting to get into it as they stop the flame ups and prevent the coals from spitting.
Best bbq grill mat top picks
Definitely worth a look around… And for a couple of extra notes, take a look at the Buyer's Guide To BBQ Mats at the bottom.
Happy barbecuing!
Comparison table: Best bbq grill mat [UK] for smokers: Top bbq mats compared and reviewed

Product
What We Think
Rating
Price
Initially designed as an oven liner, the Beenax Grill Mat Oven Liner also doubles up as a super bbq grill mat, well priced and at the lower end cost wise, but that's not why I like this option the most. I like it because it comes as a single sheet that can be cut to your required sizes, or not at all. This flexibility makes a big difference as we all have different sized grills. It's definitely non stick and they last well. You can't go wrong with this option.
The RENOOK Grill Mat Set of 6-100% Non-Stick BBQ Grill Mats are trie and tested. Proven to be safe when cooking on your bbq and most certainly last very well when compared to the other bbq grill mats in this review. Non stick really does mean non stick and they are great for fish too. Overall they are the best bbq grill mat in the UK and this is definitely confirmed by the thousands of positive customers reviews you'll find online, so not just our opinion!
The YRYM HT Copper Grill Mat and Bake Mat Set is a good option for those who are into Teflon. Why you'll like these mats is obvious off the bat. Non stick really does mean non stick. You can expect superb results with these and not just on the bbq too. You'll like the fact these repel water too!
Another old timer that has been around for ages and reliable is the EXTSUD BBQ Grill Mat. This grill mat doesn't absorb meat juices but as far as I am concerned that's fine. I want my meat cooked in all that fat but it might be a slight issue in terms of a charcoal bbq for you. Personally I think this is a super grill mat that really protects your meat and keeps cleaning easy too. These will take short blasts of up to 500 degrees so built well for a variable temperature charcoal bbq.
While the Grill Mat - Set of 5 Heavy Duty BBQ Grill Mats is Amazon's top pick, I prefer the Renook. That's personally preference though as these are higher rated by thousands of real people too. These can be cut and last well. They are easy to clean and generally take high temperatures well without distorting.
1. RENOOK Grill Mat Set of 6-100% Non-Stick BBQ Grill Mats
We're starting off with a very popular option, talked about by lots of our customers. Priced about fifteen quid, the Renook Grill Mat Set of 6 Non-Stick BBQ Grill Mats offers a set of 6 heavy duty mats.
The instructions were nice and easy to follow and the mat was easy to pop in place (just on top of the grill once you've done the charcoal). After testing, I can confirm there are still grill marks on the meat which is great so you don't lose the authentic BBQ cook.
Everything cooked on it really well and I noticed that the meat was so much easier to move around than when it's straight on the grill as it doesn't get stuck which is great because trying to prize bits of meat while trying to make sure none of it falls into the BBQ is not fun. And I love how easy this makes cleaning! Just wash this like you would a pan with some soap and water then it's good as new. And no messy BBQ!
The grill mat is well made and the material means that the mat stays protected from the meat juices as nothing seeps in (and this also makes for a better fry arguably as the meat can cook in its own juices).
The only thing I'd say is that although these mats are reusable, they won't last forever. They're great quality but they will show some signs of wear eventually – but they come in a pack of 6 so you won't be needing a new one any time soon.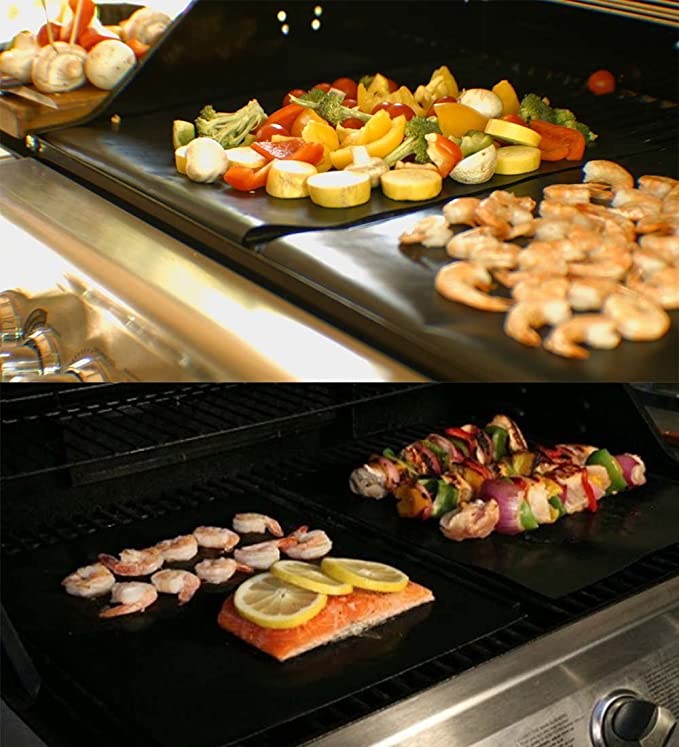 2. EXTSUD BBQ Grill Mat
Another very popular option, the EXTSUD BBQ Grill Mat comes in 2 different sizes (40 x 33 cm and 40 x 50 cm) so you can have a bit more choice depending on the size of your BBQ. These are priced differently (depending on the size) for a packet of 5 reusable grill mats.
These mats are great. They do the job exactly as they should – they're very easy to use and cook with and they keep the BBQ very clean by protecting the grill. I love options like this where you get multiple mats, not just if you need a new one, but so you can have different mats to keep food apart for meat and vegetarian options or even a separate mat for any allergies.
One thing with this mat, as is the slight issue with this material for any grill mat, is the fact that it doesn't absorb the meat juices which does have its downsides. Just bear in mind when cooking something with a high fat content as I've found that too much juice might collect and cause a lot of smoke. So just be a little aware of this!
Overall though, these mats are great and I can see what all the fuss is about.
3. Beenax Grill Mat Oven Liner
With this option, you get just one piece of mat rolled up that you can cut into the size you want and have them in multiple pieces. At the cheaper end of bbq mats, the Beenax Grill Mat Oven Liner Uncut is a great option as it gives you some flexibility with all the advantages of the multipack options.
With the overall measurements of 180 x 40 cm, you've definitely got a lot of mat to play with and you can cut yourself between 4-6 mats depending on the size of your BBQ. I like that you can even cut different sizes which is useful if you need a bigger mat for meat, say, but a smaller one for your veggie options.
This mat is very flexible and easy to cut. Definitely non-stick and good quality. Does it's job brilliantly of keeping all the excess juices and oils off the BBQ and keeping it nice and clean. Everything cooks really well – I might just say maybe have some kitchen roll handy when you're cooking with these mats just in case you do need to soak up a bit of excess liquid.
Apart from that, the mat doesn't take long at all to cool so you can wash it down with some soap quickly after use and then it's ready to use again! Just love that this is a couple of minutes of cleaning as opposed to about half an hour or proper scrubbing.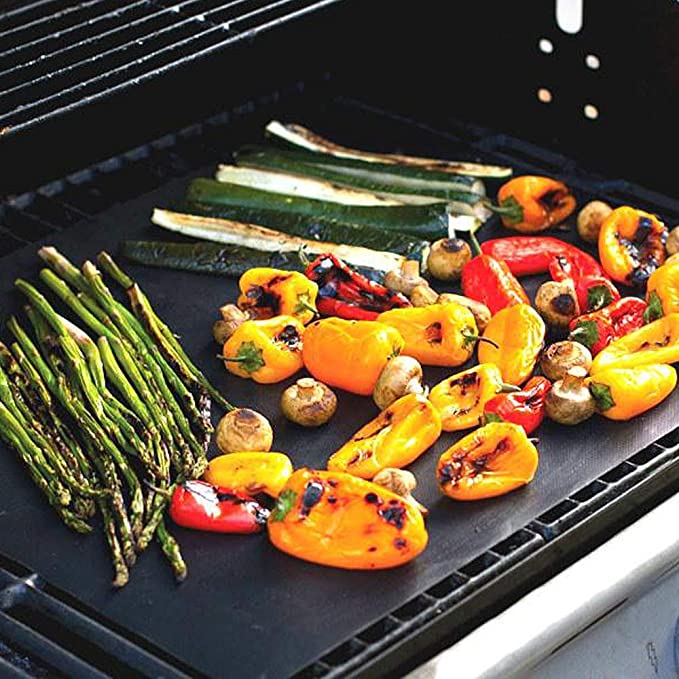 4. Grill Mat - Set of 5 Heavy Duty BBQ Grill Mats
Amazon's choice, here we have another set of 5 with the Grill Mat Heavy Duty BBQ Mats. Measuring 30 x 40 cm, these grill mats are another great option to look at. And these ones offer a money back guarantee if you're not satisfied.
These work really well and keep the BBQ really clean without absorbing any of the excess juices from the meat. Inspired by the last product, I did actually cut one of these in half to see if that could be easily done and it cut very well. So that's a great element if you want some of your grill mats to be smaller, especially if you want to have multiple mats for different things.
Cooks the meat really well (I generally cook with the bbq lid closed with all these grill mats) and leaves the good grilled lines so your meat is all nicely striped. Actually thought the meat was tastier from using the mats than when it's cooked straight on the grill but that might just be me 😀
They are completely non-stick and very easy to clean. Tried this one by adding some cheese to really add to the mess and it still did it's job perfectly.
5. YRYM HT Copper Grill Mat and Bake Mat Set
For the last product, we've also got the priciest out of the selection but that's because they offer the largest size for a set of 5 grill mats, depending on which colour you chose. With the choice of copper or black (the latter being the cheaper option), the YRYM HT Copper Grill Mat and Bake Mat also comes rolled up. What's different about these ones is that they come with two silicone brush for basting.
These grill mats are also really easy to cut up if you want to get different sizes of mats for your BBQ or even for your baking trays. Really easy to clean – they can even be put in the dishwasher if you want, although I wouldn't bother as they're so easy to wipe. They protect the BBQ really well so that none of the excess meat or juices spill down onto the BBQ.
I've reused these ones lots of times and put them through their paces and I can confirm that they have held up very well although I would say that these ones, like the other products, do have an expiry date.
Again, it's worth saying maybe have some kitchen roll handy as the meat juices can collect a bit and move around. A little bit of a shame these mats don't have any ridges to catch the juices but that's easy to work around – and makes for a great tasting fry.
Buyer's Guide To BBQ Mats
No two grill mats are the same despite the fact they look like a black square. Some last for ages, some are expensive but don't justify the price tag. The ones in our reviews most certainly do strike value and quality though. You only get to see the best of the best 🙂 If you search around it's a minefield from poor pricing to products that literally don't work. We've covered you on that.
So much easier, but still a little messy
I absolutely love these mats and they make cleaning up such a treat because you no longer have to scrub your BBQ grill or worry about meat and juices dripping down and creating a mess.
But, as many of these mats don't have ridges in them, or any kind of impression to catch the juices, the liquids do collect on the mat and can just run off if you're not careful or catch on the BBQ and smoke. So just have that in mind and keep some kitchen towel with you just in case! But for me at least, this is so worth it to keep the actual grill clean.
Cleaner BBQ, better cook
Not a tip but just an extra point. I've said this above but I'll say it again. I think these mats actually give you a better cook, and I've heard this from other customers too. Something about the way the juices collect keeps the meat so moist, especially when you cook with the lid closed. So these are definitely worth considering if you want to impress your guests! So when I think about the cleaning saving, I prefer the RENOOK Grill Mat Set of 6-100% Non-Stick BBQ Grill Mats.
Comparing bbq grill mat materials
BBQ grill mats are different in size and design. These are the main features that set them apart and subsequently how long they'll last for when exposed to serious temperatures. If you consider the benefits of Teflon like the YRYM HT Copper Grill Mat and Bake Mat Set and Fibreglass in general cooking you can see how these have ended up spreading into use on the bbq as well. Going right back, non stick trays were for cakes. We are really getting better at making products for different purposes.
---