Garden Tool Box » Best indoor bbq: Top indoor grilling machines without smoke when it's too cold outside
Best indoor bbq: Top indoor grilling machines without smoke when it's too cold outside
This article was last updated on July 31st, 2021 at 9:40 am
The colder weather doesn't have to mean that you go without a juicy, grilled steak or two. The best indoor bbq grills will leave you with a very authentic feel but with the added benefit of not being outside in the freezing cold. And while there's a myriad of ways to keep yourself warm outside; a fire pit, wall mounted heater, patio heater, table top heater, and a extra layers of clothes. These just don't work when it's too cold and that is exactly where the best indoor bbq without smoke comes in.
Best indoor bbq grilling machines
One of the biggest concerns you'll face is the smoke indoors. Quite frankly the newer line of indoor grilling machines are really upping the game. You'll find virtually no smoke at all from some models. Just take a look at my indoor bbq and how appealing it looks 🙂 as far as I am concerned it is the best indoor bbq grilling machine.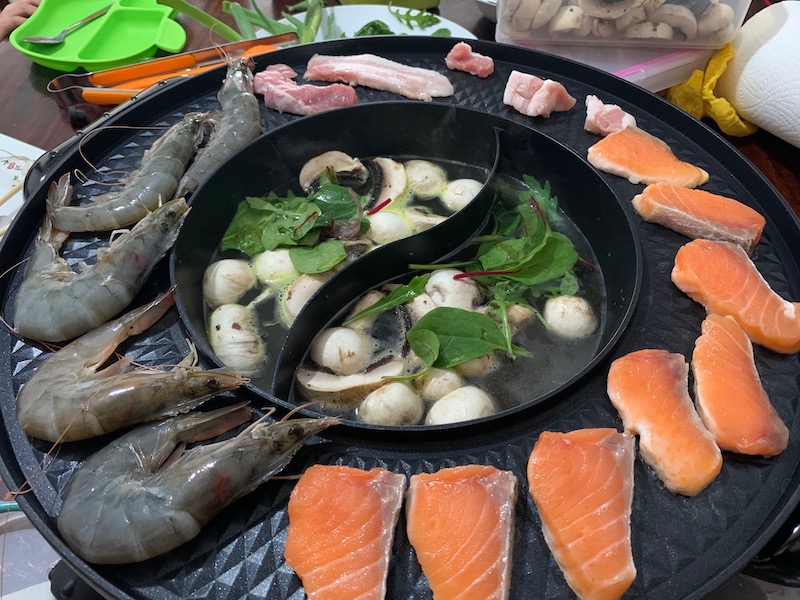 Below you will see that we have reviewed some of the best selling indoor grills for you, giving you our honest thoughts on their cooking performance, features, and who they would be best suited for. So, let's get started helping you to make the right choice when it comes to buying the best indoor grill for your particular needs and if there's more information you might like then the Indoor Grill Buyer's Guide will come to the rescue!
Best indoor grill reviews
Comparison table: Best indoor bbq: Top indoor grilling machines without smoke when it's too cold outside

Product
What We Think
Price

Tefal OptiGrill+ GC713D40 Intelligent Health Grill, 6 Automatic Settings, Stainless Steel, 2000W, 4-6 Portions

Ideal grilling results, from rare to well-done; automatic thickness measurement adapts the cooking for ideal results...
LED cooking level indicator accurately indicates the level of cooking from rare to well-done...
Six automatic cooking programmes (burger
Manual control, featuring four adjustable temperature settings to cook all sorts of food...
Removable, non-stick plates and drip tray are dishwasher safe

Seven portion grill designed with bevelled upper steel lid
Easy to clean, fixed non-stick coated plates and ideal fit drip tray that slides and clips into place...
Grill can be stored vertically
Adjustable rear foot for flat or angled cooking and ready indicator lights...
2-year guarantee plus 1-year when you register the product online

Cooks up to 15 portions of food
Non-stick easy clean removable plates
Angled cooking plates drain away fat and grease from foods Into integrated drip tray...
Variable temperature control and gauge to view cooking temperature
When the grill reaches the required temperature

50,000+ happy eaters across North America and Europe
Fast and Even Heating Technology; Easy to Clean; Gift Combo for Greatest Value;...
Bring Restaurant Style Cookings to Your Home
Perfect Size: The diameter of the hot pot is 9.6'' (24cm)...
Complimentary 30-day return policy for any reasons.

NON-STICK - The large non-stick surface requires very little oil for cooking...
ADJUSTABLE THERMOSTAT - Gives you complete control of cooking times allowing you to grill your food just the way...
LARGE COOKING AREA - At 47cm x 26cm the grill plate gives you plenty of room for all your...
GREAT FOR ENTERTAINING - Grilling food on your teppanyaki is the perfect way to share meals with friends and...
OTHER QUEST COOKING APPLIANCES

Raclette Grills Indoor Raclette Machine, Grill for 8 with Non-Stick Coating Plate, 8 Mini Pans, 1500W Adjustable Temperature Control for 8 Person

✔ Portable Raclette Grill--The electric table grill brings the joy of cooking into your home...
✔ Adjustable Temperature--You can adjust the exact temperature for your culinary creations using the control dial on the front...
✔ Non-Stick Coating Grill Plate--The electric raclette grill is non-stick grill plate
✔ Multifunctional Powerful--Efficient 1500W Portable Premium grill which can be used anywhere
✔ Risk-free--Approved and made of food-grade stainless steel top grill
1. Food Party Electric Grill and Hot Pot
If you buy the Food Party Electric Grill and Hot Pot you will be absolutely over the moon. I was. What a superb way to cook your bbq indoors. Firstly the temperature controls are pretty good which is a marked improvement on the cheaper models. It comes nicely packaged and the lid is a screw to put together. Other than that it is entirely plug and play, zero hassle: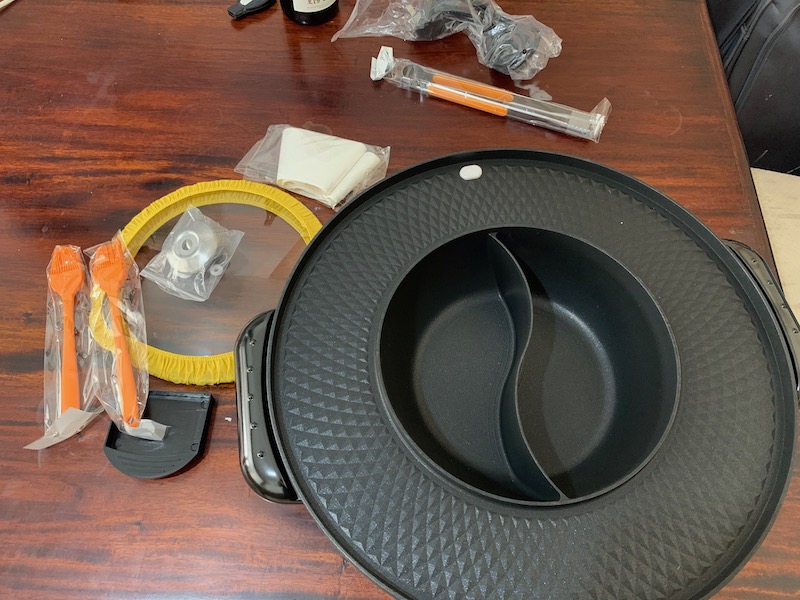 I wouldn't write the Quest off though on a budget as I say that. I would certainly however, pick this if I had the addditional money and without question we go to this grill before the Quest now.
I know this is a bit show off but still, it's very appealing: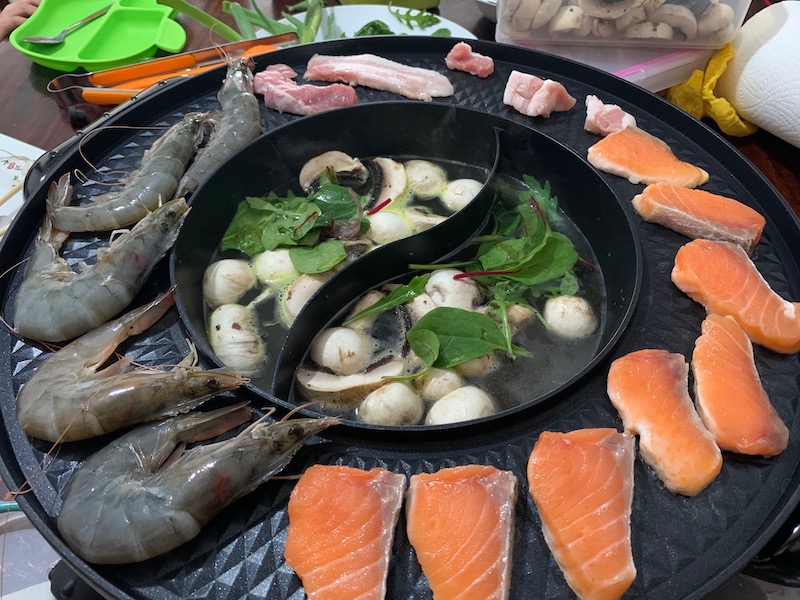 The soup pot is a touch of genius. It works on so many levels. Firstly you get a chance to boil off veg and make a nice soup as you go. While I prefer my meat prepped on the top of the grill you can dip your chopsticks in to 'clean' them. Obviously you're only sitting down with the wife and kids eating this as the norm so you're not worried are you? I'm not sure I'd want this setup with friends, in fact I still would get the Quest out for them as it's far less personal.
It's great for boiling an egg too. You get the chance to make yourself perfect runny eggs time after time 😀
If I had one complaint its the cleaning. The grill isn't removable therefore you have to spend a good bit of time cleaning up but being non stick it's not the biggest hassle and it's a huge improvement on how it cooks food compared to the Quest overall. A definite buy and my pick for best indoor bbq grilling machine.
2. Tefal OptiGrill+ GC713D40 Intelligent Health Grill, 6 Automatic Settings, Stainless Steel, 2000W, 4-6 Portions
Without a doubt, our pick for best indoor grill has to go for the Tefal OptiGrill XL. This thing is incredible, and completely eliminates all the guesswork that is usually involved when trying to cook meat perfectly. The Tefal OptiGrill has some amazing features that can turn anyone into a master chef and produce the kind of steaks that you pay an arm and a leg for down the high street.
For starters, there are 9 automatic programs pre-programmed into the machine, all clearly marked on the buttons with easy to understand pictures of the different kinds of foods that program is supposed to be for. All you have to do is pop in the relevant food option, press the button, and that's it. The machine will do the rest.
This smart machine has been fitted with multiple sensors to assure that your grilling goes off without a hitch. Let's take the load calculator for example. This tells the machine how many portions of meat are on the grill so that it can better calculate cooking times.
Then there is the thickness sensor. This works automatically when you close the grill lid, and is accurate to millimeters. Combined with the load calculator, this gives the OptiGrill all the information it needs to adjust temperature and cooking times for the different stages of cooking. Yes, you heard that right, different stages. This indoor grill will go through pre-heating, searing, and then inside cooking stages automatically, delivering your meat just how you like it.
How does OptiGrill know how you like your steaks? Well, it doesn't, but the clear LED display changes colours to let you know when the meat is rare, medium, or well done. You just have to decide how you want it. The grill comes will die-cast aluminium grease tray and plates that are easily removed and are dishwasher safe, making cleaning up a doodle too.
There is 800 square centimetres of cooking space, and this would be easily enough to cook for six adults, and maybe one or two kids on top of that. It is large (48 x 38 x 25cm approx.) and will take up a lot of space. It is also quite heavy at 5.2kg, but this is not something you're going to be swinging around, so I don't think it matters too much.
The Tefal OptiGrill XL is the most expensive of our featured indoor grills, but at just under 160 pounds at the time of writing this, it is not unaffordable, and in my opinion: it is worth every single last penny if you intend to use your indoor grill a lot. A simply outstanding product, and I don't say that often.
3. George Foreman Large Red Steel Grill 25050
The George Foreman name has almost become synonymous with these folding indoor grills, and it's also a name that is trusted by many, including myself. So, I was both happy and surprised to see that many of their products are currently heavily discounted on Amazon at the time of writing. This particular indoor grill, that is designed to cook seven portions is now on sale for 44 pounds, saving you over 50%. Now, that's a good deal.
There are also smaller versions of this very same model for people who only need to cook 3 or 5 portions, and they are obviously even cheaper, especially because they too have similar discounts. While this model doesn't have all the fancy sensors and options that the Tefal Optigrill has, it still offers up excellent cooking performance no matter what you're cooking. The non-stick plates seem to be built to a higher quality than my old George Foreman that packed in after many years use, and can be quickly cleaned.
The new improvements on this model also include an adjustable foot that lets you angle the grill in order to let fat run out into the drip tray easier. The drip tray itself, fits better than on previous models, yet is easier to remove at the same time.
I tested out this indoor grill's ability to cook sandwiches and it didn't disappoint, and the aforementioned non-stick plates were a god-send after my overloaded cheese ran out of the sides. Here's a tip- use baking paper if you're going to grill cheese sandwiches.
The George Foreman Large Red Steel Grill gets its name from the colour of its lid, and I must admit while red usually isn't my thing, this grill certainly looks better than a lot of other models.
Measuring 37.1 x 37.9 x 10.7cm, the largest version of this indoor grill would be perfect for families where there are three children or more, or for people who like to get a few friends around for dinner. It weighs 3.88kg so it is lighter than the Tefal, and features a cord wrap for easier storage.
For the price, this well-built, good looking indoor grill is hard to beat. It delivers excellently cooked steaks, burgers, chicken, and just about everything else. A real bargain at the moment.
4. Quest 35490 Large Teppanyaki Grill Electric, 2000 Wt
I have to tell you, what a well rounded bit of kit for the money. The temperature is difficult to control but the effect on bacon for the money makes this an absolute bargain and we had literally dozens of great afternoons so far on this: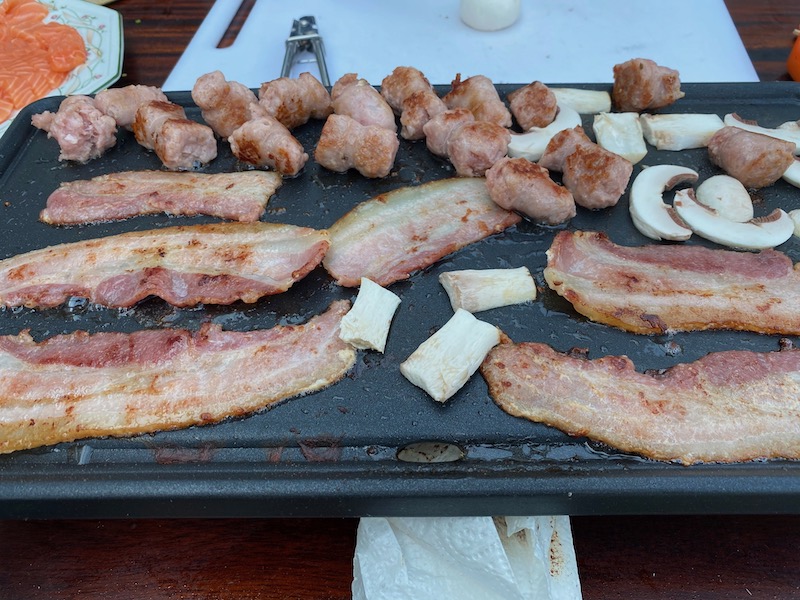 What's more, I absolutely love love love how this cooks down onions in the bacon fat – oh dear me weight gainer but so yummy it's crazy: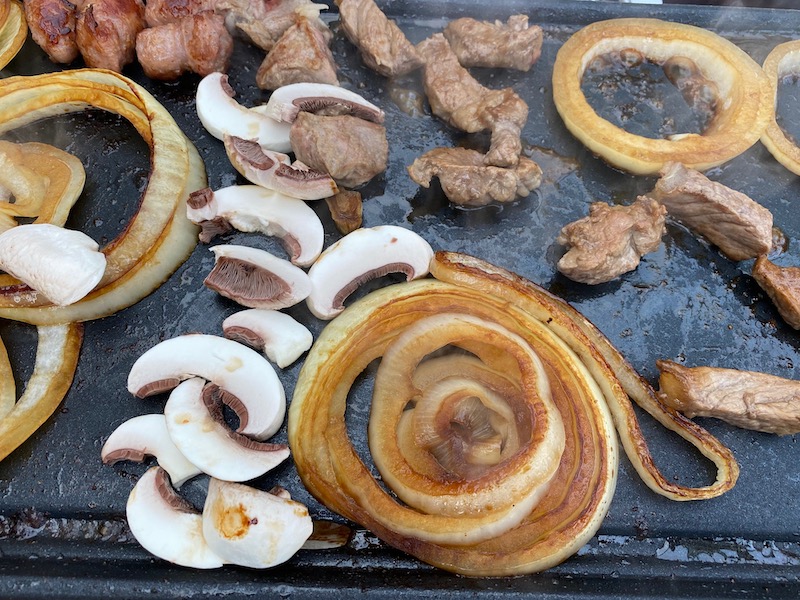 This low cost, flat plate grill is another excellent option for those who intend to cook for more than two people. The non-stick cooking surface only requires a small drop of oil before cooking, and the open style makes it easy to keep an eye on how your food is cooking.
The surface of the grill is large and gives you plenty of space for cooking on, and its streamlined design keeps the weight down to just 1.4 kilograms. This lack of weight makes it possible to take this with you to a friend's house, or even camping if you've got a generator.
What I like about these flat indoor grills, is that they allow you to cook fried eggs and similar on them for a nice breakfast, however the downside is that you can only cook one side of your meat and vegetables at a time, and this does slow things down a little. A controllable thermostat is all about what you get features-wise with the Quest Teppanyaki grill. There are no preset modes or anything like that, but the thermostat does work well, and it doesn't take long to get the hang of it, even though Quest could have made things easier by marking it with specific temperatures rather than just numbers 1 to 5. I have to tell you
I found this particular model very easy to clean, the grease and fat from the food you cook enters the grease tray through a drainage hole, and then the tray just pulls out. It's really simple and works well. There isn't much more to say about this indoor grill really. It is good for what it is: a basic flat grill that doesn't cost too much. It feels like it has been put together well, and is not too flimsy, although the power cable isn't the bet and isn't very long either. Still, for under 30 pounds (at the moment) you can't really grumble too much.
5. Raclette Grills Indoor Raclette Machine, Grill for 8 with Non-Stick Coating Plate, 8 Mini Pans, 1500W Adjustable Temperature Control for 8 Person
Raclette grills are so much fun, and add an extra element to your dinner party, or just to enjoy with the family. If you've never seen or used a raclette grill, allow me to explain. Basically, you have a cooking plate on top where you can grill your meats and vegetables, and this is heated from underneath by a heating filament. Then, below that filament is another level that houses a number of mini pull out pans.
These pans are meant to be used for melting cheese in, but of course you can use them for cooking any side dishes or sauces that you like. This set includes 8 of these mini pans, but I only ever used 4 a time. This is because the pans can get melted cheese stuck on them as it dries, so I chose to scrape ones that I had just used to clean them, while others were cooking the next batch.
Generally, people cook smaller pieces of meat when they use a raclette grill, but that isn't to say you can't cook a full steak or two on there. The 44.7 x 33.5 x 19.5cm dimensions give you plenty of room on the grill plate to cook just about anything you like. The grill plate is non-stick and a decent size, so it should be fine to keep four people fed. It doesn't require a lot of oil either, which makes cleaning easier.
Talking of cleaning, I liked the fact that the grill plate can be completely removed so I could take it over to the sink and give it a good rinsing.
A couple of little gripes though. First is the thermostat, which is not marked with temperatures so using this indoor grill properly will take some getting used to, and secondly, the power cable is not very long. Again, there aren't many controls or special features on this indoor grill. You basically turn it on, select the heat level you want, wait for the light to come on to let you know it's ready, and throw your meat on the grill plate. There is a temperature control that kicks in at 260 degrees, and that helps to stop things from burning, but apart from that, it's a pretty basic machine to operate.
At the present time (November 2020) this raclette style grill can be yours for just over 40 pounds on Amazon, and I think that is a very fair price. These types of indoor grill have a fun factor that is hard to put a price on, and with everyone popping their own food onto the grill and managing their side dishes, there is a sort of happy energy that comes with it. Definitely worth a try if you've never one it before.
6. George Foreman Indoor Outdoor BBQ Grill 22460
The strength of the George Foreman indoor outdoor BBQ lies in its versatility. Designed to look just like a charcoal BBQ (more or less) but with the ability to be taken apart so that you can use just the top section as a table top indoor grill, this product gives you the best of both worlds.
The round cooking plate can fit a ton of food, so people with a few kids should certainly give this more than a passing glance. I think at one point I had teaks, sausages, burgers, and a few shish kebabs all going at the same time. Like all George Foreman grills I've tried, the non-stick cooking plates are high quality and very easy to wipe clean. The fat runs off nicely into the grease tray without issue too. What's more, you can remove the cooking plate completely and give it a good washing in the sink. As well as the removable and collapsible stand, this model also comes with a cover with a built in thermometer. I really liked this, as on a windy day I could pop the lid on to keep dust and debris from blowing onto the food while still monitoring what's going on inside.
The controls are extremely simple and easy to use, with a simply numbered dial to select the heat level. This thermostat is removable and acts as a sort of safety cut of switch as well as regulating temperature, as the grill won't work without this being plugged in. Apart from this plug in device, there aren't any other controls and this makes it great for people who don't like to think too much about their cooking, but for all you 'professional garden chefs' out there it might not give you enough control over the cooking process. I personally found it very easy to get the food cooked how I wanted it, but I have experience with this brand.
At 6.26kg this isn't a light indoor grill, but that extra weight does make you feel like this thing has been built solidly, so I wasn't complaining. The George Foreman indoor outdoor BBQ grill is on sale at the moment, and can be yours for just shy of 80 pounds. While not the cheapest indoor grill on the market, it is very large and would suit larger families or people who entertain a lot.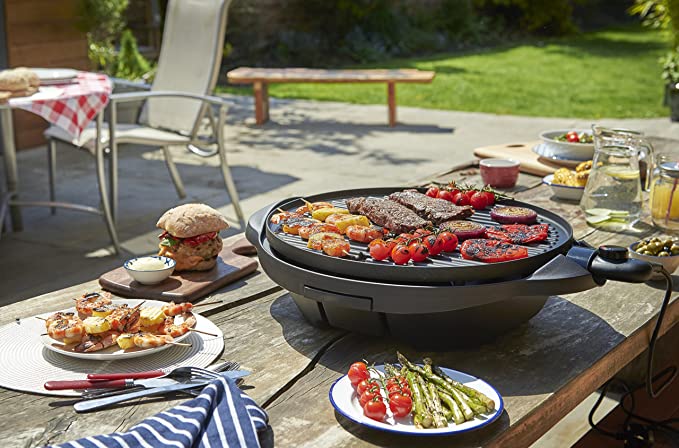 Article you might like:
Indoor Grill Buyer's Guide
Still not sure about which product to go for? Well, maybe this buyer's guide will help you to make up your mind.
Let's take a look at the things that make up the best indoor grills.
Size and cooking area
Indoor grills are not all built the same so be sure to check both the dimensions of the product plus the cooking area. It is possible that an indoor grill will be larger in dimensions than another but actually have a smaller cooking plate. While it is nice to have a huge indoor grill to cook on, you have to think practically. Do you have enough space on the table or kitchen side to house it? Do you really need one that size in the first place?
If there's only two or three of you, there's not much point in spending a lot of money on a giant indoor grill when a smaller one will suffice.
Temperature control
This is really important if you are very particular about how your food is cooked. Some models will only have a set number of presets and often these are not labelled with the exact temperature. This is usually fine for most people, but others who like to perfect the art of grilling will want to look for something with finer controls.
Some products have built in temperature regulators too, and these help to keep the heat constant to avoid burning the food.
Some of the best indoor grills like the Tefal OptiGrill have multiple options when it comes to heat settings, really allowing you to get things how you want them; for a price of course.
Special features
Helpful features to look out for are sensors that regulate temperature, extractor fans to get rid of smoke, and high-quality, non-stick plates. Plates that can be removed for easy cleaning are very handy, as are ones that can be just washed in the dishwasher. Likewise, an easy to remove grease tray is a good feature on an indoor grill.
Types of indoor grill
There are different types of indoor grill. First off, we have the flat, open top type. These usually offer up a large cooking surface and make monitoring the cooking process easier. However, you can only cook one side of the food at a time so they are slower than folding grills.
Folding grills cook both sides of the meat at once, so they are obviously much faster than open grills. They are good for making grilled sandwiches too. The downside to folding contact grills is that they often have smaller cooking surfaces.
Then there are raclette grills. These are just like open grills, but they have the heating filament in the middle and then an area for mini-pans to slide in underneath. These are great for preparing multiple dishes at once, and are perfect for cheese lovers.
Easy to clean
Grills don't stay clean very long, and some can be a pain in the backside to clean, so choose wisely. As already mentioned, removable cooking plates are the best, and better still: ones that can be put in the dishwasher. 
The quality of the non-stick coating on the cooking plates will also play a large factor on how easy it is to clean them after cooking.
The size of the drip tray is important too. If it's too small, it could overflow while you are cooking, especially if you are cooking for a lot of people, and this will cause a mess and be potentially dangerous if it leaks into electrical components.
Build quality
There are some very cheap indoor grills out there, and while there are some bargains to be had, I would advise paying a bit more for a trusted brand that you know will be durable and last a while.
This is also a safety issue. If the makers of a certain indoor grill haven't even checked that there are screws missing, or similar, do you really think they checked that the product was safe to use? Do yourself a favour and pay a little more for some peace of mind.
How does it look?
Your indoor grill is likely to become a permanent, or at least semi—permanent, part of your kitchen so it needs to be something you don't mind looking at all the time. Some designs just won't fit in with certain types of kitchen that well. Let's say you have a rustic, traditional looking kitchen. Do you really want a shiny metallic grill? It's not for me to say, as it is all about personal taste, but looks are important.
Ok, that buyer's guide brings this article on the best indoor grills to a close. I think we offered up a good selection for you to think about here today, and hopefully made your buying decision a little easier. Until next time here on Garden Toolbox. Goodbye.
---