Written by Terry Smith
Our site is reader supported so when you click a link to Amazon we may earn an affiliate commission.
Best Greenhouses [UK] Reviewed: Polycarbonate, Plastic, Wooden Compared
This article was last updated on July 31st, 2021 at 8:34 am
What is a greenhouse and how is it useful?
Greenhouses essentially elongate the amount of time you can grow for in the UK. When you look closely and compare greenhouses there are many types; polycarbonate, plastic, and less common wooden greenhouses which have slowly been phased out over time and wood has evolved into plastic down to cost and maintenance. This is a little sad in itself as timber is and was a superior looking greenhouse. And it doesn't just stop there, you get large and mini greenhouses too, compact greenhouses – you name it. A greenhouse for everyone then!
Having the right greenhouse will allow you to grow all year round in some situations and worse case allow you to get a jump start on the competition (next door :D). A greenhouse can elevate your enjoyment in the garden, and it should be built to last, priced well, and keep the temperature constant (in combination with a greenhouse heater) well so we've picked the best greenhouses on those criteria
There was a time when I would have laughed in your face if you told me that I should invest in a greenhouse. Back then I thought greenhouses were only for retired people whiling away their days on their allotments. How wrong I was.
Fast forward (more than) a few years and I am the proud owner of not just one greenhouse ( and a decent shed base) but a selection of them, and I'm not alone. More and more people, both young and old are seeing the benefits of owning a greenhouse and this has seen a surge in their popularity, especially now that greenhouse heaters are making them all the more comfortable and useable in the winter months for growing.
For some people it is a great way to save money. The cost of buying new plants every year after the harsh British winter has killed off your old ones soon adds up, not to mention the time it takes to care for and grow those plants. A good greenhouse can be the perfect place to keep those precious, botanical beauties safe and alive until it is safe for them to go outside again.
For other people, the idea of GMOs and all the chemicals that are sprayed or added to food these days is a big put off and so they want to try growing their own organic vegetables at home. Some even do this on a larger scale for the sake of selling their produce at the local market or even online.
Cooking videos are some of the most popular on Youtube and this has seen a boost in the numbers of lot of 'home chefs' who are also buying greenhouses. There's nothing quite like using your own home grown, fresh herbs and spices in your recipes rather than the dried ones you buy at the local supermarket. It can be a good way to get your hands on hard to find ingredients too.
For gardening enthusiasts, a greenhouse can be the only way to grow those tropical plants that they fell in love with on a trip abroad, or maybe just something that caught their eye on the internet.
Whatever the reasons are for your interest in owning a greenhouse, it is important to get a good one. So, we have reviewed the most popular greenhouses out there right here on this page for you, and also added a Best Greenhouses Buyer's Guide for the UK for good measure.
We hope you enjoy.
Comparison table: Best Greenhouses [UK] Reviewed: Polycarbonate, Plastic, Wooden Compared

Product
What We Think
Price

Virtually unbreakable 4 mm twin-wall polycarbonate panels block up to 99.9% of UV rays and diffuse sun light eliminating...
Rust resistant aluminum frame with 24 sq
Includes adjustable roof vent
5 year limited warranty and US based customer support
The Nature Series works with Palram' s line of hobby greenhouse accessories to maximize space and a more productive...

Perfect for raising seeds and seedlings
Compact 4 tier design
Four strong wire shelves with 8kg/18lbs max
Powder coated steel frame for extra strength and durability
Manufacturer 2 Year Warranty Included

GROW! GROW! GROW! It's a paradise for houseplants
STURDINESS, STABILITY, SECURITY: To make a stable home for your plants
THE SECRET TO A LONG SERVICE LIFE: Do you notice the embedded green grids...
A GARDEN WITH ROOTS: Let the greenhouse take root into the soil with the included 6 U-shaped stakes and...
WHAT YOU GET: A greenhouse

Clear, virtually unbreakable polycarbonate panels
Sturdy, rust resistant aluminium frame for long lasting durability
Includes vent, gutters, galvanized steel base
Maintenance free, easy assembly
5 Year limited Manufacturer's Warranty

TwinWall, virtually unbreakable polycarbonate panels
Sturdy, rust resistant aluminium frame for long lasting durability
Includes vent, gutters, galvanized steel base
Maintenance free, easy assembly
5 Year limited Manufacturer's Warranty

VonHaus Compact Walk In PVC Plastic Greenhouse with 6 Shelves

Pros:

Low price, yet still high quality
Clever design features, like the four removable shelves for indoor space optimisation

Cons:

No added ventilation options, apart from the one panel door
More of a shed shape than tunnel, giving users slightly less space for growing.
1. Palram Nature Series Mythos Hobby Greenhouse
The Palram Nature Series Mythos Hobby Greenhouse is a great comparison to the Harmony series. They are very similar with a couple of specialised differences. The Harmony allows maximum transmission of sunlight to enhance growing which this does to an extent. You have to love the word 'virtually'. It's a way of saying it really shouldn't but if it does, you aren't covered :D. With that said the twin 4mm polycarbonate walls really are virtually unbreakable 😀
The polycarbonate panel design blocks almost all harmful UV rays which is great news. It's hard to compare these to a cheap plastic greenhouse but I'll try – what you lose in money you gain in reliability. Whilst the Palram range takes a bit of a beating all over the board for windy conditions, the lightweight plastic greenhouses fare much worse. In fact, they are practically a kite 😀
First up is the Palram harmony which is proving to be a very popular full sized greenhouse, gaining a lot of praise from its many happy owners.
The Harmony's lightweight aluminium frame sits on top of a solid base made from galvanised steel. These materials have both been chosen carefully, but for the same reasons- to prolong the working life of the greenhouse.
Aluminium is a metal known for its extremely high resistance to rust and corrosion, a super important quality to have in a greenhouse that will sit outside in the elements all year round. The only thing that people notice with aluminium is that there is a white powdery film that develops on the surface of the material after a while, but Palram have seen to this by powder coating the greenhouse's frame. This has also given the customer a choice of colours- silver, green, or dark grey.
Galvanised steel is also extremely durable and robust due to its protective zinc coating, which again protects it from rust. Even if a small area is damaged on the base, it will not rust due to the zinc coating's cathodic protection properties. All of this means that this greenhouse is virtually maintenance free.
Assembling this greenhouse was straight forward and I had the thing up and standing stable within five hours, plus the time for preparing the base.. Although part of this was because this wasn't my first rodeo and I've picked up a few tips over the years. First time greenhouse builders might get a little frustrated but if you follow my tips below, as well as the instructions that come with the greenhouse you will find it much easier.
I've read online that some people have had problems with aluminium/polycarbonate greenhouses collapsing in strong winds and I think I know where they are going wrong. The trick to making these lightweight, low cost greenhouses strong is twofold-
First make sure that your base is very flat. This ensures that all the parts will line up correctly and that any stresses on the frame will be spread out properly. Don't rush this part of the set up as it is probably the most important for the structure's stability.
Secondly, don't tighten up any bolts too much as you are building the frame as you will have to make small adjustments until everything is in place. Once you've got all the pieces together, including sliding in the polycarbonate panels, then you can tighten it all up making sure it is firm and secure.
The polycarbonate panels aren't quite as good as glass ones for letting in light, but they do a good enough job (around 90%), are better insulators, and are much safer than dealing with glass. Also, polycarbonate is far less likely to break if hit by a stray football, so it's a good option if you have young kids.
Palram's Harmony model has a few nice extra features such as guttering, a hinged and lockable door with magnetic stop, and a roof vent that you can open to let some more O2 into the greenhouse.
It is available in 6 different sizes ranging from 6x4ft to 6x14ft and comes with a 5 year limited warranty.
Have limited space in the garden or just want a low cost way of keeping your flowers and herbs safe from the weather and family pets?
VonHaus has this compact walk in greenhouse that might be the thing you are looking for.
Standing just under 2 metres high, a metre and a half wide, and 73cm deep, it shouldn't be hard to find a spot for this compact greenhouse. Inside you will have three wire shelves on each side that can hold up to 8kg each and spaced 41cm apart vertically. The top shelf actually has quite a bit of extra space above it so it would be a good place to put your taller flowers and plants.
All the shelves are removable anyway, so it's up to you how many you want to use and in what orientation.
It is a simple design, comprised of a powder coated steel frame with an angled roof section to help with rain runoff, and a transparent PVC cover to go over it.
The cover is designed to be weatherproof while still letting enough light and heat in to keep your plants happy and the door can either be completely rolled up for easy access and ventilation, or rolled down and secured by the zip to protect the contents of the greenhouse.
Putting the VonHaus compact walk in the greenhouse together is a piece of cake and only requires you to slip the steel frame bars into the provided connectors then put the cover over it. You need to take care with the PVC cover as it isn't the thickest thing in the world and could tear if it gets caught on something.
However this simple design comes at the cost of stability in strong winds, but this is easily countered by weighting the bottom of the greenhouse, or even just putting heavy plants in pots on the bottom shelf.
I don't know how well it would stand up to heavy snow accumulating on top of it though so you'd have to keep an eye on this during winter. Then again you could always take it apart in no time and find somewhere else for your plants such as indoors as a temporary solution.
VonHaus are offering a 2 year warranty but I'm not sure if that applies to the PVC cover too, and that for me is the weakest point of this otherwise very handy little greenhouse.
I suppose looking online to find a thicker replacement cover for those months when the weather is particularly harsh is an option.
Apart from a few little niggles, (and for under 35 quid we can't really grumble too much can we?) this is a good alternative to a traditional greenhouse for people just getting onto growing, or someone who just wants a compact, easy to set up place to keep their plants protected.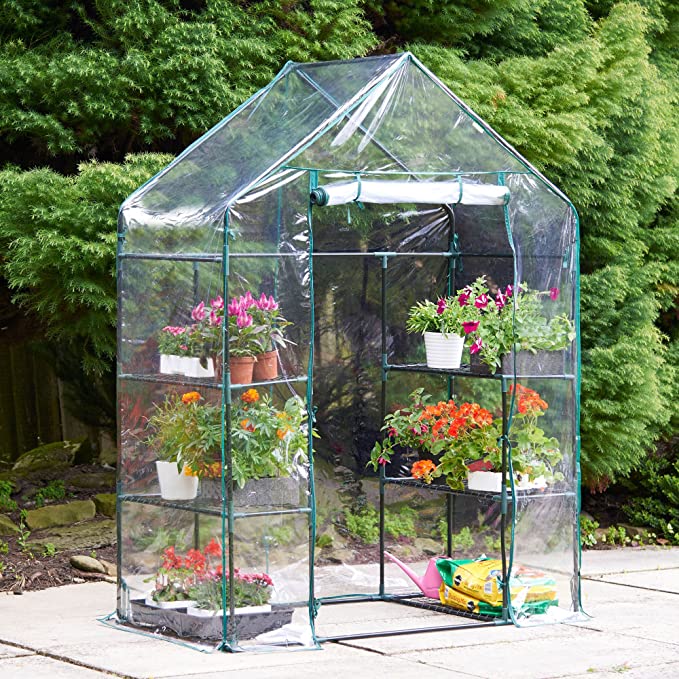 For people living in flats or other confined properties with no garden, the idea of growing your own vegetables, herbs, or just some nice flowers and plants, may seem like it's not an option. However, with this 4 tier mini plastic PVC greenhouse, it is now more than possible for you to live those green fingered dreams.
Measuring a 158cm tall, 69cm wide, and 49cm deep, you could easily have this standing out on your balcony or front door without it getting in the way. It's compact size would also make it ideal for small gardens.
Its design is the same as the VonHaus walk in the greenhouse we just reviewed above and shares the same powder coated steel frame and PVC cover features. This obviously makes it incredibly easy to assemble and we had this up in about 10 minutes, maybe less with zero tools used.
This mini greenhouse can hold a surprising amount of plants thanks to the four strong wire shelves spaced 33cm apart from each other in a 4 tiered design. The shelves are exactly the same as its big brother, the walk in greenhouse, and so can hold the same maximum weight of 8kg (you need to secure the shelves yourself with zip ties or similar). Again, the top shelf has more space above it and the shelves can be removed as you wish.
Unfortunately, this model also shares its sibling's downsides too. Namely the fact it is very lightweight and needs to be weighted down for stronger winds, and the PVC cover will probably deteriorate after a while. I have seen covers from other brands that would fit this model though so it shouldn't be too hard to find a replacement when the time comes, which I would guess to be about a couple of years. Not bad for a product that is priced as low as this that's not bad at all.
That last sentence pretty much sums this product up. Sure there are a few flaws and you will have to find some 'solutions', but they are all easy to work around and small things like this are expected in lightweight, budget models of any product.
All things considered, this is a cool little way to grow your own herbs or brighten up your balcony with some cool plants and flowers for very little cost.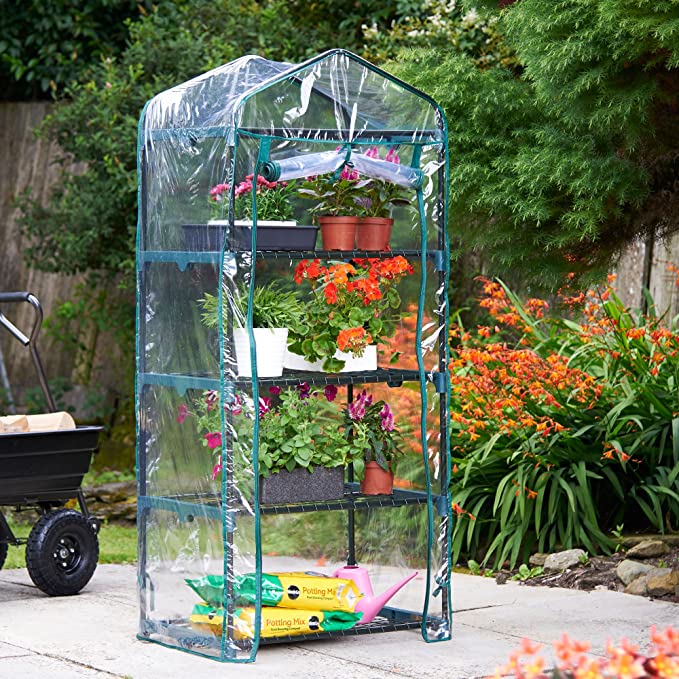 If you're looking for a greenhouse that is inexpensive, doesn't take up a huge amount of room, yet still has a good deal of shelf space for your plants, it might be worth taking a closer look at this SONGMICS garden greenhouse.
There are ten wire mesh shelves that fit into this 195cm (H), 143cm (W), 143cm (D), greenhouse so you have more than ample room to fit a good selection of plants in there while still being able to move around easily. The shelves are spaced vertically apart at 47.5cm too, giving your botanical babies space to grow, and SONGMICS have included cable ties in the packaging to secure the shelves in space.
The frame is made from powder coated steel tubes measuring 16mm in diameter and they all fit together easily using the plastic connectors and the odd screw here and there. Assembly should only take 30-45 minutes depending on how many hands are on duty and how much effort you put into it.
Instead of a PVC cover, this greenhouse has a thicker and more durable 140gsm polyethylene sheet that has a grid woven into the plastic material. Because this material is stronger than PVC, it allows for some nice little extras that the VonHaus products don't have- windows with rolling flaps that can be used for extra ventilation. There are two of these, one on each side, and also a large opening on the front with a similar rolling and zipped door.
Often with low cost greenhouses it's the little things that breakdown first such as the zips on the doors, but thankfully SONGMICS have fitted this greenhouse with a resin zipper which is of higher quality than some of its competitors. It won't last forever, but it is better than what is usually offered for this price.
To help keep this lightweight greenhouse in place during windy weather, the manufacturers have made the cover about 10cm longer at the bottom than what is needed to cover the frame so it can be weighed down with rocks or something similar.
Also included in the box are 6 U-shaped stakes and six ground stakes to pin it to the ground. They should be enough to keep it stable in most conditions, especially when all ten shelves are weighed down with potted plants.
There are greenhouses out there on the market that look very similar in design to this one, but as always the devil is in the details, and after reading customer feedback on those other products, it was clear that they just don't offer the same level of durability as this one and have inferior materials as there covers.
This SONGMICS greenhouse is a good cheap alternative to a glass or polycarbonate model. It offers plenty of space for your plants, is easy to assemble and take down if needed, and it won't cost you much more than fifty to sixty pounds.
There's not a lot to grumble about there.
6. Palram Mythos 6x4 ft Silver Greenhouse
The Mythos model is our second greenhouse from Palram that we feature here today and in many ways is similar to the harmony we already reviewed.
Getting it up and standing took around the same time to, about 3 hours with help from a friend, and there were the same issues with getting everything lined up properly to contend with. A little bit of perseverance, patience, and a bit of common sense will see you through it just fine though.
Thankfully the lightweight nature of the aluminium frame makes things less physical taxing, and this model has larger, but less, parts to put together than the Harmony and overall I found it easier to put together.
There are also less polycarbonate panels, and again, they are larger pieces than its sibling, with full-size panels reaching up to head height from the ground and this gives the Palram Mythos a slightly different look.
Also separating the Mythos greenhouse from the Harmony is the fact that these polycarbonate panels are not completely transparent due to their corrugated styling and twin wall design. This design is better at blocking out harmful UV rays but also means that there is a lower percentage of light coming through when compared with clear polycarbonate panels at just 70%.
Extra features include a decent guttering system with downward spouts on the corners that do a good job of redirecting water in a specific direction. I liked this because I had the idea of putting a bucket underneath to catch the runoff water from the spout and using it to water the plants inside.
In the roof of the greenhouse there is a panel that can be opened up and outwards to provide more ventilation and there is a special latch that will keep it in place for you at the angle you choose.
The front door can be hung with the hinge either on the left or right, has a magnetic door catch, and a lockable handle. Despite being lightweight, it doesn't feel flimsy or give you any reason to worry, much like the rest of the greenhouse structure as long as you have constructed it properly on a flat base.
Speaking of bases, this model has the same galvanized steel frame base as the Harmony and should last for years without rusting and deteriorating. The same can be said about the aluminium frame sections, and best of all this greenhouse requires no maintenance. There is no painting or staining like you have with a wooden framed greenhouse.
Available in four different sizes ranging from 6x4ft to 6x10ft and in either green, silver, or grey, there are enough options there to keep most people happy. There are also extra accessories available to buy separately from Palram should you so wish.
Inside the greenhouse there is ample space for a good variety of plants and flowers and a decent amount of headroom. There are no shelves included in the boxes so you will have to buy them separately. Personally, I like this idea more than having the shelves supplied as I can pick and choose the size and orientation myself.
In conclusion, I have to say I liked the Palram Mythos greenhouse. It arrived in two compact boxes, was fairly straightforward to set up, and has some features that I thought were practical. It is fairly priced and comes with a 5 year warranty.
The Finether arched walk-in greenhouse (style-1) is a way for you to get a very large, protected growing space for a relatively small amount of money.
Measuring 9.84 x 6.56 x 6.56 ft, this greenhouse is big enough to grow plenty of fruit and vegetables, large plants, all kinds of flowers, keep your bags of soil in, and still have room to move around.
The frame is comprised of 25mm (diameter) galvanised steel rods that you have to screw together, and thankfully there aren't too many separate parts, so construction wasn't too much of a headache.
Covering the frame is the thick green polyethylene cover which is slightly transparent and designed to block UV, rain, frost, and withstand snow build up on top of it. The material is good quality and shouldn't tear too easily unless you are extremely heavy handed with it.
My favourite feature about this greenhouse, apart from the amount of space that it offers inside, are the six mesh vents/windows which are positioned three on each side. They are easy to open by rolling them up and can be sealed using Velcro and it's a good way of letting in that fresh air without inviting an army of bugs in.
As there are six of these, you can decide how many to have open and in which places depending on the current weather and your plants' needs.
The front door is also a roll up affair and is a good size, making it easy to carry in big bags of soil and other gardening equipment such as large plant pots inside.
As you may have noticed, we get a fair bit of wind in the UK and this is a bit of a problem for lightweight constructions like these, so it's always a good idea to fix your greenhouse down. Finether have thought of this and included four J-hook anchors as well as 4 ropes so you can secure the greenhouse to the ground or something else that is unlikely to move.
Coming with a 2 year warranty, quick delivery, and costing under 80 pounds for this extra-large model, I don't really have a lot of complaints about the Finether arched walk-in greenhouse and I'm sure it won't disappoint.
Best Greenhouses Buyer's Guide UK
Feeling a little perplexed about what type of greenhouse you would like? Who could blame you?
With so many different styles, models, etc. that are available these days it can be hard to make a choice that you feel sure about.
To provide a little assistance in this matter, we have put together this buyer's guide that will hopefully shed a little light on a few of the things to be aware of.
Assembly compared
Depending on what type of greenhouse you opt for be ready for assembly times ranging from an hour to a whole day. If you opt for the Palram Mythos 6×4 ft Silver Greenhouse then expect to take a as much as a whole day. This is pretty much due to the polycarbonate greenhouses being fixed in place, requiring real structure – they even generally come with their own bases.
The VonHaus 4 Tier Mini Plastic PVC Greenhouse by comparison doesn't even need any tools to assemble. So factor this into your buying decisions before biting the bullet!
Glass, plastic, or other material
One of the biggest decisions to make is what material you are going to settle on.
Glass greenhouses are the most traditional and will let in a lot of light. The downsides are that glass is dangerous to work with, breaks easily, and these greenhouses can cost more than plastic ones.
Plastic greenhouses, such as ones with polycarbonate panels, are a popular choice these days. Usually arriving as a full kit that includes everything you need to set them up, they can be constructed fairly easily. Plastic greenhouses are less likely to break through impact and can be better insulators than glass. On the other hand, the flexibility of materials like polycarbonate means that the rigidity of the structure can be compromised somewhat and so the frame needs to be constructed very accurately.
The cheapest type of greenhouses are the ones with a polyethylene or PVC plastic cover fixed over a metal frame. They are incredibly easy to set up, are very low cost, and do a good job of protecting your plants. The cons are that these greenhouses aren't the most durable and are vulnerable to tearing in strong winds.
Frames
The most common frame materials you will see are wood, aluminium, powder coated steel, and galvanised steel.
Wooden framed greenhouses have the most traditional look and are strong and sturdy. They do tend to cost more though, both initially and through regular maintenance that you will need to perform.
Aluminium is a metal that is rust proof and very lightweight, making these frames less physically demanding to set up. Unfortunately it also makes them more likely to move around in strong winds so you need to strap them down.
Powered coated steel is usually stronger and sturdier than aluminium, especially thicker rods, but the protective paint soon scratches or wears off leaving the steel open to the elements and corrosion. Galvanised steel is strong and extremely rust resistant but is less commonly found in products, except for the base due to cost. This is pretty useful if you're looking for a wall mounted greenhouse heater.
Base
Before assembling any greenhouse it is of the upmost importance that you set up your base properly or you will soon be seeing your structure lean, warp, and inevitably collapse.
Set up a concrete base that your greenhouse's own base will sit on top of.
This concrete base has to be as flat as possible in order for your greenhouse's structural design to handle the forces that are put upon it by nature.
Size
The size of the greenhouse that is best for you will be determined by both the amount of available space at your home, and what you intend to grow in it.
If you live in a flat and only want to grow a few seedlings and herbs, you don't need, nor can you fit on your balcony, a 6x4ft polycarbonate greenhouse! For these purposes you would be much better off with something like the VonHaus 4 tiered mini greenhouse.
Likewise, if you want to grow your own fruit and veg, you are going to need a decent amount of space and something like the large Finether arched greenhouse would be a better fit for the task.
Cost
When it comes down to it, this is often the most important factor. If you have money to burn, then I would suggest contacting a professional greenhouse supplier and get them to send professionals to build you one.
However, for the rest of us on tighter budgets, plastic greenhouse kits or polyethylene covered, metal framed greenhouses are likely to be more in our price range.
Please be careful about buying too cheap though, as often this means inferior materials and build quality and it will just lead to headaches and frustration when things start breaking, tearing, etc. within a short amount of time.
---