Written by Terry Smith
Our site is reader supported so when you click a link to Amazon we may earn an affiliate commission.
Best electric strimmers tested: top heavy duty electric strimmers compared on price
This article was last updated on May 4th, 2022 at 9:19 am
I decided to revisit this article after buying all the electric strimmers and testing them against each other. I bought and tested the new Flymo Contour to see how it stacks up against the other electric strimmers available in the UK. I have to say it's changed up my opinion on the best electric strimmers a little. I really love the Makita DUR181Z electric grass strimmer, I have to say: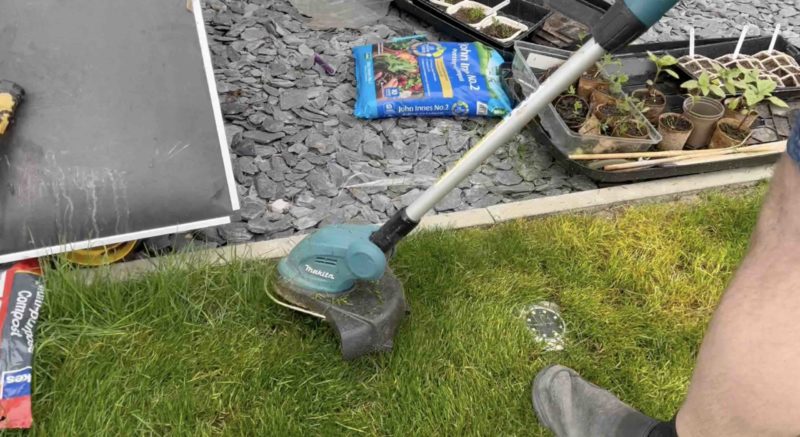 I've taken a short video so you can see the power involved too. I'd have to say, I was surprised by the results – it's only something you can truly appreciate when testing multiple strimmers against each other: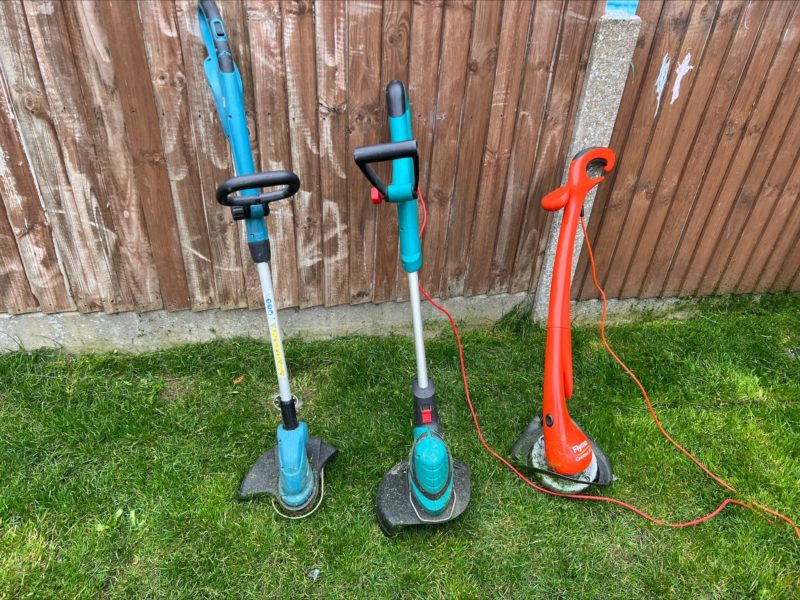 Even after giving your overgrown lawn the good news with the latest Flymo or Bosch lawnmower, there's still going to be those rough and weed-ridden edges to take care of, and if you have a smaller, or average-sized garden, an electric strimmer can be just the thing to sort that out and leave your lawn looking as polished as a bowling green.
Although not as powerful as a petrol strimmer, corded electric strimmers do have some advantages of their own, and we cover this in our helpful buyers' guide that you can find by clicking the link.
Best Electric Strimmers – our top picks
Testing electric strimmers
So I've grabbed a few of the very best electric strimmers in this list and quickly shown you their power. I have to say I love the Makita DUR181Z but I've also had a go with the other strimmers for a bit of balance. Fortunately I was able to get my hands on a front garden with foot long grass to give these strimmers a good working over. Here's a look at that:
What is an electric strimmer?
An electric strimmer is a power tool used for cutting grass but is smaller and less powerful than a lawnmower, and so is better suited to trimming the edges of your lawn, or removing weeds from around garden paths. Electric strimmers are sometimes confused with cordless strimmers, as they both run off electricity, but when we refer to 'electric strimmers' we are specifically talking about machines that are connected to the mains by a power cord.
Another common case of mistaken identity is when people buy a strimmer instead of a brushcutter, and often electric strimmers can be used as such with the addition of a brushcutter attachment, but trying to tackle thick brambles and such with a standard spool fed strimmer will only end in tears.
Ok, so on with the reviews. We've decided to offer electric strimmer reviews that are positioned throughout the price range to make it clearer to see what is available for sale within certain budgets. I will talk about the specifications of each one and highlight any particular features that make the models stand out. Each review will also point out the various pros and cons too, so you'll find it easier to compare them.
Best Garden Electric Strimmer Buyer's Guide
There's quite a few things worth considering when you're buying an electric strimmer – for a start, is a cordless strimmer more convenient?
Comparing corded electric strimmers with cordless and petrol strimmers. Which is is the best type for you?
There are three main types of garden strimmer- petrol-powered. Corded electric and cordless strimmers. Deciding which one is best for you all comes down to individual needs and preferences. Petrol strimmers are easily the most powerful type and are better suited to people with larger areas to work on and people who will use their tools commercially. However, petrol strimmers are more expensive if you compare them to either of the electric types, require more maintenance, and aren't as good for the environment. On the other hand, they do offer more range and freedom of movement.
Corded electric garden strimmers are obviously much better for environmentally-conscious customers as they don't require fuel and oil to operate. They also don't emit fumes and are much quieter and generally cheaper. The main drawback to this type of strimmer is that movement is restricted by the length of the power cord and when it comes to cutting power, they can't compare to the petrol type. These corded electric strimmers are best suited to people with smaller gardens.
Cordless electric grass strimmers have the same advantages as corded electric models as they are quiet, don't give off emissions, and don't require much maintenance. The downside to using a cordless strimmer is that they are powered by batteries that need to be charged before each session and the running time of the battery limits how much gardening you can do. The spare batteries for cordless electric garden strimmers can also be quite expensive.
We have pages on this site dedicated to each of these main types of garden strimmer, complete with reviews of the best strimmers for sale in the UK.
This article is one such page and is focused on the best corded electric strimmers that are available at the moment. If you think your needs would be better fulfilled with a petrol, or cordless strimmer please check out our dedicated pages to them.
---