Written by Terry Smith
Our site is reader supported so when you click a link to Amazon we may earn an affiliate commission.
Best electric strimmers: top heavy duty electric strimmers compared on price
This article was last updated on August 21st, 2021 at 6:50 am
Best Electric Strimmers Reviewed
Even after giving your overgrown lawn the good news with the latest Flymo or Bosch lawnmower, there's still going to be those rough and weed-ridden edges to take care of, and if you have a smaller, or average-sized garden, an electric strimmer can be just the thing to sort that out and leave your lawn looking as polished as a bowling green.
Although not as powerful as a petrol strimmer, corded electric strimmers do have some advantages of their own, and we cover this in our helpful buyers' guide that you can find by clicking the link. But first, let's make it clear what an electric strimmer is.
What is an electric strimmer?
An electric strimmer is a power tool used for cutting grass but is smaller and less powerful than a lawnmower, and so is better suited to trimming the edges of your lawn, or removing weeds from around garden paths. Electric strimmers are sometimes confused with cordless strimmers, as they both run off electricity, but when we refer to 'electric strimmers' we are specifically talking about machines that are connected to the mains by a power cord.
Another common case of mistaken identity is when people buy a strimmer instead of a brushcutter, and often electric strimmers can be used as such with the addition of a brushcutter attachment, but trying to tackle thick brambles and such with a standard spool fed strimmer will only end in tears.
Ok, so on with the reviews. We've decided to offer electric strimmer reviews that are positioned throughout the price range to make it clearer to see what is available for sale within certain budgets. I will talk about the specifications of each one and highlight any particular features that make the models stand out. Each review will also point out the various pros and cons too, so you'll find it easier to compare them.
Best Electric Strimmers – our top picks
Comparison table: Best electric strimmers: top heavy duty electric strimmers compared on price

Product
What We Think
Price
The Flymo Contour XT electric strimmer combines stylish looks with practical features and an affordable price, and is a top selling product in the UK. For smaller gardens, the 300W motor should be more than enough, especially when you consider Flymo's track record for reliability, however, people looking for something with a bit more 'grunt' should look elsewhere.
Although more expensive than some of its competitors on this page, the Makita UR3000 Electric Trimmer is definitely worth every penny. It has a build quality and a finish that is second to none, and of course, has that famous Makita reliability which makes it great for more heavy-duty tasks.
A brush cutter and strimmer in one, the Bosch AFS 23-37 Electric Strimmer is one of the products to go for if you have to take care of some brambles, or other tough to cut through vegetation. It is built with an extremely powerful motor and comes with some heavy-duty trimmer wire that won't break as easily as the thin, cheaper stuff that is often offered.
in very close second place is the Black & Decker GL733GB electric strimmer, chosen for the excellent value for money it offers. Powered by a beefy 700W electric motor, this strimmer will handle tasks that some others in its rice range just won't be able to, and a large 30cm cutting radius will allow you to finish the job quickly too.
The Bosch Easy Grasscut 26 electric strimmer is probably my overall top pick for best electric strimmer as it is affordable to the majority of people, yet still offers enough power to handle the type of vegetation found around most patios and lawn edges. It is extremely lightweight too, and this accessibility tips the scales in its favour over the other products we reviewed.
Super lightweight and available for around 30 pounds, there's a lot to like about the Flymo Speedi-Trim Electric Grass Trimmer though due to the low price, there is a little niggle here and there, but nothing to write home about. If you only need a strimmer for light work at home, you could do a lot worse than the Flymo Speedi-Trim.
Sporting a powerful electric motor for such a low-cost strimmer the, Einhell GC-ET 4530 Electric Striimmer delivers excellent cutting performance. The aluminium shaft ensures that rust won't be a problem, and for the most part, the plastic used for the casing is very good. There are a couple of quality control niggles, but it is still an excellent strimmer for the price.
1. Bosch Easy Grasscut 26 electric strimmer
Specification: Warranty: yes (1 year), Motor power: 280 W, Cutting speed: 12500 rpm., Cutting Diameter: 26 cm, Weight: 1 kg
Available on Amazon at the moment for a very reasonable price, and with free UK delivery, this offering from Bosch is one of our cheapest electric garden strimmers reviewed.
The first thing you will notice about the Bosch electric strimmer is that it is very, very light. The whole product including the motor was designed with weight reduction in mind and, as such, it only weighs 1 kilogram. This makes it very easy and comfortable to use, even for those who have back problems. What little weight there is to this electric garden strimmer feels evenly balanced and is easy to handle.
The lightweight motor is surprisingly powerful for its size and has a decent operating speed. It'll trim the edges of your lawn that you missed with the lawnmower with no problems at all, and even take smaller weeds and nettles with it as it goes.
This Bosch electric strimmer has a semi-automatic feed system for the trim line that releases line from the spool when you switch it on. This is a nice feature but means that you will get through a lot of line in a quick time and will need to replace the spool often.
The nylon line itself is advertised as being 'extra strong' but I found it to be the same as most regular nylon trimming wire and it breaks from time to time, especially if you hit anything other vegetation. This is to be expected from any nylon wired strimmer though and there is plenty more of the wire on the spool for you to use, and you can reduce how easily it breaks by simply replacing the 1.5mm wire that comes with the product with something thicker.
The cutting width of the Bosch Easy Grasscut 26 electric strimmer is 26cm which isn't the widest available but ok for its designed purpose, and it can cut grass up to around 15cm in height. It is great for tidying up the edges of your lawn but don't expect it to be a substitute for a lawnmower or more powerful petrol strimmer. It won't be able to cut through thick undergrowth that has been left unkempt for a long time.
The design is ergonomic and the handle felt easy to hold for me. There is a smaller second handle on top and slightly in front of the main one but anyone with a little bit of strength can use this one-handed without too much bother. A hook on the handle helps to keep the power cord out of the way of the strimmer head. The power cord itself isn't the longest in the world, in fact, it is very short, but is ok for a small garden. If you have anything larger, you will need to use an extension lead or look for a product with a longer cord.
Some assembly is required on this electric strimmer and thankfully it is very straightforward as the instructions provided are only in pictographs and not the clearest. You can probably find better instructions or tutorial videos online though you really shouldn't need them.
For such a low price you expect a few flaws and this electric strimmer from Bosch has a few, such as a short power cord. However, this is still a good choice for those customers on a tight budget and comes with a free 2-year guarantee.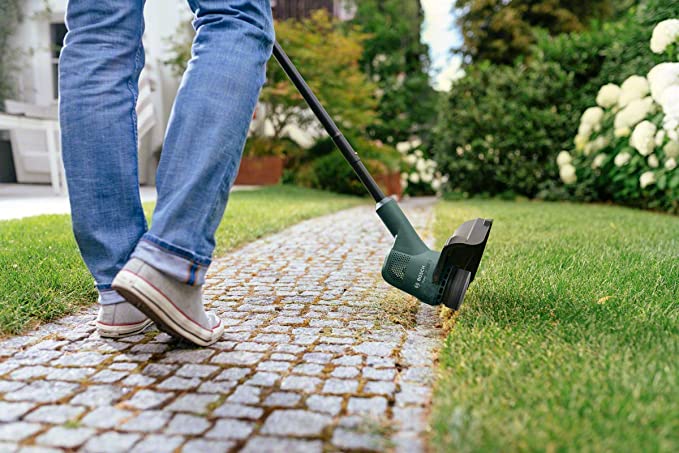 2. Black + Decker GL733GB electric strimmer
Specification: Warranty: yes (1 year), Motor power: 700 W, Cutting speed: 7000 rpm., Cutting Diameter: 33 cm, Weight: 3.2 kg
Black and Decker have been a household name for decades. They have consistently produced high-quality, innovative products at affordable prices and are known to be a brand you can trust.
This black and decker strimmer is currently on sale for around 64 pounds on Amazon, and is a steal for that price. Make no mistake, this product may have a low price but don't think it is a toy. This is a heavy-duty garden strimmer that can cut its way through the toughest weeds and thick long grass easily. In fact, you have to be careful that you don't accidentally aim it at the wrong thing as it will get chewed up too.
The motor powering this black and decker electric strimmer is a high torque 700W machine that cuts at 7000RPM and doesn't slow down, even when slicing through the most stubborn weeds and overgrown vegetation. What's more, if you compare it with some of its competitors, it runs fairly quietly.
This electric strimmer uses a 2mm single feed spool that works with Black and Decker's auto-feed spool system to give a great cut and has a 30cm cutting radius. I would recommend buying some heavy-duty cutting line as the stuff that comes with this electric strimmer is quickly used up.
If you're planning on edging, you can spin the shaft 180 degrees so that it cuts vertically instead of horizontally and use the built-in wheel edge guide. This little feature is simple, but it works really well, and you can get really nice finishes to your lawn.
Another good feature of this Black and Decker electric garden strimmer is the shaft. First of all, it is made of metal and not plastic so it is more durable when compared to a lot of other strimmers in the same price range. The metal shaft is curved to give a really nice ergonomic angle that allows you to stand up more upright and still get a great cutting angle too. Secondly, the shaft is telescopic and can be adjusted to suit the user's height, and there is also a large adjustable secondary handle that helps you to balance the 3kg weight of the product.
The power cord that comes with this strimmer is nice and long, but unfortunately, there is nowhere on the strimmer to spool and store it, or even to keep it out of the way while you are working. This is not a huge problem but it is still something I'd like Black and Decker to improve upon in the future, as apart from that, this is an excellent product.
As with most products these days, the instructions provided are all pictograph and not the easiest to follow but thankfully a little common sense and some google searches will have you set up in no time at all.
3. Makita UR3000 Electric Trimmer
Specification: Warranty: yes (1-3 year), Motor power: 450 W, Cutting speed: 9000 rpm., Cutting Diameter: 30 cm, Weight: 2.6 kg
Ask any tradesman about Makita tools and I'd bet my shirt that the feedback you get is overwhelmingly positive. Known for robustness that is a cut above the norm, Makita tools have been used in workshops and factories across the land for decades, and are also a common feature of many a DIY enthusiasts tool set.
Powered by a 240V, 450W motor, the Makita packs a punch and can deliver running speeds of up to 9000rpm. This enables you to tackle overgrown lawns with confidence, and that faith in the product's performance is repaid in full when you see the strimmer slice through weeds.
The nylon cutting wire that comes fitted in the Makita is better quality than what you get with most electric strimmers, and breaks a lot less often. In fact, I can't think of any other similarly priced product that compares. There is a downside to this though, and that is the fact that finding a replacement spool of the same wire isn't that easy in the UK, and you'll have to search online to order some.
The build quality and finish of this power tool are what you would expect from a Makita product, and that is excellent. The plastic used is of the highest quality and feels extremely solid, and I couldn't;t find a single part or component that didn't feel like it was fitted perfectly. The shaft is made of aluminium and this is also a nice feature, as that particular material is well known to be rustproof.
I'd heard that this strimmer was a bit on the heavy side, but after using it, I'd have to disagree. It is slightly heavier than some other electric strimmers, but still a long way from what I would consider heavy, and the weight distribution, combined with the free shoulder strap make whatever extra weight there is, completely unnoticeable.
The Makita UR3000 is a multi-tasking tool, and like a lot of the best strimmers, it can be used as an edger by simply rotating the head around 180 degrees. In this mode, it performs as well as when used upright, and it is easy to balance the end of the strimmer and get a nice, neat cut.
With this electric strimmer, Makita has hit the mark yet again. The build quality is top-notch, it performs incredibly well both as a strimmer and an edger, and the fact that a free shoulder strap is thrown in is just the icing on the cake for me.
Specification: Warranty: yes (2 years), Motor power: 950 W, Cutting speed: 7000 rpm., Cutting Diameter: 37 cm, Weight: 5.7 kg
Do you have some particularly thick vegetation that needs trimming and are a little concerned that an electric strimmer just isn't powerful enough to get the job done? Well, let me put your mind at ease by introducing you to a monster of an electric garden strimmer- the Bosch strimmer AFS 23-27.
The Bosch AFS is all about cutting power. Fitted with a meaty 950-watt electric motor that is capable of producing power equal to that of a 1.3 horsepower petrol motor. This is a phenomenal performance for an electric strimmer and will see you carving your way through your overgrown, jungle-like garden lawn like a knife through butter. Unlike petrol strimmers of similar power, the Bosch strimmer doesn't vibrate and it runs much quieter.
This Bosch strimmer comes with two different cutting blades- an extra-strong cutting line spool that is probably the most heavy-duty strimmer wire I've seen come with a product and a triple-toothed, metal brush cutter blade for combating the heaviest undergrowth. Switching between them is very easy, just the removal of a screw, and there is no need to remove the guard to do so. The cutting line has a large cutting diameter of 37cm to really speed up your gardening sessions, and the three-tooth, brush cutter blade's diameter is 23cm.
Weighing 5.3kg it is heavier than a lot of other strimmers, but for the extra weight, you get the peace of mind that high-level build quality gives you, and it is still very light compared to petrol models. The extra weight isn't really a problem anyway as this Bosch electric garden strimmer comes with its own adjustable shoulder harness. Between the harness and the adjustable handle, it's easy to find the right setup for you to have a comfortable trimming session.
Assembly is far from complicated and shouldn't give anyone any problems despite the usual poor instructions that come with it. On the plus side, the shaft can be split in two making storage all that much easier.
One thing to keep in mind if you are considering purchasing this particular model is that the trimming wire used isn't your everyday wire, and while it is much stronger and long-lasting, it is also more expensive to replace.
5. Flymo Contour XT electric strimmer
Specification: Warranty: yes (1 year), Motor power: 300 W, Cutting speed: 10500 rpm., Cutting Diameter: 25 cm, Weight: 2.8 kg
Flymo's Counter XL strimmer is an extremely popular product here in the UK, and you don't have to search very far to find praise from its many customers.
Just like most Flymo products, the first thing you notice about this one, apart from the trademark, bright orange color scheme, of course, is the sleek, modern design that stretches from the handle all the way to the tip of the cutting head. The subtle curves really do make this an eye-pleasing strimmer, and is a virtual work of art when you compare it to products like the classic-looking, yet slightly boring, Bosch strimmers.
But looks aren't everything, and with power tools, it's the performance that matters most, and the Contour XL holds its own in that department too. Although the 300W motor is far from the most powerful you can find, it is enough to tidy the edges of a pre-mowed lawn. It can't really compare to something like the Makita, and definitely isn't anywhere near as powerful as the Bosch AFS 23-37, but it is fine for touching up smaller, well-kept lawns.
The contour XL can be used as an edging tool and comes with an edging wheel attachment to help guide you along and get those perfectly trimmed lines. There is also a plant guard to stop you from accidentally decapitating your prized plants and flowers.
At 2.8kg, its weight is comparable to the Makita, but like its competitor, this strimmer is also well balanced and you really don't notice the small weight difference between this product and most other electric strimmers. Noise and vibration are about what you'd expect too, no better or worse than the vast majority of products in this category.
Sporting a 25cm cutting width, and armed with a dual-line spool, this Flymo can make quick and light work of long grass and weeds around the borders of your lawn and path, but as the line that comes with the strimmer is only the thin 1.5mm stuff, it will break on thicker vegetation and if it hits any stones or other hard material. This is easily solved by buying thicker wire, and with this being a Flymo, you won't have to look too far to find some.
6. Einhell GC-ET 4530 Electric Strimmer
Specification: Warranty: yes (1 year), Motor power: 450 W, Cutting speed: 8800 rpm., Cutting Diameter: 30 cm, Weight: 2.64 kg
With a 30mm cutting width and a powerful 450W motor, the Einhell GC-ET 4530 delivers a higher level of performance than I was expecting for the price, once I'd switched out the cheap, thin, line that came with the product for something better, that is.
This strimmer features a lot of the same stuff you find on other popular electric strimmers. You can twist the tool head around and use it as an edger, and there is an edging wheel attachment to help with that, there is an automatic line feed system, and a free flower guard.
Not only does the head rotate into an edger, but it also can be tilted through four preset angles, and I have to say that this feature, when combined with adjusting the length of the aluminum shaft, did come in handy for getting under hedges and in other tricky spots.
The adjustable shaft is made from aluminium, making it completely weather and rust proof while still providing a good deal of strength and remaining lightweight. The plastics used in the casing are a bit hit and miss though. In some places, they are thick and feel highly durable, while in others they seem to be a bit thin and gave me reason to question how long they'd hold up. This inconsistency is a shame really as if it wasn't for that, the Einhell would be ranking higher up on our list.
The Einhell GC-ET 4530 weighs around 2.7kg and is hardly what you call heavy, but I did notice that when compared to the Black and decker, Bosch, or Makita products, it wasn't quite as well balanced. Thankfully, the handles on the Einhell are large and ergonomically designed so that it is easy to keep control of the tool.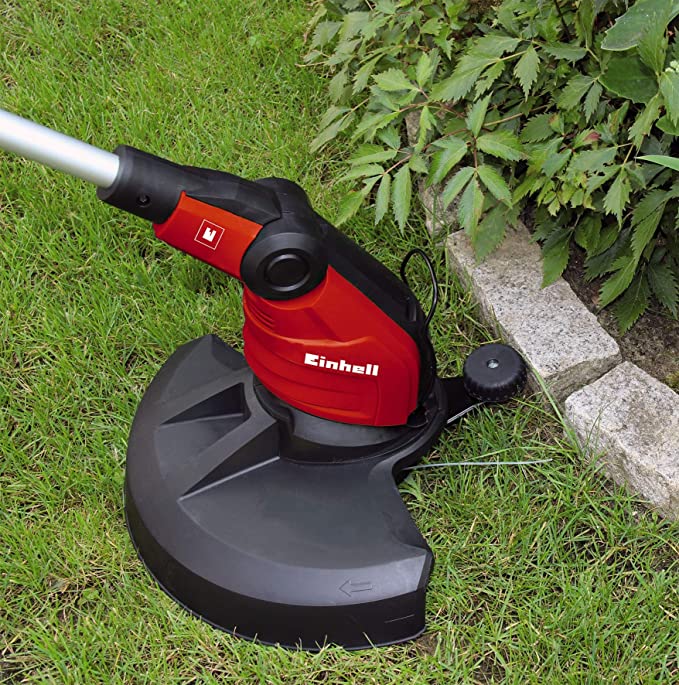 7. Flymo Speedi-Trim Electric Grass Trimmer
Specification: Warranty: yes (1 year), Motor power: 300 W, Cutting speed: 10500 rpm., Cutting Diameter: 25 cm, Weight: 2.5 kg
Up next in our electric strimmer reviews is the Speedi-Trim by popular gardening brand Flymo, priced at around £40. The 300W electric motor powering this Flymo strimmer is slightly more powerful than the Bosch electric strimmer we just reviewed but it's not really enough to be noticeable.
This electric grass strimmer will trim off the parts of your garden that you miss with your lawnmower well but is not suited to cutting full lawns of long grass. For a strimmer that does that you need to go up the price range a bit, and invest in a petrol strimmer.
Unlike some other low-cost strimmers, this Flymo has a dual nylon cutting line system that auto feeds to save time, and also has a decent 25cm cutting width. This dual-line doesn't seem to give the Flymo any advantage in cutting prowess when compared to single feed models though.
being a budget model, it shares many of the same flaws as other lower-cost products. Flaws such as the nylon wire breaking and the auto-feed using up the spool quickly. These little niggles aren't deal-breakers, just slight annoyances, and are to be expected when you go lower down the price range.
The Flymo Speedi-trim electric grass strimmer weighs only 1.6 kilograms and the curved, molded handles make it very comfortable to hold. I did find that the secondary handle felt too high up for my liking when I tried to maneuver it around but it is so light that it won't cause you too many problems.
The main things I like about this particular model were that firstly, it runs very quietly so you don't have to disturb anybody if you fancy getting an early start on the garden, and secondly, that it comes with a long 12 metre power cord that makes it practical for small to average-sized gardens. The shaft also has a handy place for storing the long cable on it.
Overall the quality of the product seems good and the plastic seems like it will be quite hard-wearing as long as you are careful with it. Assembly is very easy and you only have to click three separate parts together.
Best Garden Strimmer Buyer's Guide
Comparing corded electric strimmers with cordless and petrol strimmers. Which is is the best type for you?
There are three main types of garden strimmer- petrol-powered. Corded electric and cordless strimmers. Deciding which one is best for you all comes down to individual needs and preferences. Petrol strimmers are easily the most powerful type and are better suited to people with larger areas to work on and people who will use their tools commercially. However, petrol strimmers are more expensive if you compare them to either of the electric types, require more maintenance, and aren't as good for the environment. On the other hand, they do offer more range and freedom of movement.
Corded electric garden strimmers are obviously much better for environmentally-conscious customers as they don't require fuel and oil to operate. They also don't emit fumes and are much quieter and generally cheaper. The main drawback to this type of strimmer is that movement is restricted by the length of the power cord and when it comes to cutting power, they can't compare to the petrol type. These corded electric strimmers are best suited to people with smaller gardens.
Cordless electric grass strimmers have the same advantages as corded electric models as they are quiet, don't give off emissions, and don't require much maintenance. The downside to using a cordless strimmer is that they are powered by batteries that need to be charged before each session and the running time of the battery limits how much gardening you can do. The spare batteries for cordless electric garden strimmers can also be quite expensive.
We have pages on this site dedicated to each of these main types of garden strimmer, complete with reviews of the best strimmers for sale in the UK.
This article is one such page and is focused on the best corded electric strimmers that are available at the moment. If you think your needs would be better fulfilled with a petrol, or cordless strimmer please check out our dedicated pages to them.
---