Written by Terry Smith
Our site is reader supported so when you click a link to Amazon we may earn an affiliate commission.
UK's best cordless lawn mowers TESTED: Makita, Bosch, Flymo, Ryobi, WORX, Greenworks
This article was last updated on May 6th, 2022 at 3:59 am
When I bought the Makita DLM380Z cordless lawn mower for this test I was skeptical to say the least. Ten years ago I bought a cordless lawn mower and I was bitterly disappointed. Fast forward to today, after personally testing the best cordless lawn mowers extensively again, I can tell you they are a world apart from battery technology a decade ago – if you don't believe me, watch me rip down a small front garden (granted the grass isn't too thick but more tall) with my Makita cordless lawn mower – what a test 🙂
In fact I would go on to say from my personal experience and testing: "You take the good bits of a petrol mower like freedom and convenience, you then take the good bits of an electric corded lawn mower such as quiet, environmentally friendly, and no petrol smells (more on comparing petrol and cordless lawn mowers here if you're interested). You roll all of those good bits into one lovely package, minus a bit of top end power, you have the fabulous cordless lawn mower." – Terry Smith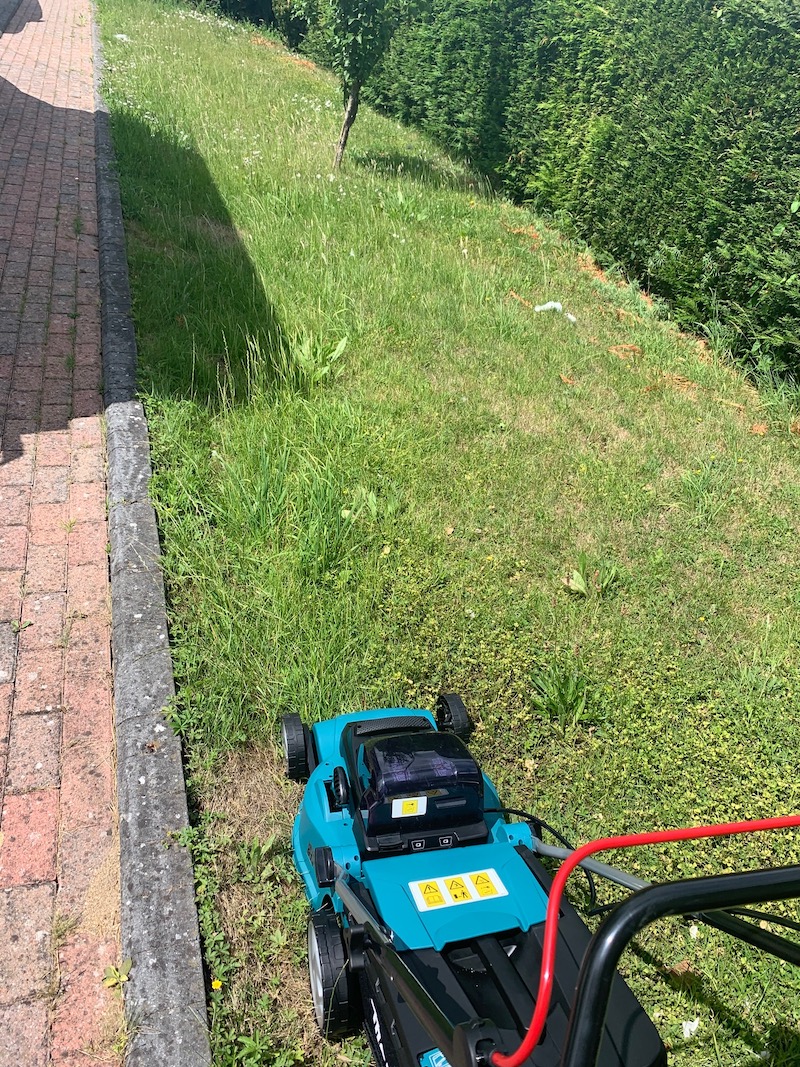 Just to reiterate though, that wasn't the story a decade ago though! A cordless lawn mower was a scary prospect back then. Cordless lawn mowers lacked power, lasted about five minutes on full cut(which didn't do much) if you were lucky, and the battery cell (ability to store electric) was shot in a few months. Back then, the best cordless lawn mower was still a real struggle and cost a fortune – much like the rest of cordless power tools that were not up to the job, let alone from commercial or heavy duty applications – to learn more please feel free to take a look at my cordless lawn mower buyers guide.
My professional picks for the best cordless lawn mower after testing:
Best cordless lawn mower: Makita DLM380Z Manual 36V Cordless Lawn Mower or the DLM382Z if there's no bargain prices- superb for medium sized gardens, absolutely the best of the best. [tested and proven]
Best alternative: Rotak 43 LI Ergoflex Cordless Lawn Mower – if the Makita unavailable this is my go next go to.
Budget picks: Ryobi OLM1833H ONE+ 18V Lawnmower and the Flymo Mighti-Mo 300 Li Cordless Battery Lawn Mower
Heavy duty pick: Makita DLM460Z Twin 18V (36V) Li-ion LXT Brushless Lawn Mower – best for a large garden by a mile – heavy duty and well built!
It put me off using them for so long until I was asked to test a Bosch cordless lawn mower a few years ago. The rest is history as they say! I thought I'd mention this in case like me your last experience left you discounting them forever! I did too until forced to use one and realised how they are not one of the same at all!
Before we get going though, it's such a long read that I'm going to put a table of contents in place and let you know the best cordless lawn mower right now.
Best cordless lawn mower: Makita DLM380Z Manual 36V Cordless Lawn Mower
The Makita DLM380Z Manual 36V Cordless Lawn Mower just blows the competition away. No one is capable of keeping up with their battery technology for the same price. The Bosch Rotak 43 LI Ergoflex Cordless Lawn Mower does a decent job but costs more. When you buy the Makita, it's going to be difficult to be disappointed, especially if you've owned other cordless lawn mowers before so you have a real side by side direct competition comparable – you'll really appreciate the Makita's performance. Here's a look in video format if you're interested:
Testing a cordless lawn mower for it's limits
What can I say? what is the point of a cordless lawn mower review if you can't find the limit of capabilities. So what I did was find the tallest grass, as well as a load of weeds, and worked out how much this Makita could actually cut! The results will surprise you for sure.
What can a cordless lawn mower actually cut?
I managed to show you how the engine will slow down and what level of grass height / thickness would do that, as well as the depth setting I was using at the time. This happened to be the third height setting. But the fourth setting makes the world of difference and with no nasty petrol smell or power lead to carry behind you a second pass doesn't hurt. Here's a look at the slow down point and what you'll experience, plus how to overcome that:
As you can see there are limits but for £150 this is budget money doing near professional work. I have absolutely no problem at all throwing this in the van to cut people's lawns on a commercial level as I do frequently. In short, the cutting performance is adequate for professional use.
What can I do to improve cordless lawn mower performance?
There a couple of things you can do to improve cordless lawn mower performance. The first thing and most obvious is to keep your lawn regularly cut. In my demo and tests you'll see I show you what can be done. This isn't ideal for lawn health to allow your lawn to grow out of control anyway. Given the cordless lawn mower in my tests only takes 10 minutes to zip around a smallish garden I see no harm in setting aside a little time each week for a regular trim. It'll promote thicker, healthier growth and you'll be able to see and deal with weeds better anyway as a result.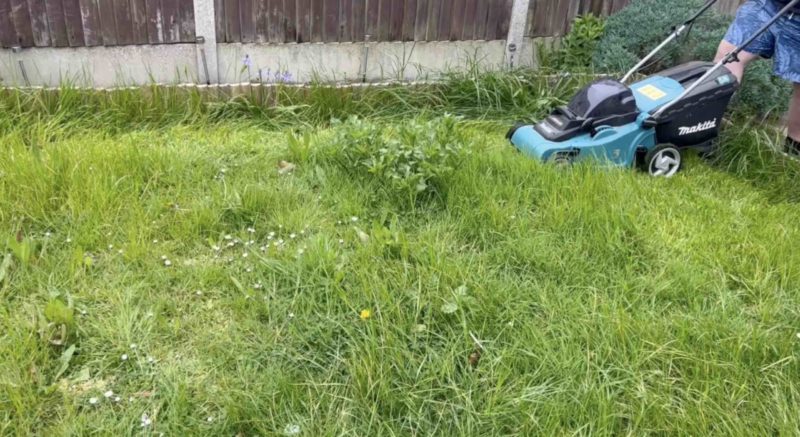 What maintenance is required if you own a cordless lawn mower?
The most important is keeping your batteries topped up. If they are full they will last longer. Do not leave them in the shed on low for an extended period of time. Much like a car, the health of your battery is paramount in ensuring your engine starts easily. No doubt you've had that dreaded slow turnover from a low battery – it is exactly the same for a cordless lawn mower.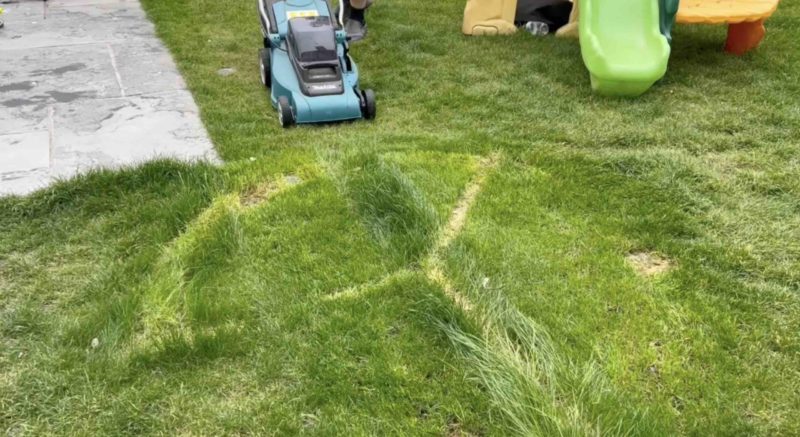 The other thing I do is sharpen the blade. Since the power is lower than 240V I do my best to keep the blade as sharp as it was originally. However, with that said, you'll notice out the box the blades aren't actually that sharp on the Makita in this test, however getting them back to where they were, I have actually noticed improved performance from doing this each time.
Best cordless lawn mower: fast forward to today.
Fast forward a decade and cordless lawn mowers have literally taken over and it's brilliant news because the sales by volume are really pushing down the cost of cordless lawn mowers. Most of us own small to medium sized gardens and with battery technology where it is right now, cordless lawn mowers are almost perfect. They've gone one step further and made robot lawn mowers that will actually cut your grass for you! What's in store over the next ten years? How do you improve on that? 🤔
You have the added benefit of all the freedom that comes from a petrol lawn mower, with a good chunk of the power a corded electric lawn mower offers. Basically, apart from the brute power offered by a petrol lawn mower, cordless lawn mowers take all the benefits of both petrol and electric mowers and combine them together giving the best of both worlds.
In this review and test we are going to take a look at the best cordless lawn mowers and review all different budgets as well as garden sizes. Surprisingly, at the moment, I believe there are only six cordless lawn mowers worthy of making into my reviews.
So let's take a look at the reviews and tests of the best cordless lawn mowers:
Best battery lawn mower
As I already mentioned, the best battery lawn mower is the Makita DLM380Z Manual 36V Cordless Lawn Mower. It's similar in performance to the Bosch but offered at nearly less than half the price, it's really hard to pass up. The Bosch is a contender for the best battery lawn mower though if we are talking strictly about power and performance. It might even be slightly better than the Makita.
It's just very difficult to overlook how superb the price point is on the Makita. It's little wonder it has so many brilliant reviews around the internet. Most of the negative reviews are when people start comparing the Makita DLM380Z cordless lawn mower to mains powered and even petrol engine lawn mowers. That's how good this cordless lawn mower is, these guys have literally forgotten it's a battery lawn mower…make no mistake it is THE lawn mower.
So without any hesitation at all, I personally believe the Makita DLM380Z cordless lawn mower is the best battery lawn mower out there. If you have any evidence or data contrary to mine, please send it in and I am willing to change the article if I can be convinced otherwise. My own research and use however, points to the Makita!
Cordless lawn mower buyers guide
In this buyers guide I went through six cordless lawn mower reviews. I didn't feel there were any more products that could improve or affect the outcome of the selections for the best cordless lawn mower.
Are you aware of a model I've missed or fills a gap I've overlooked? Please feel free to let me know and we can take a look at changing the article if the new insight warrants it. From my perspective the cordless lawn mower reviews should be relevant and try to save people time. Merely filling a page up with cordless lawn mower reviews because it improves word count or packs out an article is a waste of everyone's time.
What are the top cordless lawn mower brands?
After thorough testing it became clear to me Makita, Bosch, Ryobi, Einhell, and Flymo are well ahead of the game. Ryobi was a surprise to me actually. Given they are essentially.a budget outfit or at least used to be, their battery tech has come on a long long way. So they made it to the best brands picks below – here's my experiences from testing:
Bosch cordless lawn mower
Without question the best Bosch cordless lawn mower is the Bosch Rotak 43 LI Ergoflex Cordless Lawn Mower. It's the most powerful in their range, and if I had to compare it in performance to a normal a normal Bosch electric lawn mower, I would choose to compare it with the Bosch Rotak 34 R Electric Rotary Lawn Mower.
It really delivers that much power that the praise is justified. While batteries run out of power. The 43cm cut span and large grass collection box of 50 litres on the Rotak 43 LI Ergoflex cordless lawn mower tell a story. This lawn mower, although battery powered, is designed for big quick cutting.
If it wasn't, then why bother with a huge collection box similar in size to normal mains powered electric lawn mowers? It's easily the best Bosch cordless lawn mower and if not for the Makita, I would be all over this model myself.
Ryobi cordless lawn mower
I'm a big fan of the Ryobi cordless lawn mower. The Ryobi OLM1833H ONE+ 18V Lawnmower is a solid buy and for the price delivered pretty much amazing. Given Ryobi manufacture tools for those that are hobbyists and like a bit of DIY, I always feel like their products are just not quite going to be the full ticket like Makita or Dewalt. The Ryobi cordless lawn mower though shone like a star. It even outperformed the Flymo in the same price range for my money.
If you think about that for a second, it's a remarkable achievement. The skills and expertise or lawn mower manufacture Flymo have is basically second to none. They dominate the market for small to mid-sized gardens, have a brilliant reputation and probably the best testing and development in the UK.
Somehow, Ryobi cordless lawn mowers did better than them. So hats off to Ryobi for producing a cordless lawn mower that delivers great usability. If not for the Makita being so well priced, if I was on a budget, Ryobi cordless lawn mowers would probably be my next pick.
Flymo cordless lawn mower
I have to say, I can't help but feel a little underwhelmed by the Flymo cordless lawn mower in this review. Whilst I don't know if that's entirely due to the actual performance of the cordless mower itself, or because I expect them to deliver near perfection at head scratching budget time and time again. So when they make a product that's only good, I am jumping on their case.
I'm not entirely sure if that's fair so in my review of the Flymo Mighti-Mo 300 Li Cordless Battery Lawn Mower it's worth factoring that bit of information into the review and your decision to buy. There's obviously no questioning the range of Flymo cordless lawn mowers. They have got some of the best lawn mowers in the UK.
To be fair, I am a huge fan of Flymo in general, just take a look at my review of the best Flymo hover mowers. I give credit where credit is due and I don't feel like the Flymo cordless lawn mower in this review is even a touch on even the cheapest Flymo hover lawn mower in the UK.
WORX cordless lawn mower
The WORX cordless lawn mower surprised me for all the right reasons. In the review of the WORX WG779E.2 Cordless Lawn Mower we identified it as a smashing bit of kit. It showed great promise and I think with time it's likely WORX cordless lawn mowers will be considered amongst the top brands.
While I think that's a bold statement, I do believe it so hear me out please. They have shown great promise with their range of WORX cordless lawn mowers and the WORX WG779E.2 cordless lawn mower is the pick of the bunch for sure. It delivered excellent value for money and genuinely if I took the name of the product out of the review, you would be forgiven for thinking it was a Bosch or Makita. That speaks volumes about this WORX cordless lawn mower.
The other great thing about the WORX WG779E.2 cordless lawn mower, without question, is the edge cutting capability. They've really worked hard on this lawn mower to make sure that it cuts right up to the edges of fences and verges saving you time tidying in after. For absolute certain, WORX cordless lawn mowers are here to stay and will continue to improve
Greenworks cordless lawn mower
The Greenworks cordless lawn mower is a top performer and really only let down by what appears to be less than perfect customer care. I would be quick to point out that I have had no dealings with them in the last six months so I cannot speak for recent improvements and I do hope they have because the Greenworks Tools 2504707 Lawnmower is a very accomplished piece of kit. It shows many of the traits you would find with the top models such as Makita and Bosch.
If it has one flaw it's the price point. In terms of performance and quality it's hard to touch the Makita DLM380Z Manual 36V Cordless Lawn Mower. I am completely convinced they are leaving the competition behind not due to the technology in the machine itself, but the battery power they are so reliant on in the power tools department. They absolutely need huge power for circular saws and routers so they are constantly developing for a range of huge seller and it's making it difficult for smaller companies like Greenworks Tools to keep up.
Nevertheless, Greenworks cordless lawn mowers are a great option and pack plenty of power for their budget. It's worth mentioning it ranks slightly better than the Makita too so hasn't put too many people off buying it.
Makita cordless lawn mower
I just want to give full disclosure right now. I do not work for Makita. I cannot blame them for producing tools that batter the competition on performance and price point time and time again. The Makita cordless lawn mower is no exception. Smaller models compete with other brand large models in power and performance. I am half waiting for Makita to produce something rubbish so I can jump all over them but it'll both shock and disappoint me if that day comes!
Makita probably have the biggest range of cordless lawn mowers worth talking about. Today we focused on the Makita DLM380Z Manual 36V Cordless Lawn Mower. Let's be clear, this isn't their only good model. It's definitely the one I believed to be the best from the Makita cordless lawn mower range at the moment though.
With effortless cutting and huge battery power. The Makita quality of tool manufacture shines through time and time again.
Concluding the best cordless lawn mower reviews
It was a great comparison for me. We found the best cordless lawn mower and investigated many features and faults. If you took the time to read this review entirely you are well on the way to making an informed decision with regards to which cordless lawn mower to pick for your garden.
---