Written by Terry Smith
Our site is reader supported so when you click a link to Amazon we may earn an affiliate commission.
UK's Best pop up gazebos that are waterproof and heavy duty rated on price 2021
This article was last updated on August 26th, 2021 at 2:53 pm
With Spring and simmer soon to be rolling around, a large percentage of the population will be spending most of their free time in their gardens, enjoying the warmer weather. However, we UK natives aren't typically the most sensible when it comes to the sun, and the possible negative effects that too much of it can have on us and our loved ones. There's nothing wrong with catching a few rays, but it should always be done in moderation, and having a cool, shaded area to take a break from all that UV is something that should be on the top of your list.
Gazebos are an excellent way to provide your family with a shaded 'time out' zone, and to make your garden look great at the same time. They have been used for over 5000 years, with historical texts from Egypt, China, and Persia, all talking about these structures. Getting back to the present, and I can honestly say that there has never been a better time to buy a gazebo for your garden. The new pop-up gazebos take advantage of a new frame design that allows you to erect them in just a couple of minutes. On top of that, the prices of pop-up gazebos are dropping all the time, with the best of the cheaper models being available for around 70 pounds.
So, with that being said let's take a look at the best-selling pop-up gazebos to see if they live up to the hype, and are worth investing in.
Best Pop-up Gazebo Buyer's Guide
On the lookout for a pop-up gazebo? Well, here are some of the main factors you should be thinking about before parting ways with your hard-earned cash.
Size
You'd be surprised how many people buy things like gazebos without even working out how much space they have in their garden first. The end result is sometimes either a gazebo that takes up the whole garden and looks terrible, or a tiny one that looks lost in a big space. It only takes a few minutes to go outside with a tape measure and check how much space you have, so why not do it? You should also measure your garden furniture if you're planning on putting it in there.
Frame
The most important part of a pop-up gazebo is the frame. A weak frame will cause you so many headaches it's just not worth trying to list them all. Look for frames that are made of powder coated steel, with support bars, and reinforced corner sections.
Ease of assembly
How quick and easy is the product to erect? What kind of clamps are used? Are they ring-pull, push button, or something else?
Make sure you know all these things before buying, and find out from customer feedback if anyone has had any problems disassembling the gazebo and fitting it back in the carry bag.
Quality of the canopy material
Although most are advertised as waterproof, in fact most are just water resistant, with just a few actually being fully waterproof, so that is something to check before buying. The thickness of the material will vary from product to product, with some being more durable than others. You will often see a number like this- 260g/m2. Basically, the higher the number, the thicker and stronger the material.
So I have reviewed the best pop up gazebo selections available on the internet today.
Comparison table: UK's Best pop up gazebos that are waterproof and heavy duty rated on price 2021

Product
What We Think
Price

◆ COMMERCIAL FRAME: 3x3 Full Truss Structure (1mm thick square shaped legs and super strong cross truss ) is...
◆ WATERPROOF, FIREPROOF, UV PROTECTION
◆ EASY TO SET UP: No tools required
◆ MULTIPLE USE OCCASIONS: Suitable for hot tub
◆ WHAT IS INCLUDED

✅Upgraded Frame: Modern and durable design
✅Upgraded 3-Height Settings: The improved toggle leg adjustment will keep your fingers pinch-free and is easier to unlatch...
✅Upgraded Package: Includes 3x3M Pop up canopy frame + Canopy tent top cover + Roller bag + 4 Weight...
✅Upgraded Fabric: The improved fabric is UV coated to reflect 99% of harmful sun rays and water-resistant....
✅Upgraded One-Minute Set-Up: 1.Take the fully assembled frame with top out of the bag and pull it open...

HIGHLIGHT: DESIGN PATENTED Lightest Pop Up Screen Room for 6-8 adults is only 8.4 lbs...
SPACIOUS SPACE & VENTILATION: Alvantor Breezy Hexagonal Screen house is 10'x10'x7'...
PATENTED DESIGN: Fabric top provides an all-day UPF 50+ UV protection against burning sun...
POP UP & EASY DOWN: Creative fiberglass ribs is automatic open
International products have separate terms

All Seasons Gazebos 2.5 x 2.5m Heavy Duty, Fully Waterproof Pop up Gazebo

Premium, fully waterproof (not just showerproof) heavy duty canopy and frame
Comes with 1 year Manufactures Warranty for peace of mind along with a care guide...
Simple "pop up "design with NO POLES to slot in...
Can be used on all surfaces such as Grass
Comes with 4 leg weight bags

KEXMY Garden Classics® HORWOOD GARDEN METAL FRAME POP UP FOLDING HEXAGONAL GAZEBO

Steel frame coated in a dark copper brown colour powder coating
The dark beige roof canopy is made from quality woven 180g/m2 pa coated...
A Hexagonal footprint measuring 3.6 m x 3.1m Pops up in minutes
Water resistant canopy. Zipable net curtains included.
Delivery restrictions apply. Shipping available to England

Compact design is a great space saver and looks stunning in the garden...
Quick and easy to use pop up design sets up in minutes – no fiddly or loose parts to...
Robust steel frame for durability and stability
170g PU coated waterproof fabric with all seams taped sealed
Includes handy carry bag for safe storage and transportation
1. ABCCANOPY 3x3m 100% Waterproof Pop Up Gazebo
The ABC Canopy 3×3 metres pop-up gazebo is probably the best of its kind that you'll find for under 150 pounds, even pipping the excellent Master Canopy gazebo and All season Gazebo to our top spot by a whisker. There are two main parts that make or break the best pop-up gazebos; the metal frame and the canopy itself, and ABC canopy have nailed both here.
The frame is really smooth and easy to erect, requires no tools at all thanks to the ring-pull clamps, and only took me and the wife about 15 minutes to get the whole thing, including the canopy, up on the first try, and less than that on our subsequent attempts. It is made from strong metal, and is a step above a lot of other models that I've tried in recent years.
Made from 500 denier polyester and having PU lining and heat-sealed seams, the canopy is exceptionally quality for the price and I was impressed by the attention to detail, such as having reinforced parts where it would come under the most stress when stretched over the frame.
We all know that UK summers are not all about sunshine, and out of the blue thunder showers are quite common, so of course it's important to have a pop-up gazebo that is not just going to let the rain through. I'm happy to say that after putting it to the test, this model is in fact waterproof like ABC Canopies claim.
Strong winds are also a common feature of our wonderful summers, but thankfully, you won't have to worry about chasing this gazebo down the street every five minutes. Included with the gazebo are strong ropes to secure it, and four weight bags that can be filled with water. These bags, once filled and attached, actually do an excellent job of providing additional support to the frame, and when combined with the easy to stake feet, you have yourself a gazebo that can hold its own against those strong gusts.
If you don't feel like taking your chances with the weather, and would rather take this pop-up gazebo down instead, you can do so even faster than putting up, and everything can be slotted into the large carry bag for easy storage. For mobility, this carry bag has been fitted with small wheels, and while they aren't the biggest things in the world, I was happy for them when moving the 6ft long case across the garden and back to the shed.
The height of the gazebo can be adjusted through three different settings, giving you a choice of clearance heights; 6.4ft, 6.7ft, and 7ft, however you have to realise that the bars of the frame will sit lower than that, and at the highest setting I would guess that to be around 6.5ft from the floor, so still plenty of room unless you are exceptionally tall.
This is an exceptional pop-up gazebo when compared to the vast majority of products selling for around the same price. The quality of both the frame, and the canopy itself is just superior, the ring-pull clamps, stakes, and water-bag weights all do their job well, and I can't find anything to fault the ABC Canopy 3×3 pop-up gazebo on apart from that you have to buy the sides separately. Highly recommended.

2. MasterCanopy Pop-up Gazebo Tent
Running a very close, joint second to the outstanding ABC Canopy product, is this pop-up gazebo that comes to us courtesy of Master Canopy, and available in four different sizes. The 3×3 metre version that we got our hands on will provide you with around 9 square metres of sheltered space, so probably enough to house 6 people sitting very comfortably on garden furniture, or 8-10 standing more closely together.
Assembly is extremely straightforward and quick, even faster than the ABC model, only requiring a couple of people to pull the frame out, throw the canopy over it, and then secure it to the frame. After that, you just need to weigh the frame down and secure it with the water bags and stakes that come in the bag. It child's play and takes a matter of minutes.
Available in ten different colours, the PU coated, 600D polyester material that is used for the canopy is not only thick and strong, but in addition, it is 50+Uv resistant, and will keep you dry in all but the heaviest showers.
Once we got the canopy mounted on the frame, we noticed that in the centre of the roof was a vent. How we missed that in the product description was beyond us, but we were quite pleased with it nonetheless. The vent helps to keep temperatures down and more comfortable inside the gazebo by allowing warm air to escape out of the top as it rises. It also aids ventilation should you decide to purchase the sides for this pop-up gazebo as an extra.
Solid and sturdy are how I would describe the frame on this pop-up gazebo. The combination of iron and steel components gives it a lot of strength and stability, while the powder coating has also been done well and should help to fight rust for quite some time.
The frame height is adjustable through three settings, but unlike the ABC Canopy gazebo that had metal ring-pull clamps, this Master Canopy model used push button ones instead. I know there will be people who will prefer this mechanism over the ring pulls, and there are good reasons for that, such as less chance of catching your skin by accident. However, personally, I always prefer metal to plastic for things like this, even if the plastic is really good quality like on this product.
The Master Canopy pop-up gazebo comes in its very own wheeled carry bag, and thoughtfully, the company has printed the assembly instructions on the outside of the bag. I thought this was a nice touch, even if they aren't really needed after the first set up as it's so simple.
I have to say that this is a very similar product to our number one pick, the ABC Canopy pop-up gazebo, and is on par in almost every aspect; frame and canopy quality, ease of set up and dismantling, and even the carry bags are almost identical. The only reason I have placed this in second behind its rival, is that at the time of writing this article, the Master Canopy model costs 30 pounds more, and I can't see anything to justify paying that extra.
At the end of the day, it would probably just come down to whether you preferred the ring-pull clamps over the push button ones, or vice versa, as there is very little else to decide upon.

3. All Seasons Gazebos 2.5 x 2.5m Heavy Duty, Fully Waterproof Pop up Gazebo
Another absolute belter of a product, All Season's 2.5 x 2.5 metre offering ticks all the boxes needed to make it a contender for best pop-up gazebo. The build quality of this thing is absolutely top notch, with 24 built in support struts providing a sturdiness to the frame that is hard to beat for a product in this price range. The company is so sure of the durability of their product that they offer a 1 year frame parts warranty as standard.
I was happy to see that there was a good height to the edge of the gazebo (at its tallest), as with many others I felt I had to duck slightly to get under it. The height is, of course, adjustable and the mechanism to do so works exceptionally well.
Most of these products claim to be waterproof in their advertising, but in reality, most are only shower proof, and heavy rain will see water seep through the roof. However, this isn't the case with the All Seasons pop-up gazebo. The roof material is an extra thick 260g/m2, PVC coated polyester, and is completely waterproof. We tested it by pouring water from a bucket on there and it held up magnificently.
This extra thickness of the material does mean that it feels (at least it did to me) not quite as flexible as some of the others, but I guess this is a good thing and there's no need to worry about the seams and stitching as they have been heat sealed and taped accordingly.
The gazebo comes with the usual extras such as weight bags to be filled with water or sand, tent pegs, four guide ropes, and a wheeled carry bag to store it all in. The carry bag is as good as the ones for both the ABC and Master Canopy products, and I had no complaints about its quality. It's not going to last forever, but it is decent.
Another great feature of this gazebo is that you only have to set the canopy onto the frame a single time, and after that it can be left on. It won't affect how the gazebo folds down, and will save you a lot of time in the future.
This is an exceptional pop-up gazebo for the price, and the only reason it isn't at the very top of our list is that at 2.5 x 2.5 metres, it is just that little bit smaller than its closest rivals and as I had to find something to separate them for this list, that's what stuck out for me. Make no mistake though, this is a top-notch product and a bargain at the current price.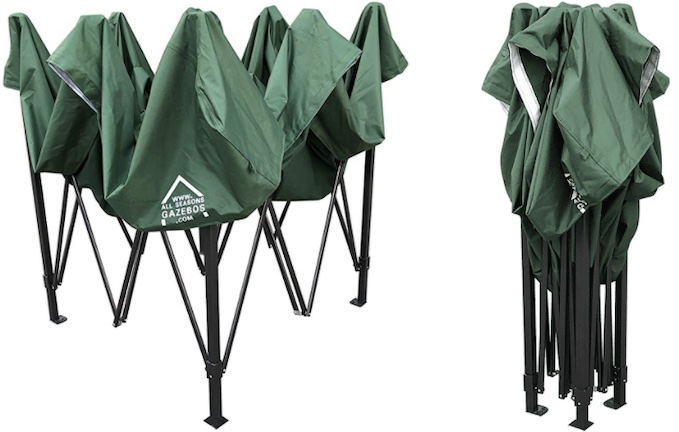 4. KEXMY Garden Classics® HORWOOD GARDEN METAL FRAME POP UP FOLDING HEXAGONAL GAZEBO
For those wanting a more refined or classical look to their pop-up gazebo, there is this KEXMY garden classics model, available at the time of writing for around 185 pounds. Setting up this model was pretty much the same as with most of these products, pulling everything out of the carry bag, extending the frame half way, throwing the canopy over the top, extending the frame fully, then fasten the canopy properly, adjust height, and secure the gazebo with stakes. The whole thing can be done in 15-20 minutes with a bit of help, even if the instructions that came with this product could have been better. Once set up, this is a fantastic looking gazebo. It's hexagonal shape, combined with the tie-back sides give it an elegant, almost fairy tale castle style aesthetic, but one that isn't too overstated and will fit into any type of garden; modern or traditional.
In addition to the large drape curtains, the KEXMY pop-up gazebo also comes with netted sides to keep gnats, midges, and flies outside and away from you, your food and your drinks. The netting is colour matched to the gazebo, at least ours was, and the material is not flimsy in any way.
The same can be said for the main material of the canopy and curtains. Made from woven 180g/m2 pa coated polyester, the dark beige material is very durable, will cut out unwanted UV, and will stop you getting wet in a shower. It has to be said though, that this isn't completely waterproof material, and in heavy rain, water may pool up on top and begin to drip through. It isn't a lot, and it does have to rain quite heavily for it to happen, but it was something that we noticed when we tested ours, so probably not a great idea to leave it out all autumn and winter with cushioned garden furniture inside unless sprayed with water repellant first.
The KEXMY gazebos frame is of a good quality, it extends and folds smoothly, and doesn't give you any worries about how strong it is. The 4-stage height extension is easy to operate too, but it can be hard to know if it has clicked into place properly sometimes, but again that could just be the product that I got my hands on.
At 3.6 x 3.6 metres, this is a good sized gazebo and there's plenty of space for adding chairs and a table, even with the netting or curtains drawn and zipped. The highest point of the ceiling is quite impressive too, at least from the outside, but the metal from inside is obviously lower. Still, it is spacious, and can easily accommodate 4-6 people.
A beautiful and classic style, teamed with good quality components make this product another winner, and definitely worth a high place on our best pop-up gazebos list.

If you're looking for something a little special that will stand out from your neighbour's gazebos, and you don't mind forking out a little more for it, the Alvantor screen house pop-up gazebo is sure to turn heads. Resembling a futuristic space pod, albeit with a little more style, the Alvantor is available in either 10x10ft, 12x12ft, or a huge 15x15ft. All of them are incredibly lightweight for their size, and this has its advantages and disadvantages.
On the plus side, it means that this pop-up gazebo is highly portable and can be set up by just about anyone. The negative part is that it makes it susceptible to winds if not securely fastened down. Fortunately, the product comes with 6 sandbags, 12 metal stakes, and 12 guidelines to do just that. Because of the high ceiling design, the interior feels more spacious than it actually is, and the mesh screen walls that go all around the gazebo allow for excellent ventilation while keeping annoying insects out.
Along with unwanted bugs, another thing that is stopped from entering the gazebo are UV rays, and the Alvantor has a UPF 50+ protection rating thanks to the 210D oxford fabric used for the roof. If you want extra protection from the sun, you can purchase sun shade sails to cover the sides of the gazebo separately. These are made of the same oxford fabric as the roof so they will be nice and durable. When folded down, this is easily the most compact of all our featured pop-up gazebos, and fits in a very small carry bag that can be easily carried by hand. Once you get to your chosen destination, this gazebo can be set up and ready to use in just a few minutes with the help of another person.
As we said, this isn't the cheapest pop-up gazebo out there, and for the money I would have expected maybe a little more. It isn't that this is in any way a bad product. In fact, it's a very good one, and looks absolutely fantastic, but I would have thought that the sun shades for the sides could have been thrown in with the price.
So, to sum it up: The Alvantor is a great choice if you can afford it and you really want to impress your guests with something out of the ordinary. Just be sure to use the weights and stakes provided if you think it's going to be windy, as the lack of weight of the product itself can leave it vulnerable.
6. AIRWAVE Pop Up Gazebo 2x2m
Thinking a nice gazebo is just a little bit out of your price range? Well, you can stop right there and take a look at this cheap pop-up gazebo that is pleasing a long list of customers. With its smaller dimensions, it is also a good choice for those of you with smaller gardens where space can be limited.
For a gazebo that is only half of the cost of some of our other reviewed products, it has a surprisingly solid frame, complete with support bars and strong corner sections. Not only is it strong, the folding/unfolding action is nice and smooth too. Of course with the reduced cost you will have to expect a few things to be not quite up to the same standards as its more expensive competitors. For example, the material used for the canopy is quite as durable or waterproof, but it is still decent and nothing to complain about. The locking procedure for extending the legs isn't quite as polished as some of the others either, but again, it isn't bad at all.
Airwaves have included side panels with this pop-up gazebo and a door that can be rolled up when you need more ventilation. This is a really good deal for something in this price range, even the more expensive brands and models tend to sell their side walls separately, so this was a nice extra.
There are also two window panels which can be attached using Velcro. However, the plastic material used for these seemed a little brittle to me so I wouldn't attach and remove them too often if I was to use this gazebo over the summer. Included in the price are all the things you'd expect; sandbags, guide ropes, ground stakes, etc. and of course there is a carry bag to store everything away once it's folded down.
There is nothing really bad I can say about the Airwave pop-up gazebo. Sure, it has some minor faults, but for the price you would have to search far and wide to find something that has a frame as stable as this, and includes the extras like the side panels. This is a very good option for a tighter budget.

Well, that's the end of this article on the best pop-up gazebos. We hope you found what you are looking for, and are now happily waiting for yours to be delivered to your door. If you have time, please feel free to explore the rest of our website that is packed with gardening info.
---