Garden Tool Box » UK's best paint sprayers TESTED for walls, ceilings, kitchen cabinets, and furniture
Written by Terry Smith
Our site is reader supported so when you click a link to Amazon we may earn an affiliate commission.
UK's best paint sprayers TESTED for walls, ceilings, kitchen cabinets, and furniture
This article was last updated on January 23rd, 2022 at 11:10 am
I just recently tested the best fence paint and shed paint so this follows on nicely from the best fence sprayers test. It got me thinking could we repurpose these sprayers around the home? A quick bit of testing showed me absolutely yes and in fact as I quickly learn't some are branded as paint sprayers! Be it walls, ceilings, cabinets, or old furniture the tests came out well! In fact, they were so effective considering the low price, I decided to buy another Wagner (rather than the fence and decking sprayer version) that is specifically designed for paint spraying on a budget and test that too. Wagner have some superb mid range stuff but I've left most out due to the fact the budget sprayers do so well already!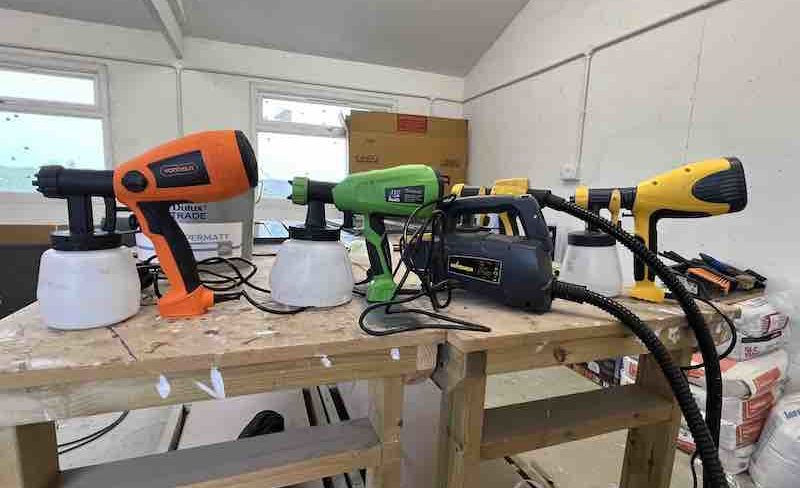 I have to say, whilst in a professional capacity I use paint sprayers that cost thousands of pounds with huge pressure and ultra fine spray, I compare them against these budget sprayers for the home and kitchen, and what they can produce. The results are pretty unexpected I have to tell you with some real stand out equipment on offer in this article for less than a family dinner out! Whilst yes, the kitchen cabinets I split test come out better on my workshop sprayer, you can replicate most of the effect with the best paint sprayers on a budget at home too! So from here's there's three choices, fast forward to my conclusions below and read the best paint sprayer, or take a look at the paint sprayer tests to see what we can actually get from them. Finally, if you would like to learn more, please feel free to take a look at my paint sprayer buyer guide.
Best paint sprayers in the UK – my top picks as a professional paint sprayer:
NoCry 1200ml/min Electric Paint Sprayer
Tacklife Paint Sprayer, SGP15AC Electric Paint Spray Gun
Wagner Fence & Decking Paint Sprayer
Terratek Paint Sprayer, 550W DIY Electric Spray Gun
Paint Sprayer,Meterk Electric Spray Gun
Best Paint Sprayers Buyer's Guide
Paint sprayer tests – comparing home sprayers to professional setups I use daily
I decided I should take advantage of my inside knowledge with regards to paint spraying and finishes. In a professional capacity we finish kitchen cabinets down to 1600 grit sand paper. If you know what that is, you'll know we fit out banks, coffee shops, and other high end contemporary units. So I've decided to finish a kitchen cabinet to the same standard we would for a customer who walks in with an old cupboard, then take it home, and compare it to what I can produce with the budget paint sprayers in this article.
After that, I take a look at the finish on walls and ceilings, using plasterboard as a guide so we can look really close up at the finish. From there, I have a go at revamping an old bit of furniture
Best Paint Sprayers Buyer's Guide
Are your walls or fencing starting to look a bit weathered and beaten? Well, it's probably time you gave them a fresh coating of paint. Now we all know how time consuming and tiring it can be to attack a large area armed with only a roller, or even worse- only a brush!
A lot of modern paint sprayers can seem very similar at first glance, and even after a closer look. However there are a few things that can separate the wheat from the chaff, and also a few bits of information that you could do with knowing if you are serious about buying a paint sprayer for walls.
This buyer's guide has been put together for you to provide you with knowledge you need to make the right decision on your purchase.
Size and weight are important
Before you buy a paint sprayer, take into account how large and heavy the product is. Think about it, you are going to have to hold that thing in your hand for long periods of time and if it's too heavy you are probably not going to be having a great time using it.
Sometimes though, a little bit of weight is a good sign that the tool is robust and made from durable materials, so there is that to consider.
Then there is the size of the paint sprayer, smaller models are great for getting into tighter spaces but they usually have smaller paint containers and so you have to refill much more often. It's hard to find the right balance, and that is why there are so many different models out there of various sizes and weights. Only you can decide which is best for you.
Power and maximum viscosity
With electric paint sprayers, the higher the number of watts that the electric motor is, the more raw power it has. 400 watts should be about the lowest you go with and if you are planning to do a big job, you really should be going a fair bit higher with something like 600W.
You also need to be aware of the maximum viscosity that the paint sprayer can handle as this will have a big impact on what paints and materials you can use. Viscosity is measured in DIN/sec and the higher the number before that measurement the thicker the paint that the sprayer can handle. Models with low DIN/sec require you to water down the paint a lot more beforehand whereas a model like the Wagner we reviewed above can spray ordinary paint without any mixing.
Volume of the paint container
The maximum capacity of the paint container attachment is quite important. This is because the smaller the capacity, the more time you will be spending refilling it with paint.
Average sizes are around 1000ml but be on the lookout for models with larger containers that can hold 1400ml or more as it will save you time and hassle in the long run.
Then again, a much larger paint container will mean that the overall size of the paint sprayer will increase, so it all depends on what is more important to you personally- compactness or volume.
Customisation
Nearly all decent paint sprayers will allow you to select from 3 spray patterns by twisting the end of the nozzle, but some models go a bit farther than that. It is always a good thing to have multiple different sized nozzles to choose from to suit various jobs, and adjustable air flow or paint flow is a must too. Some paint sprayers even allow you to adjust the width of the spray on top of all this. Incidentally, these are amazing if you want to restore garden furniture as well.
Basically, the more control you have over the spray, the better it is for you.
Types of paint sprayers
There are three main types of paint sprayers- airless, air powered, and pneumatic. Pneumatic sprayers are the most powerful but are also quite expensive and usually used by professionals.
Airless paint sprayers are also quite powerful but it is much more difficult to use them for more refined painting jobs as they pump out paint at high pressures.
Air powered paint sprayers are better for jobs that require a bit of finesse because they produce a less powerful spray and thinner layer of paint.
Finally, if you feel these are a little pricey, you can always go back to the good old paint roller.
Conclusion
Luckily, we have other options these days, and one of them is to invest in one of the best paint sprayers for walls. These machines can be bought for much less than you would think, they are usually easy to set up and operate, and will help you to get the job done in a fraction of the time, with a lot less physical effort. They can also be used to spray wood preserver or wood stain too but if you're after fencing or specifically garden woodwork protection, I would probably look at the fence sprayer review and if you have the money, an electric fence sprayer. These things are incredible!
What's more, you can configure these sprayers to your liking by altering the pressure or changing the nozzle.
So what traits do the best paint sprayers have in common? To find the answer to this question, plus a host of other useful information on these products, please skip to our buyer's guide at the bottom of the page.
Or, you can read through our reviews of the paint sprayers that most DIY and gardening enthusiasts are buying in the UK to paint their walls and fences.
---