Garden Tool Box » UK's best BBQ fish baskets for grilling that will stop fish sticking to your grill
Written by Terry Smith
Our site is reader supported so when you click a link to Amazon we may earn an affiliate commission.
UK's best BBQ fish baskets for grilling that will stop fish sticking to your grill
This article was last updated on March 9th, 2022 at 7:44 pm
BBQ fish is as timeless a dish as any, and with good reason. But there are a few problems with fish on the grill. How many times have you put a bit of fish directly onto your grate to find the skin sticks, peels, and generally makes a right mess. And it's even worse / compounded for small fish like sardines or mackerel on the BBQ. I know from years of trying and testing – that's when I was randomly walking through a French supermarket one day and found a fish basket – going back two decades now! Since then, I have always used fish baskets – turning is a doddle, and the best fish baskets don't cost an arm and a leg either – some twist a bit under the heat but are still totally functional. Here's a look at my favourite fish basket for sardines and mackerel still going strong after 5 years! I use for larger fish like Bass and Salmon – you can see what works easily from the size / shape but sardines and mackerel go in at an angle just perfectly too: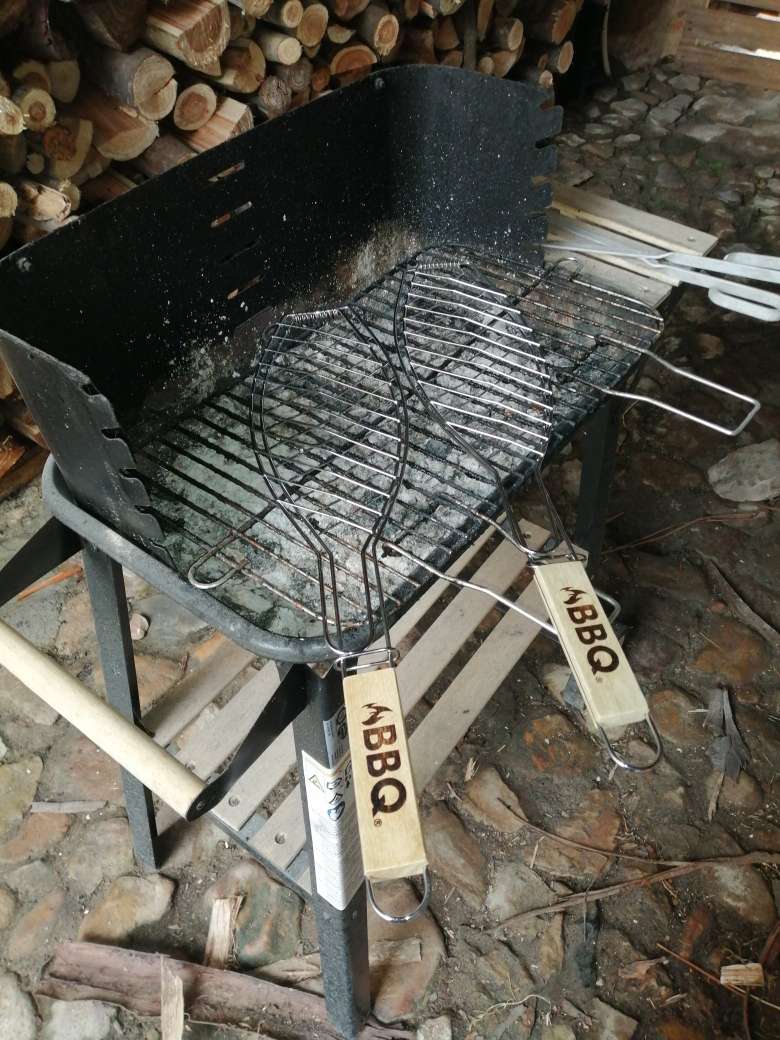 There are few things as delicious as a nice piece of fish cooked over an open flame, and it doesn't matter if your into food smokers, charcoal bbq's, or gas bbq's – the outcome is still superb we can all agree despite our differences in preferred cooking method 🙂 If you want to know more then please take a look at my fish baskets buyer guide
Best BBQ fish baskets – my top picks from using them the last twenty years:
Best bbq fish basket overall: AIGMM Portable Stainless Steel BBQ Barbecue Grilling Basket for Fish
Decent alternative pick: Penobon Fish Grilling Basket,
Budget pick: ASAB BBQ Fish Grill Basket – these are what I use personally and have tested
Worth considering:
G.a HOMEFAVOR BBQ Fish Grill Basket
Things worth knowing before buying a bbq fish basket
Cooking fish well on a BBQ is actually more of a challenge than most people think, and find out the hard way when trying it themselves for the first time. You see, unlike a steak or pork chop, which will keep its shape and stay structurally sound no matter what you do to it, a piece of fish, especially a skinless fillet like salmon, can quite easily flake and break apart, and end up in the ashes below the grill.
To counter this, experienced BBQ aficionados use a BBQ fish basket, which is essentially a handheld double grill 'cage' or basket to hold the fish in. Not only does it keep everything held together and in place while the fish cooks, but also makes one of the most difficult aspects of cooking fish in a BBQ easier: turning it over. So here's a look at some of the crucial components to consider that define the quality of a bbq fish basket
Best BBQ Fish Baskets Buyers' Guide
If you've got a moment, I'd advise you to read this brief buyers' guide on the subject of BBQ fish baskets. If you're new to these products, it might help you to make up your mind, and maybe steer you away from buying something that's not worth the money.
You need a gap between the grates or it'll squash your food
Surprisingly some of these grated don't have loose rings that allow you to fold a little wider or grates that are wide in the first place. This is a bit of a shocker and as a result is squishes food. To make this a little clearer please look at the diagram to understand what I mean better:
The biggest problem
From my experience with BBQ fish baskets, the number one problem for people new buyers, is the fact that most of them look identical. This might lead you to just buying any of them, or even one that is a few pounds cheaper than the others, but you have to be careful.
Despite looking very, very similar, there are often differences in the overall quality, even if they are made from the same materials. This is why it is important to read product review pages like this one, to get some honest feedback about each individual product.
Locking
Probably the most important part of a BBQ fish basket is how well it locks and stays locked. If this part has been neglected in quality control, then you're left with a product that is fairly useless, and as soon as you go to flip the basket, everything will fall out or at least move around, and this defeats the purpose of the tool.
Size
The vast majority of these products are around the same size (roughly 32cm x 22cm), however, some companies might be a bit tricky and measure from the handle and use other, similar tricks to sell you a smaller basket for the same price. Always make sure that the product you buy has a picture showing the precise measurements, and take more than just a passing glance at it. In fact, I always reach for the trusty tape measure before buying anything to give me a good idea of what to expect.
Large rack, or small, singular style?
The larger BBQ fish racks are a better choice if you have to cook for a lot of people at once, but the smaller baskets that only house a single fish or piece of meat are better for getting the cooking process just right. What's more, they only have a small profile, so it is feasible to cook different types of fish and meat side by side and get them all just right. In a large rack this is much more difficult to do.
Best BBQ fish basket reviews
So, if you're looking to serve up some perfectly grilled fish to your guests this summer, do yourself a favour and spend a few pounds on the best BBQ fish basket. They're inexpensive, will last you for ages if you take care of them, and will really improve your BBQ cooking skills.
Here are reviews of the most popular BBQ fish baskets currently available for home delivery in the UK, and once you're done reading those, you'll find our Best BBQ Fish Baskets Buyers' Guide at the bottom of the page. Enjoy.
---