One of the most liberating things you can do is a camp out. A big part of that is eating. So naturally how to use portable gas bbq is right up there on your list of need to knows. Luckily there is not too much to learn here, a few really important safety tips, a couple of good ideas in terms of how to use and store your portable gas bbq grill as well as food that cooks superbly in a camping and caravan type setting.
What is the best food to put on the portable gas bbq grill first to fill everyone up
One of the most important things with a portable gas bbq grill is to remember the size. You just can't fit that much on! So when your thinking about what to eat – go with smaller and more compact foods, especially if you're trying too cook for a large family. Chicken wings and thighs for example really do taste delicious but the bottom line is you just can't fit that much on a such a small surface area and with that setup. You might only get half a dozen thighs on which is fine toward the end of the evening but not when there are so many hungry mouths at the start to feed 😀
The best way to take advantage of the space you have is sausages and burgers. Believe it or not, even a normal sized portable gas bbq grill or portable charcoal bbq for that matter will easily carry a dozen sausages and half a dozen burgers. Now if you compare that to 6 thighs then you can see just how much of a inference it'll make – you're talking about 16 hot dogs and burger buns vs a bit of chicken. This is definitely the top tip in terms of what you can cook.
Here's a look at what I fit on my portable gas bbq grill: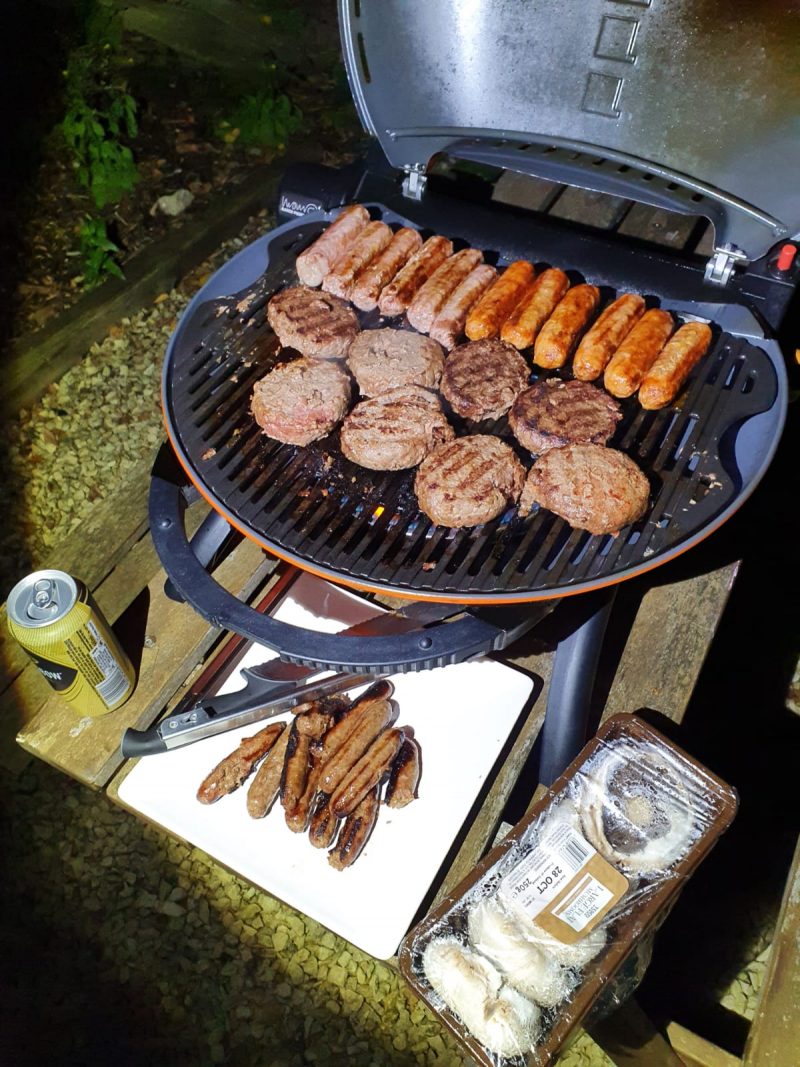 As you can see it handles a god bit of grub that the whole family can dive into this way round. Of course as soon as everyones had something to eat we quickly swap up to mushrooms and chicken and slowly eat around the fire all night long with a nice drink in hand. There's no better way to enjoy the outdoors you can trust me on that!
Storing your gas bottle for a portable gas bbq grill
Gas is the danger in this whole setup but stored correctly is completely safe. If you are looking for a solution that'll keep you from worrying then definitely invest in a solid container and pack out your canisters so they cannot be shaken or damaged easily. The thing I do sometimes is wrap them in a towel before placing them in a solid case. This means that even if there is an unfortunate accident there is still a good bit of protection from leaks or worse.
The last thing you want to do is be using a faulty gas bottle. It's probably as dangerous as it gets! I tend to opt for a full 3.9kg gas bottle when I am out and about this is plenty of gas for a whole night of grilling (even on a big gas bbq) and I just make sure that I go with a topped up gas bottle each time, rather than carrying two. It seems to make far more sense to be prepared in the sense of a full can of gas rather than having a spare. If there was a problem with the gas then I would probably abandon party and head home anyway! Who can get through a night in the great outdoors without a full belly and beers 😀
Try to get a portable gas bbq grill with a stand
Yes, amazingly some portable gas bbq grill are now made with their own stands which means far less carrying to and throw. I have to say this was long overdue – too long did you need to take a separate picnic table just to put your bbq into a comfortable position. Fortunately this is no longer the case if you spend up a bit more than the cheapest options currently available.
The other thing about the built in stands is the stability if you take a look at the one below you can see just how well it balances itself. This make for a better cooking experience and I can tell you from experience that its is far more enjoyable not having to hold onto the side of the bbq with another set of tongs just to turn the meat over 😀 Yes you would not believe what us old timers had to put up with! 🙂
Enjoy your portable gas bbq experience
My final tip for enjoying a great bbq outdoors is enjoy the experience. Test new food and try to involve everyone in the cooking process, not just the eating :). the more you enjoy the outdoor environment as a family together. As Jamie Oliver shows us in his short video a gas bbq experience can be great fun and eating for the whole family.
Try to incorporate some fresh salad an herbs into the experience, that is half the fun of an outdoor adventure – trying new things and making sure everyone is happy with the food. If you can involved you kids in the process then this is all the better – it'll give them a chance to really enjoy and express themselves, learning about eating along the way.
So to recap you want a simple menu that the kids and family will enjoy making sure that the food you cook first will feed the largest number of people. Once everyone has a good full belly then it's time to get a bit adventurous and enjoy the fact you're cooking outdoors. Bring plenty of fresh salad, beers, and make sure you pay very careful attention to looking after your gas bottle. The most important tip in this how to use portable gas bbq grill article is making sure you have FUN in the process 🙂
#BBQ time!!!#mbvildmark #barbecue #sweden🇸🇪 #SwedishLife #småland #tingsryd #outdoor #utomhus #camping pic.twitter.com/QuJ3wkc6Qt

— Michel (@MBvildmark) June 7, 2020