If only I was as smart as you guys that have actually bothered to search how to use your gas bbq properly. Me being the type I am that jumps in learned the hard way and so now I have gone a complete 180 degrees and actually plan o the point I now expertly advise others from my bbq mistakes 😀 Look at the state of my old gas bbq because I didn't follow the tips in this article 😀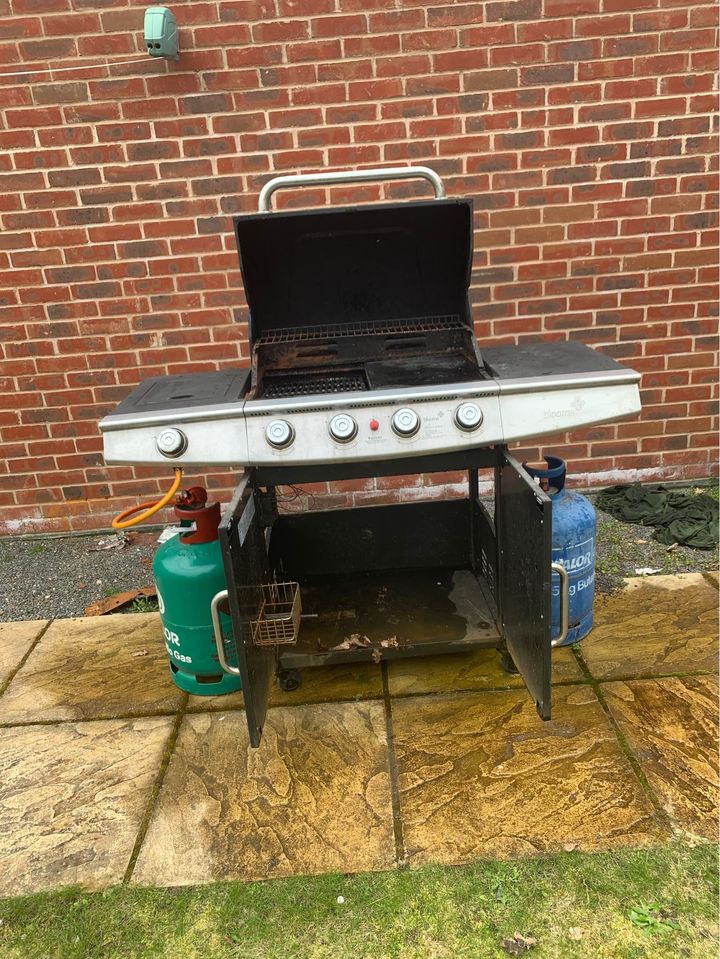 I've got some super cool gas BBQ tips for beginners here. What I'm thinking is you're looking for the perfect steak or super yummy chicken thighs and dare I even mention bely pork 😀 ? You're looking at how to look after your gas bbq and what bbq covers you need to keep things tip top? You want to know how to use your gas bbq safely? It could even be that you're working out if it's with buying a gas bbq and working out if there's some ideas that'll help tip you over the edge into buying one.
I might have even asked some questions that you've thought "oh yeah what about that too". Not to worry, you've taken the time to get these gas BBQ tips for beginners s pat yourself on the back. Let's make your bbq a success straight off the bat:
Setting your temperature
Probably the biggest advantage to a gas bbq is the ability to easily set temperature. Make sure you understand what your cooking on the grill and the rest is a doddle.
Let's assume we want a lovely juicy flame grilled steak that's really rare. You want to take that steak out the oven and then let it warm up to room temperature first so that it isn't cold in the middle when you lightly seared it in on a really high heat.
By contrast perhaps we want to get our chicken thighs not only super crispy on the outside with a delectable tasting skin but juicy on the in. You need to be a little more creative and hands on here. Firstly you'll cook your chicken on a medium to low temperature for about 30 minutes or so. This will give the chicken a chance to cook right through. Then you can blast the outside on a super hot temperature to get a crispy skin but without your chicken drying out..mmm yummy 🙂
In the meantime… #bbq #gas pic.twitter.com/WFg7oWoIId

— lucky_Steve (@lucky_Steve) July 18, 2018
One of the most delicious things I do on a grass bbq is a Portobello mushroom filled with butter and garlic. Having such super easy control of the temperature basically gives you all the ability of cooking indoors on an oven but with the added outdoor ambience and that feel of a bit more smoke on the food 🙂
Keep an extra bottle of gas so you can switch them over
A great tip if you are into gas bbq, and particularly portable gas bbq is to keep an extra canister or bottle of gas. Make sure you store it safely in the shed away from kids, heat, and fire 😀 Who knows when you will run out of gas. The worst possible thing that could happen to you on the bbq is getting half way through cooking and the bbq goes out. With charcoal bbq you have much more control and you can visually see the fire going out. The weakest point of a gas bbq is that moment the lights go off. How many times people have had to run indoors and finish their food on the cooker is probably close to unimaginable 😀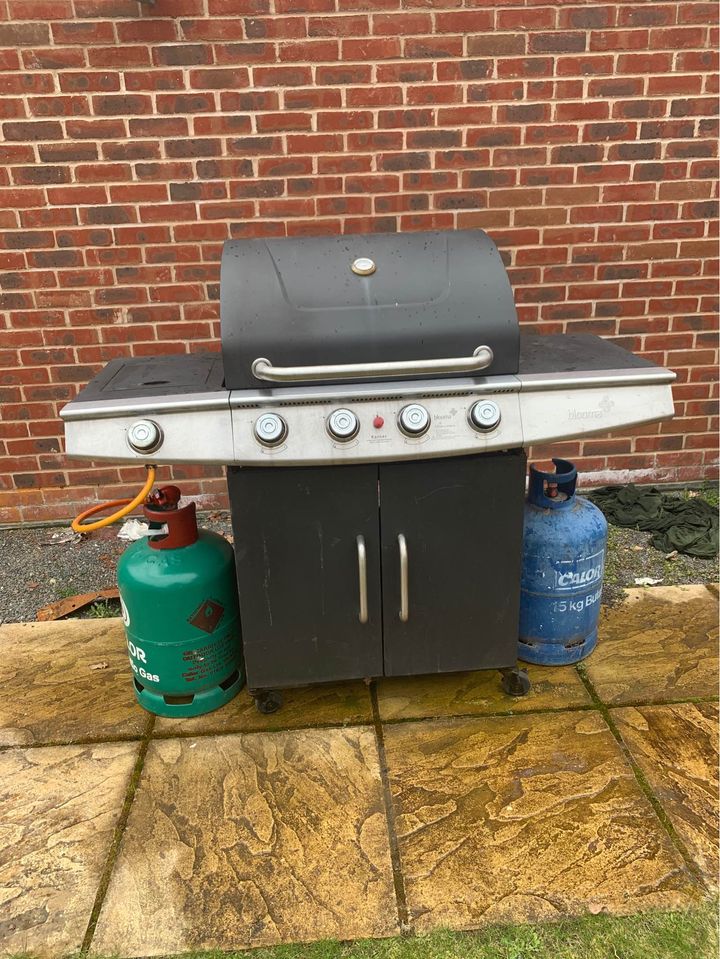 Buy a gas bbq big enough for your family AND friends
Don't get caught out, if you want to have a nice gas bbq experience then you definitely want to pic a bbq big enough for the whale family, however big that is. To give you an idea we are aa family of five and like to eat all our foo over the course of a few hours – there's absolutely no rush at all but we still go for a Fire mountain 4 man gas bbq.
The reason for having such a large grill with our apparent steady eating pace is friends and family. Now that the lockdown has eased and you're allowed to have up to 6 or two families mix you need to start thinking about more people than just he family – I know right – a bit of a surreal feeling but it seems with this vaccine we are now finally there….
how to use a gas grill for the first time – gas safety and food safety
The biggest thing with a gas bbq the first time you use it is safety. Now I know this is boring but reading the guidelines for connecting up your gas bottle is a must. If you're familiar with a gas bottle safety fitting then that's all the better – they aren't too complicated so don't worry – you can't really go wrong – the big game changer is the gas bottle. I'd take a little look at this video to be sure:
Personally I think the next most important part of using a gas bbq for the first time is ensuring you know how to judge if your meat is cooked properly. As a rule of thumb make sure juices are running clear. You can always check temperatures with a bbq tool set that includes a thermometer for the bbq. Quite frankly you can really justify going down this route and spending a few quid – there's no price tag on the families safety after all!
Lighting your gas bbq
Most gas bbq will have a safe ignition spark switch. If yours stops working then I would only recommend using a safety fire lighter. Other than that I would not risk it. You can keep your hands pretty far out the way with one of these safety fire lighters that you won't burn the hairs on your skin.
The most important thing to remember when you're having a bbq is to make absolutely sure that you have fun. BE confident and cautious, but do not over worry. Gas bbq are built with safety in mind and that applies to the gas use. Hopefully you'll be able to take something from these Gas BBQ tips for beginners. The main things you want to be sure of are safety and fun so I wish you the best of luck with your gas bbq.