Garden Tool Box » Best wheelie bin storage UK: top double wheelie storage – wooden and plastic 3 wheelie bin options compared
Best wheelie bin storage UK: top double wheelie storage – wooden and plastic 3 wheelie bin options compared
This article was last updated on October 16th, 2021 at 7:35 am
Well, it might not be the most pleasant feature to every house, but unfortunately, everyone has wheelie bins, and they take up space for everyone! They're simply a necessity and don't really make a house look nice at all, not to mention the smell that can come from them and the dirt that can collect around it. You can spend all this time doing up your garden just to have it ruined with wheelie bins…No one wants that!
That's why you need something to deal with your wheelie bins and make them look nice (if at all possible!) in your garden. To do this though, you really need something clean and large to store them in that makes it look like they're not really there, and instead looks like another storage feature for your garden. Luckily for you, there are plenty of options for wheelie bin storage on the market that will be suitable for your bins, but it's just a case of getting what's right for you.
What is a wheelie bin storage unit?
Wheelie bin storage units are typically made from wood or plastic, both of which have their positives and benefits and are basically designed to hide ugly wheelie bins. They tidy up an otherwise difficult area of the garden and offer excellent protection from seagulls and other scavengers whilst neatly stored away.
If you want to know more about why there are differences between the two and what is best, then check out the wheelie bin storage buyer's guide at the end of this review. On that note, however, just note that plastic units are typically less expensive. To account for both plastic and wooden units, we have reviewed the best 3 wooden and best 3 plastic units we have found, as this seems the fairest way to go!
Best wheelie bin storage top picks:
Below we have reviewed the best options for wheelie bin storage out there currently, all of which we recommend, but some are better than others. Since wheelie bin storage units are large, they're typically a bit more on the expensive side, but it's worth it to complete your garden and prevent your bins from ruining your hard work. Without further rambling, take a look at the best 6 wheelie bin storage options that are on the market right now.
Comparison table: Best wheelie bin storage UK: top double wheelie storage – wooden and plastic 3 wheelie bin options compared

Product
What We Think
Price
The TOOMAX Storaway 842L Outdoor Garden Plastic Storage Shed Box represents the right balance of value for money and build quality when compared to it's main rival the Suncast BMS2500 Double Wheelie Bin Store which is near double the money but in my opinion not twice the bin storage so as you can see pound for pound this is why I've got it high on my list! It also handily doubles up as a super quality garden shed so you can always put it to alternative use if you change your mind!
The MonsterShop Double Wheelie Bin Store really is the best wheelie bin storage in the UK at the moment from price, aesthetic, and quality compared to the alternatives available at the moment. If you like wood in your garden but still reasonably modern looking then this ticks all the boxes. It looks great, it's price well, it's sturdy, and it's fair to say it's built to last. I'd like to see them upgrade the locks a bit (if you say a product can keep garen toolls it nees to be secure) which you could easily do yourself, but apart from that it's a very nice solution to wheelie bin storage.
The VidaXL Double Wheelie Bin Shed looks lovely. You would be forgiven for not realising this is actually made of plastic! The design is steel frame which holds sup reasonably well. There has been mention of rust online but given the overall rating its hard to ignore the aesthetics of this wheelie bin storage. It's pretty well built compared to the other top picks and worth considering.
The Suncast BMS2500 Double Wheelie Bin Store is frequently out of stock. The bottom line is if you have the money this is not only stylish as a plastic wheelie bin storage unit goes, it's well built and easy to clean. When you look at the alternatives its clear to see you only on't buy this model if budget is a factor and then you start comparing it to the TOOLMAX to see if you can justify the shortcut. It's worth waiting for this one no question!
The Rowlinson BINTRPL1 Triple Bin Store basically ticks all the boxes. Stylish, quality, decent lock, easy to load your wheelie bins in and out. Doesn't need too much maintenance and dit is super for a natural garden being wooden. It also comes in single and double wheelie bin options too. If you don't mind a bit of flat pack assembly time then this isn't a bad shout at all. You pay your money but get quality.
The Rowlinson BINLRGA2 Apex Bin Store has one big flaw. The assembly time. But if you're on the DIY then this happens to be a very very nice looking wheelie bin storage option. It'll completely transform the current storage situ and the apex wooden roof idea just looks great. there's a fair bit of material in this wheelie bin so it's priced a bit heavy. It's well worth its spot on our review if budget is less of an issue!
1. MonsterShop Double Wheelie Bin Store
Specification: Material: Wood, Easy to assemble: Yes /~30 minutes, Dimensions: 122cm (H) x 149cm (W) x 92cm (D)
This is easily the best option out there for wheelie bin storage, as it looks great and is really good value for money when compared to the rest of the wheelie bin storage currently available in the UK. On the cheaper side for bin storage! You get yourself a wooden unit which can easily store two large bins, each with it's separated space and gate/lock, that looks natural in your garden and fits right in as an attractive feature. It's just the right size for two bins as it's not too small but also not that big, so they fit in nicely and simply roll in.
It feels sturdy enough as it's made out of standard timber, and it doesn't feel at all like it'll fall apart on a windy day or come down, which is definitely a bonus! It looks a little darker than it does in it's pictures but not by a lot, and since it still fits in naturally with the garden and makes a great wood feature, this isn't a problem. By the looks of it, this is perfect for a green/flowery garden but also works just fine in a backyard, so it should be perfect for your garden no matter what.
It has two top lids that open outwards, so it makes putting rubbish away a lot easier than taking the entire bin out. Whilst it feels sturdy and clearly has strong structural support, it has gaps in between the wood and is not a sealed off unit, which is better for wheelie bin storage as it lets the smell out and means any nasty gases from bacterial growth don't build up. This makes bin management a lot cleaner, but it also covers up the bins just enough so that it isn't obvious that they're being stored there. In summary, the structure can conceal your bins but also let out the nasty smelly stuff that builds up in there.
It's easy to put up and comes flat packed, so you really only need a drill (or a screwdriver if you have the time) to get it up and ready. The material is sanded smoothly so you should have to worry about blisters. The metal locks and the chain that prevent the lid from falling off are a little weak, but they do their job keeping the lids down and the doors locked. I mean let's face it, who wants to steal your wheelie bins?
Apart from a couple of flimsy locks there really is nothing else wrong with this unit and not only does it look the part, but it's perfect for storing your bins away easily and putting the rubbish out too. It's timber is made to be long lasting and waterproof, so you should be able to easily give it a wash and not ruin the whole thing. It's slatted roof makes it look the part too but oddly, it's slatted design also prevents the build-up of bad smells too…who knew!
If that isn't enough, it also comes with a free fixing kit so you can fix it to a wall or to the floor if you wish. All in all, this is the unit you want, and for the price you're really getting your moneys worth!
2. TOOMAX Storaway 842L Outdoor Garden Plastic Storage Shed
Specification: Material: Wood / Polypropylene / Plastic, Easy to assemble: Yes / ~20 minutes, Dimensions: 129.5 (L) x 74.5 (W) x 111 (H) cm
Now time for our best plastic option, the TOOMAX Storaway shed box. It's easily the best plastic option out there for wheelie bin storage and is currently priced sensibly, with over 700 ratings on amazon averaging at 4 and a half stars. It's also used for garden storage, meaning it's like the garden storage units we also reviewed (external link useful here?). Interestingly the other use for this product is a garden shed. This actually made it to our top ten best garden sheds and it's second on the list as wheelie bin storage too. It really is a super all rounder.
For this price, you get a durable and sturdy storage box that easily fits both your bins in. You can lock its outward doors from the front with a padlock hole and lift its top lid up to put the rubbish away. Not only does it make bin storage and use easier, its colour contrasting, wood-effect design makes it look a little bit more natural, so it actually makes it work just as well as wooden products in your garden. You could also argue it looks a bit more modern than wood…but that depends on your opinion!
Its UV resistant and is waterproof, so keeping it clean should be easy and it should last you a while. Reviews note how its easy to setup and how it feels sturdy once it is, so you can be reassured that it serves its use well.
The only reason it's not top is because whilst it's good for the price, its ventilation isn't the best, just like many other plastic units. This means that the smell will easily get trapped in and that bacteria/fungi may grow easier, but it is a bin, so it's not the end of the world! Just make sure to give it an occasional clean with a hosepipe.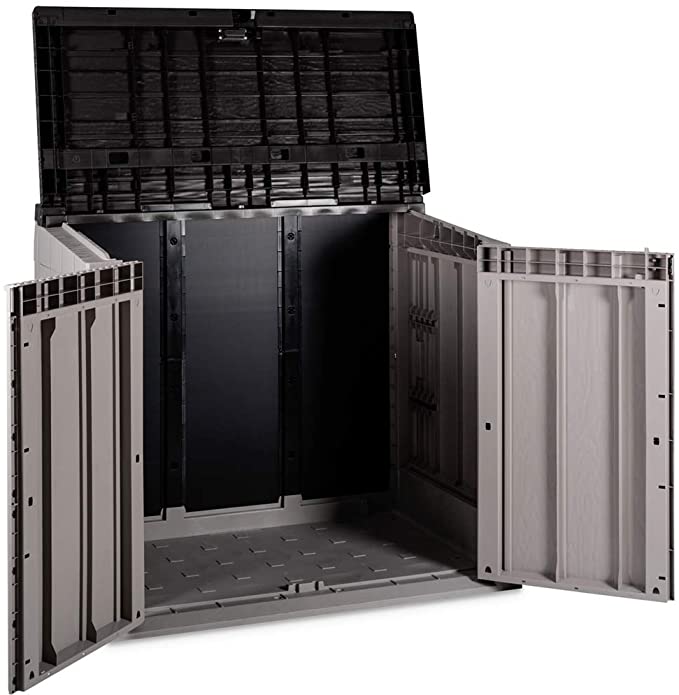 3. Suncast BMS2500 Double Wheelie Bin Store
Specification: Material: Resin, Easy to assemble: Yes / ~30 minutes, Dimensions: 129.5 (W) x 76 (D) x 114 (H) cm
Another great option for plastic wheelie bin storage is the Suncast BMS2500, which has been noted on the web as being a reliable product that seems to last its users. Suncast has done plenty of similar products before and so it makes them a suitable candidate for our third-place spot. They offer durable, sturdy products that deliver in terms of function and reliability and so this product is exactly that.
Its light colour and wood effect panels make it look natural in any garden, as it doesn't just look like a typical plastic box that makes things look a bit tacky.  It looks great and feels strong too, so what's to complain about?
Well, the price for sure. Its priced at £299 currently, which is basically double the price of the TOOMAX shed box. It's great quality and will definitely last you, but if you're on a budget, this isn't for you. There are also plenty of other plastic storage units like this, and whilst they may not be designed to support the weight of bins like this product, they're a lot cheaper than this product.
That said, its got outward doors and hinged lids to make storing your bins and putting away rubbish that bit easier. It's waterproof, rot resistant and pest proof, so it does definitely have everything you need. It looks the part and does its job so it's perfect for storing your bins…just a bit too expensive for our liking!
4. Rowlinson BINTRPL1 Triple Bin Store
Specification: Material: Wood, Easy to assemble: Yes / 20-30 minutes, Dimensions: 246 (W) x 240 (L) x 128 (H) cm.
In our fourth spot is the excellent Rowlinson bin store, which actually comes in different sizes based on how many bins you have (very ideal) and so you definitely have the choice. It's made from natural timber and is pressure treated to act against rot as well as being waterproof.
It has chained lids that attach to the bins and a wooden bar so you can rest the lid up, so its easier to put your rubbish away. Its natural sloped roof looks great and should also help with preventing extreme smells. Its natural timber finish makes it look authentic in any garden and so were confident it will fit right in yours. It has gold locks and hinges which contrast nicely with the bin, and it makes it that bit more secure.
Like our other wooden products, we can't promise it will be pest resistant as its not airtight, but the smells that attract pests will spread out more and release further into the air, so its actually unlikely you'll get them as much anyway. It has over 370 reviews on amazon rating at 4 stars on average, and customers don't seem to complain about this too.
Only problem with this product is that its £240+, and for this price you're pretty much getting exactly what you are getting from our product in the first place. It's also been known to take time to put together, but it is made from wood after all. That said, its got everything you need, so if you want a wooden unit with no budget, as well as fancying a bit of a project, then this is for you!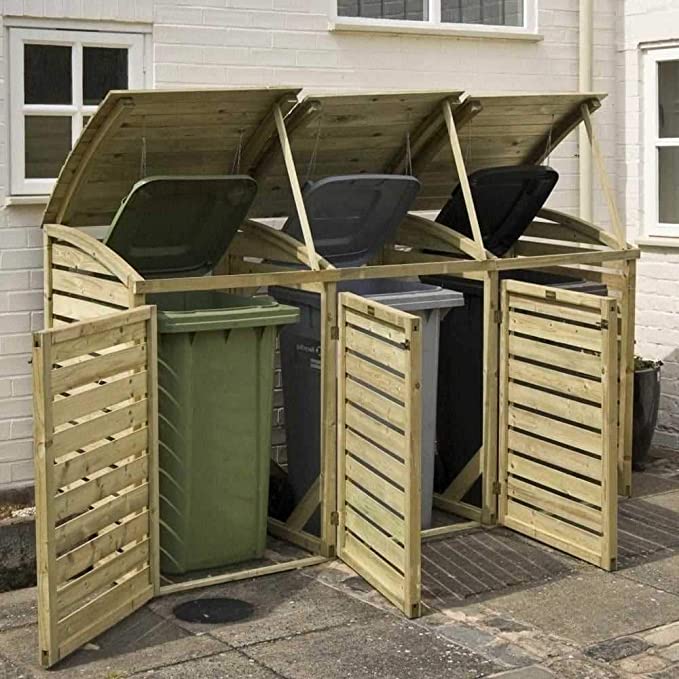 5. Rowlinson BINLRGA2 Apex Bin Store
Specification: Material: Wood, Easy to assemble: Yes / ~20 minutes, Dimensions: 81 (W) x 153 (L) x 130 (H) cm.
Next up is another storage unit by Rowlinson, so you can tell where a fan of the range of garden furniture/storage products they have to offer. It's made from strong, treated timber and definitely feels robust enough to last, and its metal hinges contrast nicely with its natural colour. It locks easily and quite frankly has everything you need.
This time it's a slightly different design to the spot in fourth place, but if anything, it's actually a bit nicer. It's got a slanted/apex roof and its natural colour allows it to fit into any garden, so it definitely looks the part. It has chains connected to the wheelie bins and is made to be rot and water resistant, so it's perfectly suitable for storing your bins.
This product only has 29 reviews, quite a few of which are low but for only one reason…its difficult to put together. Once again, this could be down to unclear instructions but as we've already said, don't buy a huge wooden storage unit if you're unfamiliar/unhappy with the idea of putting it together, as it will need the time and effort.
Furthermore it really is expensive for what it is. It looks great and gets the job done, but realistically, it's not for people with a budget. Its only in fifth place because its just as good as the Rowlinson unit in fourth place when compared, yet its more expensive. Either way, we would definitely suggest both, but only if you can afford it and construct it!
Specification: Material: PE rattan, Easy to assemble: Yes / ~20 minutes, Dimensions: 148 (W) x 77 (D) x 111 (H) cm.
In last place is the VidaXl double bin shed priced lower end. It's made from polyethylene, a durable and long-lasting plastic, and is water resistant with a steel frame for additional support. On top of this it is not resistant, which is reassuring as sometimes plastics can be affected by rot trying to grow, both structurally and visibly.
The material is definitely suitable and it makes this plastic wheelie bin storage unit suitable for its use, and it doesn't look too bad either. It comes in a couple of different colours which are more of a matte colour, but nevertheless, they still look good, and we think they work in a standard garden. It does the job, looks good and isn't stupidly priced, so what's wrong?
Well, its got 62 ratings averaging at four and a half stars, most of which discuss its robustness and reliability, but there is also one common theme…the metal bar. Some have said it can be problematic whilst others have said its showing signs of rust. Whilst this is only additional structural support, to make it last and keep it looking fresh it needs some protective spray of some sort…which is something you shouldn't have to worry about for the price tag.
Either way, that's the only thing wrong with it and its not the end of the world, just not ideal. We still recommend it as its robustness and sleek look make it perfect for wheelie bin storage.
Wheelie Bin Storage – Buyer's guide
Now you know the best 6 options for products that can store your wheelie bins, it's important that you know what you're looking for when buying. With this particular product there aren't that many obvious things to look for, but there are still a few things of importance.
Before we list the key things to look for, make sure of one thing…that your bins will fit! Most bins are the same size here in the UK but they could be different elsewhere, so always check the dimensions of the unit compared to your bin, otherwise it really won't be that useful.
If it will fit, then you have the main aspect covered, but you're not done yet.
Material-waterproof?
Probably the most important aspect of any unit sorting bins, whether it's wheelie bins or boxes, as its key is that it is waterproof. The primary reason for this is that because of the dirty nature of wheelie bins, it's necessary to give them a good spray with a hosepipe or power washer (external links?) every now and then. Since you'll be washing them, they need to be waterproof so that they will last you a long time. The VidaXL Double Wheelie Bin Shed being rattan looks stunning but isn't going to be as waterproof as a plastic wheelie bin storage like the Suncast BMS2500 Double Wheelie Bin Store which is ultra easy to clean.
On top of this, any liquids or nasty stuff from the bins will accidentally get onto the unit itself, and so if it's not waterproof, this waste and the water it carries will affect the condition of the unit over time, therefore making it weaker. It can cause damp or high humidity, both of which are bad, and so waterproof material is key. It also helps if the material is rot resistant too, as this increases the cleanliness of your unit.
If it's a plastic unit, check its waterproof and give it a wash every now and then and let it dry. If it's a wooden unit, check it's treated with a waterproof coating, and give it a spray every now and then and let it dry. Wooden units are generally easier to dry off and won't collect water, but plastic units aren't impossible to clean either, just make sure they dry!
Design and aesthetics
Might seem a bit odd, I mean, it's to store wheelie bins right? It might be for this exact reason, but as we've already said, the entire point of wheelie bin storage is to conceal your bins whilst also making it look nice in a garden. It adds an additional feature to your garden and whether it's plastic or wooden, it makes it worth the money if it looks the part.
If it's a plastic bin, make sure that it is sleek in colour and is either matte or gloss, as well as being more monochrome or dark. This makes it easier to place in any garden and allows it to fit it. For wooden units, ideally a light wood colour is best instead of darker stain, as again, this makes it suitable for most gardens rather than a select few and fits in easier. Some plastic units have the 'wood panel' design which is definitely recommended for a more natural look.
Overall, wooden looks more natural like the MonsterShop Double Wheelie Bin Store and plastic like the TOOMAX Storaway 842L Outdoor Garden Plastic Storage Shed Box looks more modern/contemporary, but either work in a garden or backyard! It depends on what you fancy the most or what you think looks best.
Apex roof
A less important detail but still useful to look for. An apex/slanted roof brings the unit to life a bit more and adds more of an aesthetic feel to it's design so if you take a look at the Rowlinson BINLRGA2 Apex Bin Store you'll see just what I mean when you compare it to the flatter version: VidaXL Double Wheelie Bin Shed. This design also aids prevention of rot build up or anything similar due to difference in air and humidity circulation compared to flat roofs, only mildly, but still enough to be useful. If you can't find any with an apex roof, an angled roof does exactly the same job and can sometimes even look better. It's up to you and how you have designed your garden, but just remember that it's a tiny detail that can make all the difference.
Overall, wheelie bin units are a useful product to own and keep things a lot cleaner and looking nicer. With our buyers guide and our reviewed products, you should be all set to buy some wheelie bin storage that's right for you!
---