Written by Terry Smith
Our site is reader supported so when you click a link to Amazon we may earn an affiliate commission.
Best rattan garden seating [UK]: top waterproof rattan corner sofas
This article was last updated on July 31st, 2021 at 10:41 am
A waterproof, rattan corner sofa set is the perfect way to add a touch of class and comfort to your lawn, decking, or patio this summer. They offer an alternative comfortable way to lounge around, other than a zero gravity chair or sun lounger. With a look that bridges the traditional and modern at the same time, these timeless pieces of garden furniture have never been in higher demand than they have been in recent years, so why not join the club and invest in your very own waterproof, rattan corner sofa set, and fill the neighbours and passers-by with green-eyed envy?
Best rattan garden seating
The best rattan garden seating will give you a stunning classic look that doesn't feel out of place even in contemporary setting. It should be well built, easy to assemble, resistant to water damage as much as possible, and maintain it's character through a hot summer with plenty of UV exposure. You can expect these qualities from the best rattan garden eating in the UK.
Comparison table: Best rattan garden seating [UK]: top waterproof rattan corner sofas

Product
What We Think
Price

4 seater with stool and glass coffee table
Grey Rattan Set with Grey Cushion
Easy to assemble, furniture set will arrive flatpack with easy to follow instructions...
Poly rattan is durable but light weight providing convenience to move around the garden/patio...
Dirt, water and weather resistant set to ensure low maintenance

vidaXL Outdoor Lounge Set 16 Piece Poly Rattan Brown Garden Furniture Seat

Rattan colour: Brown
Cushion colour: Cream white
Cushion thickness: 6 cm
Cushion cover material: 100% polyester
Frame material: Powder-coated steel frame + chrome feet

Monaco 5 Piece Rattan Garden Furniture Set by Azuma
Grey/Natural coloured rattan with solid aluminium frame
Set includes: 7 x cushions
Features a sectional design that can be changed to suit any garden...
The perfect addition to your garden

Table with Glass top: Approx
Available in Grey or Black with Grey cushions
Pillows are 100% polyester and 8cm thick ensuring comfort
Poly rattan is durable but light weight providing convenience to move around the garden/patio...
Dirt, water and weather resistant

bigzzia Garden Furniture Set 5PC Rattan Modular Corner Sofa Set

✅[Package includes] 2x corner section
✅[Material]Strong metal frame for durability and enhanced weather resistant protection.
✅Sturdy steel frame and high-quality wicker
✅[Easy to assemble] Assembly of this Garden Furniture Set is very easy and efficient...
✅IMPORTANT-- Please note that orders will usually be dispatched within 1 working day...
Waterproof Rattan Corner Sofa Buyer's Guide
Although we've covered the pros and cons of each product in our list above, there are still a few things that you should think about when buying a rattan corner sofa set, and we thought it would be helpful if we quickly remind you of them here.
What 'waterproof' actually means
Although many of these corner sofas are advertised as waterproof, they are, in fact, water resistant, at least when we talk about the cushions. Most cushions will take a spill of a drink and can be soaked up with a cloth or sponge before it soaks through the cover. They will also handle a light summer shower, but should never really be left out, uncovered in bad weather.
The rattan components are usually fully waterproof, being made of either a durable plastic, or being coated with something similar, so you won't have to rush to drag it in every time there's a dark cloud on the horizon.
Invest in a proper cover
Any product that is going to be left to the mercy of the elements will eventually fade, rot, get taken over by mould, and other negative things, even if it is made to be 'weatherproof'. With this in mind, purchasing a good cover for your furniture is the best way to ensure it lasts and that you get your money's worth out of it. Just like a bbq cover, the best ones have a breathable mesh that repels water. Even with a good cover, you should still bring the cushions in during the winter, but you should be safe to leave the frame out, or at least in an unheated garage, covered up. This is because water that sits has a knack of getting into places it shouldn't!
Modular corner sofa sets can be handy
You've probably noticed that a lot of corner sofa sets are modular by design and, as long as the frame can be connected together and feel sturdy, this is a good thing. Why? Because it means that you can arrange the pieces as you need them to fit into the space that you've got available. It also gives you the option of buying two of the same set and combining them to make a larger set, so if you really have your heart set on a certain sofa, but it's not quite big enough for you, that's something to consider.
Make sure you've got someone to help you assemble your rattan corner sofa
Nearly all of these kinds of products will arrive in a flat pack, just like my hanging egg chair and garden storage bench, and to get one that comes pre-assembled will mean digging a lot deeper in your pockets, I'm afraid. So, before you buy please have it arranged with someone who has basic DIY skills, or at least some common sense, to come and help you put it together. Sometimes, the instructions on flat pack furniture can be less than fantastic, and sometimes, downright frustrating, but with two people, you will be able to put your heads together and get through it.
Below, we have picked out some of the top rated rattan corner sofas you can currently get your hands on, and tested them out to see which really are the best out there.  So, if you're interested in getting your hands on the best waterproof, rattan corner sofa; read on.
1. EVRE Rattan Outdoor Garden Furniture Set
The EVRE California rattan corner sofa set is definitely one of the best value for money out there, offering great looks, durability, and comfort that you would normally pay much more for.
This is a four seater corner sofa, but has a modular design so you could quite possibly purchase two of them and fit them together as you wish, if you need a larger set of garden furniture.
The seven cushions that come with the EVRE California, are all nice and thick and are extremely comfy to laze about on. You don't have to worry about putting your dirty feet up on the stool section either; these cushions are made from polyester and are really hard-wearing, being resistant to dirt, water, and all kinds of weather. If they do start to look a bit worse for wear over time, you can simply remove them and throw them and give them a wash
Included with the corner sofa is a glass topped rattan coffee table that not only looks great, but is also a decent size, and certainly enough for you to rest your drinks, snacks, magazines, power banks, etc. on it.
Arriving as a flat pack, you're going to need someone to help you put this together, but it's not overly difficult and can be achieved in a reasonable amount of time with two people. All the fittings are included in the pack, and there are also fasteners in there to lock the modular pieces into place once you're satisfied with your build.
Although built to be weatherproof, I still wouldn't ever recommend leaving furniture like this outdoors in the winter, so you'll need somewhere to store it, or even just buy a good cover and store the cushions. If you do want to move the sofa into the garage or wherever, it comes apart into sections, and is quite lightweight, making it easy to carry to its destination.
Available in black and grey, or brown and cream, colour schemes with both looking fantastic, you can't really go wrong with the EVRE California waterproof, rattan corner sofa set, and it truly deserves our top spot for sheer value for money.
2. Azuma Monaco 5 Piece Grey Rattan Garden Furniture Set
The Azuma Monaco 5-piece rattan sofa set has a couple of little design features that make it stand out from the hundreds of very similar products out there in this price bracket.
The first one, although admittedly only a very small thing, is still something I think people will appreciate, and that is that the coffee table has a second shelf underneath, and this of course allows you to keep things like books, phones, chargers, etc. at arm's reach, but out of the direct sunlight.
The second feature that I really appreciated with the Monaco set, is that the footstool has a storage compartment under the cushion, so you can have towels, kids toys, or that all important weather cover in there, just where you need it.
The cushions on this rattan corner sofa set are nice and thick and as comfortable as the ones found on the EVRE products we are featuring today. These cushions, backed up with a solid aluminum frame, ensure that you can relax in pure comfort while enjoying the summer weather.
Like many other rattan sofa sets, this one is modular and therefore you can play around with the layout to match the space you have available. Once happy, there are fasteners included to keep it all in place, and they do a great job of just that, with no unwanted moving around of the individual sections.
If there is a downside to this otherwise cracking corner sofa set, it's that it takes a while to put together. It's not quite as frustrating as the Bigzzia model, and we didn't have alignment problems, it's just that, for some reason, it took us longer to assemble. Still, with two of us on board, it didn't take much longer than around two and a half hours, with a fair portion of that being used on the coffee table.
At the end of the day, this is a very fairly priced corner sofa set that looks fantastic, has some nice little features for extra storage, and is extremely comfortable, so it's definitely worth the few hours putting it together, I would say.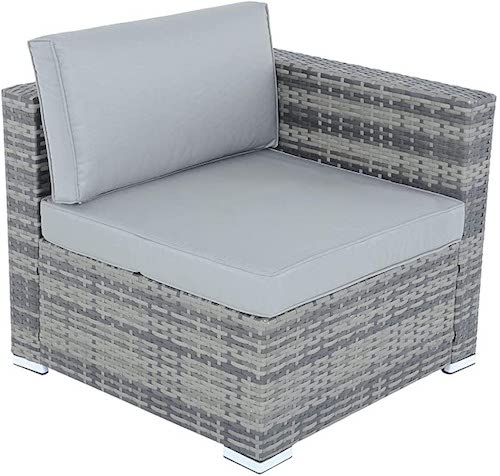 3. bigzzia Garden Furniture Set 5PC Rattan Modular Corner Sofa Set
Another low-cost, yet good quality corner sofa set with those eye-catching rattan furniture features, is this 5-piece offering from Bigzzia. Consisting of 2 main sections, a large cushioned footstool, armchair, and glass-topped coffee table, you get enough space to sit 4-5 people comfortably, or just 2—3 sprawling out and making the most of it.
There are high arms at either end of the main sofa, and the armchair also has the same, and I personally find this very comfortable, but it might not be to everyone's liking. The back cushions are extremely comfortable, really allowing you to sink in there, and although the seat cushions aren't quite as thick, they too provide a lot of comfort.
Assembly for this model wasn't as easy as the EVRE, and there were a couple of alignment issues that took a bit of thought and 'muscle' to sort out, but we got there in the end. Once fully assembled, the ratan frame did feel nice and sturdy though, so it was worth it in the end. I would just make sure you've got some spare nuts and bolts, screws, etc. lying around to make things less frustrating.
Other than that annoying, but easily solved issue, this Bigzzia waterproof, rattan corner sofa set is really good value. The PU rattan will last for a long time, the steel frame keeps everything sturdy, and it is very comfortable to both sit and lie on.
Again, the cushions are weather resistant, but that doesn't mean you should leave them out at night, or you will end up with problems with mold and rotting. This isn't exclusive to the cushions on this model either, this advice should be followed with all of these rattan corner sofa sets.
At around 600 pounds for a set such as this, you expect a few teething issues, and we experienced ours in the assembly. I have to say though, that I've had customers buy this from us and have no issues at all, so maybe we got unlucky with the quality control at the factory in regards to our particular model.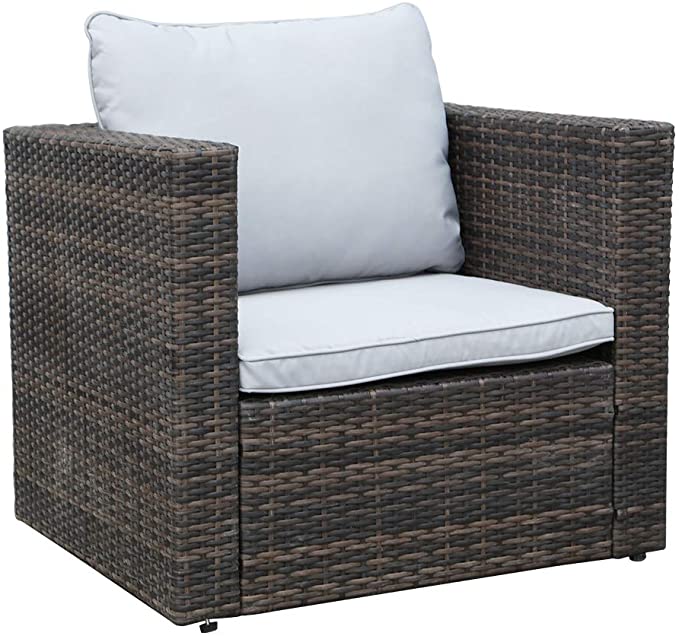 4. EVRE Rattan Outdoor Garden Furniture Set
Our second review of an EVRE rattan corner sofa set is ideal for people who are looking for something a bit larger than the two products we just featured above.
From arm rest to arm rest, the main sofa sections measure 284cm when fixed together This, when combined with the two large footrest sections, gives you a whole lot of seating space, and the fact that this furniture has a modular design means that you can experiment with the layout to get things just as you want them. At 75cm square, by 33cm high, you won't be fighting for space on the rattan coffee table either.
Just like with their California model, EVRE have given this one 8cm thick cushions that are incredibly comfortable. The moment you lay back into them, a smile just spreads across your face and your eyes close in relaxed bliss.
As you would expect, the cushions also share the same level of resistance to dirt and weather, and also can be removed and washed with a damp cloth at your leisure.
There were no struggles putting this set together from the flat pack it arrived as. Everything was included in the packaging, and the instructions were clear and easy to follow. You'll still need a helping hand, but it is very easy to manage.
Once assembled it feels very stable and strong, yet surprisingly lightweight when you want to move the modular pieces around.
As with most EVRE garden furniture products, this is a fantastic looking rattan sofa set, available in black with grey cushions, or brown with cream, and despite being lower down on the price range than many of its competitors, it has a level quality that allows it to more than hold its own.
5. vidaXL Outdoor Lounge Set 16 Piece Poly Rattan Brown Garden Furniture Seat
When you see the words XL' and '16 piece' in the title description, you of course start thinking that this is going to be a huge rattan corner sofa, and when you see that the price tag is around 525 pounds at the moment, you should probably be thinking it's too good to be true, and you'd be right.
The 16 pieces that are counted include the cushions too, so in actuality, this is a six-piece modular set, if you count it as you normally would with other products. However, it is still a good size once you factor in the curved corner section and twin footrests.
At 6cm thick, the cream white cushions are comfortable enough, although not as good as some of the others mentioned in this list, and the 100% polyester material used for the covers ensures that they will last a while. Their bright colour also contrasts nicely with the brown ratan base, and this is topped off with shiny, chrome, square feet on each section of the furniture.
This furniture has a powder coated, steel frame and that gives it a lot of stability, and the PE rattan will survive the worst of the weather. Likewise, the chrome feet will no doubt stand up to rust better than powder coated metal ones, as long as the coating isn't chipped.
The biggest drawback for me, when it comes to the VidaXL rattan corner sofa set, is to do with how low the seats are to the ground. It isn't any problem while you're sitting down, but it does make things a bit awkward when you go to stand up. I think this would be especially bothersome for older folk, or people who have stiff joints.
If you are young and fit, this lowness shouldn't bother you though, and for the low price, it might be very tempting to invest in this furniture, and if that sounds like you, then go for it, I'm sure you'll be happy with it.
It might help to read reviews such as ours and other customer feedback too, to see which models are easier to set up if you've never done anything like this before. Having said that, I would expect that most people will be able to figure out the process with a bit of help, and if all else  fails, there's always YouTube.
---